Need fun preschool craft ideas for your alphabet lesson plan?
Use our free printable letter X template and simple instructions to make this letter X for X-ray craft.
This simple printable letter X craft is perfect for learning the /X/ sound and listing down words that include the letter X like xylophone, Xerox, fox toy and more.
Help promote the kids' hand-eye coordination, creative ability and fine motor skills using our free printable preschool letter X for X-ray craft template.
If your child is having a great time with this cut-and-paste craft activity, we have plenty of printable letter X templates that your kids will surely love too.
Check out this free printable fox mask for kids, build-a-fox craft, arctic fox craft, arctic fox coloring page and baby fox template.
Share these easy and fun alphabet craft activities with your friends and family now!


Need more crafty fun? Check out our Letter P, Letter E and Letter J craft.
 T
hey are perfect for those days when staying indoors is the only thing your family can do!
*By the way, this post may contain affiliate links which means I may receive a small commission at no additional cost to you if an item is purchase through that link. For more information, click here.*
Free Printable Cut and Paste Letter X Craft
Ideas for Easy Preschool Paper Letter X Craft
We came up with these marvelous ideas on how to incorporate this free printable letter X craft template in your little one's everyday life.
1. Letter X Books for Kids
We love books! It's a wonderful way to introduce children to reading and understand their ABC's.
When we read to our little ones, we help them improve their listening and language skills.
If you are trying to find awesome children's books that's perfect to pair with this easy printable letter X craft template, we suggest the following:
2. Fun Letter X Activities
Learn new vocabulary and practice pronunciation with this simple printable letter X craft template.
Print out tracing letter X worksheets for kids to work on their handwriting skills.
Encourage your child to practice regularly until they get familiar with the letter.
This cut and paste printable letter X craft template is one of the easiest we've created for our A-to-Z alphabet craft template activities.
Making these fun letter X craft activities help children to learn about beginning sounds, letter formation, uppercase and lowercase letters.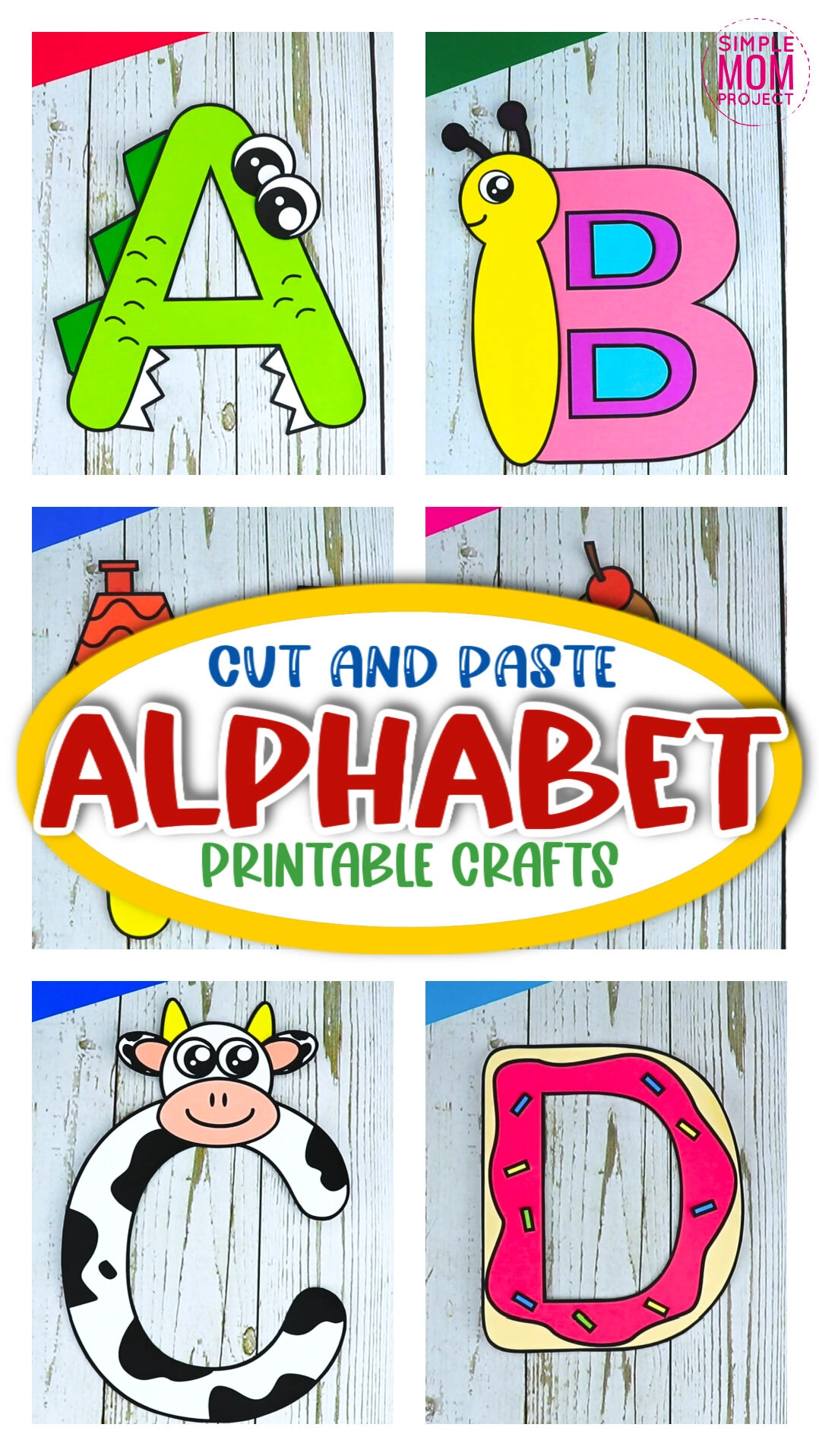 3. Letter X Handprint Craft
Let your children explore their creative abilities to form a variety of letter X crafts.
Make an amazing letter X handprint art using only simple materials like construction papers, paint and paint brush.
Paint your little one's hand with white washable paint.
Gently press your child's hand onto a black construction paper.
Trace your child's arm on the paper to create an X pattern and fill it in with white paint using a paint brush.
Leave it for a few minutes until it's completely dry.
Pin and display this letter X handprint art on your child's learning board.
4. Letter of the Week: Letter X
Let's accept it, children love making fun and easy 5-minute crafts.
Let your child use their imaginations by making several fox characters for their mini puppet show.
Gather all the classic craft materials and print this free printable build-a-fox craft for kids.
Have your little one enjoy the process of cutting and gluing all the patterns together.
You can glue the finished fox craft with toilet paper roll and let your little one paint it.
It's so cute and perfect to display on your child's study table.
Other options are gluing the finished fox craft on a small lunch paper bag or large popsicle stick to create a friendly fox puppet.
Encourage your kids to use their imagination to come up with a dialogue or make a short story while they are playing with this amazing letter X for fox crafts.
We hope you enjoyed these fantastic printable letter X craft template ideas with your toddler, preschool or kindergarten.
We are grateful to be part of your alphabet lesson plan and craft activity!


Letter X Craft Supplies Needed
Printable Letter X Template (FOUND AT THE BOTTOM)
Keep scrolling to get your very own letter x craft today and start with your little ones and their alphabet craft buddies today!
Letter X Craft Instructions
Click download and print the free printable letter X for X-ray craft template on a white sheet of paper.
Help your child to cut out the simple printable letter X for X Ray patterns into individual pieces.
Place all the four bones onto the letter X and secure it using a glue stick.
This easy cut-and-paste letter X template is an exciting project for new crafters!
More Options to Choose:
You can print the blank version and trace the cut outs on card stock paper for a sturdier letter x craft,
Print the letter x template in color for a simple and easy rainy day craft or,
Print the blank letter x template and use it as a fun coloring sheet activity and then glue the pieces of the letter x craft together.
Free Printable Letter X Craft Template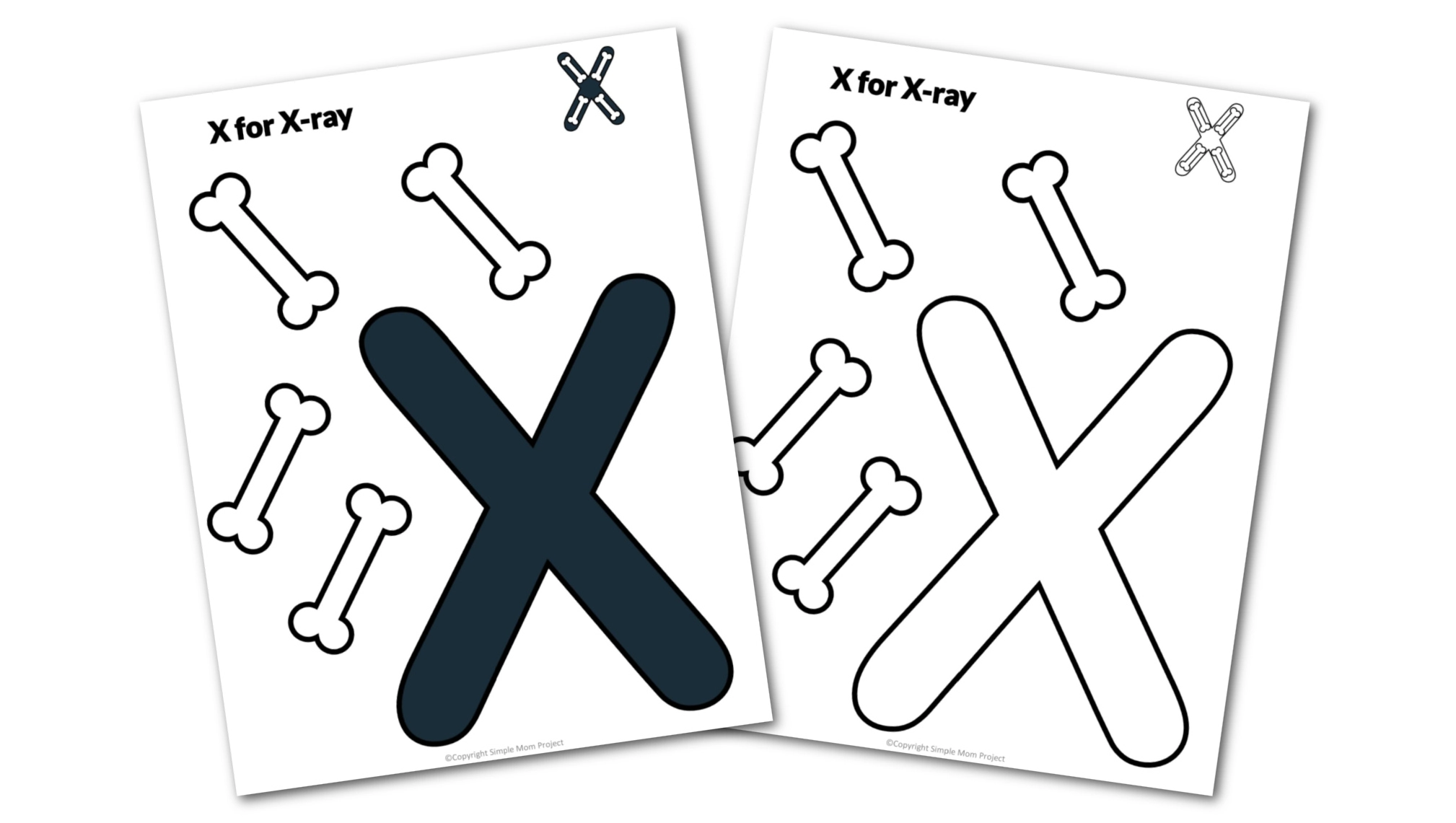 Can't decide which of these two easy preschool craft letter X templates suits best for your preschool and kindergarten?
Great news, because you can have them both!
Get the black and white preschool letter X for X Ray drawing and the cut-and-paste colored version for free.
Don't forget to share your learning plans in the comments.
Need more alphabet letters fun? Check out our packed list of alphabet for simple craft fun with your little ones.  
When you have finished, be sure to share your creation on Simple Mom Project's Facebook Page and follow me on Pinterest!

Kaitlen D.
More Fun Alphabet Crafts