Most children love ladybugs because they are beautiful, charming and harmless to humans.
This adorable free printable ladybug craft template is the perfect weekend activity with your kids.
Ladybugs come in many colors but mostly, you'll see those with red, yellow or orange with black dots on them.
Use our simple printable ladybug craft template to fill it up with bright colors to improve your child's color recognition.
This cute printable ladybug drawing template is ideal for keeping our little ones happily busy at home or in school.
It's also a great way to work on their hand-eye coordination.
Keep scrolling down to read the awesome printable ladybug craft ideas and simple instructions, or watch the step-by-step video tutorial to guide your preschooler while making this easy printable ladybug outline template.


Need more crafty fun? Check out our Snail and Spider craft.
 T
hey are perfect for those days when staying indoors is the only thing your family can do!
*By the way, this post may contain affiliate links which means I may receive a small commission at no additional cost to you if an item is purchase through that link. For more information, click here.*
Free Printable Cut and Paste Ladybug Craft
Ideas for Easy Preschool Paper Ladybug Craft
Let's take a look at these brilliant ideas on how to incorporate this free printable ladybug craft template in your child's everyday life.
1. Surprising Facts About Ladybugs
If your child is studying the life of bugs and insects, make sure to pair it with this simple printable ladybug template.
There are about 5,000 different species of ladybugs around the world.
Did you know that ladybugs are actually a type of beetle?
They are part of the Coccinellidae family and also known as ladybird beetles.
Some ladybugs have white spots, stripes or just be plain.
Did you know their color protects them from the predators?
It makes them look terrible to eat or poisonous.
Did you know that ladybugs also play dead to defend themselves? Funny, but it's true.
Making this simple printable ladybug craft template will encourage your little one to know all these fun facts.
2. All About Ladybugs Storytime
Reading books is one of the best things me and my little one does to relax.
After reading, we like to discuss and share our experiences together.
It also helps strengthen our relationship as a family.
Since we had all the fun making this free printable ladybug outline template, we highly recommend these amazing books about ladybugs.
We are confident your kids will love them, too.


3. Letter L is for Ladybug
Planning to teach your little learner how to write letters?
This easy cut and paste ladybug craft template will help your child learn the alphabet, especially the letter L.
Once your adorable kid is done designing their own printable ladybug craft template, give them a traceable letter L, both the capital L and the lowercase.
If your child is very young, hold their hand as they go through the dashed lines.
Motivate them to practice everyday until they learn how to write the ABCs on their own.  
4. Cute DIY Ladybug Craft
Creating a realistic ladybug is as easy as color, cut and glue.
We want to make this craft easy, quick and affordable for every mom!
Let's turn all the recyclable materials into a pretty DIY ladybug craft.
Choose whether you like to use a paper plate, toilet paper roll, Styrofoam or egg carton as the body.
Have your child paint it however they want then set aside to dry.
Cut out small circles on black construction paper for the ladybug's dots.
Use a hot glue gun to attach the googly eyes and pipe cleaners for the antennae.
If your little one wants to make a cute handprint ladybug craft, just trace their hand on a red cardstock paper and cut it out.
Attach the handprints on a black paper bowl, then add the eyes, antennae and dots.
You can add decorative items such as heart beads, gems and sequins.
Your child will love playing with their own ladybug craft for hours.
We hope you enjoyed these wonderful printable ladybug craft template ideas with your toddler, preschool or kindergarten.
We are grateful to be part of your craft activity!


Ladybug Craft Supplies Needed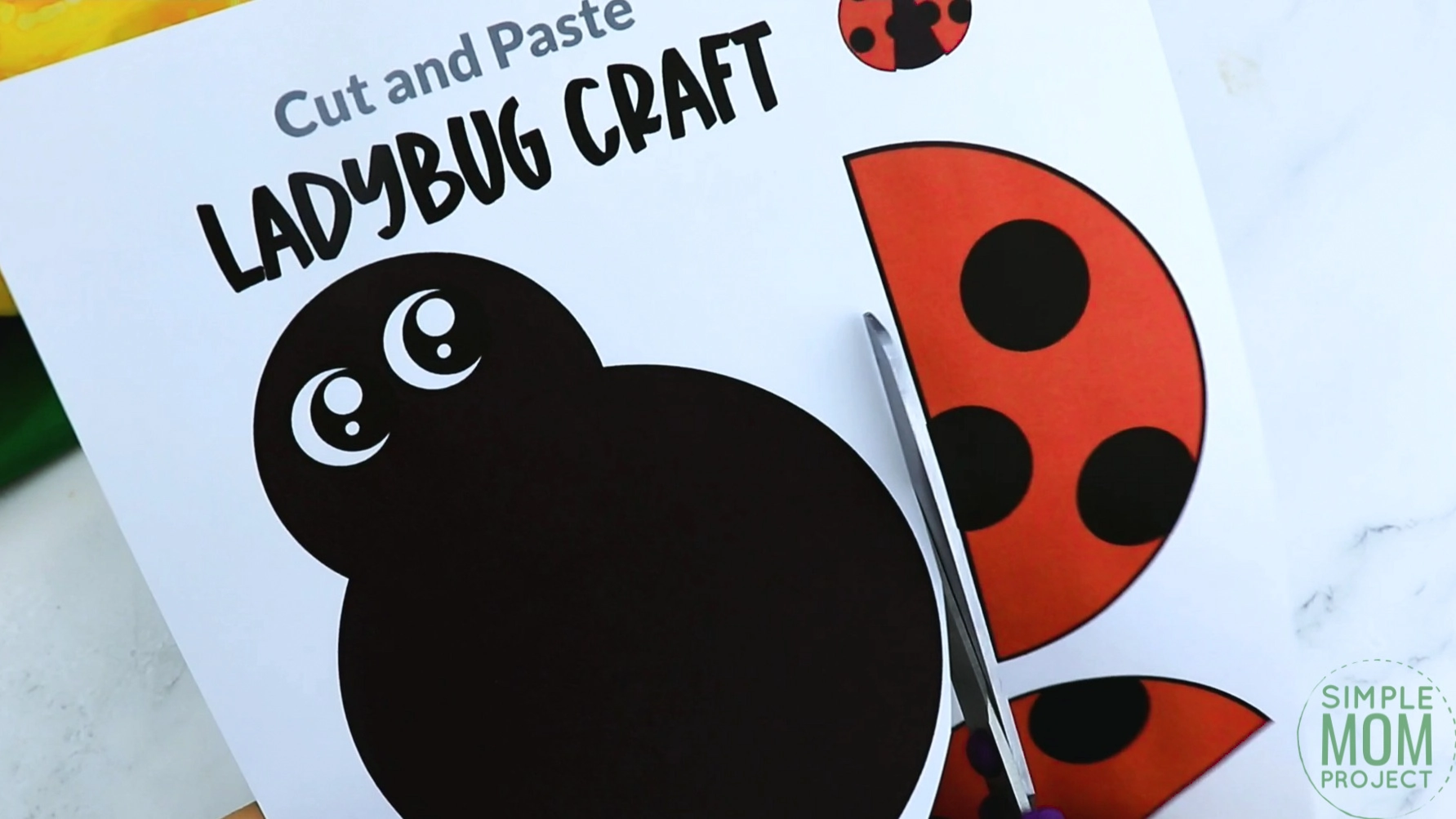 Printable Ladybug Template (FOUND AT THE BOTTOM)
Keep scrolling to get your very own ladybug craft today and start with your little ones and their ladybug craft buddies today!
Ladybug Craft Instructions
Grab all the classic craft supplies you have and print out whichever version of this cute printable ladybug craft template.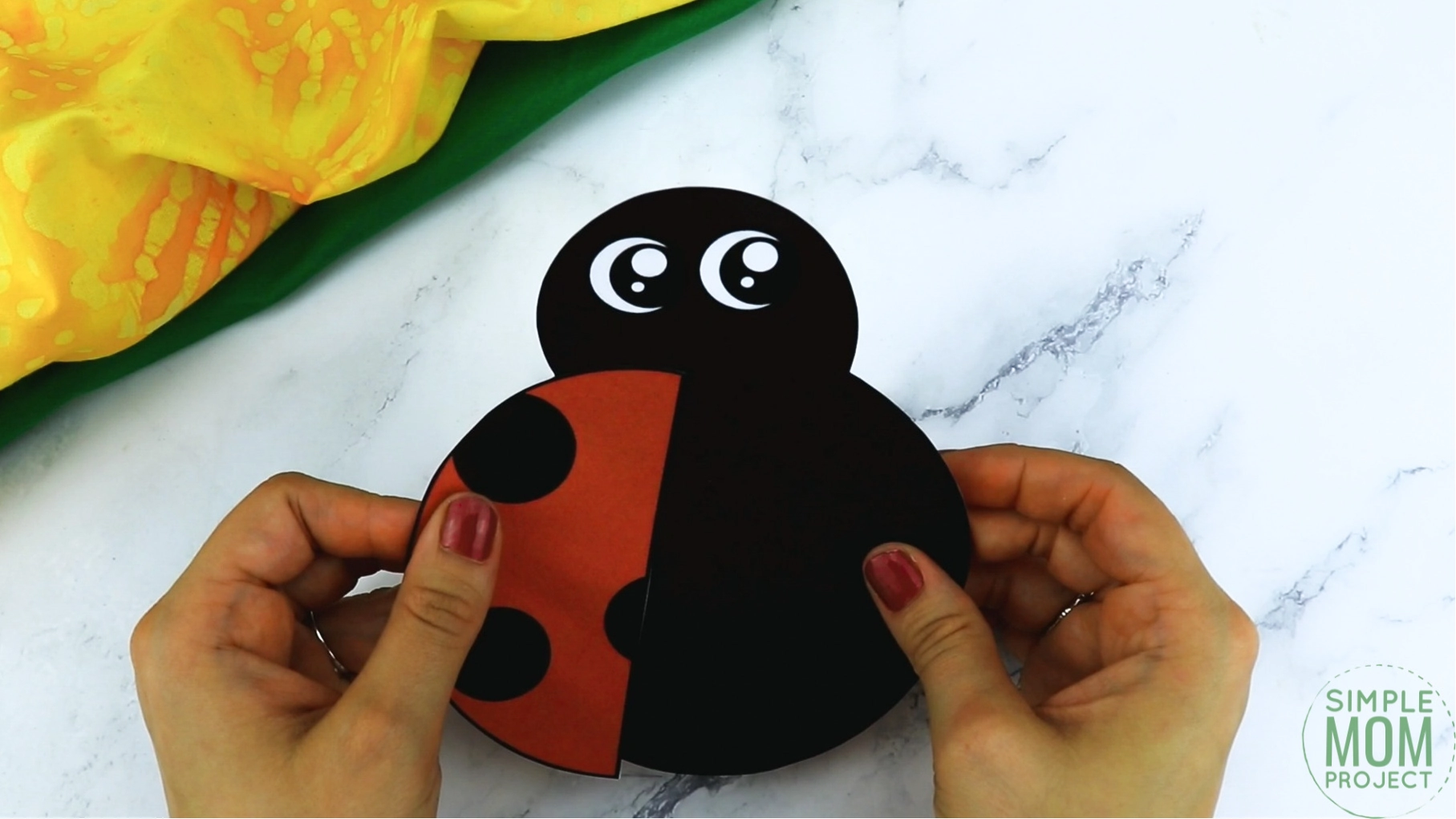 Using a pair of scissors, cut out the ladybug drawing out of the printable template.
Use a glue stick to adhere the elytra (the red wings with black dots) onto the body.
Finish it off by gluing the antennae on top of its head.
Now your kids have a cute little ladybug craft they can play with!
More Options to Choose:
You can print the blank version and trace the cut outs on card stock paper for a sturdier ladybug craft,
Print the ladybug template in color for a simple and easy rainy day craft or,
Print the blank ladybug template and use it as a fun coloring sheet activity and then glue the pieces of the ladybug craft together.
Free Printable Ladybug Craft Template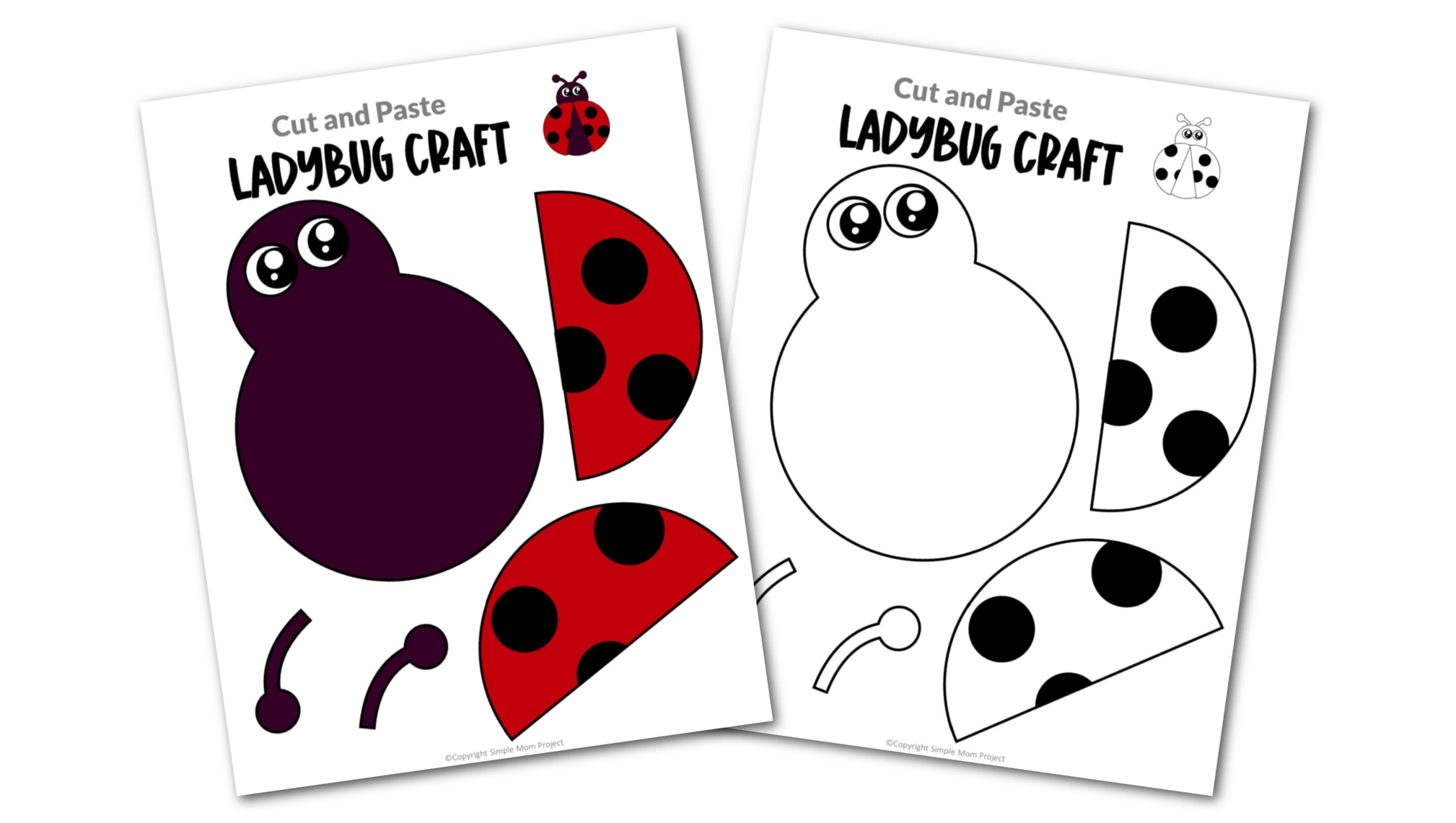 Looking for a simple cut and paste craft template to make during the spring or summer break?
We got you!
Our free printable ladybug craft template comes with two different versions!
Have your preschooler pick whether they love the black and white ladybug drawing template to fill it up with the most amazing colors or the direct-to-cut colored ladybug template.
Don't forget to share your learning plans in the comments.
Need more insect and bug fun? Check out our packed list of insects and bugs for simple craft fun with your little ones.  
When you have finished, be sure to share your creation on Simple Mom Project's Facebook Page and follow me on Pinterest!

Kaitlen D.
More Exciting Bug Crafts