It's always fascinating and fun to learn about dinosaurs.
Who would have thought that these massive and strong dinosaurs once inhabited our land?
Because many children, including my own, are captivated by dinosaurs, we created this collection of dinosaur templates.
We've added the allosaurus to our list.
Learn about these dinosaurs that lived about 150 million years ago.
Learn about their lives during the Jurassic period, make allosaurus art activities, and more!
We'll also show you some of the best allosaurus collectibles that your children will love!
Have a great week with our printable allosaurus template ideas, which will keep your kids productive and learning while having fun!


*By the way, this post may contain affiliate links which means I may receive a small commission at no additional cost to you if an item is purchase through that link. For more information, click here.*
Printable Allosaurus Template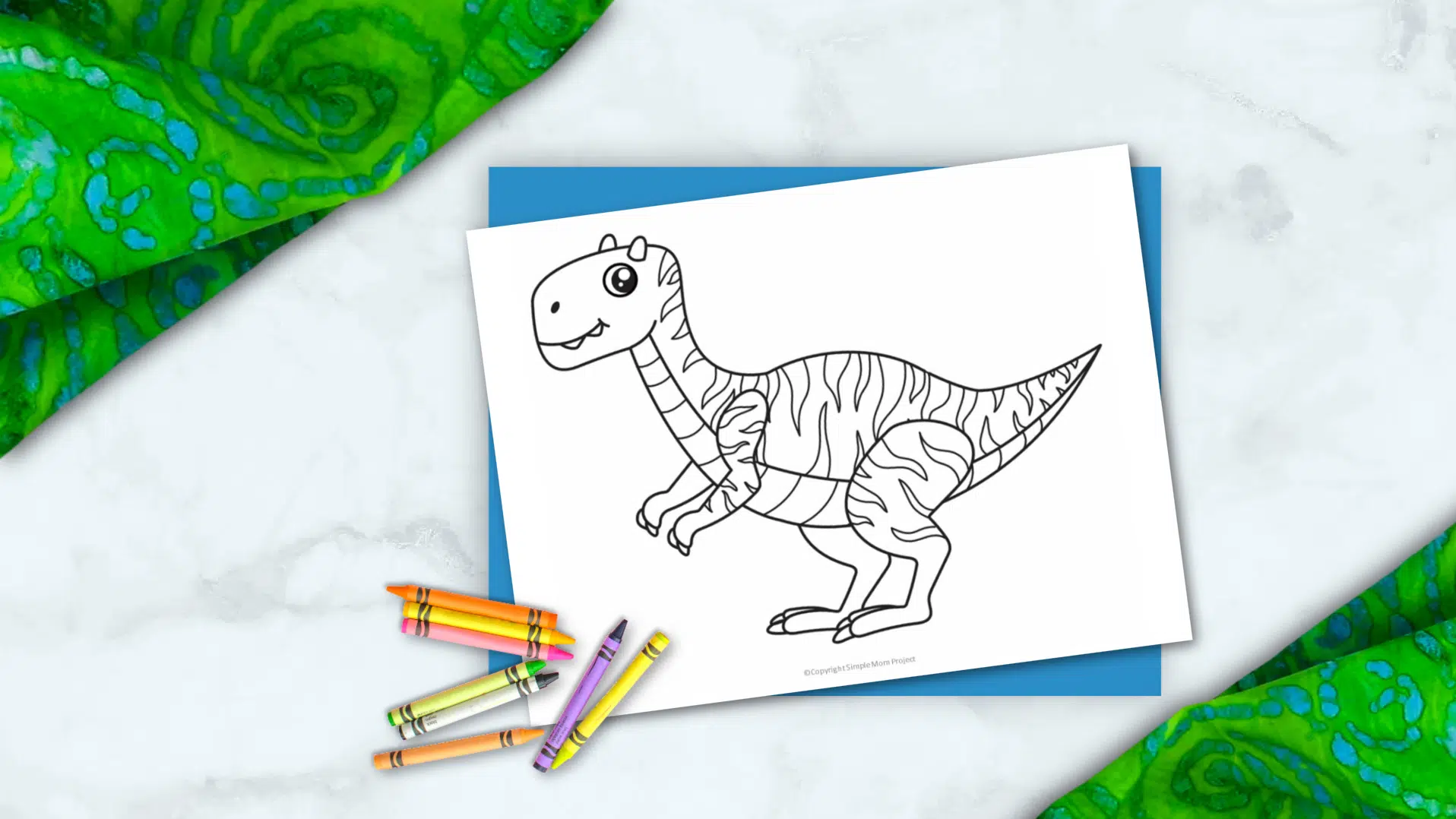 Printable Allosaurus Template Materials Needed:
Printable Allosaurus Template (FOUND AT THE BOTTOM)
Make your child's finished allosaurus template a forever memory by laminating it! We use this laminator and cannot express how much we love it! It is not only inexpensive, it is SO easy to use!
Your kids will love seeing how much you adore their art work when you laminate and display it for years to come!
Looking for more awesome and exciting dinosaur crafts ideas? Check out our Brachiosaurus Template, and Trex Craft.
Ideas for Printable Allosaurus Template
We've come up with the simplest and most exciting ways to include this printable allosaurus template into your everyday activities and learning plans.
Check it out so you don't miss out on all the fun!
1. Allosaurus Facts
Whether you want to teach your kids about dinosaurs or simply share information about them, learning more about these dinosaurs will keep them engaged and interested.
This will also help them learn about what happened in the past.
Sharing some allosaurus facts is a perfect way to start!
Share these incredibly interesting allosaurus facts with your preschoolers and kindergarteners and watch their faces light up!
In the Cretaceous period, Allosaurus coexisted with Diplodocus and Stegosaurus.
In Greek, the word Allosaurus means "different lizard."
Allosaurus had a distinct backbone from other Jurassic-era dinosaurs.
Allosaurus are carnivorous dinosaurs.
They are the top predators that preyed on other Jurassic dinosaurs.
Allosaurus was the largest carnivore that lived at the time.
They stood 16 feet tall and weighed nearly as much as a vehicle!
Another fun way to share these facts with your children is to pair them with a printable allosaurus template, which will help your children understand what allosaurus looks like.
2. All About Allosaurus
Who here have children who are dinosaur collectors?
I'm sure I'm not the only one!
My kids are constantly collecting every kind of dinosaur stuff they can find.
Everything from books to toys!
They couldn't wait to look for allosaurus books and toys when I showed them the printable allosaurus template.
We've put up a list of fun allosaurus stuff to add to your dinosaur collection.
You can use these to organize your learning plans as well!
You can read these fantastic allosaurus books and then play with a spectacular allosaurus toy figure.


3. A is for Allosaurus
Who would have imagined that learning the letters with dinosaurs would be more fun?
Yes, you can teach the alphabet with this printable allosaurus template!
You can use the allosaurus as an example of an object that starts with the letter A, whether the letter A is the letter of the week or the day.
You can have your kids start with the printable allosaurus template and then go on to the letter A lesson.
This is perfect for all dinosaur enthusiasts in the family!
In no time, they'll be eager to discover more about the dinosaur alphabet!
4. Visit a Dinosaur Park or Museum
Have you ever visited a dinosaur theme park?
Have you ever gone to a dinosaur museum where they keep dinosaur fossils and other dinosaur artifacts?
If you haven't, this is the best time to go!
After working with the printable allosaurus template, your children will definitely want to see real-life dinosaur figures, fossils, and photographs.
This idea can also be incorporated into your learning plans for a field trip for your preschoolers and kindergarteners or an exciting weekend bonding activity with your family.
Bring a copy of the printable allosaurus template with you so you can easily spot some allosaurus while you're there!
We hope you enjoyed organizing your activities using our ideas as much as we enjoyed sharing them with you.
We're delighted to be a part of your children's learning experience!
We are confident that your children will have a fun week with allosaurus dinosaurs.


Printable Allosaurus Template: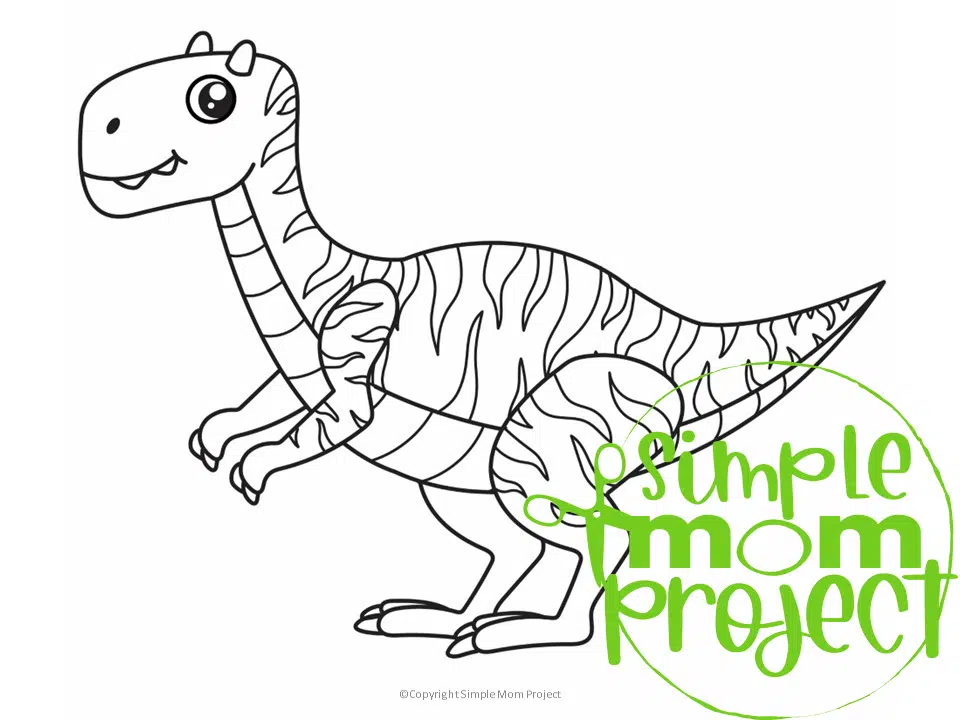 Let's get started on this simple allosaurus coloring page with your dinosaur lovers!
Bring out your crayons, markers, or paint and let your kids decorate this allosaur dinosaur drawing any way they wish.
They will love working on this since they'll be able to mix and match colors to create a real-life allosaurus!
Kids can also improve their fine motor skills by using crayons and markers.
Art and fine motor activity in one!
Their finished allosaurus artworks can also be used to decorate their bedrooms and playroom.
You can hang them on the wall together with their dinosaur collectibles!
Don't forget to share your awesome experiences and thoughts on these ideas!
Leave us a message in the comment section.
When you have finished, be sure to share your creation on Simple Mom Project's Facebook Page and follow me on Pinterest!

Kaitlen D.
More Awesome Dinosaur Crafts And Templates