You might be wondering if there are other ways to occupy your child this coming weekend.
Then, why don't you give them some preschool safari craft templates?
Let's start with this free printable hippopotamus craft template that will encourage your children to practice their scissor skills and allows lots of access in playing with crayons.
This free printable hippo craft template can help your preschooler or kindergartener in learning how to pronounce and write the alphabet letters, especially the letter H.
This easy cut and paste printable is perfect for kids who love hippopotamus and purple color.
Gather all the materials needed and print out this cute printable hippo template to keep your child's little hands occupied at home.


Need more crafty fun? Check out our Heart Hippo Craft, Rhino Craft and Giraffe Craft.
 T
hey are perfect for those days when staying indoors is the only thing your family can do!
*By the way, this post may contain affiliate links which means I may receive a small commission at no additional cost to you if an item is purchase through that link. For more information, click here.*
Free Printable Cut and Paste Hippo Craft
Ideas for Easy Preschool Paper Hippo Craft
Below are the few lists of incredible ideas on how to incorporate this free printable hippo craft template in your daily life with your children.
1. Amazing Facts About Hippos
Do you know any fun facts about the hippos?
You'll notice that there are a lot of interesting facts about hippos while making this printable cut and paste hippo craft template.
Hippopotamus is a large semi-aquatic mammal with a large barrel-shaped body that is native to Africa.

Did you know that hippos are generally considered the third largest land mammal? It's true!
They can reach 12 feet in length and weigh up to 7000 pounds.
You would think that hippos are great swimmers because they spend most of their time in water. But did you know that they can't swim?
They walk or stand on surfaces below the water like sandbanks.
Hippos may be one of the most dangerous animals in the world but this free printable friendly hippo craft template won't harm anyone and can play with your little one for hours.
2. Storytime for Children
Telling stories allows children to improve their imaginations, listening skills and concentration.
Making this cut and paste printable hippo craft template will establish a great bond between parents and children.
If your little one is really fascinated with these purple-colored hippos, they will surely love these children's books.


3. Easy Preschool Hippo Craft
Making DIY hippo crafts will keep your children productive even during summer break.
We usually focus on easy craft projects to do at home using recycled materials that can be found inside your household.
Let's make a paper plate hippo craft! First, we paint the whole paper plate grey.
Trace the facial features of this free printable hippo craft template on a construction paper, paint it and cut out.
Glue each piece to the paper plate to complete the hippo's face.
You can also turn this paper plate hippo craft into a mask by cutting out the holes instead of using the template eyes.
Attach a popsicle stick at the bottom of the hippo's face so your little one can hold it up.
4. Letter H is for Hippo
Let's continue the fun learning by including this simple printable hippo craft template to our preschool lesson plan!
You can either print a large letter H, glue it on a cardboard and display it next to the finished hippo craft template or print out a traceable upper- and lower-case letter H worksheets.
Once your preschooler is done making the cut and paste hippo template and traceable letter H worksheets, continue practicing the H sound until they learn how to say the word hippopotamus.
It's a fun way to work on your child's pre-reading skills.
We are confident that these amazing hippo craft ideas will provide a lot of fun and knowledge to your toddler, preschooler or kindergartener.


Hippo Craft Supplies Needed
Printable Hippo Template (FOUND AT THE BOTTOM)
Keep scrolling to get your very own hippo craft today and start with your little ones and their hippo craft buddies today!
Hippo Craft Instructions
Choose which version of this free printable hippo craft template your child wants to create first. Download and print it out on a white construction paper.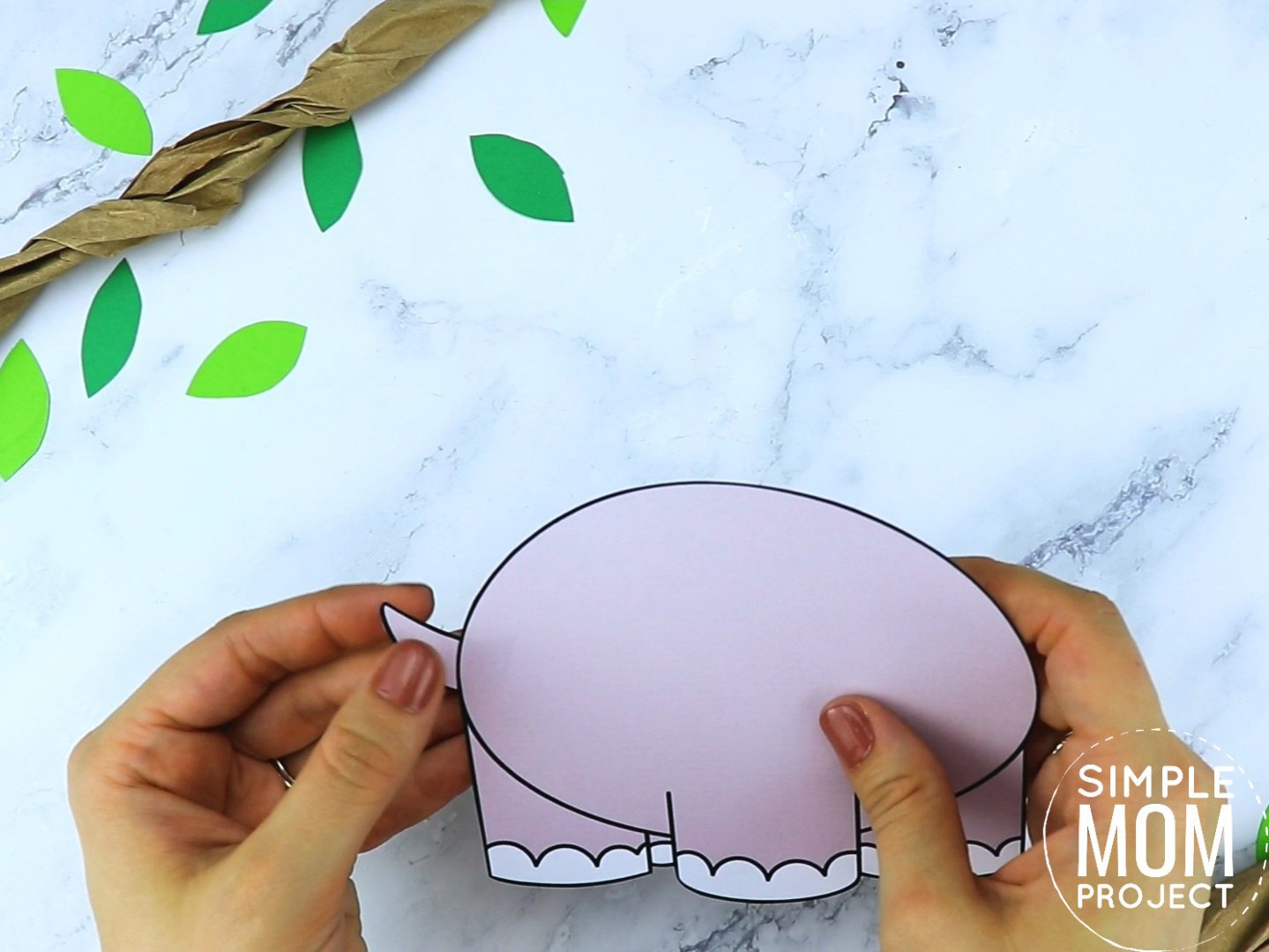 Using a pair of scissors, cut out each part of the hippo from the printable template.
Glue the hippo's cute little tail at the back of the body.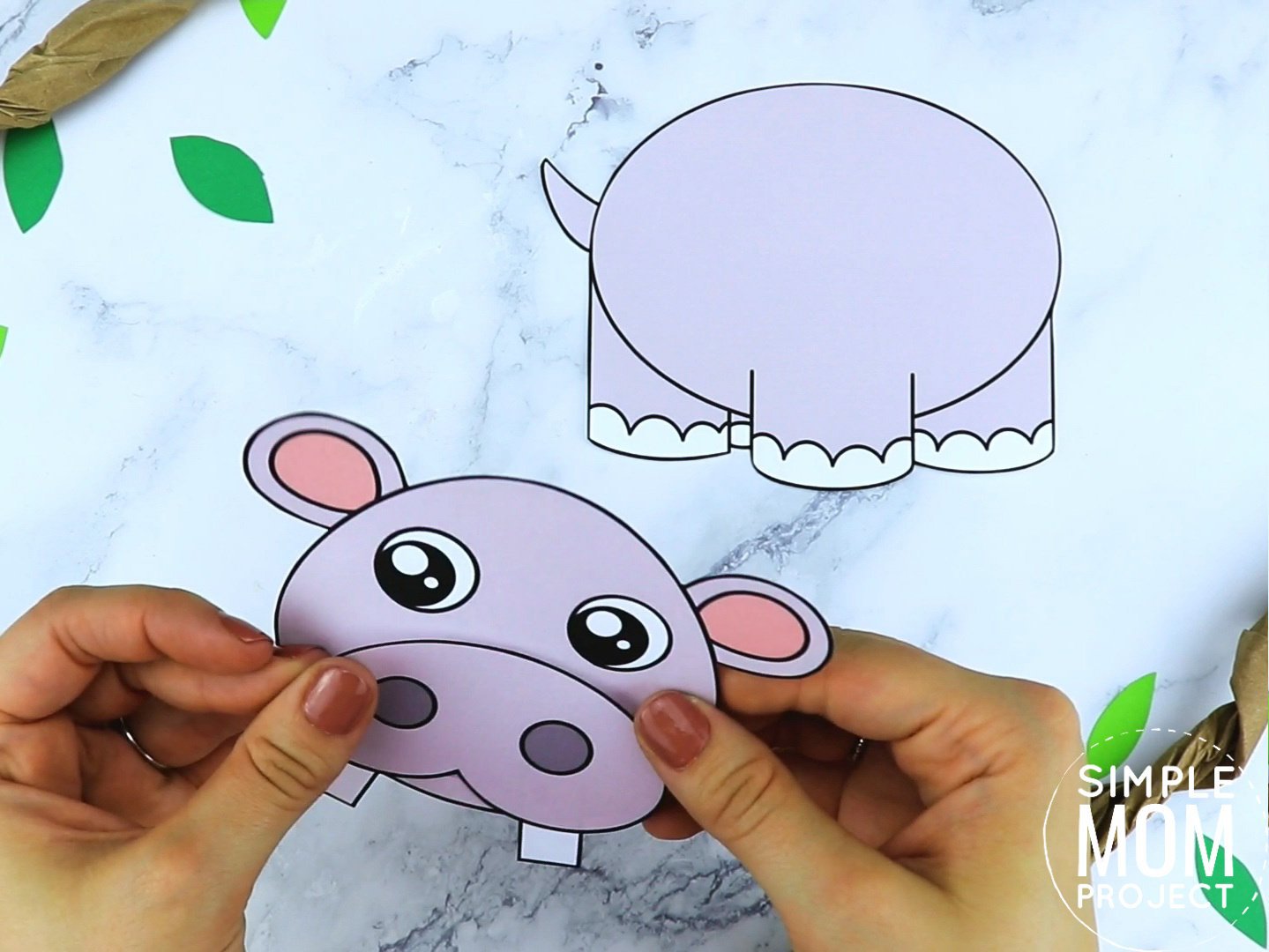 Glue the teeth and close nostrils together, then attach it on the hippo's face.
Glue the hippo's head on its barrel-shaped body.
Leave it for a few minutes to completely dry. Your child can play with their very own hippo craft afterwards.
More Options to Choose:
You can print the blank version and trace the cut outs on card stock paper for a sturdier hippo craft,
Print the hippo template in color for a simple and easy rainy day craft or,
Print the blank hippo template and use it as a fun coloring sheet activity and then glue the pieces of the hippo craft together.
Free Printable Hippo Craft Template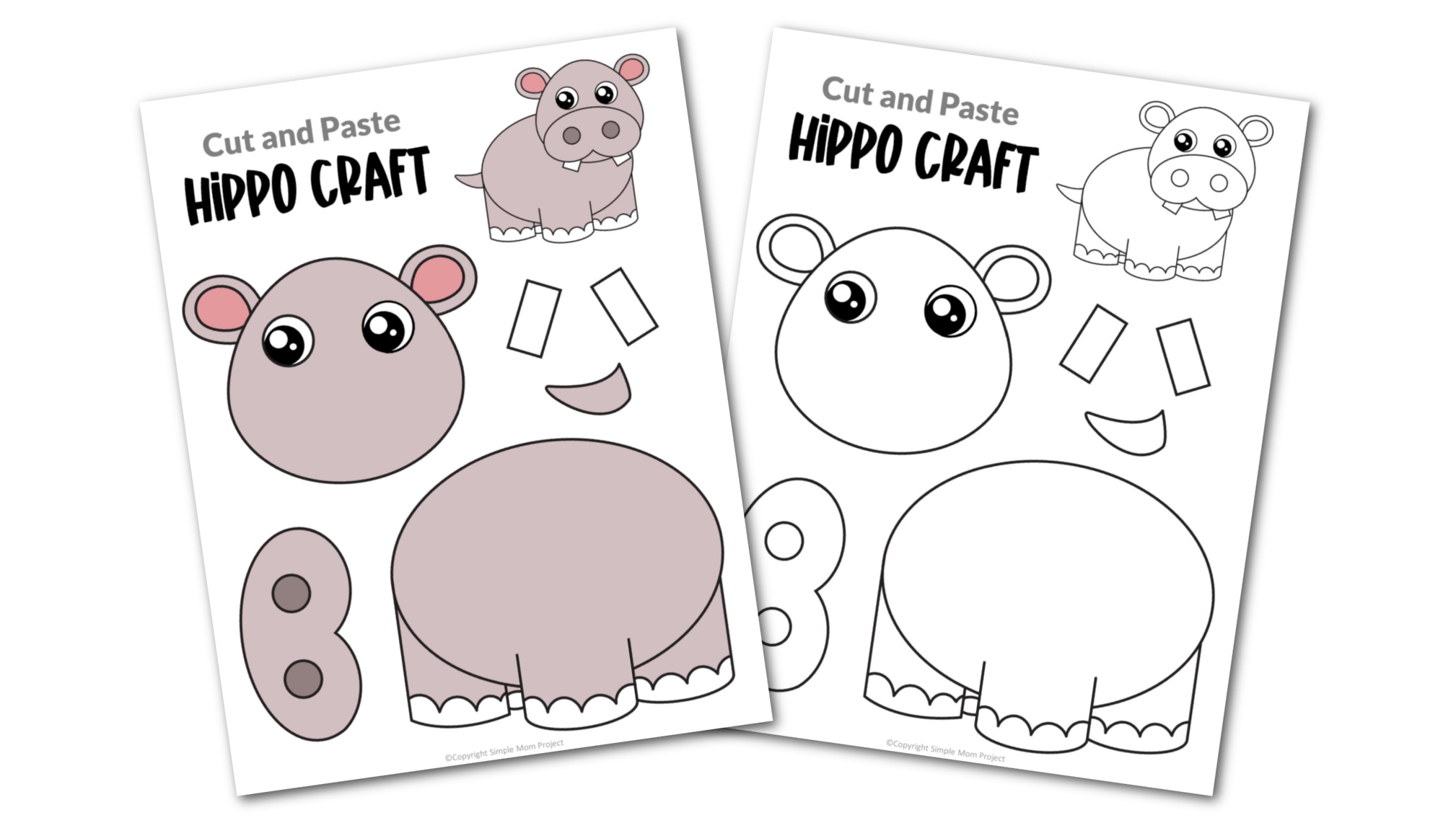 This cute printable hippo craft template has two different versions to keep your children busy during the weekend! We got the plain black and white hippo template so your little one can fill it up with colors and the easy cut-and-paste colored hippo template.
Don't forget to share your learning plans in the comments. Need more safari animals fun? Check out our packed list of safari animals for simple craft fun with your little ones.  
When you have finished, be sure to share your creation on Simple Mom Project's Facebook Page and follow me on Pinterest!

Kaitlen D.
More Safari Animal Crafts