Winter is the perfect season for hot cocoa and fun with your family! This simple preschool hot cocoa craft printable will fit into any winter themed activities you may have planned. The simple winter classroom activity can be enjoyed with a cup of hot cocoa and marshmallows afterward!
I just love finding old fashioned chocolate bar craft ideas to enjoy with the kids during the colder weather. This simple Pinterest template is an easy way to get your kids excited about the wintery season.
You can use this hot cocoa chocolate mug template art project to discuss the family and the importance of being thankful all year round.
*By the way, this post may contain affiliate links which means I may receive a small commission at no additional cost to you if an item is purchase through that link. For more information, click here.*
Need more winter fun? Check out our brown bear and our donkey craft. They are perfect for those cold days when staying indoors is the only thing your family can do!
Cut and Paste Hot Chocolate Mug Craft with Free Mug Template
Ideas for Simple Preschool hot Cocoa Craft Printable
While I have plenty of ideas to use this Bee Creations Pay Teachers hot cocoa craft printable for art with preschool kids, I'm only featuring a few ideas below to get you started!
1. Popsicle Stick Crafts
I just love popsicle stick crafts with toddlers! They have so much joy in their eyes as they work their hands gluing popsicle sticks with their hot cocoa craft printable. You can make marshmallows to go with their adorable paper craft with the chocolate mug template.
Let your preschool kids creativity flow as they use their hands to create some popsicle stick crafts with my hot chocolate mug printable.
2. Winter Crafts for Preschool
Another way to incorporate my simple preschool hot cocoa craft printable into your toddler's life is to have them create winter crafts. Gather up all of my Pinterest template printable options and have your kids enjoy a day full of winter crafts at preschool.
3. Alphabet Education
You can use this simple preschool hot cocoa craft printable to help your preschoolers recognize the letter H and M. You'll use the chocolate mug template to get your kids to repeat M is for mug while using the hot cocoa for the letter H. This is a fun craft to include as part of your alphabet education lessons, perhaps a nice break after they've completed their unit studies or test on the Letter H and the Letter M.
These are just some of my clever ways to incorporate this simple preschool hot cocoa craft printable into your daily life with preschoolers. I'm sure you'll be able to use my ideas to gather up a fun way to include my preschool Pinterest template into your winter Pay Teachers activities list this year.
Hot Cocoa Craft Supplies Needed:
Printable Hot Chocolate Mug Template (FOUND AT THE BOTTOM)
Keep scrolling to get your very own hot cocoa craft today and start with your little ones and their paper hot chocolate mug today!
Hot Chocolate Craft Instructions:
After you've printed your hot chocolate template, go ahead and cut out the mug parts.
Another fun way to enjoy this hot cocoa much craft friend is to print the hot chocolate template on white paper and color it first. Then cut and glue him together.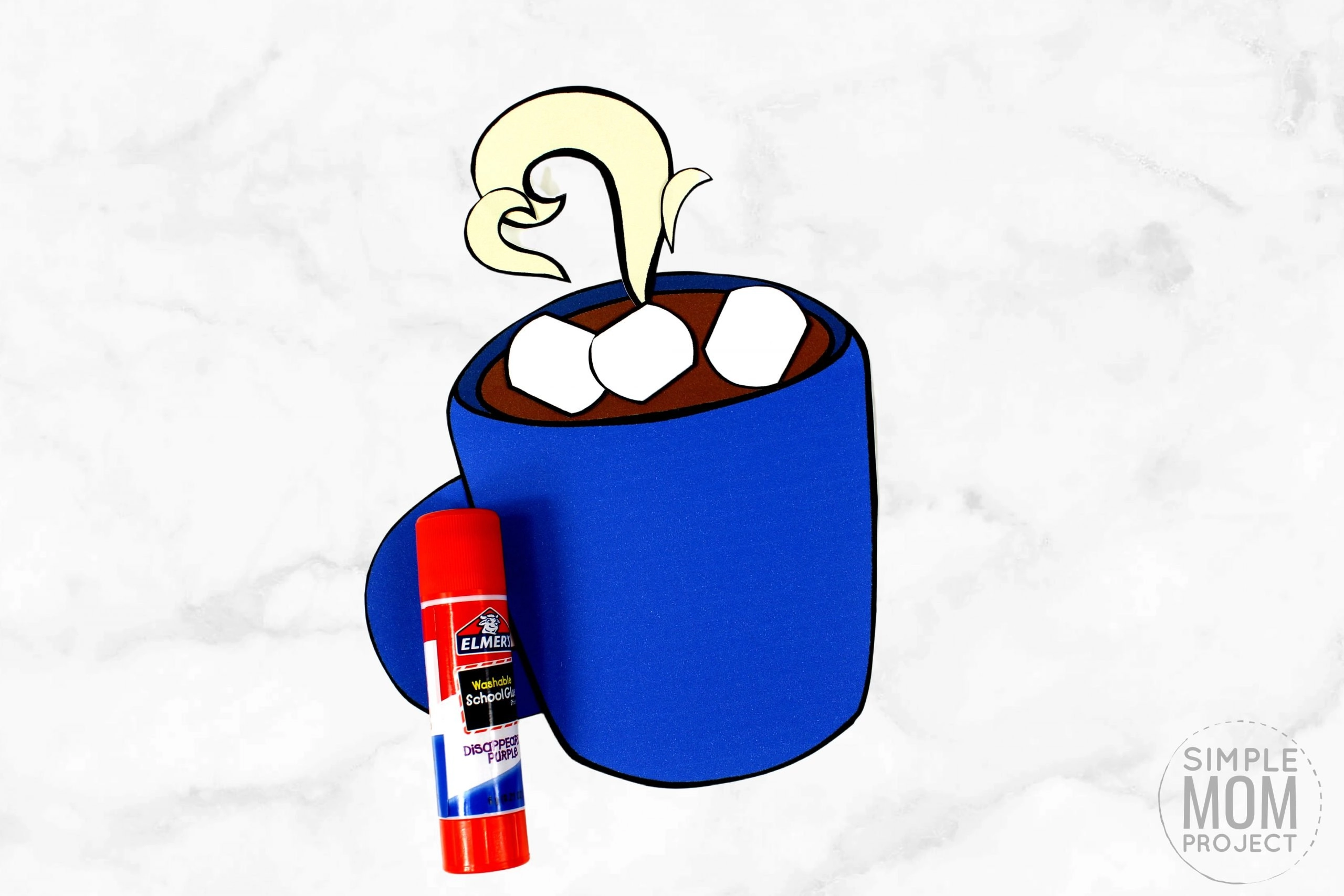 Next, simply glue all the pieces together. This hot cocoa craft is so easy and perfect for kids of any age including preschoolers, toddlers and kindergartners.
Free Printable Hot Cocoa Template:
Don't forget to share your winter theme learning plans in the comments. Need more winter fun? Check out our packed list of printable arctic animals for simple craft fun with your little ones.  
When you have finished, be sure to share your creation on Simple Mom Project's Facebook Page and follow me on Pinterest!

Kaitlen D.
More Fun Winter Crafts: