Working on these fantastic bird templates collection is such a delightful way to start your week.
Without this powerful, and courageous bird, our bird collection would be incomplete.
We've put together a printable eagle template as well as a list of fun and engaging activities to help you include them in your lesson plans.
This printable eagle template has a ton of educational ideas that you can do for the entire week, whether you want to introduce your kids to birds, the alphabet, arts and crafts, or science.
Prepare for a busy and productive week with your preschoolers and kindergarteners as they learn about these magnificent birds.


*By the way, this post may contain affiliate links which means I may receive a small commission at no additional cost to you if an item is purchase through that link. For more information, click here.*
Printable Eagle Template
Printable Eagle Template Materials Needed:
Printable eagle Template (FOUND AT THE BOTTOM)
Make your child's finished eagle template a forever memory by laminating it! We use this laminator and cannot express how much we love it! It is not only inexpensive, it is SO easy to use!
Your kids will love seeing how much you adore their art work when you laminate and display it for years to come!
Looking for more fun and amazing bird crafts ideas? Check out our Eagle craft and Hawk template.
Ideas for Printable Eagle Template
We've come up with a few creative ways to include this printable eagle template into your learning plans and routines.
1. Excellent Eagle Books for Kids
Another way to introduce and interest our children in the theme of the week is to let them learn and explore it.
These engaging books teach you about interesting eagle facts and eagle educational stories.
These books go well with our printable eagle template.
2. E is for Eagle
Did you know you can teach the alphabet using this printable eagle template?
You may also use this eagle coloring page to teach the vowels.
To make it more interesting, start introducing the phonic sound of E.
Begin your lesson by cutting a letter E form out of any paper you have available.
You can also use a letter E flashcard, foam letter, or magnetic letter.
Print out a copy of the eagle template.
You can start by asking your children what bird they see on the template and then what letter they see on the flashcard.
"E is for Eagle" or "Eagle begins with the letter E" is a good way to go.
Allow them to say the words out loud.


3. Eagle Paper Bag Puppet
During your lesson, your kids may begin to ask for eagle arts and crafts.
This printable eagle template idea is a great way to encourage your child's imaginative play and artistic abilities.
This eagle paper bag puppet is simple to make and just requires common art supplies.
Prepare a paper bag, glue, scissors, and a printout of the eagle template.
Your children can color or leave the eagle drawing uncolored.
To begin, cut out the eagle.
Then, using glue, attach it to the paper bag to create an eagle paper bag puppet.
This can be used when reading the eagle books or while performing a puppet show on birds with your children.
Make as many eagle paper bag puppets as you wish so that your little ones can share them with their friends.
4. Cardboard Tube Eagle Craft
Looking for a simple and easy-to-do eagle craft that your children may play with and use to decorate their playroom and bedroom?
For this cardboard eagle craft, all you will need is a cardboard tube or tissue roll, glue, crayons, scissors, and a copy of the printable eagle template.
If you have a short tissue roll, you can join two tissue rolls together to create a long tube.
Before cutting out the eagle drawing, you can color it or leave it uncolored.
Apply glue to the cardboard tube and attach the eagle stencil.
To make it look like a flying eagle craft, punch a hole in the back of the cardboard tube and loop it through a yarn or ribbon.
It can also be used as a pencil and crayon holder.
What was your favorite idea from our printable eagle template?
What did your children find the most enjoyable?
We make every effort to provide you and your children with the most simple and educational concepts possible.
We're confident you will have a fun weekend learning about these fearless eagles and creating eagle template ideas.


Printable Eagle Template: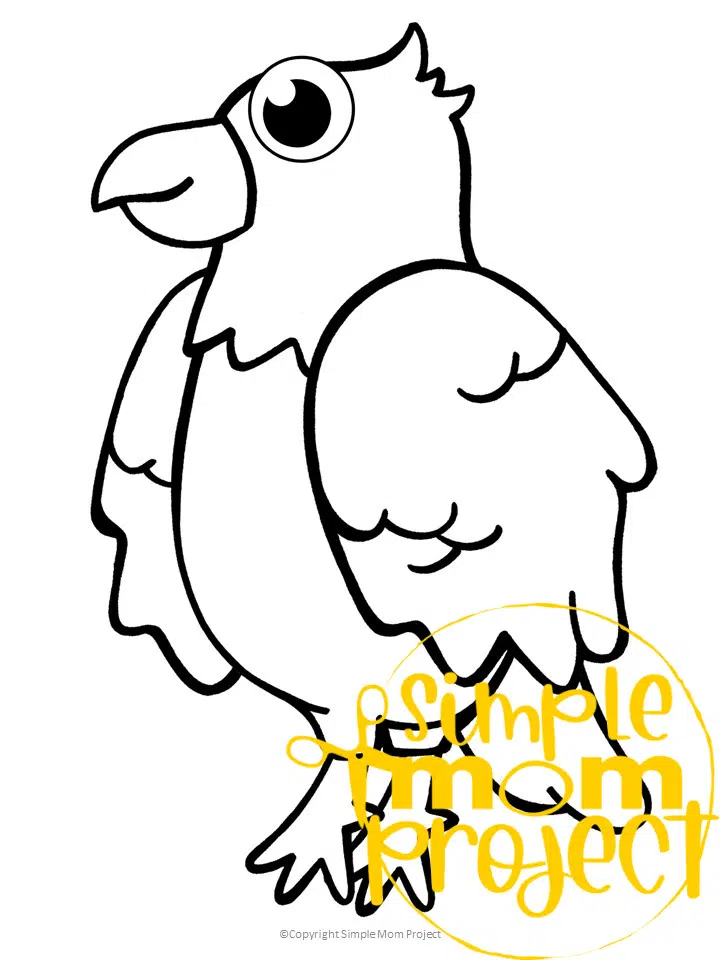 Can't get enough of these brave birds? Gather your art supplies and prepare to create your own eagle!
Your children can decorate the eagle's powerful wings, sturdy body, and enormous beaks using a range of craft materials.
On the eagle stencil, they can paint, color, or glue feathers.
Eagles are a popular symbol of power and freedom, so be sure to show off your finished eagle templates to your friends and family!
They would almost probably want to decorate one for themselves.
We want to know all your exciting experiences throughout your learning plans.
Don't forget to leave a message in the comment section.
When you have finished, be sure to share your creation on Simple Mom Project's Facebook Page and follow me on Pinterest!

Kaitlen D.
More Fun Bird Templates