Toddler, preschoolers and kindergartens are fascinated by sharks, so we have created this easy peasy printable shark template for every mom out there looking for fun craft projects to do with their kids.
However, sharks aren't just for little kids! Especially since the rise of the popular "Baby Shark" song. Don't worry, I won't sing it.
But you can grab all the supplies you probably already have at home such as scissors, glue sticks, cardboard, construction paper, paper plates or toilet paper rolls to make your paper shark craft stand out.
Sharks are fascinating creatures!
They're so enthralling that the Discovery channel has an entire week dedicated to them every year.
In fact, this paper craft shark template is the perfect printable decoration for your shark week viewing party!
Also, see some fun facts to share as you and your kids make this easy and fun printable shark craft. 
This shark craft template activity includes easy step-by-step instructions so your little crafters can assemble it on their own.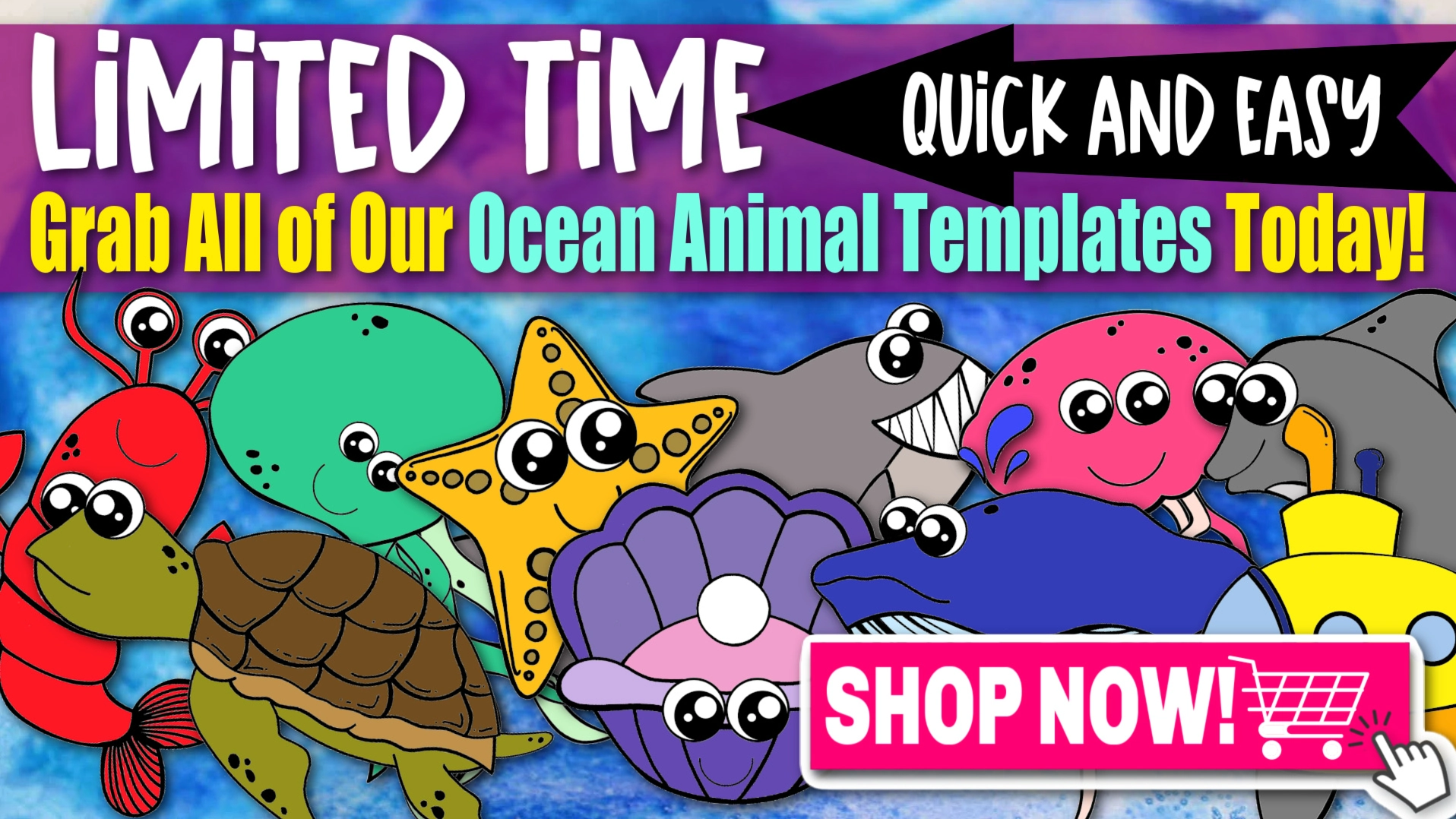 Need more ocean fun? Check out the printable build a jellyfish craft and lobster friend for more ocean themed simple craft fun with your little ones.
Keep scrolling to get your very own paper shark template printable and get started celebrating sharks in your own fun way.
*By the way, this post may contain affiliate links which means I may receive a small commission at no additional cost to you if an item is purchase through that link. For more information, click here.*
Adorable Shark Craft for Kids with Free Template
Shark Theme Activities:
Need some fun shark craft ideas to do with your kids? Check out these fun ideas:
1. Shark Party Decorations
Whether you're hosting a viewing party for shark week or an ocean themed baby shower… you definitely need to print these easy shark templates to help decorate for the party.
You can use these easy shark crafts as stencils for decorating the cake, tabletop decorations, or hang from streamers or ribbon for an extra special garland.
Little boys will especially enjoy these light blue sharks attached to sticks and used as fun selfie props!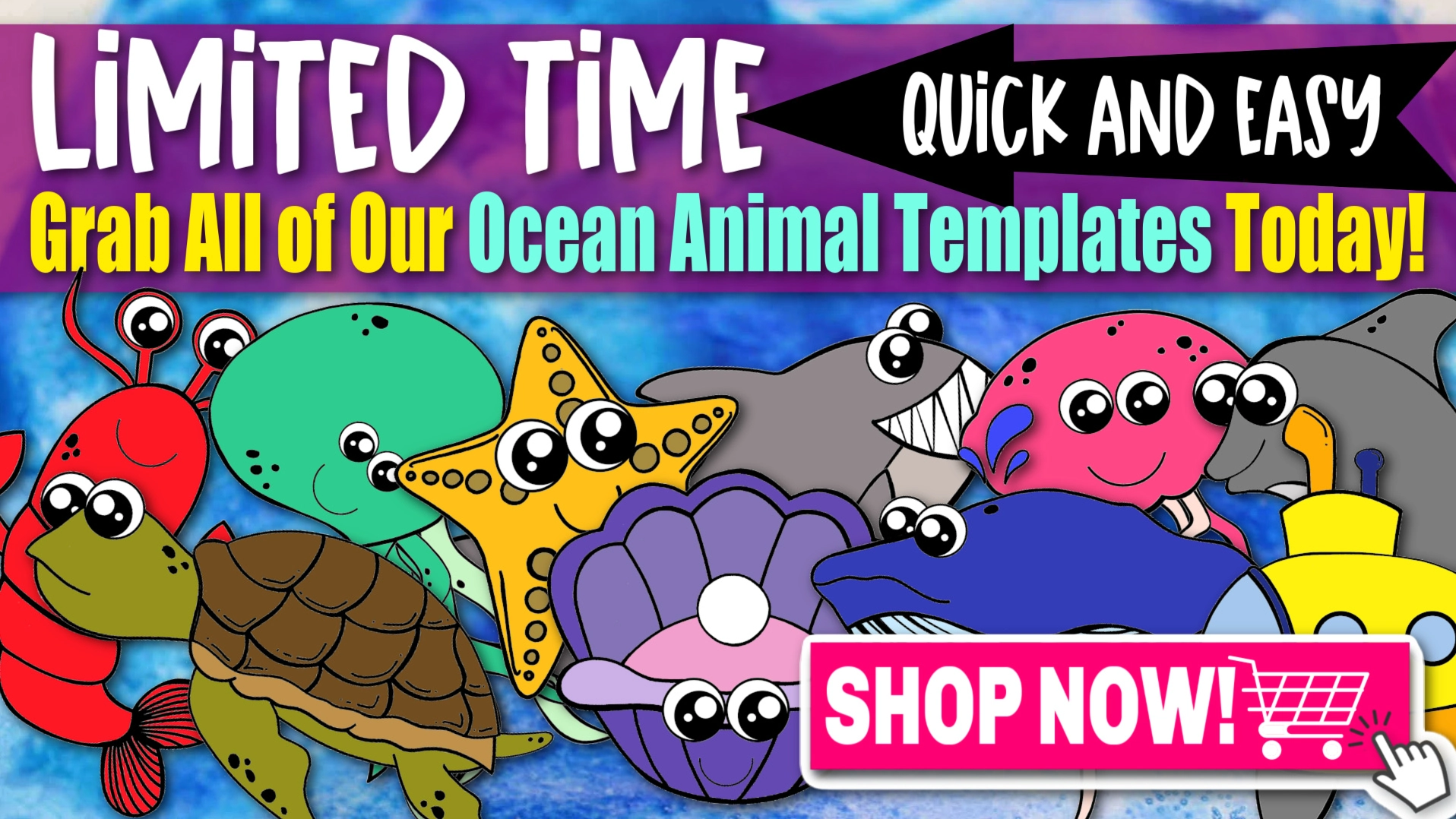 2. Shark Story Time Craft
If your little ones love the ocean or the beach, you might want to consider an ocean themed story for bedtime or just some extra afternoon fun.
Add a hands-on element by crafting your very own shark character together after story time.
Some of our favorite stories from the deep have fun shark characters. Our absolute favorite shark tales come from Bruce Hale's Clark the Shark series.
3. Shark Song & Dance
My kids love dance parties! We have a dance party when we need to blow off steam, before bedtime, and when they get the wiggles.
Sometimes, we dance like animals. To do this, you just take turns dancing around the room like a certain animal.
For a shark themed dance party, you and your little ones can wiggle like sharks.
Don't forget to take your newly created paper shark buddies for a spin on the dance floor!
To add a little twist on our shark crafts, we can turn them into friendly shark puppets just by gluing them onto a paper lunch bag.
Just print, cut out, decorate, and take them dancing.
Here are some fun shark themed songs and dances to try with your little fishes:
– Baby Shark from Pinkfong. You can't skip this song! It's so funny and cute!
– Shark Finger Family from Shark Academy. The finger family song is a great way to help children practice hand eye coordination in a fun and easy way.
– The Shark Song from the Ooey Gooey Lady. My kids laugh hysterically over this song! 
Ready to get started on your ocean animal shark craft? Gather up your supplies and let's dive right in!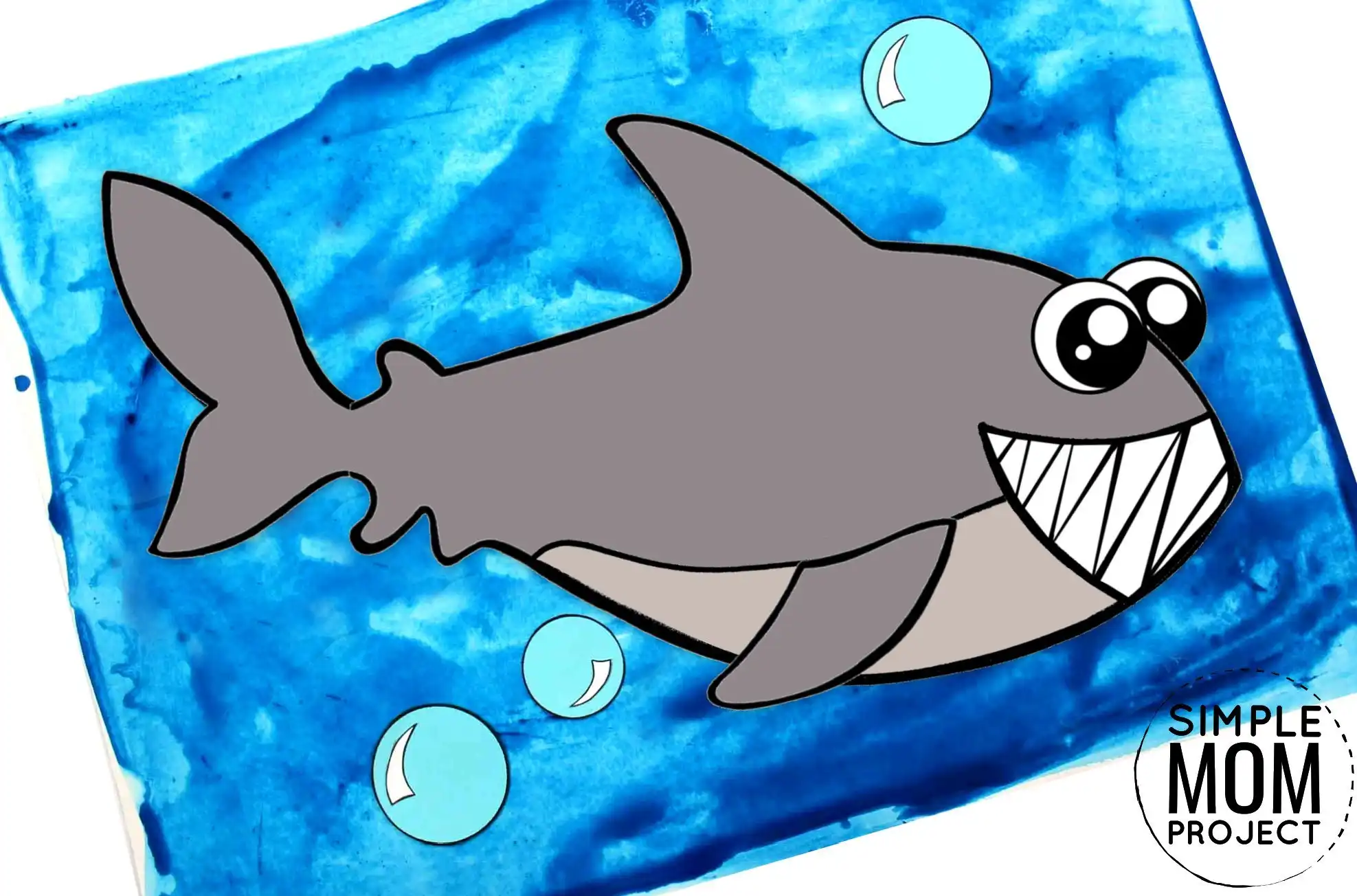 Shark Craft Supplies Needed:
Printable Shark Template (FOUND AT THE BOTTOM)
Shark Craft Tutorial:
1. This fun ocean craft is so easy to do! Simply print on the colored paper as instructed in the shark template.
2. Then cut all of the pieces out and glue them together.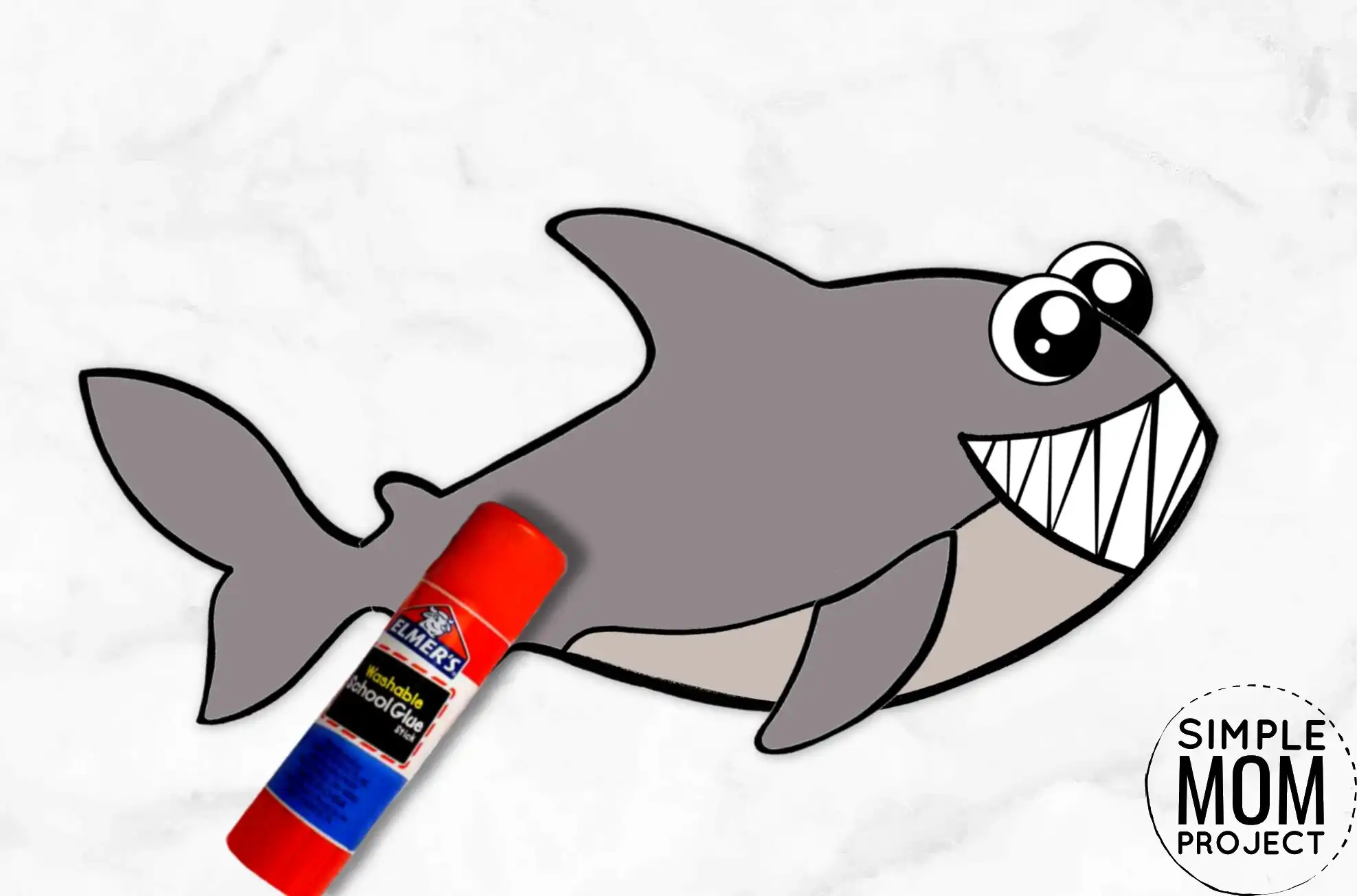 3. Finally, to give your shark a little extra life and shine, add small slivers of white paper to his fins and tail.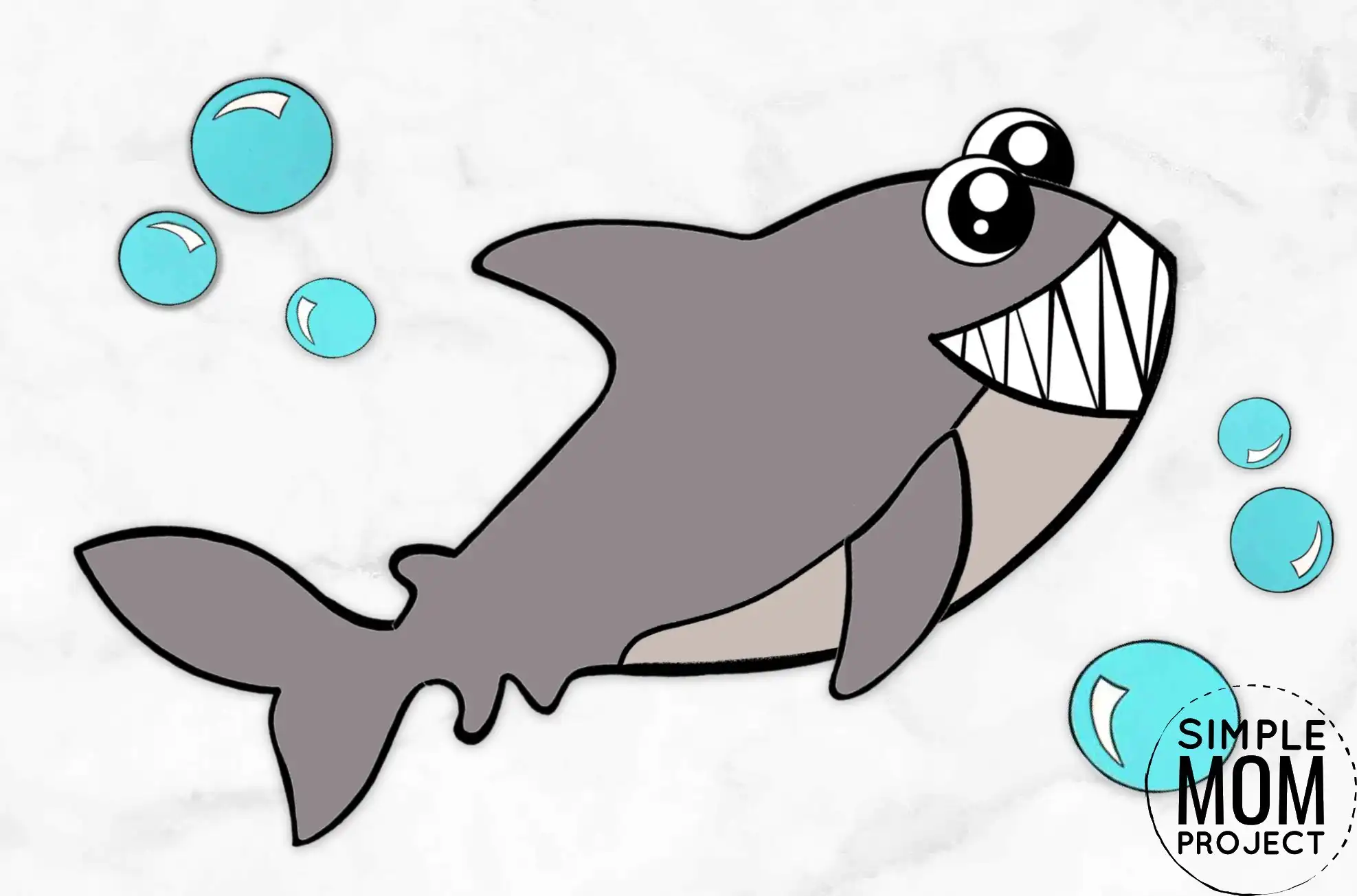 Now he is all complete!
If you are short on colored paper or just want to extend the fun with your little ones, color the shark template first before cutting out the shapes. When he is all decked out, then cut them out and glue them together as instructed before.
Now time to print and get to crafting!
Free Printable Shark Template
Whatever you decide to do with these lovable paper shark printables, don't forget to come back and share your stories in the comments. I love hearing about how you're getting creative with these fun templates!
When you have finished, be sure to share your creation on Simple Mom Project's Facebook Page and follow me on Pinterest!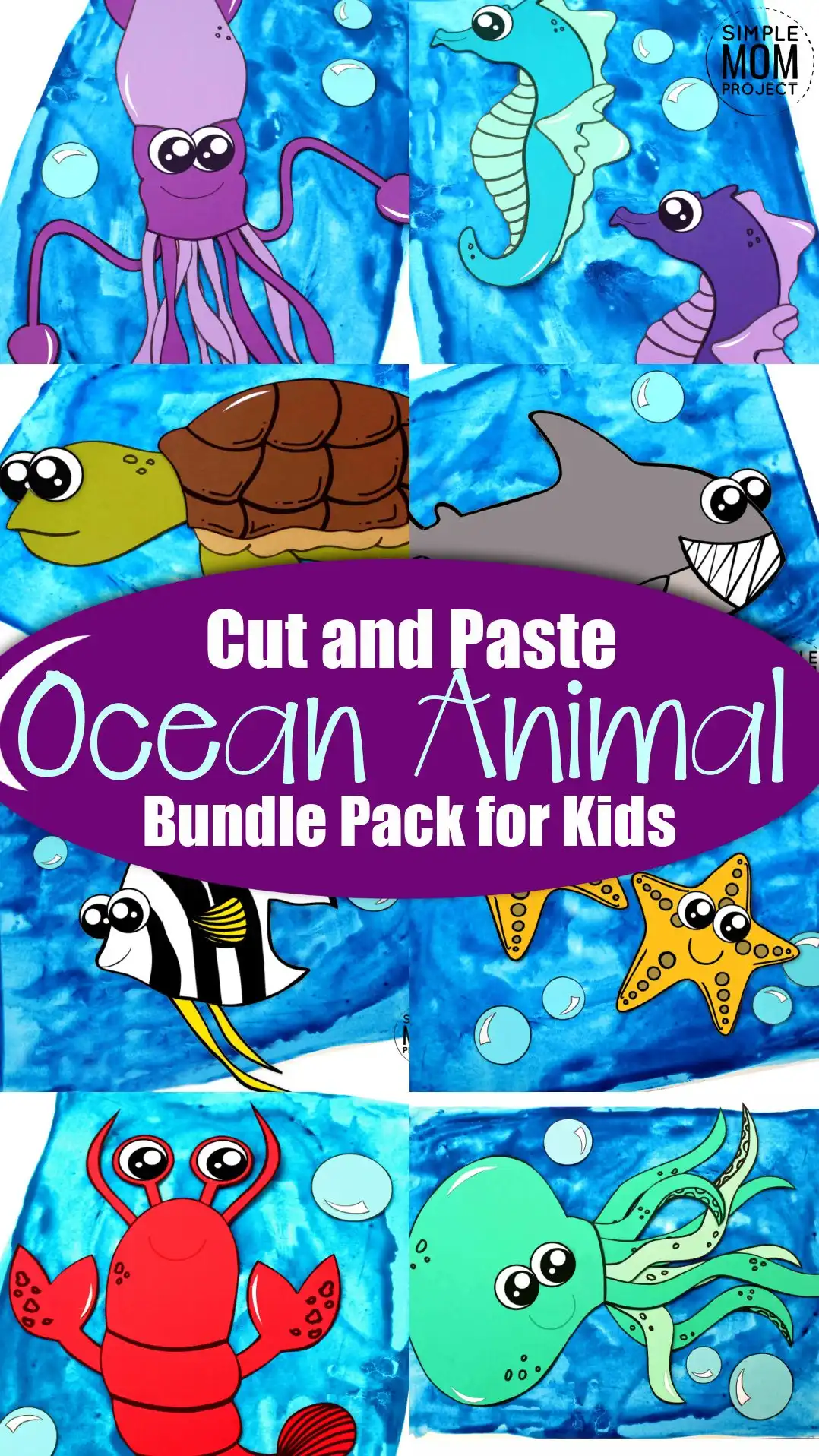 Kaitlen D.
More Fun Ocean Animal Crafts: