Have you seen the octopus character in Disney's Finding Dory escape the aquarium tank?
That's where my toddler and preschooler got hooked on these fascinating ocean animals.
Until then, these eight-tentacled sea-creatures were strange and a bit scary to them.
After learning more about them thanks to some crafty Disney animators, my kids can't stop asking questions.
We have learned some fascinating things!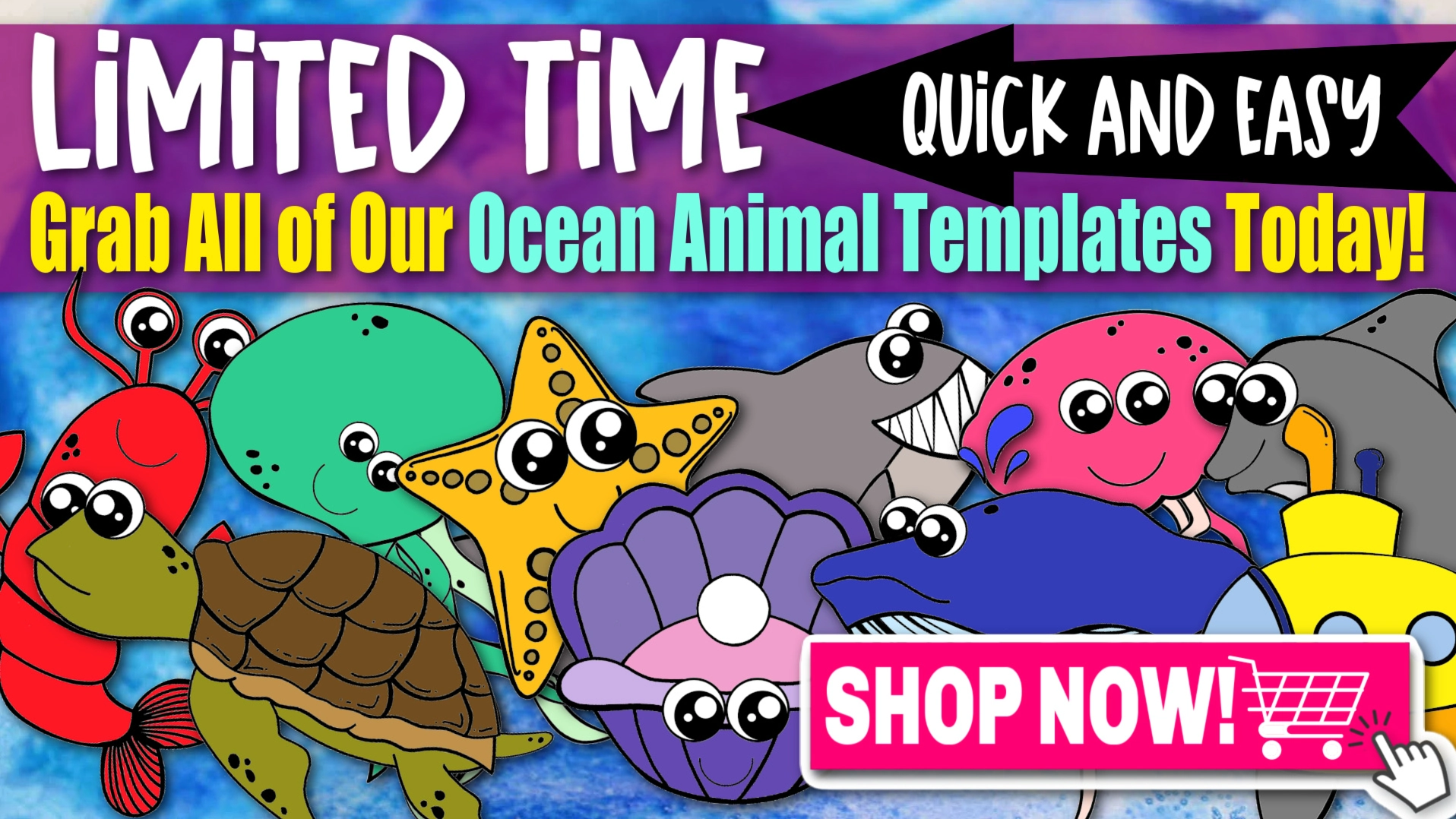 If your kids are equally fascinated by these mysterious sea creatures from the deep, you're definitely going to want to check out this fun paper octopus craft.
This octopus free printable template is an easy way to have lots of fun while developing your kids' creativity.
Are you looking for more ocean animal crafts to do this summer? Check out our adorable clam and cute dolphin.
*By the way, this post may contain affiliate links which means I may receive a small commission at no additional cost to you if an item is purchase through that link. For more information, click here.*
Adorable Octopus Ocean Animal Craft for Kids
Educational Ways to Have Fun With your Octopus Craft Friend
Not sure what to do with these octopus crafts?
Here are some really fun ideas:
1. Octopus Math
Toddlers can practice early counting skills by counting the legs on this fun paper octopus as they color their new eight tentacles paper friend.
Preschoolers can use black markers to add a predetermined number of dots to each octopus leg.
Simply assign each leg and number and let your preschooler practice counting and number recognition as they add the correct number of dots to the legs.
Kindergartners can solve simple math equations written on each octopus leg for an easy review of addition and subtraction.
Share a counting board book with a fun octopus character with your toddlers or preschoolers.
You could also make a math sensory bin out of this octopus craft and fill it with bubbles and other ocean crafts.
This must make learning math a lot of fun.
We really liked Octopuses One to Ten by Ellen Jackson. The artwork, by Robin Page, is truly beautiful!
2. Octopus Literacy
Toddlers and early preschoolers can practice fine motor skills necessary for early handwriting by using finger paints to add dots to each of the eight legs on their new paper octopus friend.
Preschoolers can identify alphabet letters and their corresponding sounds written on each leg for early reading practice.
Kindergartners can practice memorizing sight words by writing them neatly on each octopus leg.
Writing down sight words and vocabulary is an excellent tool for memorization.
Create an "O is for Octopus" poster using this fun paper octopus template to help preschoolers recognize the letter O and remember the sound it makes.
Read a fun octopus themed picture book in order to build language development and a love of reading.
The Soul of an Octopus by Sy Montgomery won a National Book Award, so it's a great choice for learning more about this amazing creature with your little ones.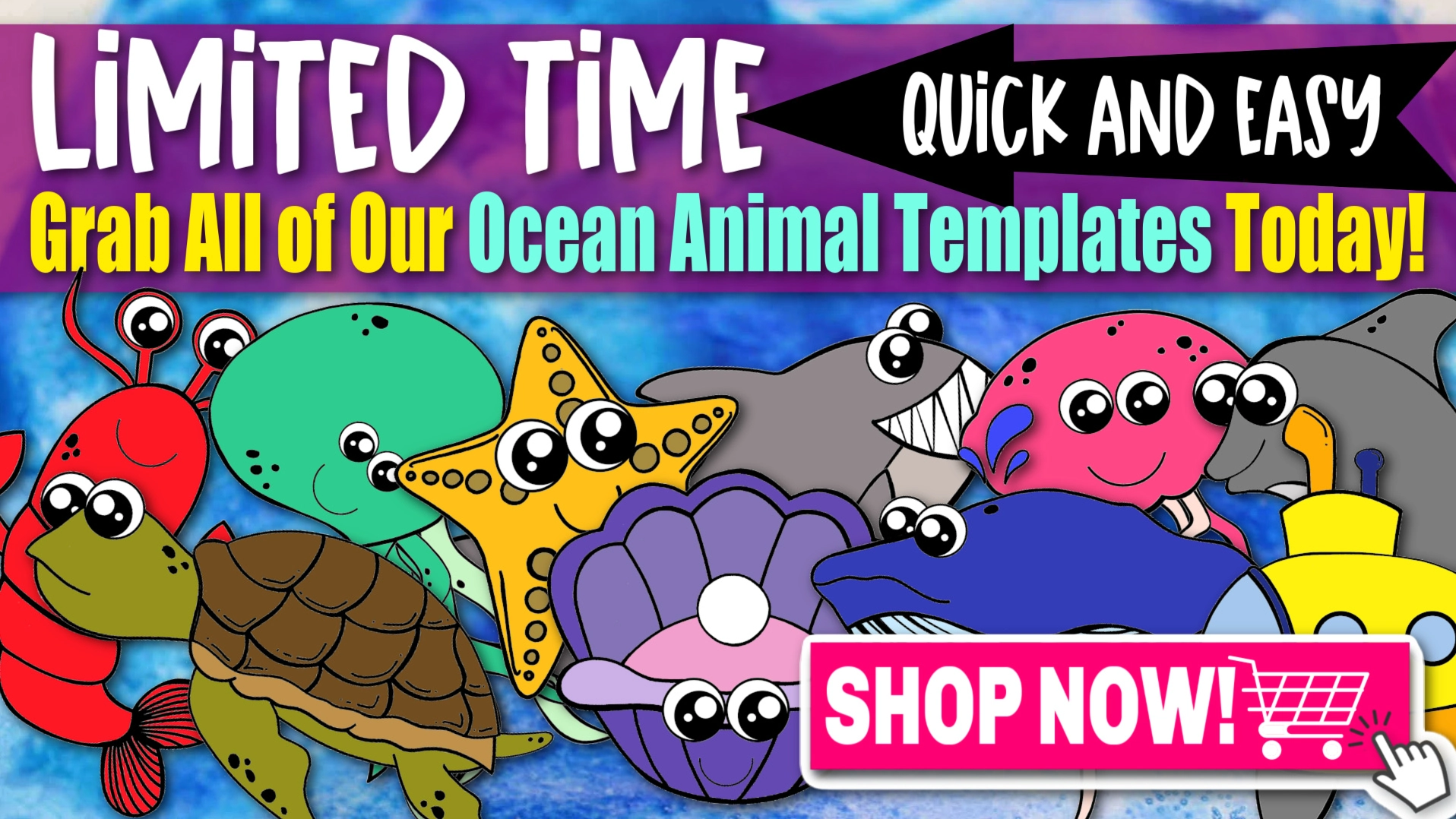 3. Octopus Hide & Seek
Playing hide & seek with your children is a great way to encourage physical activity and healthy exercise habits.
This version of hide & seek played with your new paper octopus friends, also helps children build critical thinking and problem solving skills.
Here's how to play: 
– Have your child cover her eyes and count while you hide every paper octopus around the house or yard. 
– Then, ask your child to find each octopus cut-out and return them to a designated area.
It's a great rainy day game for getting all the wiggles out! My kids always ask to play this game over and over. 
3. DIY Octopus Paper Plate Craft
Once your kids are finished making this cut-and-paste octopus craft, let's create another fun octopus craft using craft supplies such as scissors, yarns, paper plates, glue, black marker and paint.
Cut the paper plate in half and paint it with blue then leave for a few minutes until it's completely dry.
Punch eight holes at the bottom of your paper plate.
Cut eight pieces of yarn then place them through each hole, these will be your octopus tentacles.
Finish it off by gluing the googly eyes and draw a mouth.
Display this friendly octopus craft together with sharks, whales and other ocean animals.
Keep scrolling to get your very own octopus ocean printable template and get started learning with this fun ocean animal craft.
Additionally, you may create your own DIY octopus crafts out of various materials to create an octopus out of bubble wrap, paper bags, or cupcake liners.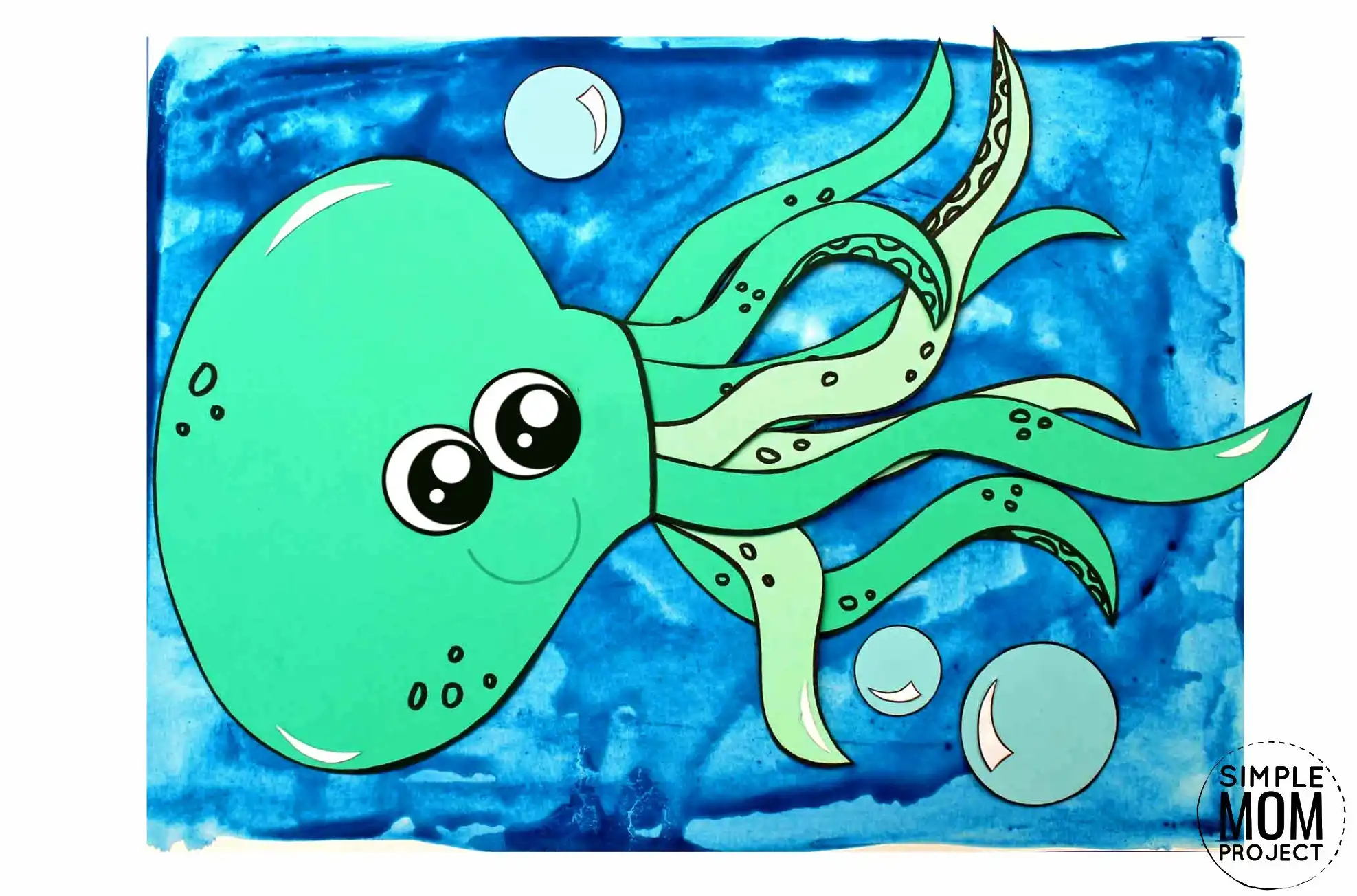 Octopus Craft Supplies Needed:
Printable Octopus Template (FOUND AT THE BOTTOM)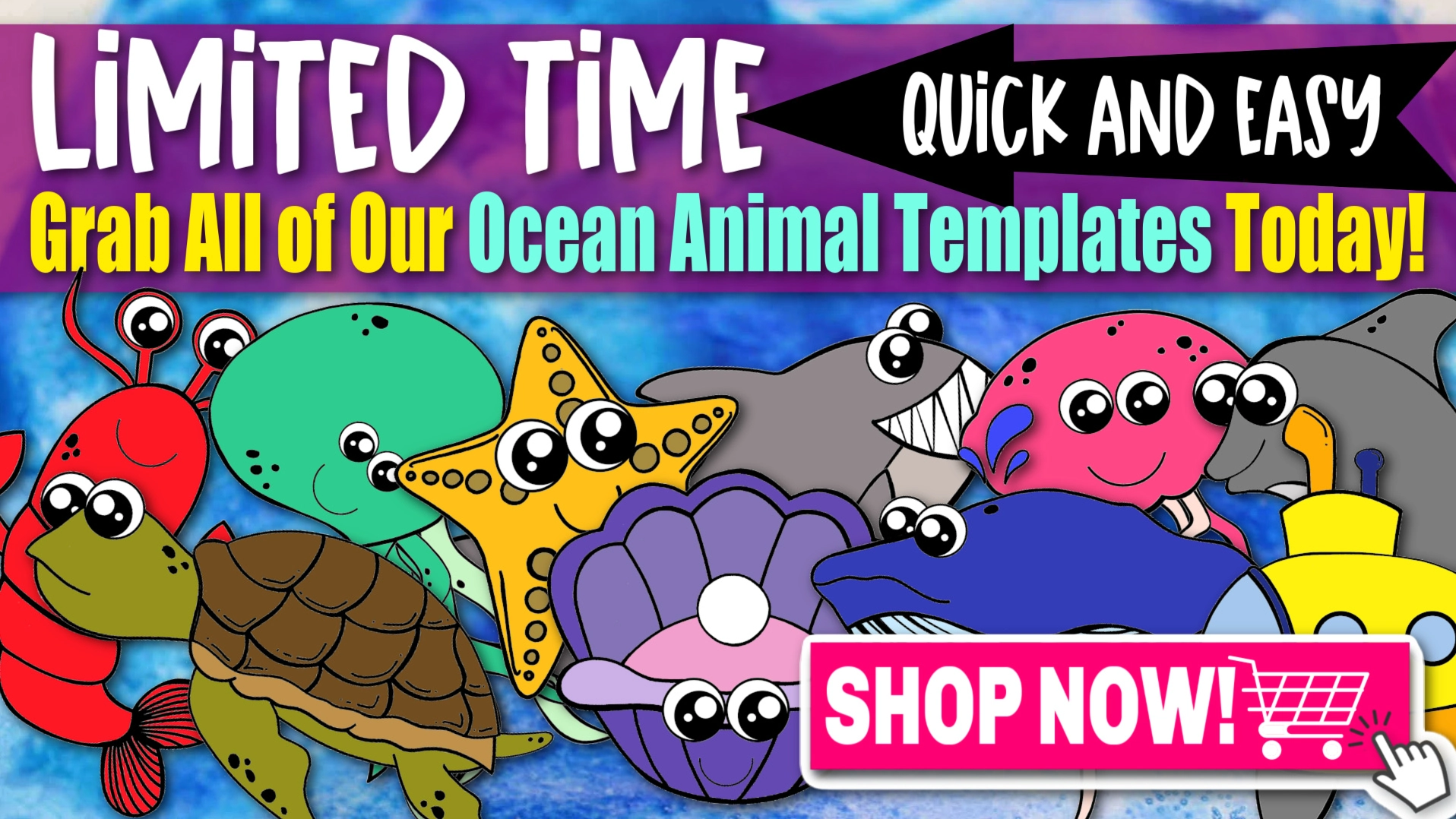 Octopus Craft Tutorial: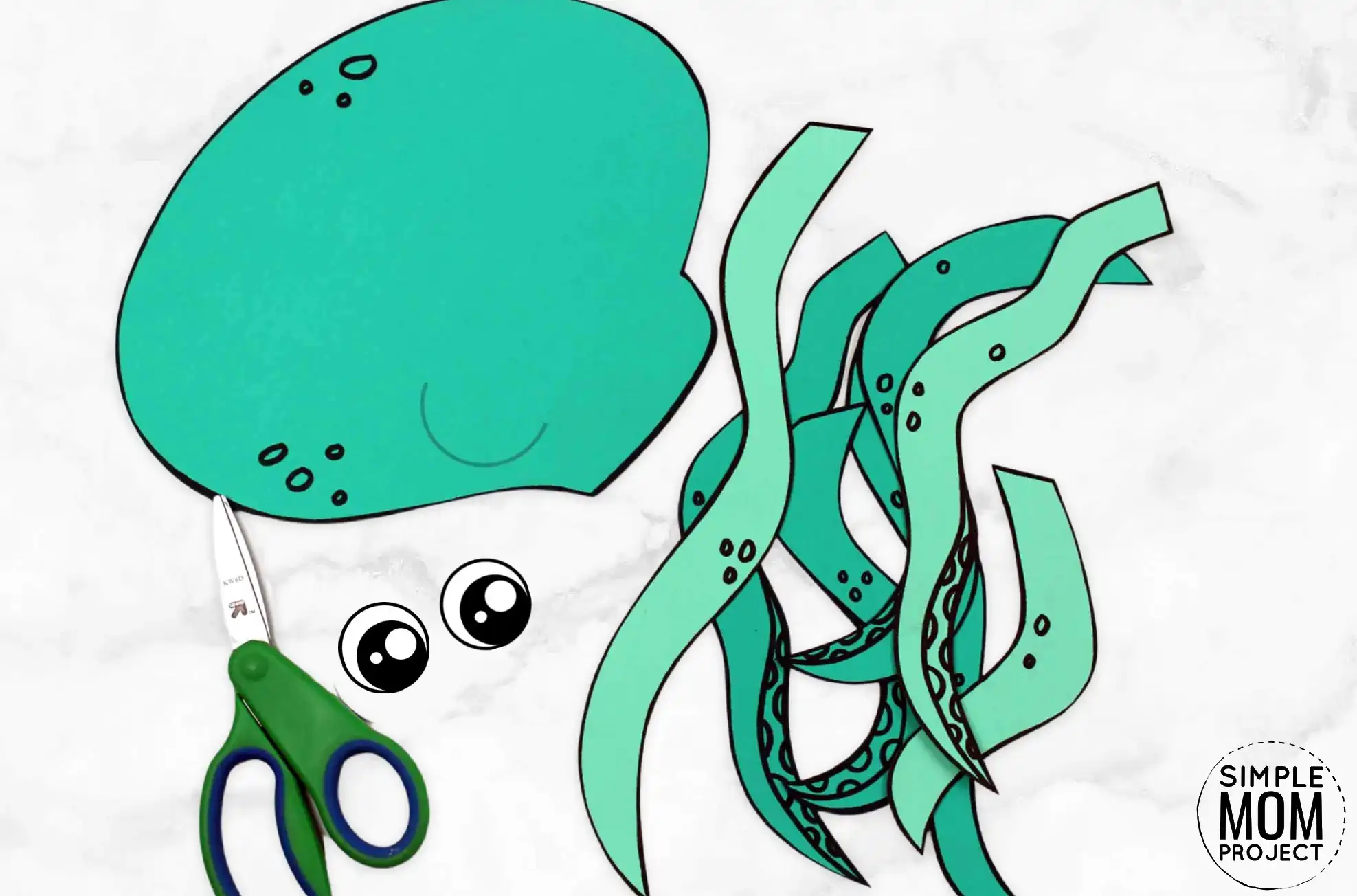 After you've printed your octopus template on your favorite color cardstock paper, go ahead and cut out the body parts.
Another fun way to enjoy this ocean animal craft friend is to print the octopus template on white paper and color him first. Then cut and glue.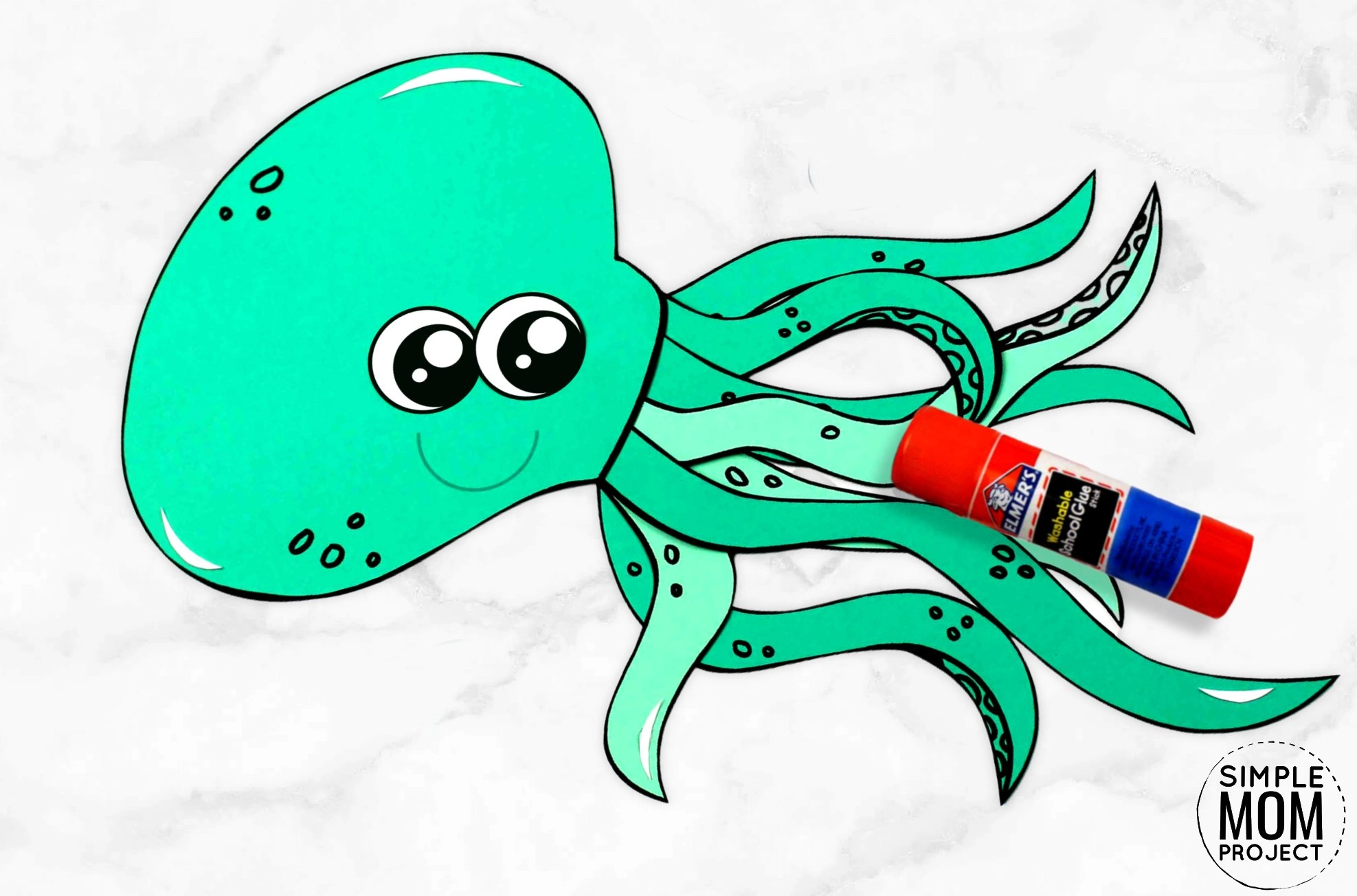 Next, simply glue all of the pieces together.
You can add sequins to make your octopus tentacles craft template stand out.
Octopus Template:
To prevent Copyright infringement, you will see our watermark inserted on all of our images. This will NOT be included in your download.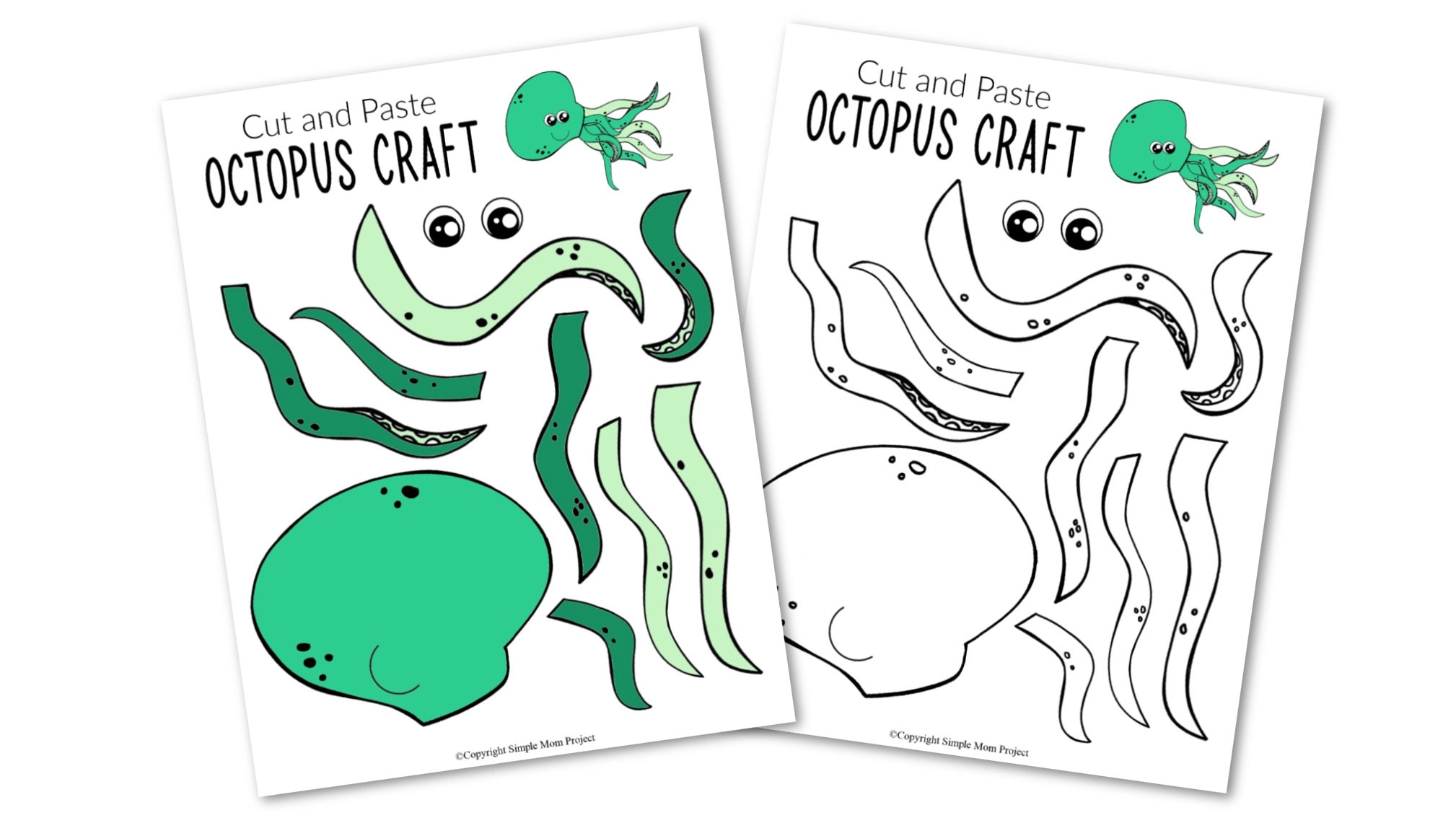 Whatever you decide to do with these lovable paper octopus printable templates, don't forget to come back and share your stories in the comments.
I love hearing about how you're getting creative with these fun templates!
If your children enjoy crafty things, they will love these fun octopus projects.
Spend a crafty morning creating your own crafts of your favorite sea animals!
Children can create whatever paper octopus craft they like in in addition to creating a paper octopus.
It might be a cupcake liner octopus, a paper bag octopus, a handprint octopus, or even a craft stick octopus!
We would appreciate it if you shared them with us since we are excited to see them all on your kids activities blog or on your social media.
When you have finished, be sure to share your creation on Simple Mom Project's Facebook Page and follow me on Pinterest!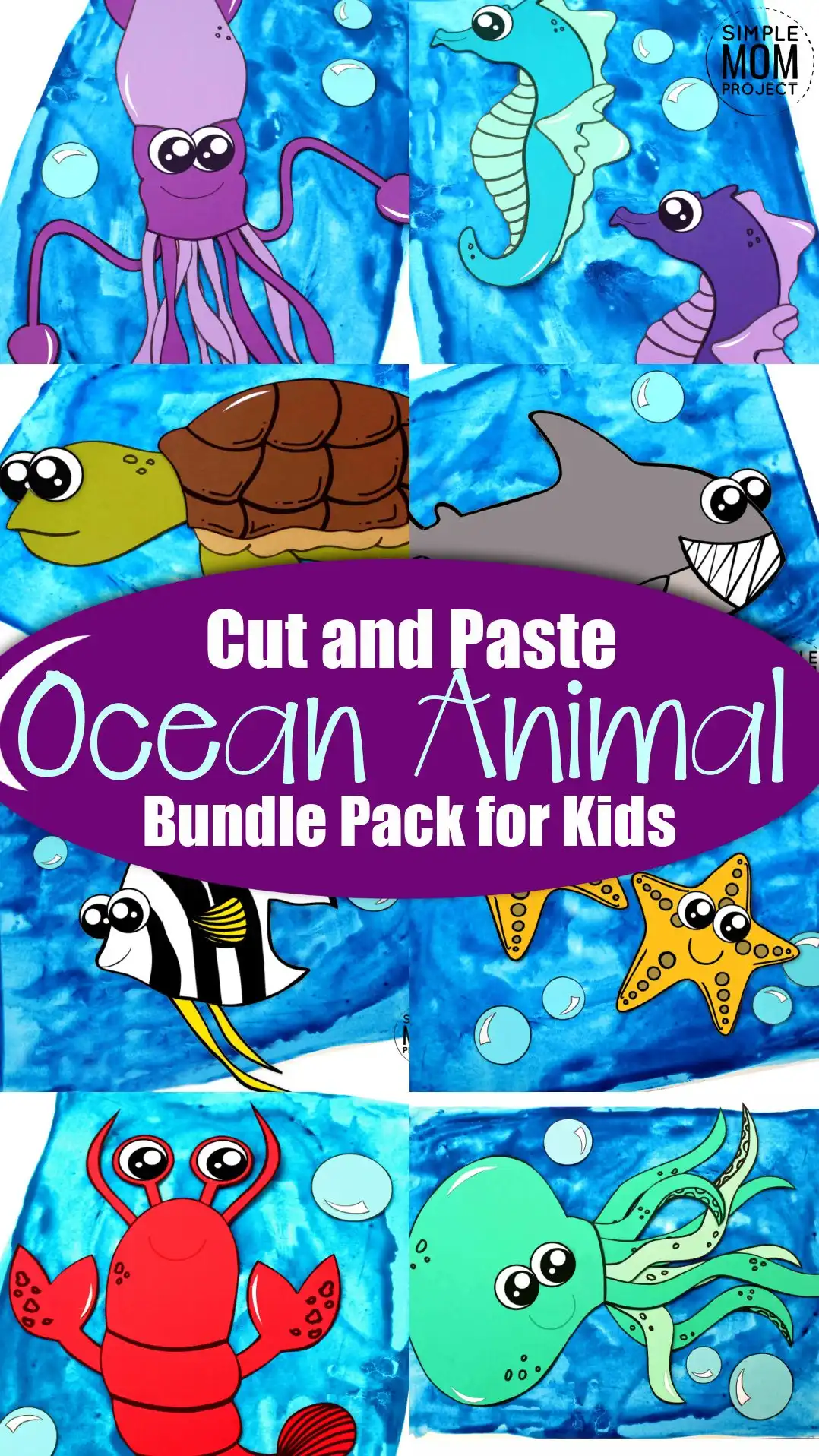 Kaitlen D.
More Fun Ocean Animal Crafts: