Is there anything cuter than a tiny baby chick? They're one of the most adorable baby animals.
Those cute little balls of puff are very lovable. My children just adore baby chicks! When our local farm hatches chicks, my kids insist on visiting as much as possible until they get older and it is getting harder and harder not to bring a few home with us.
This spring season, I've decided to create baby chick coloring pages just in time for your spring time activities. They're the perfect icebreaker for the table at dinner.
Don't be afraid to break out some unique decorating supplies like craft feathers, pom poms, or glitter to add to the fun.
Simple spring coloring sheets are an excellent way to squeeze in extra quality time with your kids.
Talk about the day's events while you color or ask questions and spend time listening to your little ones tell you about themselves, their day, and their dreams.
Don't forget to check out our other fun spring themed pages like build-a-chick craft or bunny coloring for more Spring fun!
*By the way, this post may contain affiliate links which means I may receive a small commission at no additional cost to you if an item is purchase through that link. For more information, click here.*
Free Printable Baby Chick Coloring Sheets
Planning to use this farm chick coloring page in the classroom? It's a great fit for teaching toddlers, preschoolers, or even kindergartners. Here are some great ideas for extending the lesson:
1. Craft after story-time.
Use these adorable farm themed coloring pages as a fun hands-on activity after reading a story. With toddlers, I recommend Where, Oh Where, Is Rosie's Chick? By Pat Hutchins. It's filled with colorful images and easy for little ones to follow along.
For preschool and kindergarten, I suggest There Was An Old Lady Who Swallowed a Chick by Lucille Colandro. It's hilarious! Also, it's a fun way to teach sequencing.
2. Practice fine motor skills with music.
Coloring is excellent for building the fine motor skills young learners need for handwriting. Skills like pencil grip and control are built in a fun and easy way.
Listening to music while coloring is a great way to help students focus while having fun and learning.
Choose a fun counting song like Chicken Count by Mary Jo Huff or build music appreciation skills with a classical piece like On Hearing the First Cuckoo in Spring by Delius. The piece by Delius also includes real bird calls in the music, which is fun and surprising for children.
3. Build your own baby chick too!
Don't just color your own spring chick pages, check out our build a chick craft. You can have a day filled with baby chick fun as your littles build their own baby chicks with easy chick templates and decorate however they like.
As always, be sure to include lots of fun elements for decorating so children can explore different materials and practice thinking creatively.
4. Field trip follow up activity.
These coloring sheets would also be a good follow up activity after a field trip to the farm or petting zoo.
After spending some time learning about real baby chicks, children can color their own farm chick sheet. It's a good way to connect what they have seen and heard at the farm with their own ideas about baby chicks.
Here's what you'll need to get started:
Printable Farm Chick Coloring Page (FOUND AT THE BOTTOM)
Make your child's finished chicky coloring page a forever memory by laminating it! We use this laminator and cannot express how much we love it! It is not only inexpensive, it is SO easy to use! Your kids will love seeing how much you adore their art work when you laminate and display it for years to come!
To print your chick coloring sheet, turn the printer on, click on it and then click print.
To prevent Copyright infringement, you will see our watermark inserted on all of our images. This will NOT be included in your download.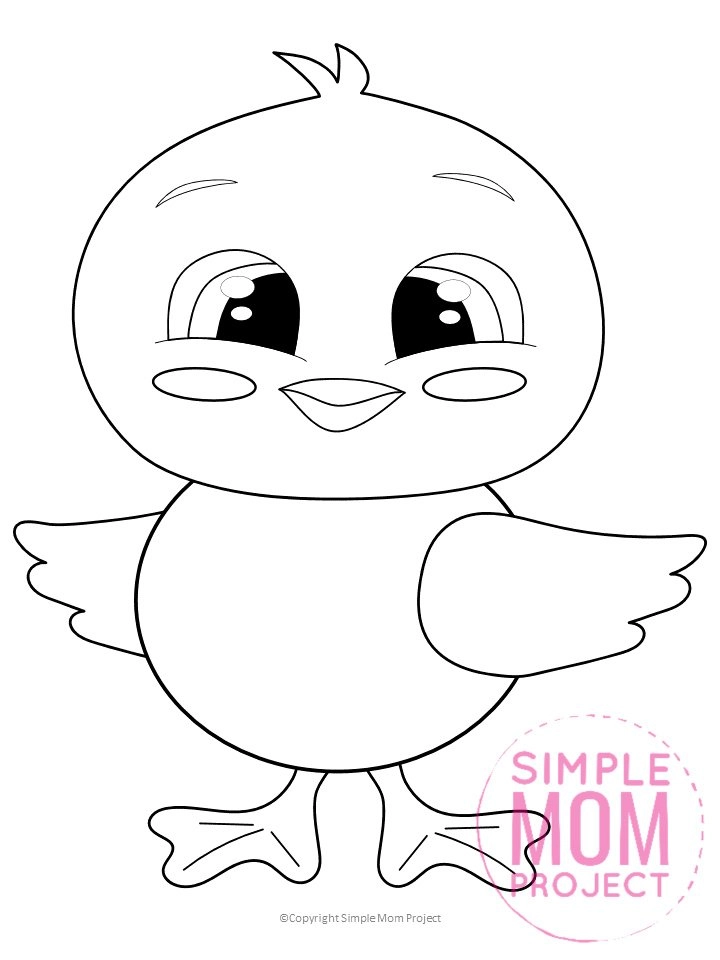 However you choose to use these sweet and simple coloring pages, I'd love to see your children's creations in the comments and hear about how you're using tthese farm chick coloring sheet as a part of your lessons and experiences.
When you have finished, be sure to share your creation on Simple Mom Project's Facebook Page and follow me on Pinterest!

Kaitlen D.
More Fun Spring Crafts: