Fall is the perfect time for crafting which is why I am so excited to share this craft with you today!
These popsicle stick apples are perfect for back to school time and the fall season!
This easy kindergarten Popsicle stick apple craft will give your preschoolers hours of fun!
Whether you want to use this as part of your pre-k kids activities, an apple themed event, or kid's fall and autumn activities, I'm confident your toddlers will have a blast making this Popsicle apple craft.
They are super cheap and so easy to make! The smallest of toddlers can do it!
Of course, they will need some help with the cutting, but that's what you are there for. 🙂
Gather up the short amount of supplies and follow the simple directions below.
So let's bob right in!
*By the way, this post may contain affiliate links which means I may receive a small commission at no additional cost to you if an item is purchase through any link. For more information, click here.*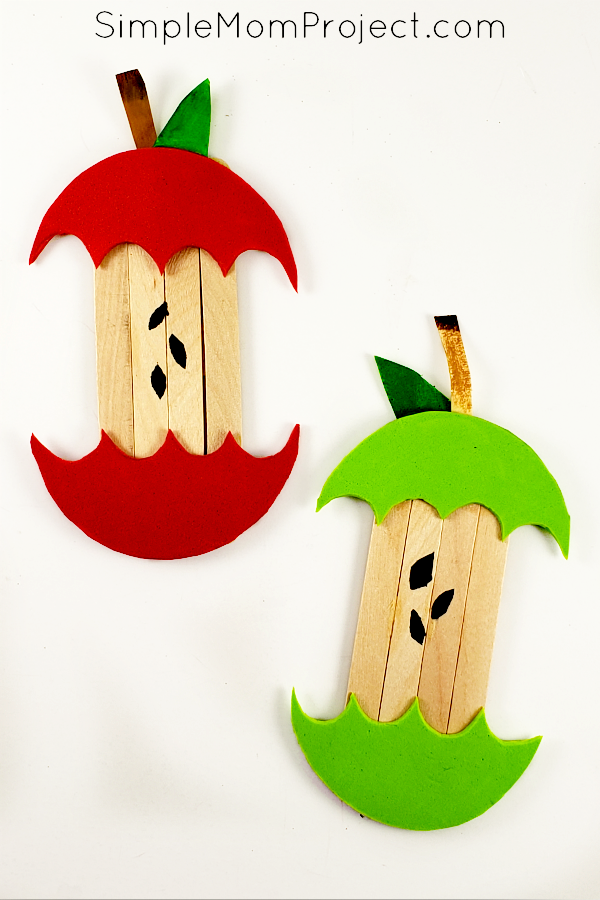 Supplies to Make This Apple Craft:
Easy and Fun Fall Apple Popsicle Stick Craft
Ideas for Kindergarten Paper Plate Apple Craft
Below you'll find a few creative ways you can incorporate this apple craft into your apple tree activities plan this year.
Apple Themed Decorations
I don't know about you, but I simply love easy apple themed decorations.
This apple craft can be used to liven up your home with some apple themed Popsicle craft decorations.
Follow my step-by-step instructions to create this easy Pinterest apple craft with your toddlers.
Once the art project is complete, you can place these apples around the home for a special homemade décor option.
Classroom Alphabet Fun
Use this apple craft as part of your classroom alphabet education.
You can teach your Pre K students that "A is for apple" with this kids' apple tree daycare craft.
Include this Popsicle apple themed artwork template as part of your weekly lesson plan for alphabet fun.
Kids will enjoy creating this easy Pinterest template for their fall learning time.
Popsicle Stick Apple Instructions:
1. Gather four small popsicle sticks and lay them evenly in a straight vertical line.
2. Glue a mini popsicle stick diagonally. This will hold your popsicle stick apple together.
3. While that is drying, cut a circle out of foam sheets. We chose green and red, but you can use yellow as well.
4. Then, cut out small sections.
5. After that, glue one side to the top and one side to the bottom of your popsicle sticks.
6. Next, cut out and glue a small stem and leaf.
7. Finally, paint on some black seeds. You can use a sharpie if you don't have any paint handy.
That's it! How easy is this fall, back to school apple craft?!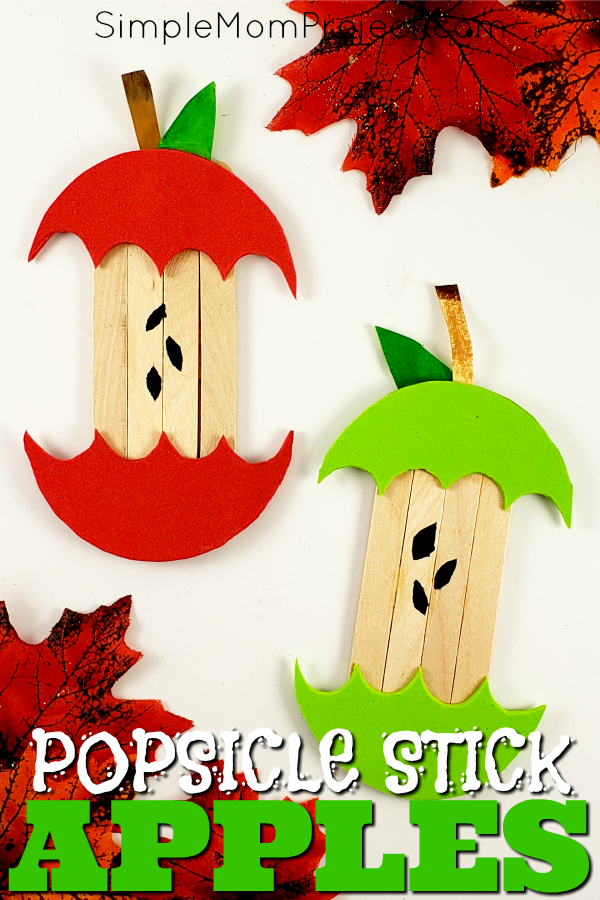 Whether you are doing this in the classroom with your students as a fall craft or at home with your toddlers as a simple fall craft, I know you both will have a blast!
Be sure to check out all of our other fall and follow us on Pinterest for more fun activities to do with your kids!

-Kaitlen D.
More Fun Fall Crafts for Kids: