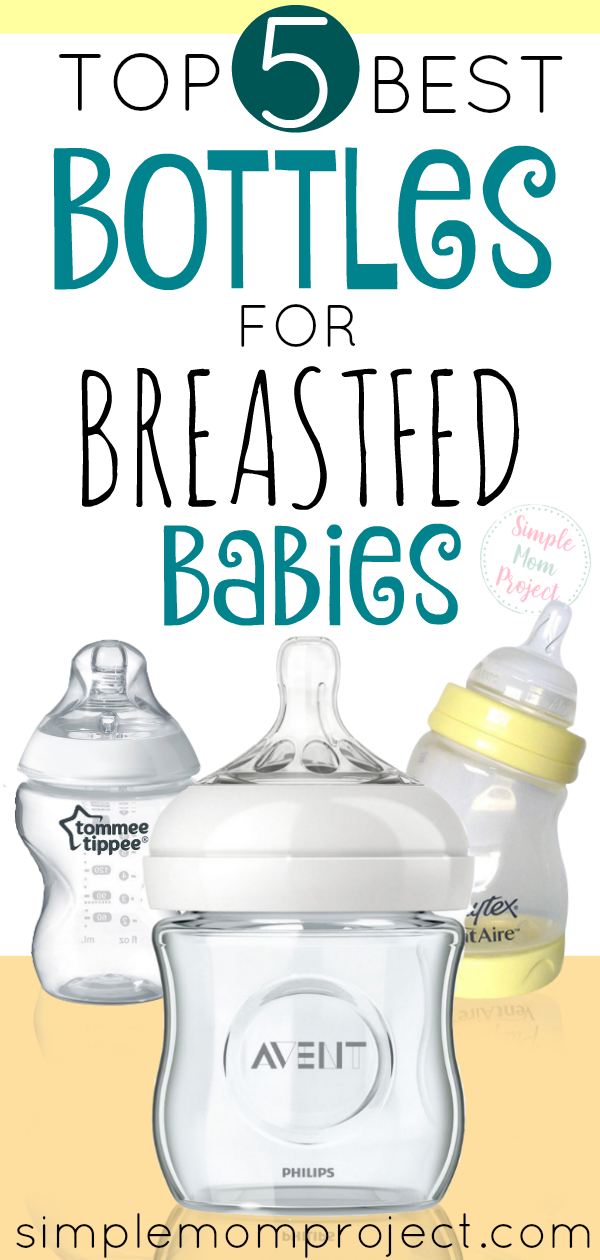 So you are breastfeeding, but even super-moms can't be with their baby 24/7 (even though you might want to).
Perhaps your maternity leave is almost up and you'll be going back to work soon. Or maybe you just need a break. All moms – super or not – need a break once in a while.
Teaching your baby to bottle feed can be an excellent way to do that! You might even get a chance to take a nap! If you can even remember what that word means anymore. HA!
Also see these posts:
*Oh and just a heads up, this post may contain affiliate links which means I may receive a small commission at no additional cost to you if an item is purchase through that link. For more information, click here.*
5 BEST BOTTLES FOR BREASTFED BABIES
BENEFITS OF BOTTLE FEEDING
Bottle feeding does not necessarily mean just utilizing formula. If you don't know by now, you can use a breast pump and store your milk in these freezer safe baggies for future use for up to 6 months!
While most babies do prefer the breast, bottle feeding does have its benefits too!
Reduced Pain

Bottle feeding is much less painful for you. Less engorged breasts, biting and cracked nipples.

No Guess Work

When your baby is taking a bottle, you will know exactly how much he has consumed. Bottle feeding takes out any guess work to wonder if your baby is still hungry or just wants to suckle.

Less Demanding

Babies who feed exclusively on the breast, will often want to feed more frequently, not just because they are hungry but also for your comfort.
TIPS TO CHOOSE THE RIGHT BOTTLE FOR YOUR BREASTFED BABY
These bottles are specially made to imitate the mother's breast. It has dual anti-colic vents that prevent air from passing through the nipple, reducing colic. Made of 100% silicon and it is also SUPER easy to clean by hand.
However, I do prefer washing them our bottles with a brush, soap and water and sterilizing with this bottle warmer every couple of days.
These are one of my favorite bottles EVER! I love the price tag, but the ease of cleaning is out of this world!
What makes these one of the best bottles for breastfed babies is the fact that the nipple is shaped to mimic the size and texture of how mommy feels. It is made of silicon and SUPER soft! It is also a top contender for anti-colic and anti-gas.
I will be honest with you, I have not used these bottles before, but with my extensive research, the Tommee Tippee's keep reappearing. Makes me think I should have gotten some sooner. They have a similar design to the Avent with their anti-colic design, but what is unique about these is that they have a ridged nipple to help your baby latch on.
They are also very reasonably priced and interchangeable between most of their brand. I also found these extra cute ones. The bright colors make it easier to see when you are half asleep.
Lansinoh is such a fantastic brand. They have been around for more than 30 years.  I personally LOVE their nipple cream. Why would their bottles be any different? These are specifically designed to mimic your breast. They are made to interchange with the Lansinoh Breast Pump for easy storage and use too.
It has a "low part" system that makes it easy to clean and it has a special air ventilation system to prevent unwanted gas from getting into your baby's tummy.
I don't want to get too much on a tangent, but Lansinoh also makes amazing breast milk storage bags too. Okay. I am done now, moving on…
The nice thing about Playtex Ventaire bottles is that there's a ton of stuff you get with a very great price. I have not personally used them, but I've heard nothing but great things about these bottles. The unique anti-colic design pushes extra air to the bottle preventing any extra air from getting through.
These made it to the list of top 5 best bottles for breastfed babies, but there is a downfall. With the many pieces, it does not make it easy and quick to clean. If you haven't caught on by now, I am ALL ABOUT ease which is why I did not buy these for my baby.
That being said though, they are terrific bottles. I am just lazy. 
Each bottle is unique in their own way, but all are terrific to either transition to your baby exclusively or by using one while you are away.
Comment below with any questions you may have or if you just want to chat. I am always down to have a new mommy friend!

Kaitlen D.
Simple Mom Project
More Resources: