5 BEST PACIFIERS FOR BREASTFEEDING BABIES
I am in love with pacifiers. Literally IN LOVE. Some babies are completely content with cuddles and being rocked. Others are not. If your baby just can't seem to settle down and ONLY wants to suckle, it might just be time to give your newborn a pacifier.
Pacifiers can be a Godsend and your saving grace! Sadly though, not all babies will take to a pacifier right away and some breastfed babies (like mine) want nothing to do with them. Keep trying. We just need to find your baby the right one.
*By the way, this post may contain affiliate links which means I may receive a small commission at no additional cost to you if an item is purchase through that link. For more information, click here.*
While this list is created specifically for breastfed babies, ALL babies can benefit!
5 BEST PACIFIERS FOR BREASTFED BABIES
HOW PACIFIERS BENEFIT BREASTFEEDING BABIES
If you are choosing to breastfeed, it is encouraged to wait until your milk is full established and you both have settled into a nursing routine before introducing a pacifier.
The time can vary, but around 2-4 weeks is typically good. Contrary to some, breastfed babies can absolutely use a pacifier and will not interfere with breastfeeding! Pacifiers have tons of benefits which include:
Reducing the risk of Sudden Infant Death Syndrome (SIDS) while letting your baby sleep with the pacifier.
Can be soothing for a baby with colic or reflux.
Satisfying their need to suckle when they aren't hungry. This to me was the biggest benefit. My 'girls' so to speak were raw from her need to suckle even after she ate.
Extremely helpful on a plane rider. The sucking motion, like chewing gum, will relieve the pressure painful in the middle ear.
Excellent way to get your baby to sleep if rocking just ain't cutting it.
Soothing and can cause a nice distraction when getting the dreaded vaccinations.
While there are tons of benefits, I do want to note that there are some draw backs.
Introducing your newborn too early to a pacifier can lead to a shortened supply of your milk supply.
Can also lead to early weaning.
Some studies have linked the use of pacifiers to ear infections. Though both of my girls were given pacifiers and had no issues.
Also see this post for the 5 Best Bottles for your Breastfed Baby!
HOW TO CHOOSE THE RIGHT PACIFIER FOR YOUR BABY
Each infant is different. When choosing what kind of binky to pick, I suggest purchasing a few different ones to try out.
Here are a few things that you will want to consider to narrow down your options:
Material: Pacifiers usually come in latex or silicone, but can also be found in rubber. Latex is a bit softer and resembles the breast more. Do to their softness, they will need to be replaced more frequently. Silicone ones are very easy to clean and most are dishwasher safe. They are also beneficial to your little if they have a latex allergy.
Size: Pay close attention to the pacifier sizing details. Most will include the sizing based on age. There are typically two different sizes. One for 0 to 6 months and another for 6 to 18 months.
The Guard: The pacifier guard is what protects your baby from chocking. It should be about 1.5 inches or more to prevent your baby pulling it all the way into their little mouths.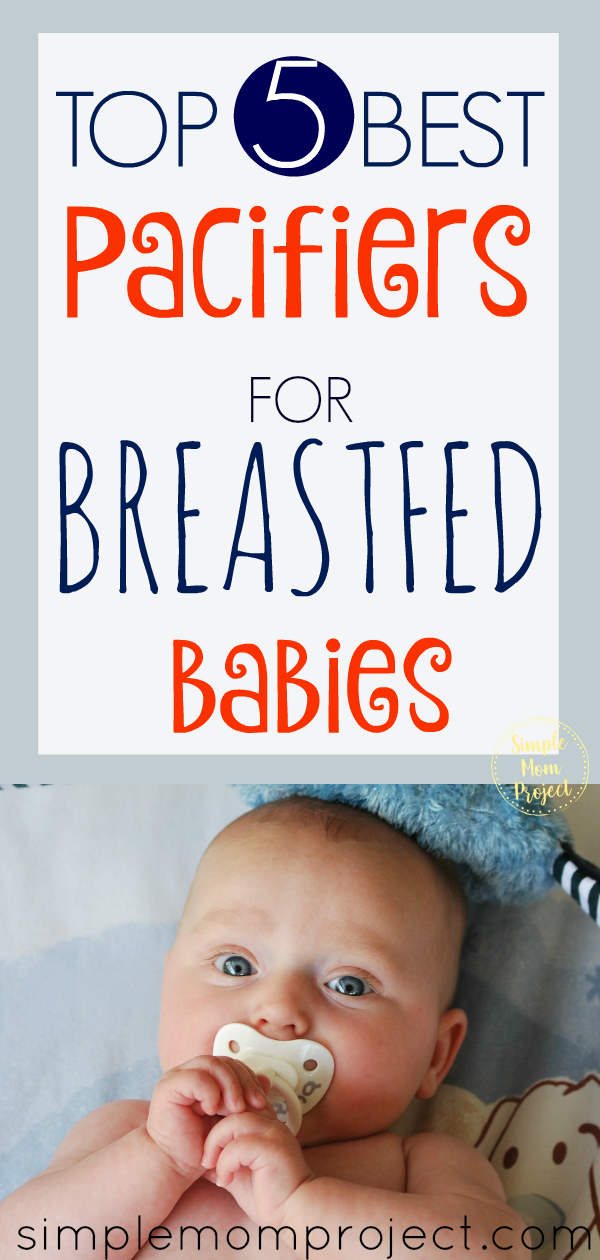 HOW TO GET A BREASTFED BABY TO TAKE A PACIFIER
The first and foremost tip to remember is that not all babies will take to a pacifier right away. And some never do.
Don't give up too soon though. Be patient and keep trying.
TRICK #1 – TASTE
Your breast is incomparable! The taste of the pacifier might be off putting for your baby. Try to dribble a few drops of breastmilk on to the nipple of the pacifier and see how they like it.
TRICK #2 – SMELL
The biggest challenge that we ran into while introducing my girls to a pacifier is that they would never accept it from me! It was almost as if they were telling me, 'Uh mom, why would I want that when I've got you at my disposal?'
Ask your spouse or family member to give it a try. If your baby does not detect you in the room, they might be keener to accept the pacifier as an alternative to mom's breast.
TRICK #3 – TEMPERATURE
Since a pacifier is cooler to the touch than your breast will be, try warming it up in your clean hands first. Then attempt to give the soother to your little one.
TRICK #4 – FEELING
Your baby is used to the way your breast feels in her mouth. After you know she is done eating, have the binky ready and make the switch.
It will seem a bit strange to your little at first, but soon she will get use to the feeling of the pacifier as an alternative than using you as one.
TOP 5 BEST PACIFIERS FOR BREASTFED BABIES
The Mam for sensitive skin is the top favorite! The symmetrical orthodontic silicon nipple is textured to resemble the breast and fits well in a newborn's mouth.
These also come with a little case that is microwave safe for easy sterilization!
This paci is also a symmetrical silicon nipple and textured to stay put. It comes with a removable cover for the on-the-go baby and dishwasher safe.
One of my favorite features with this pacifier is the handle. This makes it much easier to hold for mom to give it back to you baby. I typically find myself placing it on my pinky finger when I pick my daughter up so I don't lose it.
My little was not a fan of this one, but other mommies swear by them. They are considered hospital-grade silicon and distributed to hospitals around the world.
Many reviewers said that it did not cause any nipple confusion after giving it to their baby which is always a winner!
The First Years GumDrops are also distributed to hospitals world-wide. They are a single piece so they are extremely easy to clean. It works great with many pacifier attachments.
It is contoured at the top so it stays clear from your baby's nose.
What is so great about these the nipple moves like a mother's nipple would. It's silicone, so it's super easy to clean and it's dishwasher safe. I absolutely loved these pacifiers for my breastfed baby!
When determining what kind of pacifier to get for your newborn, don't worry to much if she doesn't take to one right away. Try the techniques above for a few days. If they don't work, then move on to the next one.
When you find the right one, buy multiple of them! I can't tell you how many pacifiers we have lost because we can't keep up with them. Luckily, they are inexpensive enough that we can keep them replenished if one is hiding somewhere.
Please let me know what questions you have. Keep your sanity and your little one happy with a paci!

-Kaitlen D
More Resources: TOP 5 BEST BOTTLES FOR BREASTFED BABIES HOW TO GET YOUR BREASTFED BABY TO TAKE A BOTTLE EVERYTHING YOU NEED TO KNOW ABOUT TUMMY TIME THE ULTIMATE GUIDE TO AMBER TEETHING NECKLACES FOR YOUR BABY KEEPING HER DRY WITH THE BEST BANDANNA BIBS THE ULTIMATE GUIDE FOR A TEETHING BABY