If you've been enjoying our collection of woodland animal paper bag puppets, you're in for a treat this week because we've added a new animal to the mix.
With your kids, put on a puppet show using this printable skunk paper bag puppet!
This skunk puppet craft is also ideal if you want to introduce a woodland animal into your science classes.
Children will be able to learn more about the skunk, make crafts, and collect cool stuff associated with it.
We will be sharing some fantastic ideas, so you don't need to stress about coming up with activities to do with your kids this week.
Children will love creating paper bag crafts while learning about animals and their way of life.
Your kids will be occupied for hours with this printable skunk paper bag puppet!
Kids will be entertained during their break because we will be providing two templates from which they can choose.
With any coloring supplies they have on hand, they can begin coloring the simple skunk template.
This is also the ideal time for children to practice their cutting abilities if they picked the colored template.
They can practice their hand-eye coordination and fine motor skills by cutting the skunk parts one at a time.
Be sure to add this printable skunk paper bag puppet into your performances!
With all of the amazing skunk activities planned for the week, your week will definitely be a blast!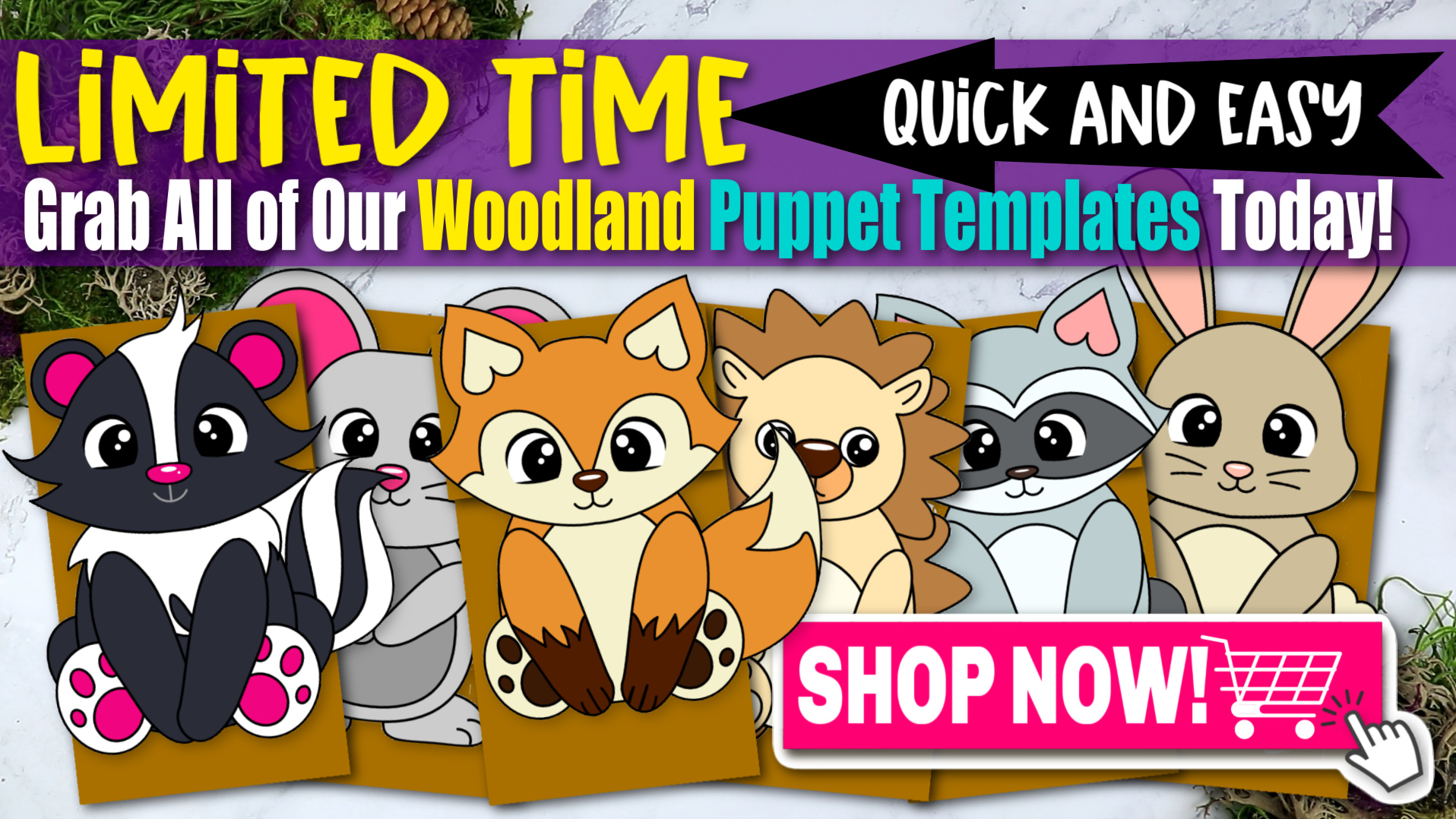 *By the way, this post may contain affiliate links which means I may receive a small commission at no additional cost to you if an item is purchase through that link. For more information, click here.*
Printable Skunk Paper Bag Puppet Craft

Skunk Craft Supplies Needed
Need more crafty fun? Check out our Wolf Puppet, Raccoon Puppet and Fox Puppet.
 T
hey are perfect for those days when staying indoors is the only thing your family can do!
Ideas for Easy Preschool Paper Skunk Craft
Check out some fantastic ideas for how to make the most of the printable skunk paper bag in your activities.
You'd be surprised how many learning areas you can combine with this skunk craft template.
These ideas could help you create a complete lesson plan for your kids this week.
With these ideas, you can have a worry-free, enjoyable week. Read on for more details!
1. Special Skunk Collection for Kids
When planning a lesson plan for your children, you may decide what items to use during your routines.
We'll be sharing these interesting skunk items so you can incorporate them into your activities in addition to our printable skunk paper bag puppet.
These items will certainly create the right atmosphere for learning about this animal.
You may also use this collection to personalize your kids' corner for this week's theme.
Kids can learn about empathy, acceptance, uniqueness, kindness, and how to say sorry by reading these skunk-themed books.
Aside from having colorful pages to browse, it is important that we give kids books that teach them good values.
After they complete working on their printable skunk paper bag puppet, kids may request more skunk stuff, so don't forget about this skunk plush toy!
They can read these skunk books while cuddling with it in their free time or right before bed.
The items in our special skunk collection for kids are listed below!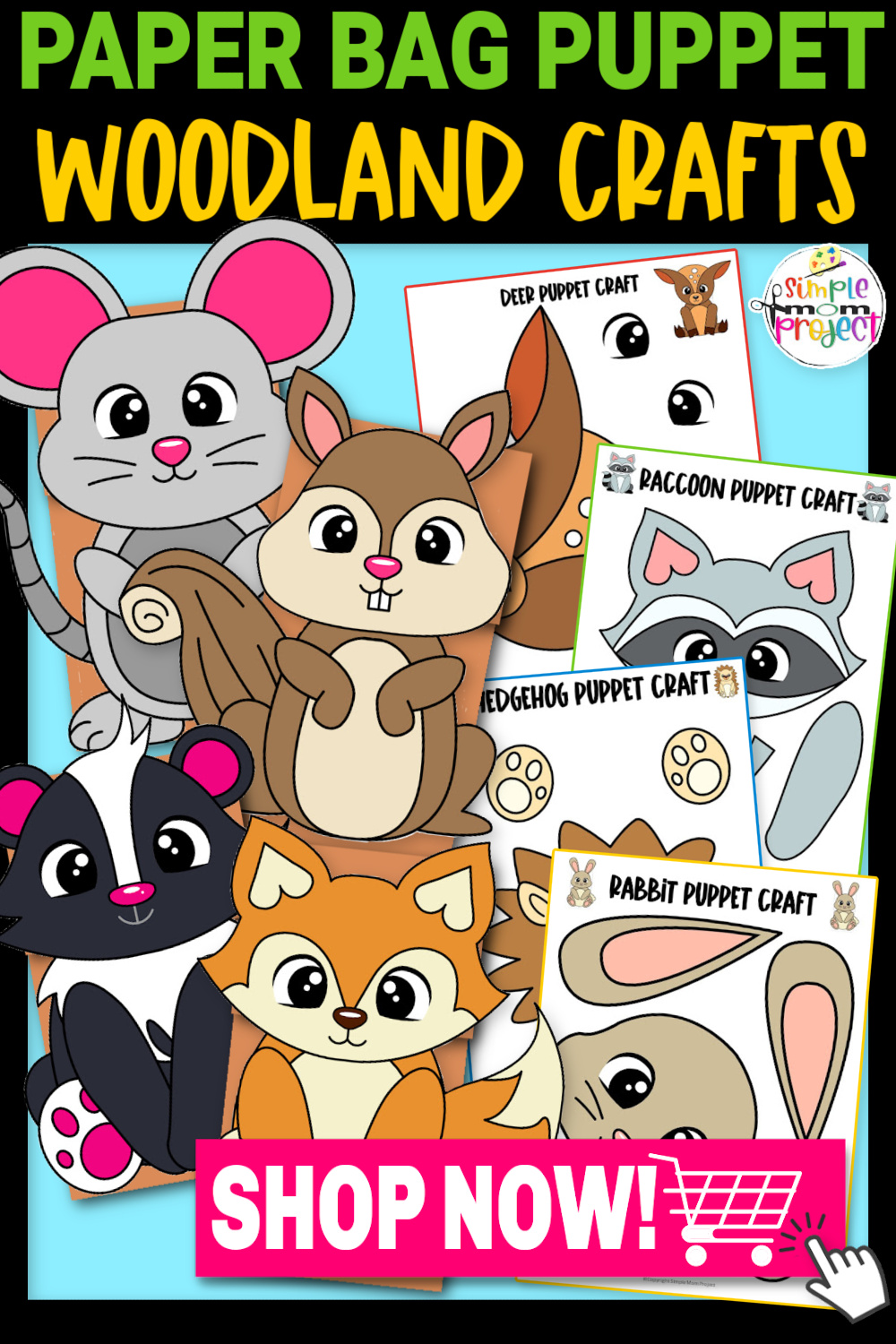 2. Amazing Facts About Skunks
Other than the unpleasant smell of its spray, do you know anything about this woodland animal?
If not, this printable skunk paper bag puppet idea is ideal since kids will discover amazing skunk facts.
You can use this idea to introduce children to the puppet craft.
If you want to incorporate a short science lesson on this species, this idea is also fantastic.
Talk to your kids about these amazing skunk facts and be shocked that this creature is more than just their terrible smell!
Skunks are nighttime creatures.
They sleep during the day and are active at night in hunt of food.
Skunks are shy animals, but they will release an unpleasant odor if they sense danger or a threat.
These creatures are omnivores.
Fruits, vegetables, fish, and insects are some of their favorite foods.
The majority of them are black and have two white stripes on their backs.
They have glands at the bottom of their bodies that produce the foul odor they spray.
Their spray may be smelled from up to 12 feet away and can remain for months!
Skunks do not survive for very long. In the wild, they only live for two to three years.
3. Paper Plate Skunk Mask Craft
Are you considering creating anything for your child's upcoming school dress-up day?
The printable skunk paper bag puppet craft is the one to try if animals are the theme.
If kids get to help make their costumes, they'll appreciate it more.
Given how inexpensive the materials are and how simple it is to make, they will enjoy making this paper plate skunk mask.
Kids can express their creativity by making a skunk mask that matches their animal costumes.
For this activity, get some paper plates, black paint and a paintbrush, construction paper in white and black, scissors, glue, rubber bands, and a marker.
The paper plate should first be painted black.
Once it has dried, draw the skunk's head on the paper plate using the printable skunk paper bag puppet design as a guide.
Draw more skunk features on the black and white construction paper after cutting it out.
Make two smaller black circles for the pupils and two white circles for the eyes.
On the white construction paper, draw a stripe shape.
Draw two ear shapes on the piece of the paper plate that is left over.
Attach them all together once everything is ready.
Make sure to cut two holes for the eyes if your children plan to use it as a mask so they can see after they put it on.
Punch a hole in both sides of the paper plate and loop the rubber bands around them.
The children may put it on by looping the rubber bands around their ears.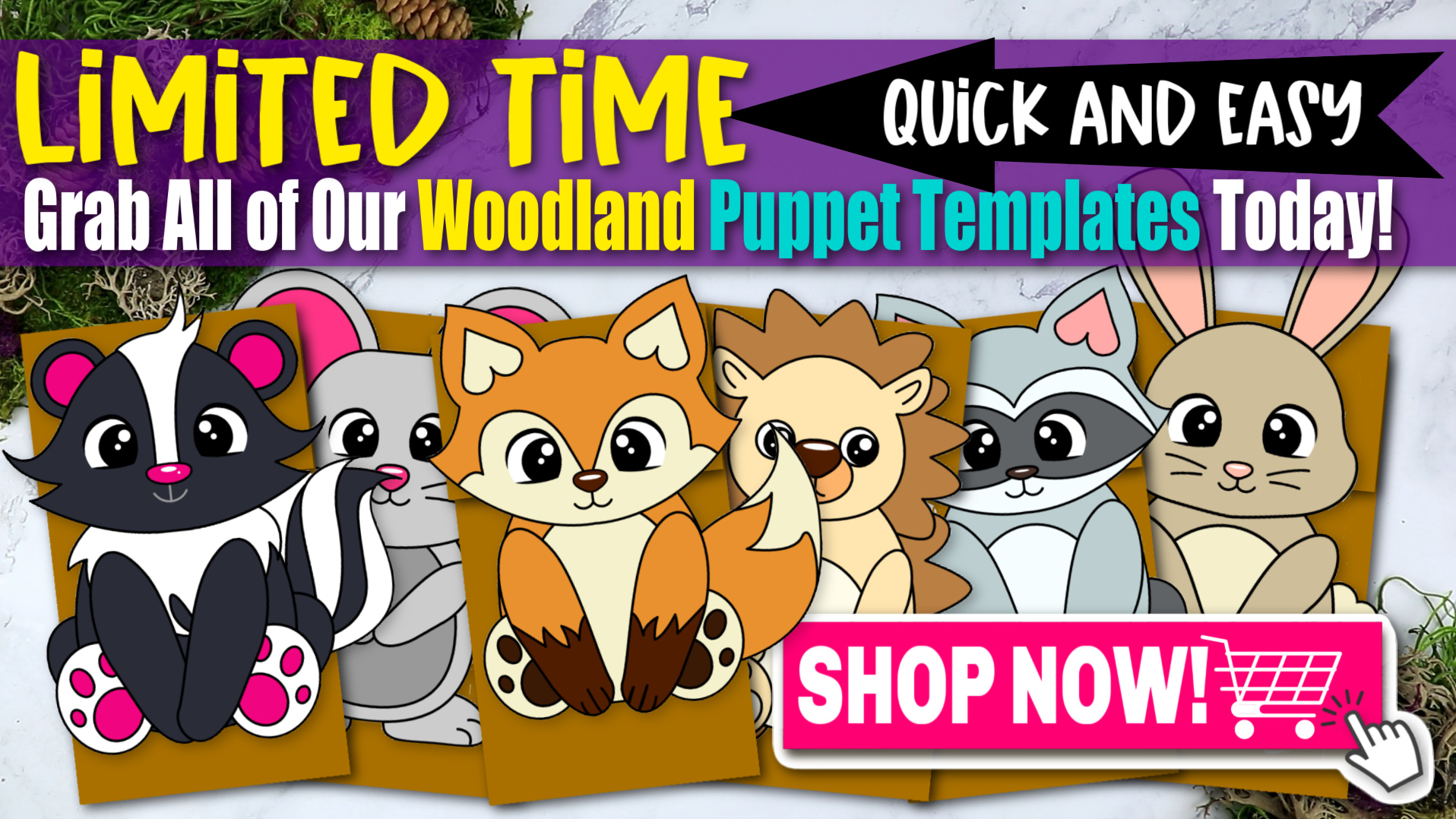 4. Forest Animals Theme Party
Getting ready for a party with an animal theme?
You may also add this printable skunk paper bag puppet craft in your events!
This skunk craft template can be utilized in a variety of ways, regardless of whether the theme is forest animals or just animals.
Aside from having the kids make the skunk paper bag puppet as one of the party activities, you can also use this skunk template as party decorations!
The skunk template can be used to create a party loot bag by attaching the skunk's pieces to a paper bag or other kinds of favor bag.
You can also use the skunk craft to build a party banner by connecting all of the skunks with string or yarn.
The fantastic thing about this printable skunk paper bag puppet is that you can use it to host a puppet show as well!
Kids will have a great time at their woodland animals party with this skunk project that they may use whichever they want!
These activities are sure to keep your kids engaged this weekend.
We sincerely hope that our ideas will help you organize your lesson preparations at home or at school.
Children will learn about this animal while also learning how to spend their free time productively.
They will definitely request more woodland animal paper bag puppet crafts, so keep an eye on our collection!
Skunk Paper Bag Puppet Instructions
Check out these simple step-by-step instructions to make your own skunk paper bag puppet crafts once you have all your materials available.
Help your kids cut the skunk parts one at a time if they chose the colored skunk template.
Give the kids the opportunity to use their creativity by having them decorate the simple black and white skunk template.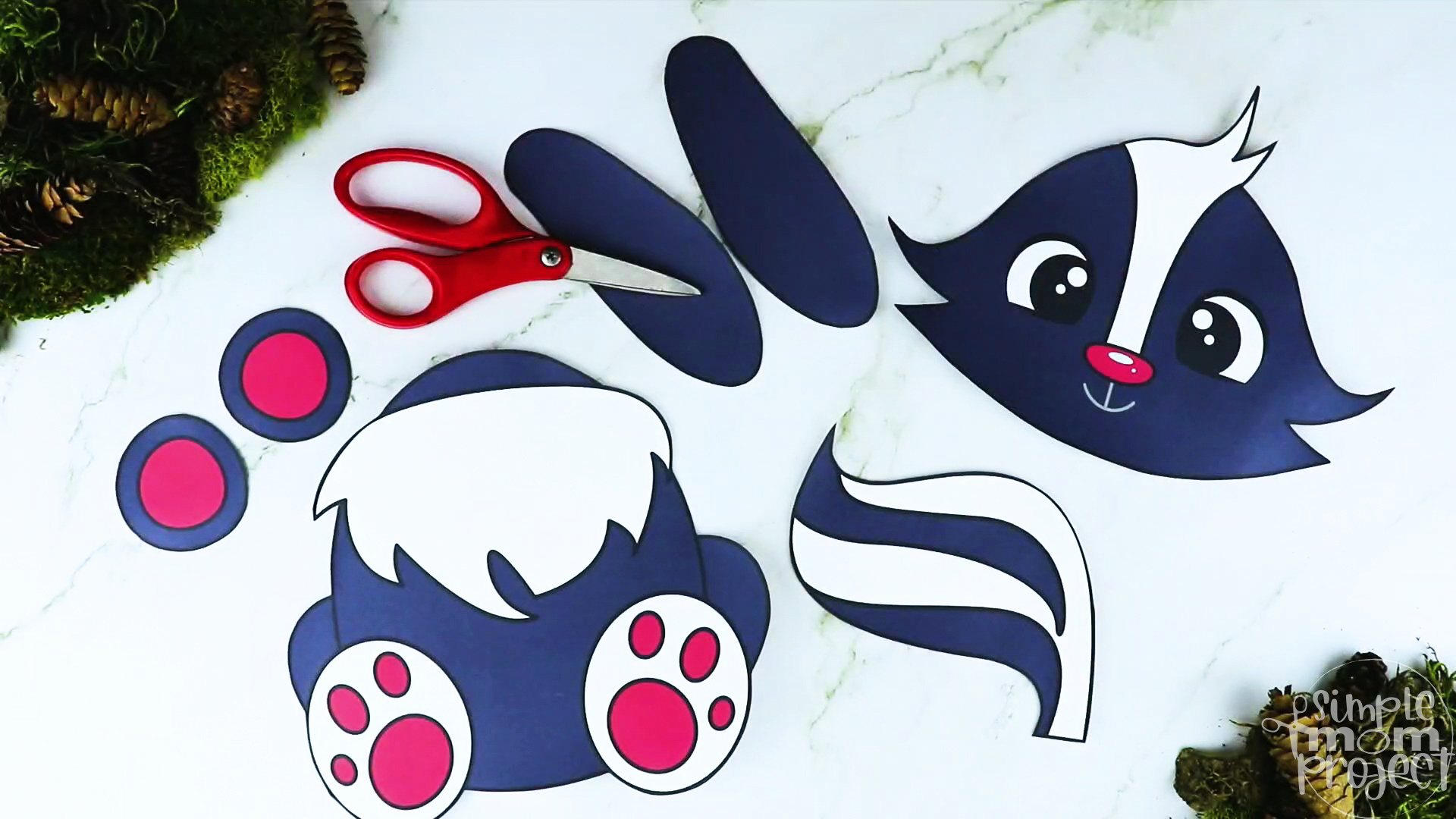 Start your skunk crafts by putting the skunk's head on the brown paper bag, precisely below the folded edge of it.
Place the head on the folded edge of the paper bag, followed by the two legs in front of the body in a cross position.
The ears should be attached to both sides of the skunk's head.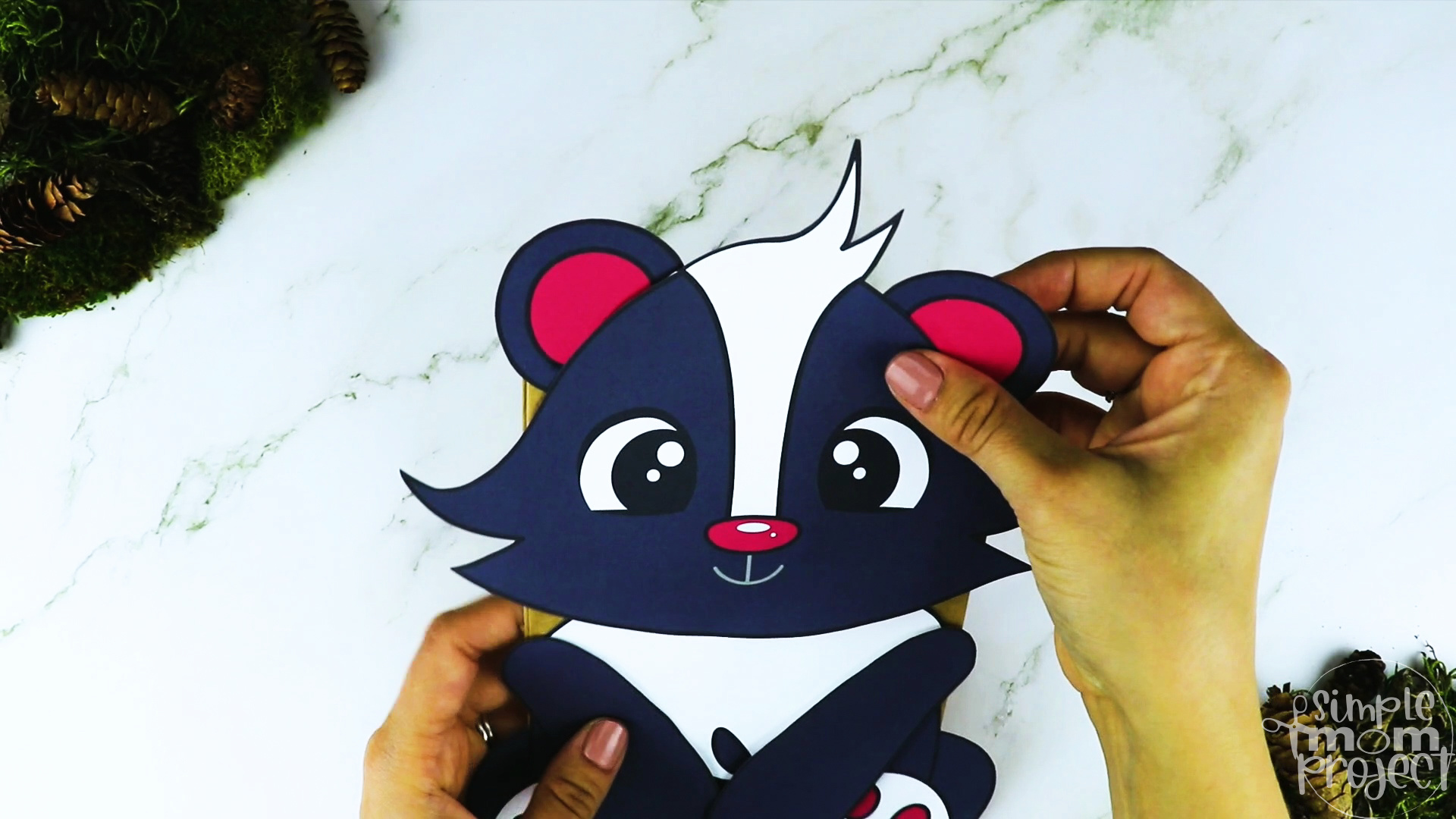 Put the fluffy tail of the skunk on its back to complete it, as seen in the picture below.
Enjoy how cute and adorable your skunk paper bag puppet crafts turned out now!
More Options to Choose:
You can print the blank version and trace the cut outs on card stock paper for a sturdier skunk paper bag puppet craft,
Print the skunk template in color for a simple and easy rainy day craft or,
Print the blank skunk template and use it as a fun coloring sheet activity and then glue the pieces of the skunk craft together.
Printable Skunk Paper Bag Puppet Craft
Arts and crafts can be a lot of fun when used to teach children about an animal.
Children may believe that skunks are unlovable in comparison to other animals due to their odor, however skunks are also fluffy and adorable.
Making this printable skunk paper bag puppet can help kids understand that these creatures are no different from others.
They'll have a lot of fun cutting and pasting the skunks onto the paper bag.
We will also provide two skunk templates so that the kids can begin with whichever one they like.
They will find this skunk craft to be very simple and easy to complete because we will include detailed directions on how to complete them.
Make this printable skunk paper bag puppet a part of your activities this week!
Don't forget to share your learning plans in the comments.
Need more woodland animal craft fun? Check out our packed list of paper bag puppets for simple craft fun with your little ones.  
When you have finished, be sure to share your creation on Simple Mom Project's Facebook Page and follow me on Pinterest!
More Printable Puppet Craft Templates