Who doesn't love rainbows?
They are my daughter's absolute favorite!
Rainbows are very popular right now.
So with that in mind, and since it's almost spring.
I thought it was definitely time to make some rainbow templates for simple craft projects this month.
The rainbow printable templates are available in black and white if you want to color your own rainbow or full color if you need something already completed and ready to go.
This printable rainbow templates come in two sizes; large and small, so you'll have different size options for your creative endeavors.
For more simple rainbow spring crafts and fun rainbow activities for kids of all ages, keep reading!
Download your rainbow templates today and have fun arranging your lesson plans for the week.
*By the way, this post may contain affiliate links which means I may receive a small commission at no additional cost to you if an item is purchase through that link. For more information, click here.*
Free Printable Rainbow Templates in Large and Small
Coloring rainbows is a fun way to learn about colors, color order, and color mixing.
Kids can decorate the white rainbow outlines using different coloring tools, such as crayons, colored pencils, and markers.
It's also a fantastic way to practice fine motor skills like pencil grip and control.
These rainbow coloring templates also give children a chance to practice their cutting skills. 
Here are some fun ways to use rainbow templates with your children:
1. Teach them about colors.
Learn the fun mnemonic device: Roy G Biv.
This character's name is actually an acronym for all the colors of the rainbow in order.
With older children, you can go one step further and teach them why we see color the way we do and what causes a rainbow to appear. 
2. Host a Rainbow Coloring Story Time
Read a story about rainbows and let children color their own rainbow cut-outs to take home. My Color is Rainbow by Agnes Hsu is one of our favorites!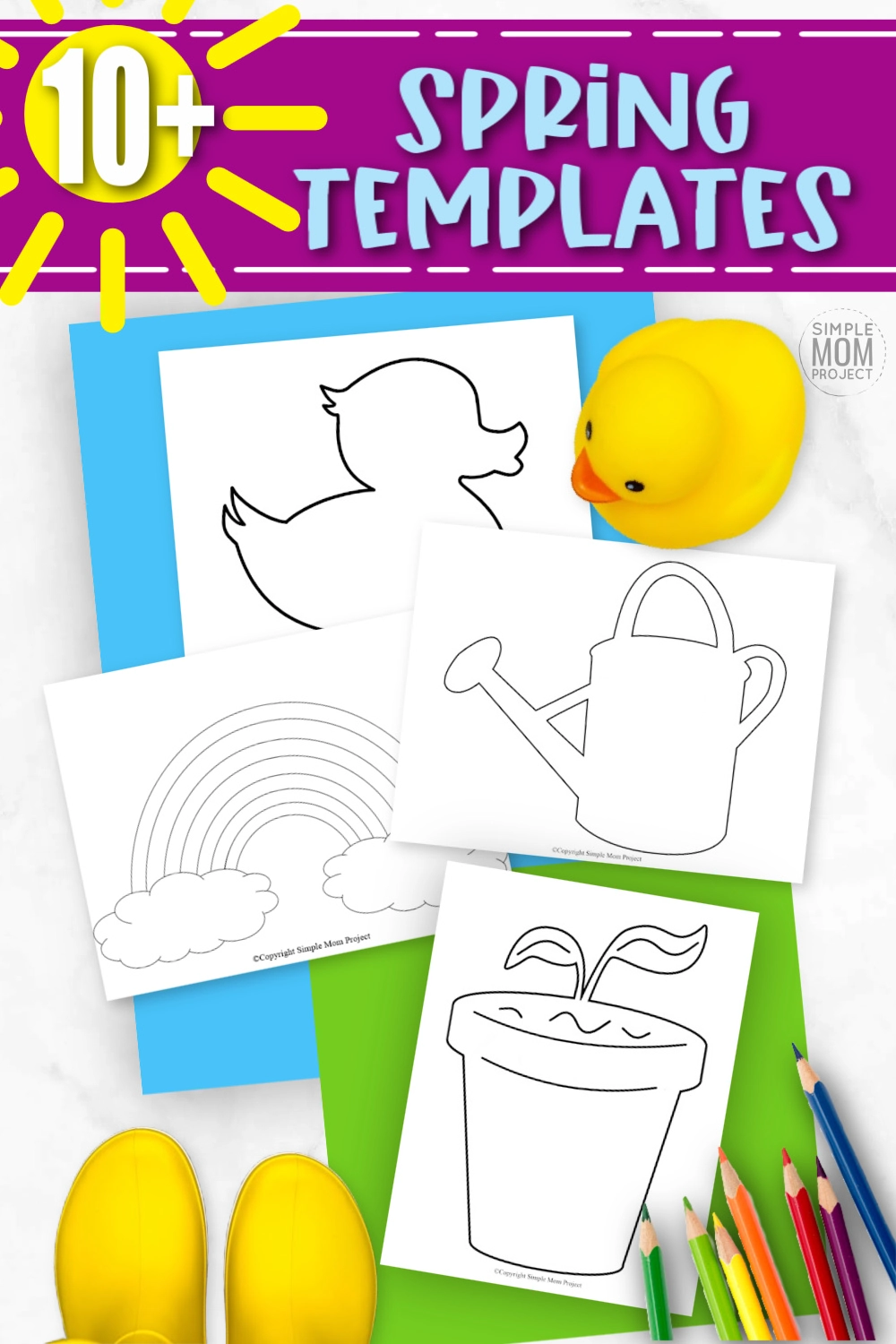 It's perfect for coloring because the arch in the story starts out white.
It can't decide what color to be, finally the arch decides to become a rainbow! 
Little ones can color along with the story.
That way, they're getting extra practice with early reading comprehension skills like sequencing.
Blank Rainbow Templates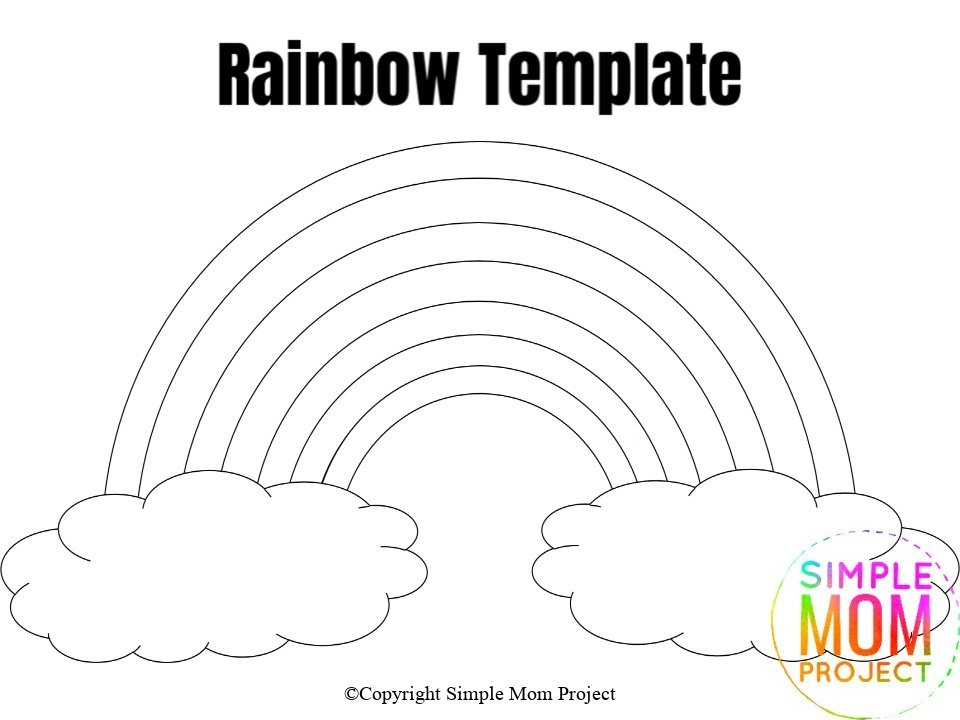 Large Rainbow Coloring Sheet
Small Rainbow Coloring Page 
These rainbow templates aren't just available in large and small sizes, they're also available to print in black and white (for projects like the ones above) or in a full color version.
Full color rainbows are perfect for a variety of things!
Use full color rainbow templates to:
Decorate for a rainbow party!
These rainbow templates would make lovely decorations for a rainbow party, whether it is at home or in the classroom.
Cut out full color rainbows and hang around the room or make fun rainbow garland. 
Use different sizes for added fun.
Add cotton balls to the cloud templates and glitter to the rainbow rays to give your rainbows some sparkle.
The rainbow printables can also be used to make a homemade card that will serve as an invitation or a souvenir for the guests.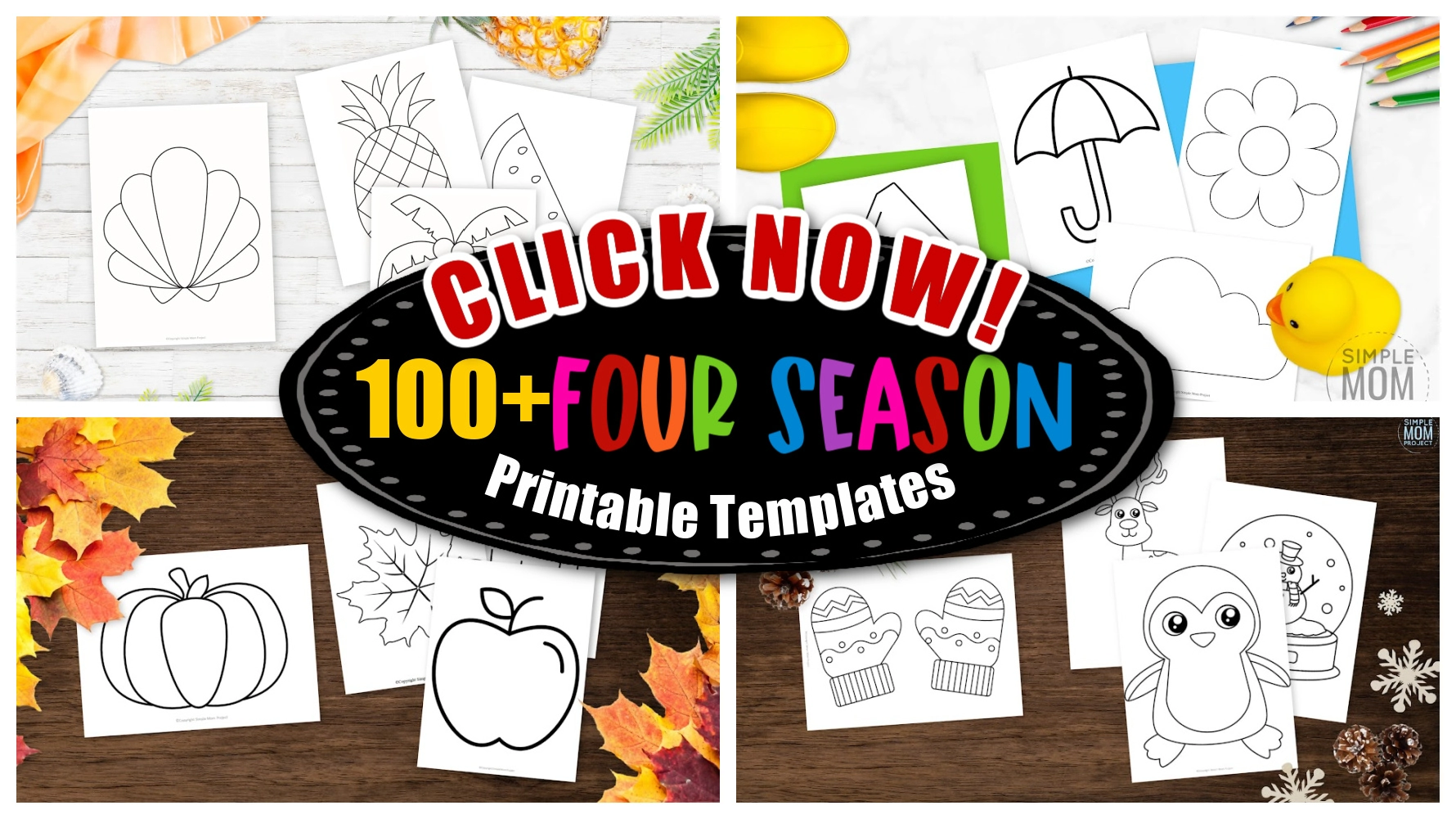 Make a rainbow colored hand kite.
Glue rainbow template to a crescent shaped piece of cardboard.
Use a hole puncher to punch holes in the clouds at the bottom of your rainbow. 
Then, tie on different colored ribbons.
Your rainbow themed hand kite is ready to enjoy!
Have fun twirling, spinning, skipping, and running around with your hand kite indoors or out. 
This is a fantastic weekend activity for toddlers, preschoolers, and kindergarteners!
Practice color sorting with preschoolers.
Give each child a rainbow and a handful of rainbow colored candies, buttons, or beads.
Let children practice sorting their colored pieces and lining them up on the rainbow's arches. 
It's a great way to practice fine motor skills like pinching, early learning skills like sorting like with like, and color recognition.
Colored Rainbow Templates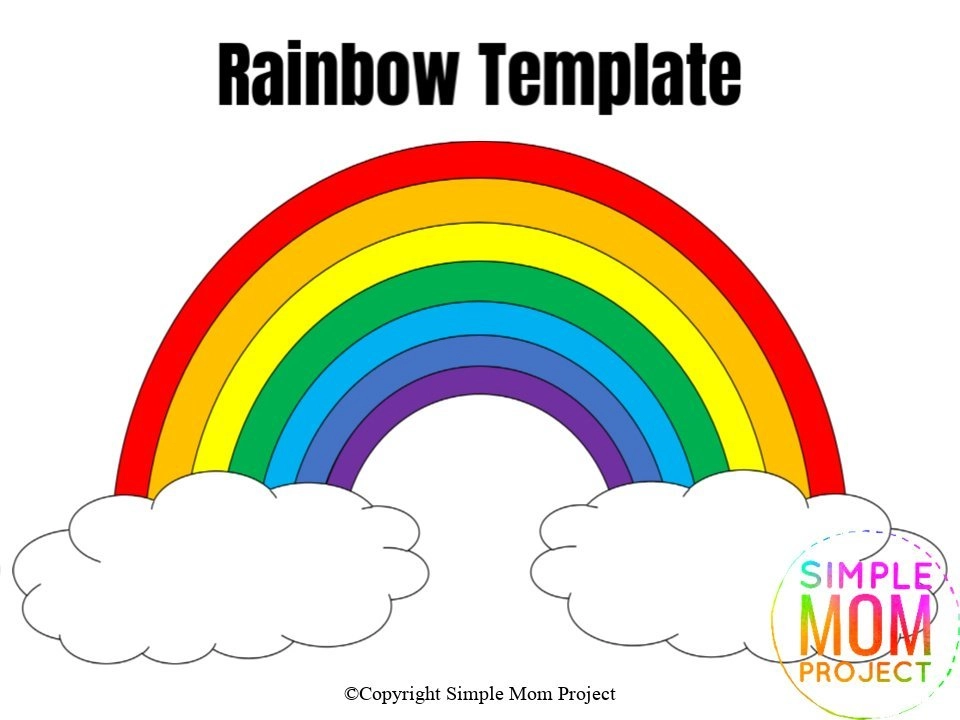 Full-color Large Rainbow Template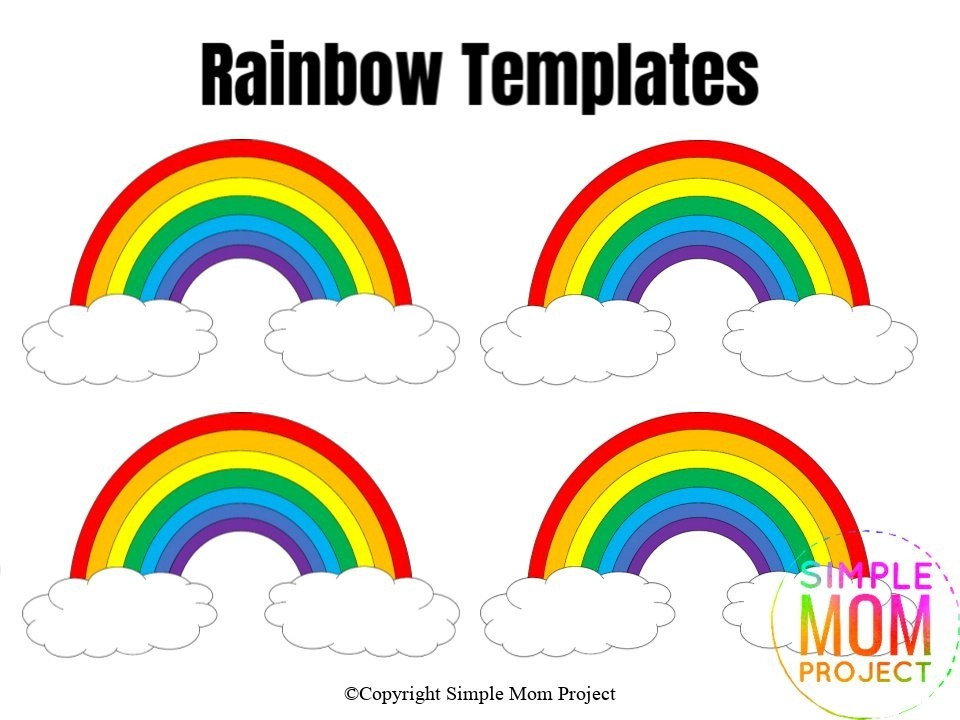 Full-color Small Rainbow Template
Make the most of these rainbow-themed free templates for any activity you have planned for your routine at home and in the classroom.
Whether you choose to print black and white rainbow coloring pages, full color rainbow templates, or both.
I hope you have lots of fun creating with these simple and fun printable rainbow cutout templates.
We look forward to seeing you and your children use all of your imagination to design stunning rainbows that are truly one of a kind.
Enjoy creating your springtime rainbow crafts, a weather craft, and other art projects!
As always, I can't wait to hear about your plans for putting these rainbows to good use in the comments!
When you have finished, be sure to share your creation on Simple Mom Project's Facebook Page and follow me on Pinterest!

Kaitlen D.
More Fun Printable Templates: