Today I'm featuring a beautiful sun style suncatcher stained glass for kids' project. With this simple sun catcher tissue paper stained glass craft for kids, you'll enjoy hours of fun.
Stained glass projects are pretty popular during the summer season since the days are longer so that you can get more out of using these sun crafts as a home décor piece.
During the summer season, we enjoy getting involved with some suncatcher crafts because it helps make us happier. The kids enjoy these simple sunshine preschool paper plate suncatcher crafts because they can create something that appears to be amazing .
Just think about how you imagined stained glass suncatchers when you were little. They are so beaufitul as the sun hit them in just the right direction to create a beautiful rainbow design. Share your love of these sun catchers with your kids when opt to use my sun crafts suncatcher craft ideas as a new favorite preschool craft idea this summer.
Suncatcher Stained Glass For Kids
*By the way, this post may contain affiliate links which means I may receive a small commission at no additional cost to you if an item is purchase through that link. For more information, click here.*
Ideas for Suncrafts Suncatcher
1. Sunshine Party Favors
Hosting a summer cookout? While the adults are cooking, the kids can have something fun to do as well! Enjoy using this suncatcher sun craft as a way to keep your guests busy. Create a craft table where you set out all of the supplies for your suncatcher crafts.
Each table will be full of construction paper, coffee filter, and other suncatcher supplies so that the kids can pick which style suncatcher to make and bring home.
2. Family Bonding Time
Completing crafts together as a family will strengthen your family bond. When you decide to make these suncrafts suncatcher designs with your kids, you're saying yes to spending quality time together. This activity is fun and brings much laughter and awe as you work to create the most amazing looking suncatcher craft with your kids.
This is an excellent craft for preschool kids that helps make your home feel happier no matter what's going on in the world. The beautiful rainbow appearance of the suncatcher crafts will make your whole family smile each time you see a new color shine through this stained glass for kids project on your window.
Keep scrolling to follow my tutorial to make suncrafts as a family or together with friends during a special summer gathering.
Sun Suncatcher Supplies Needed:
Sun Template (found here)
Sun Suncatcher Tutorial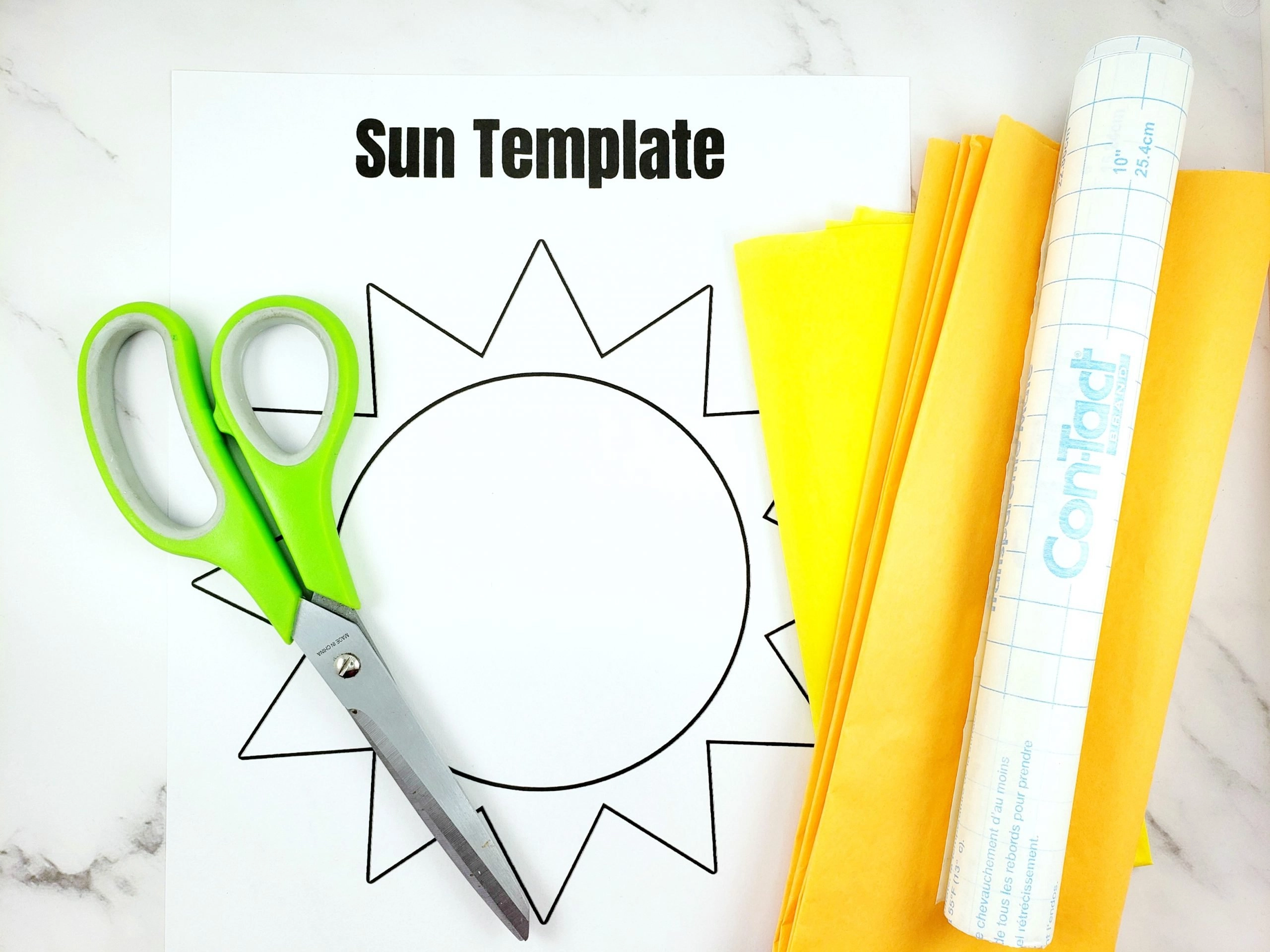 First, gather up your supplies and print out your sun template.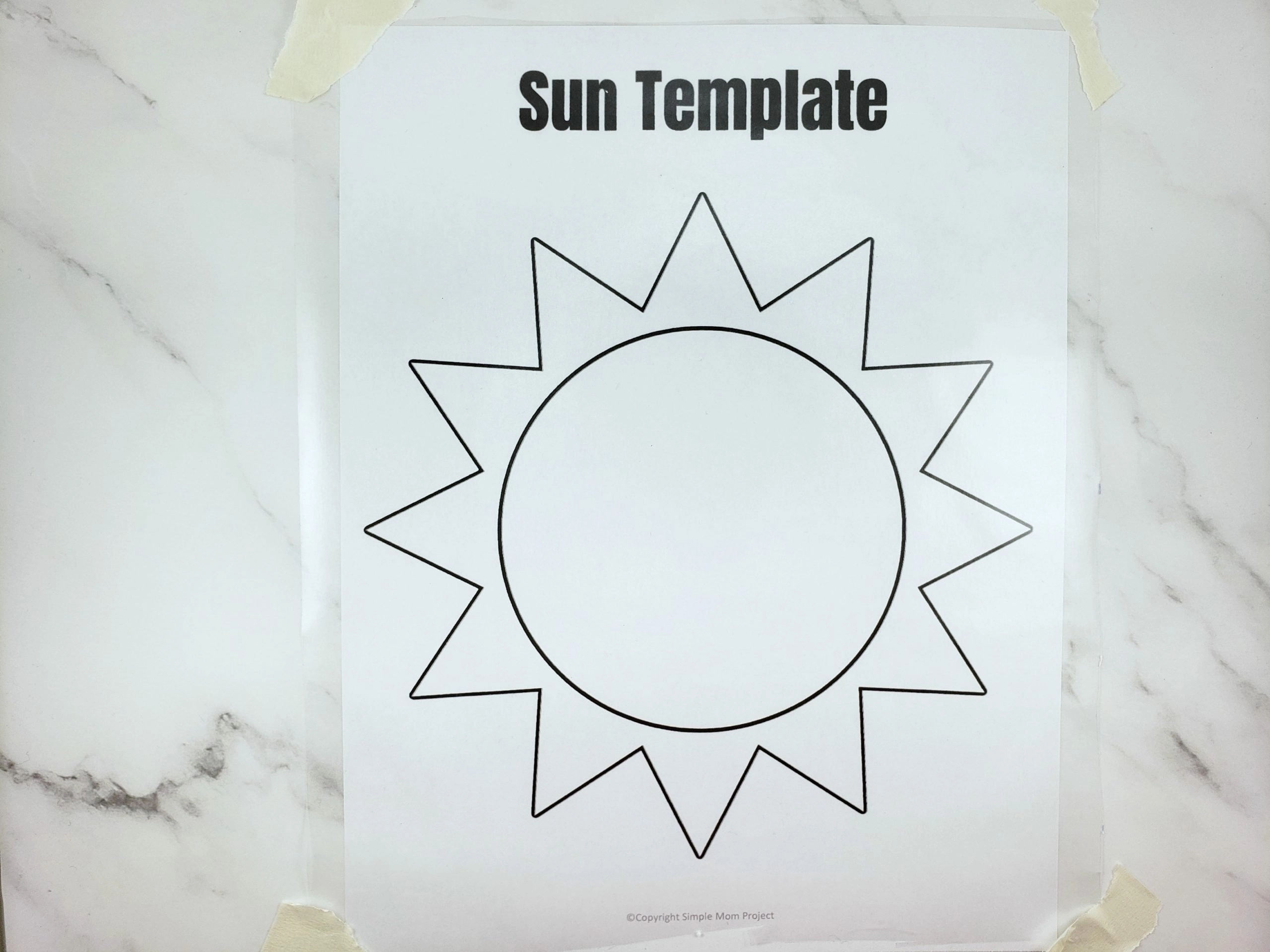 Next, cut two sheets of contact paper and remove the backing from one of them. After you've done that, carefully lay it upside down (sticky part up) on top of your printed sun template.
The template is used as a guide. I would encourage taping your contact paper to a surface so your sun doesn't move underneath it.
Then start laying your cut out tissue paper. We decided on two inch-ish strips of yellow and orange tissue paper, but you can get as creative as you want. You can even have a rainbow sun!
Try not to overload the outer layer with tissue paper though. You'll want to still see the sun's outline under your tissue paper.
Then peel off the other piece of contact paper. Carefully lay it on top of your sun (sticky side down this time). It is okay if the pieces don't match up exactly. You will be cutting the edges in the following steps.
Once your second layer of contact paper is on, take your large sharpie and trace the sun. Aren't you glad you can still see it?
Now it is time to cut out the sun suncatcher. If you have younger kids, you might want to help them with this step.
Finally, display your new suncatcher sun proudly on your favorite window in the house!
Whatever you opt to use this suncatcher crafts with, I'm certain the suncrafts option will be one of the most popular suncatcher options you make this summer.
When you have finished, be sure to share your creation on Simple Mom Project's Facebook Page and follow me on Pinterest!

Kaitlen D.
More Fun Suncatcher Crafts: