Have you seen the movie Turning Red from Disney?
That movie was a huge hit with my kids!
I really loved how they put a rare animal in the film this time.
It has so many valuable lessons for both parents and children.
That's why I couldn't wait to create a craft inspired by it.
Get your printable red panda craft template now if you and your child are fans of the movie Turning Red!
You couldn't help but incorporate these adorable red pandas into your activities at home and in the classroom.
We also created two red panda craft templates for kids to enjoy.
Have them select between the colored red panda craft and the basic black and white craft.
Both templates will certainly help your children in developing a variety of abilities while having fun getting to know these red pandas!
Use this printable red panda craft template to organize your preschool and kindergarten activities right away!

*By the way, this post may contain affiliate links which means I may receive a small commission at no additional cost to you if an item is purchase through that link. For more information, click here.*
Printable Red Panda Craft

Red Panda Craft Supplies Needed
Need more crafty fun? Check out our Panda Craft, Koala Craft and  Heart Panda Craft.
 T
hey are perfect for those days when staying indoors is the only thing your family can do!
Ideas for Easy Preschool Paper Red Panda Craft
If you're still wondering what activities to do with the printable red panda craft template, we've got you covered.
We made sure to give ideas on how kids might make the most of the red panda craft throughout their activities in addition to crafting it.
These ideas are meant to be fun, suitable for kids of all ages, and affordable!
It won't cost much to enjoy learning about these adorable red pandas and have fun doing it.
Only a few household items and the red panda craft template are needed.
Continue reading and feel free to make note of these ideas!
1. Best Red Panda Materials for Kids
These red panda resources we've gathered for your kids are something we'd love to share with you.
Organizing your learning plans would be incomplete unless you used the printable red panda craft template to find the effective learning resources.
Use these materials to teach kids about red pandas if you intend to include them in your weekly lesson plans.
These are some of the best red panda materials we found that may be used to introduce the printable red panda craft template.
Reading books about beautiful red pandas would be a favorite activity for kids.
We wouldn't forget to include a Turning Red panda plush for kids to cuddle with while reading!
Visit the links we've compiled below to see them!
2. The Rare Red Panda
While we were watching Turning Red, my children were quite curious about the red panda.
They were incredibly interested in learning more about these rare red pandas!
I made sure to share all these fascinating red panda facts with the kids before giving them the printable red panda craft template.
You might incorporate this printable red panda craft template idea into your science lessons if you intend to use it in the classroom.
After knowing everything about these rare red panda facts, kids would be eager to get started on their red panda crafts right away!
Did you know the red panda is also known as the lesser panda, the panda Firefox, and the red cat-bear?
They were formerly believed to be related to raccoons and giant pandas.
Red pandas can be found in bamboo stands and mountainous regions of China, Myanmar, Nepal, and India.
Their long, velvety coat fur is rusty red and dark chestnut in hue.
They have a white face and ears, and the backs of their ears are a reddish-brown color.
Red pandas can live independently.
At night, they eat bamboo, and during the day, they sleep.
Aside from bamboo, they eat fruit, insects, and bird eggs.
When you work on the printable red panda craft template, you'll learn even more about these red pandas!
You may also include a short film showing how they live in their habitat as part of your science lessons.
3. Easy DIY Red Panda Crafts
Apart from completing the printable red panda craft template, children could use it to create a number of new crafts!
Allow children to be as creative as they like when creating their one-of-a-kind red panda crafts.
They have more opportunities to create more arts and crafts because there are two templates to pick from.
They might make a red panda toilet paper craft, a paper plate red panda, and other crafts out of recycled materials.
You might create your own red panda origami using the printable red panda craft template as inspiration.
These red pandas also create the most adorable designs for polymer clay figures!
4. Turning Red Movie Night
It would be a great idea to watch Turning Red tonight if you haven't already!
Have a Turning Red movie night with everyone to cap off the day's activities or to spend quality time together on the weekends.
Grab some popcorn, then bring the group together to see this fantastic film.
While watching, kids could bring their red panda crafts.
Aside from learning about beautiful red pandas, the film teaches a lot about family values.
Making your own red panda crafts as a family after the movie is another option!
After the movie, invite the kids to share their opinions about it together with yours.
Include this printable red panda craft template idea in your family bonding activities this weekend!
We hope that these ideas will make your weekly activities exciting!
We're always happy to give ideas on how to make learning more fun for your children.
Use any or all of these ideas in the activities you plan for your preschool or kindergarten kids.
We have more animal templates available, so you can always come back for more!

Red Panda Craft Instructions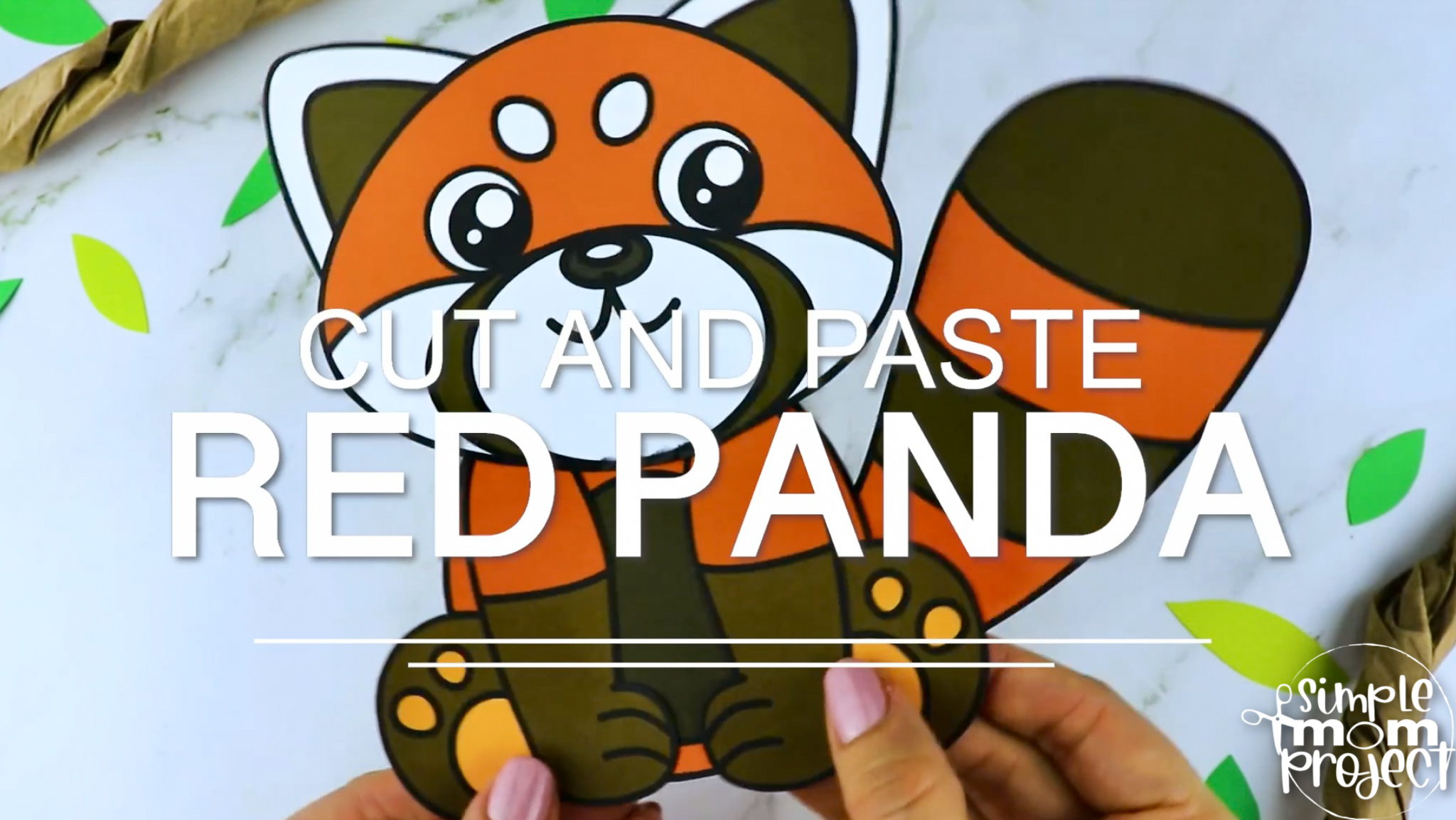 Check out these simple step-by-step directions to make your red panda crafts once all of your materials are ready.
Help your kids carefully cut the parts out if they decide to use the colored printable red panda craft template.
Children can color the plain red panda template first, then cut out the parts.
First, connect the red panda's head and body together.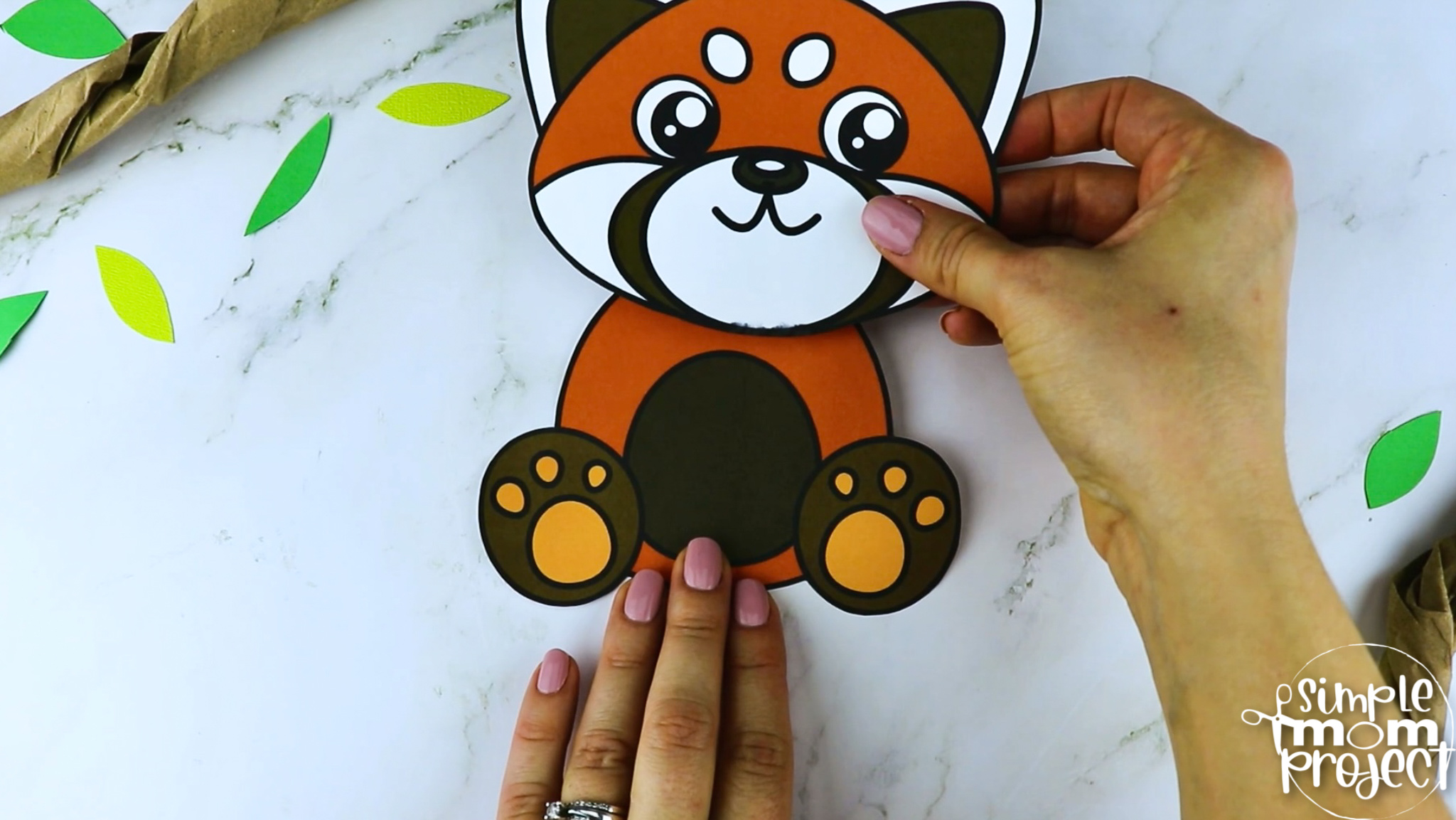 Next, place one leg in the position shown in the picture below.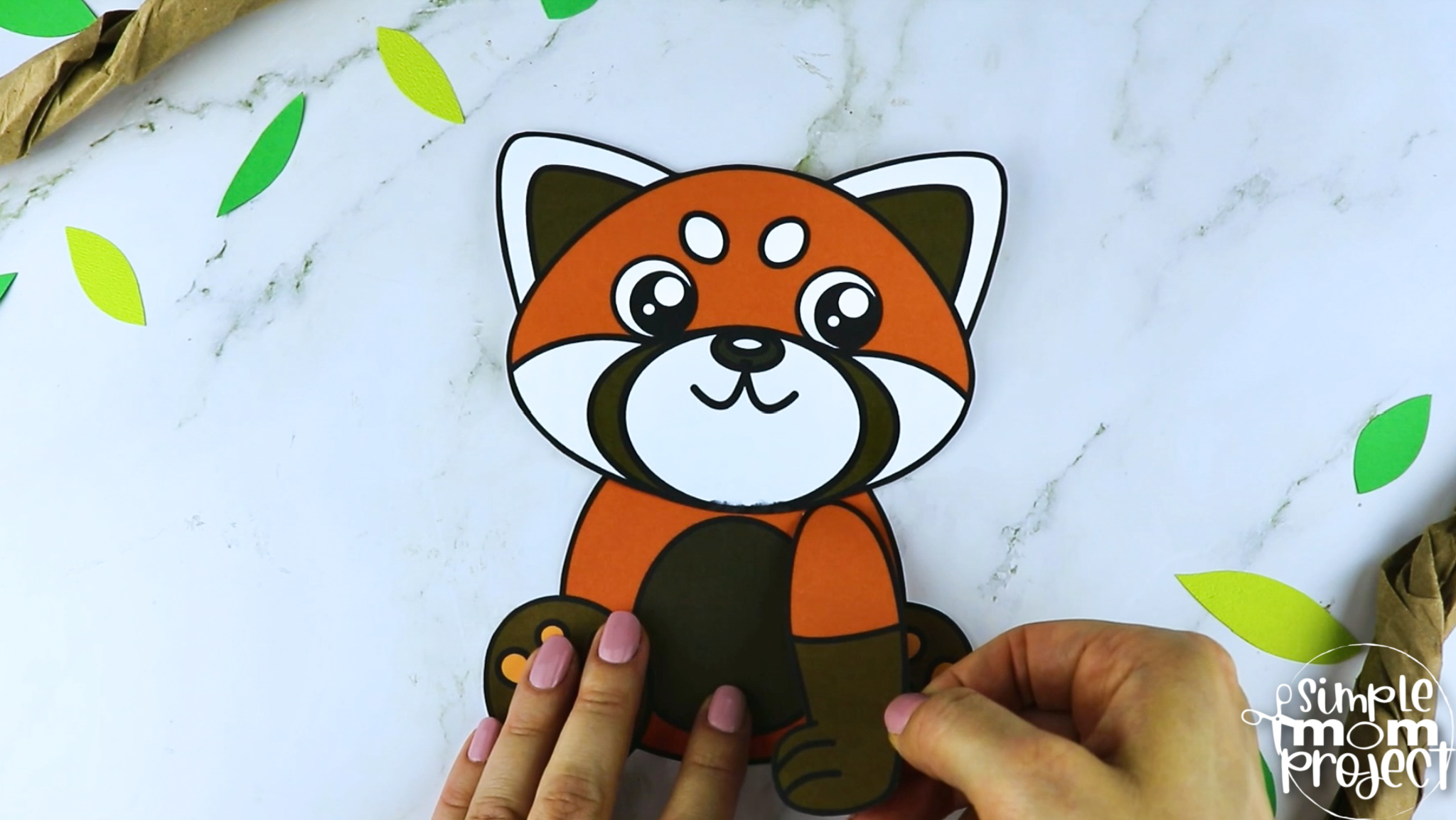 Then attach the remaining leg and the fluffy and furry tail on its back.
Look at the adorable and lovely red panda craft you created!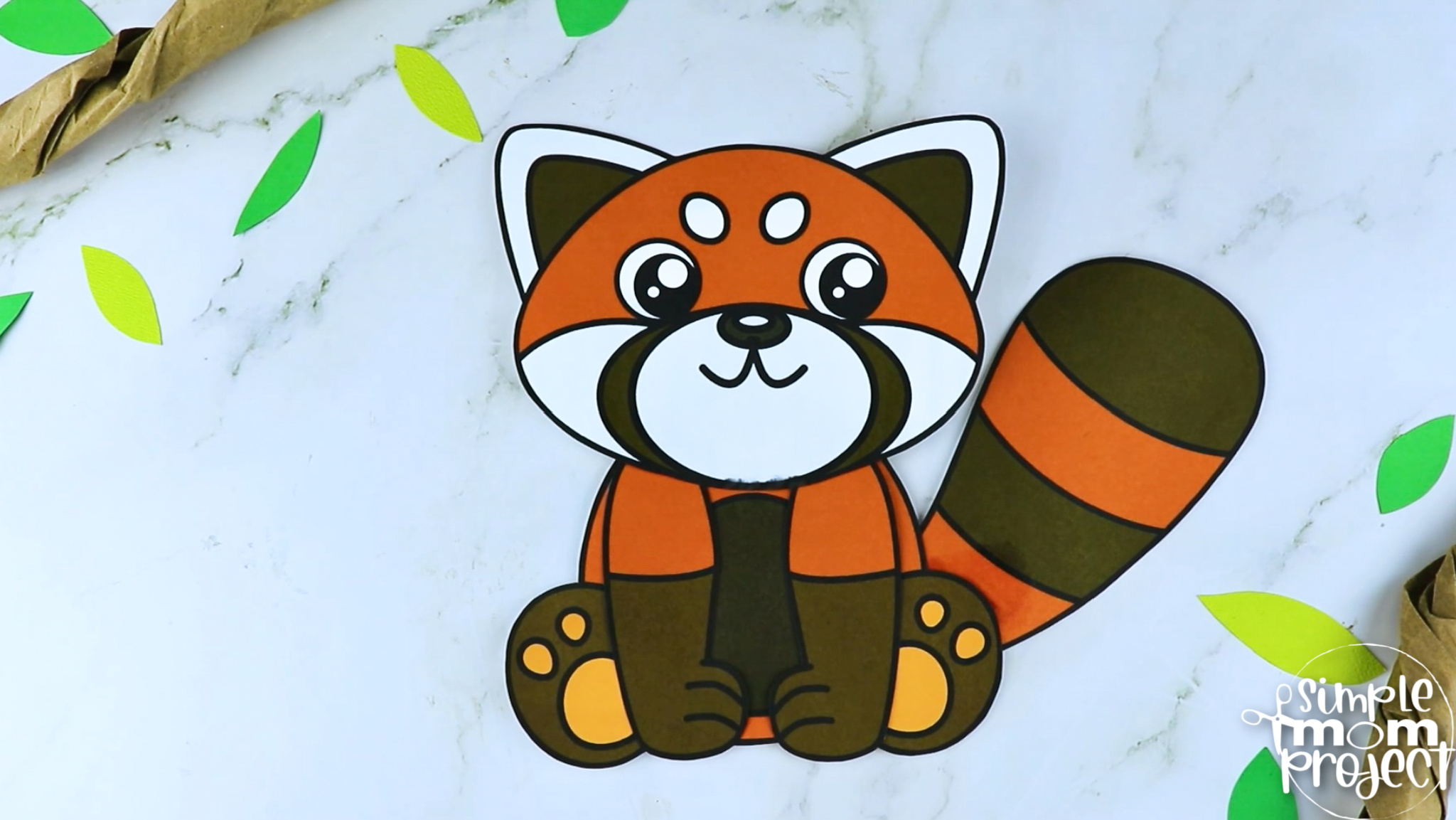 More Options to Choose:
You can print the blank version and trace the cut outs on card stock paper for a sturdier red panda craft,
Print the red panda template in color for a simple and easy rainy day craft or,
Print the blank red panda template and use it as a fun coloring sheet activity and then glue the pieces of the red panda craft together.
Printable Red Panda Craft Template
Ready to get started on your red panda crafts?
Grab your copies of the red panda craft template right away!
Kids may make this simple red panda craft as part of their arts and crafts projects.
Kids may improve their fine motor, hand-eye coordination, focus, and creativity with this easy cut-and-paste craft.
The red panda pieces will be fun for kids to put together!
For the black and white red panda craft, they are free to use any coloring supplies, including crayons, colored markers, and even paint.
Alternately, kids could move on to cutting out the red panda parts using the colored red panda pattern.
Help them carefully cut each part one at a time if they are just learning how to use scissors.
Children can glue their red panda crafts to a popsicle stick, cardboard, paper plate, or toilet paper roll.
Show off all of the red panda crafts that they have completed in their rooms and classrooms so that they may enjoy them every day!
Need more animal craft templates? Check out our packed list of animal craft templates for simple craft fun with your little ones.  
When you have finished, be sure to share your creation on Simple Mom Project's Facebook Page and follow me on Pinterest!

Kaitlen D.
More Fun Printable Animal Craft Templates