Enjoy a new week full of fun and arts and crafts with our collection of heart animal crafts.
You've got to adore this panda craft even more if you've been enjoying our heart-shaped animals!
These pandas are so cute that they make the most delightful crafts that the kids will definitely enjoy.
Use this printable heart panda craft template to create a variety of easy crafts at home.
When children are working on their panda crafts, their creativity is bound to shine through.

Additionally, the activity helps them improve their hand-eye coordination, focus, and fine motor skills.
What a wonderful way to keep them busy this week, am I right?
Don't forget to include this heart-shaped panda craft template in your activities at home and in the classroom!
*By the way, this post may contain affiliate links which means I may receive a small commission at no additional cost to you if an item is purchase through that link. For more information, click here.*
Printable Heart Panda Craft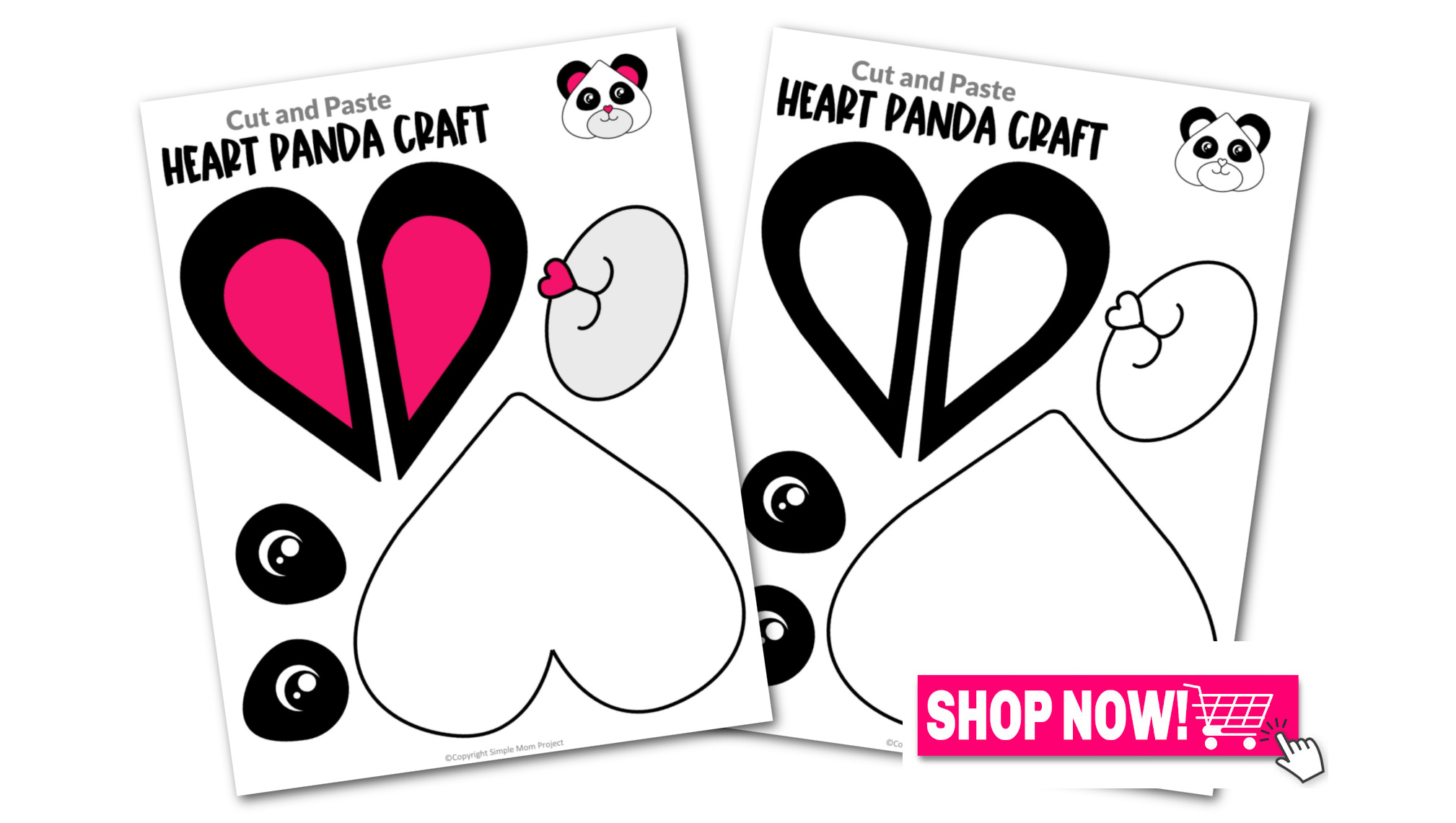 Heart Panda Craft Supplies Needed
Need more crafty animal ideas? Check out our Heart Bear Craft, and Heart Fox Craft.
 T
hey are perfect for those days when staying indoors is the only thing your family can do!
Ideas for Easy Preschool Paper Heart Panda Craft
Incorporate this printable heart panda craft template into your routines to create a fun learning atmosphere at home.
These wonderful ideas are made simple and exciting for all children.
Check out these ideas for ways to include the heart panda craft into your activities!
1.  Adorable Panda Stuff for Kids
You can't help but like these fluffy and cuddly pandas!
Pandas are sure to become one of kids' favorite animals after making this printable heart-shaped panda craft template.
They might want more of these animals, so check out these adorable panda stuff that are both age appropriate and entertaining!
2. Paper Plate Panda Craft
We want kids to have a good time making this printable heart panda craft template.
This heart-shaped animal is designed to be made into a variety of incredible crafts.
We also want children to learn how to reuse various household items.
They may recycle and use their imagination to transform them into anything they want by using this printable heart panda craft template.
Make a paper plate panda craft using this printable heart-shaped panda template.
You could then display your panda crafts and create a lasting memory both at home and in the classroom by doing this!

Print a copy of the heart panda craft template and get your paper plates ready.
Cut out the heart panda pieces, and then put them together on the paper plate.
To make the paper plate match well with your heart-shaped panda craft, you can add color or paint it.
Decorate your bulletin boards or animal walls at home with this paper plate panda craft!
You are welcome to repeat the process and create more crafts by printing extra printable panda templates!
3. Cute Panda Facts
You could see them climbing trees, rolling on the ground, or chewing on bamboo sticks, but there's more to these pandas!
Kids may learn more about these animals by sharing these cute panda facts with them using this printable heart panda craft template.
This idea can be used in science classes at home and at school.
The printable heart panda craft template can be introduced to the kids using this approach.
Share these cute panda facts with everyone by gathering them all together.
Prepare a copy of the heart-shaped panda craft template, panda flashcards, or a photo of the animal to hand out as you discuss this topic.
Did you know that there are different kinds of pandas?
Giant pandas are black and white bears native to China.
The red panda is a smaller panda that is around the size of a cat.
They have fluffy tails and reddish-brown fur.

Bamboos are a favorite food of the two pandas!
Panda cubs are blind from birth.
At about three weeks old, they will also begin to open their eyes as their hair grows.
They begin walking in the third month, and can begin eating bamboo in the sixth month.
Although some people claim that these cuddly animals are sluggish and spend their days sleeping, this is untrue.
These fluffy animals can swim and climb very well.
They are omnivores.
Although bamboo is their favorite food, they may occasionally consume small creatures like fish.
There are just 1,000 of these cute bears left in the wild, making them an endangered species.
These adorable pandas need to be protected in the greatest way possible.
4.  Panda Bear Heart Shaped Card
This heart panda craft template is perfect for producing greeting cards, thank you cards, or invitation cards!
This panda craft is so appealing that everyone who receives this panda bear heart shaped card will be amazed!
If you know someone who adores pandas or simply want to send a message, use this printable heart panda craft template.
Print one right away and gather all of your beautiful art supplies!
Use the space at the back of the panda craft to write a note to someone special after you've cut and assembled it.
You are free to use any writing tools you have, including pencils, crayons, and markers.
Make your panda bear heart-shaped cards unique by adding colorful beads, glitter, and sequins!
Prepare for a fun-filled week with this heart panda craft template!
Kids will love these unique ideas and be eager to learn more about them.
Children are guaranteed to have a terrific time learning about pandas and doing crafts around them!
Heart Panda Craft Instructions
After gathering your materials, these simple and easy steps will assist you effortlessly create your heart panda craft templates!
Provide your kids with all the coloring supplies they have so they can customize the basic black and white panda template.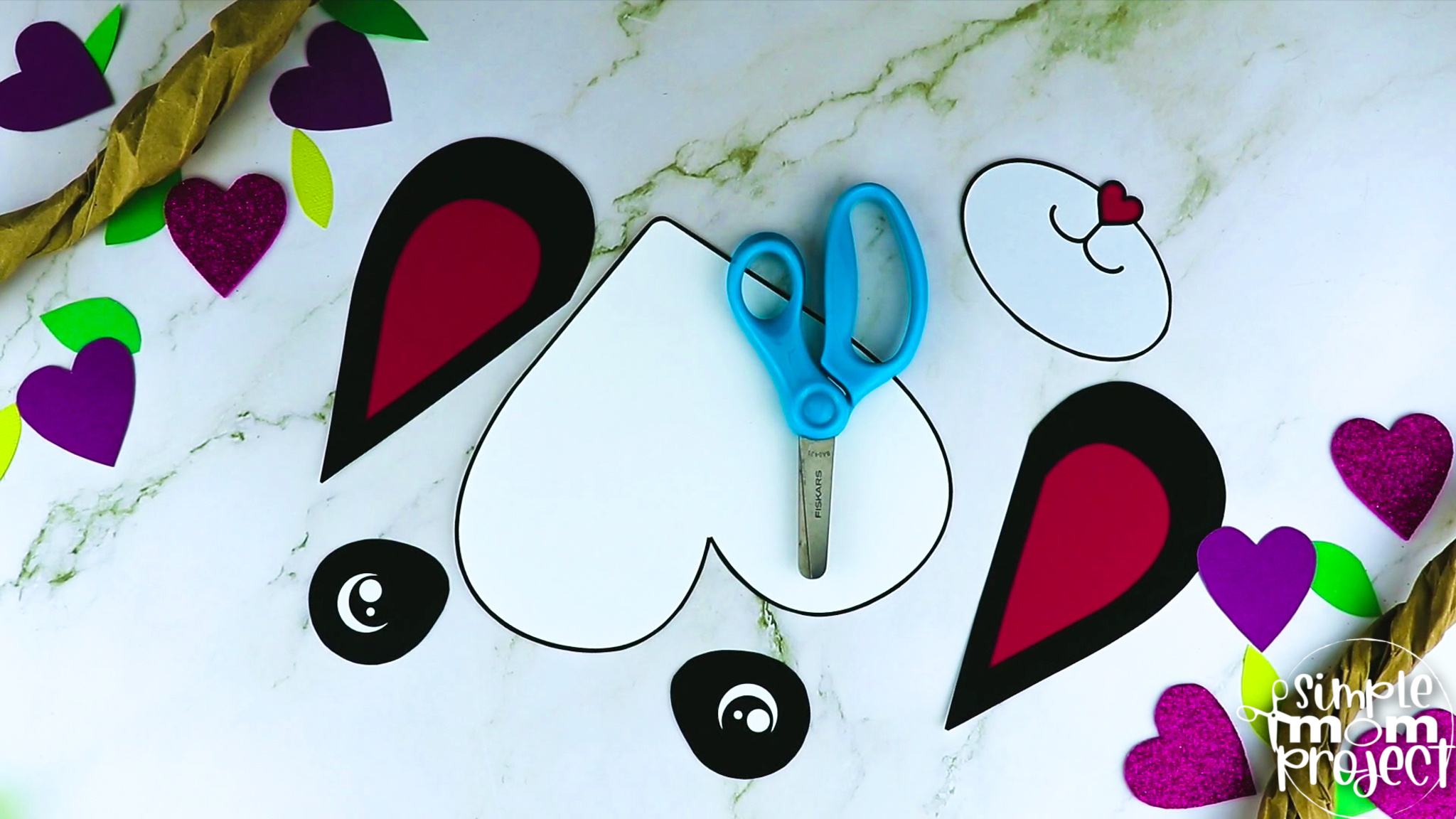 On both sides of the upside-down heart, start by adding the two panda ears.
In the lower middle of the panda craft, place the oval-shaped snout.
Don't forget to include the well-known panda eyes on either side of the face.
What a sweet and adorable panda craft you've created!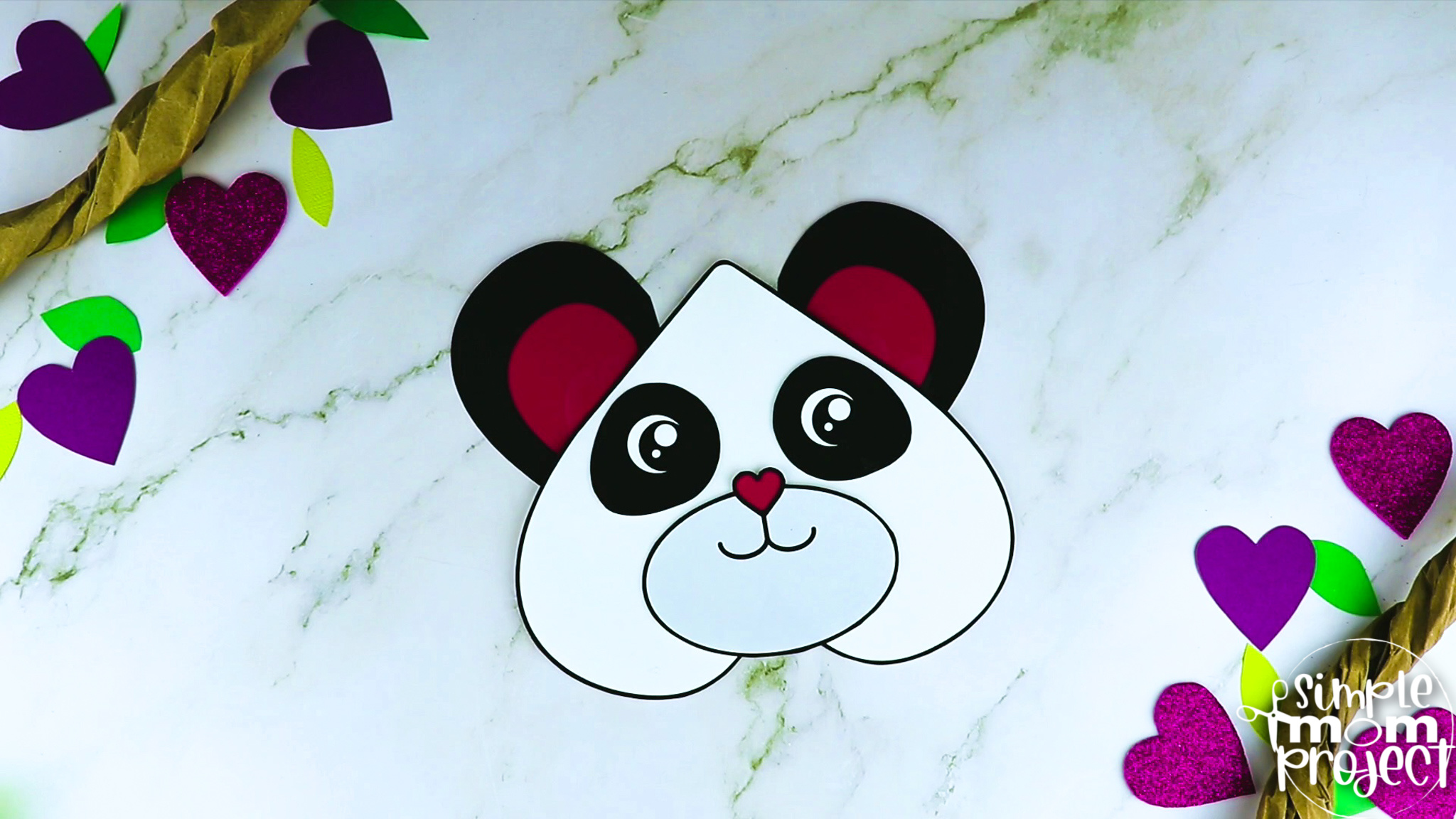 More Options to Choose:
You can print the blank version and trace the cut outs on card stock paper for a sturdier heart panda craft,
Print the heart panda template in color for a simple and easy rainy day craft or,
Print the blank heart panda template and use it as a fun coloring sheet activity and then glue the pieces of the heart panda craft together.
Printable Heart Panda Craft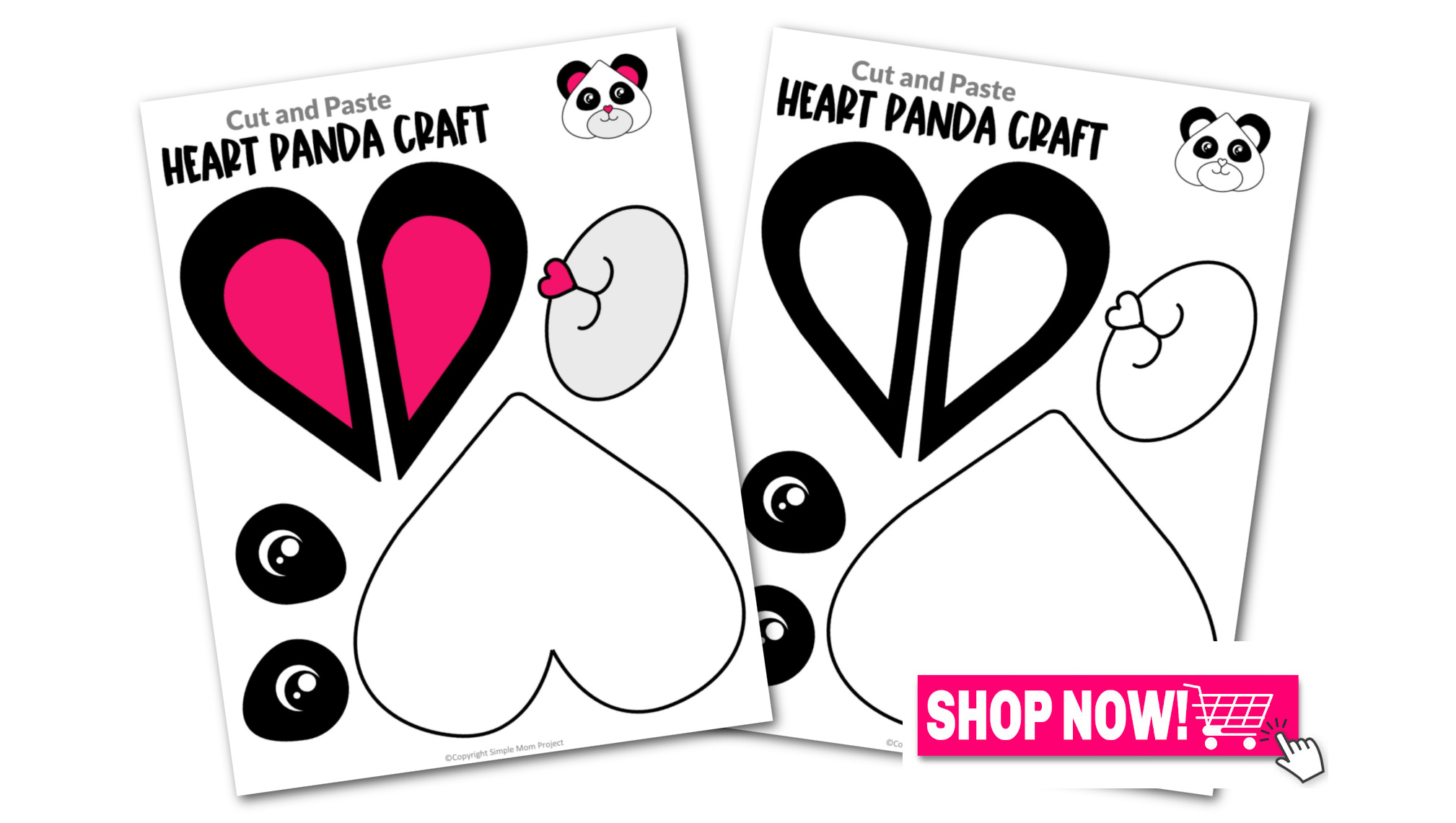 It's never-ending fun with these adorable pandas!
Kids will enjoy the charm of this animal while they complete this heart-shaped panda craft template that is printable.
Our collection of heart-shaped animals is sure to be a hit with kids, especially this printable heart panda craft!
Did we also mention that there are two fantastic Panda templates to choose from?
Yes!
To give kids the freedom to choose what they want to work on, we prepared two heart panda craft templates.
Children's fine motor skills will improve as they practice cutting and assembling the parts.
Our easy and simple steps improve the children's ability to concentrate on their task.
The kids may learn a variety of skills while having fun and making this printable heart panda craft template!
Need more adorable animal craft fun? Check out our packed list of heart animal crafts for simple craft fun with your little ones.  
When you have finished, be sure to share your creation on Simple Mom Project's Facebook Page and follow me on Pinterest!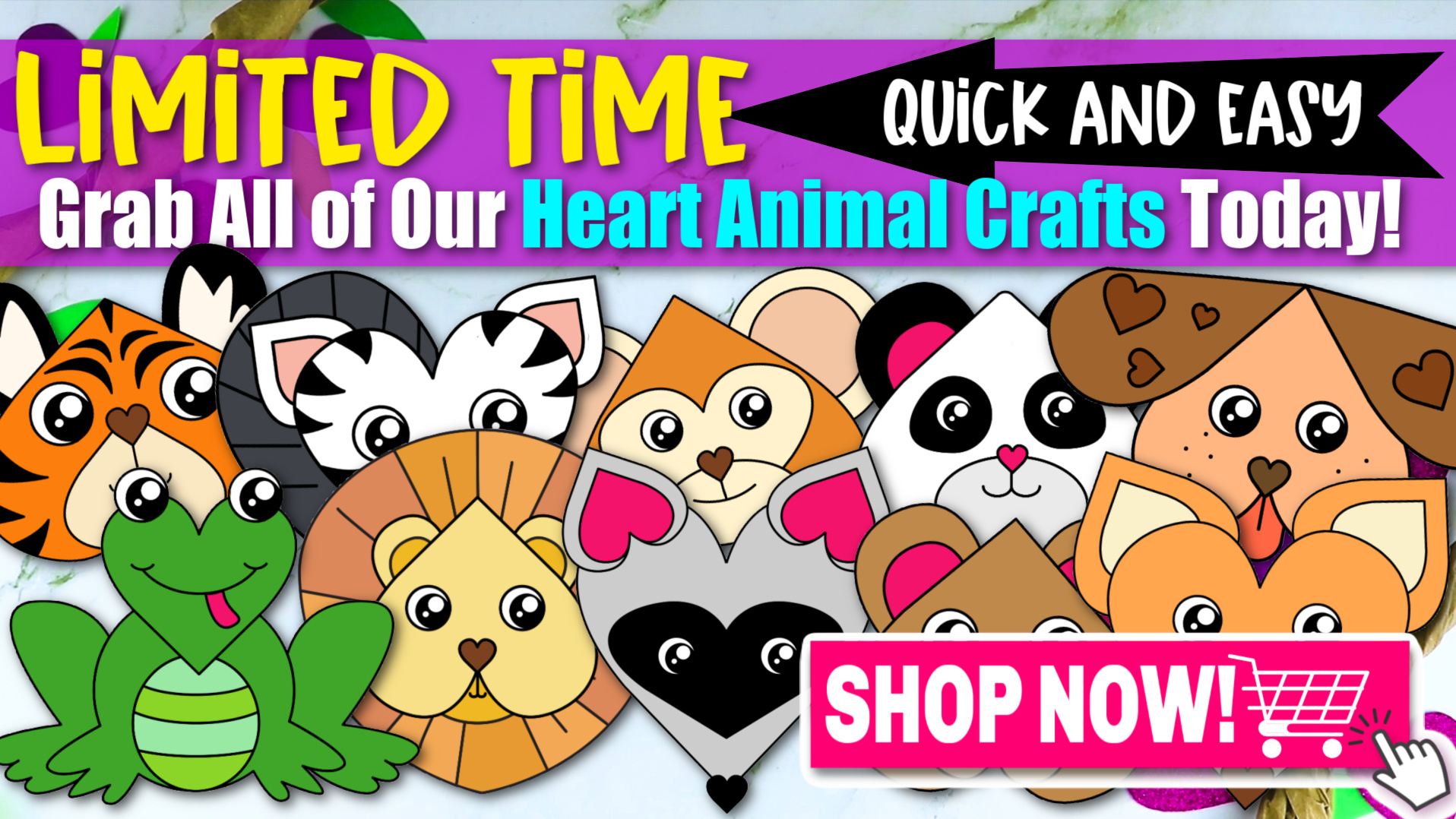 Kaitlen D
More Printable Heart Animal Craft Templates