Looking for a fun and juicy activity for kids on a sunny day?
Want ideas that combine crafting and summer vibes?
How about creating delightful watermelon crafts to keep them productive and creative!
All of these watermelon crafts and activities are sure to get your creative juices flowing in no time.
We have a cute watermelon template that will be the excellent beginning point for your kids' imaginative creations.
What could be more exciting than turning paper plates, paint, and a touch of imagination into adorable watermelon crafts?
These crafts will provide endless fun and a chance to learn about colors, shapes and this yummy fruit.
Get ready for a sweet and colorful adventure playing exciting watermelon games and activities!
Tired of the same old, been-there-done-that activities for your little ones?
It's time to introduce an unforgettable experience of fruity freshness into their routine with Watermelon Wonders!
Our watermelon-themed crafts and activities are a breath of fresh air for both children and parents.
Imagine the joy on their faces as they make colorful watermelon artwork, play fun activities, and go on extraordinary adventures on these watermelon crafts and activities. 
Preschool Watermelon Theme
Who wouldn't be excited about a theme that's as sweet as a summer day?
Plan a preschool watermelon theme lesson plan where fun and creativity merge in a burst of fruity delight!
Begin by exploring bright watermelon art projects, such as our watermelon template.
Engage your children's senses with watermelon sensory play and discover watermelon-scented playdough, bubbles, and squishy sensory bins!
Who knew learning about colors, shapes, textures, and a fruit could be so fun?
Kids will surely enjoy a week-long adventure filled with colorful watermelon art, sensory play with squishy watermelon fun, seed counting and sorting, and thrilling watermelon games.
Kids will be giggling and having a great time! Grab your lesson plans and get ready to make a splash with the following supplies for your activities.
We love how quickly Amazon ships, so I used all these excellent Amazon products to create a fantastic watermelon lesson plan.
Your kids deserve the best and these products will bring out the best in them!
This is a fun story of a crocodile who goes over his hilarious fear of swallowing a watermelon seed.
My daughters really enjoyed this book!
Coloring allows our kids to explore their creativity and express themselves artistically.
Allow them to choose different colors, experiment with shading and create their own watermelons!
Wooden Watermelon Threading Toy
This is an excellent fine motor skills activity.
Kids may take this threading toy everywhere they like because it is the perfect size.
This splash pad is perfect for summer delight in your backyard.
Enjoy a small watermelon feast with some watermelon slices while splashing around in the pool!
Flying a kite involves running, pulling, and maneuvering the string, which is a good physical activity for our kids.
This will bring fun and excitement in their activities!
24 Fun Watermelon Activity Ideas
Aren't we all looking for summer fun activities to do with our children?
We've gathered all of these wonderful watermelon crafts and hands-on activities that will be a big hit with both small and older kids.
Look through them all to find the perfect way to unleash your inner child fun!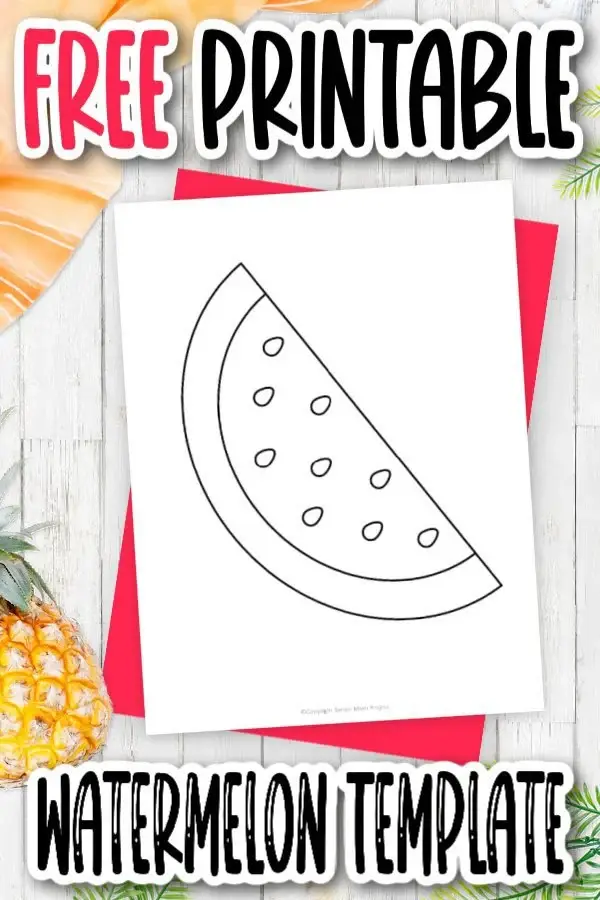 1. Free Printable Watermelon Template
Templates are great, aren't they?
I love how printable templates can be used for a range of arts and crafts projects.
Just like this free printable watermelon template, which my daughters colored, painted, and used to decorate their walls during the summer.
The nicest part is that we can print as many copies as we need because this is free!
2. Paper Plate Watermelon Craft for Preschoolers
Who knew that paper plates could be so useful for art projects?
Make this paper plate watermelon craft right away if you have some!
This activity helps our kids develop outstanding fine motor skills because it combines painting and putting pieces together.

3. DIY Watermelon Pinwheel Craft
Want to show your kids the changes in weather and seasons in a fun way?
Just in time for a breezy day, make this watermelon pinwheel craft.
We enjoyed creating these pinwheels because they were simple to make and entertaining to play with.
They even have a tutorial video on their website to help you build them!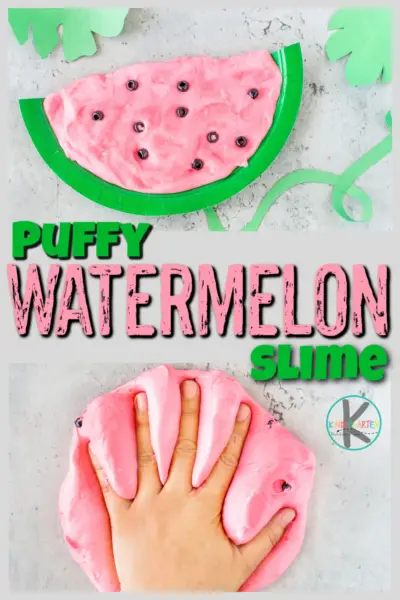 4. Puffy Watermelon Slime Play for Kids
If it's puffy, it'll make my kids happy!
My kids loved this play with puffy watermelon slime so much that it quickly became their favorite activity!
And it explains how to make slime from various materials so you're not stuck with a single option.
Check out the website to browse through them!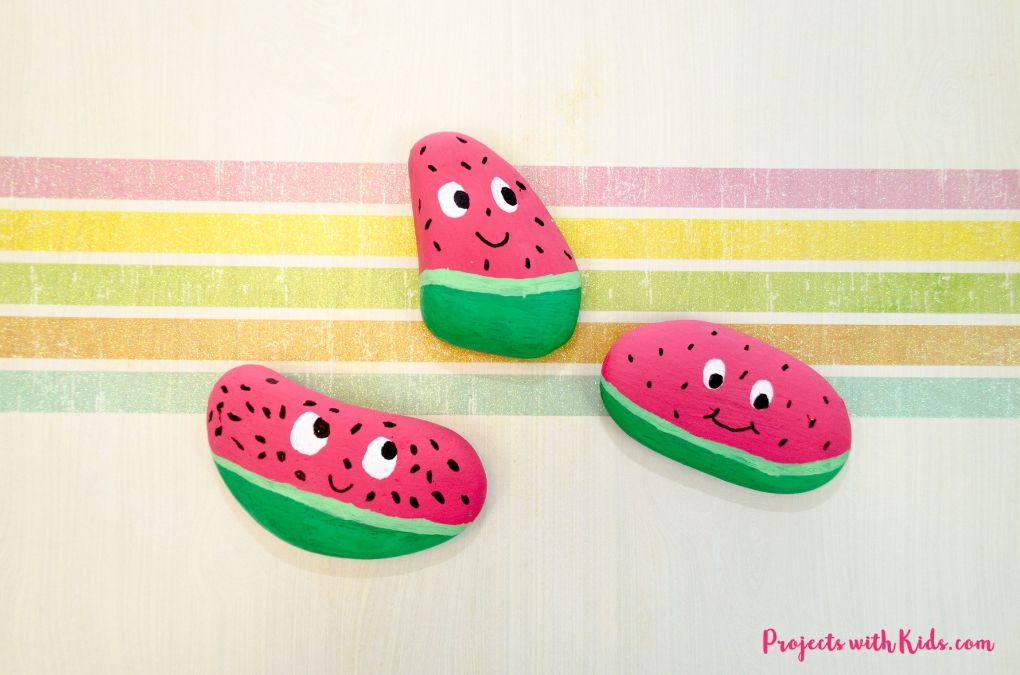 5. The Cutest Watermelon Painted Rocks for Kids to Make
Do your kids collect rocks like mine do?
Grab a few rocks from your backyard or from the stash you've been meaning to get rid of at the bottom of their toy box and create the cutest watermelon rocks you can imagine!
Wash and dry them first before painting and decorating them into tiny watermelons.
This was a lovely feature to our porch and garden.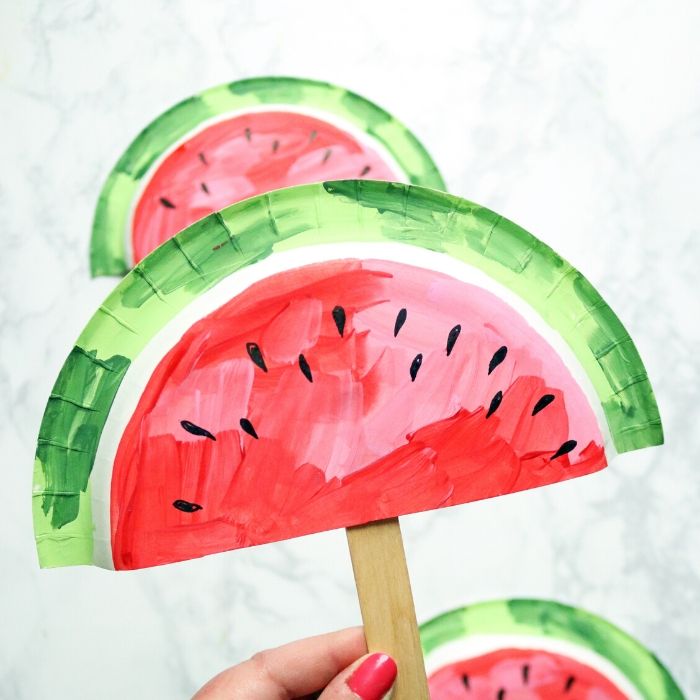 How hot does it get where you live?
This watermelon paper plate fan can help you beat the summer heat!
This is incredibly easy to create and would be a great summertime party favor.
Take a look over the entire post and get some paper plates and paint to get started building your own!
Going on a road trip and need mess free activities?
Check out this watermelon printables pack if you're seeking screen-free activities for your kids this summer!
These printables encourage a variety of abilities, including some watermelon math, fine motor skills, literacy, and more.
Don't miss out on this one, so hurry over to the website to learn how to get your hands on them!
8. W is for Watermelon Letter Craft Free Printables
Who says learning has to stop when school ends?
Learn the letter W with this watermelon craft!
Watermelon is an excellent choice for representing the letter W, particularly if you are learning during the summer.
This craft includes free printable templates, making it easy and enjoyable!
Putting together a bulletin board with a summer theme?
This watermelon craft doubles as a fantastic decoration!
It also comes with a free template that allows us to print as much as we want to use to decorate!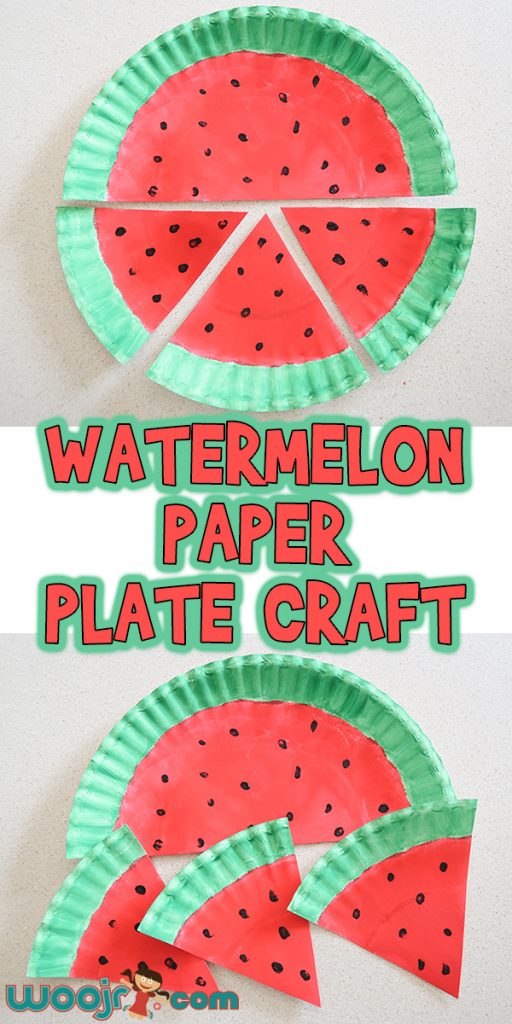 10. Watermelon Paper Plate Craft
Do you want to have a good time and educate your children at same time?
Combine arts & crafts, fine motor skills, and addition in your summer activities!
Make it all happen with this watermelon paper plate craft.
It only calls for basic supplies, which makes it perfect for your summertime activities!
11. Hand Painted Watermelon Slice Wall Art
My kids love to paint and what kid doesn't love doing it with their hands?
Me and my kids are always excited about hand-painted crafts!
We went to work on this hand painted watermelon slice wall art together.
They enjoyed framing it and hanging it on the wall of their rooms!
12. Sweet & Colorful Paper Plate Watermelon Suncatcher Craft
Are you thinking about adding some life to your boring windows this summer?
Decorate them with these colorful paper plate watermelon suncatchers!
We can easily make a lot of these adorable watermelon suncatchers because this activity simply requires basic materials.
Visit the website to find out how to make one right away!
13. Easy Watermelon Paper Crafts
How to get rid of old newspapers piled up in your living room?
Don't throw them out just yet, we can use these newspapers to avoid getting messy when making these simple watermelon paper crafts. 
Take out the rest of the supplies from your bag and  make your own with just a few folds and pieces.
For more information and materials, read the entire article!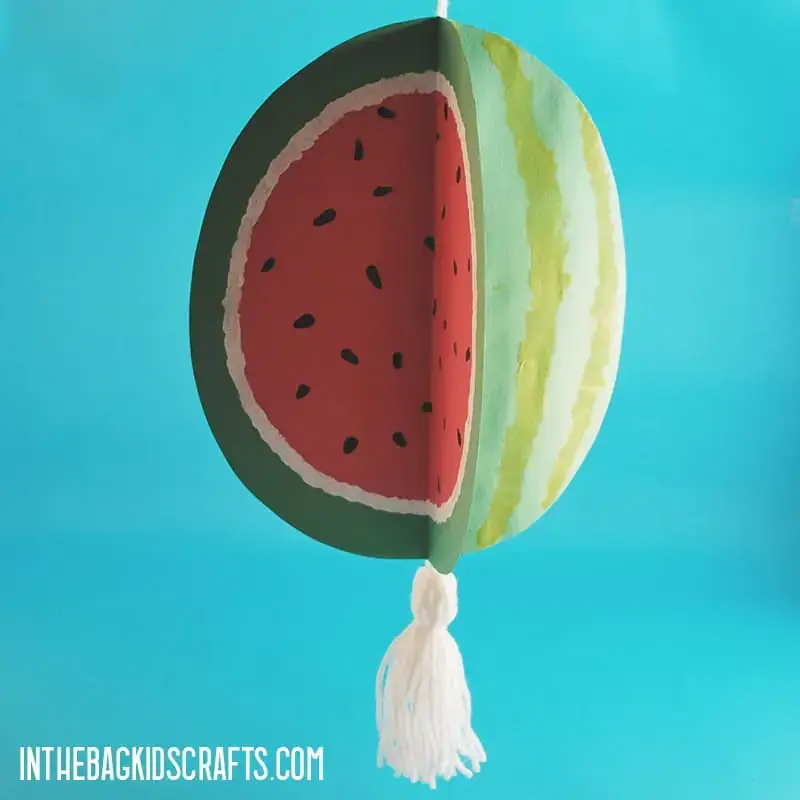 14. Awesome Paper Watermelon Craft
Do you want to create a watermelon craft that may later be transformed into a stunning decoration?
Then make this awesome paper watermelon craft!
Check it out right away!
It includes a watermelon craft template that you can download from the website.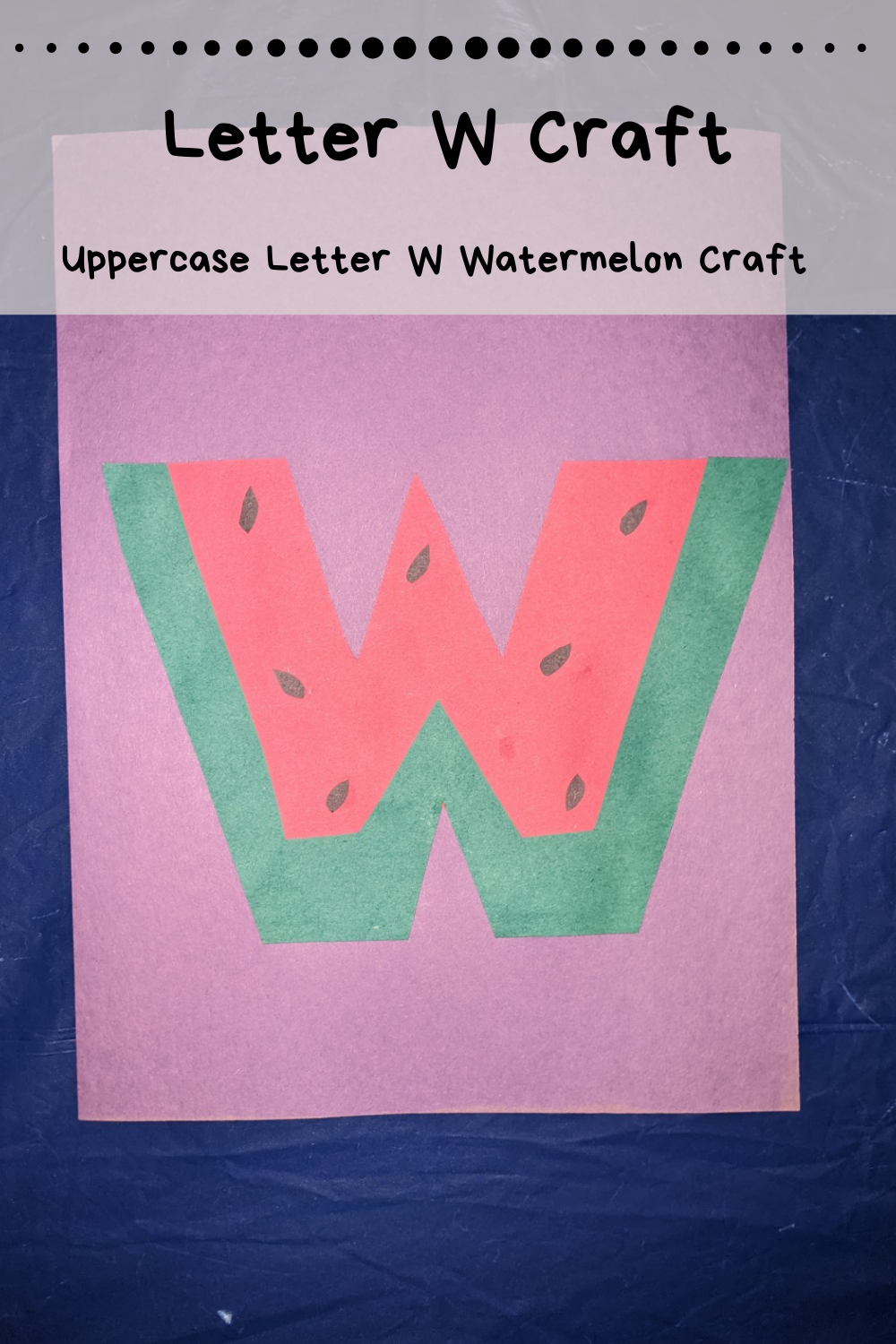 15. Uppercase Letter W Craft for Preschool
What easy and fun activity could you pair with learning a letter to transform it from a challenging task into a fun adventure?
Learn the letter W to your preschoolers by making this letter W craft.
You might also learn the phonic sound of W as well as how to write it!
16. Easy Watermelon Paper Fan Craft for Kids
Looking for a fun activity to do with your kids to beat the summer heat?
On a scorching summer day, why not explore the cool world of watermelon paper fan projects?
Because you have to fold the paper into a fan, this is a great fine motor skills exercise.
Check it out if you have a summer event so you can use it as a party souvenir!
17. Popsicle Stick Watermelon Slices Craft
Looking for a fun craft to make after reading The Watermelon Seed?
This popsicle stick watermelon slices craft is perfect!
Start by getting out some jumbo popsicle sticks and some paint, then visit the website for the complete instructions.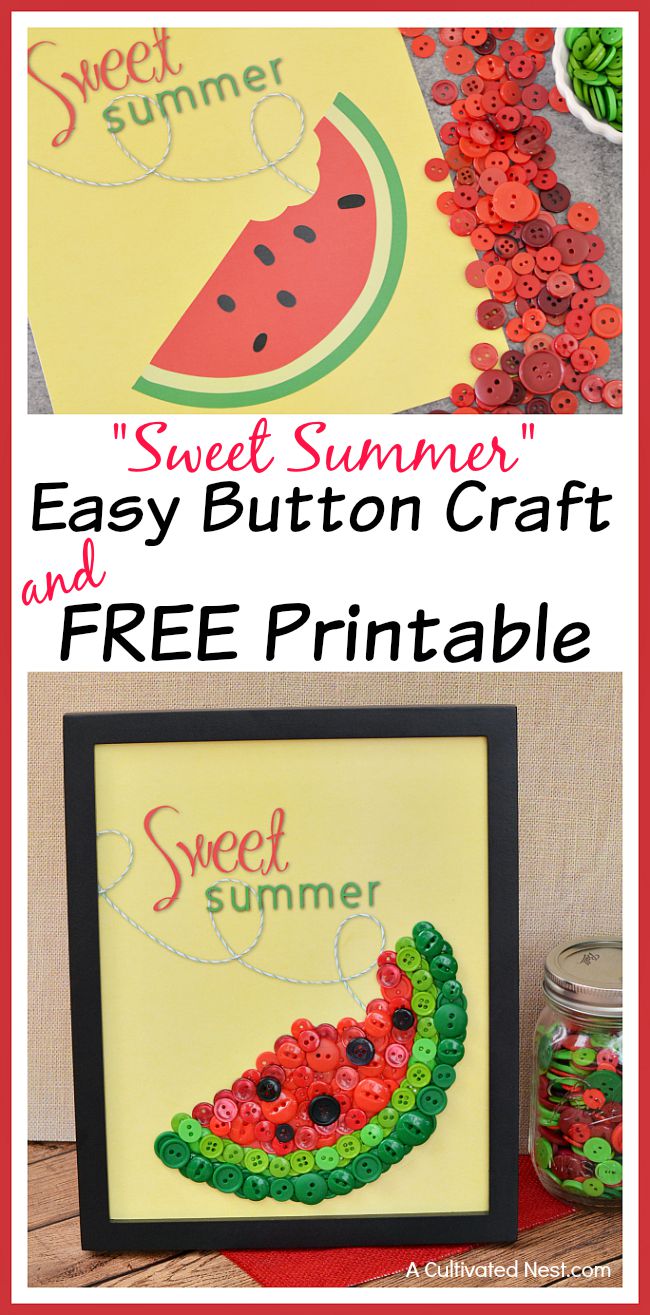 18. DIY Sweet Summer Watermelon Button Craft
Have you ever made something with buttons?
If not, this is the best time to do this cute summer watermelon button craft.
Get some green and red buttons and read the article to discover how to make one!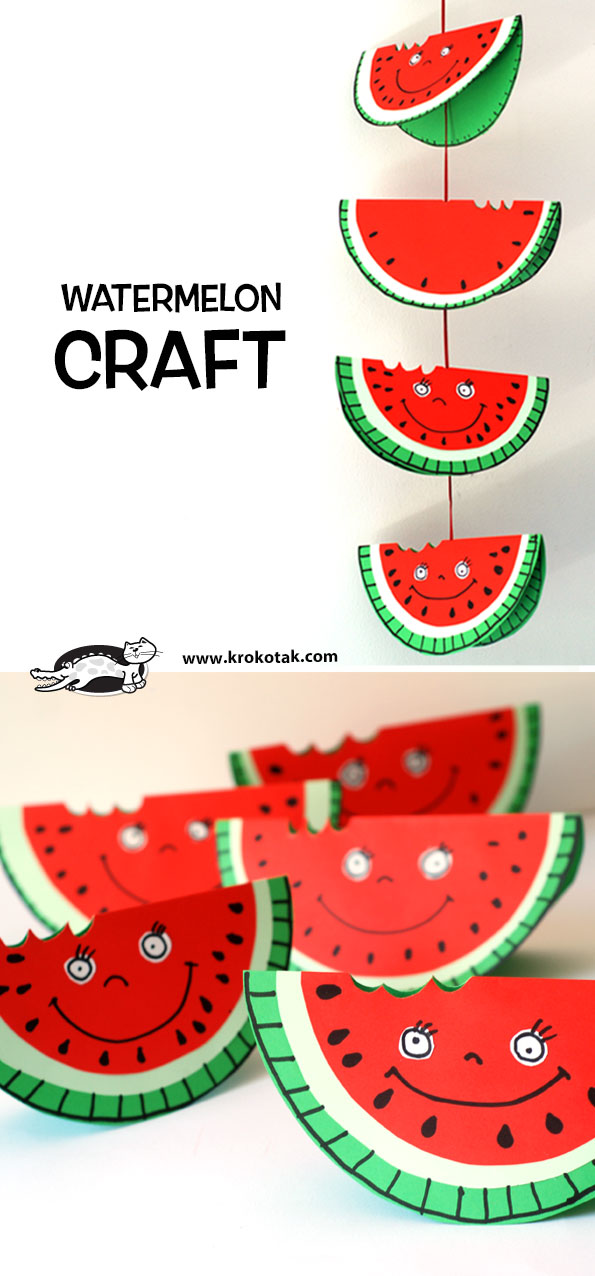 Why not incorporate some creative fun into your summertime activities by getting involved with this simple but awesome watermelon craft?
The website includes a video guide that makes the craft much easier to complete.
Create one with your kids right now!
Are you planning a watermelon-themed party?
Include this watermelon piñata in your celebration!
This would be a great game for kids to play, and parents can join in as well.
Check it out on the website!
21. DIY Felt Watermelon Garland
Do you want to do something fun this summer?
Why not have some easy and creative fun by making this no-sew felt watermelon garland?
It's so cute you'll want to make more to hang on your walls and windows.
You might even use it for your summer celebrations!
22. Paper Craft Template for Play Fruit: Watermelon
Do you have kids who enjoy imaginative play? I do!
Making and playing with this paper watermelon craft was a hit with my daughters.
This was included into their fruit toys and other pretend play items.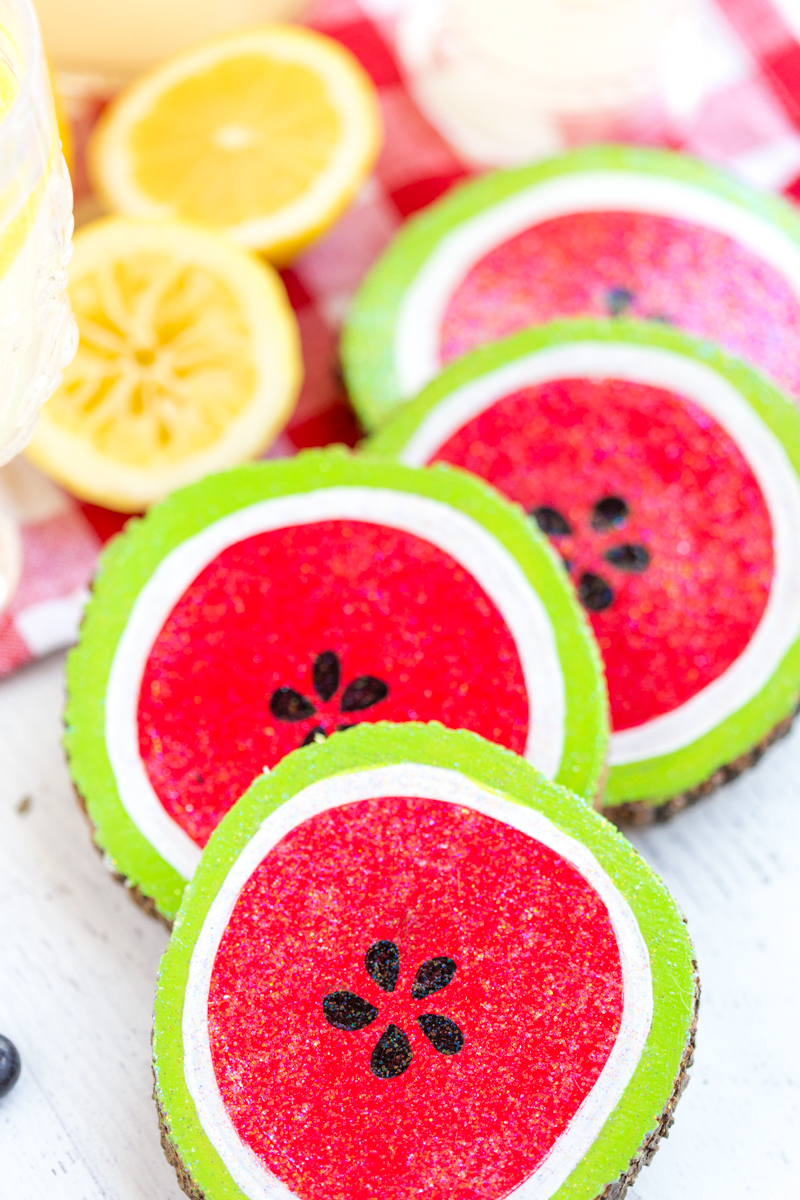 What are your favorite summertime sweet drinks?
Do you like making cool fruit drinks and sodas to beat the heat?
Making these DIY watermelon coasters was perfect for our afternoon parties in the backyard.
Read the entire article to find out how to make one right away!
24. DIY Watermelon Squishy Toy
Did someone say squishy?
When you learn how to make your own squishy toys, you will find yourself wanting to make more!
Try making your own watermelon squishy toy to find out.
It's enjoyable, simple, and wonderful for the summer!
What were your favorite watermelon-themed crafts and activities?
Did you find them easy and fun to do during the summer?
Now that we've gone over all of these great ideas for your watermelon day activities, it's time for you and your kids to have some fun with them this summer!
It's time to get creative, so gather your printable watermelon template and supplies, a slice of watermelon, or watermelon popsicles to slurp on.
With all these watermelon fiestas, the fun is always ripe and ready.
Prepare for a sweet summer that will make you and your kids "seedy" with joy!
When you have finished, be sure to share your creation on Simple Mom Project's Facebook Page and follow me on Pinterest!

Kaitlen D.