This week, are you teaching your toddlers, preschoolers, and kindergarteners about animals?
If you're wondering where to begin with your animal themed lesson plans, you might want to look at what we have for you.
This printable jaguar craft template is a no-prep, cut-and-paste paper craft that is perfect for children of all ages.
Discover the world of wild cats while working on a number of skills at once.
Children can improve their creativity, hand-eye coordination, and fine motor abilities by making this jaguar craft.
Allow your kids to express their creativity as they make their own projects inspired by the jaguar.
We made two gorilla templates for them so they could make extra crafts!
They can make a paper plate mask, a furry jaguar craft, and more.
Print your copies as soon as possible so that you may begin your jaguar-themed learning plans!
Children would definitely be interested in learning more about these amazing and fierce jaguars!

*By the way, this post may contain affiliate links which means I may receive a small commission at no additional cost to you if an item is purchase through that link. For more information, click here.*
Printable Jaguar Craft

Jaguar Craft Supplies Needed
Need more crafty fun? Check out our Letter J Craft, Tiger Puppet, and Leopard Craft
.
 T
hey are perfect for those days when staying indoors is the only thing your family can do!
Ideas for Easy Preschool Paper Jaguar Craft
We would love to share all the wonderful ideas we have gathered for using the printable jaguar craft template into your daily activities.
Every time we create something, we make sure it can be used in a variety of fun and educational activities at home and in the classroom.
You won't need to worry because all of these ideas simply call for basic supplies, so you can enjoy yourself without spending a lot of money.
Use these ideas however you like in your activities!
1. Jaguar Learning Materials for Children
Are you excited to use the printable jaguar craft template into your lesson plan?
Then, you might as well check out these learning materials that match well with it.
We've gathered some of the top resources for learning about jaguars that you may use for any activity.
You can offer these materials to kids either before or after they finish their crafts with jaguars.
These resources are certain to keep them interested and learning about jaguars, no matter how you decide to present it to them.
We've chosen books about jaguars that will surely give them more information about how these cats live in the wild.
The books can be included in your reading time at circle time or right before the children go to bed.
We added a plush toy of a jaguar and a toy of a realistic jaguar to give the children a better understanding of how amazing these animals are.
We always strive to make learning enjoyable and engaging for all of the children out there!
Visit the resources below using the links!
Enjoy these materials and the printable jaguar craft template right now!

2. Paper Plate Jaguar Mask
Coming up with craft ideas that only call for simple materials is so much fun for us.
We want children to understand that having fun doesn't have to be expensive.
So, if you're looking for a simple DIY project that simply needs things you probably already have on hand, keep reading!
This printable jaguar craft template idea is a cut and paint craft that kids may use for special occasions like costume parties.
Prepare your paintbrush, orange and black paint, rubber bands, scissors, glue and paper plates.
The paper plate should first be cut in half.
Create two ear shapes for the jaguar mask using the other half while using the other to make the mask.
Create and cut out the ear shapes, and then glue one side of the paper plate to the other.
Then, make two eye holes on the mask.
Make sure it fits your children properly.
Start with painting the base with orange paint, then add black paint to create the jaguar spots.
The printable jaguar craft template can be used as a guide for creating the spots.
After everything has dried, cut a hole for the rubber band in the paper plate's ends on both sides.
To wear the paper plate mask, have the kids wrap the rubber bands around their ears.
Make more of these simple jaguar paper plate masks for your animal-themed activities!
Encourage your children to act like jaguars while wearing their handmade masks!
3. Easy Letter J Crafts
If your children are studying the letter J this week and you're searching for a quick and easy craft, the printable jaguar craft template is perfect!
What would be a better approach to learn about a letter than to include animals that start with that letter?
As you learn more about the letter J this week, use the printable jaguar craft template to create some crafts.
Embrace your kids' originality by letting them decide how to complete the printable jaguar craft template.
They can use a popsicle stick, tissue roll, paper plate, or a piece of cardboard to hold their jaguar crafts.
You may use these simple projects to make jaguars to decorate rooms and classrooms with animal themes.
Create as many crafts as you'd like by printing as many printable jaguar craft templates as you can!
Enjoy learning the letter J in the alphabet as well!
4. World of Big Cats
There are 38 different cat species in the world.
Did you know that jaguars belong to the large cat family?
Along with the panther, lynx, lion, tiger, and leopard.
Jaguars are a type of big cat.
They are the third largest in the world since they may weigh up to about 160 kg.
Their distinguishing coat features range from light yellow to brown tan fur that is spotted.
Panthera is the genus name for big cats.
Start by using the printable jaguar craft template to learn more about these big cats.
When teaching about these large cats, you may also utilize the jaguar craft as a visual aid.
You could include this idea in your science classes for toddlers, preschoolers, and kindergarten children.
Enjoy implementing each of these ideas into your week's activities and plans.
Be creative and productive while spending time with your kids.
They would definitely like learning about jaguars and making crafts with their friends.
Now is the time to grab your printable Jaguar craft templates!

Jaguar Craft Instructions
Don't miss these easy steps on how to finish your jaguar crafts—have your supplies ready, print out the template, and get crafting!
The children may use their creativity, hand-eye coordination, and fine motor skills while working on your jaguar crafts.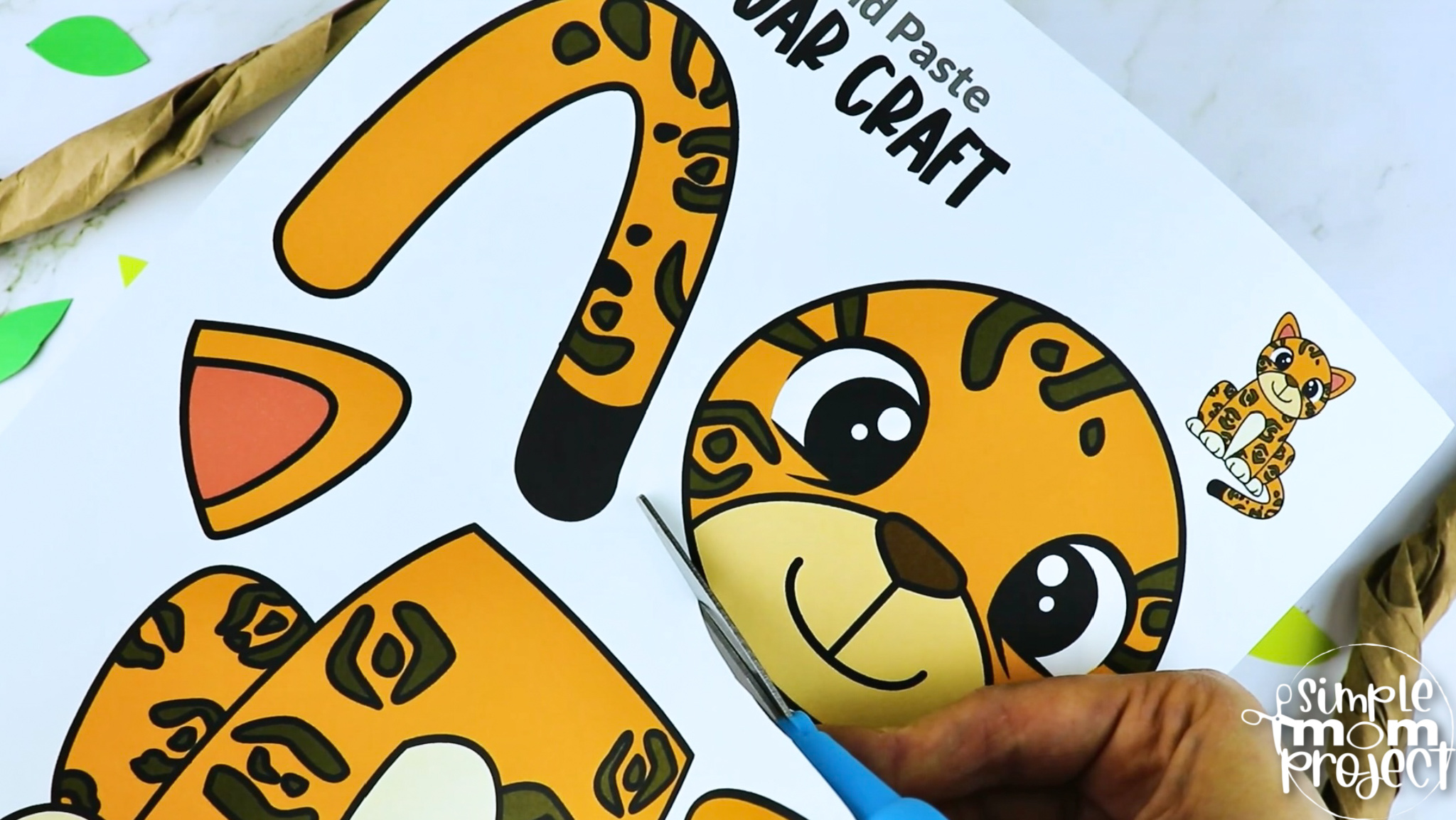 Kids could also work on the black and white jaguar craft with all of their available coloring supplies.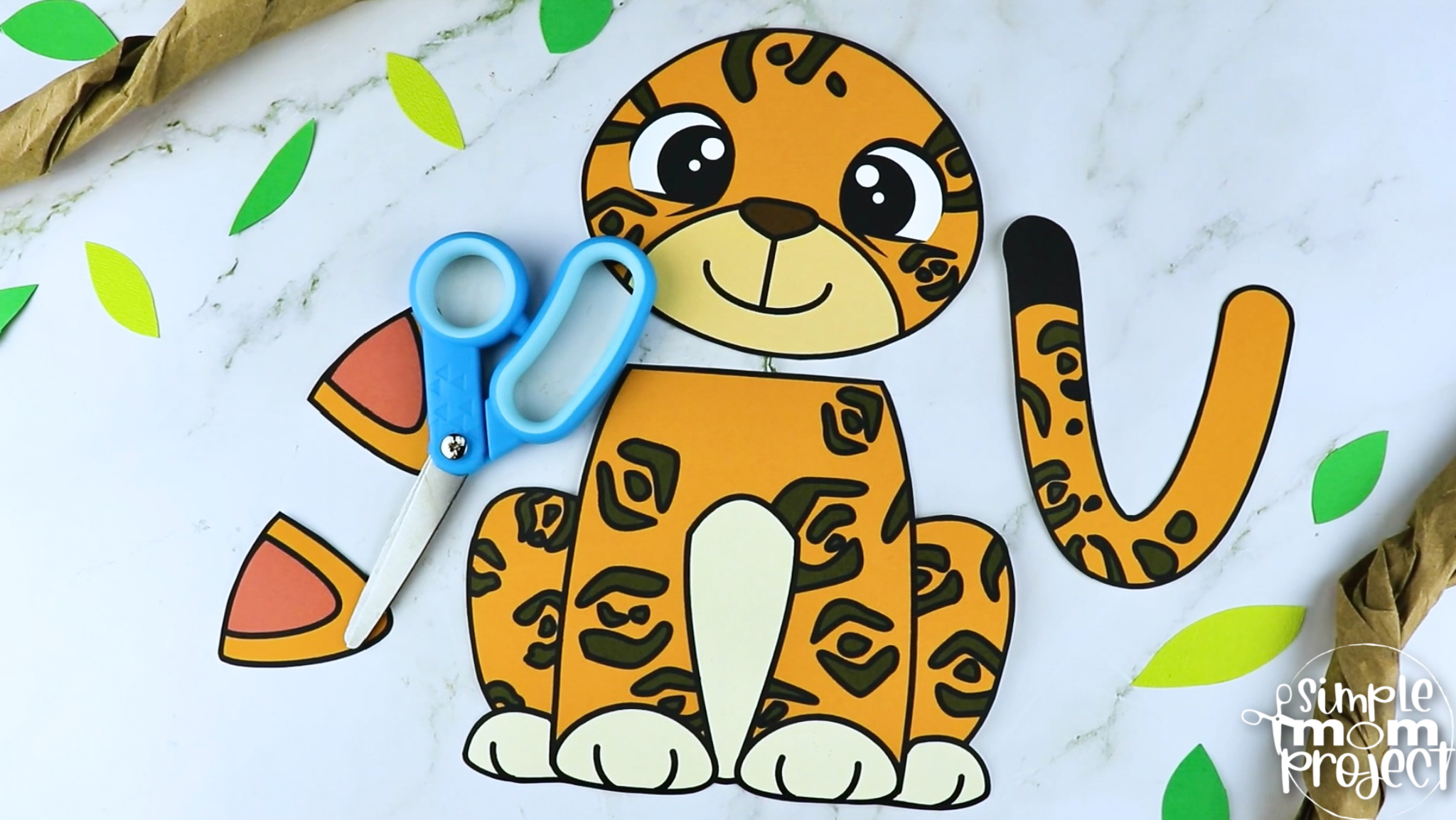 Start by attaching the jaguar's head to its body as seen in the image below.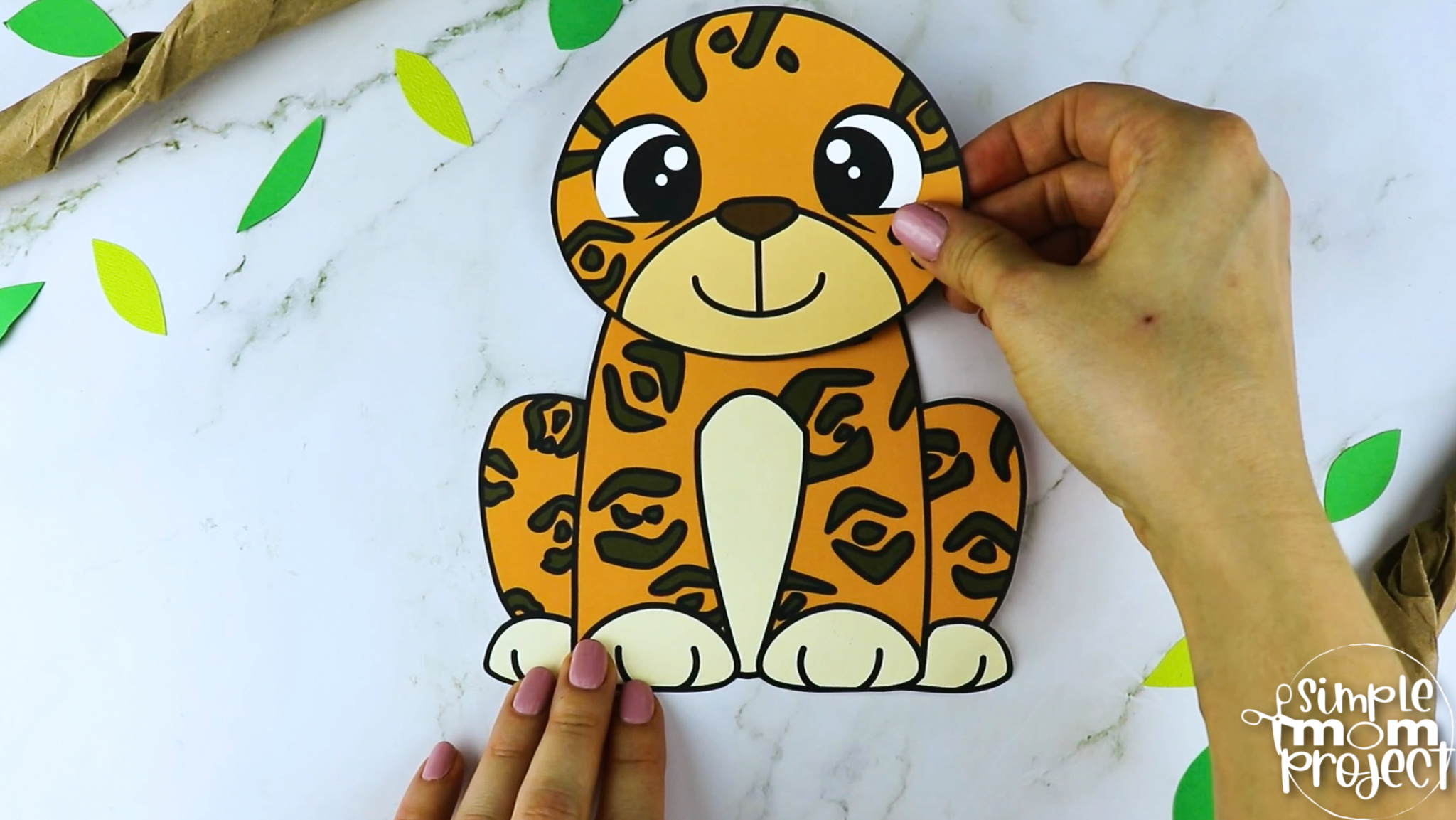 On the top side of its head, add one jaguar ear.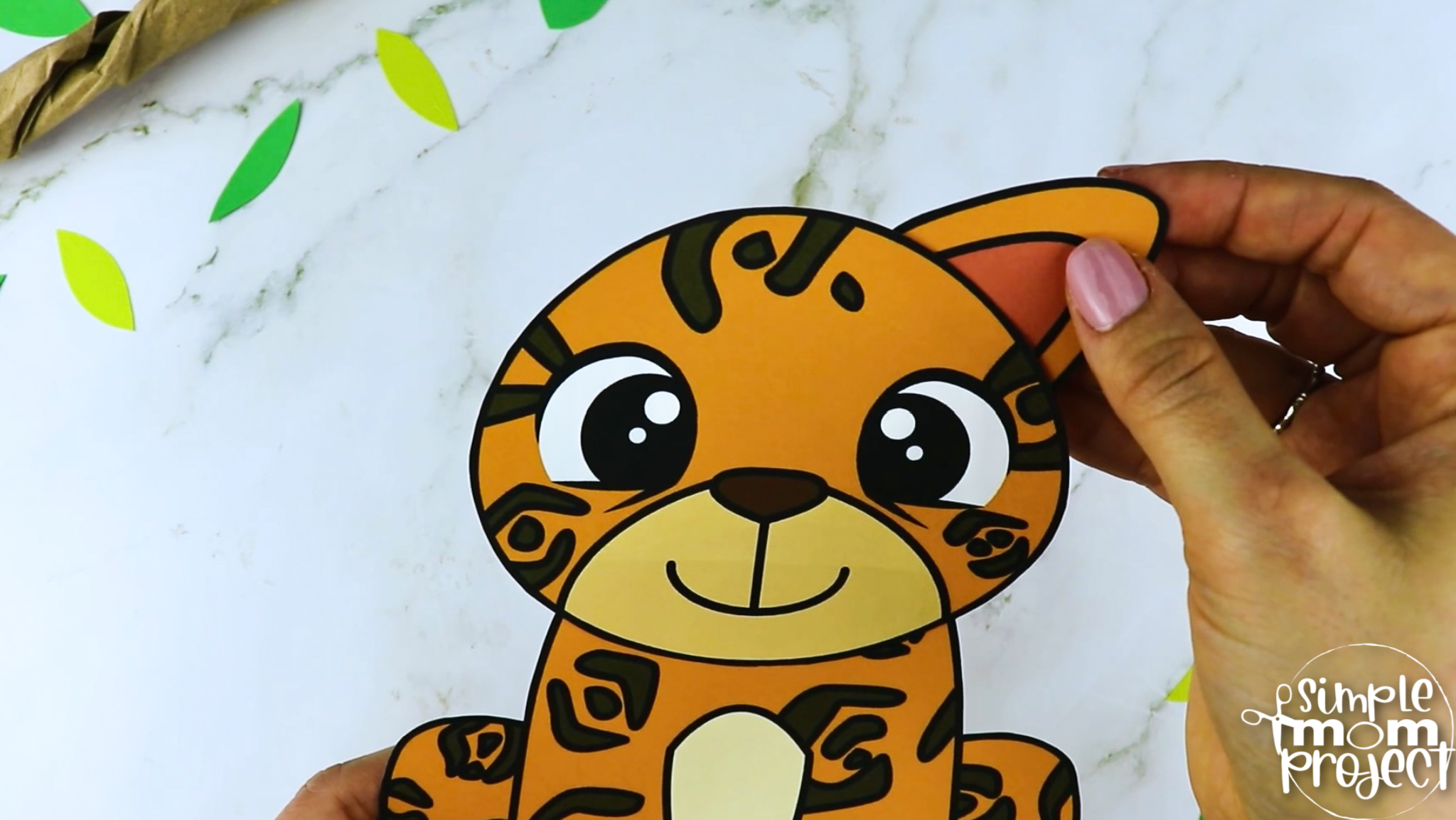 Then attach the remaining ear to complete your jaguar craft.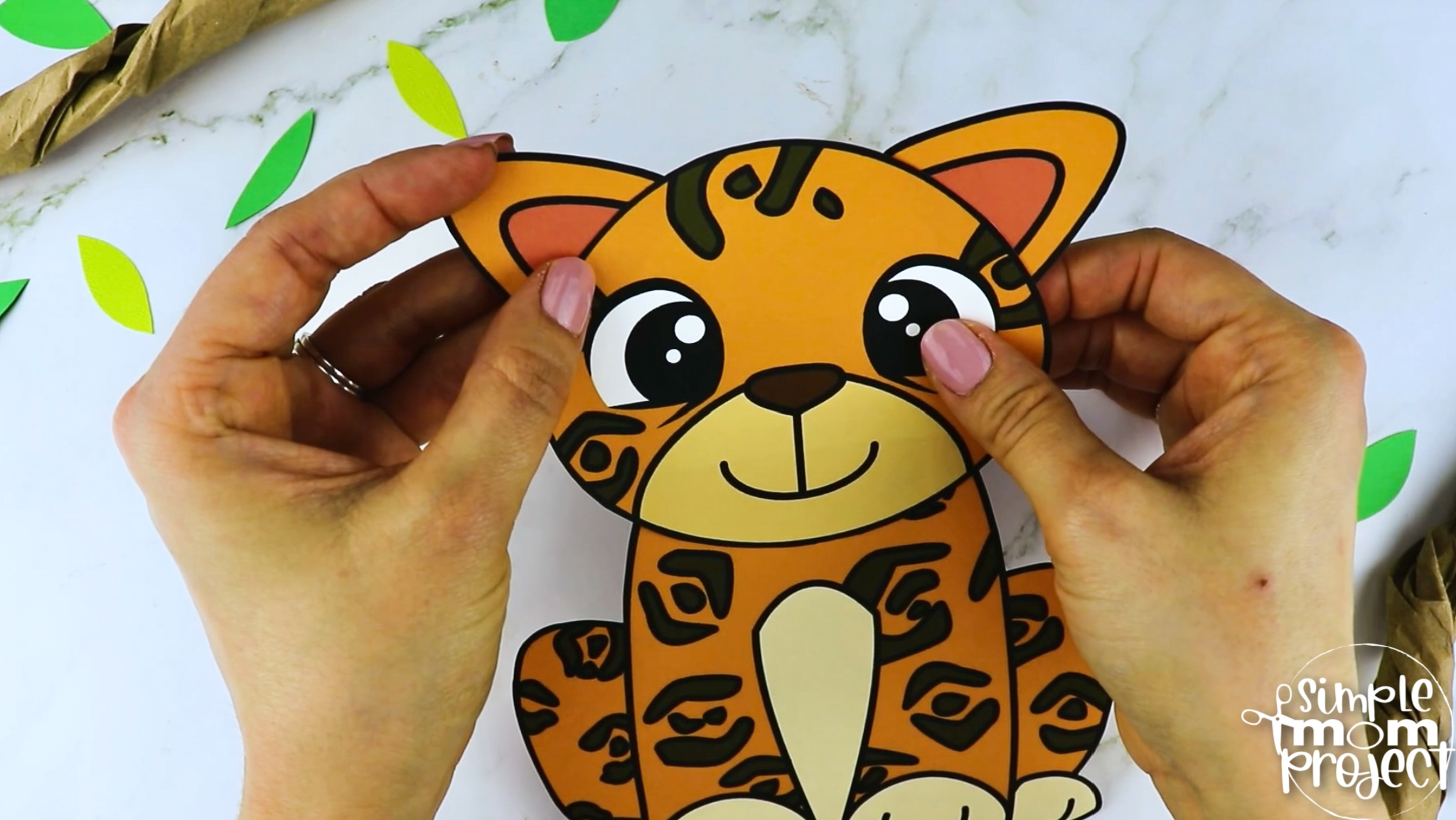 Isn't this the most adorable Jaguar craft ever created?
More Options to Choose:
You can print the blank version and trace the cut outs on card stock paper for a sturdier jaguar craft,
Print the jaguar template in color for a simple and easy rainy day craft or,
Print the blank jaguar template and use it as a fun coloring sheet activity and then glue the pieces of the jaguar craft together.
Printable Jaguar Craft Template
We're going to get crafty and create a jaguar, so get your materials ready!
Kids who like to cut and paste things together will love this printable jaguar craft template.
Pasting is a fun way to learn hand-eye coordination, and cutting is a fantastic fine motor skills exercise.
Working on this jaguar craft is a terrific way for kids to improve their creativity, gain confidence, and learn how to work independently.
Kids can use a variety of materials to create a craft with this printable jaguar template, which makes it much more spectacular!
To make one, you can use anything that can be recycled.
Bring your cardboard, tissue rolls, paper plates, and other materials out for this project.
Learn more about these enormous cats this week as your children showcase their artistic abilities through crafts!
Now is the greatest moment to get your hands on some printable jaguar craft templates!
Need more animal craft templates? Check out our packed list of animal craft templates for simple craft fun with your little ones.  
When you have finished, be sure to share your creation on Simple Mom Project's Facebook Page and follow me on Pinterest!

Kaitlen D.
More Fun Printable Animal Craft Templates