Screaming child, drool soaked onesies, sleepless nights – WELCOME TO TEETHING
Last night my littlest and I were up until 5:00am.
I repeat 5:00AM!
We JUST got her on a regular sleep schedule, why is she still awake? As I am rocking her endlessly while she is keeping the whole house up, she takes one good chomp down on my arm.
I finally realize, there it is. Her first tooth. What a scary thought! Luckily I have been through this once before and know a few tips and tricks to ease our way through this time
So here ya go…everything you need to know about teething is right here!
THE ULTIMATE GUIDE FOR A TEETHING BABY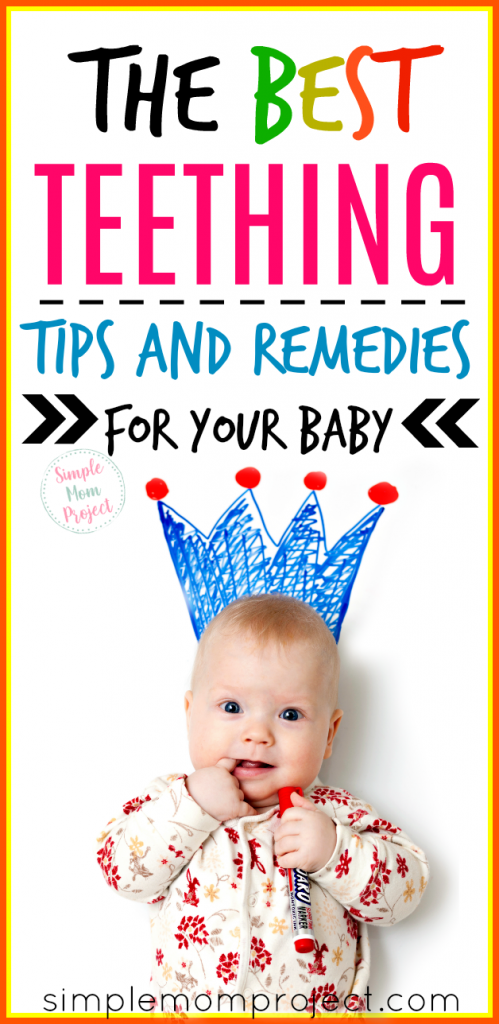 *By the way, this post may contain affiliate links which means I may receive a small commission at no additional cost to you if an item is purchase through any link. For more information, click here.*
SO, HOW DO YOU KNOW IF YOUR BABY IS TEETHING?
Babies typically start teething around 6-10 months, though its not uncommon for it to be sooner. There are specific signs and symptoms that tooth is about to makes its breakthrough. Your baby might be going through one or all of these.
What you can watch out for:
Irritability

Your baby could seem extra irritable meaning that during his usual happy, playful time, he may seem a bit fussier and little will comfort him

Tender and Swollen Gums

When that tooth starts to emerge, the area could be swollen, red, and almost appear as though there is a tiny bruise on the gum line.

Biting

Your baby might want to place objects in her mouth in attempts to relieve the discomfort. He can become the sucking machine – trying to suck or bite down on everything in sight.

Excessive Drooling

If accompanied by any other symptoms, increased drooling can be a sign the tooth is on its way.

Restlessness

By now you might be thinking that your sleepless nights are over, but think again my friend. Tooth eruption could cause your little one to wake up more than usual through out the night.

Tugging at the ear

Though if your baby is tugging at her little ear, it could be a sign of ear infection, it could also be a sign of teething. The pain from the jaw is passed through the ear canal. This tugging is a way your baby could be trying to relieve her discomfort. And so could…

Rubbing the face

Like ear tugging, when your baby rubs her face, this could be a sign of an emerging tooth

Refusing food

If your baby is already on a more solid based food, she may gravitate more to a bottle or nursing. Due to the thickness of the spoon, it could irritate the gums more and a sign of teething.

Teething Rash

A small rash might appear on your baby's face or neck. This is due to the excess drool that is being secreted from your baby and constant moisture on her skin. This rash can attribute to your baby's fussiness as well. A little trick I learned is to keep a water resistant bib close by and change it when it gets too saturated.
HOW OLD ARE BABIES WHEN THEY START TEETHING?
Though babies can get their teeth at various times, here's a printable chart to get an idea when the first (or the next one) could emerge.

HOW LONG DO SYMPTOMS OF TEETHING LAST?
Symptoms your baby's tooth might be coming in could start just a few days before the tooth emerges.
OR if yours is like BOTH of mine, the symptoms could last for several months if multiple teeth are trying to come in all at once.
HOW TO SOOTHE A TEETHING BABY
There are multiple different ways to soothe your teething baby. Here a few fan favoritess that are proven to be most effective and can be done at anytime:
1. COLD PRESSURE
Frozen Washcloths: Place a damp wash cloth in the freezer for 10-20 minutes. After the cloth is good and cold, let your baby chew on it.
Cold Spoons 
Frozen fruit or veggies are a great snack and can be placed in either a silicon or mesh teether.
2. MASSAGE YOUR BABY'S GUMS:
Babies are a HUGE fan of chewing. A little rub with a clean finger can make all the difference if your baby is teething. If the tooth has not yet come through, you can also let your baby gnaw on your finger. Or you could use…
BPA free teething rings can be a great substitute for your fingers. I personally recommend teethers that can be chilled. Like a washcloth, the coolness of the teether will help alleviate your baby's discomfort.
These necklaces are sent from the heavens. I have NO idea what I would do without them! This is one of MY favorites and absolutely swear by them. My first daughter had one and my second does too.
Here's the Amber Teething Necklace Guide if you want more information on how this necklace works.
It is important to know that if you decide to use a necklace that you never leave your baby unattended while wearing it and take it off while they are sleeping.
5. ESSENTIAL OILS
I am a huge fan of essential oils and use them for everything. A teething baby is no different. I personally love Chamomile. It is used mostly because of its sedative and calming effects. Since it is nontoxic, it is safe for your baby regardless of her age.
Another favorite is Lavender. Its natural antiseptic. Plus, its calming affects help alleviate muscle pains caused by teething
HOW TO USE: You can utilize it in a vaporizer or you can dilute it with a coconut oil base and massage your baby's jawline.
Click here for more information how essential oils can help your baby.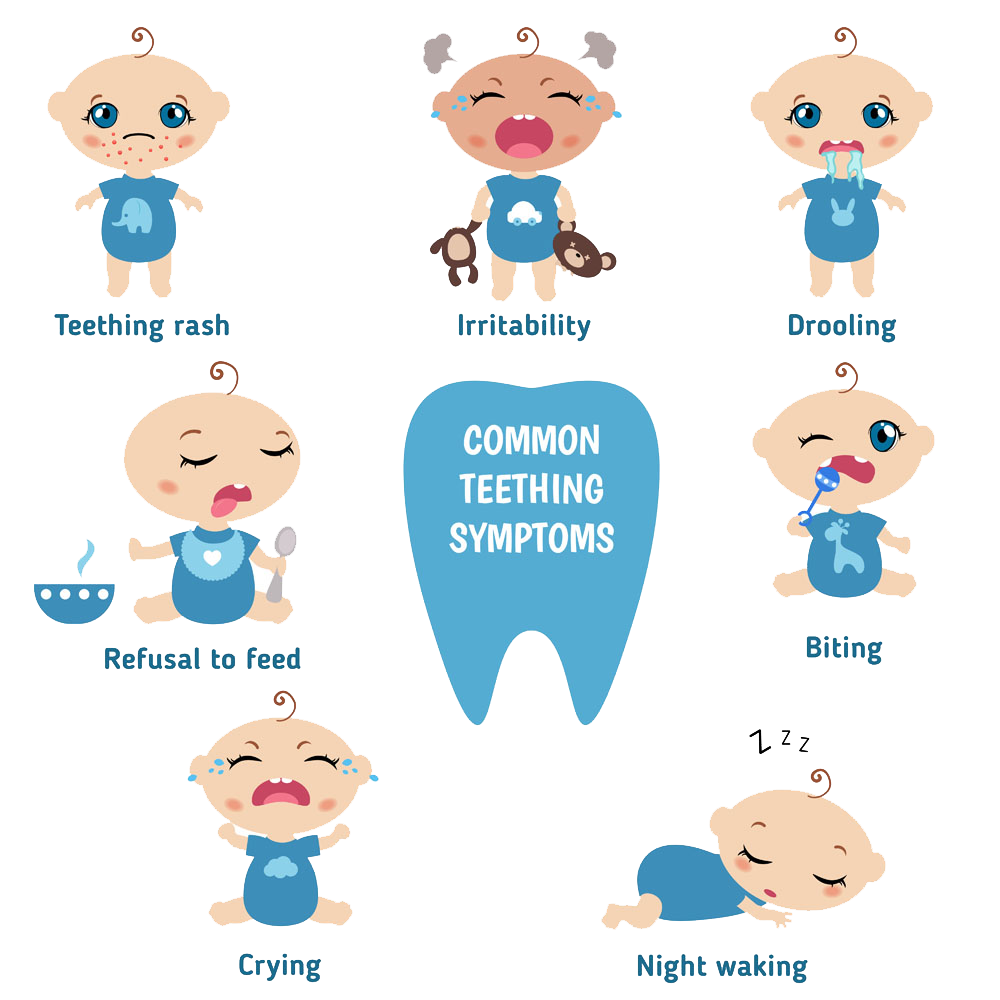 Graphics from pngtree.com
While we are staying up late this evening, its always nice to know you have a mommy friend close by. Send me a comment if you have any questions or just want to chat. We could all use another friend who understands.
More Resources:
5 BEST PACIFIERS FOR BREASTFEEDING BABIES
THE ULTIMATE GUIDE TO AMBER TEETHING NECKLACES FOR YOUR BABY
MOM'S GUIDE TO HAVE HAPPY TUMMY TIME
KEEPING HER DRY WITH THE BEST BANDANNA BIBS
ESSENTIAL OILS CAN AID YOUR SICK BABY


-Kaitlen D.
Simple Mom Project