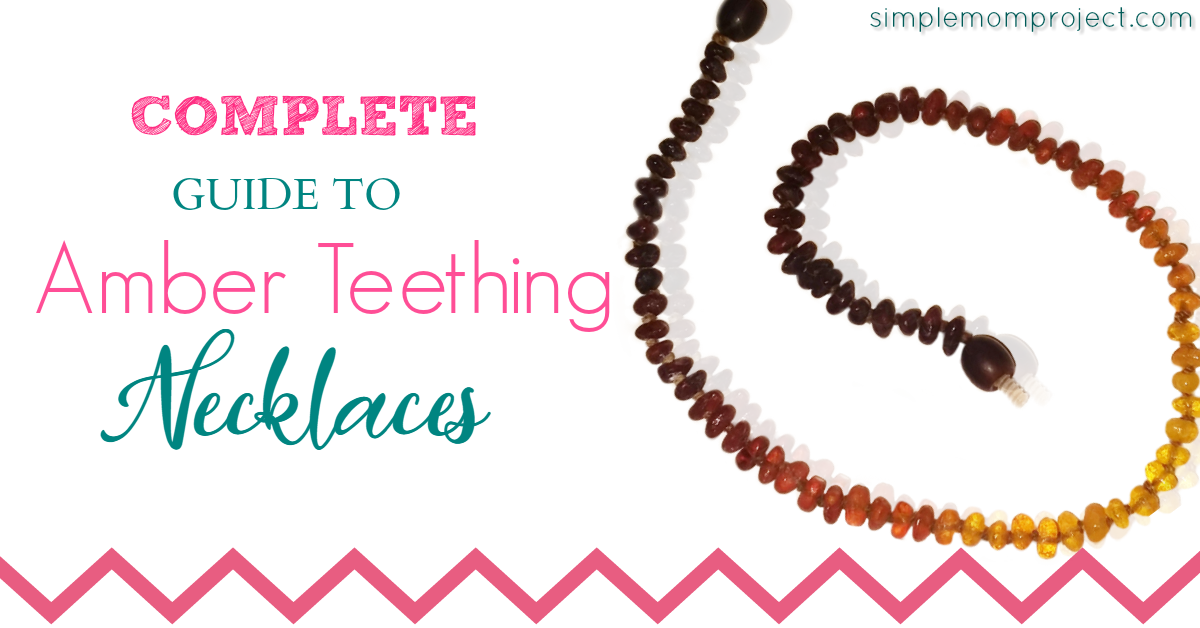 AMBER TEETHING NECKLACES FOR BABY 101
Are you ready for this? This guide will completely change the way you and your baby feel about teething!
Imagine staying up all night with a screaming baby in your arms. Your back is hurting, your head is pounding and your baby just can't get relief from that pesky tooth that just won't come in! The answer is here.
*By the way, this post may contain affiliate links which means I may receive a small commission at no additional cost to you if an item is purchase through any link. For more information, click here.*
WHAT IS BALTIC AMBER?
Baltic Amber is a type of fossilized tree resin; most commonly found in a country called Lithunia which borders the Baltic Sea.
What makes Baltic Amber so special is that it contains a substance called succinic acid found in the outer layers of the resin. When heated, the succinic acid acts as a natural pain killer as it is absorbed by the body.
Hence the reason the mother's number one choice of teething remedies is an amber teething necklace.
You will normally find amber teething necklaces in:
DO AMBER TEETHING NECKLACES ACTUALLY WORK?
Your baby's body heat warms the amber beads and the succinic acid is released into the bloodstream. This helps to reduce inflammation in the gum line and eases their pain.
Win, win for baby and you!
I attest to this. Both of my girls wore and are wearing an amber teething necklaces.
Not convinced yet? Keep reading, there's more…
ARE AMBER TEETHING NECKLACES SAFE FOR BABIES?
Amber teething necklaces are strung together and tied by individual knots. As the individual knots secure each bead if pulled hard enough, the necklace will simply snap.
Also, the necklace should only be about 12 inches long. So not too short and not too long.
Both the double knot and safety clasps provide additional safety to reduce the risk of choking or strangulation.
In accordance to the U.S. Food and Drug Administration as of April 2017, "This substance is generally recognized as safe when used in accordance with good manufacturing or feeding practice."
CONSIDERATIONS WHEN BUYING AN AMBER TEETHING NECKLACE
So you might be wondering, now that you've shared all of this amazing stuff, Kaitlen, what size do you get? How do you know it will be safe for your baby to wear? What's the difference between polished and raw everyone is talking about?
The necklace should be at least 2" (5 cm.) inches longer than the diameter of your baby's neck.
3 months – 1 year old: 11 inches / 28 centimeters
1 year- 4 years old: 13 inches / 32 centimeters
Teething necklaces come with two different kinds of clasps – pop and twist.
Others recommend pop clasps, I personally like the extra safety behind a twist clasp. They are more secure and take more force to pull off.
Polished Amber Teething Necklaces
Polished Amber necklaces conceal the succinic acid and requires more heat and longer wear to do its thing.
Raw and Unpolished
Raw teething necklaces contain up to 8% succinic acid and is the most natural form of amber. With this kind of teething necklace, the oils can easily be absorbed by the skin and start to relieve your baby's gums quicker.
It is a common misconception that with Raw necklaces, they will be rough and uncomfortable to wear. Aside from the sheer fact that it works SO much better than a polished necklace, the raw and unpolished amber necklace is still soft on the skin
It is important to do some research before purchasing a teething necklace. True raw and unpolished necklaces will:
Create static – Rub the necklace between a cotton cloth. If it is real, it will have enough static to pick up a small piece of paper.
Smell Like Trees – Place the necklace against something hot. As the oils heat up, it will let off a small hint of pine.
WHERE TO BUY A TEETHING NECKLACE
You can purchase Amber Teething Necklaces almost anywhere. But get the real deal here
. With almost 5 stars, you can't go wrong. It comes with
Certificate of Authenticity
Safety knotted
100% Made Of Real Baltic Amber
Anti-Inflammatory & Succinic Acid Immune System Boosting Properties
1 year satisfaction guarantee AND…
Available for Prime – Who doesn't love Prime?
HOW SOON CAN MY BABY START WEARING THE NECKLACE?
It is said that babies can start wearing the necklace as early as 2 months. Starting them off early will get them accustomed to the feel of the necklace reducing the urge to tug and pull on it.
CAN MY BABY WEAR THE AMBER NECKLACE 24/7?
You decide how much your baby wears the necklace. With both of my girls, they wore it almost all of the time with the exception of sleep.
For safety reasons, it is recommended, that your baby only wear the amber teething necklace during waking hours and while supervised, removing it during naps and sleep times.
HOW TO CARE FOR THE AMBER NECKLACE
You can either hand wash the teething necklace with warm soapy water every month OR simply leave it on your baby's neck when they are bathing.
Teething can be a tough time for you and for your baby. It doesn't have to be though.
More Resources:

5 BEST PACIFIERS FOR BREASTFEEDING BABIES
MOM'S GUIDE TO HAVE HAPPY TUMMY TIME
KEEPING HER DRY WITH THE BEST BANDANNA BIBS
ESSENTIAL OILS CAN AID YOUR SICK BABY
THE ULTIMATE GUIDE FOR A TEETHING BABY


-Kaitlen D
simplemomproject.com