Are you searching for fun activities to motivate children into learning and remembering their alphabet letters?
Great news! Check out our free printable letter E craft template for kids that is sure to be a hit.
If you plan to study elephants with your preschooler for kindergarten, be sure to add this easy printable letter E craft template to your lesson plans.
Children of all ages will love the process of coloring, cutting and sticking together the simple printable letter E for elephant individual pieces.
We guarantee your little one will have a lot of fun making this simple printable letter E craft template.
Therefore, we included other fun activities that start with letter E like this free printable elephant craft, eagle craft and egg template.
Print as many printable templates as you want to offer with your family and friends for a productive weekend!


Need more crafty fun? Check out our Letter Q, Letter I and Letter V craft.
 T
hey are perfect for those days when staying indoors is the only thing your family can do!
*By the way, this post may contain affiliate links which means I may receive a small commission at no additional cost to you if an item is purchase through that link. For more information, click here.*
Free Printable Cut and Paste Letter E Craft
Ideas for Easy Preschool Paper Letter E Craft
Check out these brilliant ideas on how to include this free printable letter E craft template with your kids.
1. Read the Best Children's Books
Working on this cut and paste printable letter E craft template helps your child to focus on details while being relaxed and comfortable.
This alphabet activity is perfect to pair with awesome children's books to nourish their mind and skills.
We highly recommend these lists of books that will surely be loved by your adorable kids.
2. Teaching the Letter E
Learn new vocabulary and practice pronunciation with cut and paste alphabet craft activities like this free printable letter E worksheet for toddler, preschool and kindergarten.
Use easy activities such as tracing uppercase and lowercase letter E worksheets, alphabet songs or games, and creating crafts to help kids recognize the letters easily.
Learn the sound of the letter E by saying words that start with letter E then encourage your child to repeat after you.
Every letter can be tricky to learn how to pronounce and write, but kids will soon feel confident after practicing regularly.
3. Letter E for Elephant Mask Craft
This free printable letter E craft template will inspire you and your kids to create DIY crafts using recycled materials you already have at home.
Children need to relax after long hours of studying, that's why we came up with a cute paper plate elephant mask craft.
Let your child paint the paper plate however they want then set it aside to dry.
Trace the ears and trunk of the free printable heart elephant craft and glue it onto the paper plate.
Cut out the eye holes and attach elastic strings on each side of the ears so your little one can wear it.
4. Letter of the Week: Letter E
Parents making DIY preschool crafts with their children promotes creative ability and have a sweet family time.
Using simple materials and the free printable egg template, we decided to create a colorful egg wreath as part of our letter E activities.
Start by cutting out a circle in the middle of the paper plate.
Have your child fill in the simple egg templates with the most amazing colors.
Glue the cut-out egg templates onto the paper plate wreath.
Using a ribbon, make a bow and glue it on top or bottom of the wreath.
Display it anywhere in your living room for guests and visitors to see.
These exciting craft ideas include our free printable letter E for elephant craft template, making it perfect for home, school or daycare.


Letter E Craft Supplies Needed
Printable Letter E Template (FOUND AT THE BOTTOM)
Keep scrolling to get your very own letter e craft today and start with your little ones and their alphabet craft buddies today!
Letter E Craft Instructions
Grab all the basic supplies and let's start crafting!
Click download and print to which free printable letter E craft template your little one chose.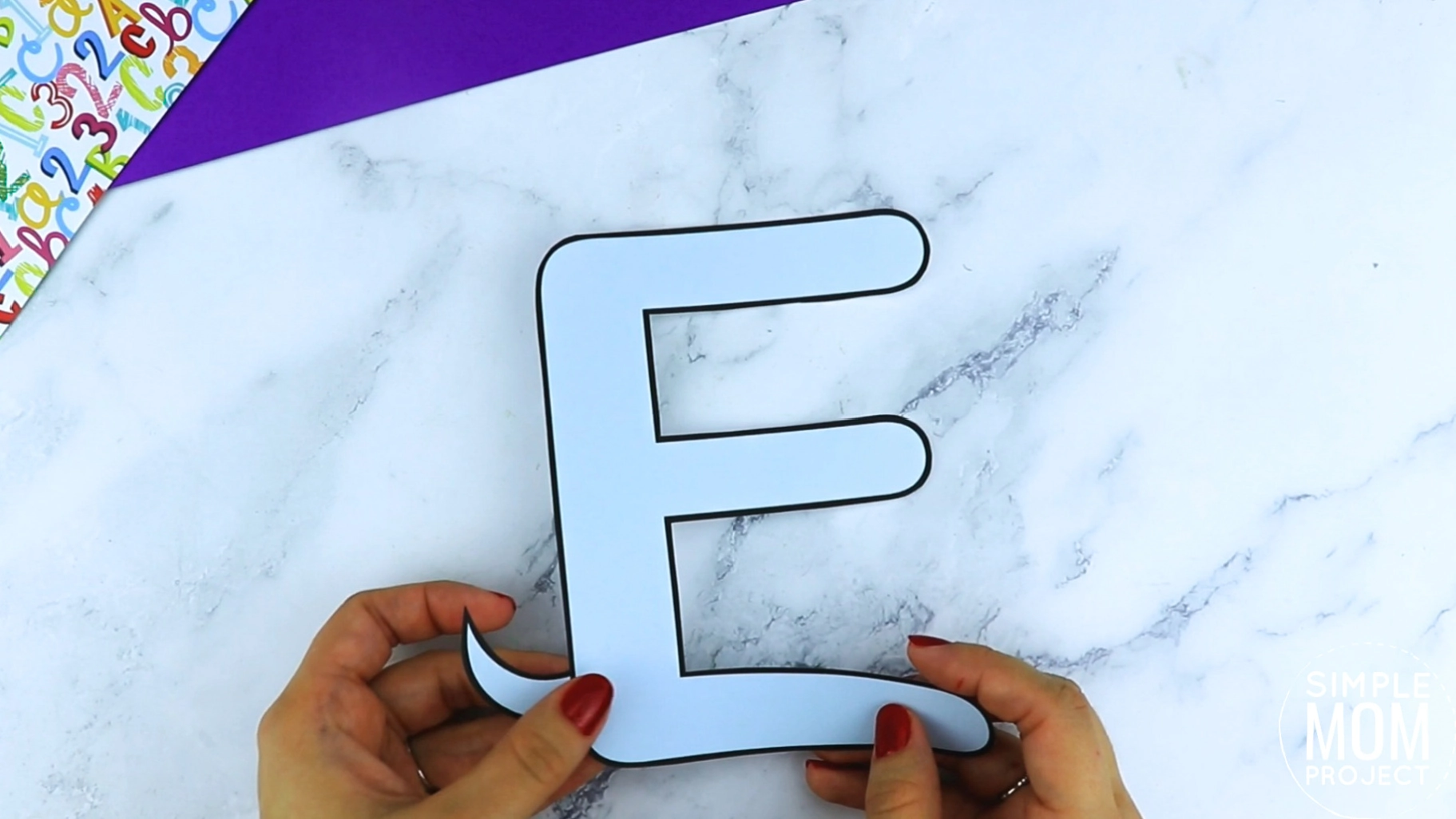 Cut each letter E for elephant pattern out of the printable template.
First, glue the cute tail at the bottom part of the letter E.
Next, glue the head at the upper part and attach its big heart shaped ear.
Your friendly elephant craft is complete and ready to play with your kids for hours.
More Options to Choose:
You can print the blank version and trace the cut outs on card stock paper for a sturdier letter e craft,
Print the letter e template in color for a simple and easy rainy day craft or,
Print the blank letter e template and use it as a fun coloring sheet activity and then glue the pieces of the letter e craft together.
Free Printable Letter E Craft Template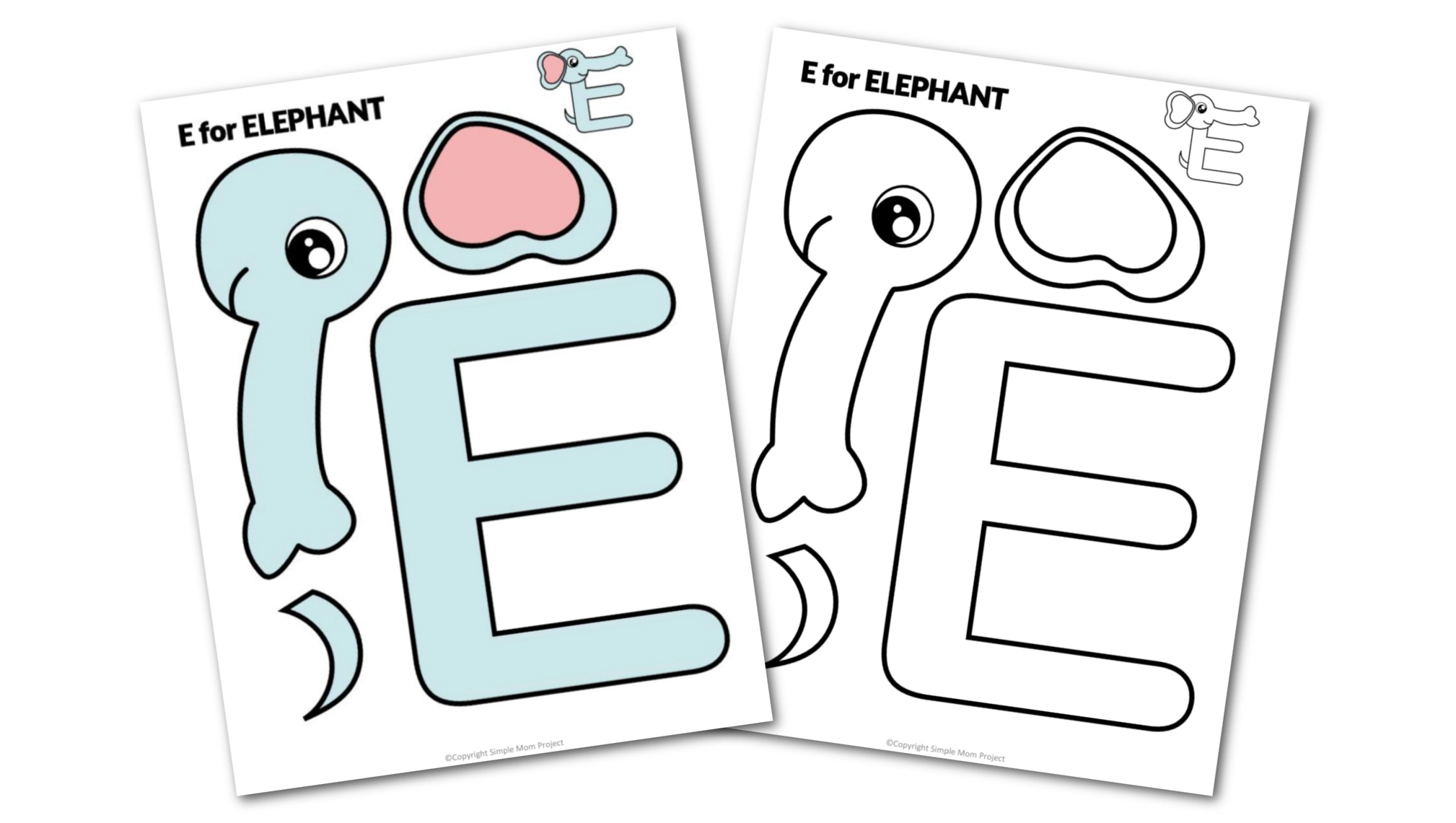 This enormous printable letter E for elephant craft template comes with two amazing versions to keep your kids busy.
We got the simple black and white letter E outline and the easy cut-and-paste colored letter E worksheet.
Don't forget to share your learning plans in the comments.
Need more alphabet letters fun? Check out our packed list of alphabet for simple craft fun with your little ones.  
When you have finished, be sure to share your creation on Simple Mom Project's Facebook Page and follow me on Pinterest!

Kaitlen D.
More Fun Alphabet Crafts