It is never too early for children to begin learning their alphabet letters.
Learning the alphabet can help them improve their language, reading, and cognitive abilities.
Introduce the alphabet to your little ones with this printable letter A coloring page.
Working on this simple coloring page also supports the development of fine motor skills and creativity in your children.
Prepare for a fantastic week with the alphabet!
Make the most of your time with alphabet-themed activities that your kids will love!
Allow the kids to identify and point out objects that begin with the letter A before working on this coloring page.
Aside from this free letter A coloring page, you may check out these templates that begin with the letter A and use them in your learning activities.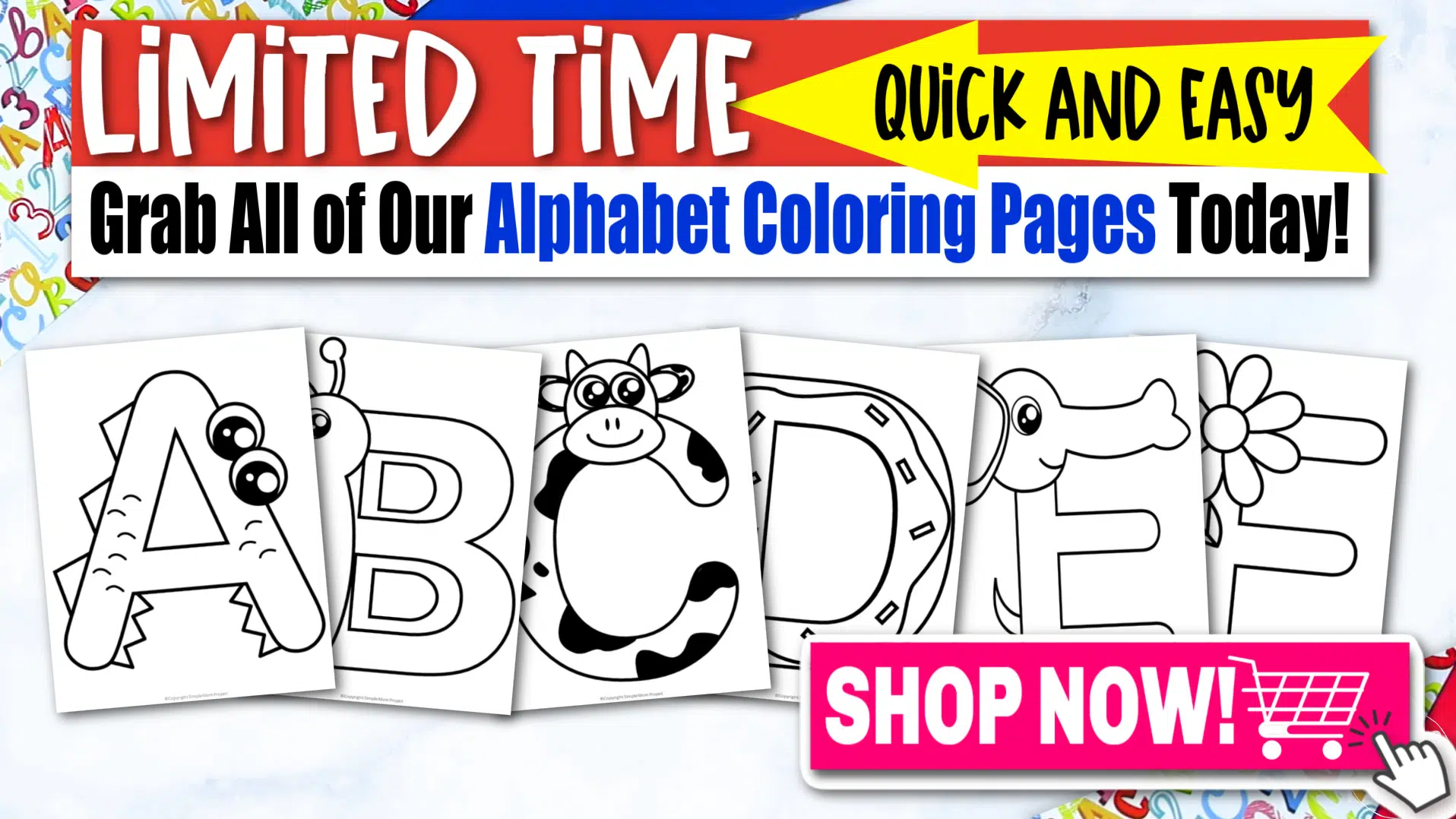 Enjoy working on the ankylosaurus template, letter A craft, apple craft, and arctic animal crafts.
*By the way, this post may contain affiliate links which means I may receive a small commission at no additional cost to you if an item is purchase through that link. For more information, click here.*
Printable  Letter A Coloring Page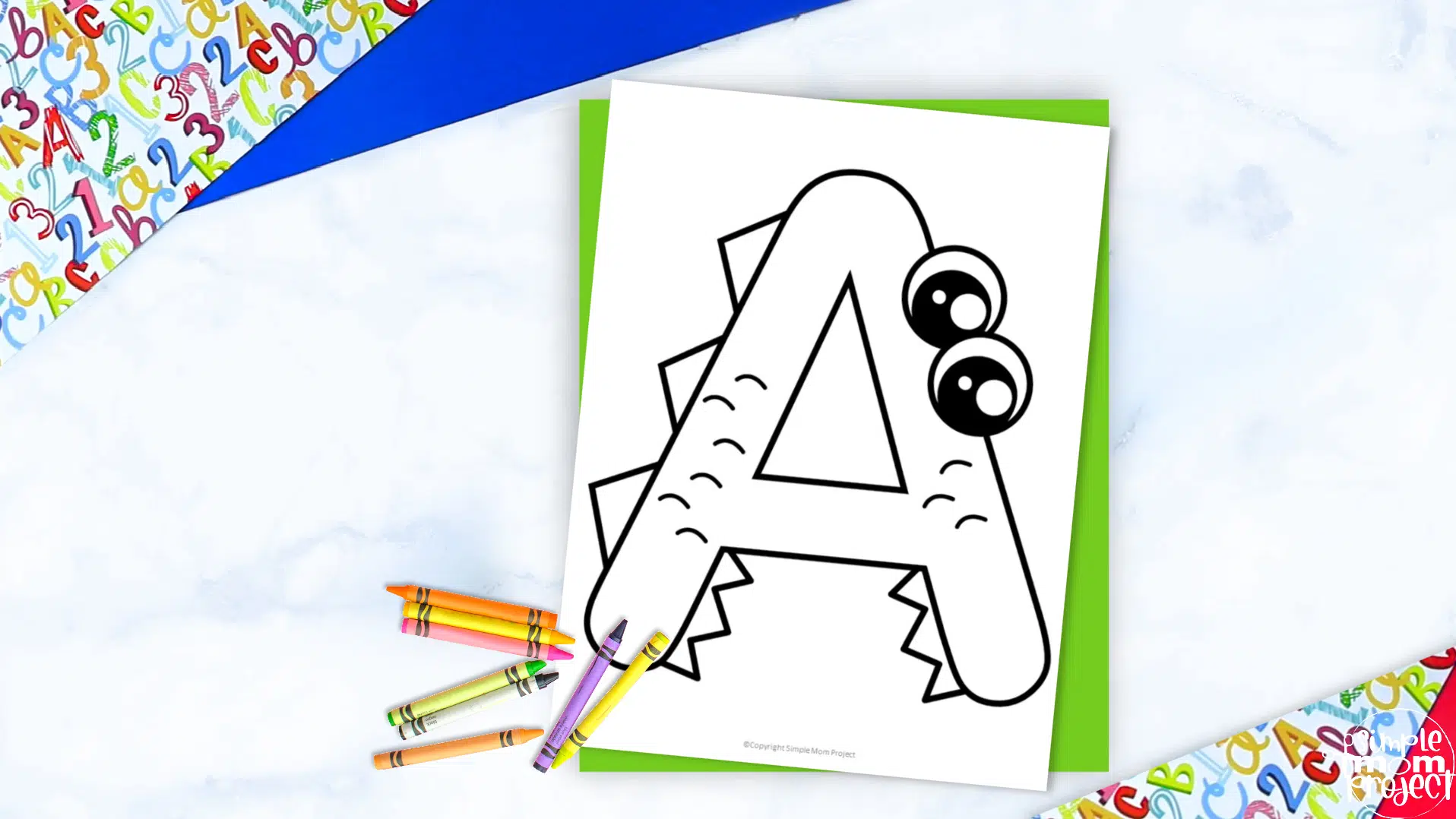 Printable Letter A Coloring Page Materials Needed:
Printable Letter A Coloring Page (FOUND AT THE BOTTOM)
Make your child's finished letter A coloring page a forever memory by laminating it! We use this laminator and cannot express how much we love it! It is not only inexpensive, it is SO easy to use!
Your kids will love seeing how much you adore their art work when you laminate and display it for years to come!
Looking for more amazing alphabet fun? Check out our Letter P, D and L Coloring Page.
Ideas for Printable Letter A Coloring Page
We've come up with some of the most simple and interesting ways to include this printable letter A coloring page into your learning plans and routines.
1. All About A
What better way to begin learning the alphabet than with this printable letter A coloring page.
Gathering different alphabet materials is a great start, whether you're trying to introduce them to toddlers or preschoolers.
These letter A collectibles are ideal for circle time and reading time activities. Read books and play puzzle games to learn about the letter A!
2. Alphabet Wall
It's always exciting and fun to decorate according to our learning plan theme.
Do you plan to use these alphabet letters to decorate your classroom or children's study area?
You can start with creating an alphabet wall using this printable letter A coloring page.
This alphabet wall is a great visual aid for early readers who are just getting started with their literacy.
You may also let your kids use craft supplies to decorate their own printable letter A coloring page.
Allow children to experiment with a range of creative supplies, such as beads, sequins, and other accessories.
Cut off the letter outline and display it on the alphabet wall.
You can hang them with tape or twine and clothespins.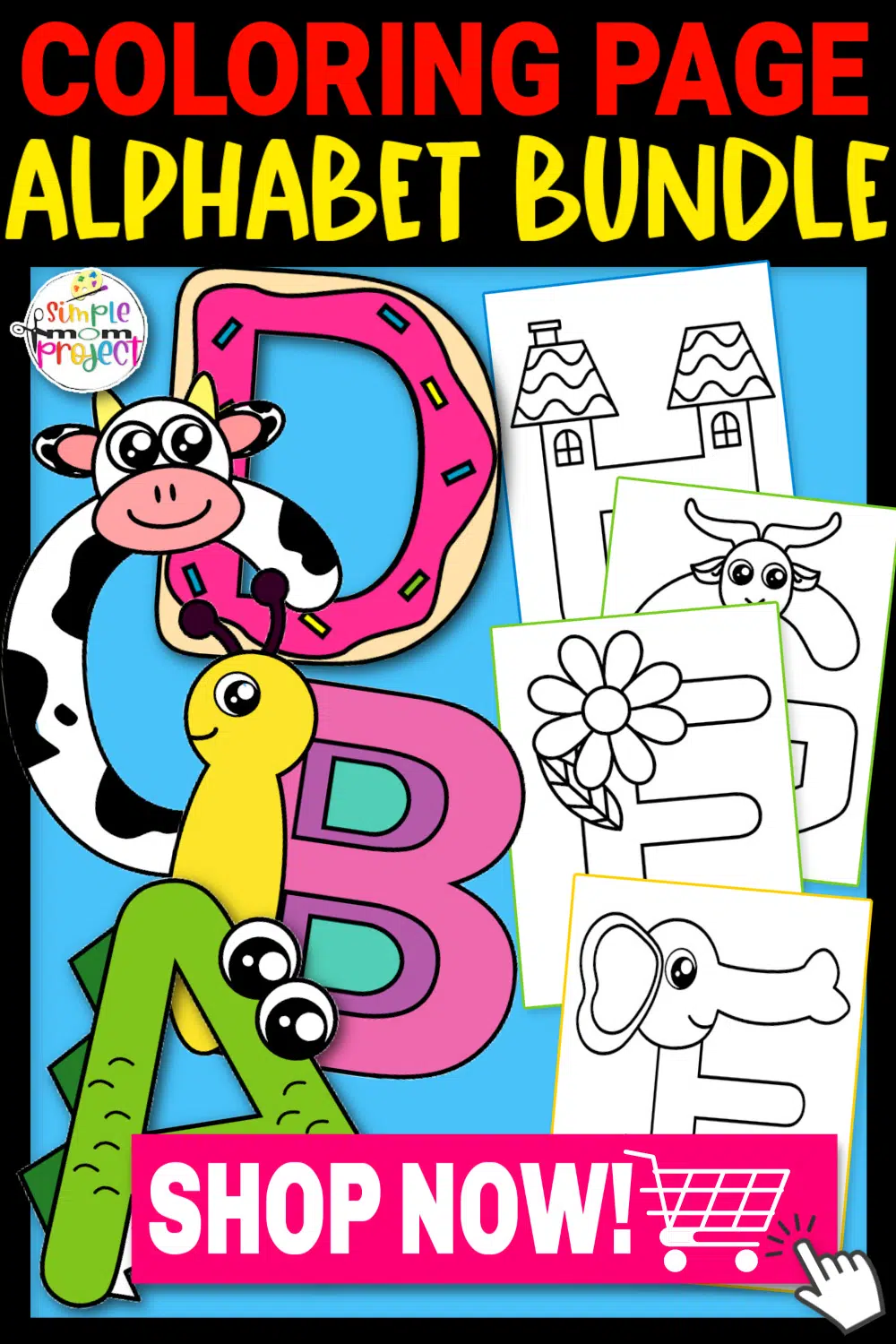 3. A is for Alligator Clothespins
This A is for Alligator coloring page will provide children with numerous possibilities for transforming different objects into alligators.
Kids will be delighted at how they can turn a clothespin into an alligator!
This printable letter A coloring page idea combines fine motor skills with arts and crafts.
Let's start creating alligator crafts with all the clothespins you may find at home!
We'll need clothespins, green paint, googly eyes, white construction paper, scissors, and hot glue.
Begin by painting the clothespins green.
Once they've dried, use hot glue to attach the googly eyes.
To make the alligator's sharp teeth, cut little triangle shapes out of white construction paper.
Place them at the opening area of the clothespins on the sides.
What makes this alligator craft interesting is that you can use it to hang your finished printable letter A coloring pages on the wall.
Make more alligator clothespins to use in your artworks!
4. Letter of the Week: A
These printable letter A coloring page ideas would be incomplete without an easy DIY art activity.
Make this angelfish coloring page as an addition to your letter of the week lesson.
Use unique and creative materials to help your children turn this angelfish into a real sea animal.
They can use sparkly things to color, paint, and paste on the coloring page.
Your children can use their finished angelfish masterpieces to decorate their walls and doors.
Alternatively, you could simply add to their alphabet coloring worksheets collection.
With all of these printable letter A coloring page ideas, we are certain that your children will have a fantastic letter of the week.
They will certainly make good use of their time and enjoy all of these alphabet activities!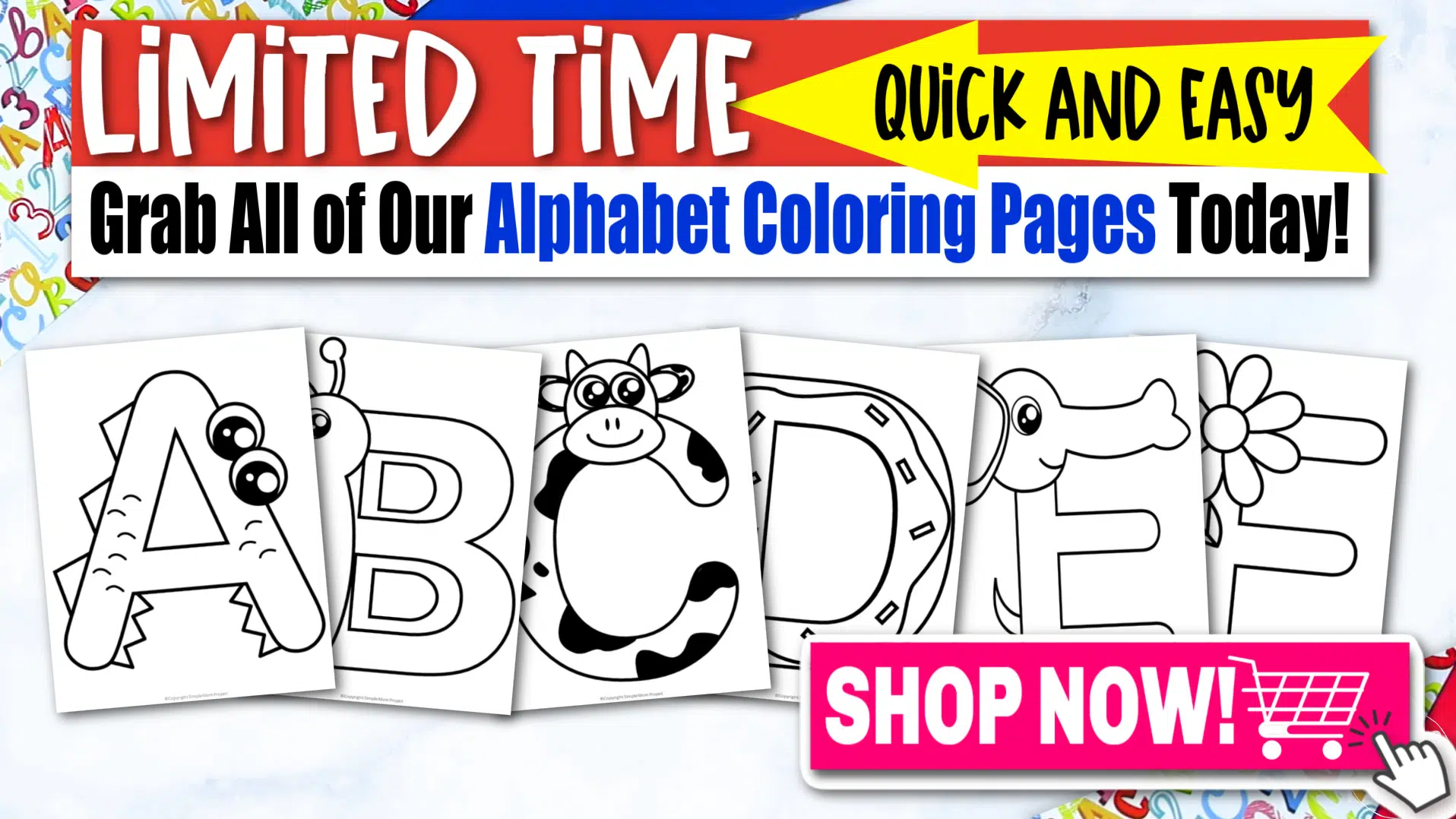 Printable Letter A Coloring Page: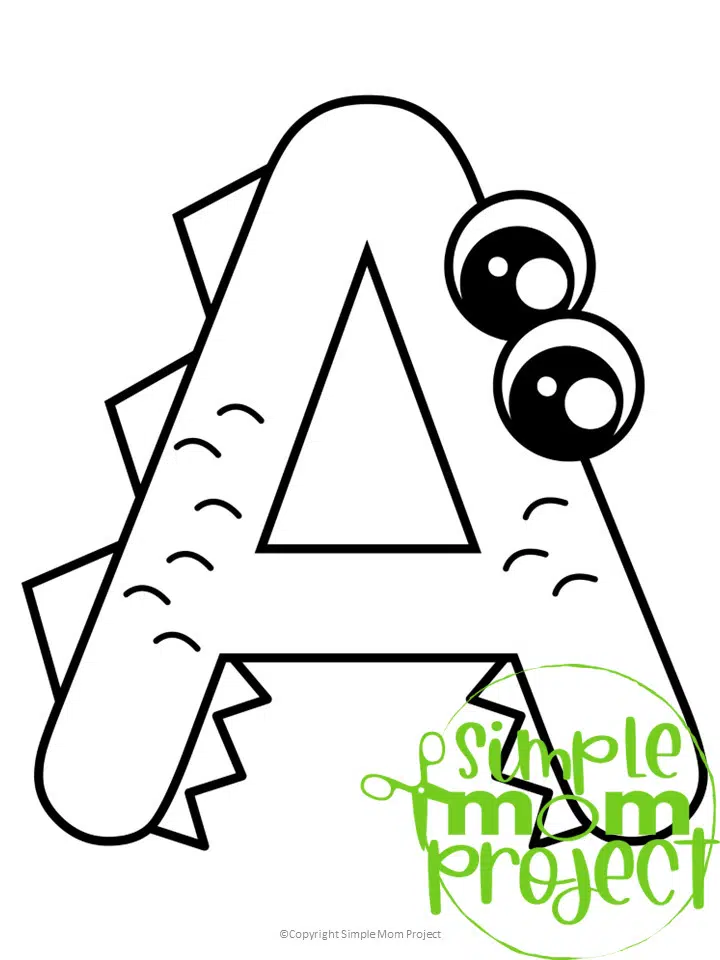 As the highlight of your letter of the week activity, use this printable letter A coloring page.
If your kids like coloring bubble letters and doing alphabet worksheets, they'll enjoy creating this simple letter A coloring page into an alligator.
They will be able to strengthen their fine motor skills as well as their creativity by using crayons, markers, and other small art supplies.
This coloring page is perfect for both children and adults.
This letter A coloring page is a simple adult coloring activity for everyone who enjoys coloring.
Spend time bonding with your children while learning about the letter A by coloring this sheet this weekend!
Don't forget to tell us more about your experiences in planning your learning activities with these ideas.
Leave a message in the comment section.
When you have finished, be sure to share your creation on Simple Mom Project's Facebook Page and follow me on Pinterest!

Kaitlen D.
More Fun And Easy Coloring Pages