As the weekend approaches, we'll wrap up the letter of the week lesson with an alphabet letter filled with interesting and fun ideas.
Make the most of your weekend with this printable letter P for pencil coloring page.
Kids can learn about the alphabet letter P and other words that start with it, interactive routines, easy but amazing arts and crafts, and more.
Don't be hesitant to use this in your lesson plans and enjoy worry-free lesson planning in the future.
We have put together a list of ideas that you might use in different learning areas.
Children will not only be able to learn the alphabet but also have the chance to develop their literacy, language, and handwriting abilities.
Everything you need to make learning fun is included on this printable letter P coloring page!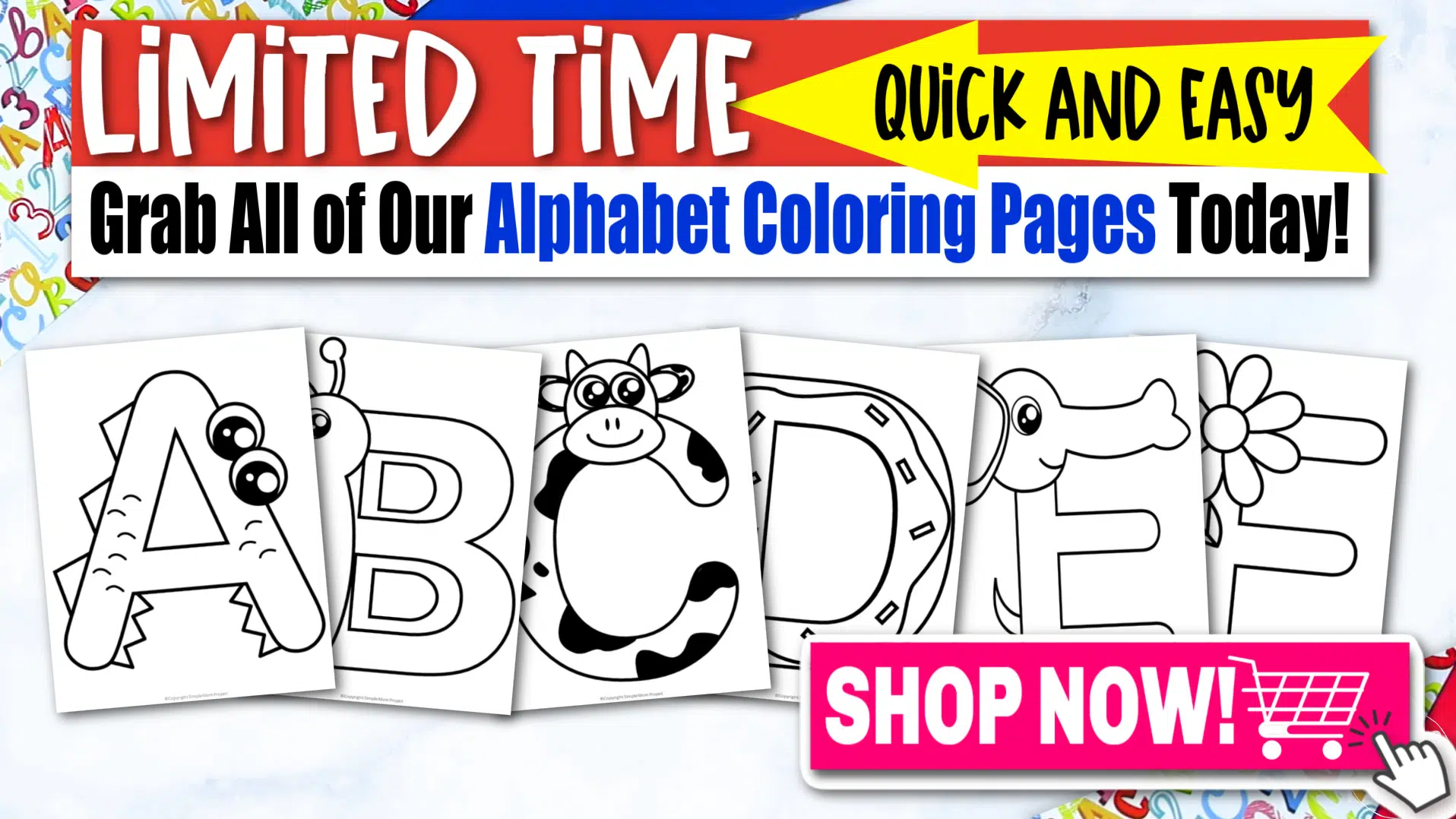 *By the way, this post may contain affiliate links which means I may receive a small commission at no additional cost to you if an item is purchase through that link. For more information, click here.*
Printable Letter P Coloring Page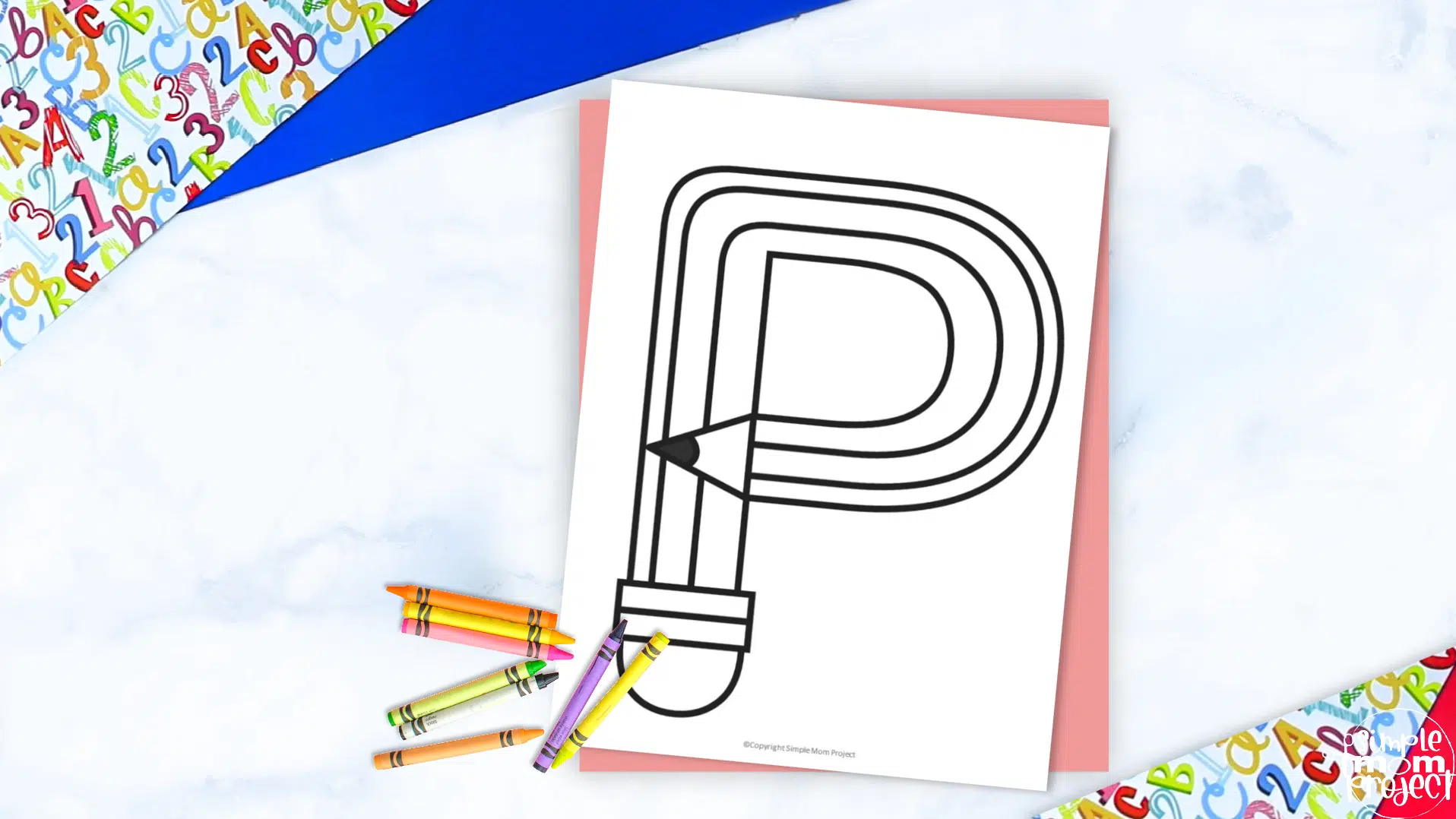 Printable Letter P Coloring Page Materials Needed:
Printable Letter P Coloring Page (FOUND AT THE BOTTOM)
Make your child's finished letter P coloring page a forever memory by laminating it! We use this laminator and cannot express how much we love it! It is not only inexpensive, it is SO easy to use!
Your kids will love seeing how much you adore their art work when you laminate and display it for years to come!
Looking for more amazing alphabet fun? Check out our Letter O, G and L Coloring Pages.
Ideas for Printable Letter P Coloring Pages
We would love to share some wonderful ideas for using this printable letter P coloring page in your daily activities.
The ones listed below are the best ones we could think of, so keep reading for more ideas!
1. The Perfect Letter P
How many words can your children name that begin with the letter P?
Some of the most well-known words that start with the letter P are included in this printable letter P coloring page idea.
The pizza, pineapple, penguin, and pencil are among them.
We first gathered these words in order to choose what learning resources we will use for the lesson.
Collecting different learning materials is an excellent method to begin organizing your routines.
Even with just one learning material, you can already think of a number of activities.
We're going to share some fantastic letter P items with you in this idea that you can use with your lesson plan.
Play the pineapple toy to express your emotions, read a book about making a pizza and a book about penguins, and use scented pencils to draw or write anything.
Your kids will absolutely love this collection.
All of the items they are using are so fascinating that they won't even realize they are in class or learning!
Include these in your perfect letter P lesson plans!
2. Handwriting Practice
Kids get a great chance to practice their handwriting using a pencil because the pencil is associated with the letter P in this coloring page.
Make it a habit for your preschool and kindergarten children to write or draw in their free time.
Writing is an excellent way to exercise your fine motor skills.
If you have young children who are toddlers, you can start introducing writing and drawing to them by encouraging them to write and make up-and-down strokes.
Along with drawing, you can work on various worksheets like tracing and connect-the-dot worksheets to improve your handwriting.
Kids will learn how to write an uppercase letter P after completing the printable letter P coloring page.
Use this opportunity to practice writing the letter of the alphabet.
You may also include the lowercase letter.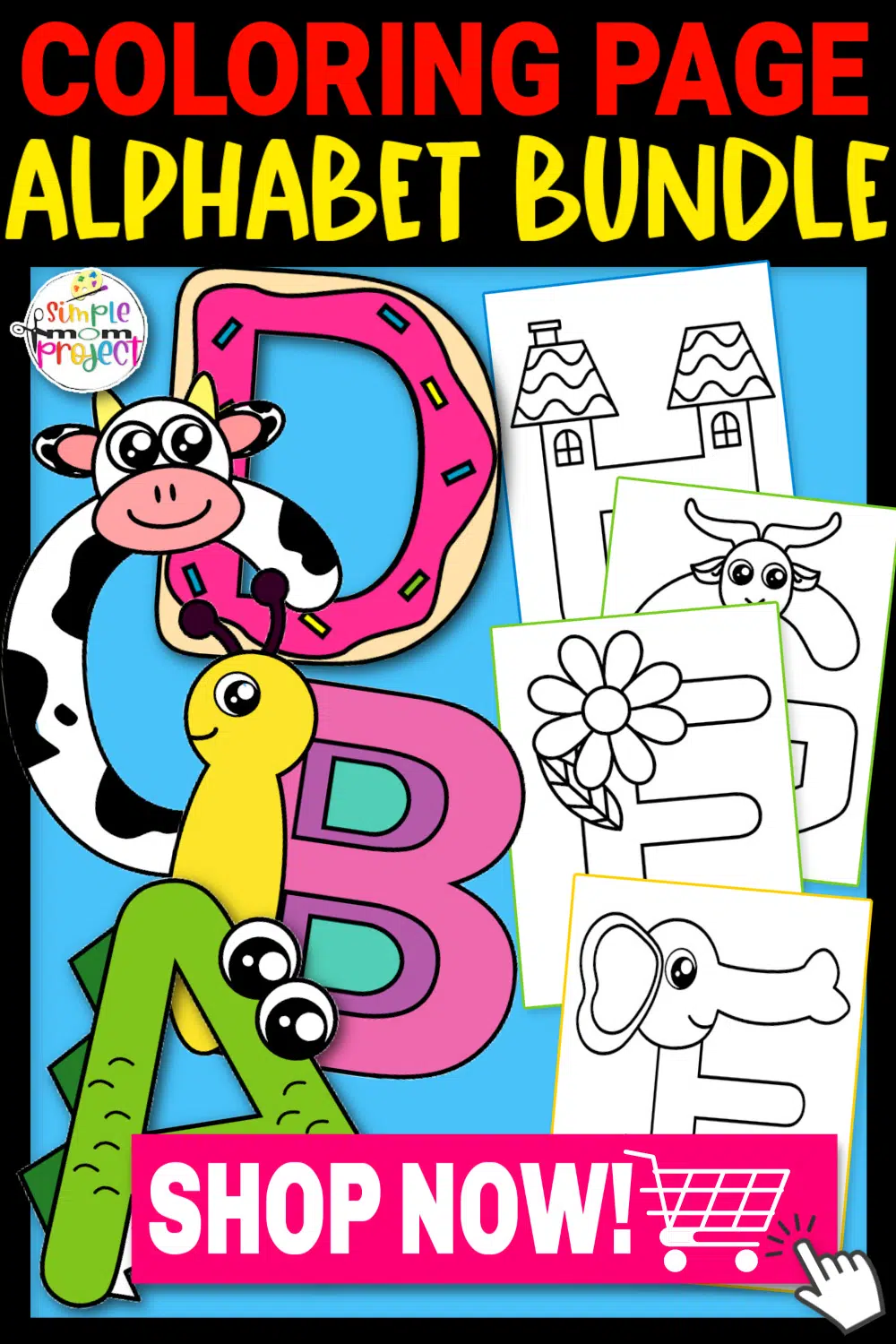 3. Pineapple Handprint Craft
Let's keep their small hands occupied with this printable letter P coloring page.
Do you know a yellow fruit that begins with the letter P?
Yes, pineapple!
We're going to make a pineapple craft with our hands.
This is a great idea for kids who enjoy working with their hands and getting messy.
You can also do this craft with the whole family to create different sizes of pineapple handprints.
More is always better!
You only need your hands and some yellow and green paint!
Begin by painting four of your fingers green to make the pineapple leaves.
Your thumb and palm should be painted with yellow paint.
Gently stamp your hand on a sheet of paper or wherever you want your pineapple handprints to go.
You have the option of using one hand or both hands.
Enjoy making this pineapple handprint craft with your family!
4. Letter of the Week: P
Of course, we won't forget to list an animal that is well-known among children and whose name begins with the letter P.
Include this printable penguin template in your activities if your kids can't get enough of these printable letter P coloring page ideas.
It is a simple penguin drawing that will allow your children to exhibit their creativity by using different colors to make an adorable penguin.
Before they begin working on the template, you could also add, "Penguin starts with the letter P" or "P is for penguin" to get the kids interested in the activity.
The children will become familiar with the phonic sound of P through hearing words that begin with the letter P.
Are you enjoying writing these ideas down?
We are always happy to share the simplest and most engaging learning activities with your kids.
Learning the alphabet letters should be fun and exciting, so stay tuned for more alphabet coloring pages ideas!
Your children will definitely excel in everything they try!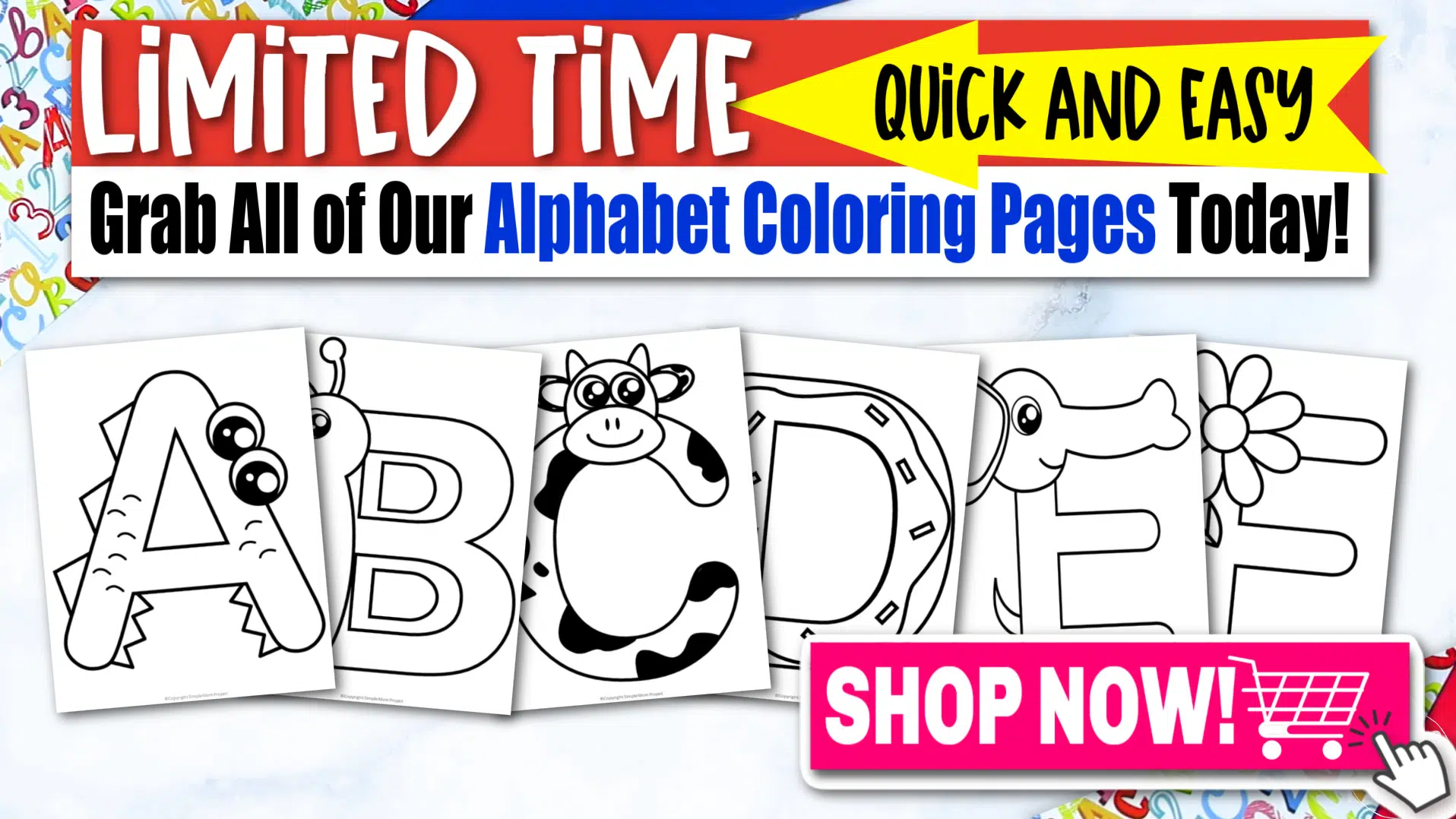 Printable Letter P Coloring Page: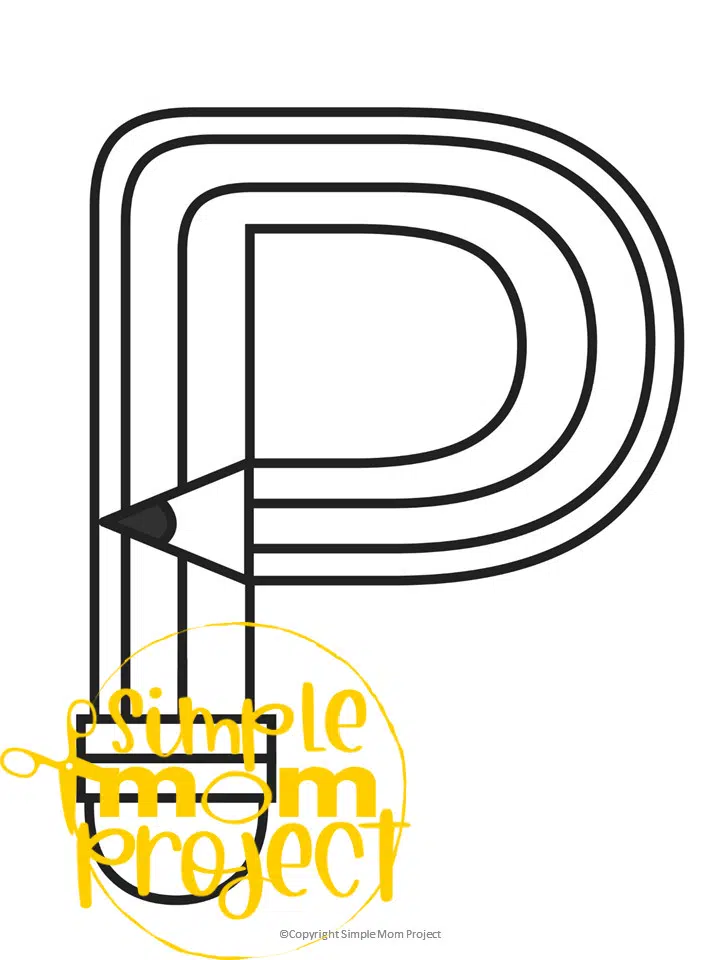 Can't wait to get your little ones started on this printable letter P for pencil coloring page?
Bring out your brightest coloring supplies to customize this simple alphabet letter P that resembles a pencil.
Your kids are free to use any form of decoration they like, including paint, crayons, and markers.
Even grownups can enjoy coloring on this wonderful printable coloring page!
It appears to be similar to adult coloring pages, so share it with everyone you know who enjoys adult coloring books.
Please share any experience you have from using these ideas!
We always appreciate hearing from you.
Please leave a message in the comments section.
When you have finished, be sure to share your creation on Simple Mom Project's Facebook Page and follow me on Pinterest!

Kaitlen D.
More Fun Alphabet Coloring Pages