Coloring with your kids is an excellent way to pass the time. Today I'm featuring some beautiful Christian coloring pages to help you along with Bible verse education. These Bible verse coloring pages will help your kids have a little Bible study all the while engaging in a fun activity.
I love that these printable Bible verses work well for kids and adults because coloring with your kids helps strengthen your family bond. As your kids get older, you'll want to ensure you worked hard to solidify the bond.
Kids who grow up in households that partake in activities together, such as coloring these Christian coloring pages, tend to have less rebellious teen years.
Whether you're using these printable Bible verses to help with Bible journaling for kids or simply want free Christian Bible verse coloring sheets for adults, these free printables will help teach the word of God through scriptures.
We all know that kids learn best with hands-on activities that hold their interest. I'm an avid fan of using coloring pages to help my kids learn new things.
With these printable Bible verses, you can help teach the word of God in an easy, fun way that encourages your kids to retain the information of important Christian scriptures.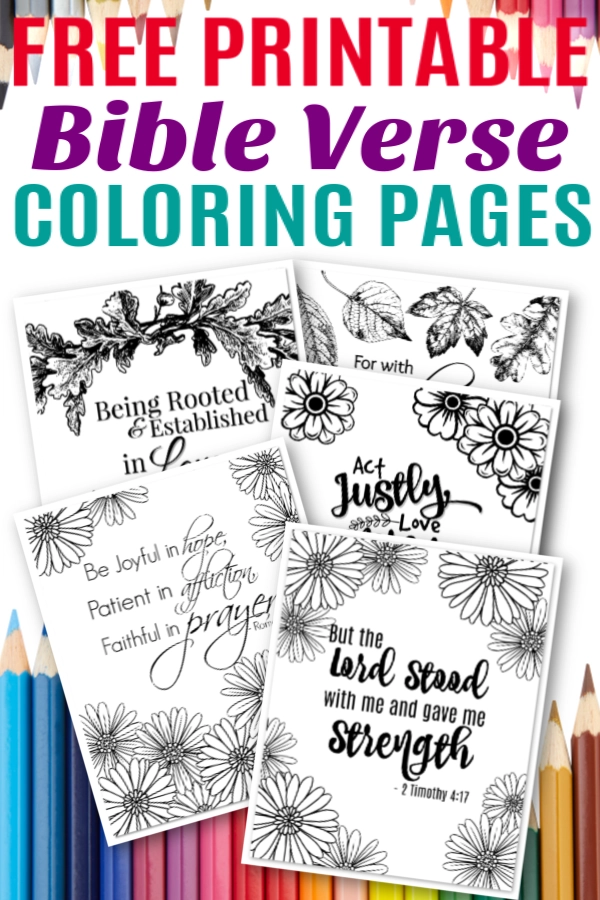 Free Printable Bible Verse Coloring Pages
Why Christian Coloring Pages?
There are many benefits of printable Bible verses. I've already explained that this is an excellent activity for adults and for kids to strengthen the parent and child bond. There are other reasons why you should use these Bible verse coloring pages, such as:
Teach the word of God.

Print, color, and frame for inspirational wall décor.

A simple way to help kids remember important scriptures for Bible journaling.

Develop a strong faith in God with Christian coloring pages.
These are just a few of the benefits that you get when you opt to print and color these Bible verse coloring pages with kids. I hope that you'll wake a minute to print these free Christian coloring pages today so that your family can have hours of fun, learning, and happiness together.
Be Joyful in Hope Bible Verse Coloring Page
Established in Love Bible Verse Coloring Sheet
But the Lord Stood By Me Bible Verse Printable
Act Justly Printable Bible Verse Coloring Sheet
With God, Nothing Shall be Impossible Scripture Coloring Sheet
For We Walk By Faith Christian Coloring Sheet
Please share your finished masterpiece on my Facebook Page! I would love to see how it came out!

-Kaitlen D.
More Fun and FREE Coloring Sheets: