No matter the season, it is always the perfect time to color, cut and paste this free printable grasshopper craft template.
Use this easy grasshopper outline activity if you plan to teach your preschooler recognize the color green, learn to pronounce and write letter G and study the life cycle of grasshoppers.
Our simple printable green grasshopper craft template will inspire you to create different DIY crafts out of recycled materials such as egg cartons, toilet paper rolls, cardboard tubes, clothespins, paper plates and more!
Making this preschool printable grasshopper stencil template will develop your little one's fine motor skills, focus, imagination and creativity.
You can also use the finished grasshopper craft for classroom decorations or bulletin board décor.
Keep scrolling down to see the simple cut and paste instructions or have your kindergarten watch the short step-by-step tutorial video to guide them before they start doing this easy craft.


Need more crafty fun? Check out our Ant and Bumble Bee craft.
 T
hey are perfect for those days when staying indoors is the only thing your family can do!
*By the way, this post may contain affiliate links which means I may receive a small commission at no additional cost to you if an item is purchase through that link. For more information, click here.*
Free Printable Cut and Paste Grasshopper Craft
Ideas for Easy Preschool Paper Grasshopper Craft
Here are the marvelous ideas on how to include this free printable grasshopper craft template in your everyday life with the kids.
1. Grasshopper Fun Facts
If you're planning to study bugs and insects with your little learner, make sure to include our free printable grasshopper craft template.
Did you know that grasshoppers are herbivores? These jumping insects eat plants and other types of vegetation.

There are over 11,000 species of grasshoppers.
Did you know that locusts are a type of grasshopper?
Locusts can jump up to one meter.
Do you know the difference between a grasshopper and cricket? Grasshoppers only eat plants while crickets are omnivores, they also eat other animals.
Did you know that grasshopper's life cycle only has three stages? The egg, nymph and adult.
The lifespan of grasshoppers is about 12 months.
2. Children's Story Books
Reading aloud to your kids will help them develop their listening and language skills.
It's also a great way to strengthen the parent-child bonds.
If your children are fascinated with bugs and insects this week, we suggest getting these amazing books about grasshoppers.


3. Cute Green Grasshopper Footprint Art
Making crafts is always a good idea if you want to keep your children busy during the weekend.
There are a lot of easy crafts we already have in mind, but we decided to create a grasshopper footprint art.
It's easy to prepare and uses only simple craft supplies.
Paint the bottom of your little one's foot and stamp it on a white paper, set aside to dry. Use a green sharpie to draw the legs.
You can also draw the antennae or use pipe cleaners. Finish it off by gluing the googly eyes.
Display the simple grasshopper art on your child's learning board.
4. DIY Grasshopper Puppet Craft
This DIY grasshopper puppet is made with household supplies you probably already have at home.
Have your preschooler color or paint this easy printable grasshopper outline template however they desire.
Use adhesive tape to attach the popsicle stick or paper straw at the back of the free printable grasshopper craft template.
You can add decorative items like beads, jewels or sequins on your puppet to stand out.
Use this cute printable grasshopper craft template to spend quality time with your kids.
We are confident they will ask for more easy bug craft templates.


Grasshopper Craft Supplies Needed
Printable Grasshopper Template (FOUND AT THE BOTTOM)
Keep scrolling to get your very own grasshopper craft today and start with your little ones and their grasshopper craft buddies today!
Grasshopper Craft Instructions
If your little one already picked which of these two cute grasshopper craft patterns they want, print it on a white paper.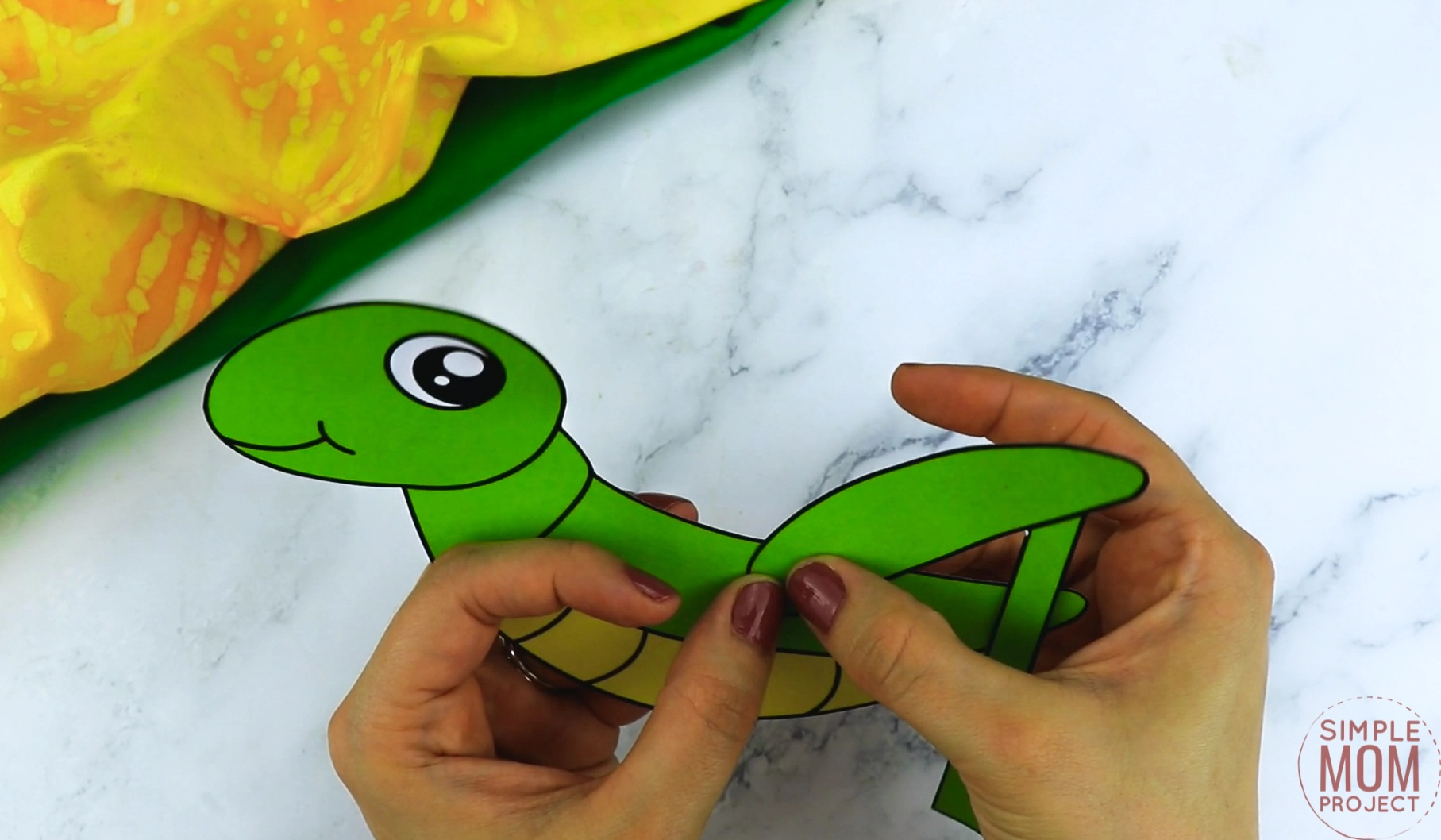 My little one usually chooses the plain version so they have the chance to fill it with the most amazing colors.
If your child is very young, cut out the grasshopper pieces for them. But if your little one is already familiar with using scissors properly, encourage them to give it a try.
Using a glue stick, attach all the legs onto its body.
Next, glue the antennae on top of its head.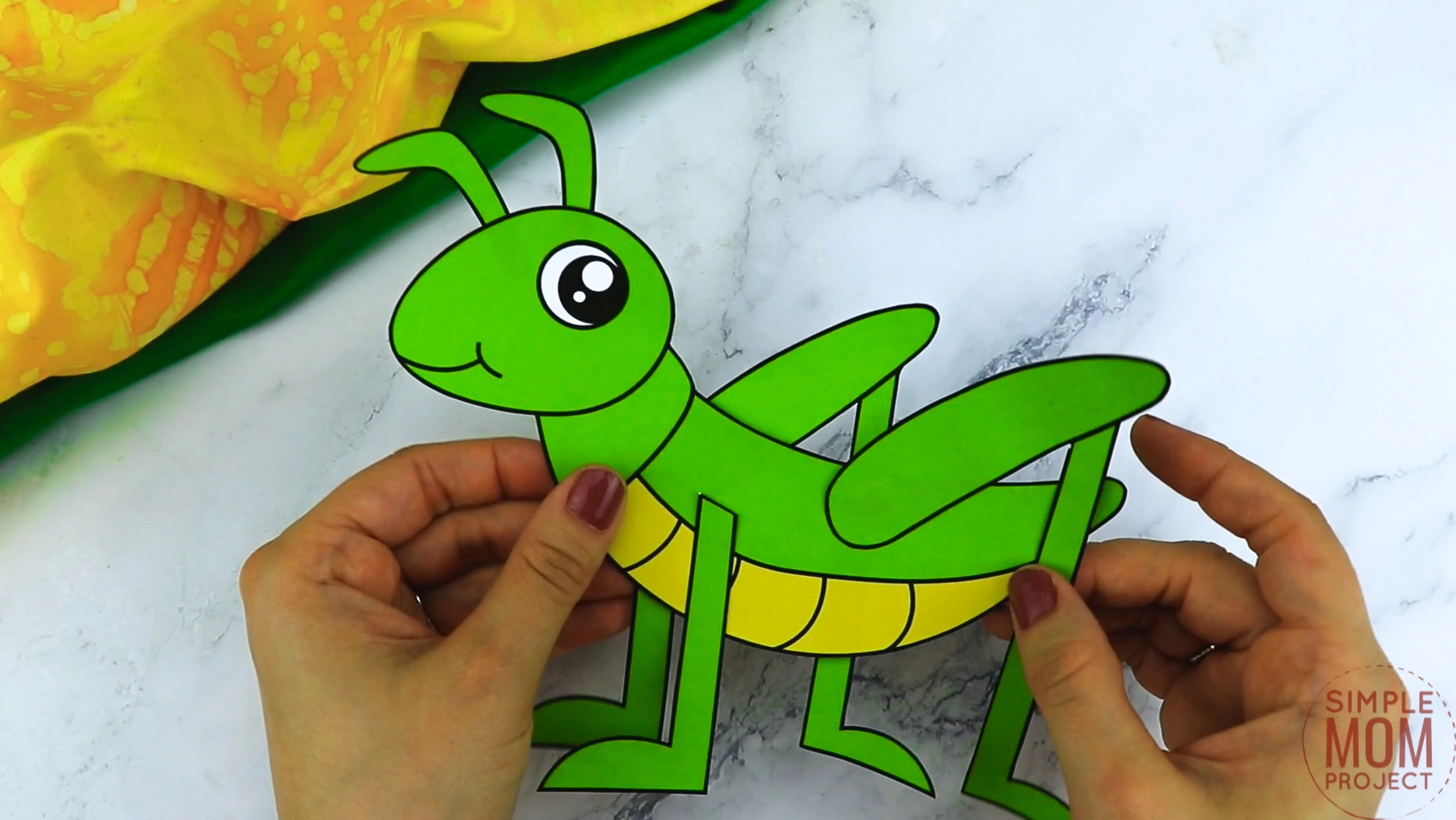 Let your adorable kids have all the fun in playing with their cute jumping green grasshopper craft.
More Options to Choose:
You can print the blank version and trace the cut outs on card stock paper for a sturdier grasshopper craft,
Print the grasshopper template in color for a simple and easy rainy day craft or,
Print the blank grasshopper template and use it as a fun coloring sheet activity and then glue the pieces of the grasshopper craft together.
Free Printable Grasshopper Craft Template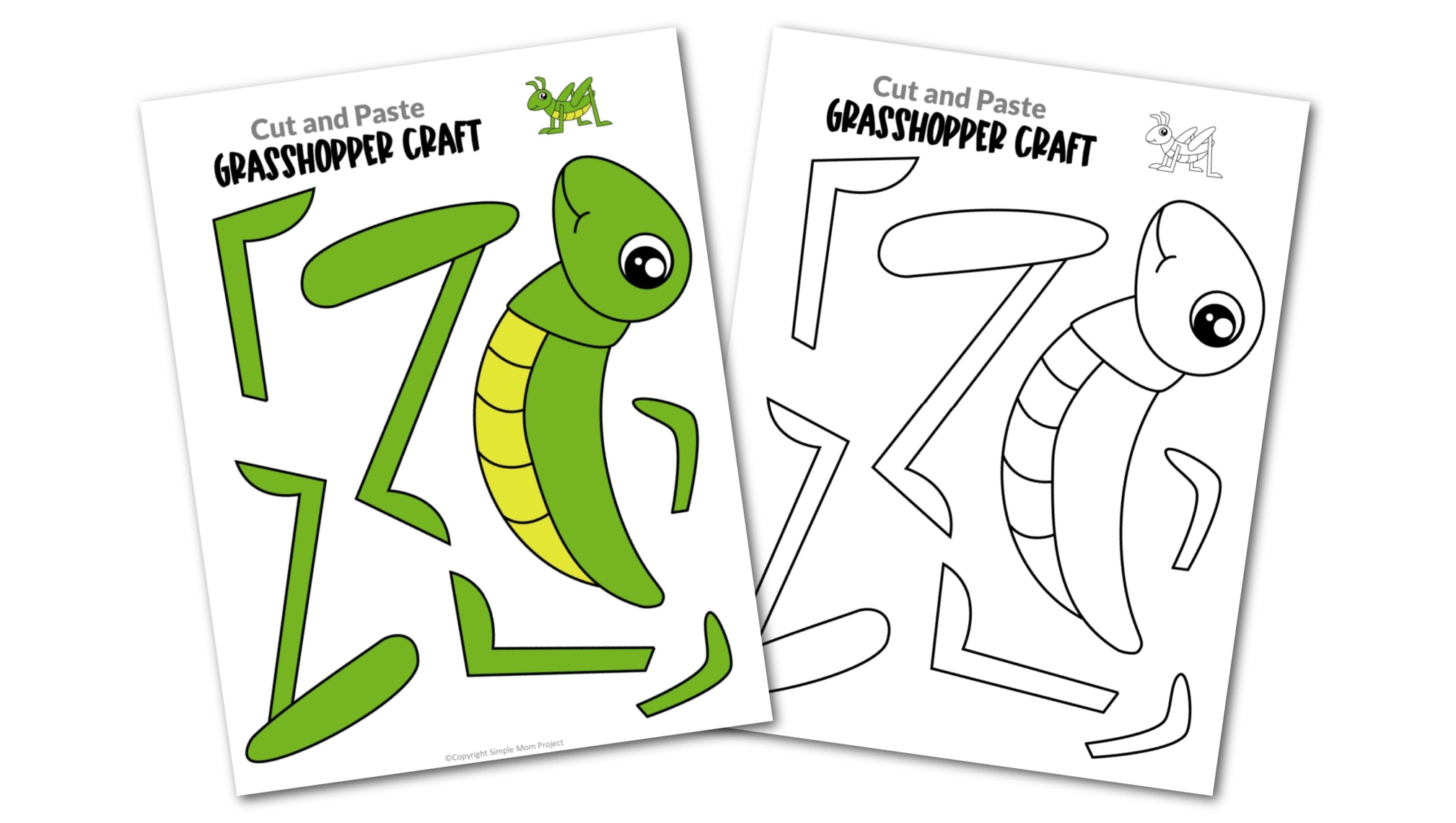 Don't wait any longer! Click download and print out these two versions of a simple printable grasshopper craft template.
We have the black and white grasshopper drawing template and the cut-and-paste green grasshopper template for your toddler, preschool and kindergarten.
Don't forget to share your learning plans in the comments.
Need more insect and bug fun? Check out our packed list of insects and bugs for simple craft fun with your little ones.  
When you have finished, be sure to share your creation on Simple Mom Project's Facebook Page and follow me on Pinterest!

Kaitlen D.
More Exciting Bug Crafts