We all love butterflies for their beautiful, brightly-colored wings.
During spring or summertime, my kids and I love spending time in our backyard while watching colorful butterflies float from flower to flower.
This easy printable butterfly craft template can be used as decorations, paper art and crafts by combining it with simple recycled materials.
All you need to do is let your child use their imagination and creativity.
Scroll down to see the simple instructions and step-by-step short tutorial video.
Download and print as many as you want and offer it to your friends and family.


Need more crafty fun? Check out our Caterpillar and Firefly craft.
 T
hey are perfect for those days when staying indoors is the only thing your family can do!
*By the way, this post may contain affiliate links which means I may receive a small commission at no additional cost to you if an item is purchase through that link. For more information, click here.*
Free Printable Cut and Paste Butterfly Craft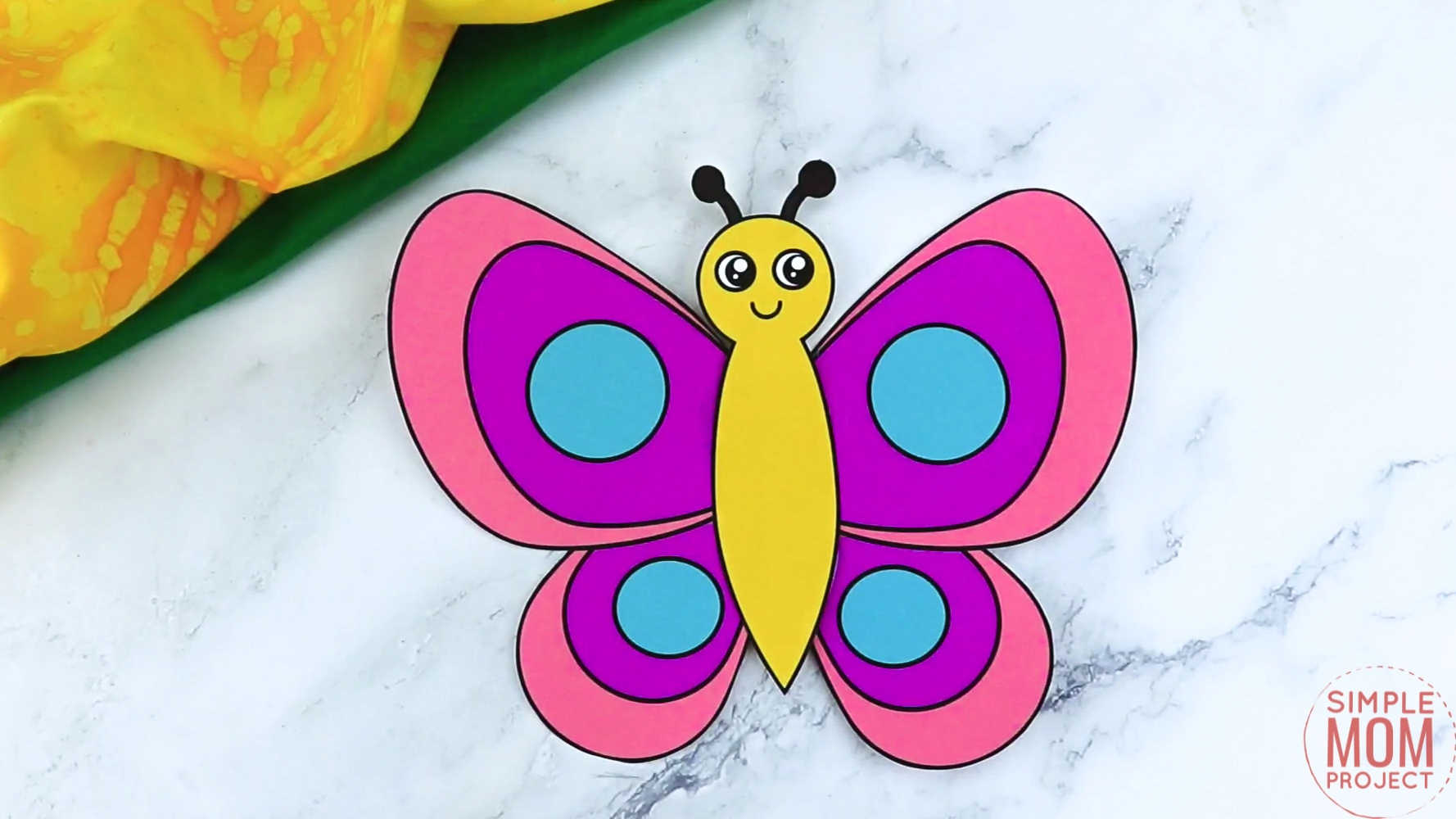 Ideas for Easy Preschool Paper Butterfly Craft
Here are some of the creative ideas that will help you include this simple printable butterfly craft template with your toddlers, preschoolers and kindergarteners.
1. Life Cycle of a Butterfly
Making this easy cut and paste craft activity will encourage your preschooler or kindergartener to study the life cycle of a butterfly.
Did you know that butterflies have four life stages?
The first stage is the egg, which usually lasts 3-7 days but this may vary.
Butterfly eggs are very small and may be in different shapes like oval, round or cylindrical.
The second stage is the larva or caterpillar.
Did you know that a caterpillar's main activity is eating?
They must grow quickly, so they eat continually.
The third stage is the pupa or chrysalis, during this stage they are undergoing a transformation or metamorphosis.
And the last stage is the adult butterfly.
The butterfly emerges from the chrysalis with its soft wings folded against its body.
After a rest period, it will pump blood into the wings then they get to fly.
2. Amazing Butterfly Books for Kids
Reading books is one of our favorite hobbies with the kids.
Sharing our thoughts and discussing the book after we read it allows parent and child to create deeper bonds between them.
Here are some of our favorite children's books about butterflies that we would love to share with you:


3. Easy Handprint Butterfly Craft
Ready to start crafting? Let's go!
First, trace your little one's hand onto four different colors of construction papers.
Draw the body and head on a different colored paper then cut it all out.
Glue the handprints together where they overlap – this will be the wings.
Position the other parts of the butterfly and stick it together.
We use pipe cleaner for the antenna and some googly eyes, too!
4. Beautiful DIY Butterfly Room Décor
This free printable butterfly craft template can be part of your room decoration.
Once your preschooler is done designing their butterfly, attach an adhesive tape at the back of the butterfly craft template and use it as wall décor.
You can also make a hanging butterfly garland, simply punch holes on the top corner of each finished butterfly craft templates then insert yarn through it.
The best part of this craft is everything is made of inexpensive materials!
There are a lot of creative ideas in making this free printable butterfly craft template with your children.
We are always happy to be part of your preschool lesson plan and craft activities.


Butterfly Craft Supplies Needed
Printable Butterfly Template (FOUND AT THE BOTTOM)
Keep scrolling to get your very own butterfly craft today and start with your little ones and their butterfly craft buddies today!
Butterfly Craft Instructions
This free printable butterfly craft template is so easy to make!
All you need to do is click download and print out which version your child wants to make first.
Cut out each part of the butterfly from the printable template.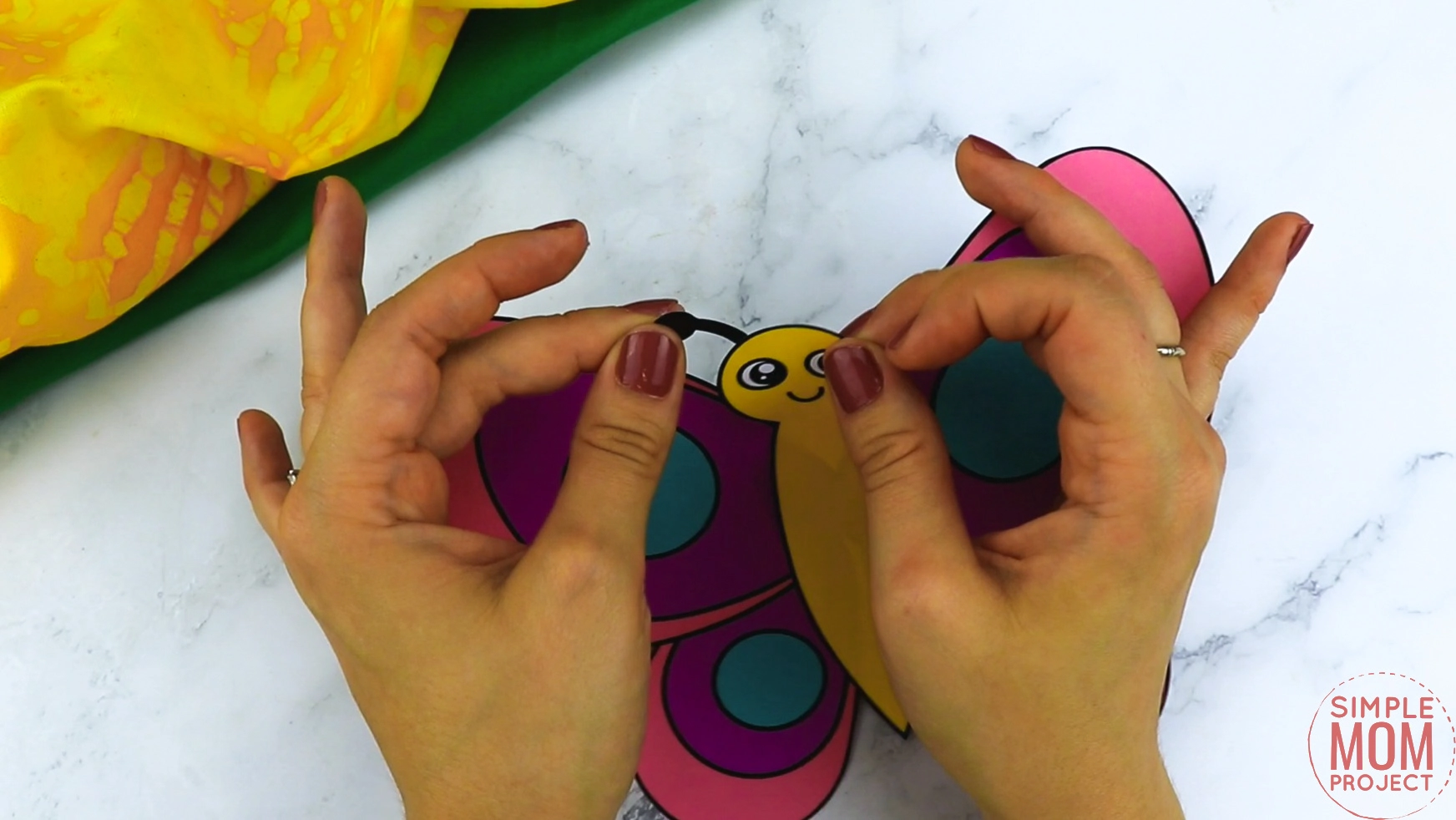 Glue each side of the wings on the butterfly's body.
Finish it off by attaching its cute little antenna.
Leave it for a few minutes to completely dry and your little one can play with their very own butterfly craft afterwards.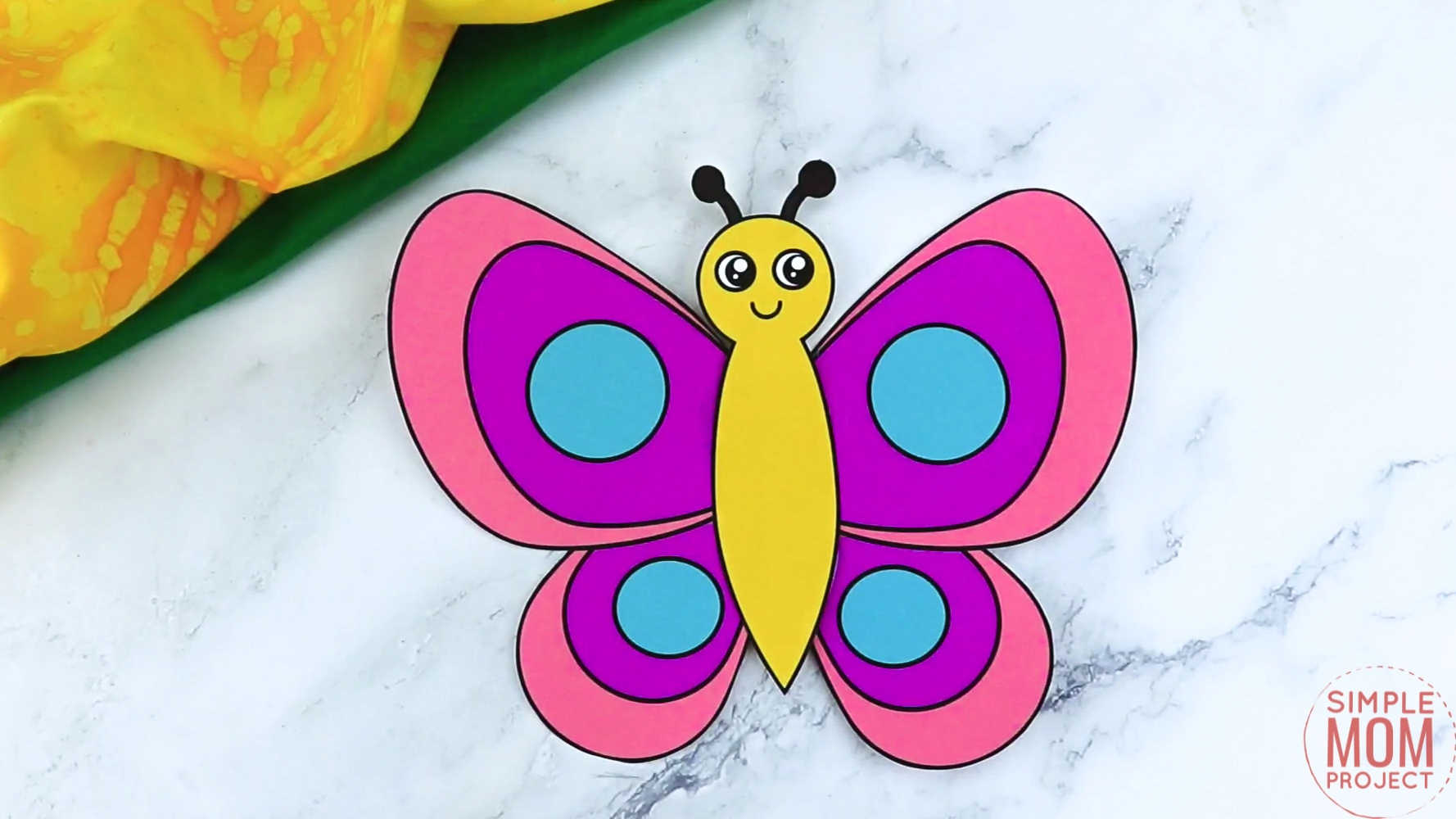 More Options to Choose:
You can print the blank version and trace the cut outs on card stock paper for a sturdier butterfly craft,
Print the butterfly template in color for a simple and easy rainy day craft or,
Print the blank butterfly template and use it as a fun coloring sheet activity and then glue the pieces of the butterfly craft together.
Free Printable Butterfly Craft Template
This beautiful free printable butterfly craft template comes with two different versions for your little one.
We have the black and white butterfly template for your child to fill it up with colors and the easy cut-and-paste colored butterfly drawing template.
Don't forget to share your learning plans in the comments.
Need more insect and bug fun? Check out our packed list of insects and bugs for simple craft fun with your little ones.  
When you have finished, be sure to share your creation on Simple Mom Project's Facebook Page and follow me on Pinterest!

Kaitlen D.
More Exciting Bug Crafts