Looking for easy craft activities that will keep your children productive during the weekend?
Look no further!
This simple printable dragon paper bag puppet template is a great way to practice scissor skills and color recognition.
Make amazing preschool crafts together with your little one to create a special bond.
Get a pack of crayons and color this black and white printable dragon template.
If you would prefer your child not to color in, use the full color version of the dragon craft template.
We included a short tutorial video and step-by-step instructions to guide your kids as they build their own paper bag dragon puppet.


*By the way, this post may contain affiliate links which means I may receive a small commission at no additional cost to you if an item is purchase through that link. For more information, click here.*
Printable Dragon Paper Bag Puppet Craft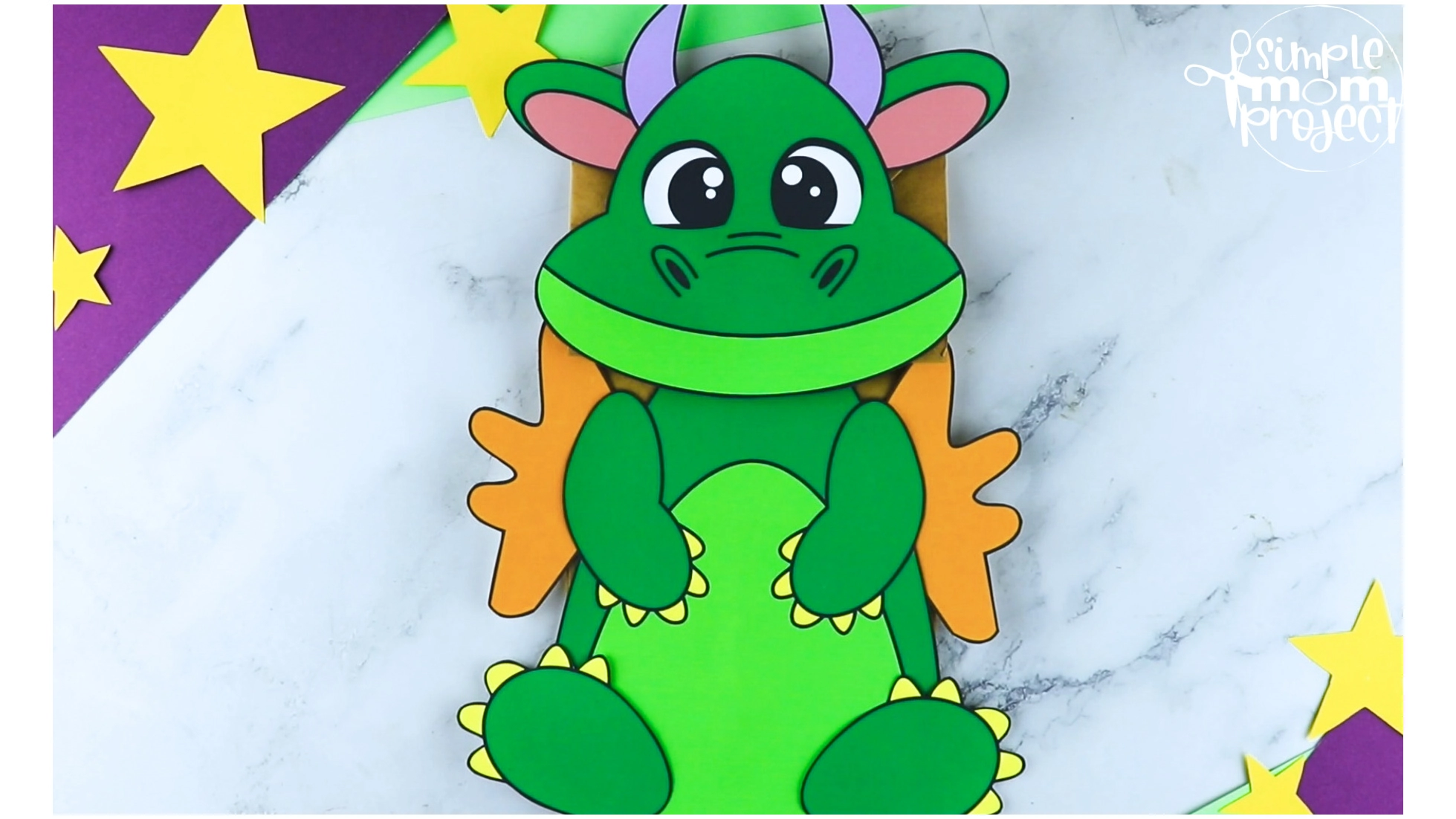 Dragon Craft Supplies Needed
Need more crafty fun? Check out our Princess Paper Bag Puppet
.
 T
hey are perfect for those days when staying indoors is the only thing your family can do!
Ideas for Easy Preschool Paper Dragon Craft
Let's take a look at these brilliant ideas on how to include this basic printable dragon paper bag puppet template in your child's everyday life.
1. Best Dragon Fantasy Books
If your kids love playing with this basic printable dragon paper bag puppet, we are confident they also want to hear incredible dragon stories too.
Reading to our little one helps them grow their curiosity and memory.
We highly recommend these fantasy dragon books that will surely be loved by your kids.
2. Build a Child's Imagination
Did you know that this dragon puppet is great to develop your child's imagination?
First, let your kids enjoy the process of coloring, cutting and sticking the pattern together.
When they are done, set-up a mini puppet theater to play with their dragon puppet craft.
Let your kids expand their imagination by making scenarios while playing with this dragon paper bag puppet.
You'll be surprised that they will gain a lot of benefits from this pretend-play.
For more printable paper bag puppet templates to include in your pretend play, try these:


3. Friendly Dragon Bedroom Décor
Let your kids' creativity flow, and see what else they can come up with this basic printable dragon paper bag puppet template.
You can use the printable dragon template as your child's wall décor or table display.
Add decorative items such as ribbons, glitters, sequins or stickers to make your dragon craft stand out.
The most fun part is, you can combine it with recycled materials to make a delightful variety of craft projects.
4. Learn the ABCs: D is for Dragon
Arts and crafts projects can be a fun way to educate children.
Use this simple printable dragon paper bag puppet template to teach the alphabet letters, especially the letter D.
Help them to recognize the letter D, then teach them how to correctly pronounce the word "dragon."
Encourage your kids to list down the basic words they know that start with the letter D.
These are just some of the amazing ideas on how to maximize the use of this dragon paper bag puppet craft.
We're confident that you and your little one will have a lot of fun!
Dragon Paper Bag Puppet Instructions
We know your kids are excited to build their dragon puppet so make sure to gather all the crafty materials.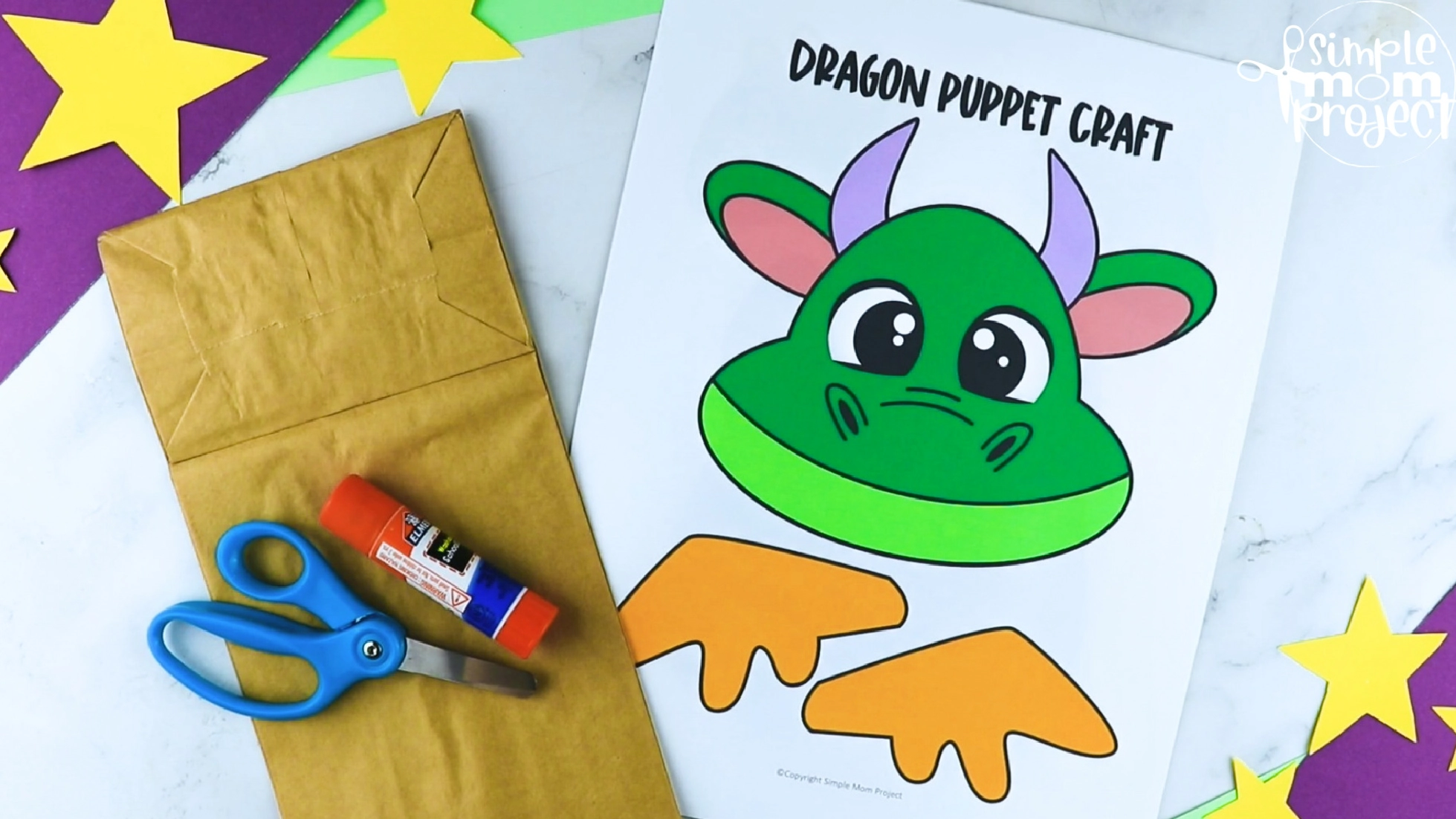 Purchase and download the two versions of dragon hand puppet printable now.
If you think your child is ready to hold a pair of scissors, let them cut out the pattern pieces.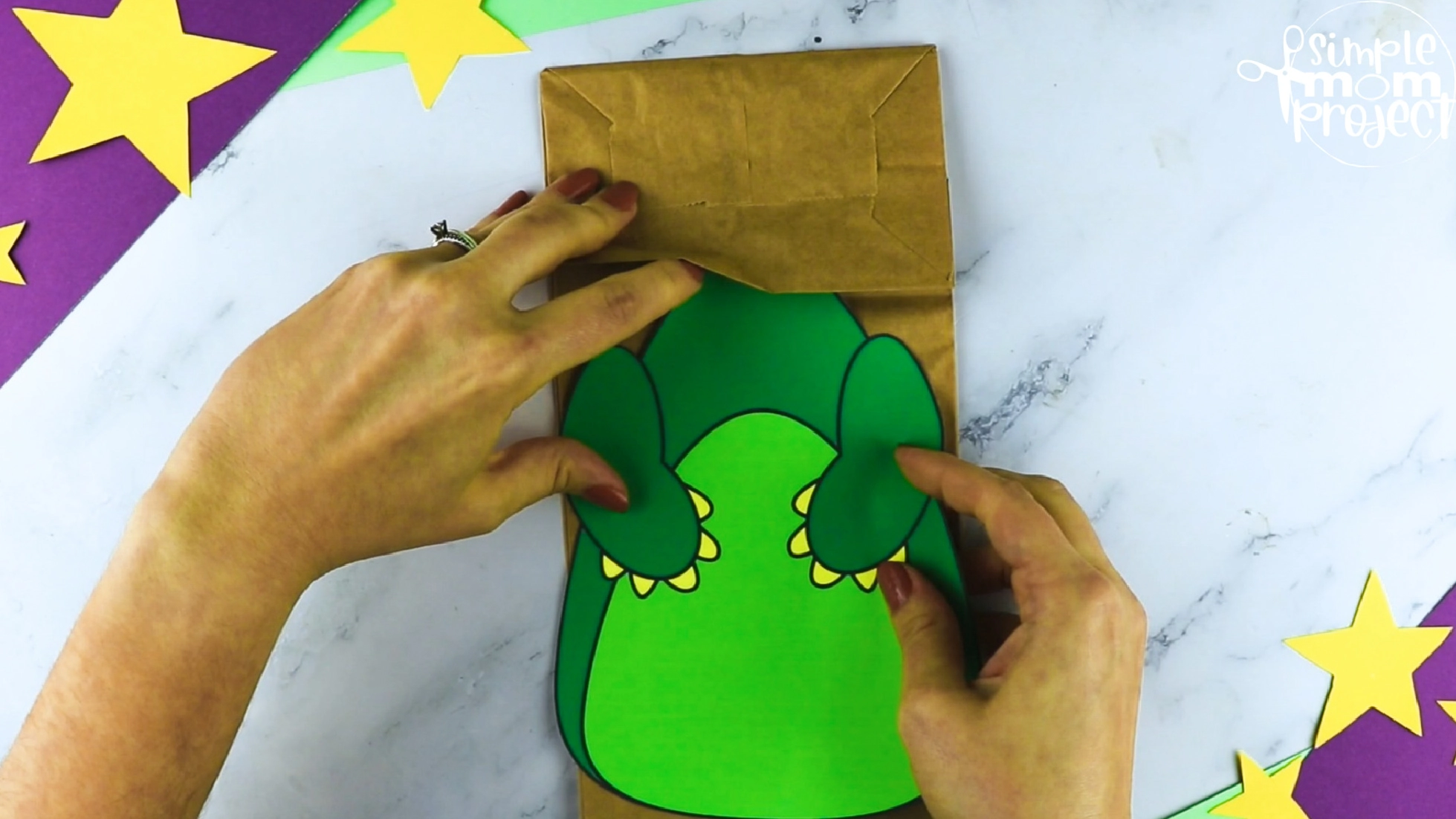 Start gluing the dragon's body onto the brown paper bag.
Next, glue on its adorable legs on each side of the body.
Attach the dragon's little wings at the back of its body.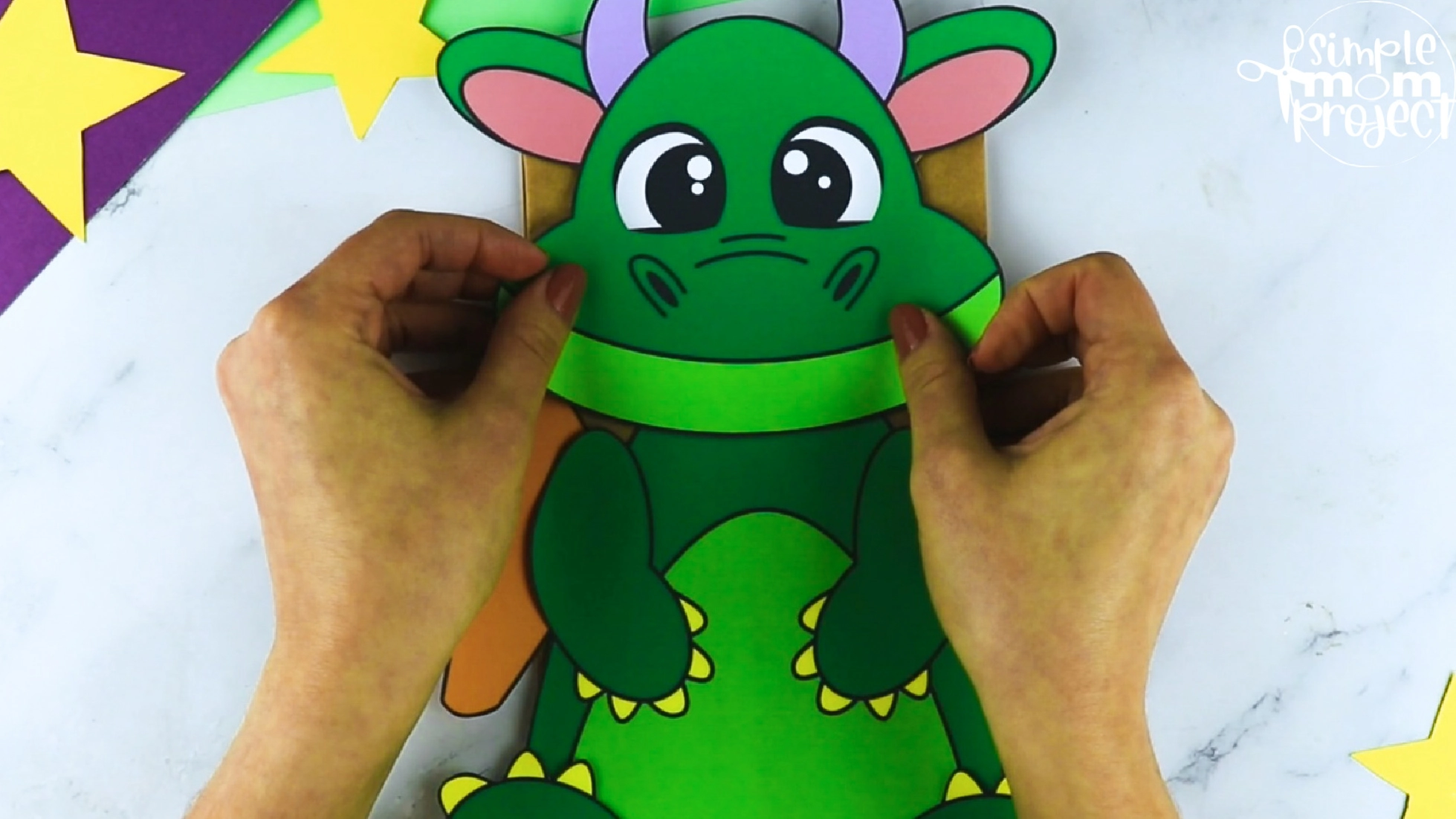 Lastly, glue on the head of the dragon and your paper bag dragon puppet is complete.
This friendly dragon puppet craft is so easy that even toddlers can do it!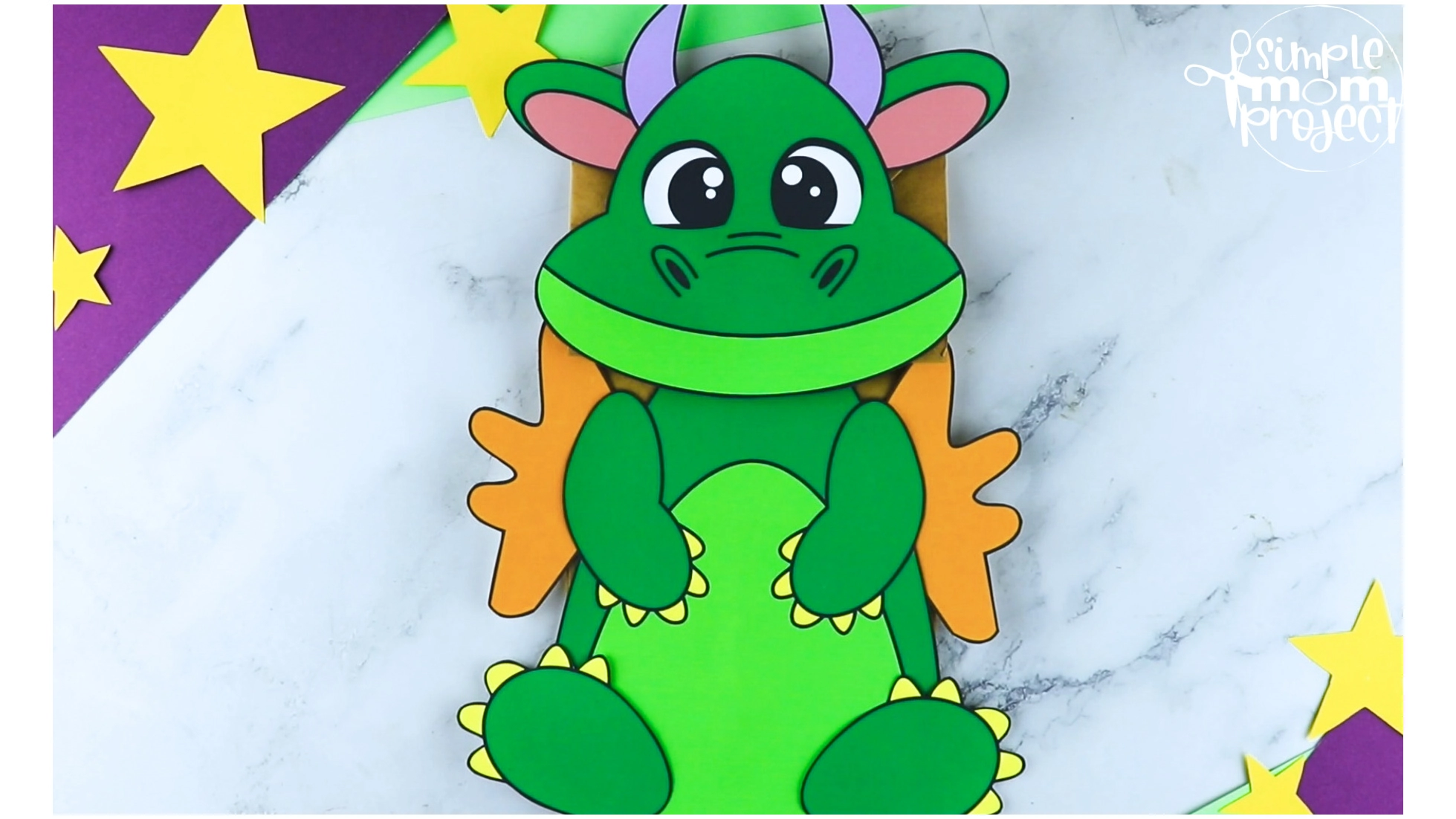 More Options to Choose:
You can print the blank version and trace the cut outs on card stock paper for a sturdier dragon paper bag puppet craft,
Print the dragon template in color for a simple and easy rainy day craft or,
Print the blank dragon template and use it as a fun coloring sheet activity and then glue the pieces of the dragon craft together.
Printable Dragon Paper Bag Puppet Template

This printable friendly dragon craft template is so adorable it came with two versions.
We have the basic black and white dragon template where your child cam color in however they would like.
Then, we have the colored dragon template where they can directly cut it out.
Don't forget to share your learning plans in the comments.
Need more puppet fun? Check out our packed list of paper bag puppets for simple craft fun with your little ones.  
When you have finished, be sure to share your creation on Simple Mom Project's Facebook Page and follow me on Pinterest!

Kaitlen D.
More Fun Printable Craft Templates