We know you and your children are having the best time working on our cut and paste flower printable templates, but did you know we have a cactus template too?
This free printable giant cactus craft template is the ideal activity to keep the kids busy during the weekend.
Making this cut-and-paste printable cactus craft template will inspire your kids to create a variety of cool craft projects like handmade mini succulent clay, popsicle stick cactus plant, handprint cactus and more.
We included a simple instruction below and step-by-step tutorial video to guide your preschooler.
Get the two versions of this basic printable cactus craft template for a productive weekend activity!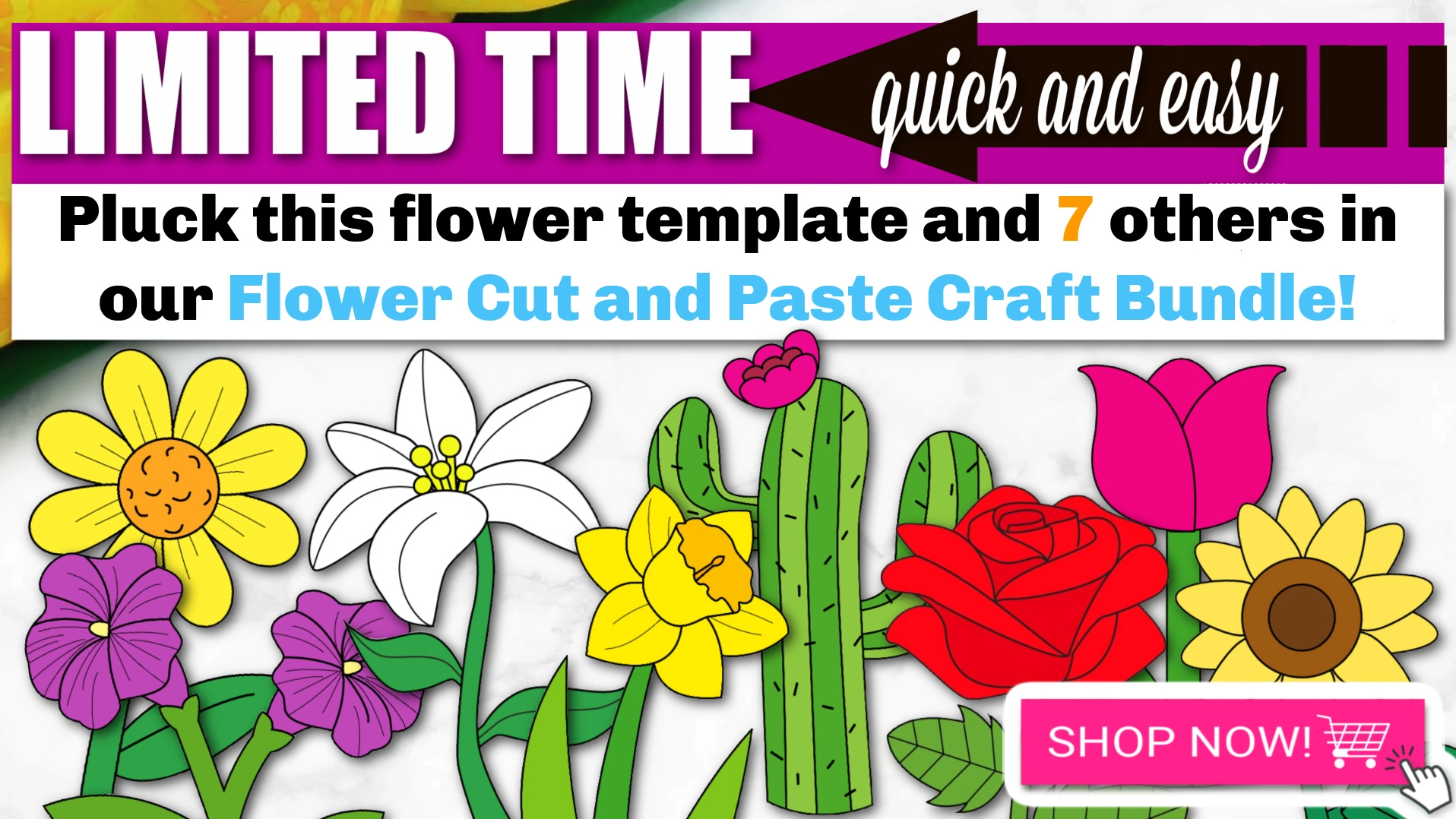 Need more crafty fun? Check out our Lily, Daffodil and Spider craft.
 T
hey are perfect for those days when staying indoors is the only thing your family can do!
*By the way, this post may contain affiliate links which means I may receive a small commission at no additional cost to you if an item is purchase through that link. For more information, click here.*
Free Printable Cut and Paste Cactus Craft
Ideas for Easy Preschool Paper Cactus Craft
Let's take a look at these awesome ideas on how to include this free printable cactus craft template in your child's everyday life.
1. Amazing Cactus Facts
Cactus is a spiky green plant that usually grows in the desert.
Use our simple printable giant cactus craft template if you're planning to study flowers and plants with your little learner.
Did you know that there are 1,500 to 1,800 species of cactuses found in the world?
Cacti can live for many years; some live for only 10 years and some can survive for up to 200 years!
Did you know that cacti have great ability to store large amounts of water?
Which means cactus can live for over a year without rain!
How cool is that!
Cactus doesn't have leaves, instead it has pointy spines.
The spines protect the cactus from animals and birds.
2. Best Kids' Books About Cactus
Reading aloud to kids helps them with language and speech development.
Perhaps reading stories as often as possible is one of the best ways to help your little one explore, express, understand emotions, problem-solving and much more.
If you're trying to find good books for your children to read, we highly recommend the following: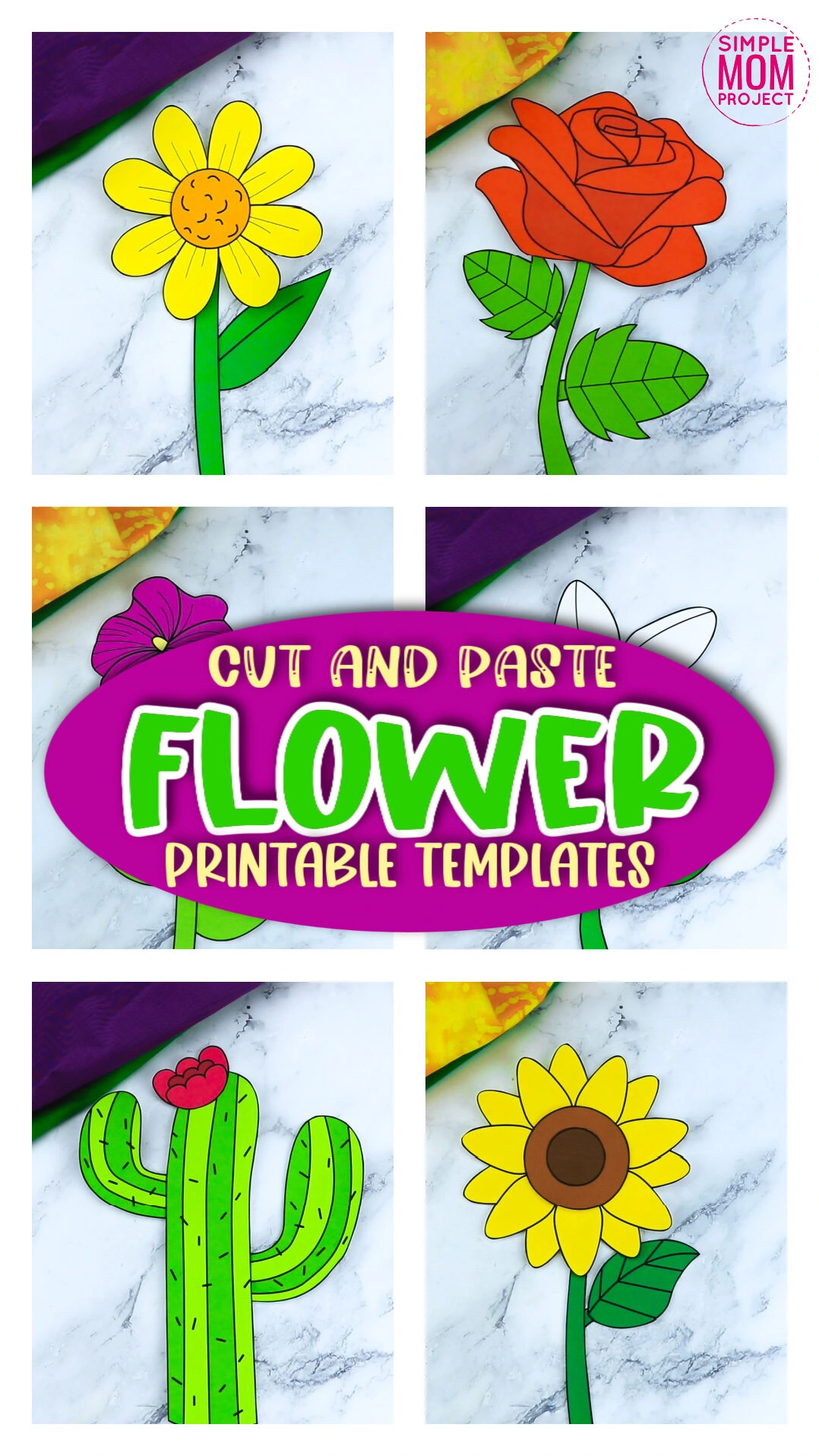 3. Cool Cactus Handprint Art
Creating a cute cactus handprint art is as easy as color, cut and glue.
Grab all the classic supplies and let's encourage our little one to be creative!
Start tracing one of your child's hands onto a green cardboard then cut the handprint out.
Use the black marker to draw the spines or thorns all around the handprint.
Glue on colorful pom pom balls onto the handprint.
Create a flower pot using a recycled plastic bottle and have your little one paint it.
Put small rocks in the painted plastic bottle and insert the handprint cactus into the flower pot.
Your lovely handprint cactus is ready to display anywhere in your living room.
4. Toilet Paper Roll Cactus Craft
This DIY toilet paper roll cactus craft is made with household supplies you probably already have at home!
First, have your child paint the toilet paper roll green then leave it for a few minutes to dry.
Cut two cactus arms out from green felt paper and glue it on the paper roll.
Using a black marker, draw the thorns and a smiley on the paper roll.
Glue on the googly eyes for a goofy look!
Put the finished green cactus in a small flower pot full of rocks.
Add decorative items if you want to make the adorable cactus craft stand out.
Enjoy all these creative cactus craft ideas with your little crafters.
We are always happy to be part of your fun weekend activity!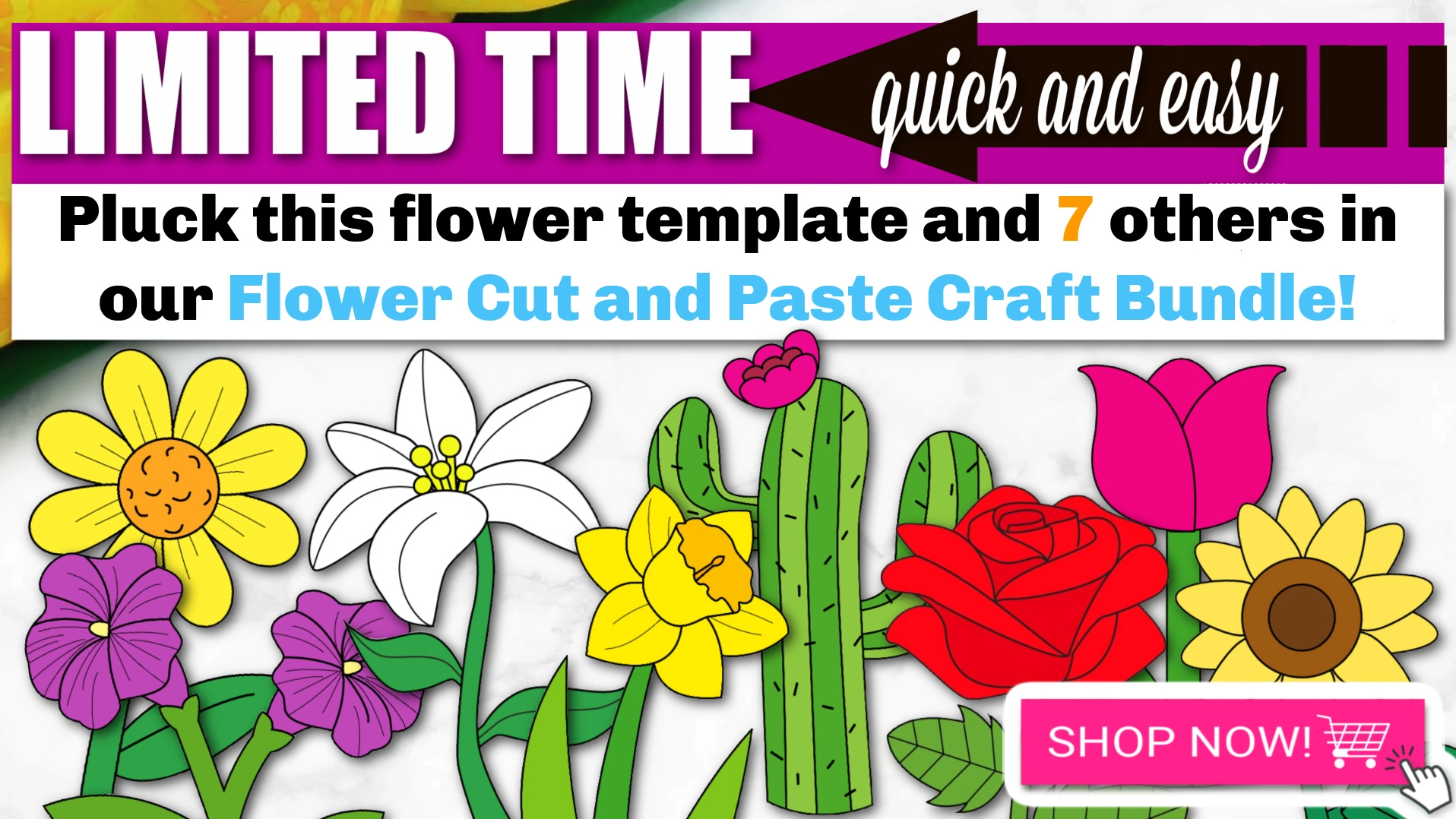 Cactus Craft Supplies Needed
Printable Cactus Template (FOUND AT THE BOTTOM)
Keep scrolling to get your very own cactus craft today and start with your little ones and their own cactus craft today!
Cactus Craft Instructions
Let your child pick which version of this simple printable saguaro cactus they want to create first.
Download and print it on a white sheet of paper.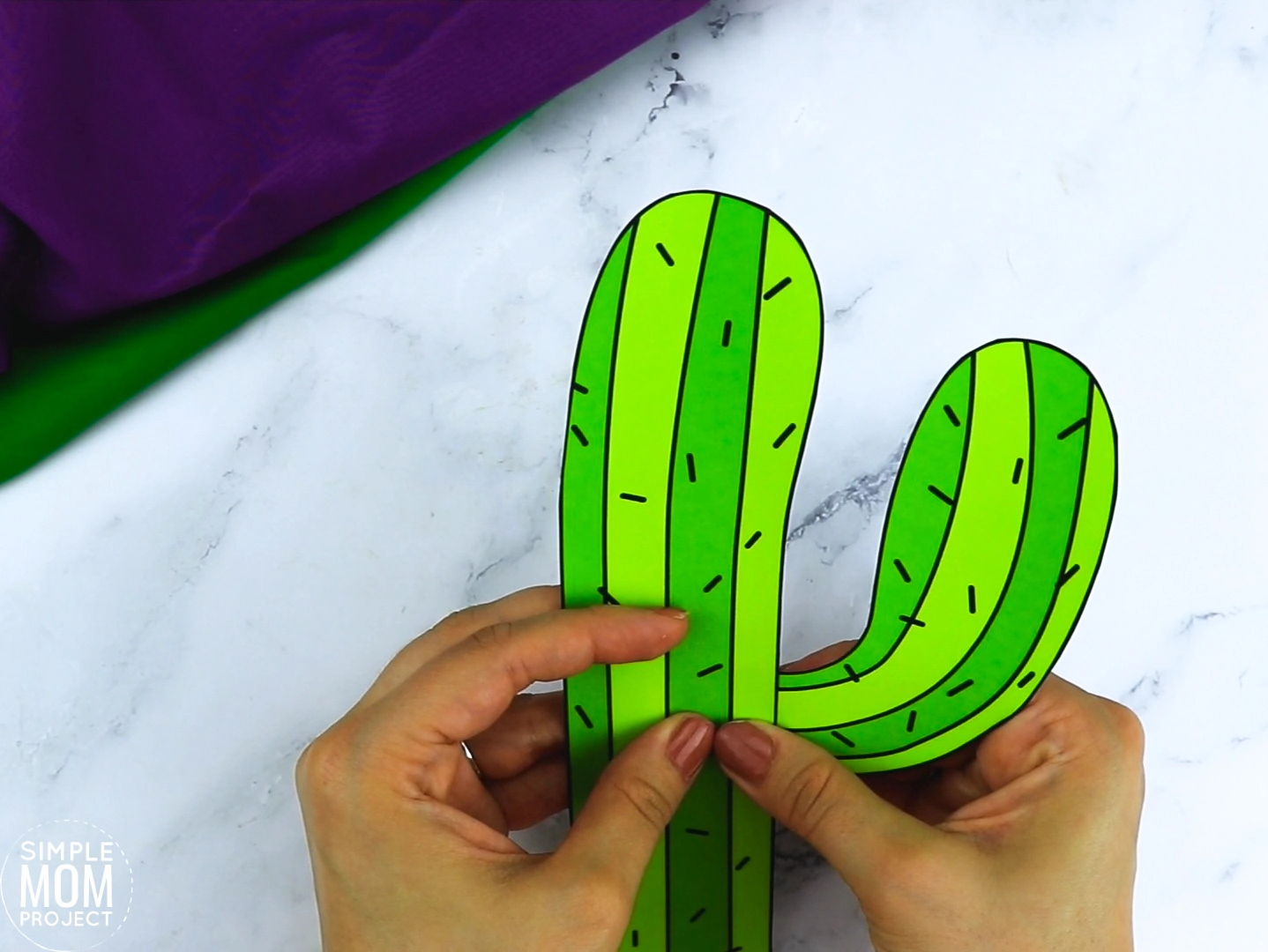 Using a pair of scissors, cut each part of the giant saguaro cactus out from the printable template.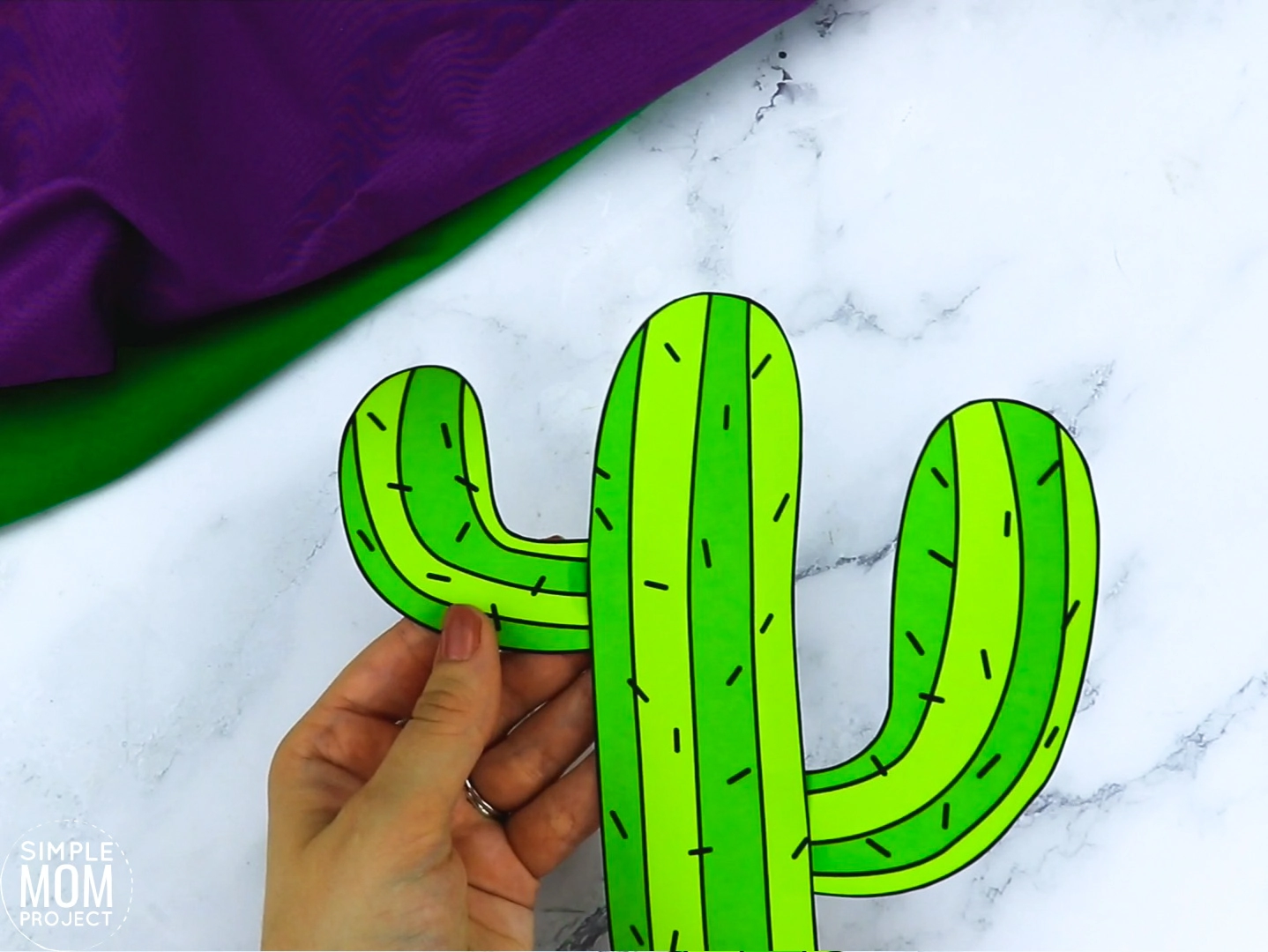 Glue on the arms of the cactus to its trunk or stem.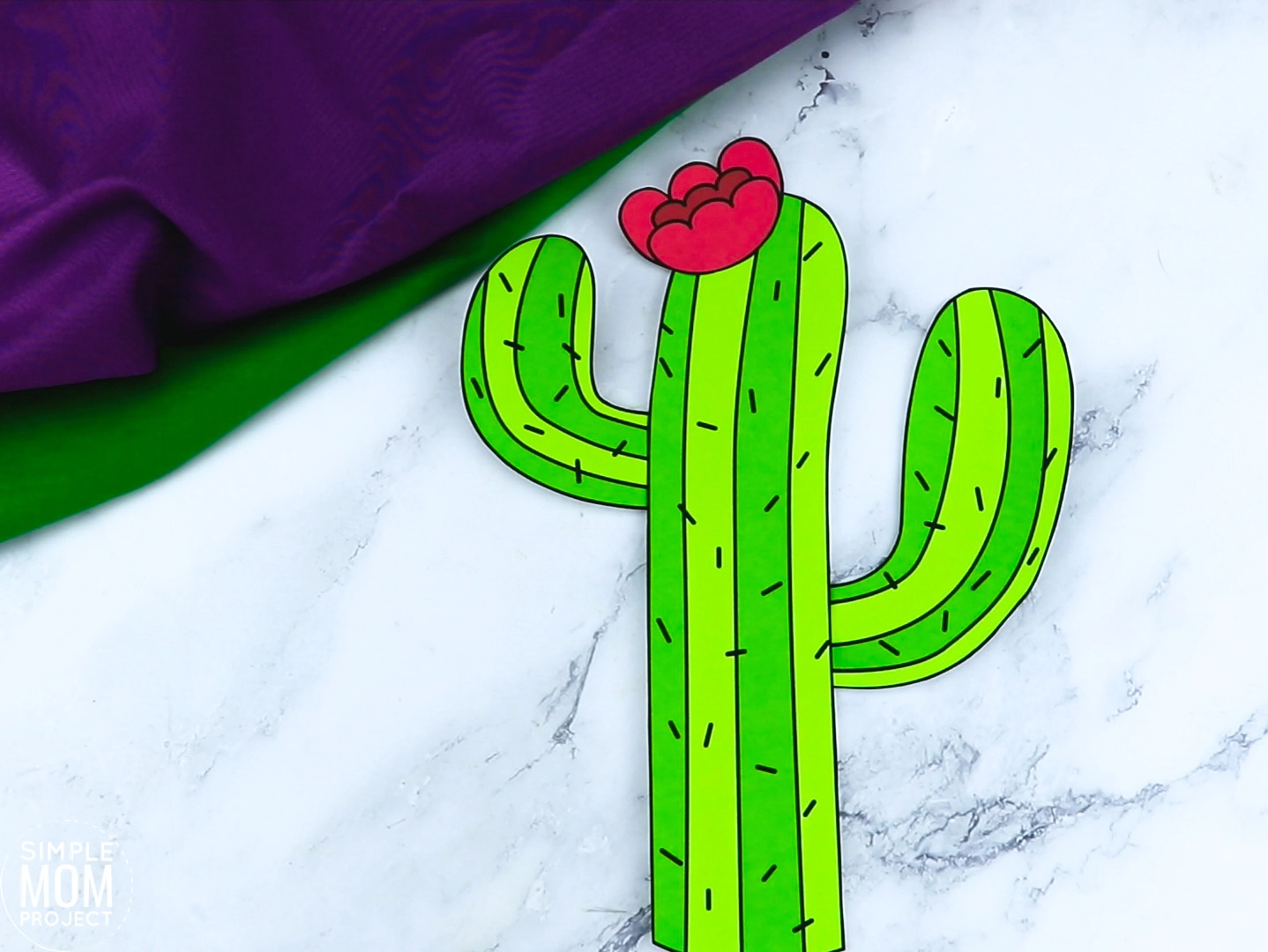 Then, glue the fruit on top of the stem.
This cut and paste cactus craft activity is fun and easy for all ages!
More Options to Choose:
You can print the blank version and trace the cut outs on card stock paper for a sturdier cactus craft,
Print the cactus template in color for a simple and easy rainy day craft or,
Print the blank cactus template and use it as a fun coloring sheet activity and then glue the pieces of the cactus craft together.
Free Printable Cactus Craft Template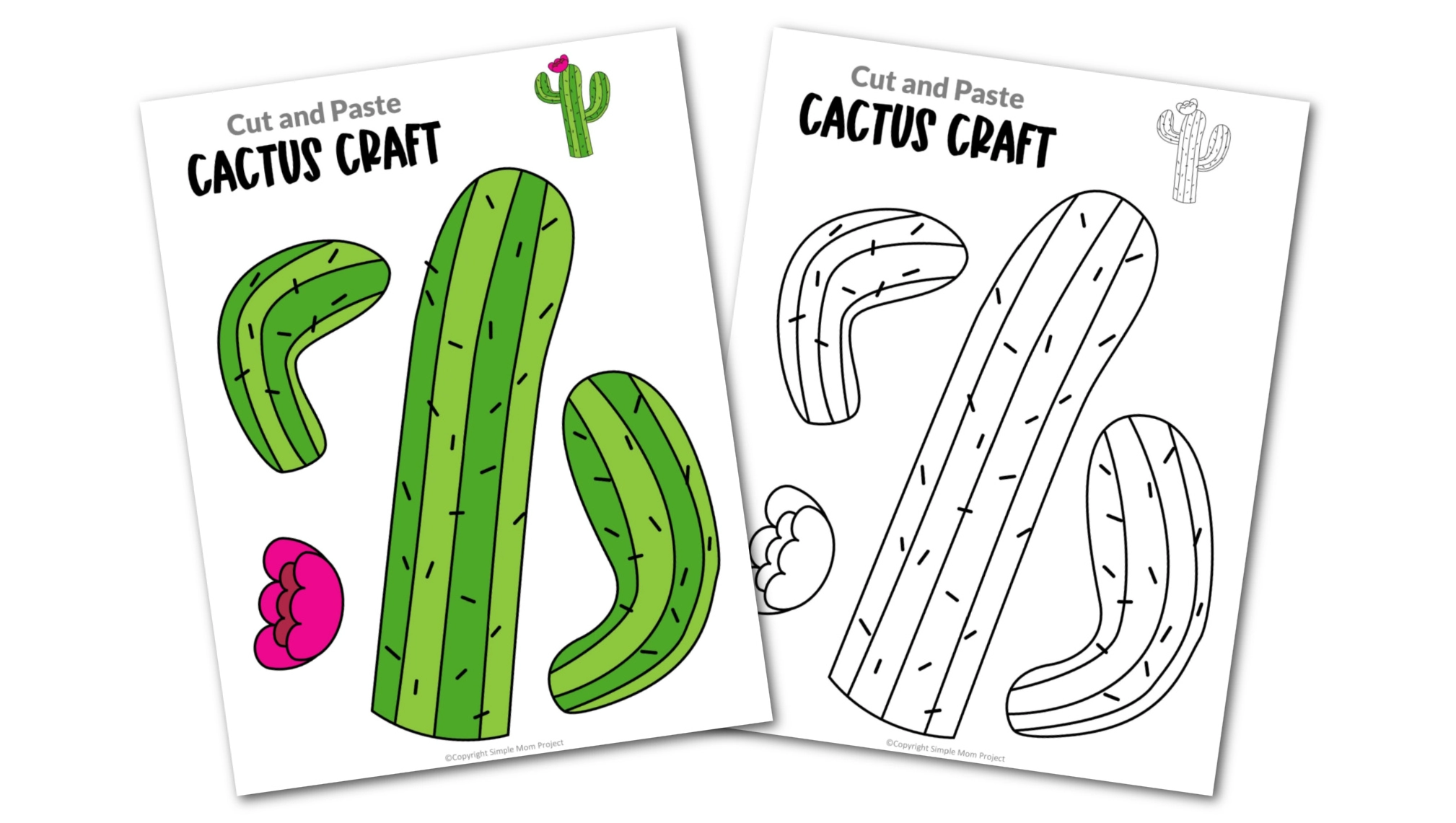 Wondering what makes this free printable cactus pattern craft template extraordinary?
It has two different versions for your toddler, preschool and kindergarten to choose.
We got the basic black and white cactus drawing template where your little one can fill it in with beautiful colors and the green cactus template if they want to directly cut and paste all the pattern together.
Don't forget to share your learning plans in the comments.
Need more lovely flower fun? Check out our packed list of flowers for simple craft fun with your little ones.  
When you have finished, be sure to share your creation on Simple Mom Project's Facebook Page and follow me on Pinterest!

Kaitlen D.
More Beautiful Flower Crafts