Are you looking for exciting ways to keep your little one active during the rainy days?
Today, we are going to share this free printable barn craft template suitable for kids of all ages.
Making this easy cut-and-paste barn craft template gives your child the chance to work on their fine motor skills, hand-eye coordination, concentration and creativity.
Cut the barn shape and use it for coloring, stencils, art projects, seasonal décor and more!
This simple printable barn craft template is also an ideal activity if you're teaching your children the /B/ sound and how to write the uppercase and lowercase letter b.
Check out the step-by-step instructions or watch the tutorial video as you make your own barn craft. You only need a few crat items in your treasure box to make this simple barn craft!


Need more crafty fun? Check out our Horse, Goat and Pig craft.
 T
hey are perfect for those days when staying indoors is the only thing your family can do!
*By the way, this post may contain affiliate links which means I may receive a small commission at no additional cost to you if an item is purchase through that link. For more information, click here.*
Free Printable Cut and Paste Barn Craft
Ideas for Easy Preschool Paper Barn Craft
We're happy to share these amazing ideas on how to include this free printable big red barn craft template in your children's everyday life.
1. Our Favorite Farm Books for Kids
Boosts your child's brain development, vocabulary and language skills by reading them their favorite story books.
Choose a book that's a good fit to your child, usually with many pictures so they can point and name it, or let them pick which book they like.
When your child is done working on this simple printable barn craft activity, check out these farm books for preschoolers.
2. Barnyard Animal Cookies
If you are going to bake some delicious cookies this weekend, we've got some wonderful designs for you!
After making this easy cut-and-paste barn craft template, encourage your little kids to help you in the kitchen.
Gather all the special supplies, especially the barn and farm animal cookie cutters.
Enjoy eating freshly baked cookies while making other farm animal printable templates on a weekend afternoon.
You can also pack these barnyard animal cookies in a plastic container and use it as gifts to your loved ones.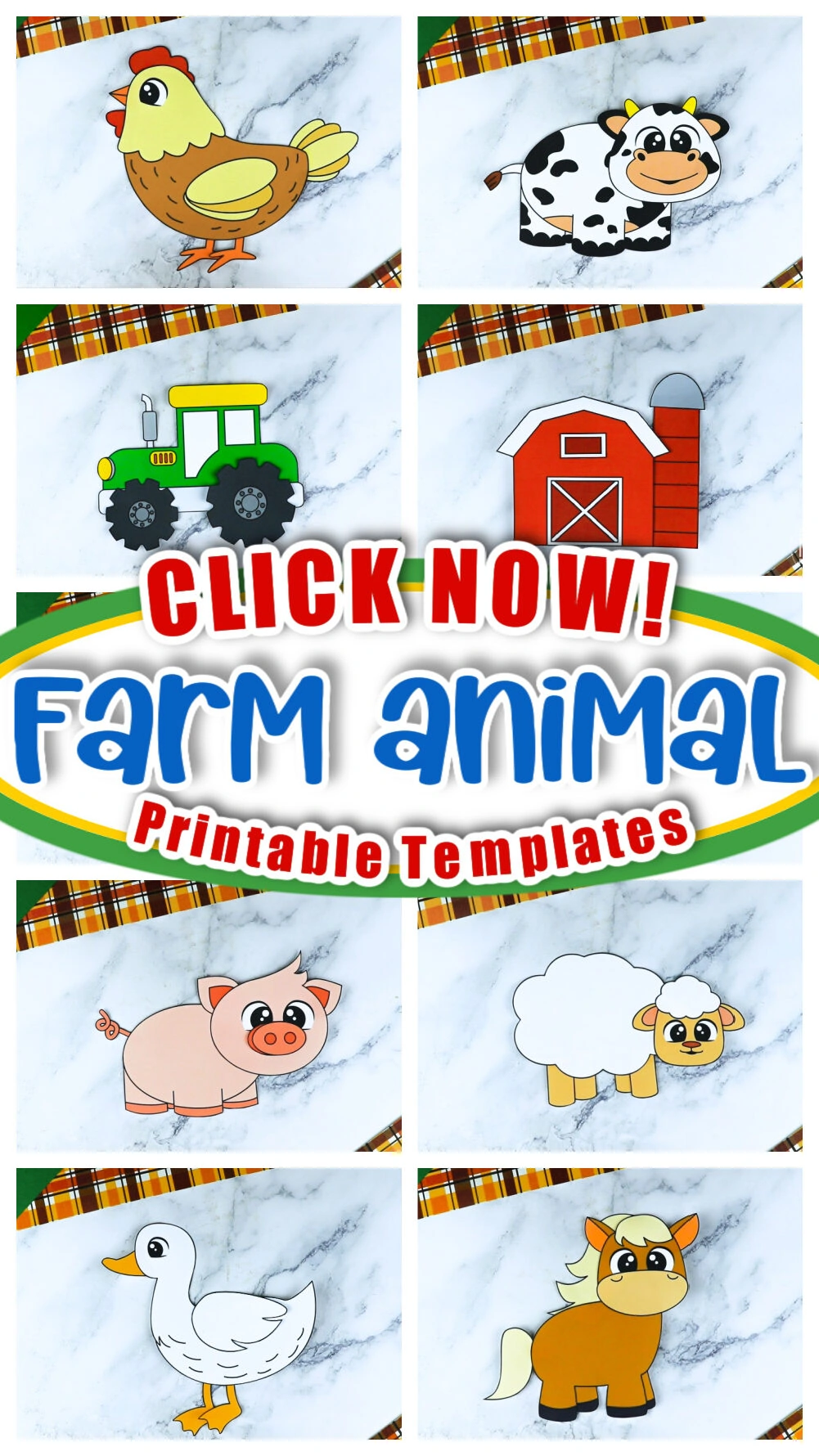 3. Farm Animals Lesson Plan
Are your kids studying the different farm animals in their classroom?
If so, be sure to include this free printable barn craft template as it gives many purposes to the farm animals.
Once your student is done coloring, cutting and pasting the pieces of this paper barn craft, tell them the importance of a barn or sing-along with the nursery rhyme "Old Macdonald."
Inside a barn, you will see the common domestic animals and storages of agricultural products like hay, grain, and fruits.
Plan to visit a farm barn once in a while to let the kids enjoy nature and learn about the things that surround them.
4. DIY Popsicle Stick Barn Craft
Creating this barn paper craft is as easy as color, cut and glue.
The most fun part is, you can combine it with classic craft supplies such as construction paper, cardboard, paper plates, popsicle sticks and more.
Start tracing this easy printable barn craft template on cardboard and cut it out.
Glue two popsicle sticks to each side, top and bottom of the cut-out cardboard barn craft.
For the roof, form a triangle using popsicle sticks and secure it with glue.
Have your child paint the barn craft red and add decorative items, like glue some raffia on the bottom part of the barn.
Now, your children have a barn craft collection they can play with for hours.
If you want to add new characters to visit your adorable big red barn craft, check out these printable templates:
We hope you love some of our cute art and craft ideas in using this free printable barn craft template with your little ones.


Barn Craft Supplies Needed
Printable Barn Template (FOUND AT THE BOTTOM)
Keep scrolling to get your very own barn craft today and start with your little ones and their farm animal craft buddies today!
Barn Craft Instructions
Grab all the classic craft supplies and sit down with your kids for a fun craft activity!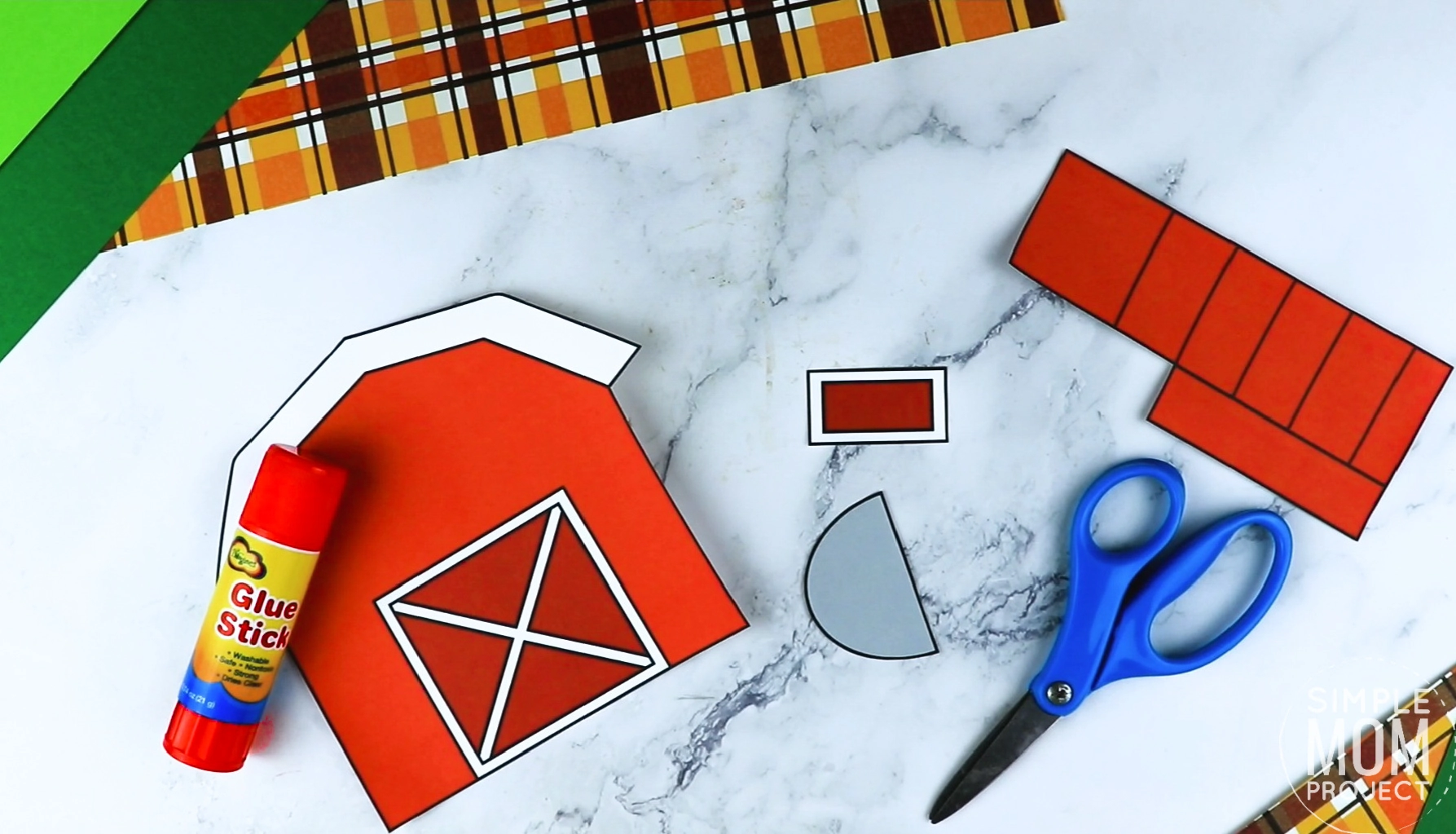 Download and print out the easy printable barn craft template on a white sheet of paper.
Work on those scissor skills by letting your child cut the barn pattern into individual sections.
Using a glue stick, attach the silage tower next to the preschool farm barn.
Glue the window onto the farm barn and your paper craft barn is finished.
Be sure to shelter and feed all your farm animals in this big red barn craft.
More Options to Choose:
You can print the blank version and trace the cut outs on card stock paper for a sturdier barn craft,
Print the barn template in color for a simple and easy rainy day craft or,
Print the blank barn template and use it as a fun coloring sheet activity and then glue the pieces of the barn craft together.
Free Printable Barn Craft Template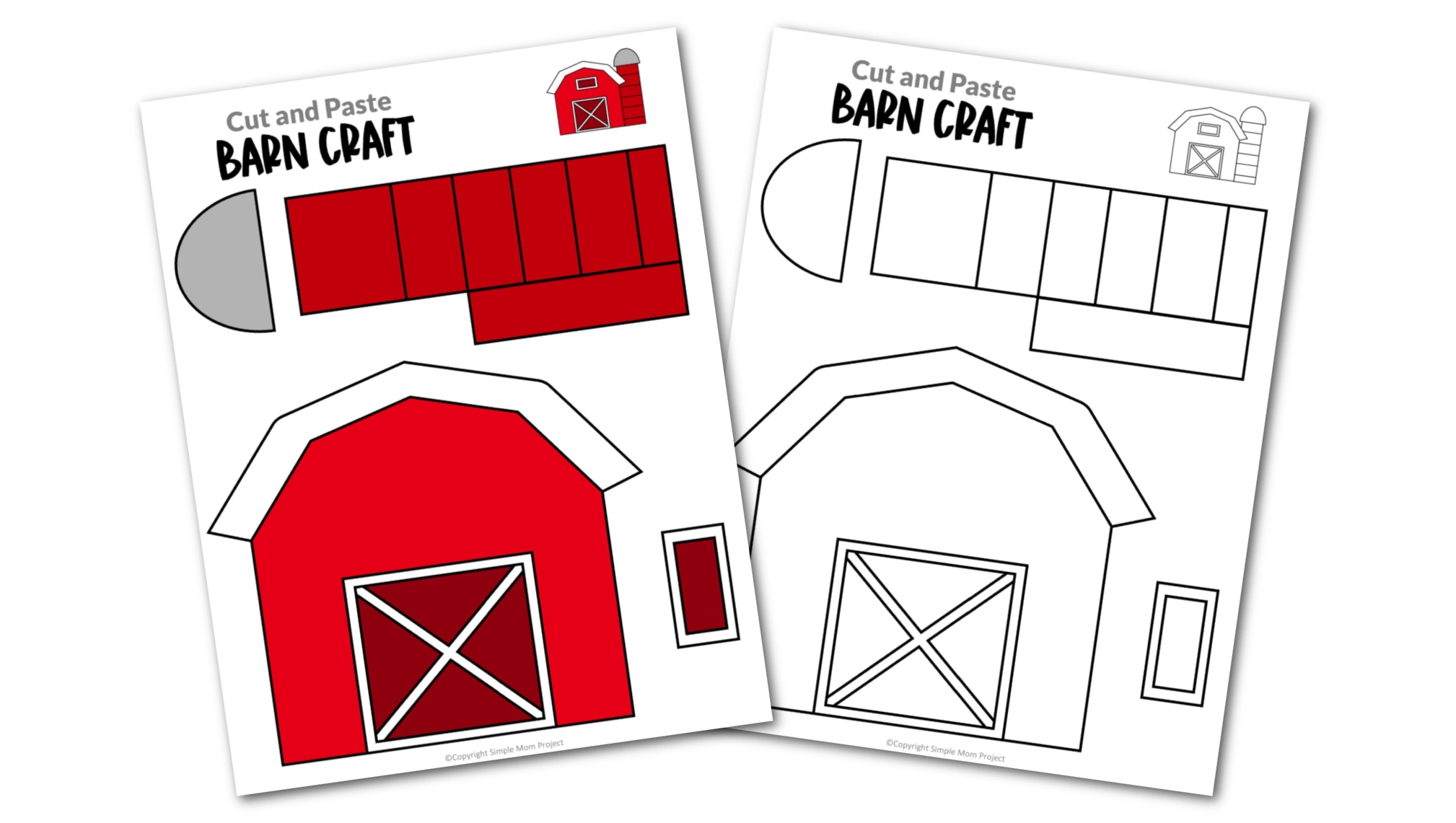 What makes our free printable barn template unique?
It comes with two different versions for your toddler, preschool and kindergarten kids to choose.
We have the plain black and white barn drawing template for younger children to scribble with different colors.
We also have the colored barn craft template for kids who want to directly cut and paste all the template pieces.
Don't forget to share your learning plans in the comments.
Need more farm animal fun? Check out our packed list of farm animals for simple craft fun with your little ones.  
When you have finished, be sure to share your creation on Simple Mom Project's Facebook Page and follow me on Pinterest!

Kaitlen D.
More Fantastic Farm Animal Crafts