The Lion King was one of my favorite Disney movies as a child.
Timon and Pumbaa are my favorite characters, I grew up singing along with them the song Hakuna Matata.
I want my children to know the amazing storyline of this classic Disney movie.
How Simba defeats his uncle, Scar and takes his rightful place as king.
That's why we came up in adding this free printable king craft template to your royal family collection.
Get ready because we are putting together some brave king craft fun on the weekend!
This preschool activity will help strengthen your parent-child bond.


Need more crafty fun? Check out our Queen Craft, Princess Craft and Prince Craft.
 T
hey are perfect for those days when staying indoors is the only thing your family can do!
*By the way, this post may contain affiliate links which means I may receive a small commission at no additional cost to you if an item is purchase through that link. For more information, click here.*
Free Printable Cut and Paste King Craft
Ideas for Easy Preschool Paper King Craft
We'd love to share with you these great ideas on how to incorporate this free printable king craft template in your daily life with your little ones.
1. Letter K for King
Looking for educational activity for your preschoolers and kindergarteners?
This simple free printable king craft template is the perfect activity to do during the weekend as we teach them their basic alphabet and include fun activities so they can easily remember every lesson.
Once your little one is done making this easy cut and paste king craft template, you can display it on their learning board.
Print a large letter K as part of your visual aid. Teach them how to pronounce and spell the word "King."
2. Bedtime Fantasy Stories
Children are always excited to read or hear some fictional stories before going to bed.
The more your little learners enjoy reading, the more they will read.
So, let them pick the book they want as per their interest.
This activity will improve your children's language skills.
If your children are fans of fictional or fantasy stories, too. Here are the few lists of my kids' favorite books.


3. King's Crown Craft for Kids
My kids are having a great time making this free printable king craft template.
We thought it would be fun to make our own King's crown!
Take out all the common craft items you probably already have at home like construction papers or cardstock papers, glue, scissors, crayons and other supplies.
Trace or draw the king's crown onto the cardstock paper, then start cutting it.
If your little one likes to color or paint their crown, draw it on a white cardstock paper.
Measure the crown around your little king's head and glue the ends together.
Decorate the crown as long as you want.
4. Easy Preschool King Crafts
Do you want more easy DIY king crafts for your kids?
Let's make more cute little kings out of recycled toilet paper rolls.
Use strings as the king's hair and glue it on top of the toilet roll.
Add some cotton balls as the king's beard then make a little golden crown for the king.
You can also add googly eyes to make it more entertaining.
For the king's suit, you can either wrap a colored paper or let your child paint half of the toilet paper roll.
Your little one can play with this adorable king craft afterwards.
We hope you enjoyed this amazing cut and paste king craft ideas that we listed.
We are confident your kids will ask for more printable king craft templates.


King Craft Supplies Needed
Printable King Template (FOUND AT THE BOTTOM)
Keep scrolling to get your very own king craft today and start with your little ones and their royal character craft buddies today!
King Craft Instructions
Let your child pick which free printable king craft template they want to make first.
If they chose the plain template, take out all the coloring materials they needed.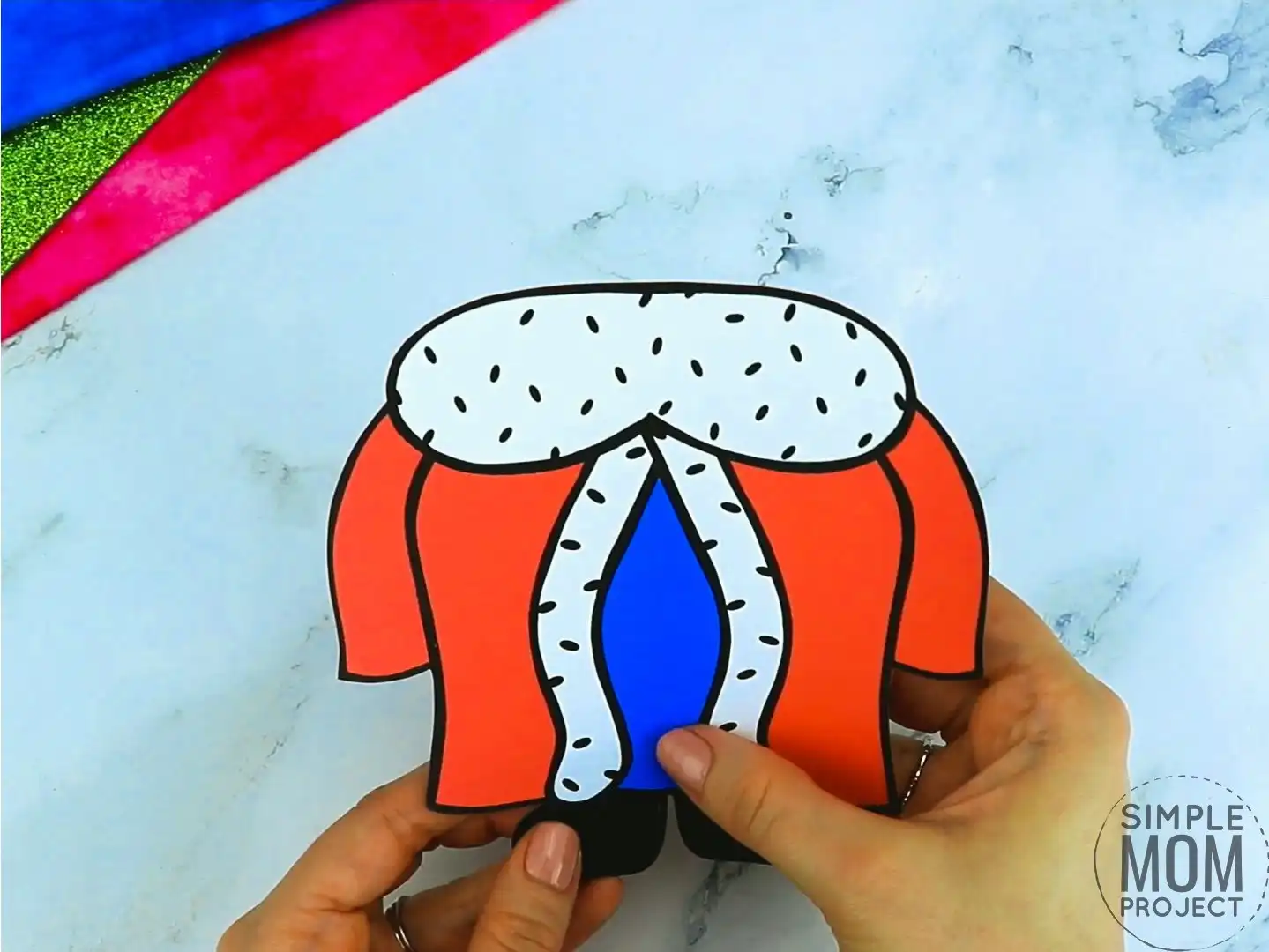 If you think your preschooler or kindergartner can properly hold a scissor, let them cut the king craft template into individual sections.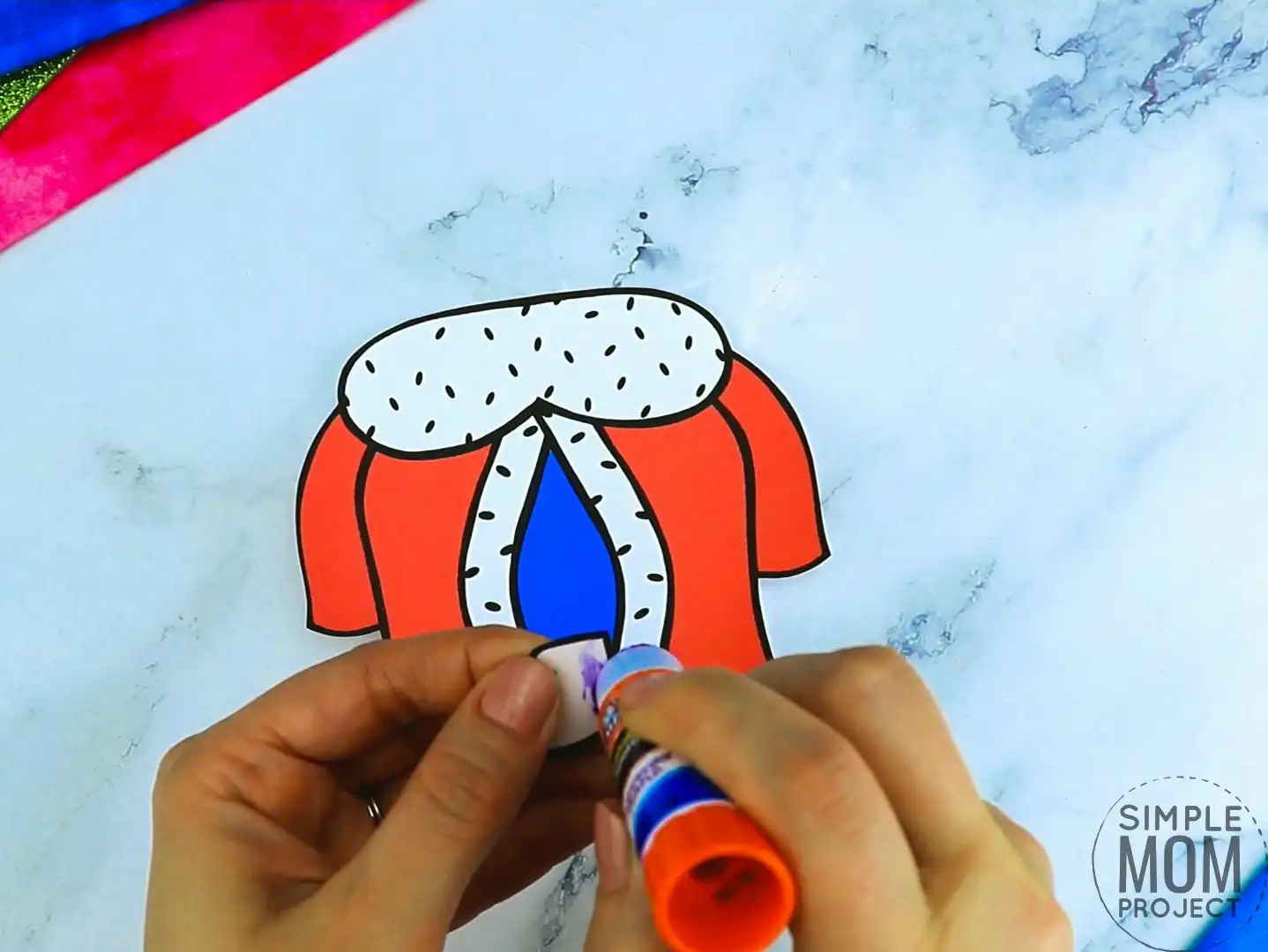 Start gluing the shoes on the bottom of the king's robe.
Glue the king's hands on each side of the body.
Next, glue his head on top of the body.
Then, glue the beard onto his face.
And lastly, don't forget the king's crown on top of his head.
Your royal king is finally ready to rule the kingdom. It's really easy and quick to make!
Your children will definitely have fun cutting and pasting this craft.
More Options to Choose:
You can print the blank version and trace the cut outs on card stock paper for a sturdier king craft,
Print the king template in color for a simple and easy rainy day craft or,
Print the blank king template and use it as a fun coloring sheet activity and then glue the pieces of the king craft together.
Free Printable King Craft Template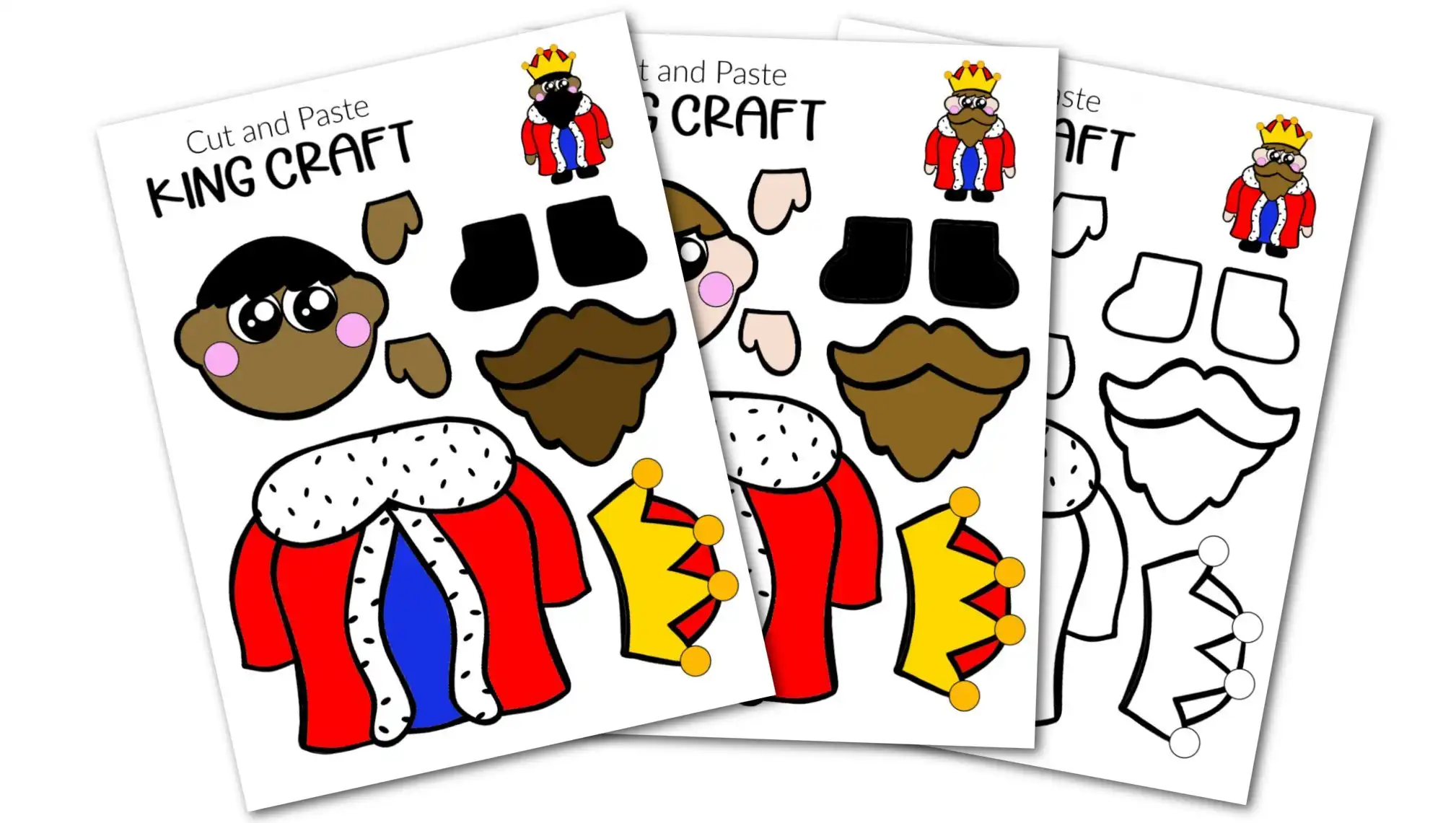 Want to keep your kids away from mobile devices?
Download and print all versions of this free printable brave king craft template.
We got the black and white king craft template and the colored king craft template where you can easily cut and paste it.
Don't forget to share your learning plans in the comments.
Need more storybook character fun? Check out our packed list of storybook characters for simple craft fun with your little ones.  
When you have finished, be sure to share your creation on Simple Mom Project's Facebook Page and follow me on Pinterest!

Kaitlen D.
More Storybook Character Crafts