Kids love arts and crafts, experimenting with different colors and gluing cut-out pieces.
That's why we come up in creating and sharing these printable alligator puppet craft templates with you!
Building your own friendly alligator paper bag puppet craft is as simple as color, cut and glue.
This easy cut-and-paste activity is great for enhancing your preschooler's imagination, creativity, focus and fine motor skills development.
With our printable alligator puppet pattern craft, you can learn the fun facts about alligators and other zoo animals, make a variety of alligator craft projects, host a puppet show or organize a wild animal themed party.
You don't have to guess on how to build your own alligator paper sack puppet because we included a video tutorial and step-by-step pictures with written directions in this post.
So, prepare for an exciting and productive weekend by sharing our printable alligator templates to your family and friends!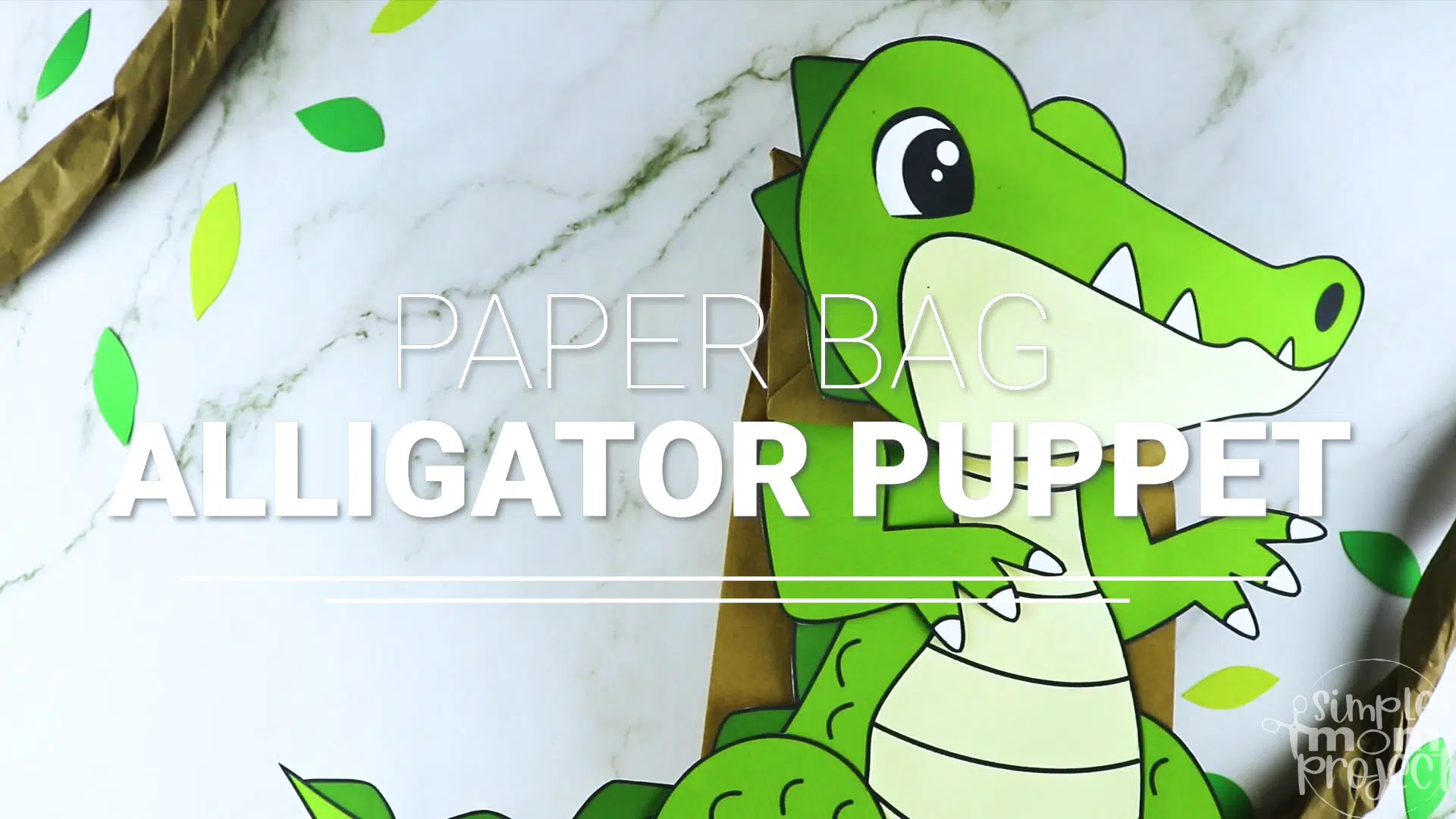 *By the way, this post may contain affiliate links which means I may receive a small commission at no additional cost to you if an item is purchase through that link. For more information, click here.*
Printable Alligator Paper Bag Puppet Craft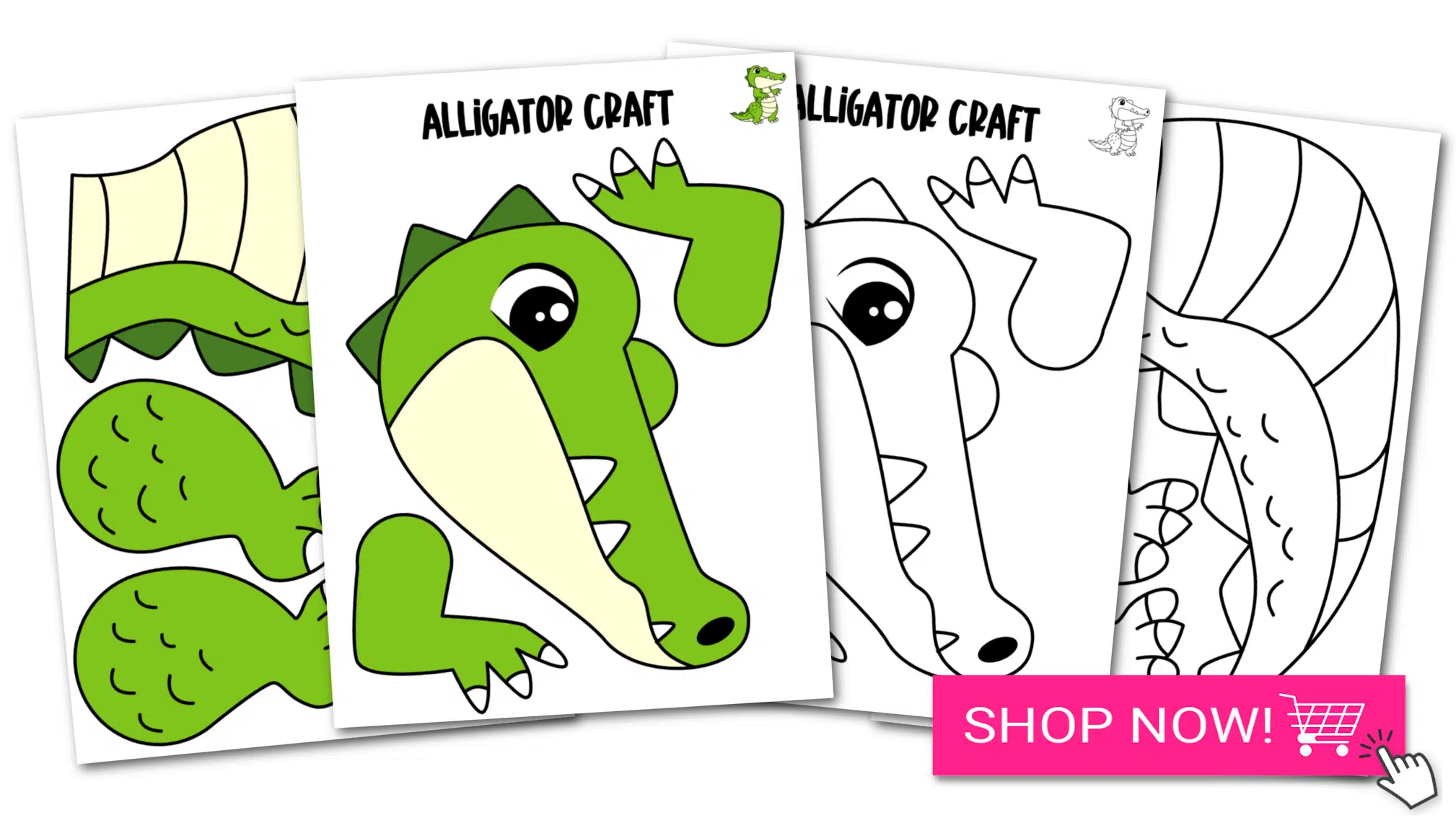 Alligator Craft Supplies Needed
Need more crafty fun? Check out our Ultimate Alphabet Crafts and Monkey Puppet.
 T
hey are perfect for those days when staying indoors is the only thing your family can do!
Ideas for Easy Preschool Paper Alligator Craft
We've compiled a few brilliant craft ideas to incorporate these alligator hand puppet crafts into your learning plans and routines.
1. Exciting Products of Alligators
There's a high possibility that your kids will get obsessed with alligators and other zoo animals once they complete this printable alligator puppet craft.
If your kids love to collect alligator products, here's a few items we highly recommend for you to purchase.
These items bring the exact same fun and excitement brought to you by our alligator paper bag puppet crafts.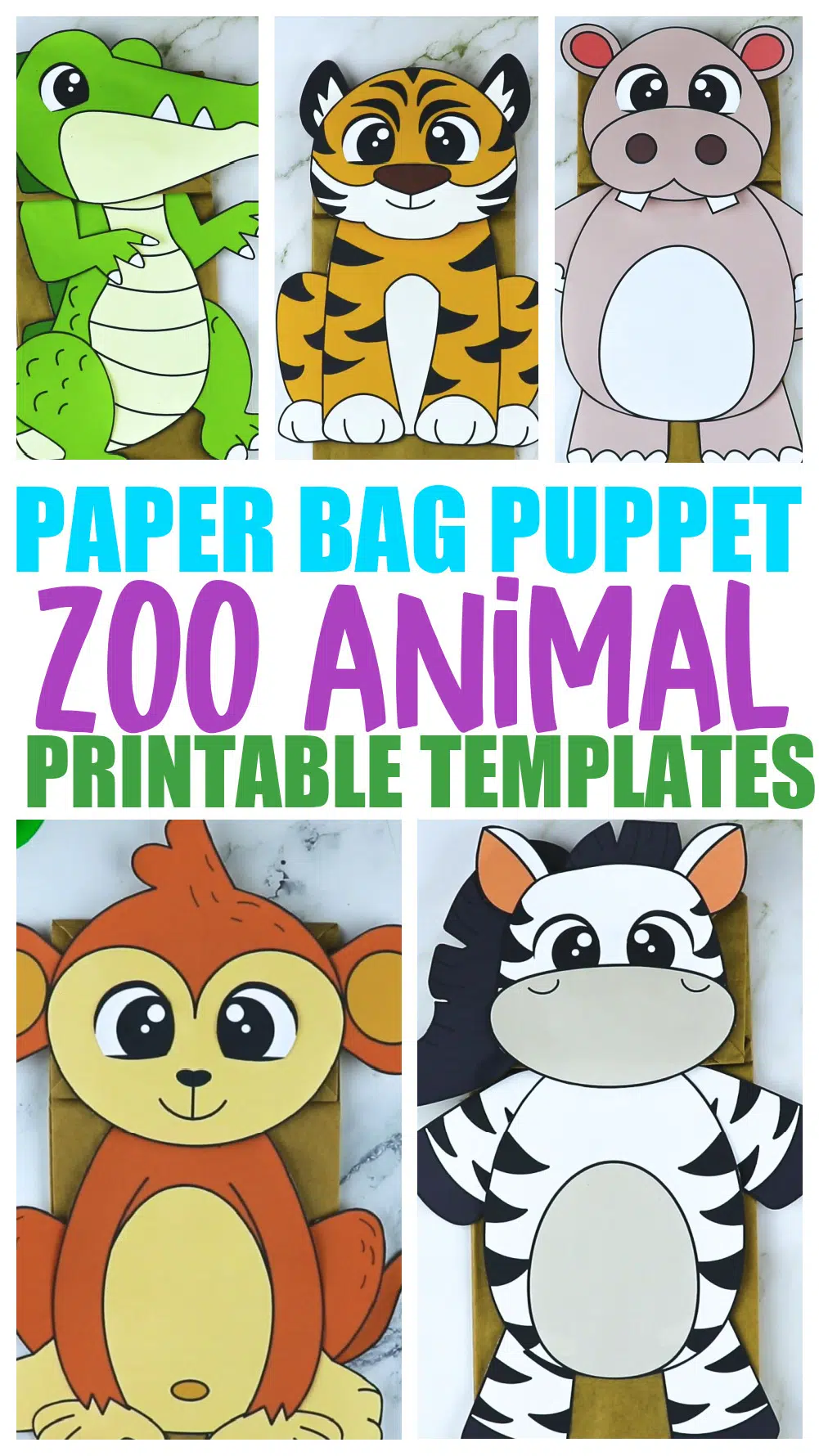 2. A is for Alligator
Are you looking for fun ways to teach your preschoolers the letters of the alphabet?
Did you know that these simple printable alligator finger puppets can be used for your alphabet craft activities?
While your kids are reciting the ABC's, use this printable alligator puppet craft as a sample word for the letter A.
Learning the alphabet takes lots of time and practice, but because this alligator puppet craft is so fun to do, children become very absorbed in what they are studying.
Teach your little ones how to correctly pronounce the word, and how to write the upper and lowercase letter a.
If you're looking for more printable templates that are connected with the letter A and alligator, download and print out our Letter A Coloring Page and Letter A Craft Template.
3. Put on a Puppet Show
We love it when kids are having so much fun with the craft activities we provide.
We want to make it extra special by hosting a puppet show for their friendly alligator puppet craft.
While the kids are working on completing their cut-and-paste alligator crafts, you can create a simple puppet theater using recycled materials that you probably already have at home.
Once everything is set, play with your kids face to face so they can copy your pretend actions or gestures.
Encourage your preschooler or kindergartener to come up with a scenario based on the events they have seen, experienced or would like to experience.
This fun puppet show idea will help boost your kids' self-confidence, enhance their imagination, communication and thinking skills.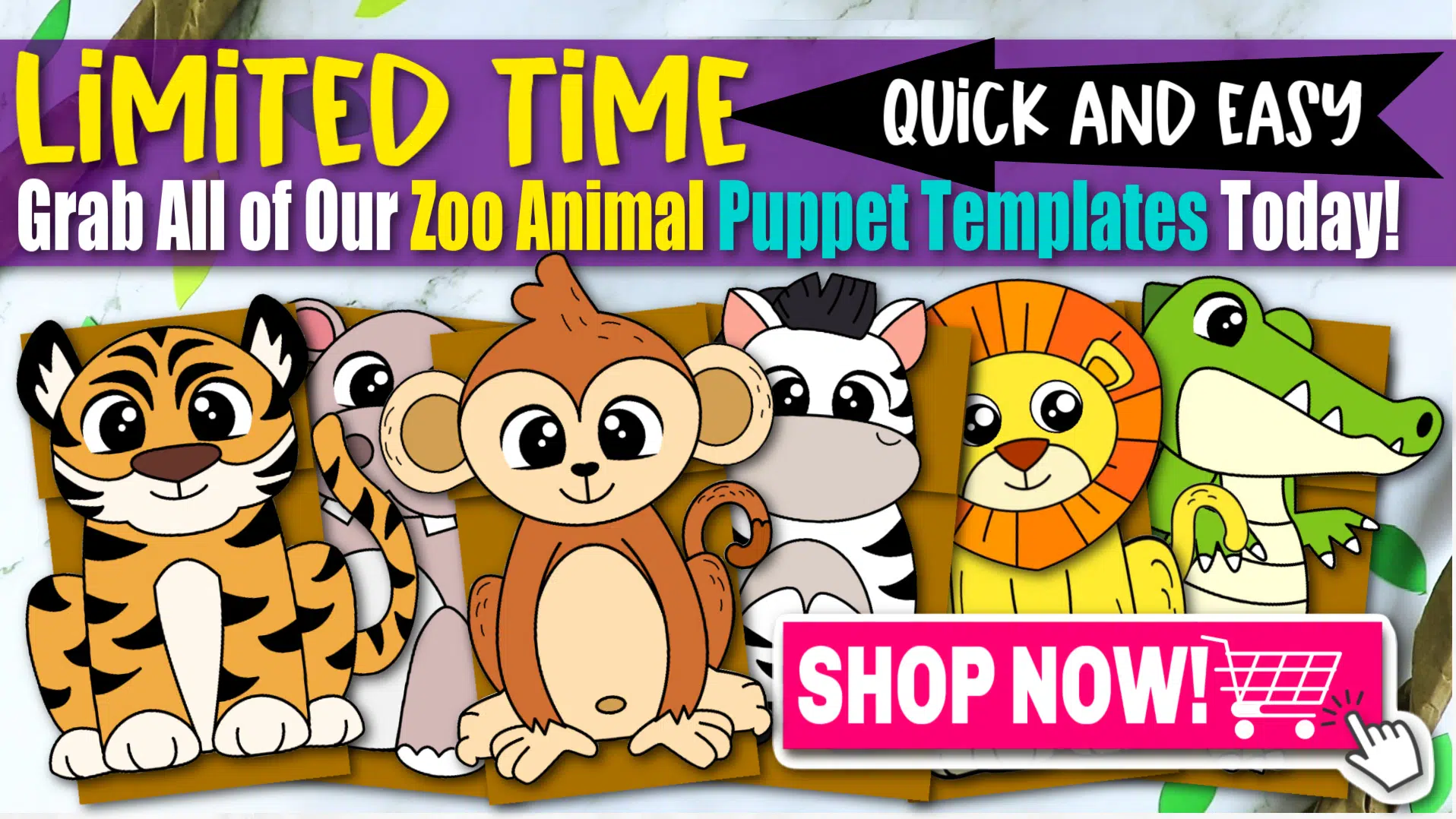 4. Let's Visit the Zoo!
Young children are naturally curious and love to ask questions because they are still exploring and learning everything around them.
Creating this printable alligator paper bag puppet craft will make you schedule a visit to the zoo with your whole family this coming weekend.
Your kids will get excited to see real alligators crawling and swimming, so be sure to list down trivia about these animals before you visit a zoo.
We hope you enjoyed these friendly alligator puppet craft ideas we shared.
We guarantee that your children will attain knowledge and develop their skills while having fun.
Alligator Paper Bag Puppet Instructions
Time to get crafty with these zoo animal puppets for your kids!
Follow these easy step-by-step pictures with written directions to complete your alligator puppet.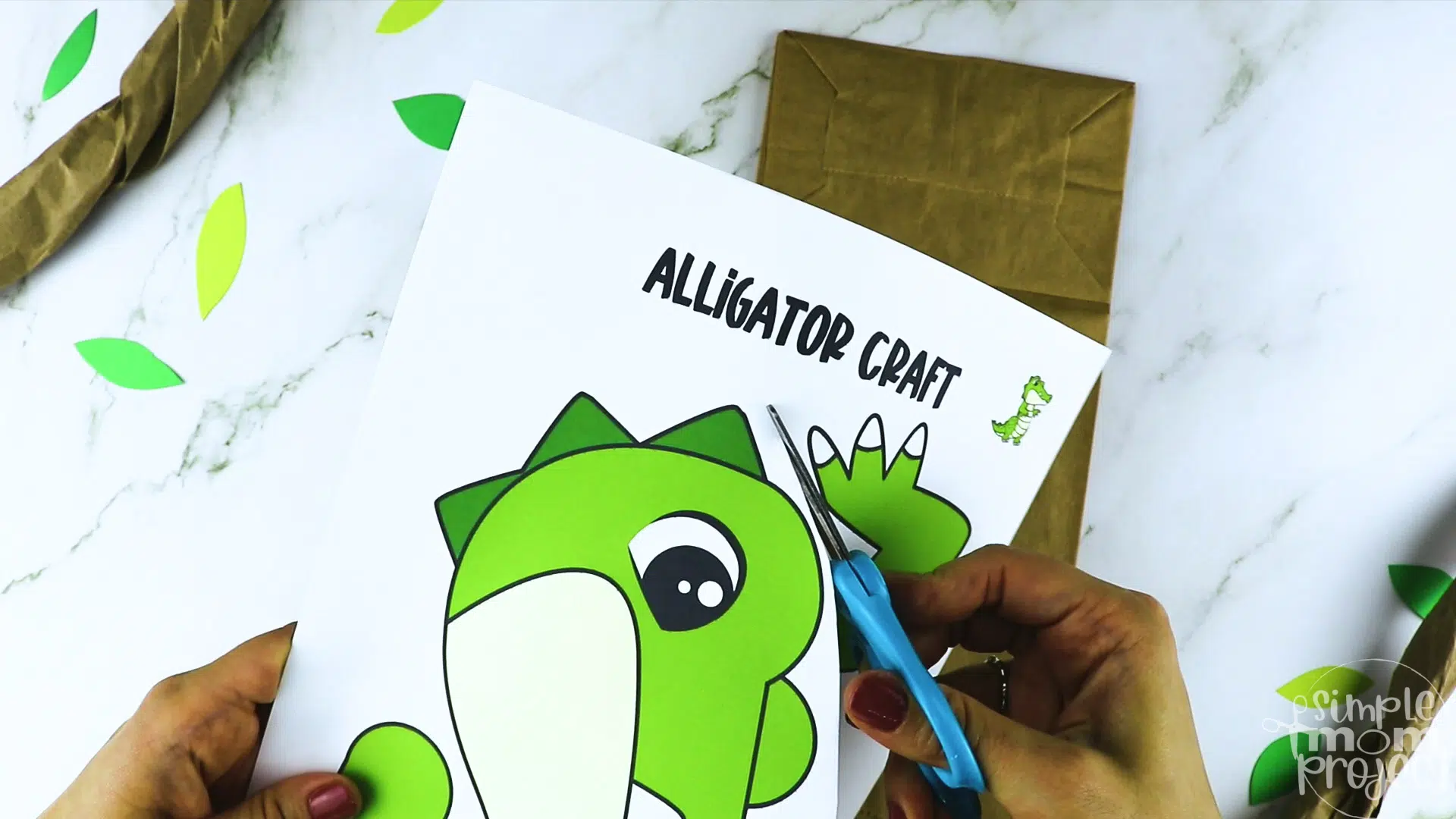 Gather all your crafting materials and purchase these alligator puppet templates.
There's a black and white and full colored version of this alligator hand puppet craft for your kids to choose.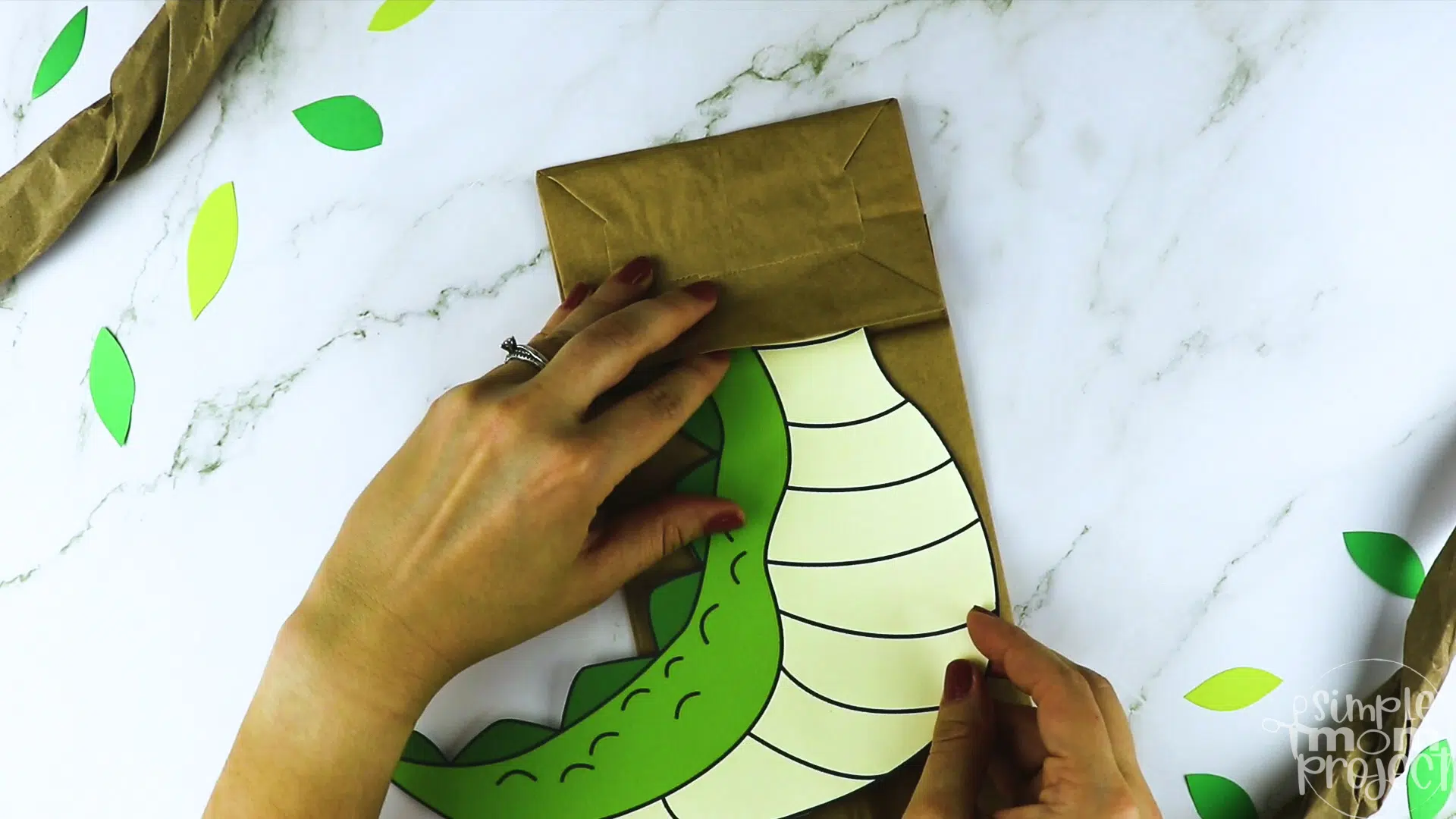 Supervise your child in cutting out the alligator pattern into individual pieces.
Start gluing the body of the alligator onto your paper sack.
Glue on its four legs, arrange them exactly as the pictures shown.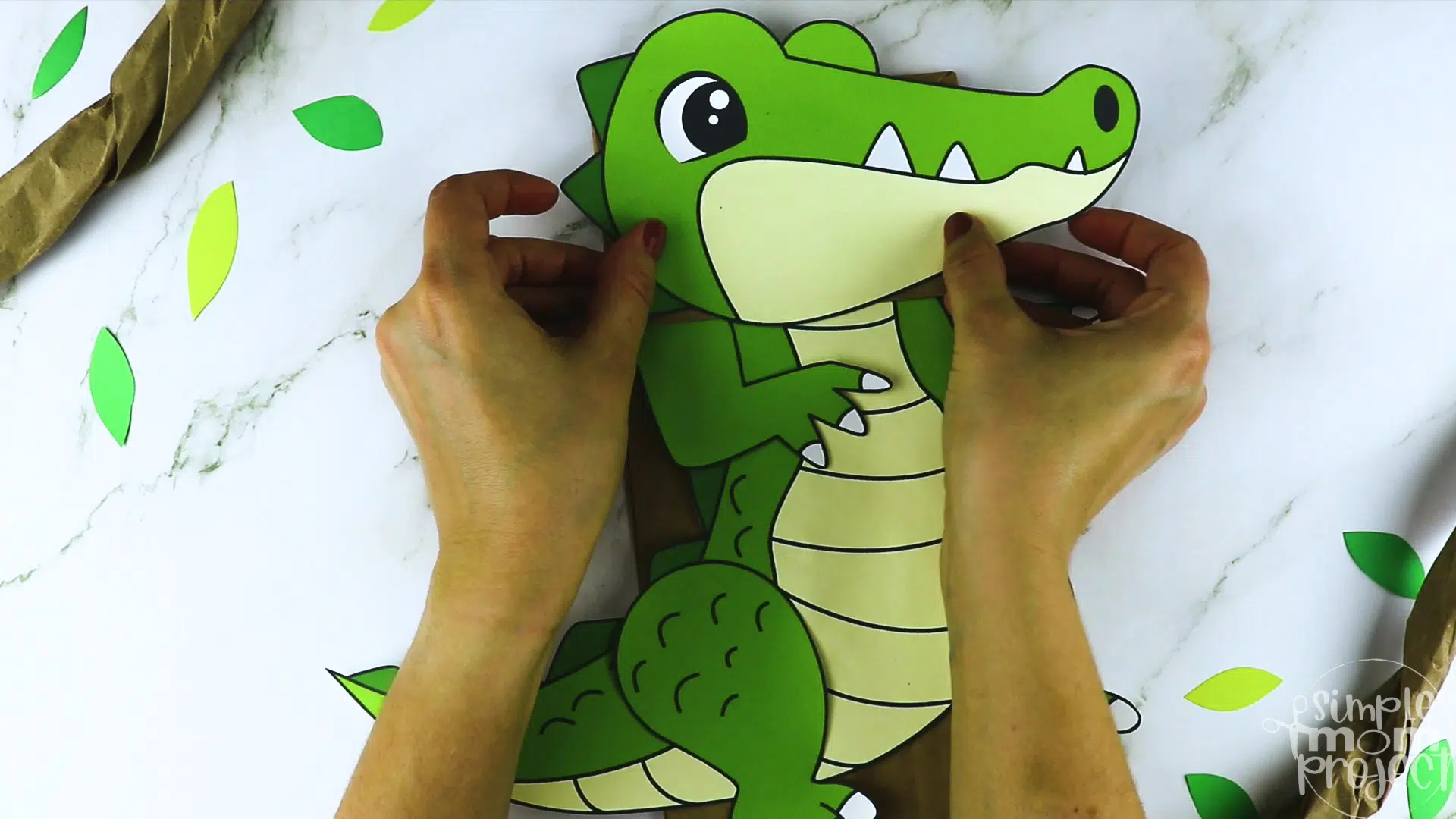 Finish it off by gluing the head at the bottom side of the brown paper bag.
Leave it for a few minutes until it's completely dry.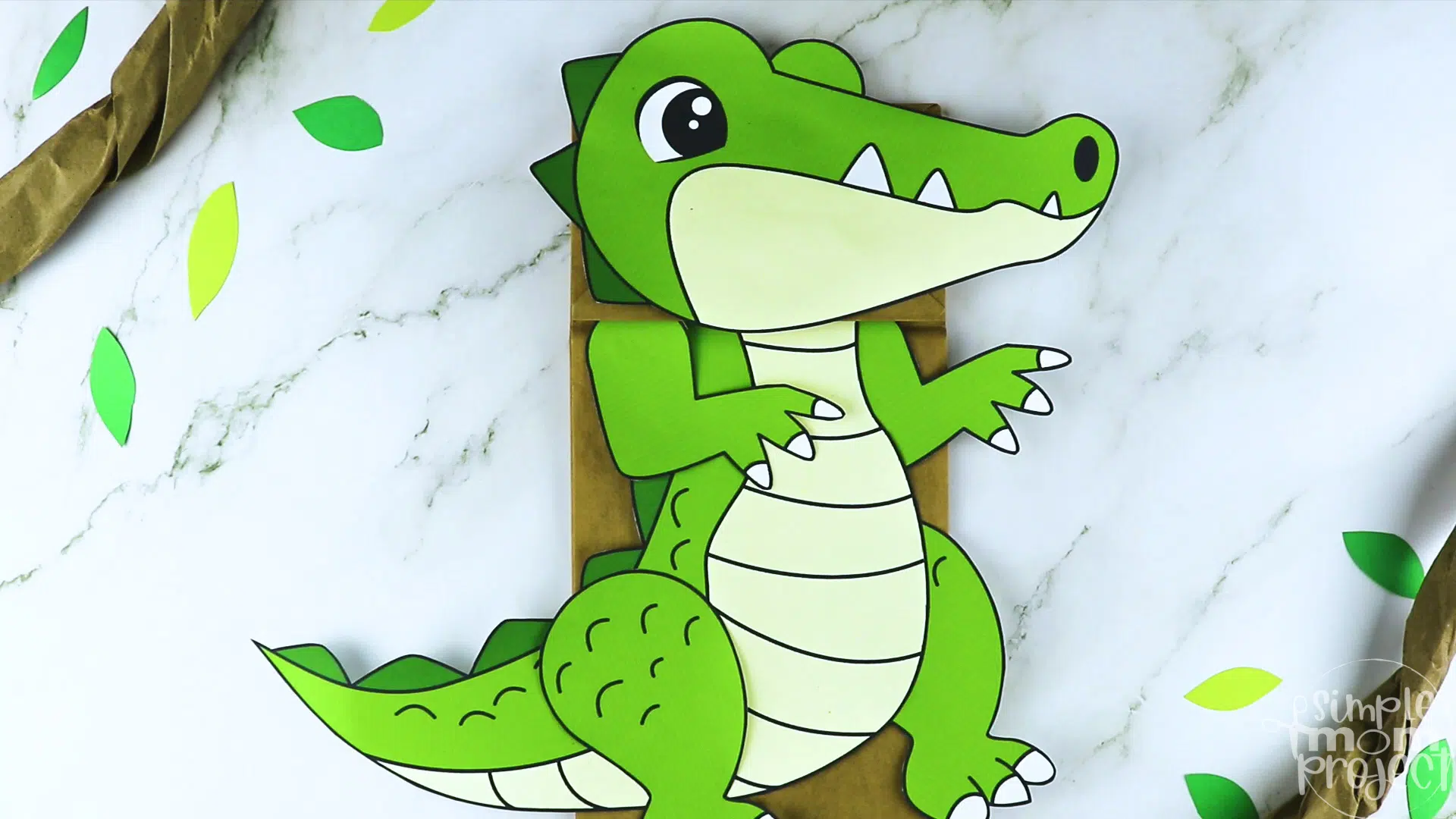 Now, your kids can play with their own alligator puppet craft for hours!
More Options to Choose:
You can print the blank version and trace the cut outs on card stock paper for a sturdier alligator paper bag puppet craft,
Print the alligator template in color for a simple and easy rainy day craft or,
Print the blank alligator template and use it as a fun coloring sheet activity and then glue the pieces of the alligator craft together.
Printable Alligator Paper Bag Puppet Template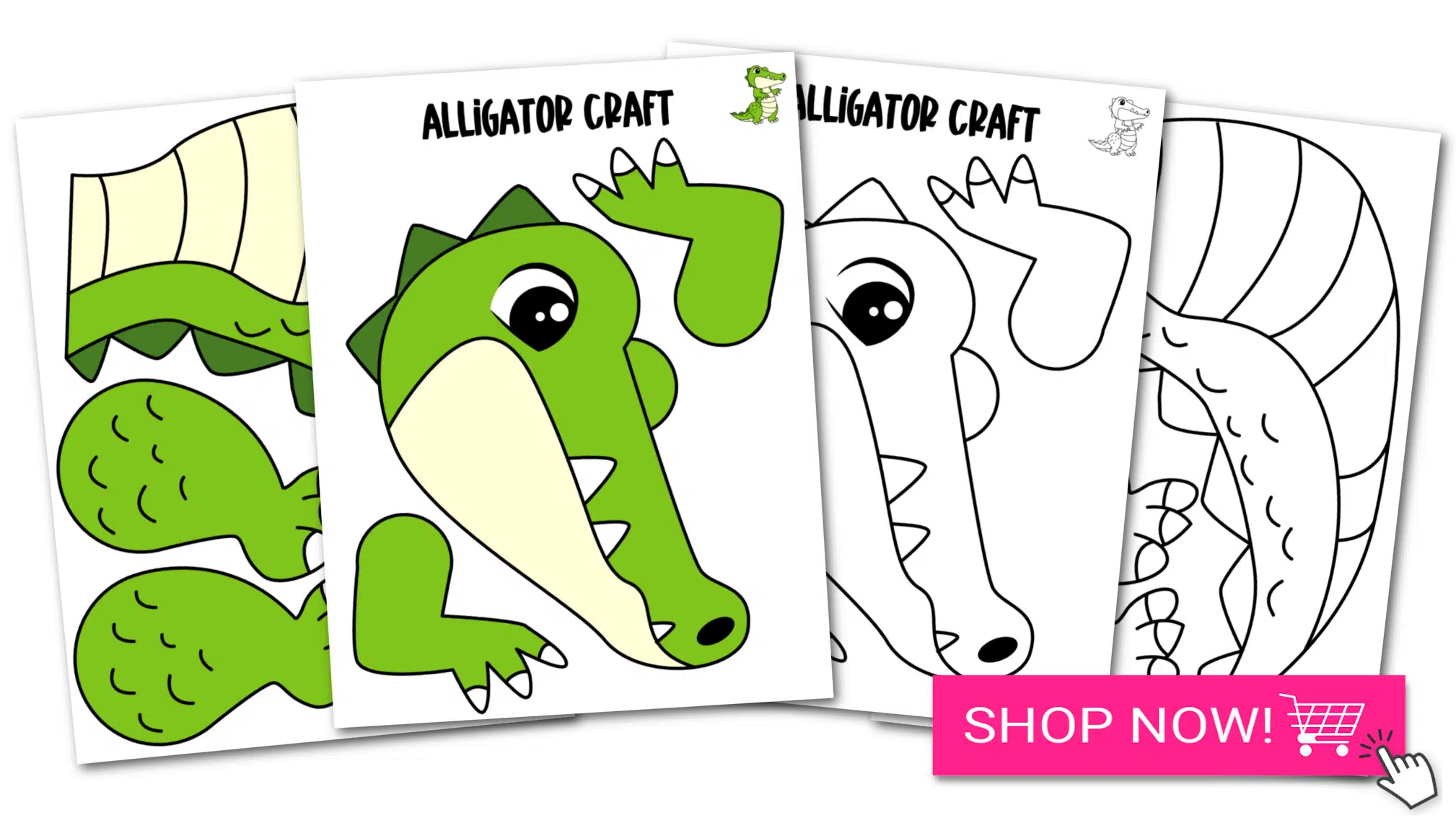 Your kids will surely love these two printable alligator puppet preschool crafts.
There's the black and white alligator puppet printable to fill in with different colors.
Then, we also have the full colored version of alligator puppet pattern template.
Whichever your kids' first choice, these cut-and-paste animal crafts activities bring tons of fun!
Don't forget to share your learning plans in the comments.
Need more zoo animal puppet fun? Check out our packed list of paper bag puppets for simple craft fun with your little ones.  
When you have finished, be sure to share your creation on Simple Mom Project's Facebook Page and follow me on Pinterest!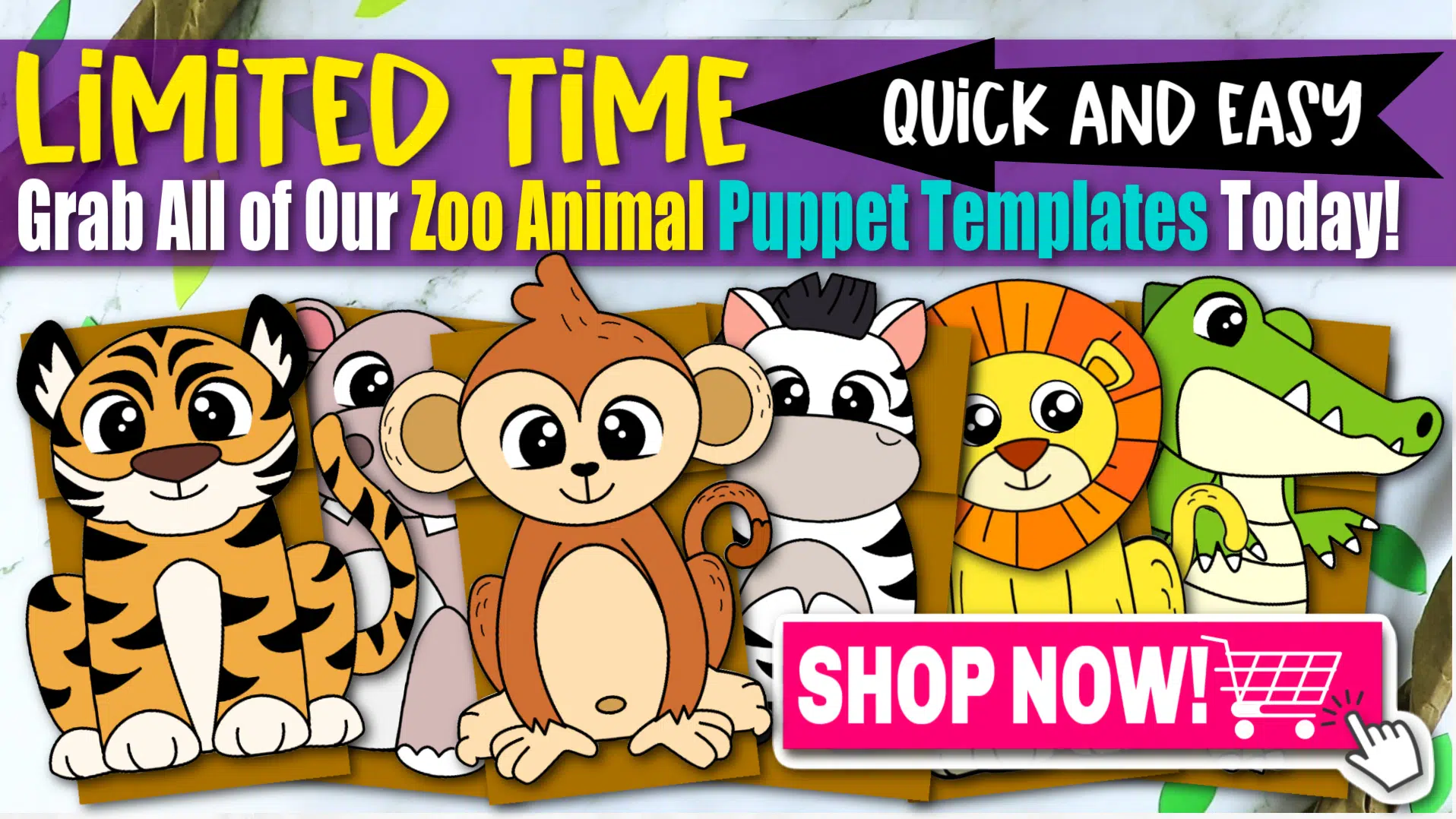 Kaitlen D.
More Fun Printable Craft Templates