Tulips are one of the most elegant and colorful of all spring flowers.
Today, we are going to share with you this free printable tulip flower craft template that will surely be loved by children of all ages.
What's great about this easy printable tulip pattern template is, you can combine it with different recycled supplies such as tissue paper, crepe paper, egg carton, plastic spoon and fork, wooden materials and more to form a variety of DIY crafts.
Let your preschooler color, cut and paste every part of the tulip flower to practice their fine motor skills, color recognition, focus and creativity.
Follow the step-by-step instructions and tutorial video below.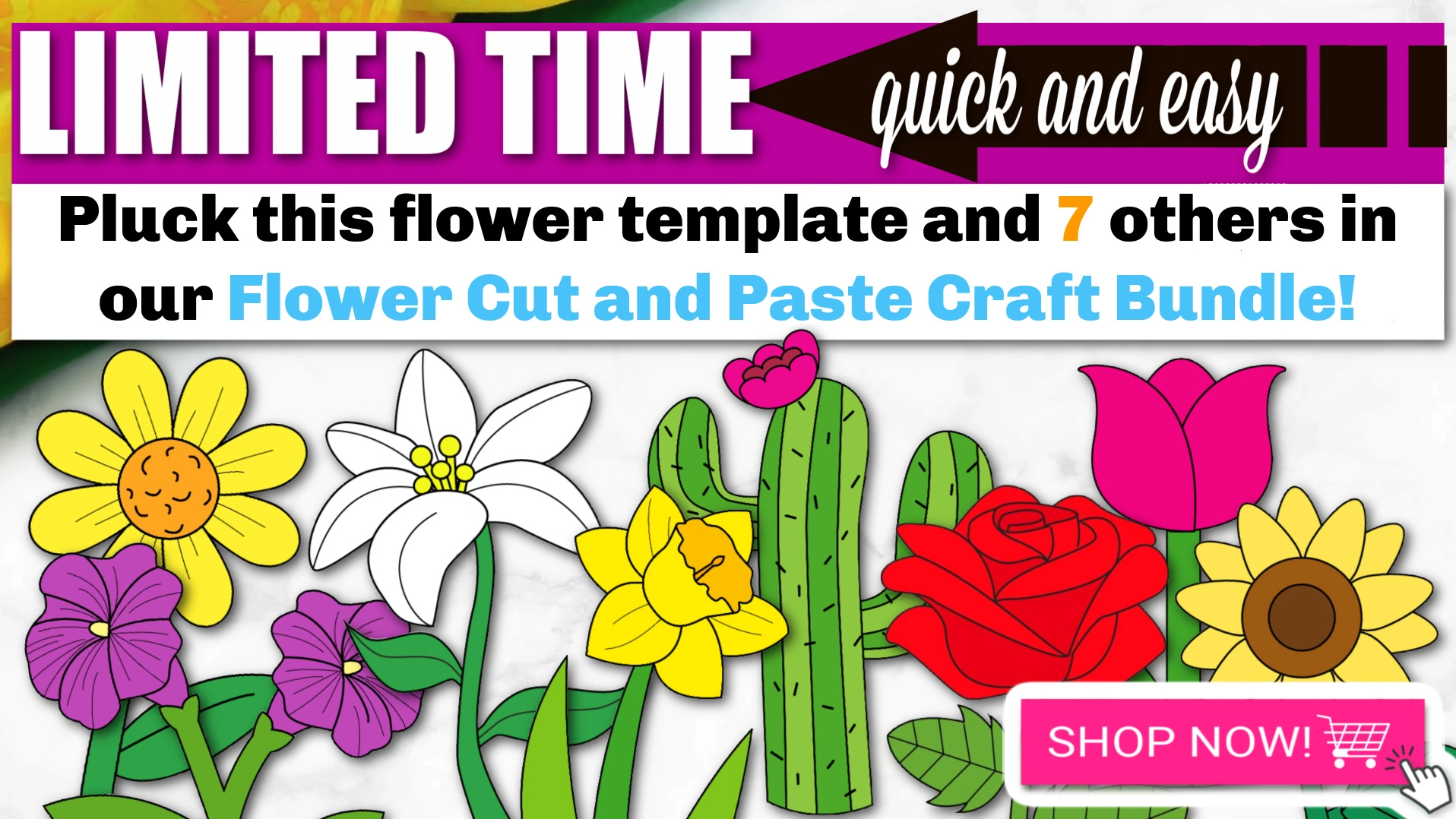 Need more crafty fun? Check out our Daffodil, Cactus and Firefly craft.
 T
hey are perfect for those days when staying indoors is the only thing your family can do!
*By the way, this post may contain affiliate links which means I may receive a small commission at no additional cost to you if an item is purchase through that link. For more information, click here.*
Free Printable Cut and Paste Tulip Craft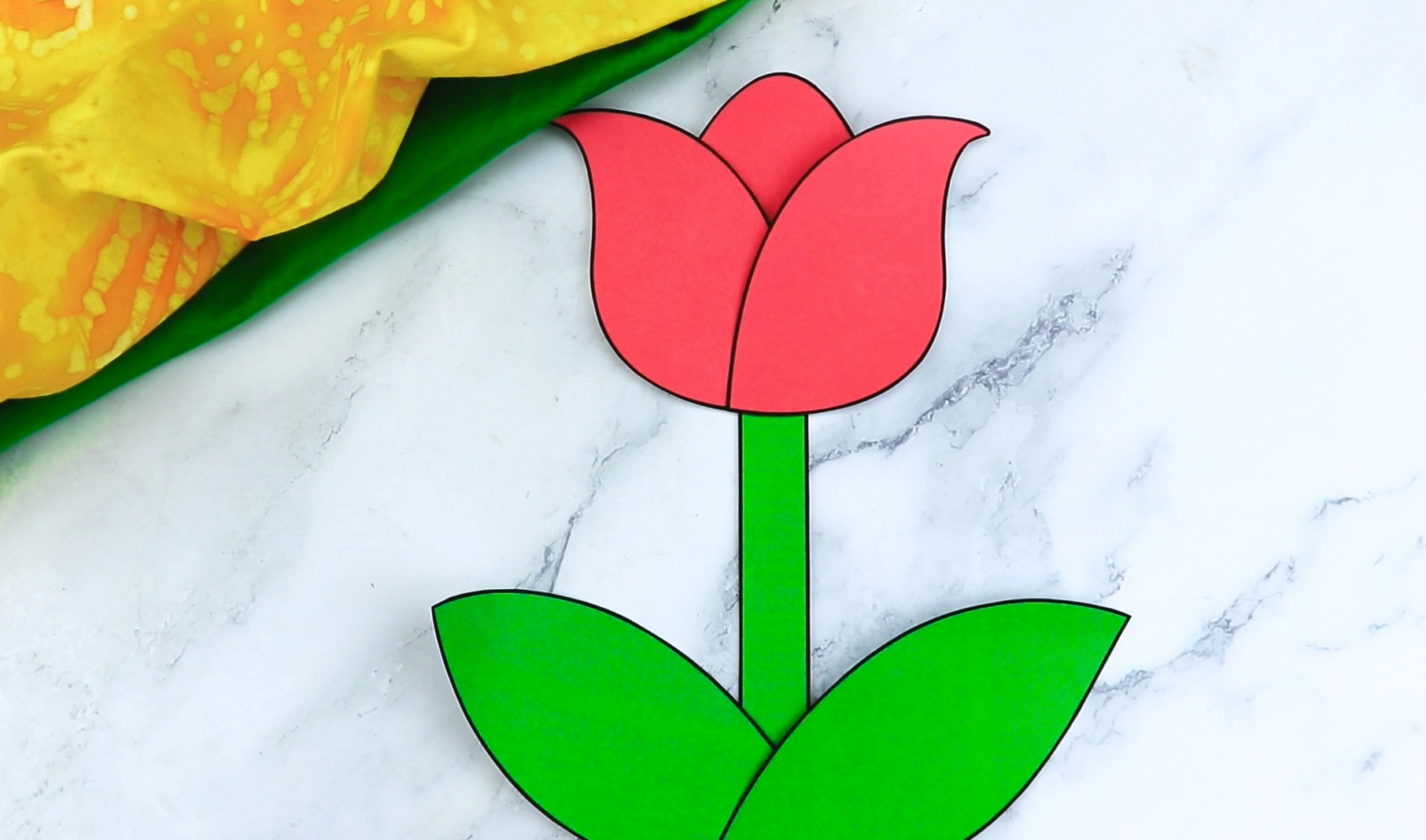 Ideas for Easy Preschool Paper Tulip Craft
You wouldn't want to miss these brilliant ideas on how to incorporate this free printable tulip flower craft template in your everyday life with the kids.
1. Tulip Children's Books
Reading creates a great way for you and your children to bond.
Make reading part of the daily routine to help your kids build their reading ability and brain development.
Our preschool printable tulip flower craft template is perfect to pair with one of these wonderful tulip books for children.
2. Paper Straw Tulip Craft
If you have little crafters in your house, they will definitely enjoy making this easy DIY paper straw tulip craft.
Start by tracing the tulip flower onto a construction paper then cut it out.
Fold the cut-out tulip horizontally four-times and punch a hole in the center of the folded tulip flower.
Insert the paper straw through the holes of the paper tulip flower.
Cut out the leaves from green felt paper and glue it on the paper straw.
Create as many as you want and arrange it in a mason jar for a lovely home decoration.


3. Paper Plate Tulip Craft
Make a great use of your spare paper plates and keep the kids productive during the weekend by making a cute paper plate tulip craft.
First, have your little one paint the paper plates with various color shades and set it aside to dry.
Next, cut a large tulip shape out from the paper plate.
Cut out two leaves from green construction paper and glue everything on the large green popsicle stick to form a tulip flower.
4. Cute Greeting Cards
Let's welcome the spring season by making handmade greeting cards with the help of this free printable tulip craft template.
Let your child work on this simple printable tulip flower craft pattern template.
Cut the finished tulip craft out from the printable template and glue it on a folded colored construction paper.
Encourage your little one to write down all the sweet messages they want to say to the receiver.
Add decorative items such as stickers, ribbons and sequins to make your handmade greeting card presentable.
Receivers of these cute cards will definitely treasure it forever.
There are a lot of creative ideas in making this easy printable tulip craft template with your kids.
We are always happy to be part of your art and craft activities!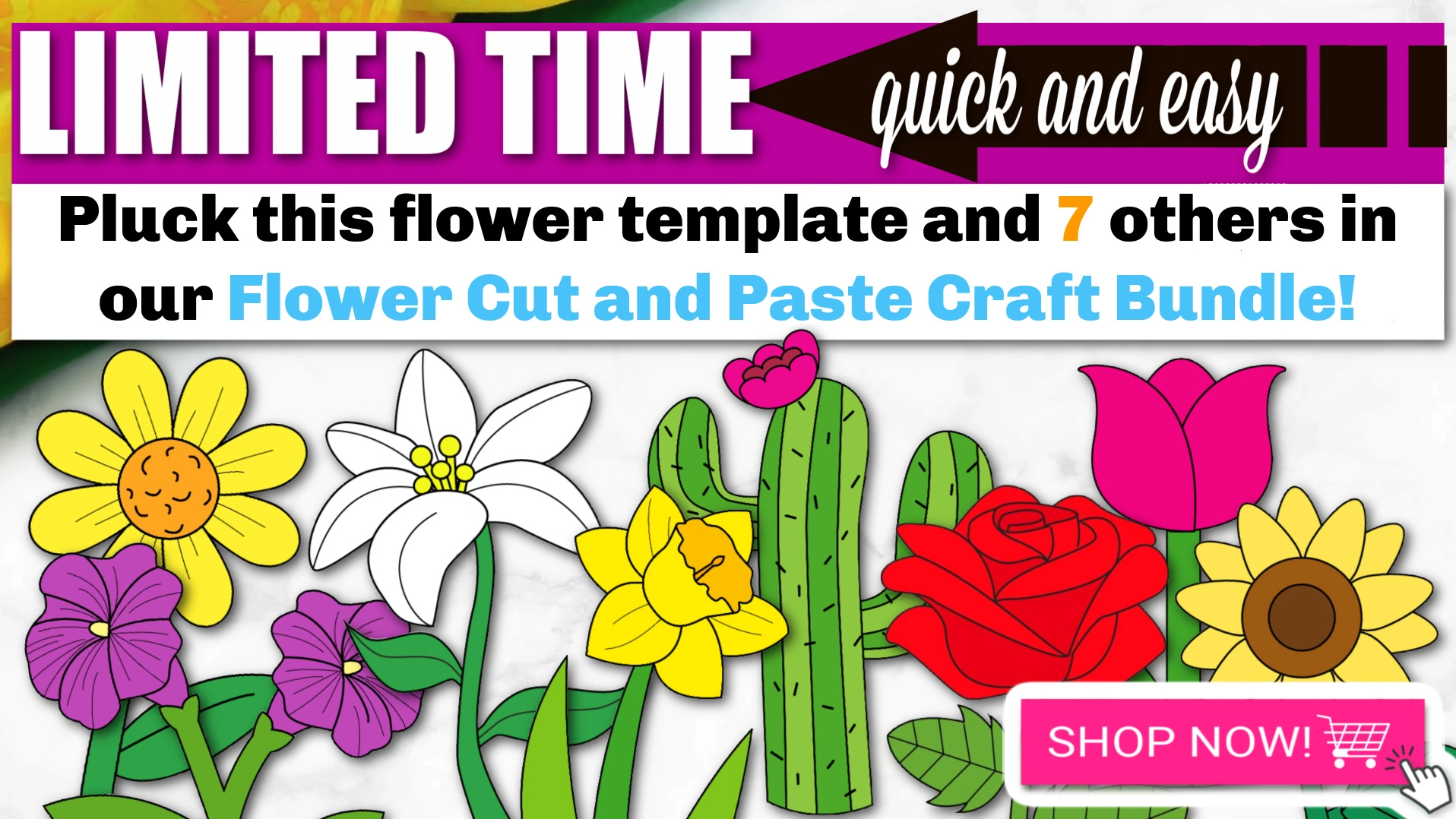 Tulip Craft Supplies Needed
Printable Tulip Template (FOUND AT THE BOTTOM)
Keep scrolling to get your very own tulip craft today and start with your little ones and their tulip craft today!
Tulip Craft Instructions
Have your child choose which version of this simple printable tulip flower craft template they want to create first.
Click download and print it out on a white sheet of paper.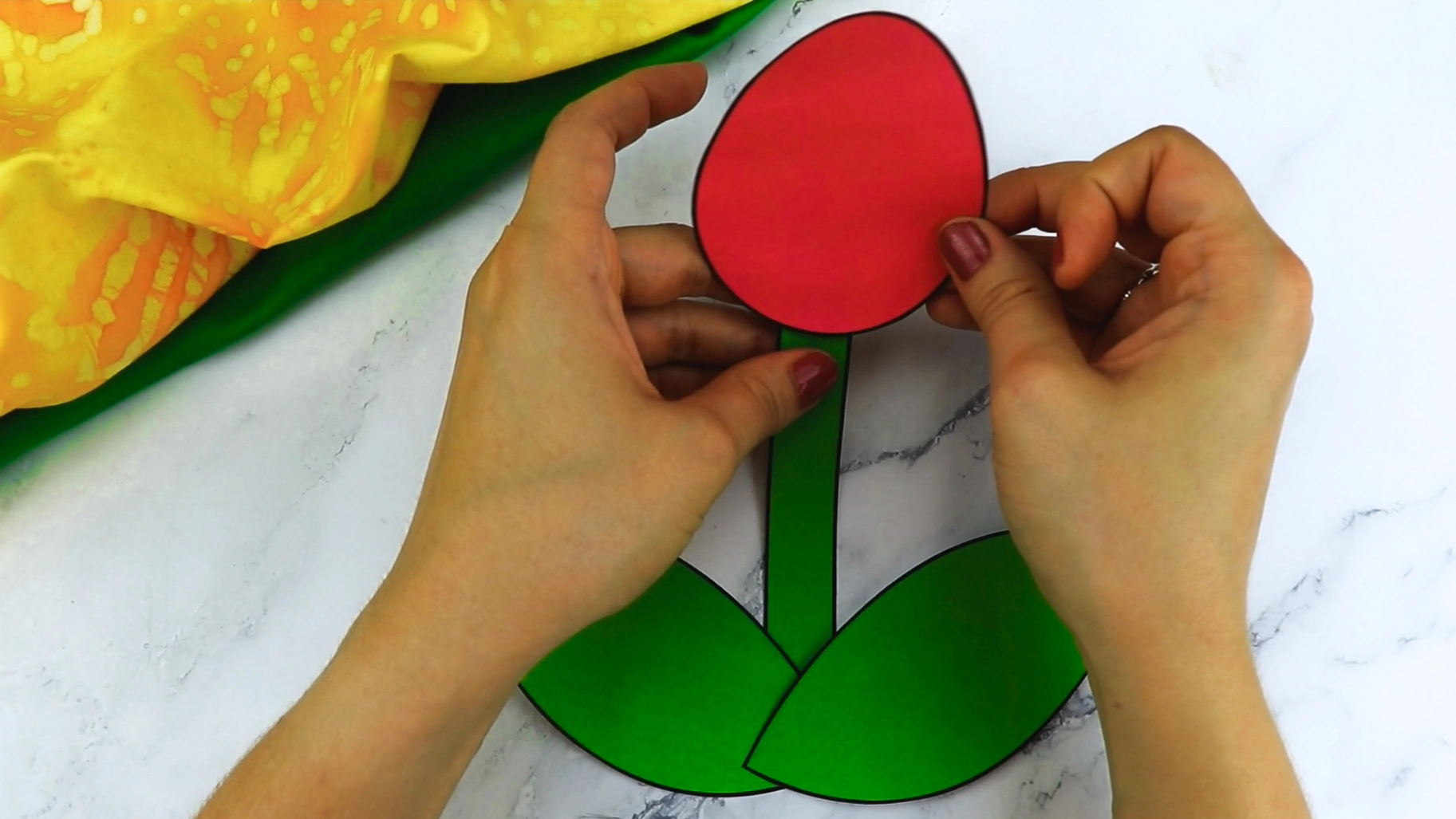 If your child knows how to properly use a scissor, encourage them to cut out the tulip pieces. If they are too young, do it for them and let them handle the gluing part.
Using a glue stick, attach the leaf to its stem.
Glue on each large petal onto the stem.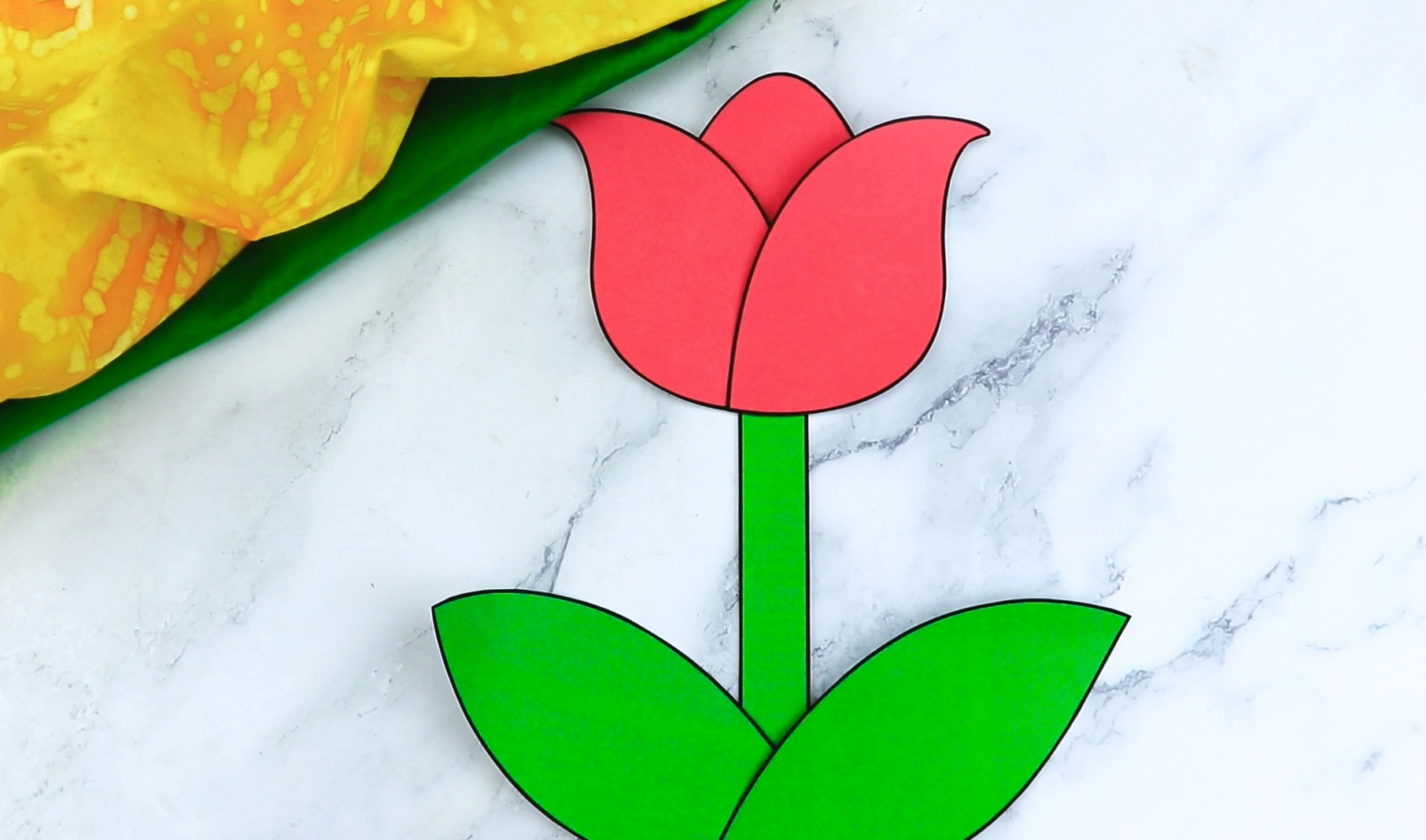 Now, your beautiful tulip is complete and ready to be part of the spring art projects.
More Options to Choose:
You can print the blank version and trace the cut outs on card stock paper for a sturdier tulip craft,
Print the tulip template in color for a simple and easy rainy day craft or,
Print the blank tulip template and use it as a fun coloring sheet activity and then glue the pieces of the tulip craft together.
Free Printable Tulip Craft Template
This pretty printable tulip craft template will surely keep toddler, preschool and kindergarten occupied because it comes with two amazing versions!
We have the plain tulip drawing so your little one can color it and the colored tulip template where they can directly cut it out.
Don't forget to share your learning plans in the comments.
Need more lovely flower fun? Check out our packed list of flowers for simple craft fun with your little ones.  
When you have finished, be sure to share your creation on Simple Mom Project's Facebook Page and follow me on Pinterest!

Kaitlen D.
More Beautiful Flower Crafts