My kids are very interested in trying new arts and crafts every day.
I always make sure that they get to learn a lot while engaging in what they find most enjoyable.
My kids have always been fascinated by many types of birds, so why not do a one-of-a-kind craft on it?
This week, I created a printable macaw parrot craft template for kids of all ages that adore birds!
Allow your children to participate in arts and crafts and other macaw-themed activities while they learn more about these amazing parrots.
We created two versions of the macaw craft, one colorful and one blank.
We want kids to have as many alternatives as possible while making their own macaw crafts.
The more templates there are, the more original and creative children become.
Don't forget to add the printable macaw parrot craft template to your list if you're planning to learn about other birds this week!

*By the way, this post may contain affiliate links which means I may receive a small commission at no additional cost to you if an item is purchase through that link. For more information, click here.*
Printable Macaw Craft

Macaw Craft Supplies Needed
Need more crafty fun? Check out our Sloth Craft, Toucan Craft

, and

Bird Crafts
.
 T
hey are perfect for those days when staying indoors is the only thing your family can do!
Ideas for Easy Preschool Paper Parrot Craft
We've got you covered when it comes to figuring out how to use the printable macaw parrot craft template.
Enjoy your time while taking note of these creative ideas for incorporating the parrot craft template into your daily activities.
Whether at home or at school, these ideas are most appropriate for preschool and kindergarten kids!
1. Unique Macaw Parrot Collectibles
Along with the printable macaw parrot craft template, we also put up a list of fantastic educational resources for children.
We made sure to include those that are both inexpensive and educational.
These one-of-a-kind macaw parrot collectibles can be used into a range of exciting preschool and kindergarten activities and routines.
You can give them these collectibles either before or after they complete the printable macaw parrot craft template.
Enjoy adding these resources into your lesson plans this week!
Explore them by clicking on the links below!

2. The Magnificent Macaw Parrot
Discover more about these amazing macaws by sharing some fascinating facts about them.
Before beginning the craft, this printable macaw craft template idea is a great addition to your science lessons.
If kids knew more about the bird they were making, they would certainly appreciate doing it.
Gather the children and tell them about these wonderful macaws!
Did you know that parrots called macaws are able to mimic a variety of sounds, including human speech?
There are 17 different species of these colorful birds.
Hyacinth macaws, scarlet macaws, blue-winged macaws, and red-shouldered macaws are a few of them.
If you've seen the movie "Rio," you're definitely familiar with Blue and Jewel, two parrots from the Spix's Macaw species.
Macaws are one of the parrot family's largest species.
Their vibrant wings aid in blending in with the fruit and leaves on the trees they inhabit.
Macaws are omnivores.
They also eat small reptiles, fruits, seeds, nuts, and grains.
Their strong beaks make eating easy for them.
With their vivid rainbow-colored wings, they are undoubtedly one of the most gorgeous birds.
After teaching children about these macaw facts, have them start on the printable macaw craft template right away!
3. Easy Handprint Macaw Craft
The kids will definitely want to make more crafts with these colorful parrots!
Once they've completed your printable macaw craft templates, have them create another one-of-a-kind craft.
This printable macaw craft template idea is perfect for kids who enjoy painting and don't mind making a mess while crafting.
Bring out any paint colors you have on hand, as well as paint brushes and paper, and let's make a handprint macaw craft!
Start by painting your child's hand with various hues of paint.
Let children pick the colors they want to use for their macaw crafts.
You can either mix the paint or paint each part of their hands one at a time.
Next, lightly press it against the paper.
Before adding more macaw features, let it dry for a while.
Once you have drawn more macaw parts, be sure to place the fingers at the bottom part.
The head and body of the macaw parrot should be on the palm portion, and the wings should be on the fingers.
4. Pirate Theme or Rio Theme Party
This printable macaw craft template should be on your list if you're hosting a party with a pirate or Rio theme at your house or in the classroom.
Using this DIY template, you may create party decorations or set up a kid-friendly arts and crafts activity.
Here are some party decorations you might create with the printable macaw parrot craft template, including tabletop decorations, invitation cards, macaw garland, and more.
If you're planning on dressing up as a pirate for the party, the printable macaw craft template makes great pirate parrot props!
You could also organize a fun activity where kids assemble the macaw pieces while wearing blindfolds.
Whoever completes the macaw craft in the shortest time with the greatest accuracy wins the round!
Children in preschool and kindergarten would definitely enjoy playing games at the party with these colorful parrots!
We hope you enjoyed taking notes on all of these activities for this week.
These brightly colored macaws will add interest and fun to any activity for your preschoolers and kindergarteners.
Use the printable macaw craft template to create some fun crafts with these ideas!

Macaw Parrot Craft Instructions
Check out these simple instructions for making your macaw parrot crafts once you have all your materials ready.

Kids have the opportunity to use the colorful macaw template to develop their cutting skills.
They can also use any coloring materials they like to add color to the plain macaw template.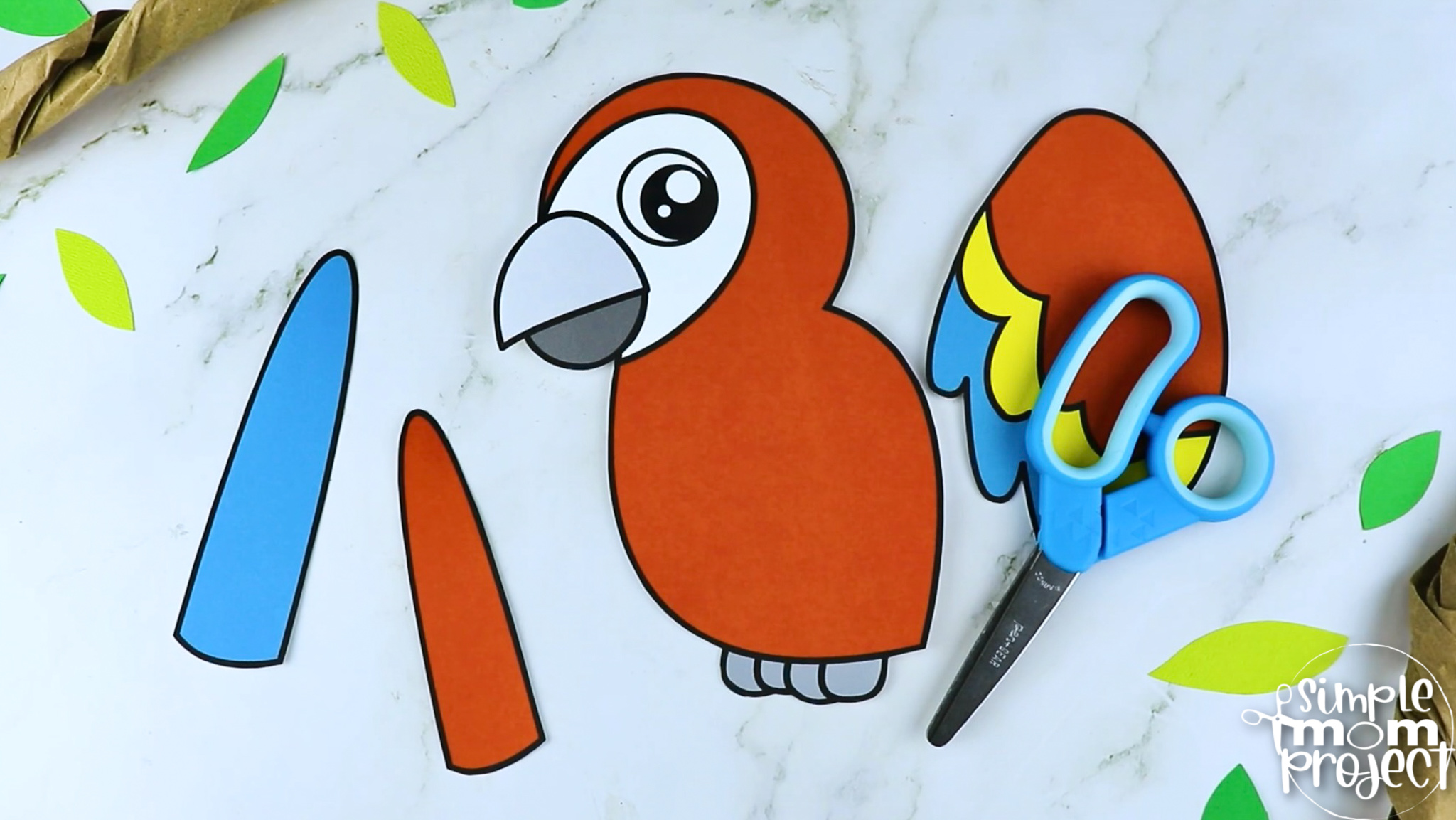 You can use any type of glue you have available such as glue stick and paste.
The parrot's wings should be attached to this side of its body.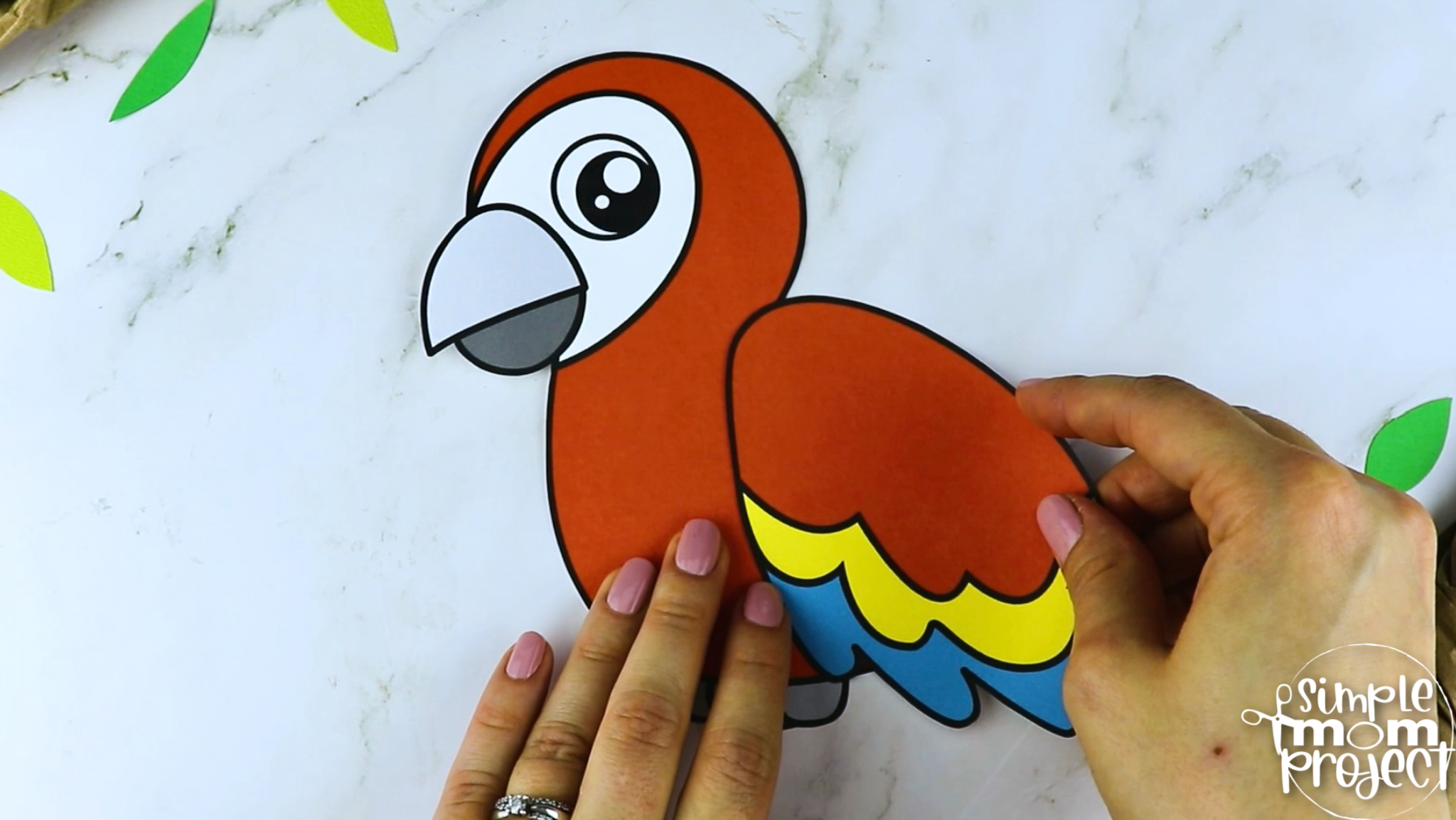 Following that, add its long tail below its wings as seen in the image below.
When you've completed all of the steps, your macaw parrot should look like this.
You did an amazing job making a colorful macaw parrot!
More Options to Choose:
You can print the blank version and trace the cut outs on card stock paper for a sturdier macaw craft,
Print the macaw template in color for a simple and easy rainy day craft or,
Print the blank macaw template and use it as a fun coloring sheet activity and then glue the pieces of the macaw craft together.
Printable Macaw Parrot Craft Template
If your children like the film "Rio," they will enjoy making this printable macaw craft template!
Kids who enjoy birds and those who are just starting to learn about colors will love making this paper parrot craft.
Show off your creativity by transforming this printable macaw craft template into whatever your children desire.
The colored and the plain macaw templates are the options available to them.
Kids could include this macaw craft into a variety of arts and crafts projects.
They may create paper mache, a pirate parrot craft, and other easy DIY projects.
Working on this macaw craft would undoubtedly improve their fine motor skills, creativity, focus, and color recognition.
This week, learn more about these rainbow-colored parrots by printing your macaw craft templates!
Need more animal craft templates? Check out our packed list of animal craft templates for simple craft fun with your little ones.  
When you have finished, be sure to share your creation on Simple Mom Project's Facebook Page and follow me on Pinterest!

Kaitlen D.
More Fun Printable Animal Craft Templates