My kids enjoy learning about animals.
They enjoy watching them and imitating their movements.
When they learned about sloths, they became incredibly curious to learn more about these animals.
They could not believe they were such slow animals as sloths.
After becoming interested in them, that gave me the idea to create the printable sloth craft template for them to make.
Children may practice their skills while learning more about sloths with this simple cut-and-paste craft.
It's a terrific way to improve hand-eye coordination, focus, and fine motor skills to cut and paste the sloth parts together.
We designed two sloth craft templates to encourage children to be more creative!
Grab copies of this printable sloth craft template and use it in your activities this week.
Play around with your creativity while learning about sloths!

*By the way, this post may contain affiliate links which means I may receive a small commission at no additional cost to you if an item is purchase through that link. For more information, click here.*
Printable Sloth Craft

Sloth Craft Supplies Needed
Need more crafty fun? Check out our Letter S Craft, Koala Craft, and Red Panda Craft
.
 T
hey are perfect for those days when staying indoors is the only thing your family can do!
Ideas for Easy Preschool Paper Sloth Craft
We love to share ideas about how kids can use our craft templates.
Check out these ideas for how you can use the printable sloth craft templates once you have them all.
These activities are sure to be enjoyable, suited for children of all ages, and inexpensive.
They are all perfect for incorporating into your everyday routine at home and at school!
1. All Things Sloth
Before you can begin planning your lesson ideas, you must first gather the necessary resources.
If you're still wondering what materials to use to introduce the printable sloth craft template, we've got you covered!
We made sure to include learning materials that were both reasonably priced and best matched the printable sloth craft template.
Any of these resources can be used for your preschool and kindergarten activities at home or in the classroom.
These resources can be used in group activities, reading sessions, and even playtime!
Click on the links we've compiled below to check them out!
2. Interesting Facts about Sloths
Children may be curious about how these slow-moving animals live, eat, and survive in their habitats.
Share these interesting facts about the animal they are making before letting them start on their sloth crafts.
Incorporate this printable sloth craft template idea with your science lessons this week!
Sloths are distinguished by their lengthy arms and shaggy fur.
They are sleepy tree-dwellers who enjoy taking naps all day long.
And when they are awake, they hardly move at all.
Sloths are so slow that algae grow on their matted fur.
They can climb and grip branches with the help of their extraordinarily long, sharp claws.
They defend themselves against predators by using their claws as well.
Sloths are slow, and their digestion is much slower!
It might sometimes take them a month to digest a meal.
Slow digestion requires a lot of energy; hence sloths have no energy left, making them slow moving animals.
They eat fruit, leaves, and buds from trees.
The two-toed sloths eat tiny reptiles, birds, and insects.
They only leave the tree in which they live to relieve themselves on the ground.
As a result, they are the most vulnerable to attack by jaguars, eagles, snakes, and other predators.
Their facial features give them the impression that they are smiling.
These sloths are more than that!
You may also include a short film showing how they live in their environments to give the children a more realistic perspective of them.
As soon as you're done, let the kids go to work on their sloth craft templates!
3. Sloth Handprint Craft
Apart from cutting and pasting the sloth craft, children can also paint their own sloth crafts!
For kids who enjoy painting and don't mind getting messy with their crafts, this printable sloth craft template idea is perfect.
To make this sloth handprint craft, get out your brown paint, paintbrush, cardstock, cardboard, or any kind of paper, crayons, and markers.
First, apply brown paint to your child's hand.
Dab it gently onto the paper, then wait for it to dry.
Using crayons and markers, you can add more sloth features after the paint has dried.
On top of the thumbprint, draw the head of the sloth.
If you need inspiration for your drawing, feel free to utilize the printable sloth craft template.
You can also use a paper plate or construction paper to make sloth handprints.
Create some tree branches to add to your awesome sloth handprint crafts!
4. S for Sloth
Did you know that this printable sloth craft template might be used to teach children about the letter S in addition to arts and crafts?
Include the sloth craft on your list of things to do if you're studying about the letter S this week!
Since sloths are an uncommon animal to represent the letter S, working on this is a great introduction to the letter.
As a visual help, you might use the printable sloth craft template, or you could attach your sloth crafts on a popsicle stick.
Kids can make a letter S out of paper and then glue their sloth crafts beneath it.
If you're teaching kindergarteners the letter S, have them practice writing the word sloth.
Have them say the word sloth aloud a few times to become used to the S phonics!
How did these ideas help you in setting up your weekly plans?
We hope you had a great time writing these ideas down.
Creating them and sharing them all with you was fun for us as well.
The printable sloth craft template will soon become a favorite among kids!

Sloth Craft Instructions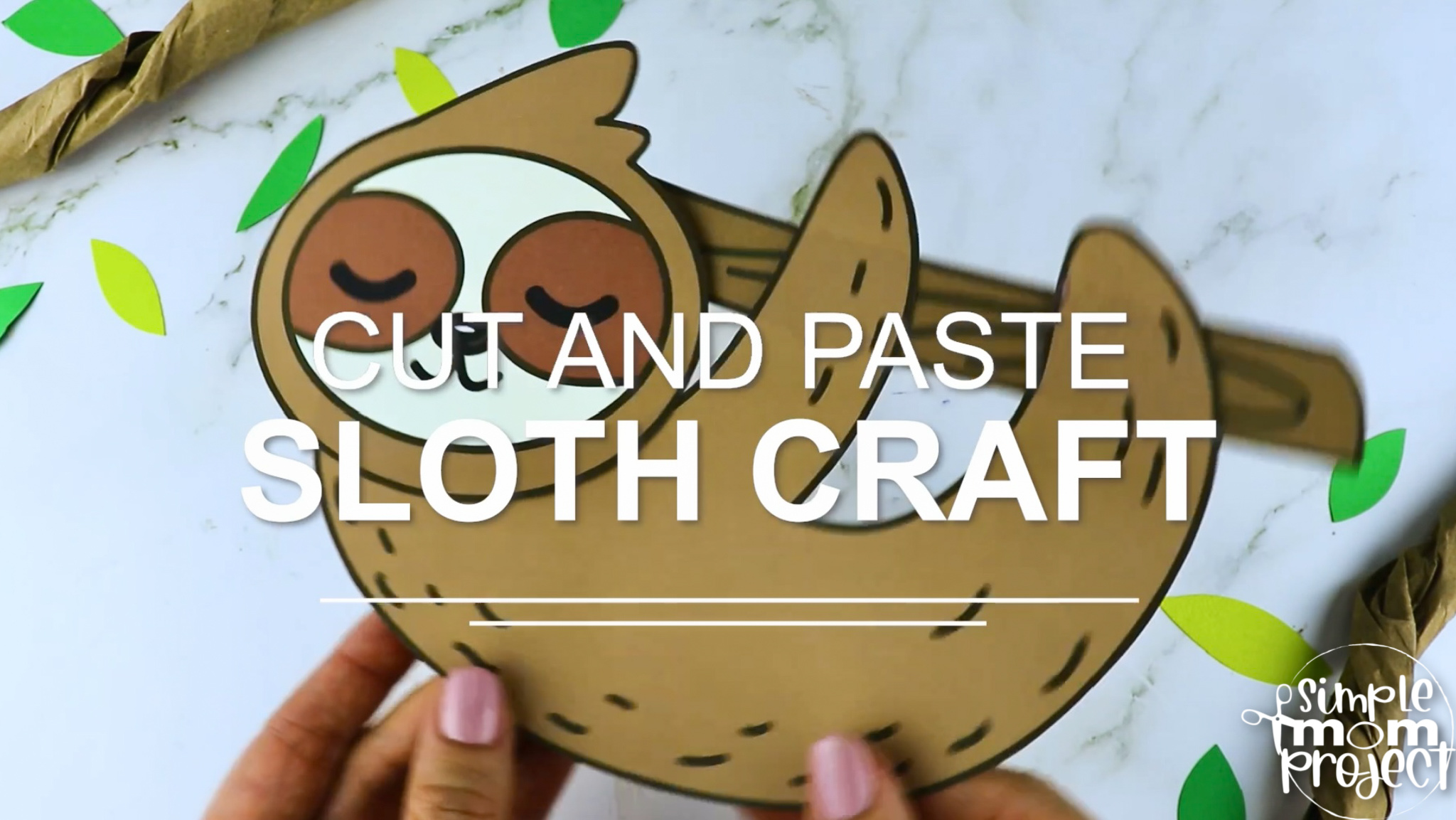 Once you have all of the supplies ready, don't forget to look at these easy instructions for making your sloth crafts!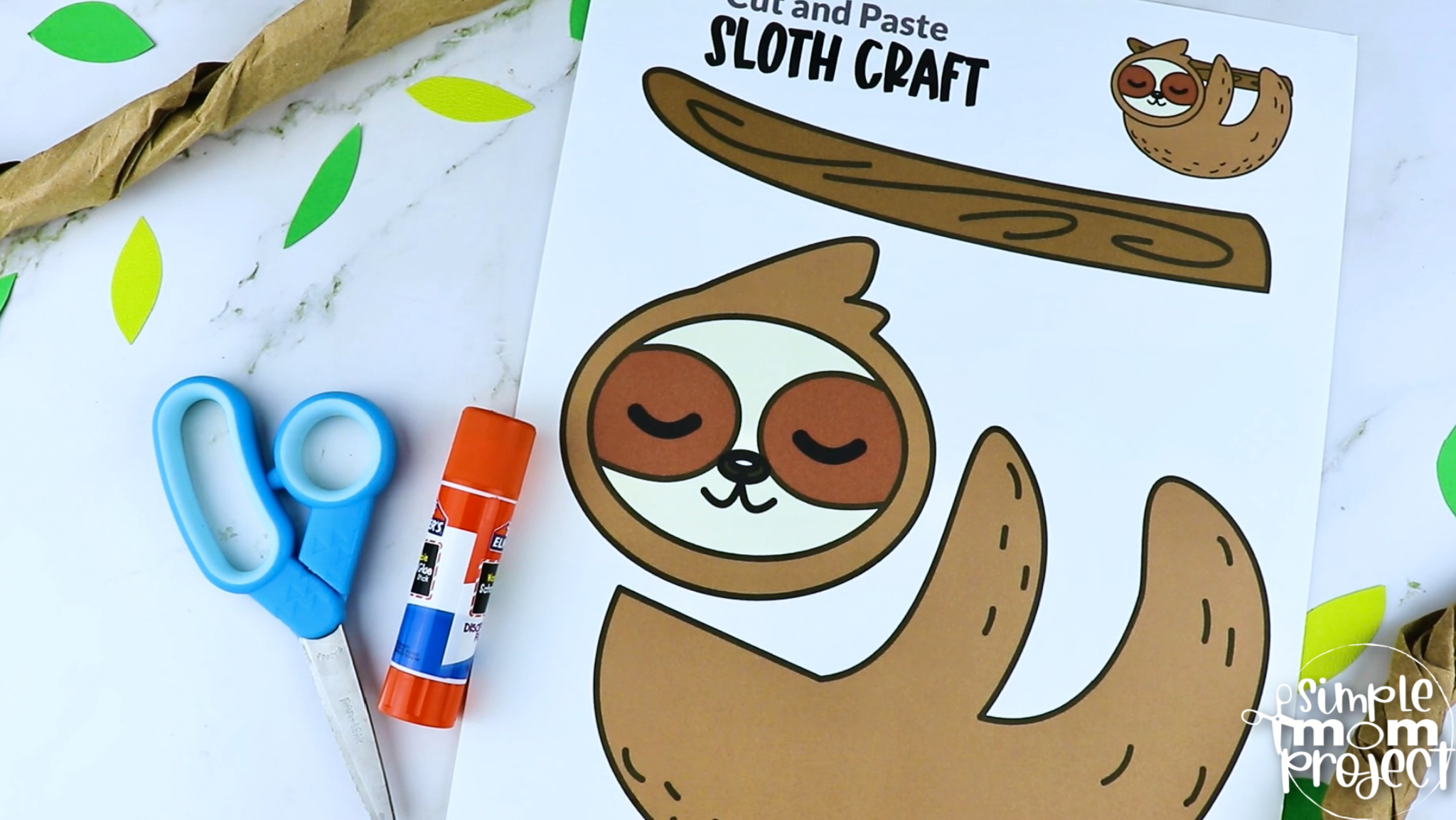 If your children are still learning how to use scissors, help them cut the sloth pieces one at a time.
Give your children the black and white sloth craft template to color with their various coloring supplies.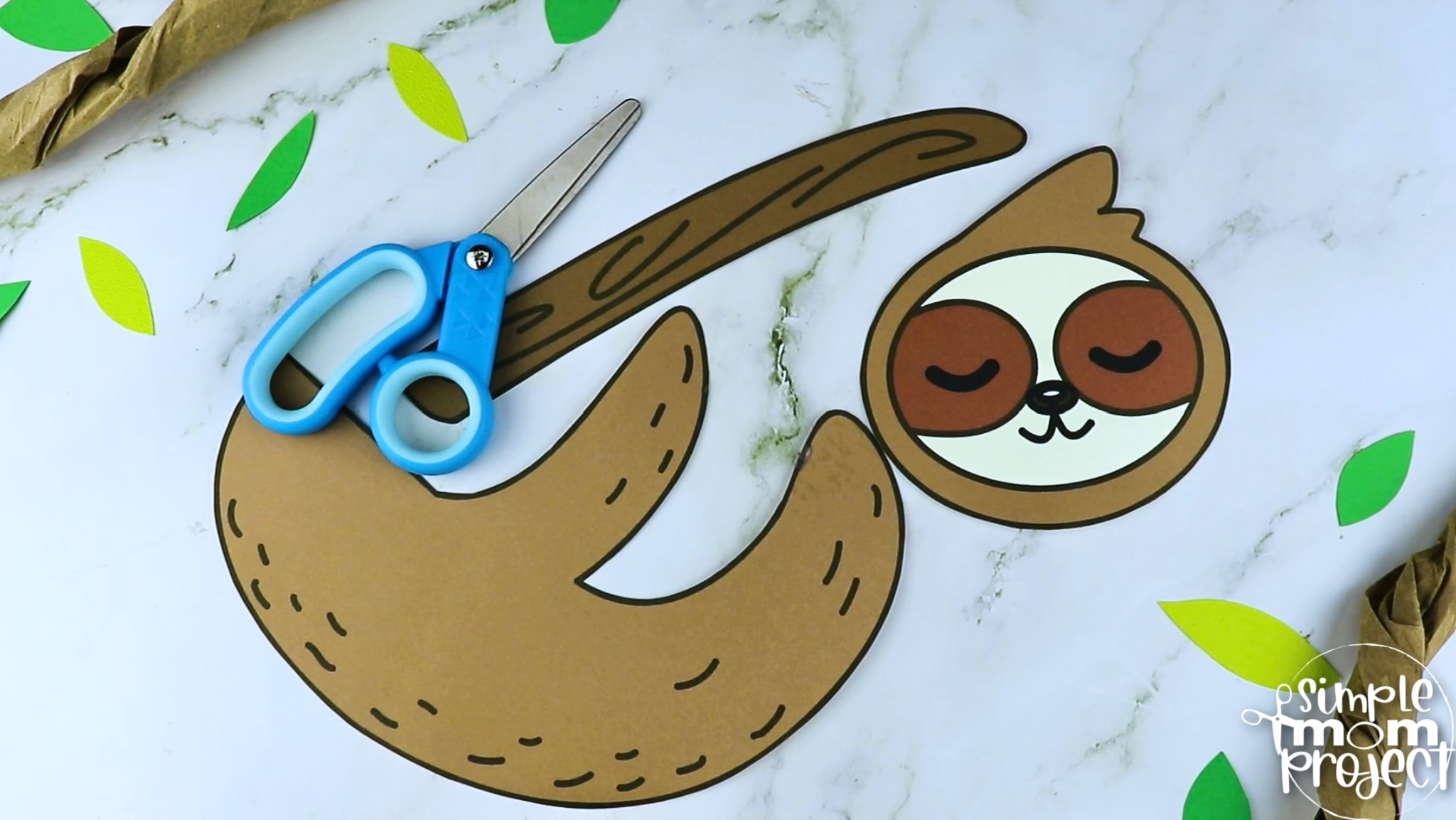 The sloth's body should first be attached to the tree branch.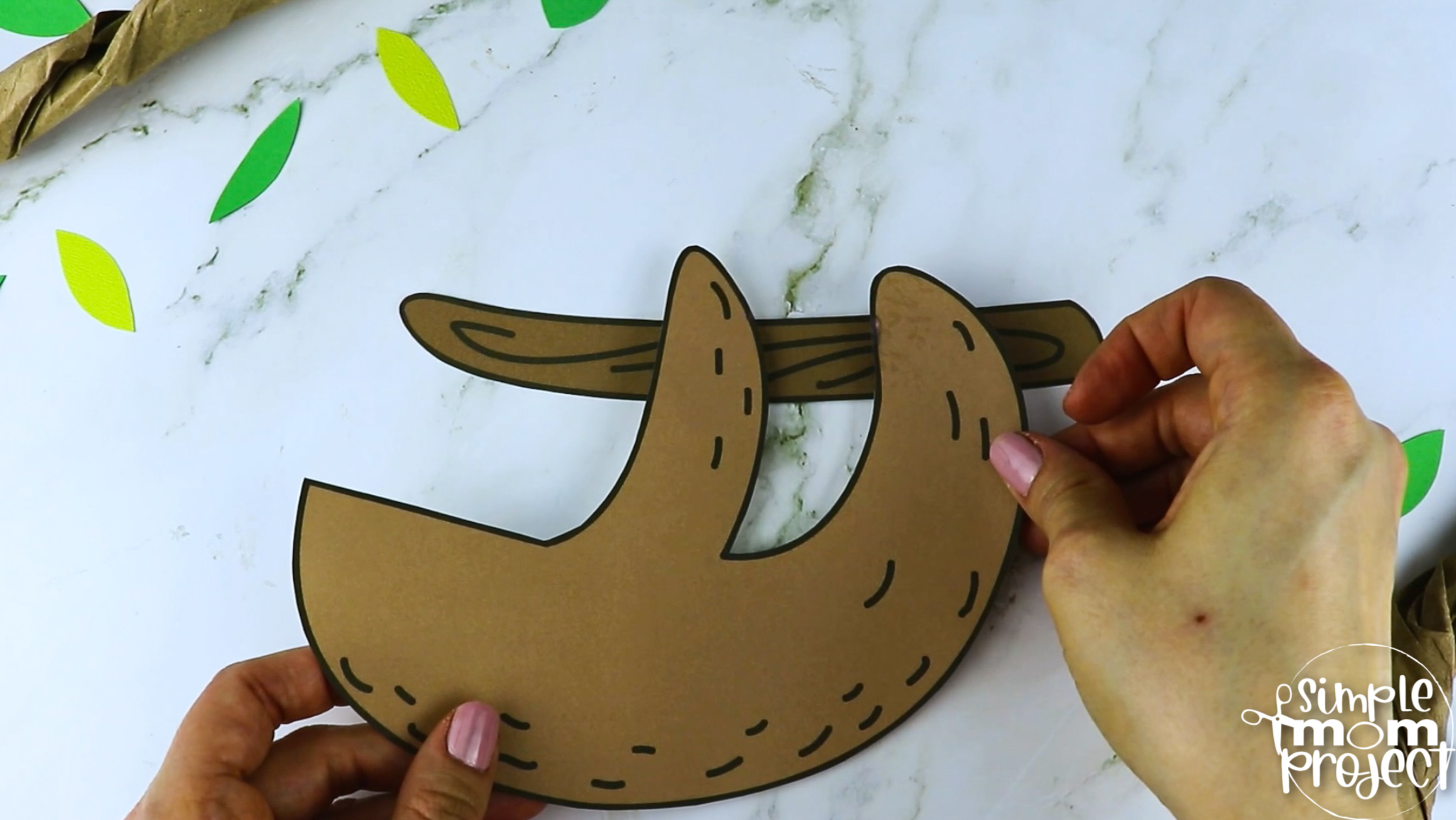 For this craft, you can use any type of glue; I picked a glue stick because it is easier to apply!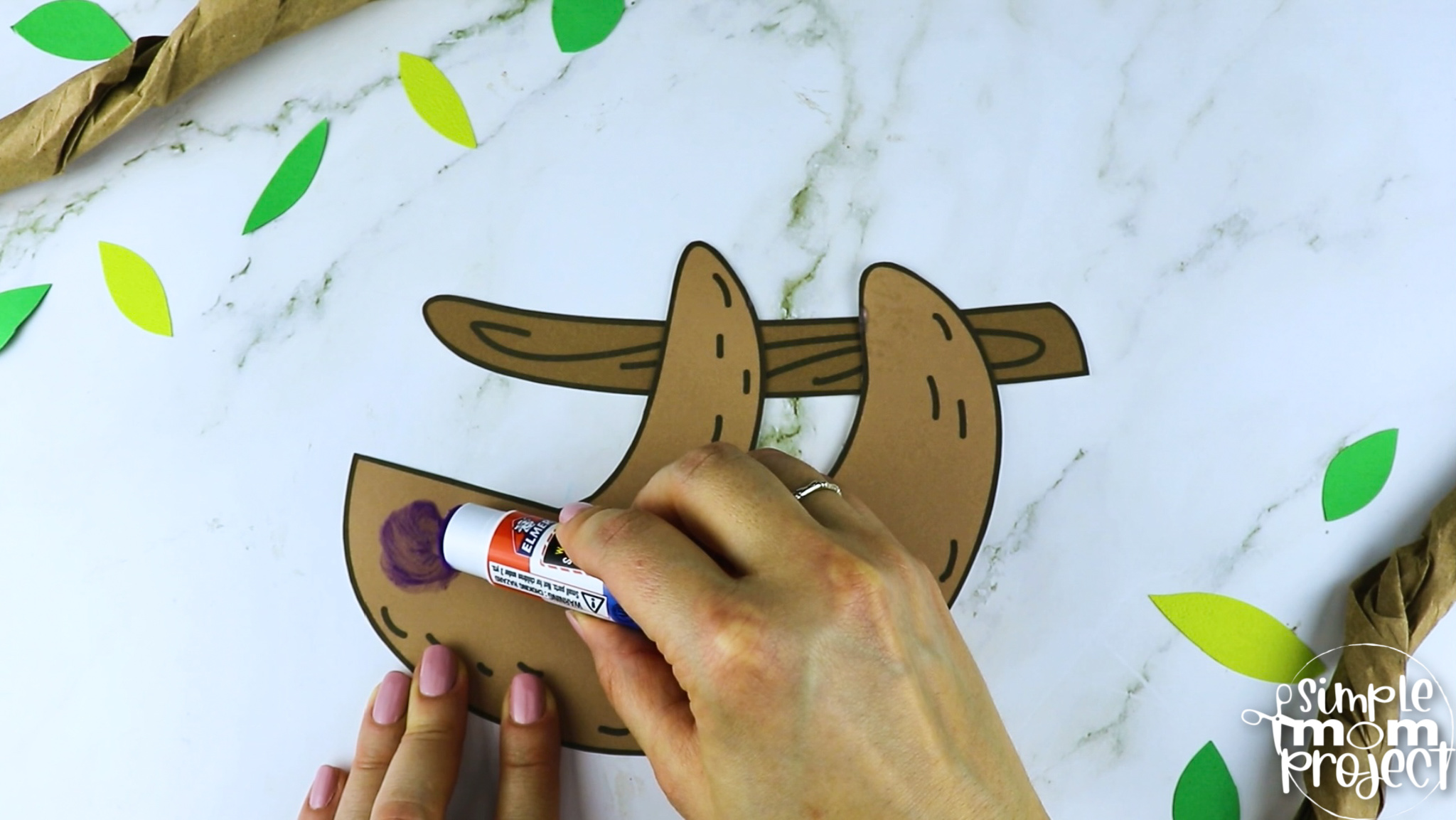 To finish your sloth crafts, attach the sloth's head onto its body.
You did an excellent job creating the cutest sloth craft ever!
More Options to Choose:
You can print the blank version and trace the cut outs on card stock paper for a sturdier sloth craft,
Print the sloth template in color for a simple and easy rainy day craft or,
Print the blank sloth template and use it as a fun coloring sheet activity and then glue the pieces of the sloth craft together.
Printable Sloth Craft Template
This printable sloth craft template is wonderful because you can use it to make a ton of easy DIY crafts!
The black and white sloth template and the colored sloth template are the two options we have.
Both templates can be used to create crafts out of cardboard, paper plates, and other materials.
Allow your children to express their creativity by crafting their own sloth crafts.
Arts and crafts are an effective technique to improve focus, hand-eye coordination, fine motor skills, and artistic abilities.
This week, remember to include the printable sloth craft template in your plans!
Get your copy right away and don't wait any longer!
Need more animal craft templates? Check out our packed list of animal craft templates for simple craft fun with your little ones.  
When you have finished, be sure to share your creation on Simple Mom Project's Facebook Page and follow me on Pinterest!

Kaitlen D.
More Fun Printable Animal Craft Templates