Do your children enjoy acting out teachings at home or in the classroom?
We know how much children dream to be teachers because of their exceptional ability to teach and care for students.
That gave us the idea to design a printable teacher paper bag puppet template for children of all ages.
Teachers are one of the most important community members in our city, since they help children learn, grow, and dream.
This is perfect for kids who are starting preschool or who wish to become teachers in the future.
Children who work on this teacher paper bag puppet not only develop their creativity and fine motor abilities, but they also learn to value these workers in the community.
Teachers' importance is not always recognized, so this teacher paper bag puppet reminds us of their responsibilities and importance in our lives.
This weekend, let your kids work on this hand puppet at home along with other fun teacher activities!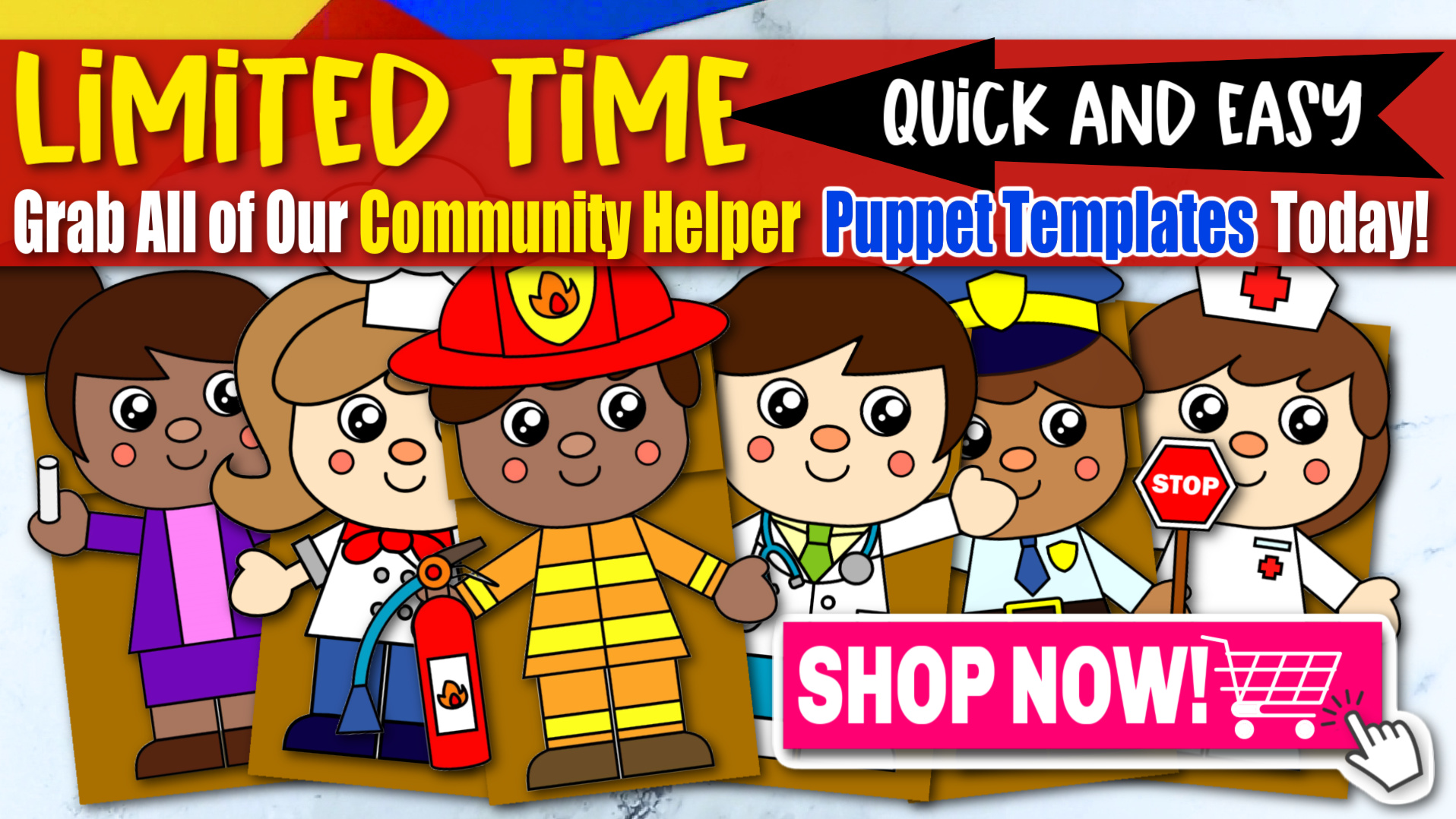 *By the way, this post may contain affiliate links which means I may receive a small commission at no additional cost to you if an item is purchase through that link. For more information, click here.*
Printable Teacher Paper Bag Puppet Craft

Teacher Craft Supplies Needed
Need more crafty fun? Check out our Teacher Cut and Paste Craft, Farmer Puppet, and Chef Puppet
.
 T
hey are perfect for those days when staying indoors is the only thing your family can do!
Ideas for Easy DIY Preschool Paper Teacher Craft
This printable teacher paper bag puppet template is suitable for both preschool and home use.
We'd love to offer some ideas for incorporating this printable community helper puppet into your routines.
We made sure that putting these ideas into practice would be simple, fun, and easy!
Please feel free to use these ideas however you choose in your activities!
1. Terrific Teacher Learning Tools for Children
This printable teacher paper bag puppet template would be a lot of fun to incorporate into your routines!
Use these terrific teacher learning materials to organize your community helper lesson plans.
These learning materials would make your activities more entertaining and interesting.
People like you should be appreciated and valued, whether you are a teacher in a school or a teacher at home for your child.
Children can learn about your roles in the classroom and in their lives from these books about teachers.
Playing with pretend teaching toys would definitely get kids excited to work on the teacher paper bag puppet.
Plan out your weekend routines with these terrific teacher learning tools!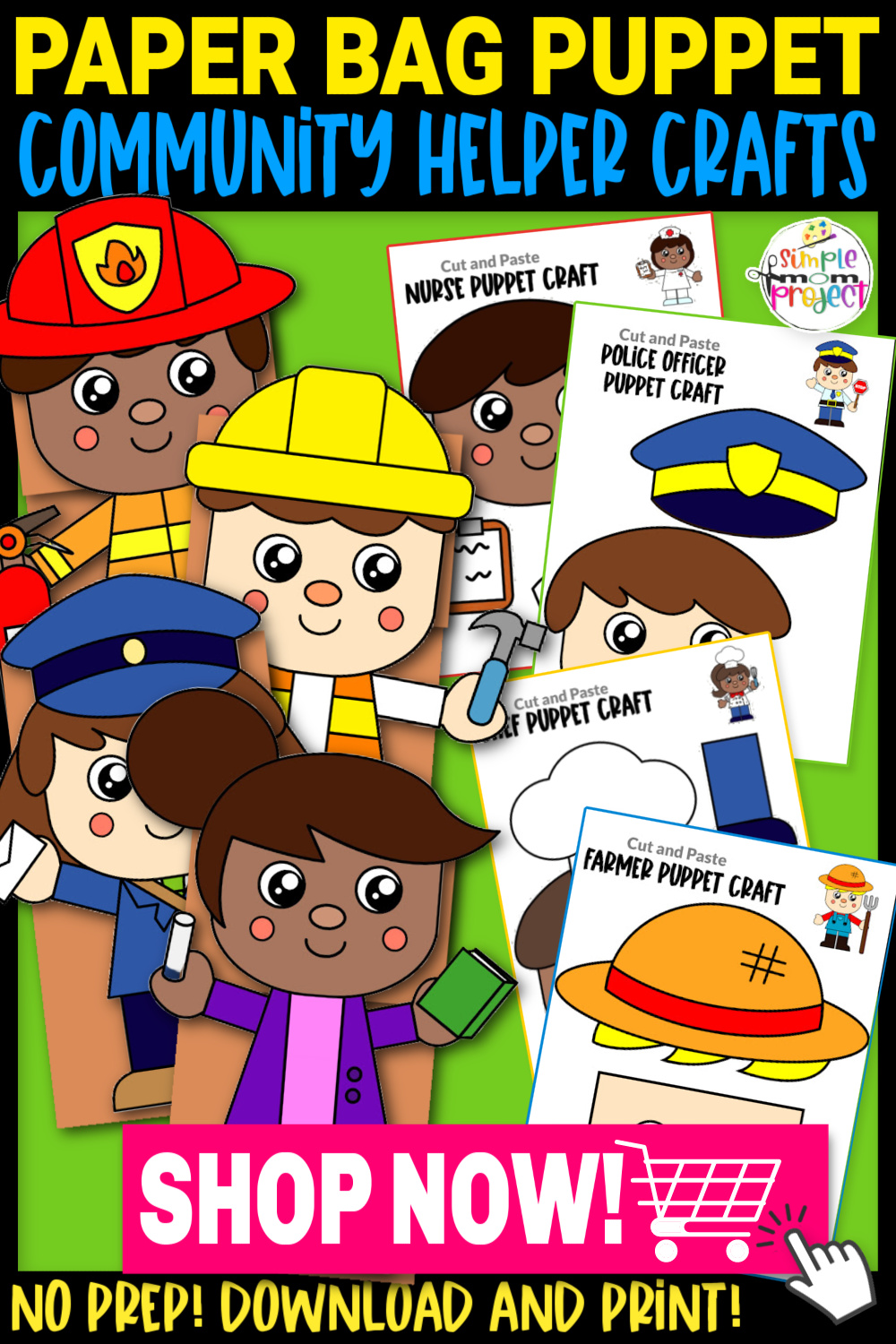 2. Community Helper Preschool Theme
Your preschool themes will go wonderfully with this printable teacher paper bag puppet and the rest of our community helper puppets.
Our printable community helper puppets are great for use if your theme is a teacher, police officer, doctor, or other occupation.
This week, use the printable teacher paper bag puppet template!
Combine this teacher puppet craft with other printable puppets from our collection to decorate your community helper bulletin board.
Give your kids the freedom to select the community helper they wish to create, then display it on your occupations wall.
This community helper preschool theme is not only appropriate for school activities, but it can also be used at home.
3. Teacher Appreciation Day
Any day would be perfect for us to honor all of the wonderful teachers we know.
They deserve to be recognized every day for all of their efforts in teaching our children.
They support our kids in learning and growing to be the best of themselves as well as acting as the second parents at school.
You can create something for your teachers with this printable teacher paper bag puppet template.
This printable teacher puppet can be used for a variety of arts and crafts projects.
This teacher puppet project can be made into a card with a thank-you note on the back of the template. Allow your kids to alter it as they want to make it their own.
4. Teacher for a Day
Making this printable teacher paper bag puppet template would definitely inspire children to become teachers one day!
Who wouldn't want to be a part of the community that helps to create other professions?
Give our kids the chance to be who they want to be when they grow up while they are still young.
Allow them to be a teacher for a day at home or at school. Allow them to perform the duties of a teacher so they can understand the value of one in our community.
Have your students be teachers for a day if you're going to implement this in the classroom so they can learn about it one at a time.
We hope you enjoyed taking these notes for your lesson plans!
These ideas would definitely complete and boost your community helper theme.
Check out the other puppets we have in our collection of community helpers!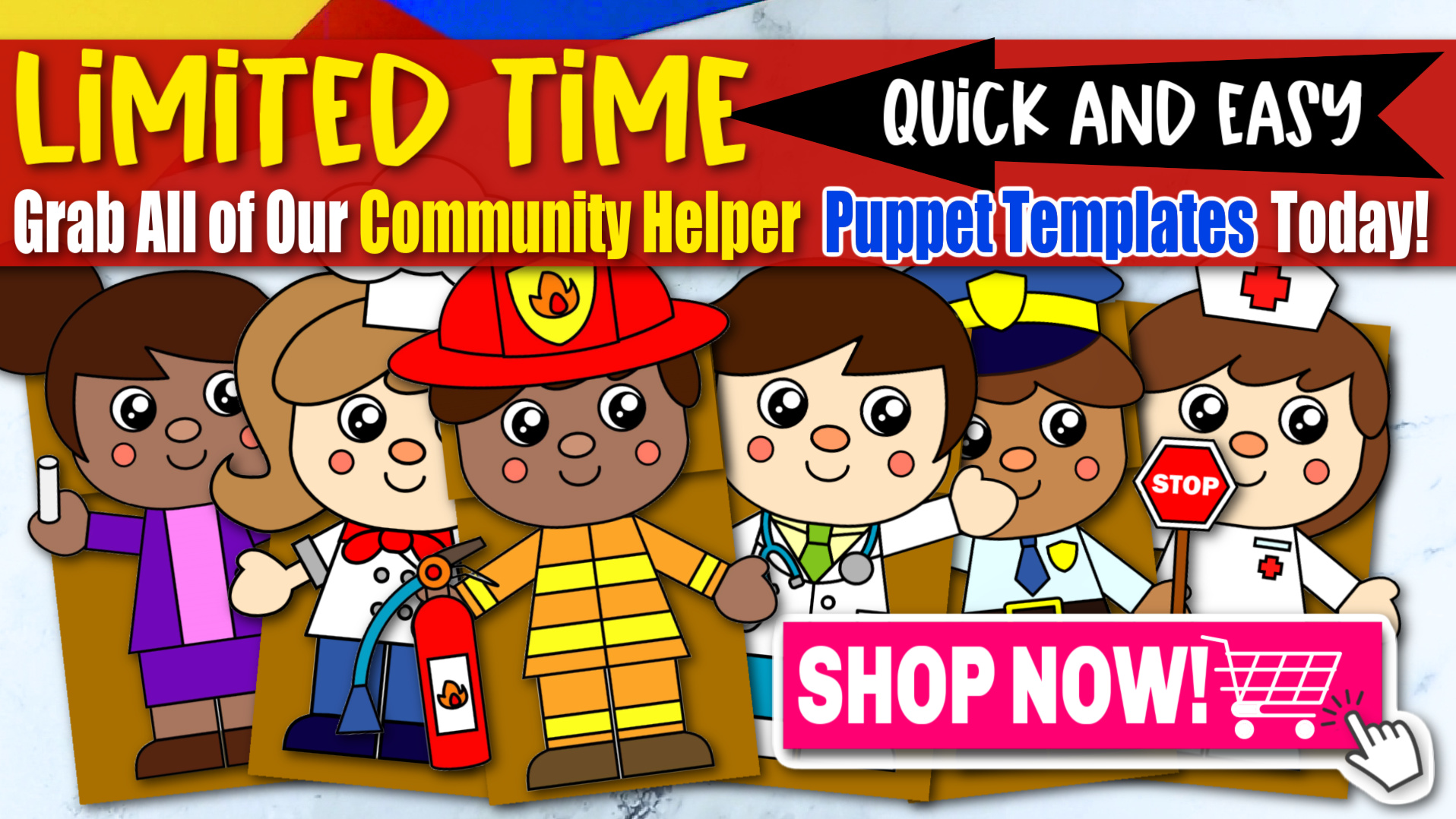 Teacher Paper Bag Puppet Instructions
If you're ready to get started on your DIY teacher paper bag puppet, check out these simple instructions!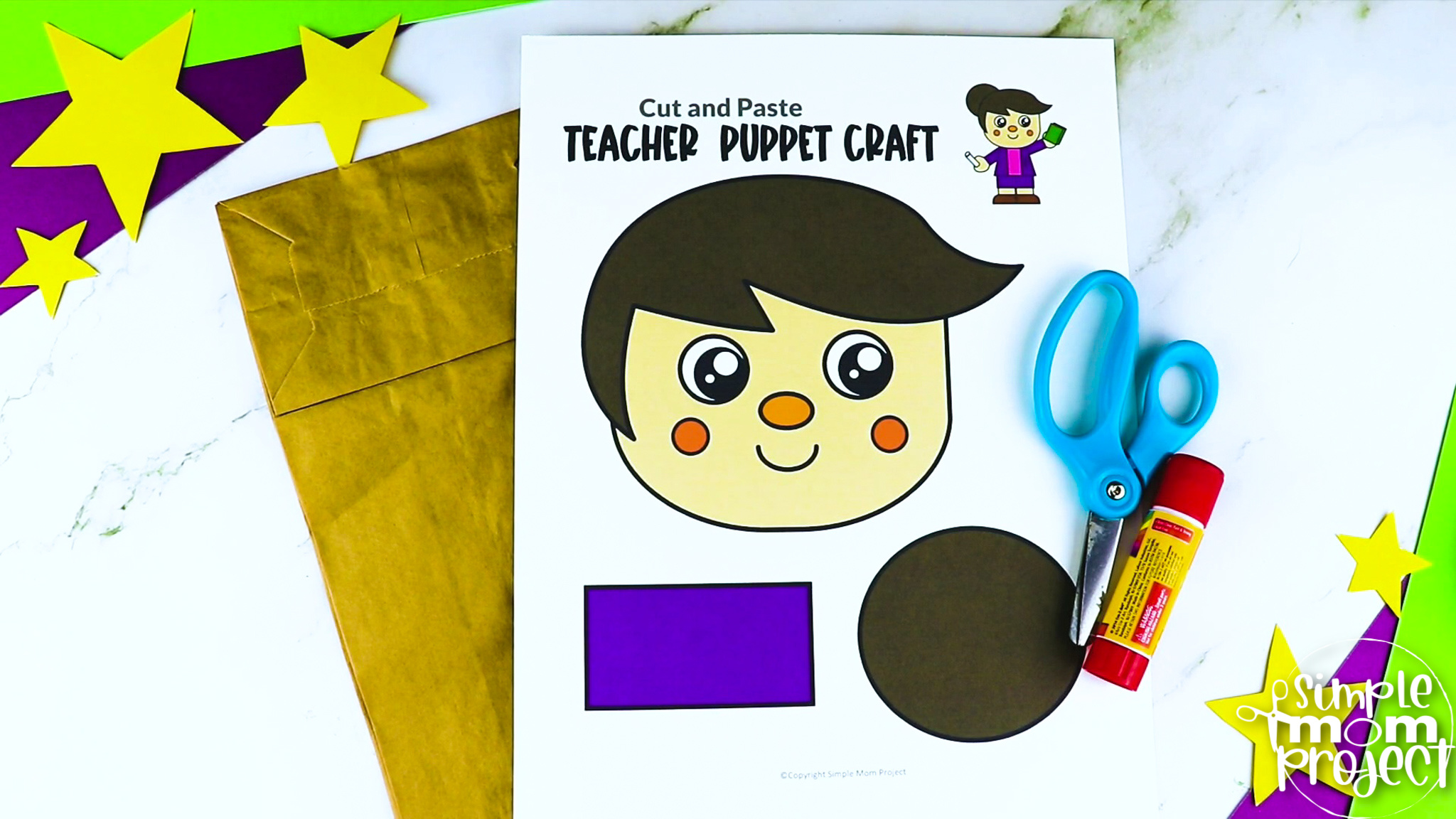 Cutting the colored teacher puppet template is a great exercise for improving fine motor skills.
Allow your youngsters to express their artistic talents by coloring the simple black and white template.
Place the teacher's head first on the brown paper bag's folded edge.
The upper body below the head comes next.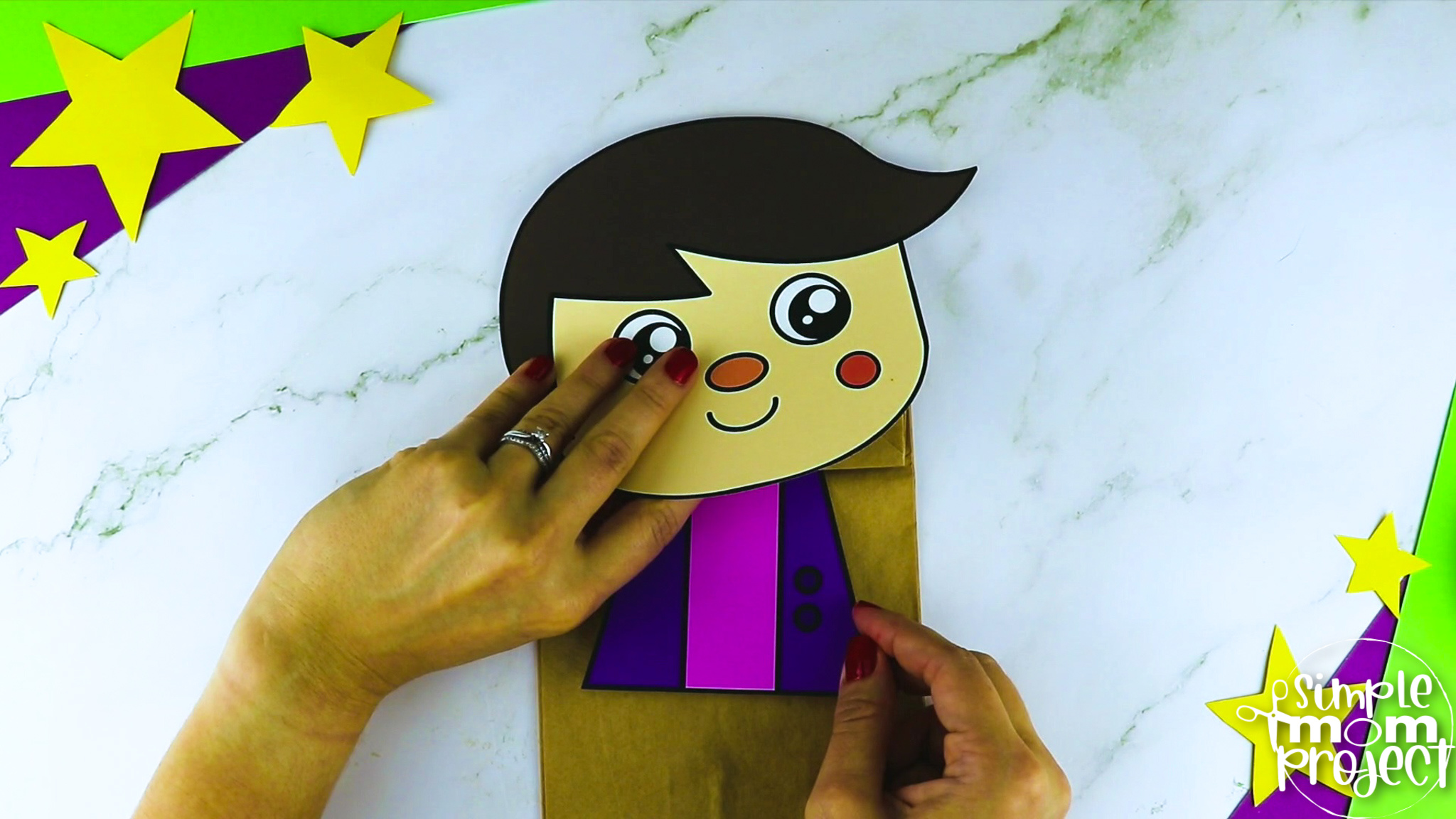 Next, the lower body should be placed below the upper body.
As illustrated in the image below, attach both legs.
Attach both arms on the sides, chalk and book in each hand.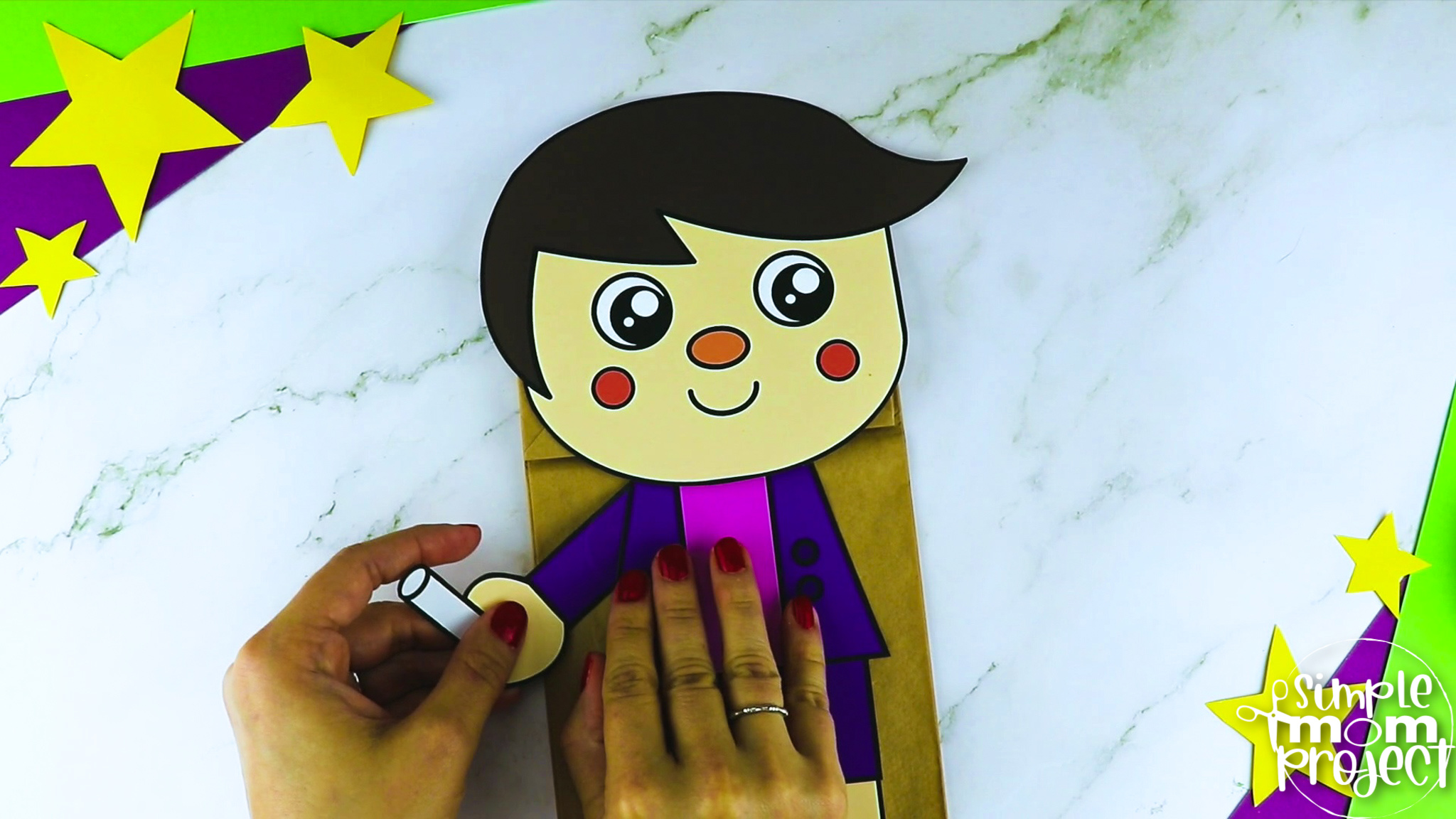 If your child wishes to create a woman teacher, you can add hair to the top of the head.
This teacher paper bag puppet template is as unique as the person who designed it!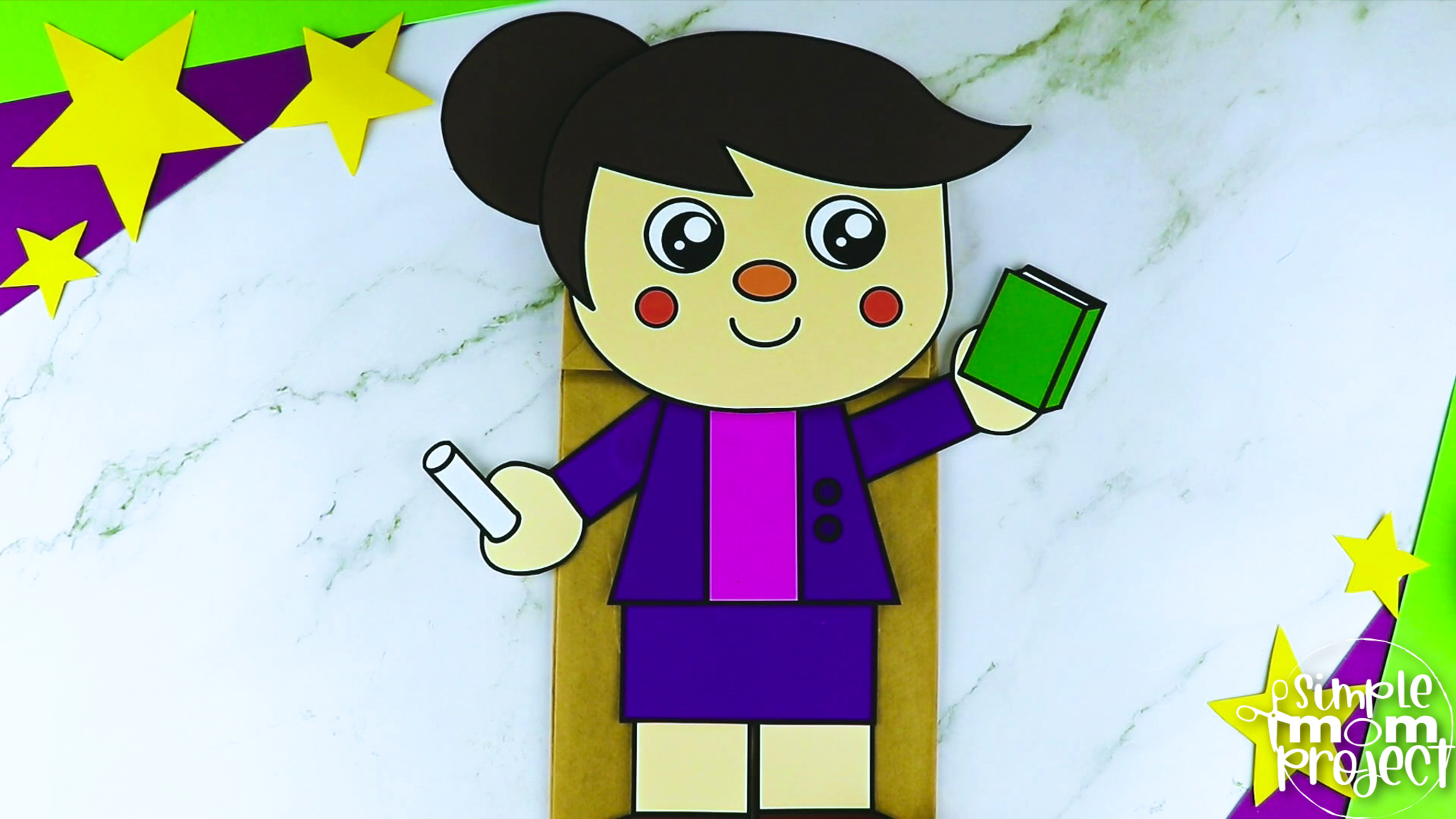 More Options to Choose:
You can print the blank version and trace the cut outs on card stock paper for a sturdier teacher paper bag puppet craft,
Print the teacher template in color for a simple and easy rainy day craft or,
Print the blank teacher template and use it as a fun coloring sheet activity and then glue the pieces of the teacher craft together.
Printable Teacher Paper Bag Puppet Template
All the little teachers in training would have a great time creating this teacher paper bag puppet.
This kid-friendly hand puppet has been created to be easily put together using basic supplies.
While children are creating their teacher puppets, you could teach them about the responsibilities and duties that teachers have.
They will gain knowledge about teachers while also developing their imagination, concentration, fine motor skills, and hand-eye coordination.
We have created more fun templates for you to use, such as a plain and colored teacher puppet template.
Allow the children to choose the template they want to use and share with their favorite teachers.
They will also have an easy time finishing their hand puppets because we will show them how to create one in simple steps.
With this printable teacher paper bag puppet template, kids will always look forward to coming to school to see their teachers!
Need more community helpers puppet fun? Check out our packed list of paper bag puppets for simple craft fun with your little ones.  
When you have finished, be sure to share your creation on Simple Mom Project's Facebook Page and follow me on Pinterest!

Kaitlen D.
More Printable Community Helper Craft Templates