We know that many of the children who appreciate our community helper puppets are also animal lovers.
Of course, we couldn't forget about this volunteer who assists us in caring for our pets.
Include this printable veterinarian paper bag puppet in your lesson activities this week as you learn about various community workers.
Let's show our appreciation for them who make sure that all animals are safe and well-cared for.
They play an important role in keeping our dogs healthy and disease-free.
While learning about how veterinarians carry out their duties, kids would surely love making their own paper bag puppet versions of them.
Along with this puppet craft, we also prepared activities with a veterinarian theme that you can incorporate into your everyday routine at home and at school.
If you're searching for a fun approach to teach about veterinarians, this printable veterinarian paper bag puppet design is perfect.
Enjoy learning about community helpers, as well as strengthening fine motor and hand-eye coordination skills and creativity!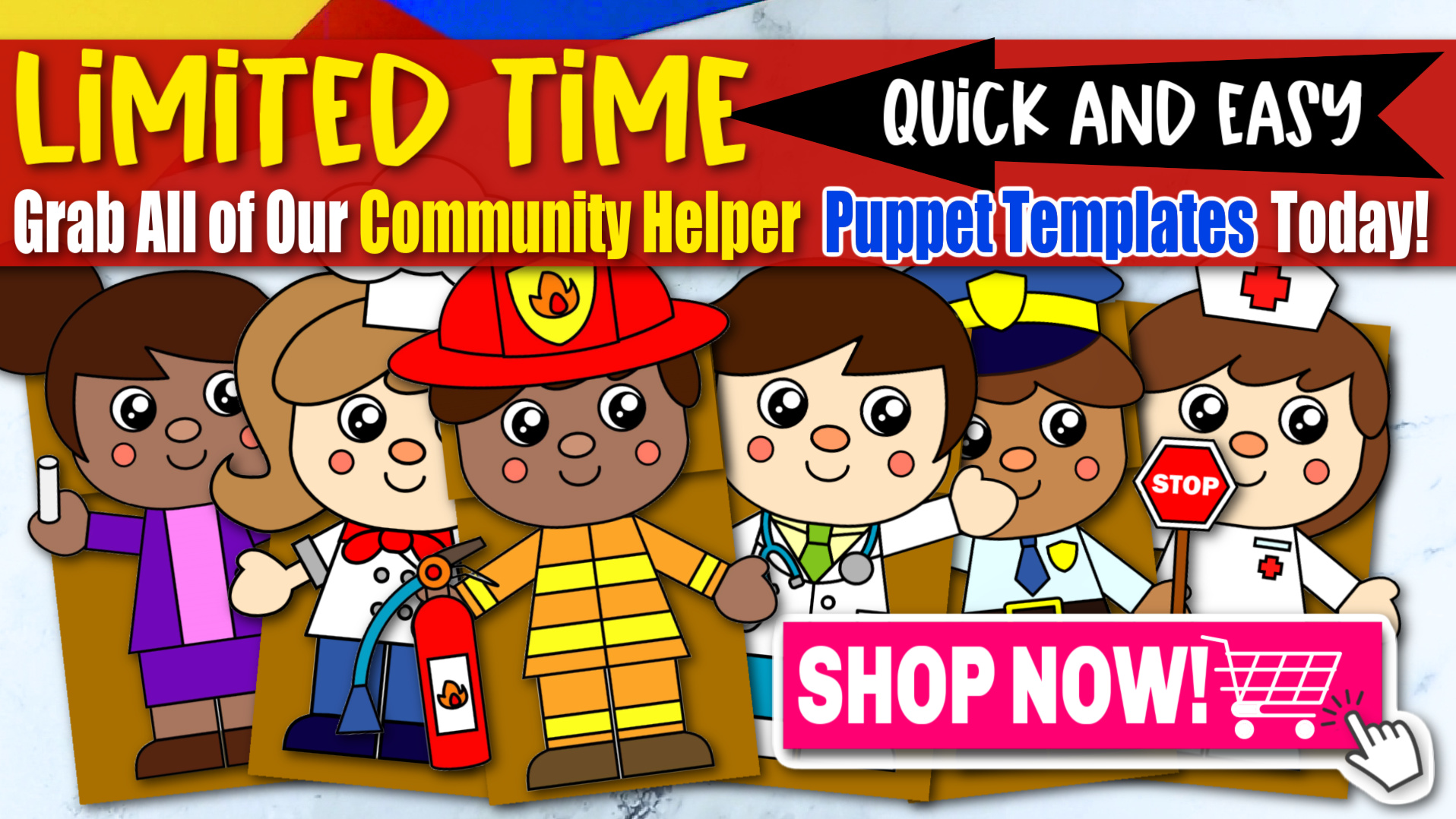 *By the way, this post may contain affiliate links which means I may receive a small commission at no additional cost to you if an item is purchase through that link. For more information, click here.*
Printable Veterinarian Paper Bag Puppet Craft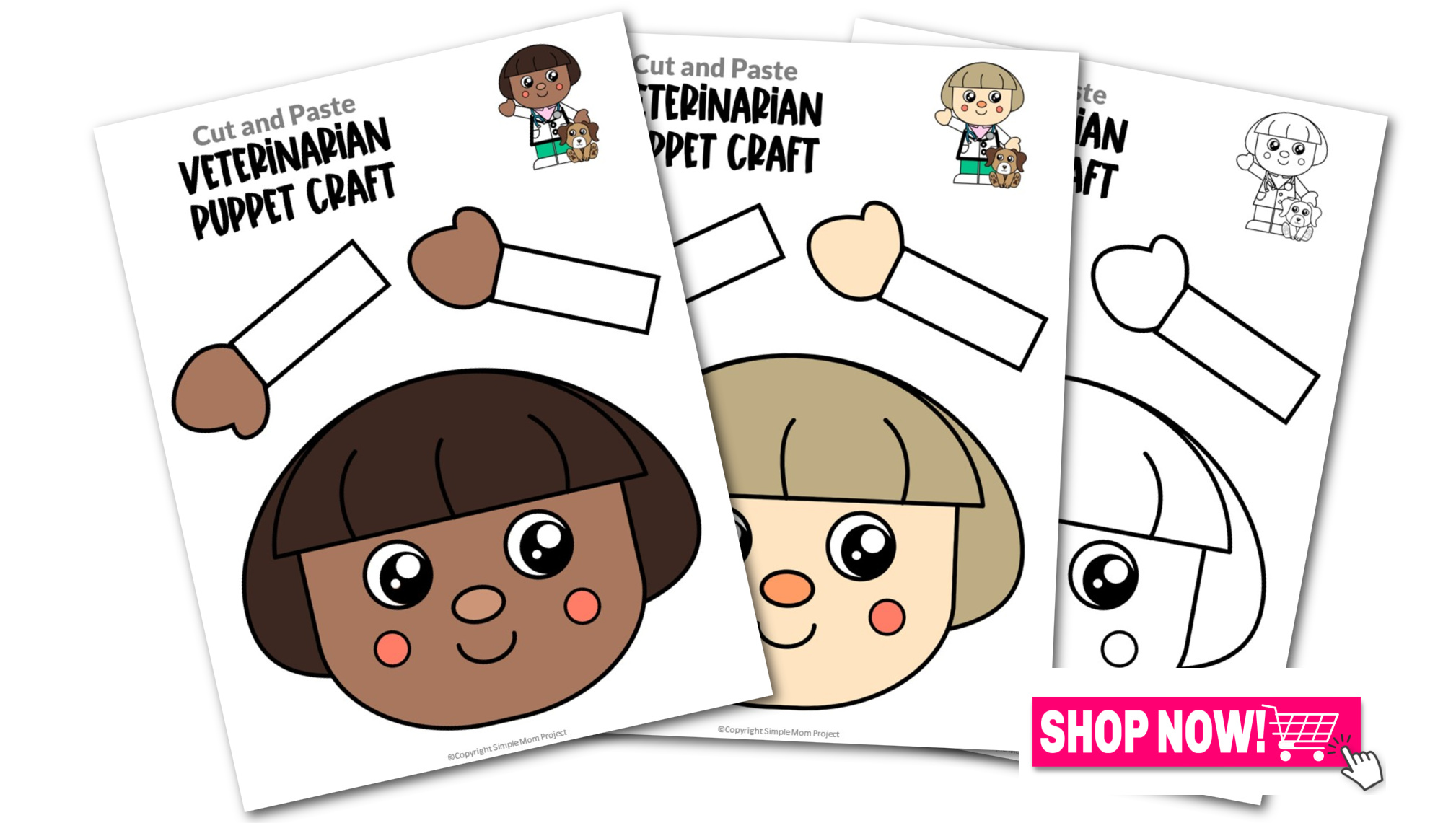 Veterinarian Craft Supplies Needed
Need more crafty fun? Check out our Veterinarian Cut and Paste Craft, Doctor Puppet and Teacher Puppet
.
 T
hey are perfect for those days when staying indoors is the only thing your family can do!
Ideas for Easy Preschool Paper Veterinarian Craft
Check out these ideas we have for using the printable veterinarian paper bag puppet template.
Use these ideas in your regular preschool activities at home and at school.
We made certain that these ideas are easy but fun to implement.
Enjoy taking down these ideas!
1. Best Veterinarian Learning Materials for Kids
There's no need to worry about coming up with resources to use in your learning plans because we've gathered them all for you.
To go along with the printable veterinarian paper bag puppet template, use these best learning materials for veterinarians in your routines.
Allow children to read books on these amazing vets to learn more about them.
Play a vet pet care playset with your kids to round out the day's activities.
All of these learning resources are very simple to find and fun to use in your daily routines.
Enjoy a fun-filled day by using them along with the printable veterinarian paper bag puppet template!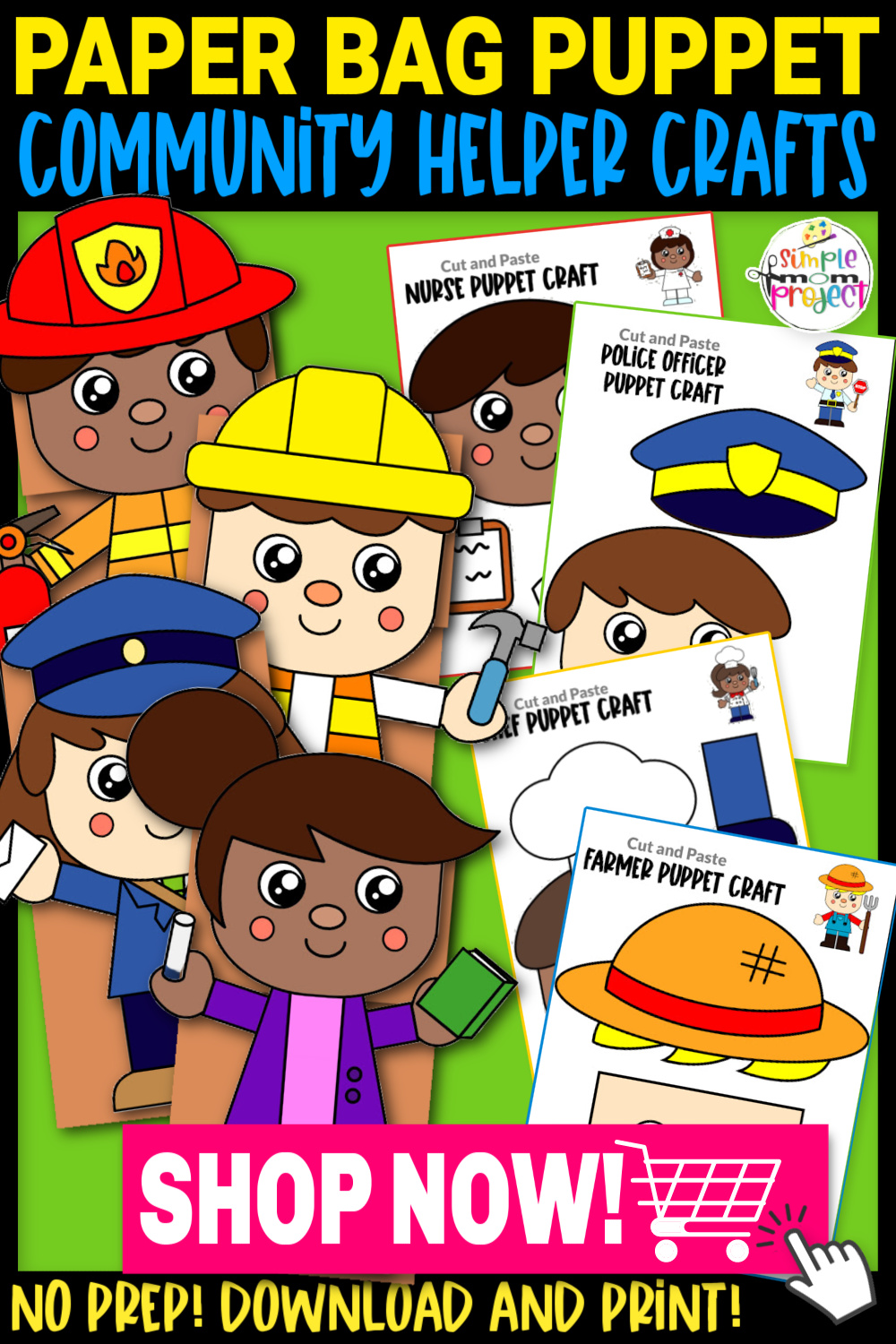 2. Vet Pet Clinic Dramatic Play Area
Set up a dramatic play area at home or in the school to kickstart your community helper week.
This vet clinic play area is great if you plan to use the printable veterinarian paper bag puppet template.
If children have never been to a vet clinic, they will have an idea of what it looks like.
They'll also have fun pretending to be veterinarians while wearing their veterinarian costume and tools.
Your children can use animal plush toys as a play area prop if you have any on hand.
For a more realistic experience, you may even play with your pets if you have one.
Post some finished works from the printable veterinarian paper bag puppet templates in your pet clinic to let people know the doctor is on the way!
3. Pet Care for Kids
This is the perfect moment to teach the kids about basic animal care for their pets as we are discussing veterinarians.
It's important for children to be aware of these things so they can grow up to be responsible pet owners.
Work on the printable veterinarian paper bag puppet template to begin your lesson on pet care.
Use the veterinary paper bag puppet as a prop to teach your preschoolers about these basic pet care practices.
We're sure kids are thrilled to learn about the following things they should do and provide to their pets and other animals.
Your pets need some things more than just snuggling and love, though.
They require nourishment, clean environments, sleeping areas, exercise, supplies, and grooming.
We must not forget that these animals have feelings as well and must be cared for.
If your pet becomes ill, you can phone your veterinarian or head straight to the animal hospital.
4. Play with Pets
Do you have pets at home?
If yes, this is the perfect chance to spend a day playing with them!
Our pets are more than simply animals to us; they are also members of our family.
It would be a wonderful opportunity for your students to bring their pets to class if you were to incorporate this in your preschool class at school.
Allow them to present their pets to everyone one by one.
This would be an exciting day at school where students could bring their pets and play with the pets of their classmates.
On this day, you may also assign your preschoolers the printable veterinarian paper bag puppet template to complete.
Allow the children to present their completed veterinarian puppets to the class.
We hope you find all of these ideas exciting and fun to incorporate into your plans!
Your weekend activities will be a blast if you use these printable veterinarian paper bag puppet template ideas!
Keep a look out for more of these easy-to-make preschool community helper puppets on our community helper puppets website!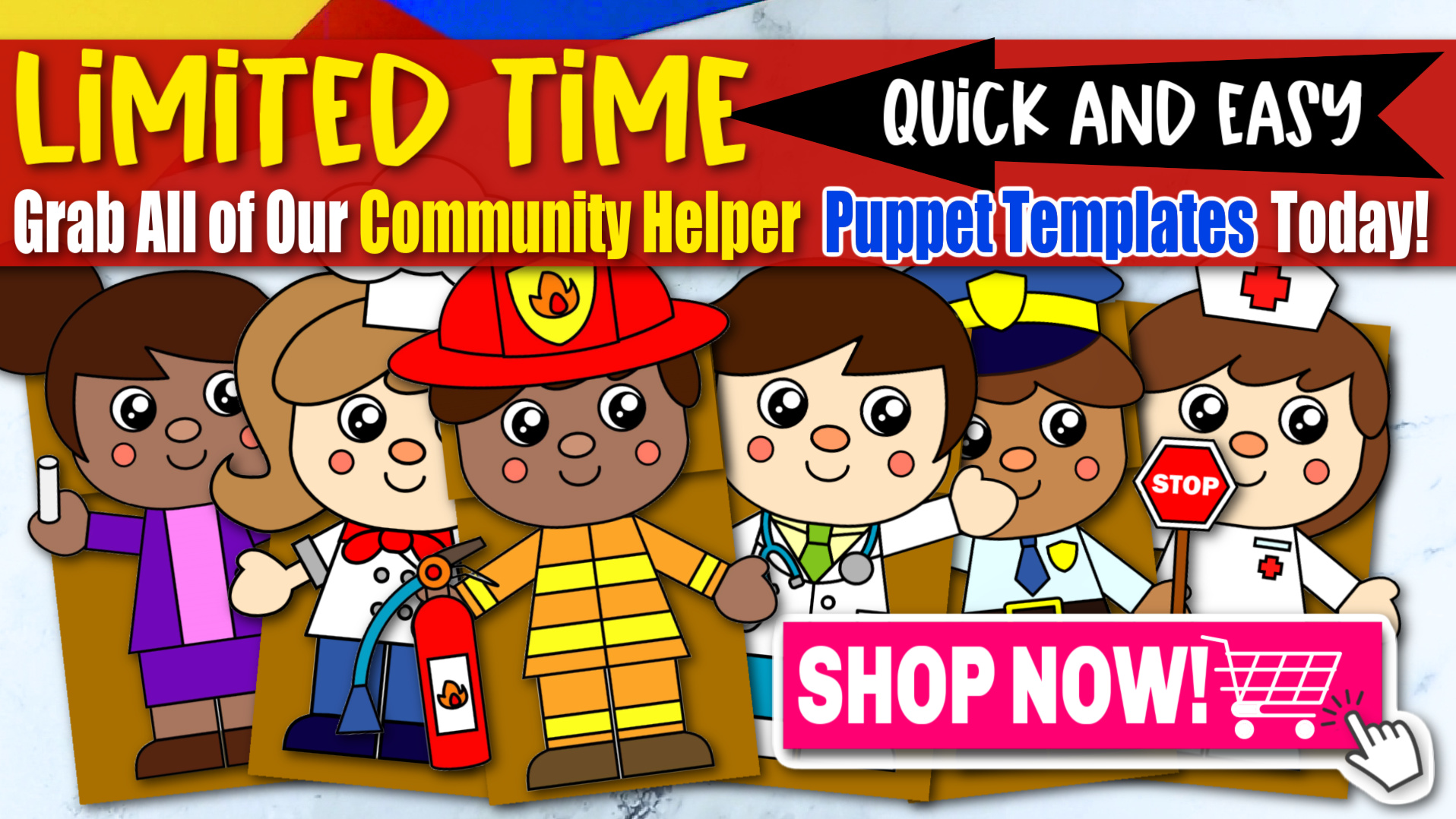 Veterinarian Paper Bag Puppet Instructions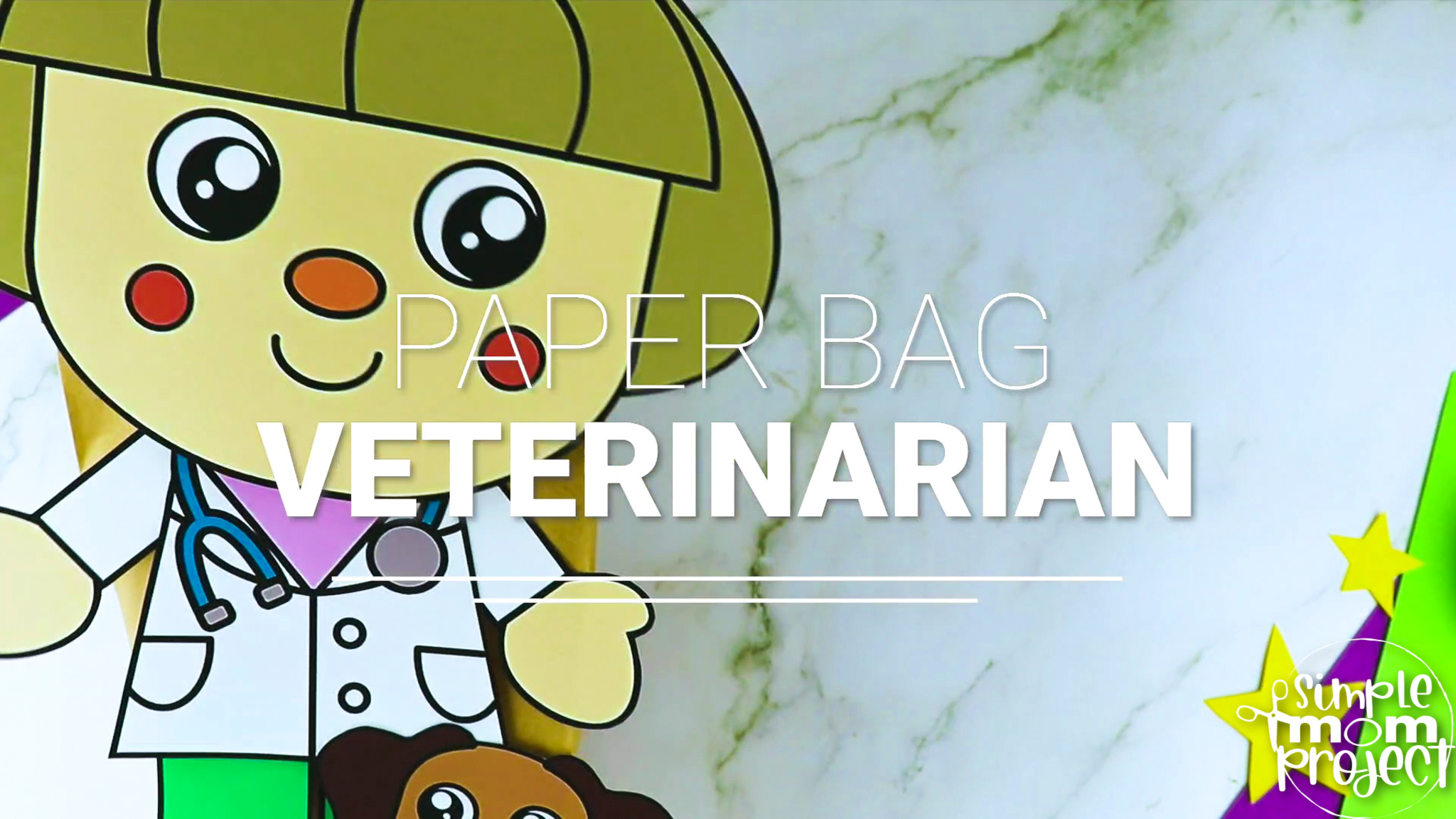 Prepare all the materials you'll need, then make your paper bag puppets by following these simple instructions.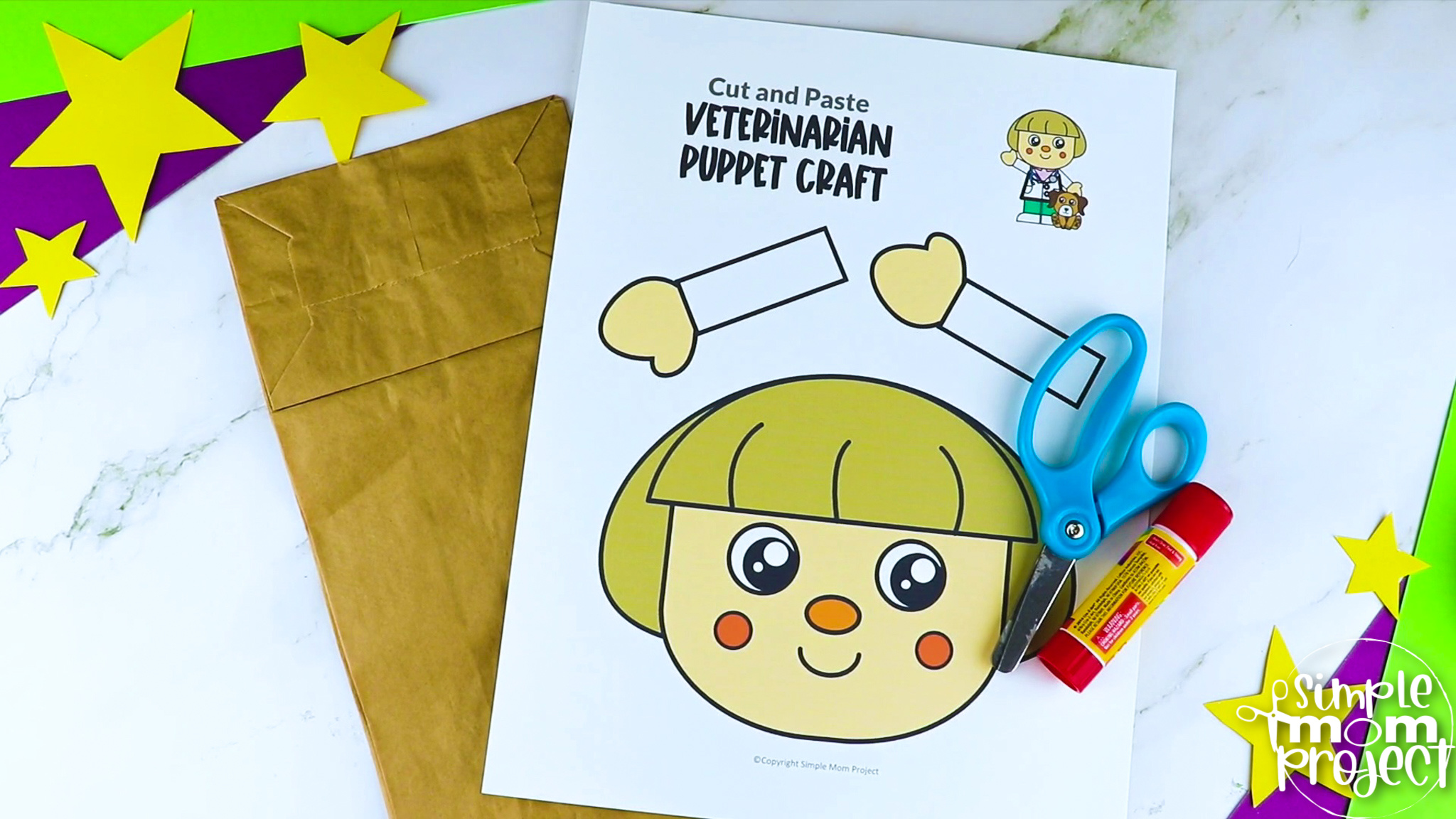 Kids can begin by cutting out each veterinary piece from the colored template one at a time.
Allow them to color and modify whatever they like if they want to start with black and white templates.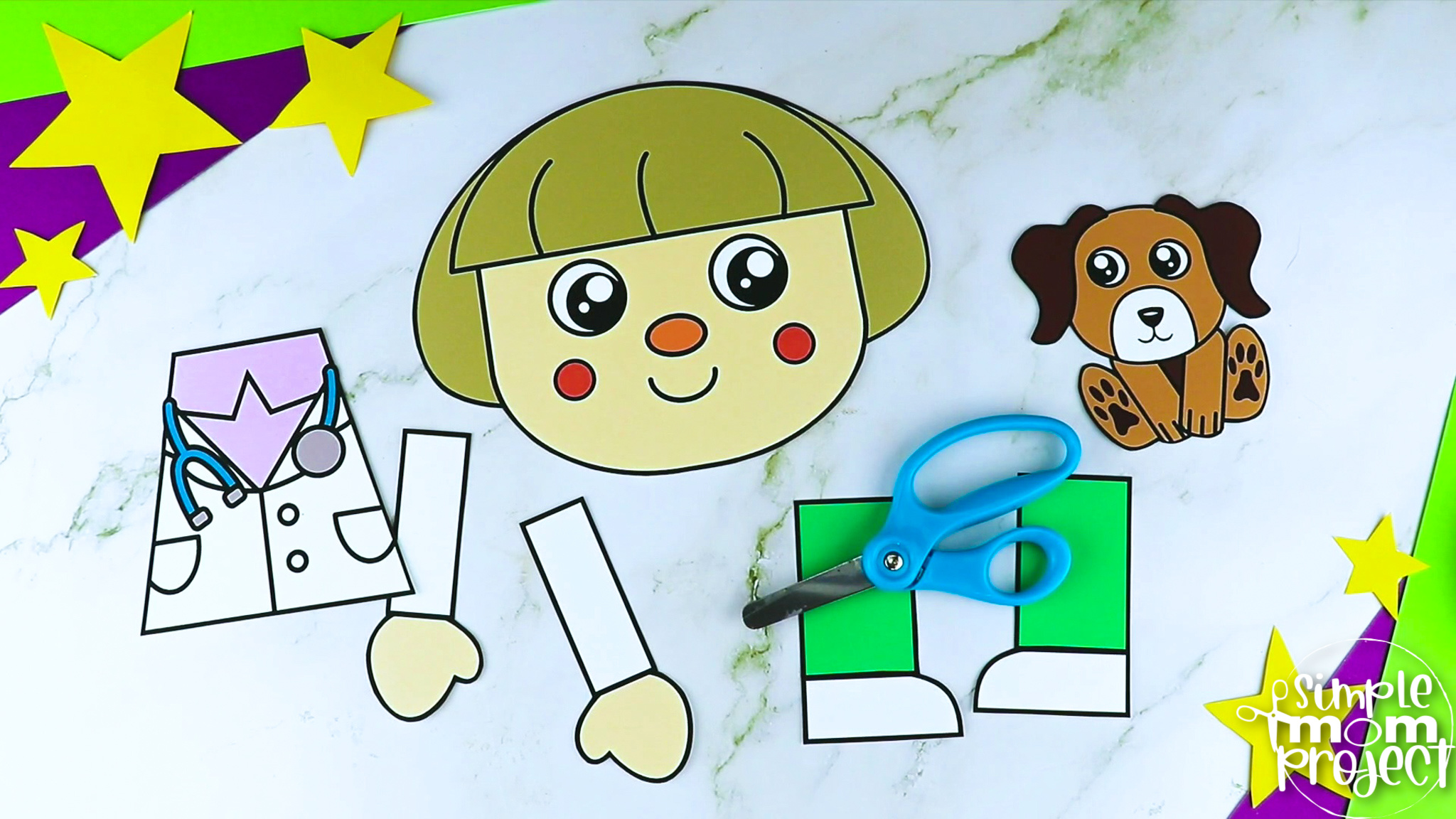 First, attach the veterinarian's head to the brown paper bag's folded edge.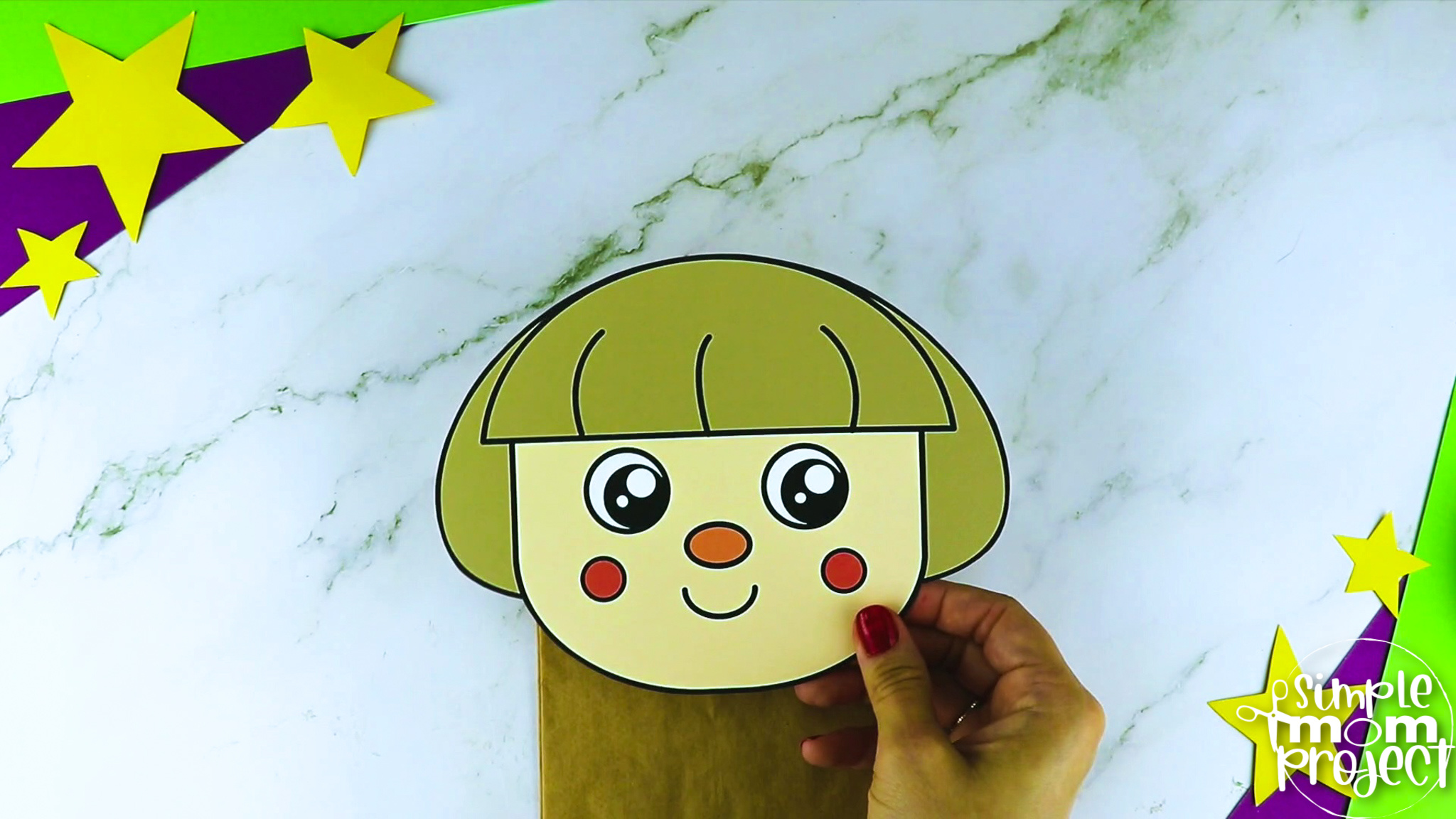 The upper body is then positioned beneath the head.
Put the lower body next as illustrated in the picture below.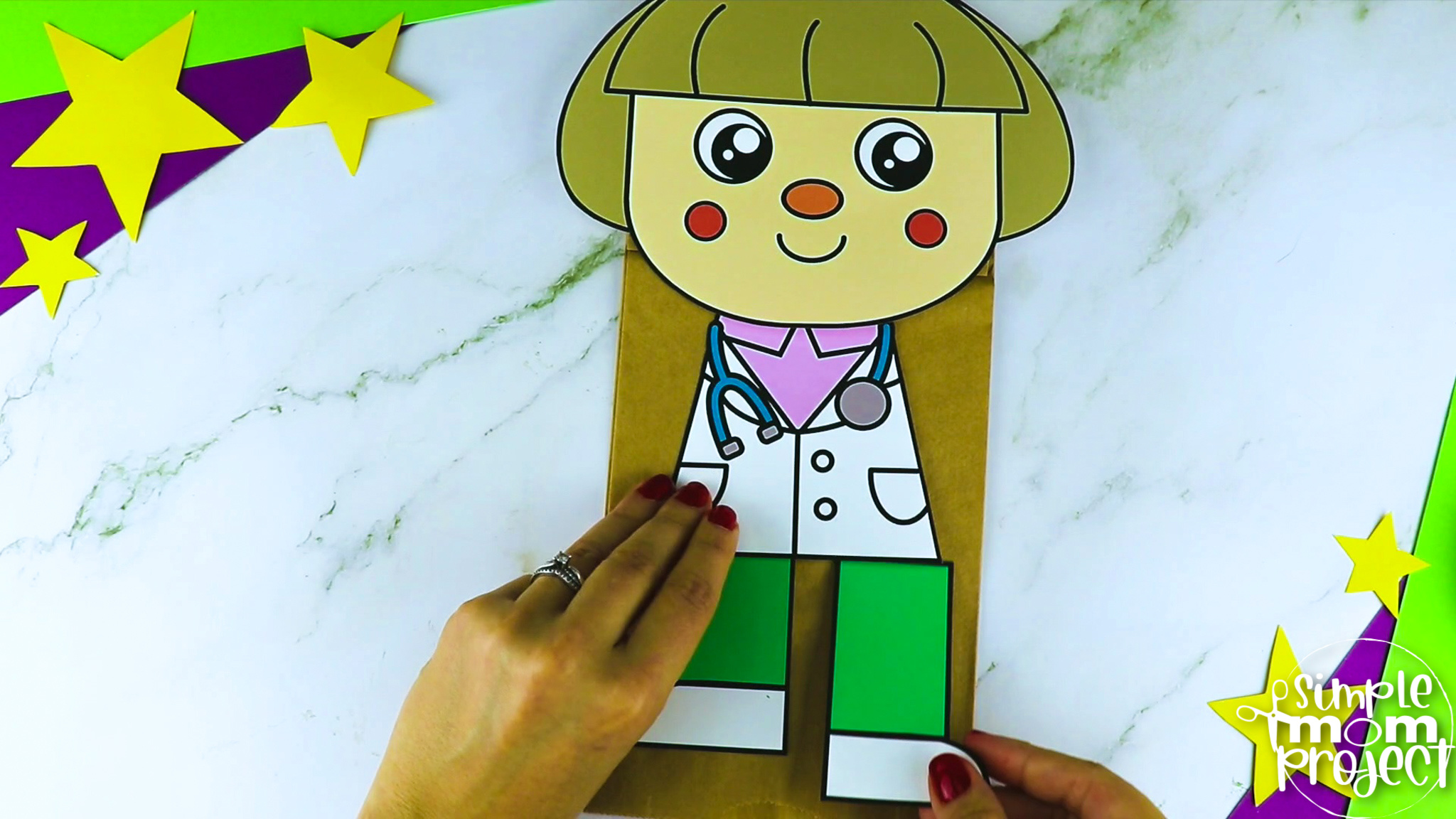 Attach both arms to the body, one on each side.
Don't forget to place the adorable dog next to the veterinarian paper bag puppet!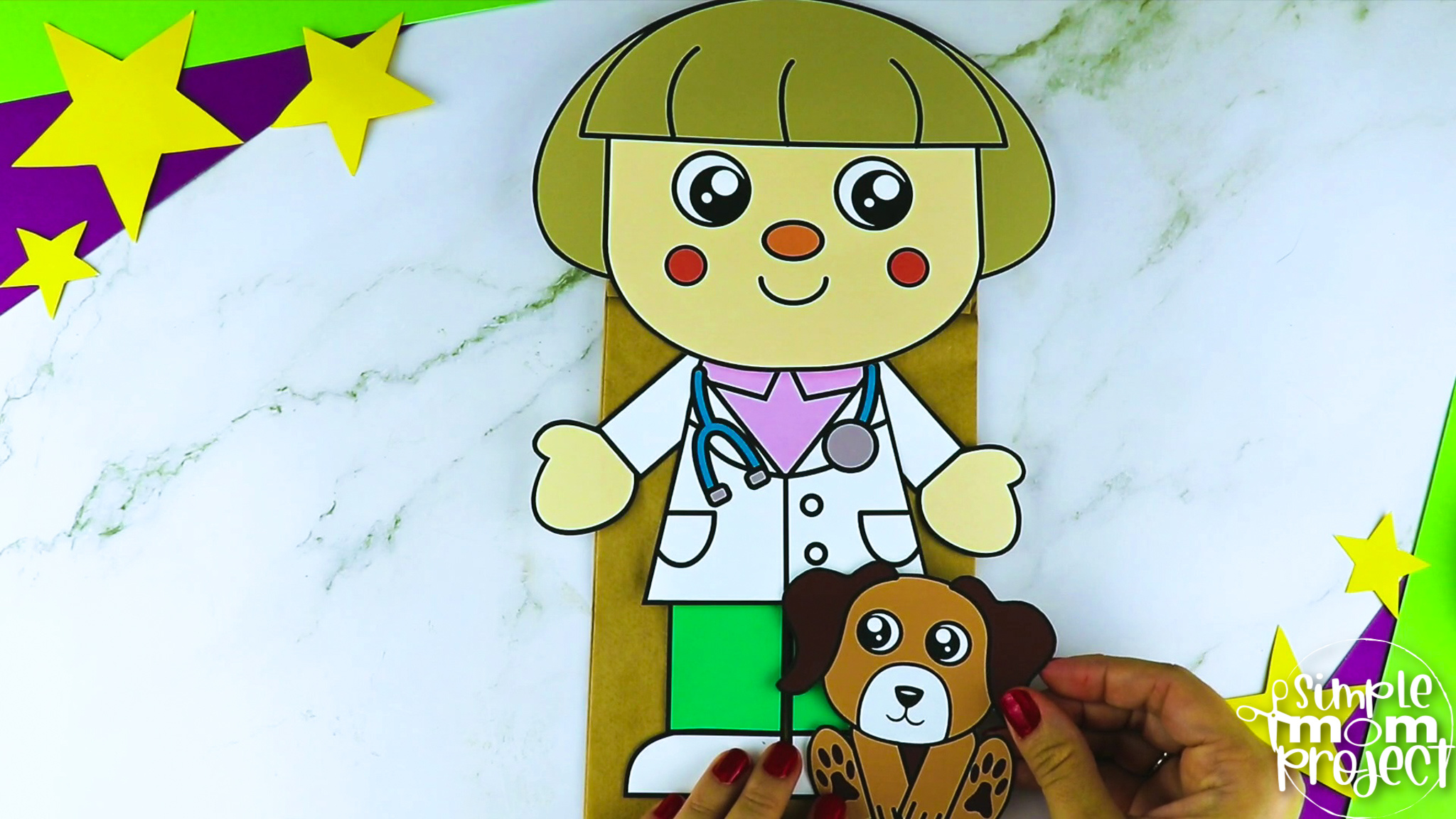 You did a fantastic job creating your puppet, who is now prepared to care for some animals!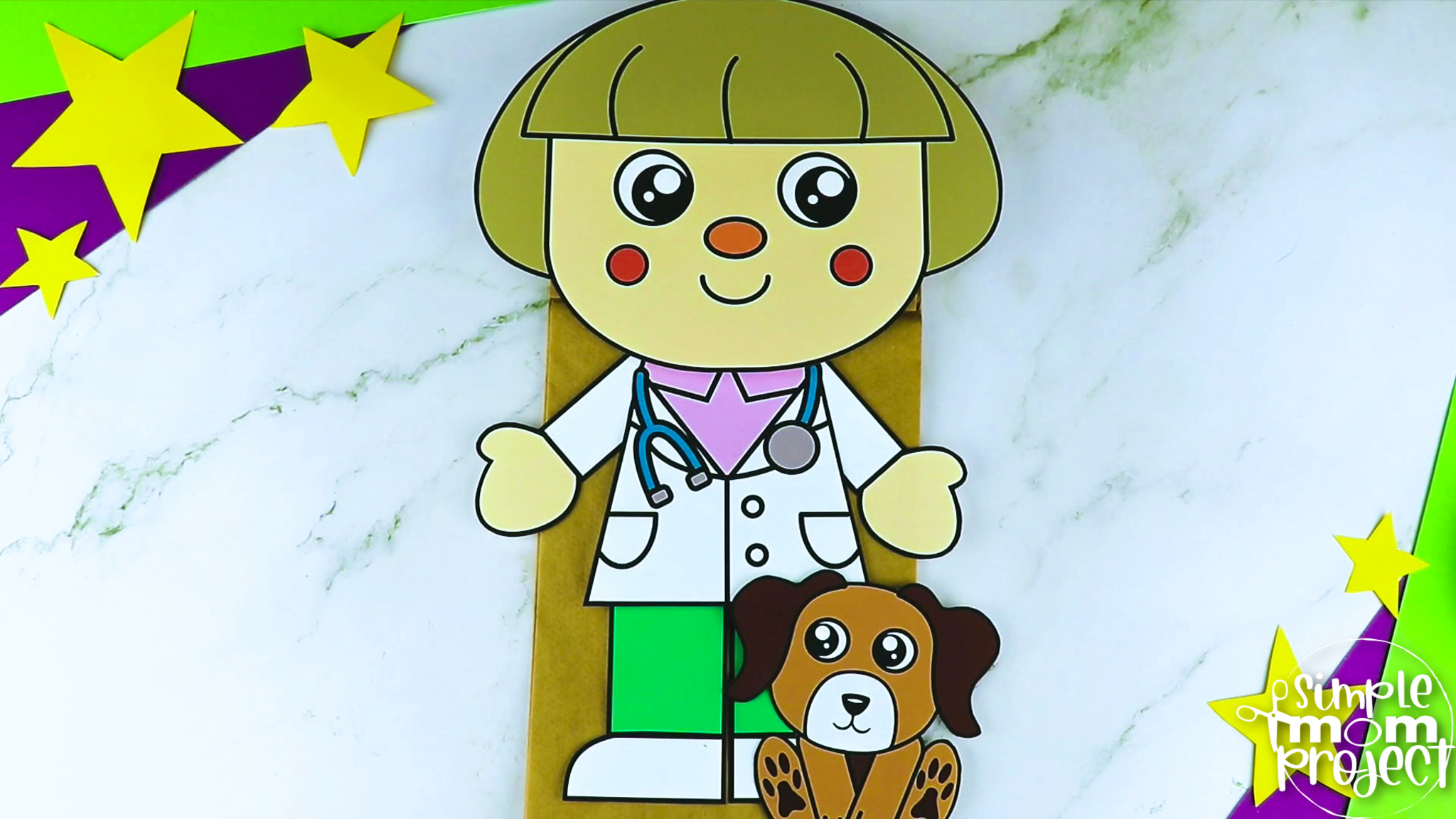 More Options to Choose:
You can print the blank version and trace the cut outs on card stock paper for a sturdier veterinarian paper bag puppet craft,
Print the veterinarian template in color for a simple and easy rainy day craft or,
Print the blank veterinarian template and use it as a fun coloring sheet activity and then glue the pieces of the veterinarian craft together.
Printable Veterinarian Paper Bag Puppet Template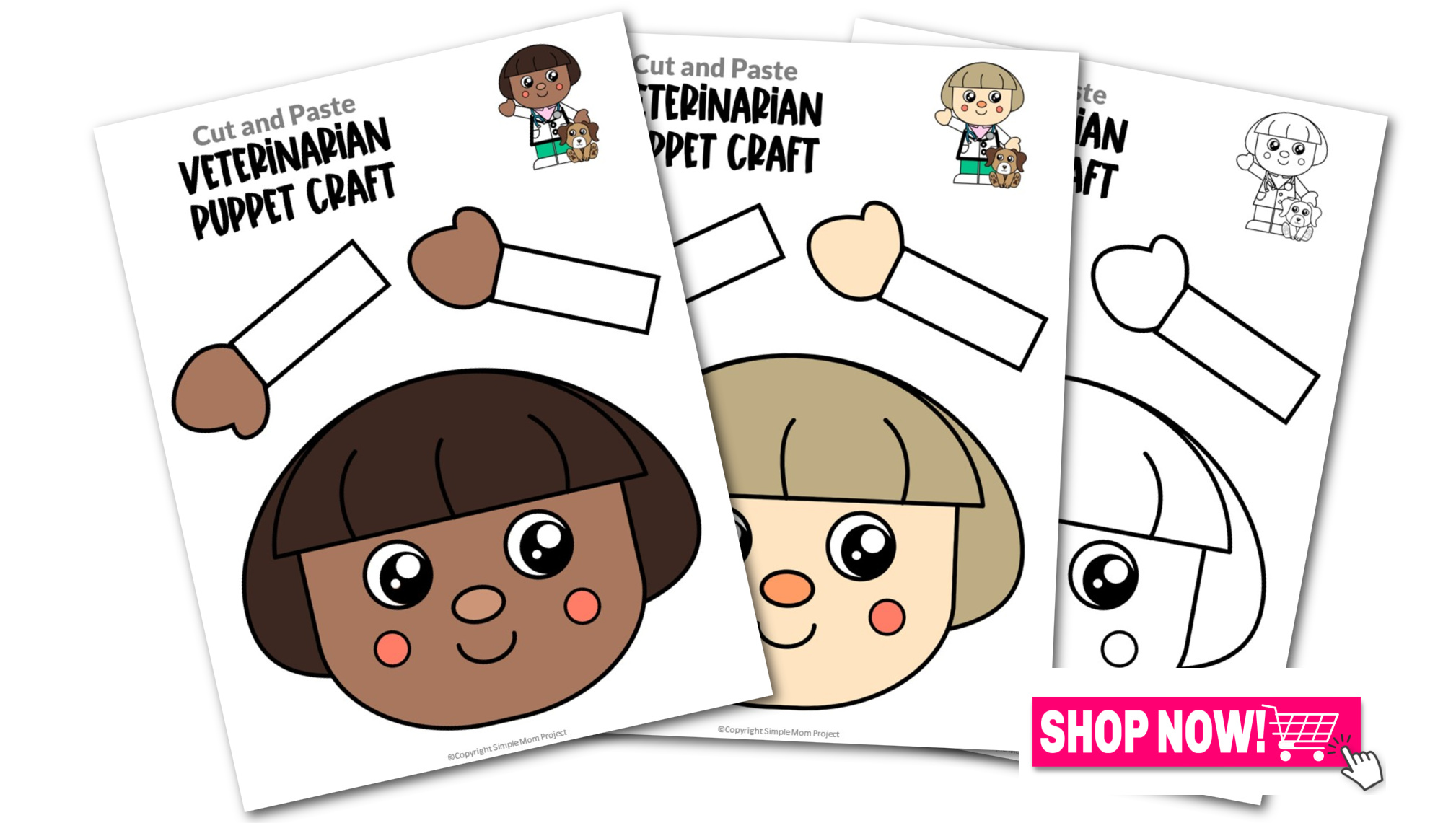 We know how enthusiastic kids are to work on their veterinarian paper bag puppet, so print out a copy right away!
This printable veterinarian paper bag puppet template is designed for children to create their favorite community helper in a simple and fun way.
This is as simple as cutting and pasting, so all you need are some basic tools like scissors and glue.
Children will have a great time choosing from all of the templates we have prepared for them.
Give them the option to select either the colored or the black and white veterinarian puppet template.
Our easy-to-follow instructions will help them have a seamless process making their own hand puppets.
Prepare to play as veterinarians after making your veterinarian paper bag puppets!
Need more community helpers puppet fun? Check out our packed list of paper bag puppets for simple craft fun with your little ones.  
When you have finished, be sure to share your creation on Simple Mom Project's Facebook Page and follow me on Pinterest!

Kaitlen D.
More Printable Community Helper Craft Templates