Do your children know what they want to be when they grow up?
Or do you have tiny kids that enjoy helping you in the kitchen whenever you cook or bake something?
Then this printable chef paper bag puppet template is just what they need!
They would enjoy making this paper bag puppet whether they aspire to become a baker or a chef at a restaurant in the future.
Use this preschool craft to help your children express what they want to be when they grow up.
Include this chef paper bag puppet in your home and school preschool routines.
Learning about community volunteers teaches children about their value and responsibilities in our community.
With all of the interesting chef themed exercises, this printable chef paper bag puppet template is sure to make your activities a blast!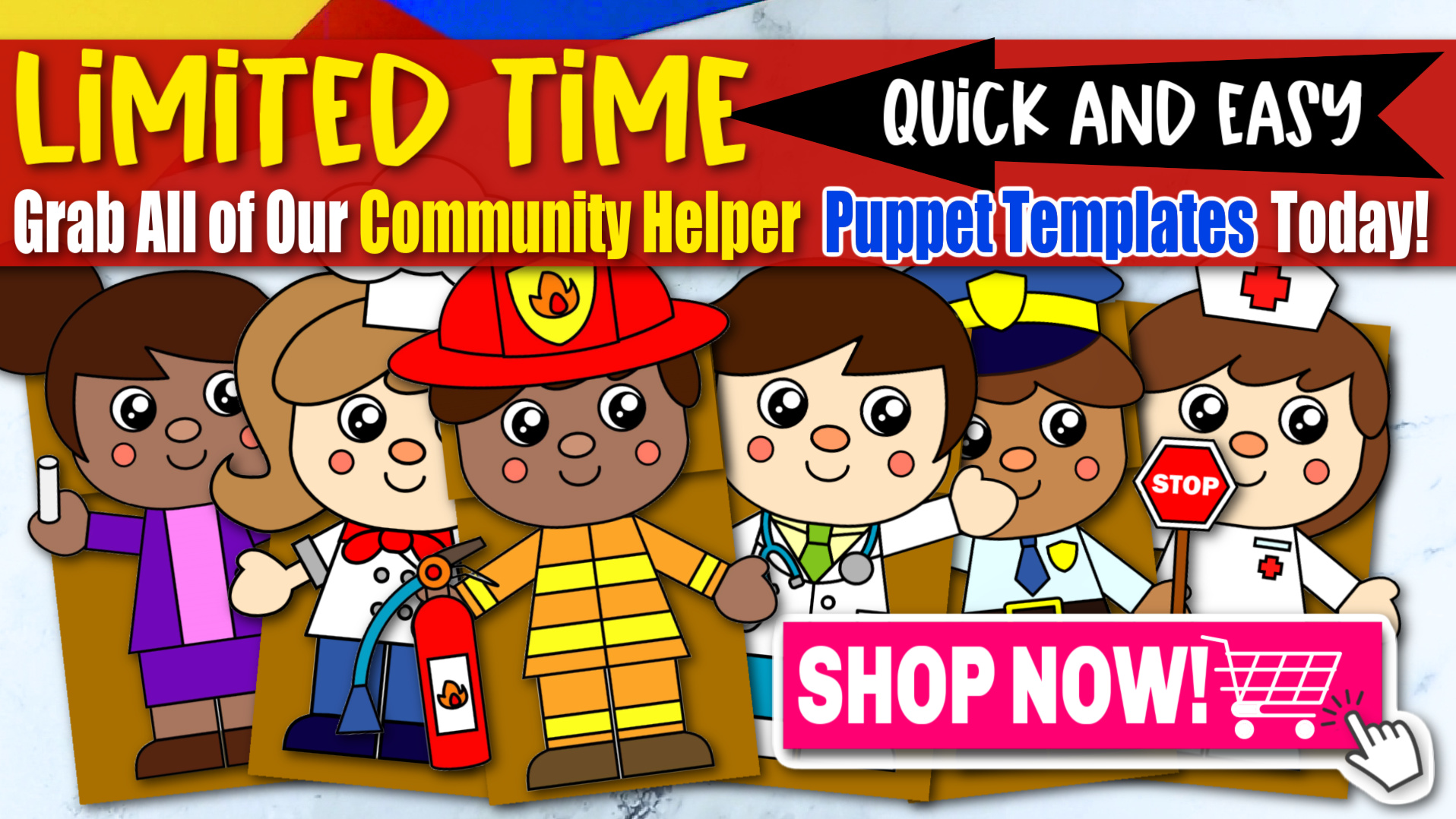 *By the way, this post may contain affiliate links which means I may receive a small commission at no additional cost to you if an item is purchase through that link. For more information, click here.*
Printable Chef Paper Bag Puppet Craft

Chef Craft Supplies Needed
Need more crafty fun? Check out our Chef Cut and Paste Craft, Police Officer Puppet, and Doctor Puppet
.
 T
hey are perfect for those days when staying indoors is the only thing your family can do!
Ideas for Easy Preschool Paper Chef Craft
Put on your apron and toque and get ready to incorporate these ideas into your everyday routines!
We'd love to share these amazing ideas for using the chef paper bag puppets in your activities with you.
The chef paper bag puppet would make a great addition to a week of chef crafts and games for kids.
Feel free to include these ideas into your lesson plans!
1. Little Chef Collection for Kids
It's so much fun to see all of our little ones dress up and pretend to be anything they want to be someday.
This is the perfect time to set up your child's learning space with these items if you plan to use the chef paper bag puppet at home.
Children who enjoy baking, cooking, and reading about chefs will surely enjoy this little chef collection!
This collection can also be used in classroom learning nooks.
Have your preschoolers and kindergarteners enjoy these little chef items before or after they finish making the printable chef paper bag puppets.
2. Community Helpers Bulletin Board
Make this printable chef paper bag puppet templates a part of your community helpers bulletin board!
Work on the chef paper bag puppets with all of your preschoolers, and then use all of their creations to decorate the board in your classroom.
This is a fantastic group activity since kids may work on their own crafts and set up a bulletin board with their classmates.
Children would also appreciate seeing their artwork displayed in the classroom.
They can also include a photograph of themselves in a chef's uniform or one taken while they were baking or cooking.
In any way, the chef paper bag puppets would look wonderful on your bulletin board!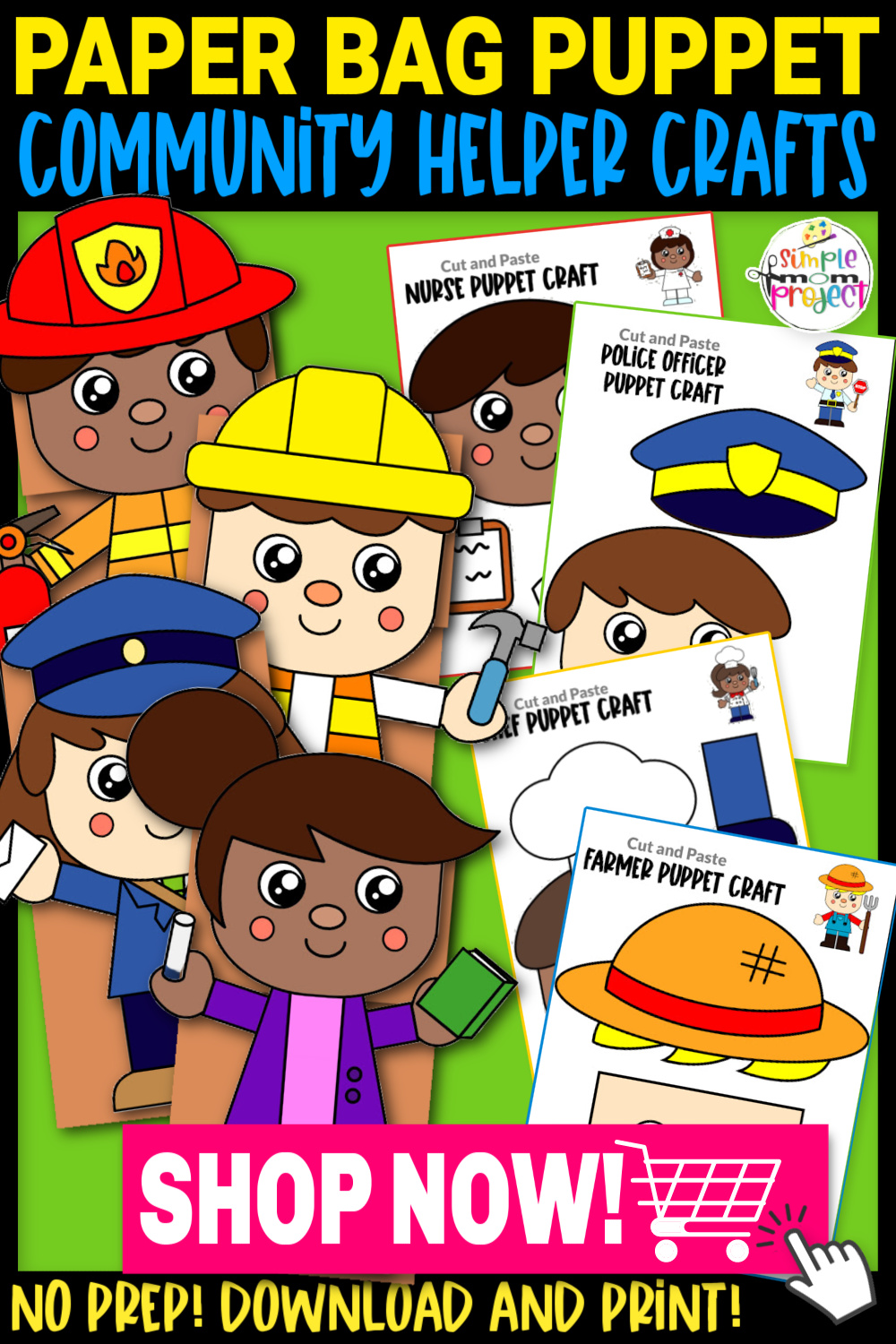 3. Chef for a Day
After making their chef paper bag puppets, kids would definitely want to play pretend to be a chef.
Give them the opportunity to pursue their interests after allowing them to play with their chef puppets.
If you have a chef costume for your children, or even just a toque or apron, have them put it on and tell them they can be chefs for the day.
Allow them to choose the menu for the day's meals for the entire family.
Let them assist in washing, peeling, and mashing veggies while you guide them through preparing meals in the kitchen.
This is also a great way for kids to practice following instructions as they add the ingredients one at a time.
If they wish to bake some treats, it would be excellent practice to follow the correct ingredient measurements.
This printable chef paper bag puppet idea supports your child's interest while also teaching them basic life skills like how to do chores.
4. Community Helper Puppet Show
What a lovely way to cap off your day's activities than by using your chef paper bag puppets to put on a little community helper puppet show.
During the presentation, let the kids demonstrate their storytelling skills, and be amazed by the stories they create about the chefs.
Have your preschoolers and kindergarteners use their chef paper bag puppets to work in pairs or in groups.
To learn more about different occupations, you may also include the rest of our community helper puppets in this presentation.
This puppet presentation about community helpers is a fantastic idea for a preschool or kindergarten performance at school.
Did your little chefs enjoy all of these ideas?
They must have been eager to put these ideas into practice!
Learning about community helpers and their importance in our community is made easy with the help of all these creative chef paper bag puppet ideas.
This week, be sure to include this printable chef paper bag puppet template in your activities.
You will certainly have a blast learning about this fantastic occupation while making crafts for chefs!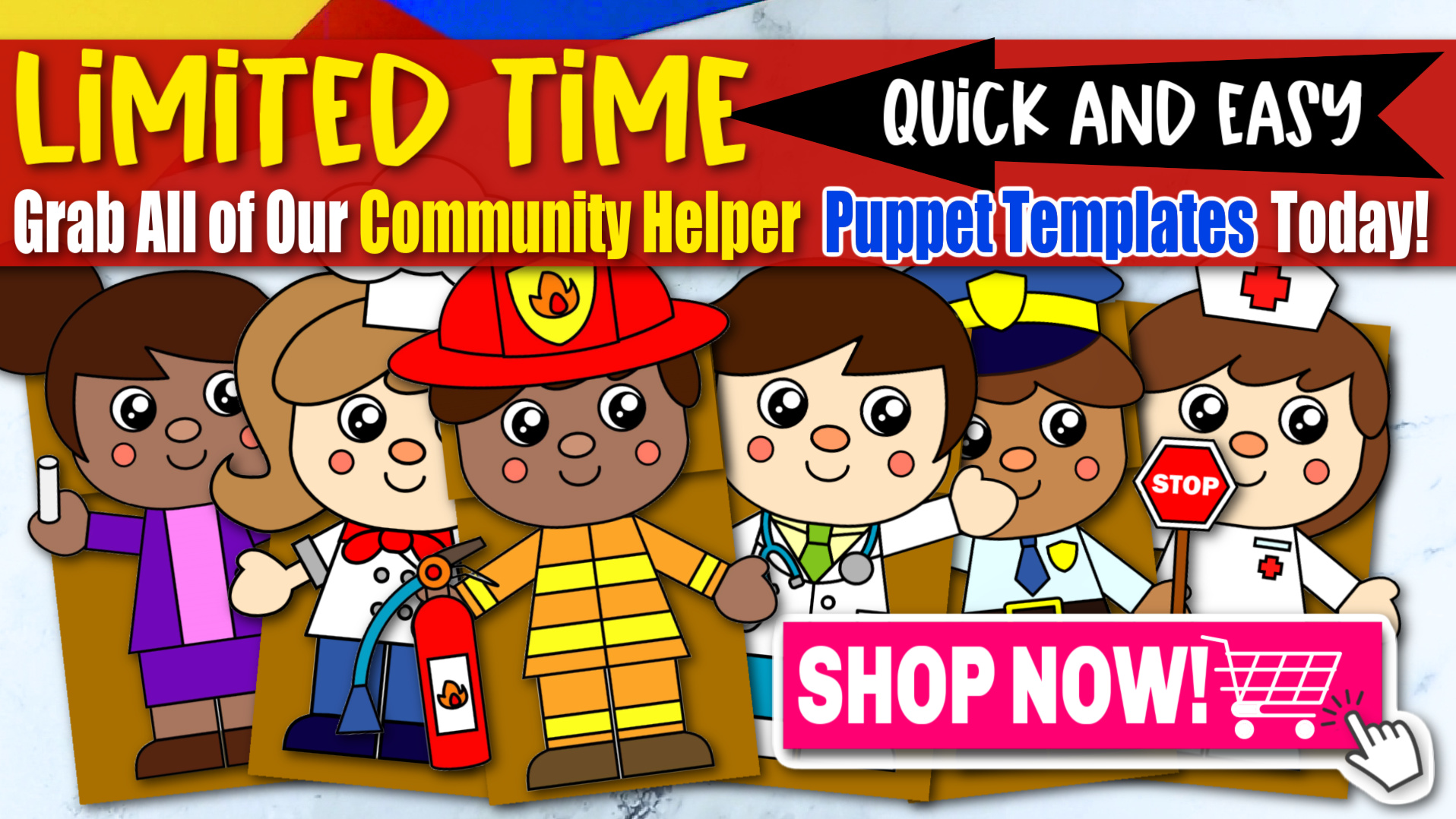 Chef Paper Bag Puppet Instructions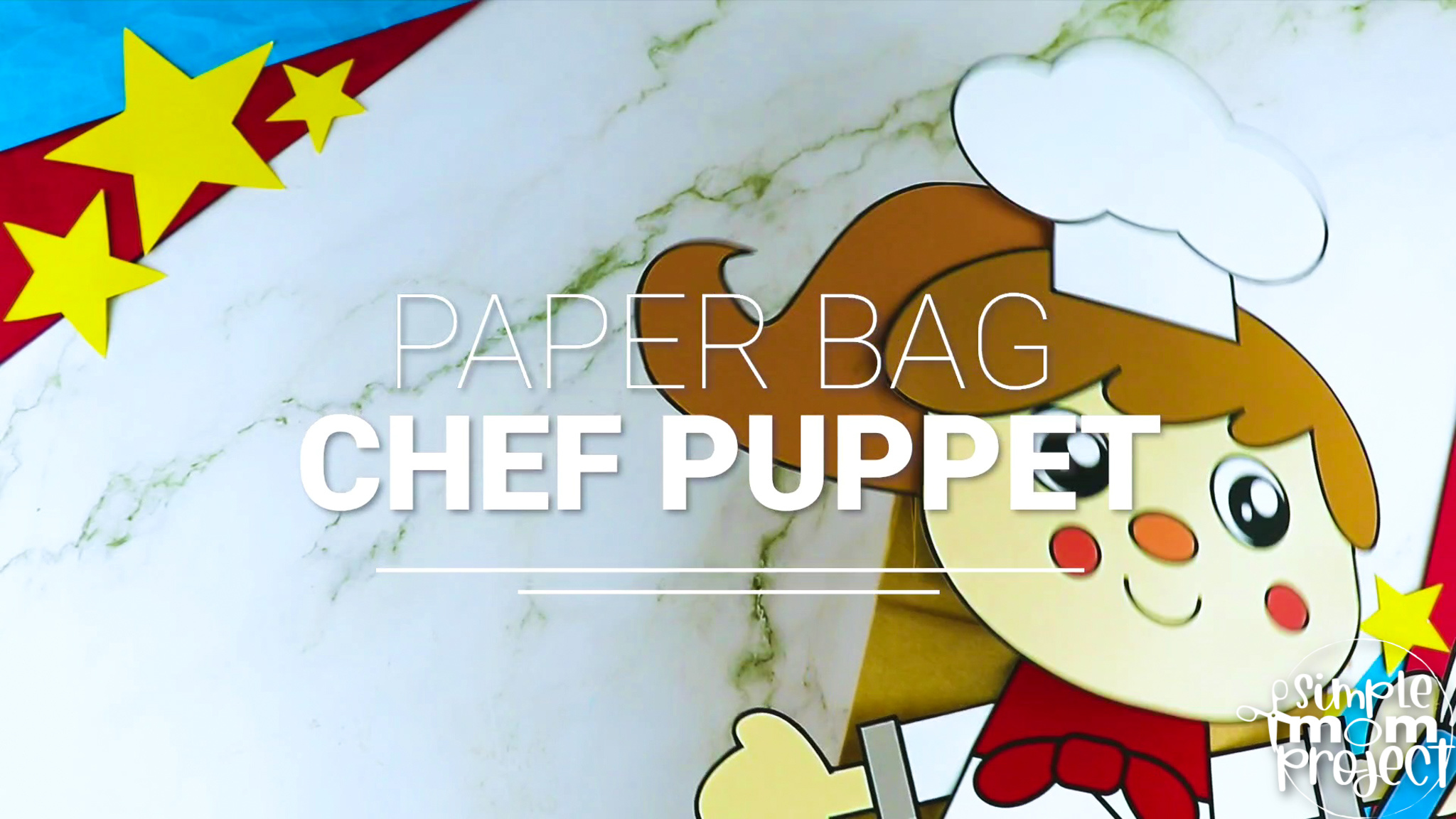 Check out these simple steps for creating this paper bag puppet if your little chefs are ready to build one for themselves.
If your kids are learning how to use the scissors, help them cut the chef pieces one at a time.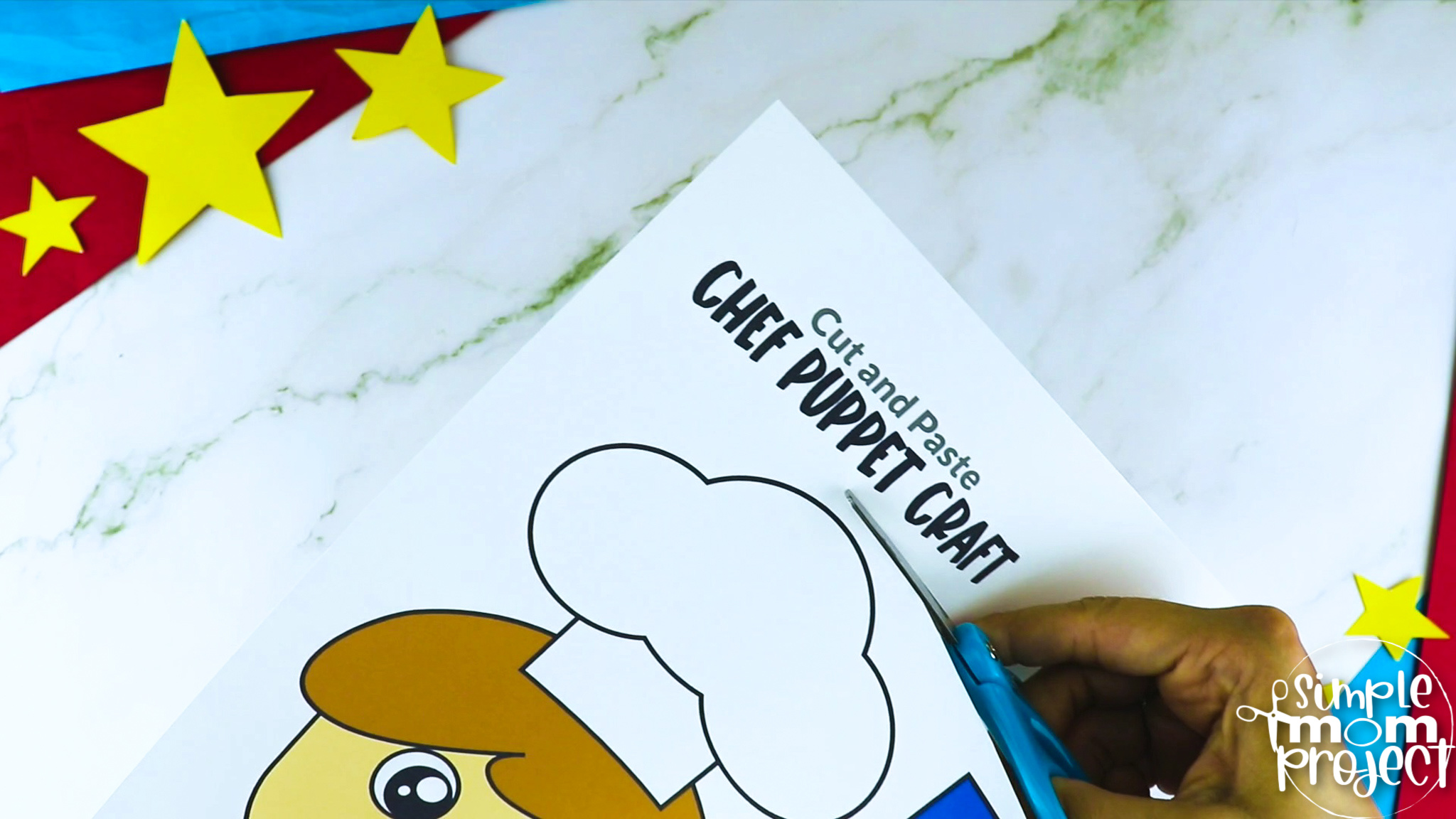 Allow your children to use all of their coloring tools to color the chef template in black and white.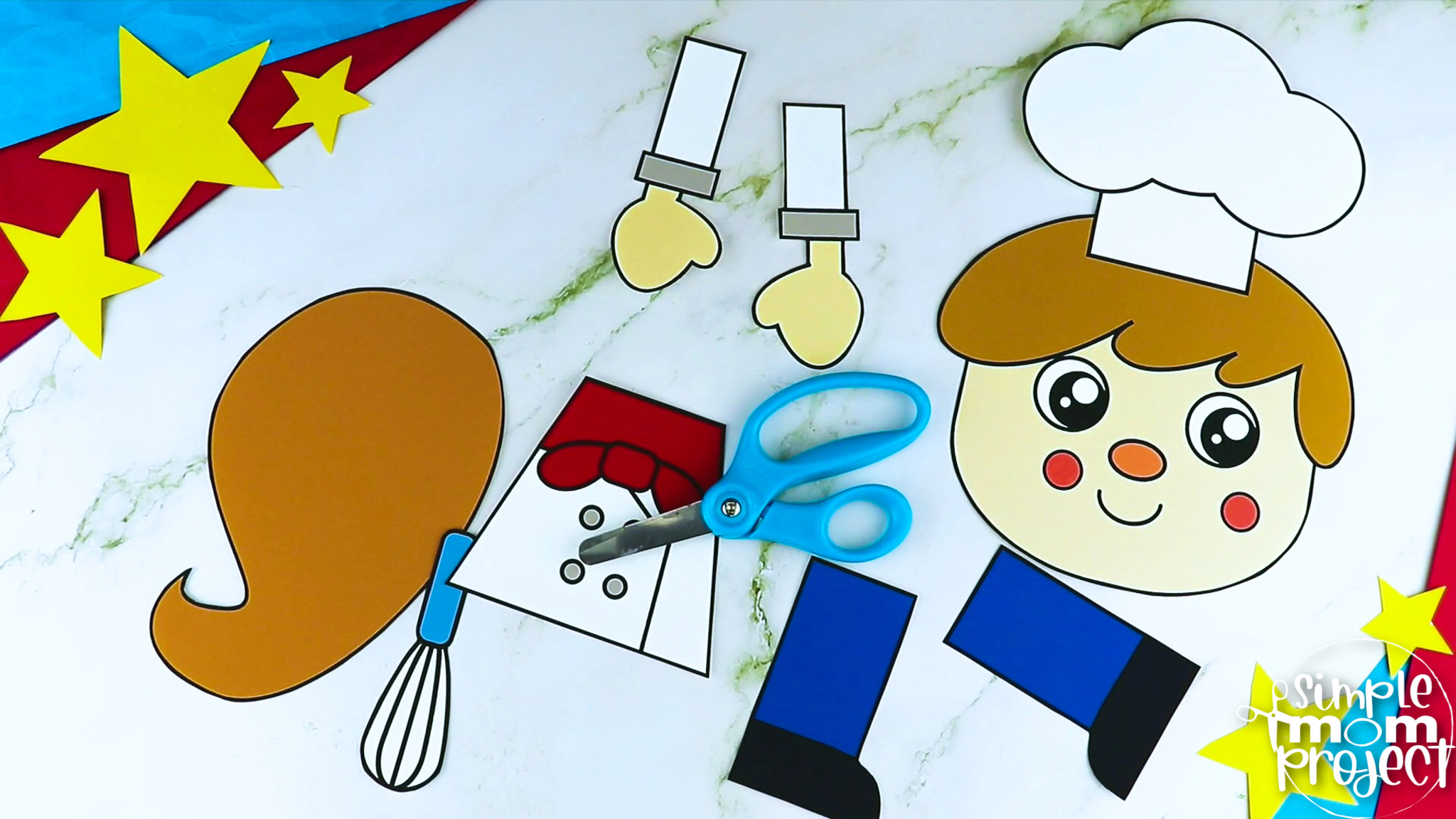 First, attach the little chef's head and hair to the brown paper bag with glue, making sure to place it on the folded edge of the paper bag.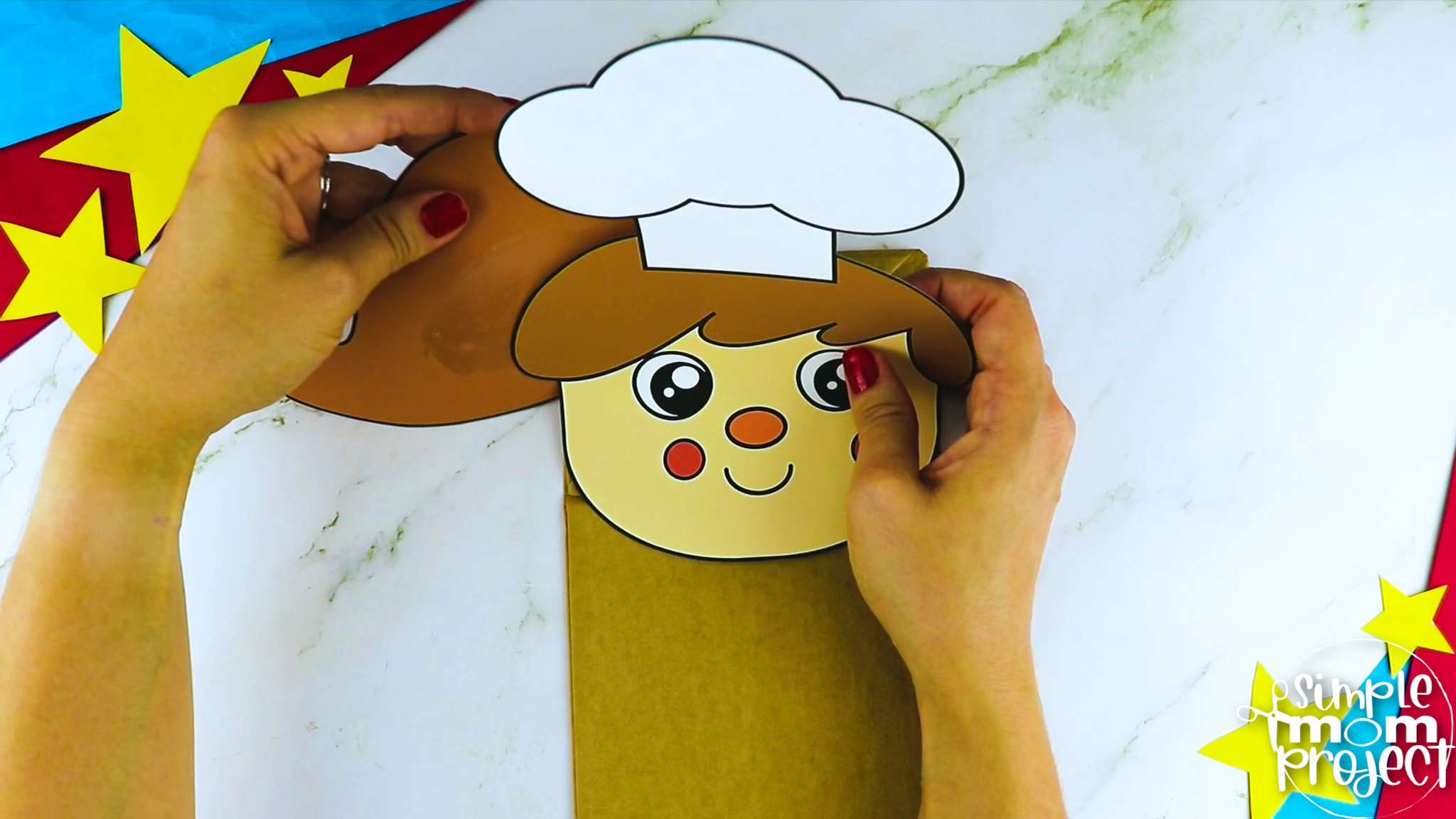 Put the body below the little chef's head.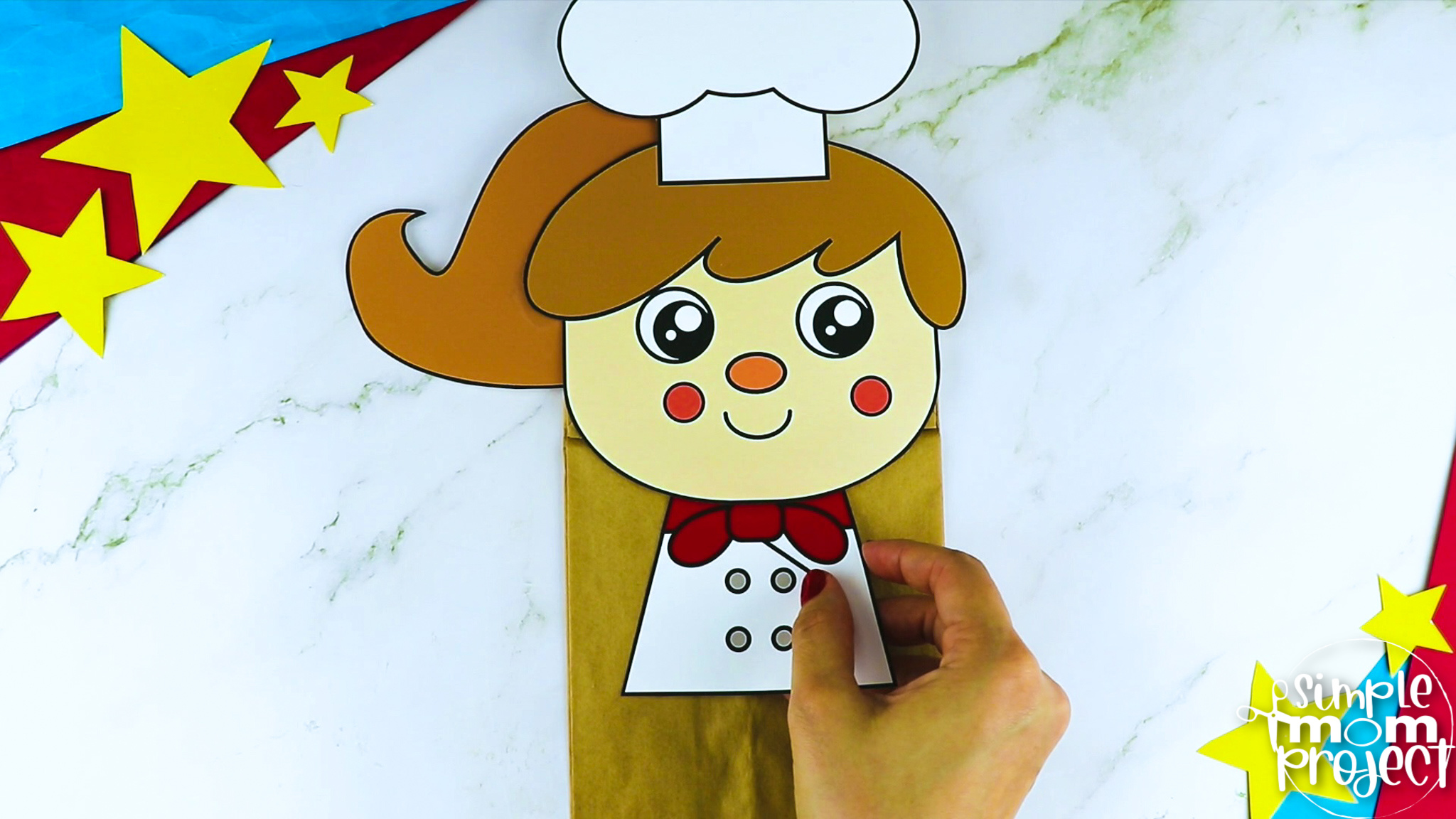 Then the chef's arm on the right side of the body.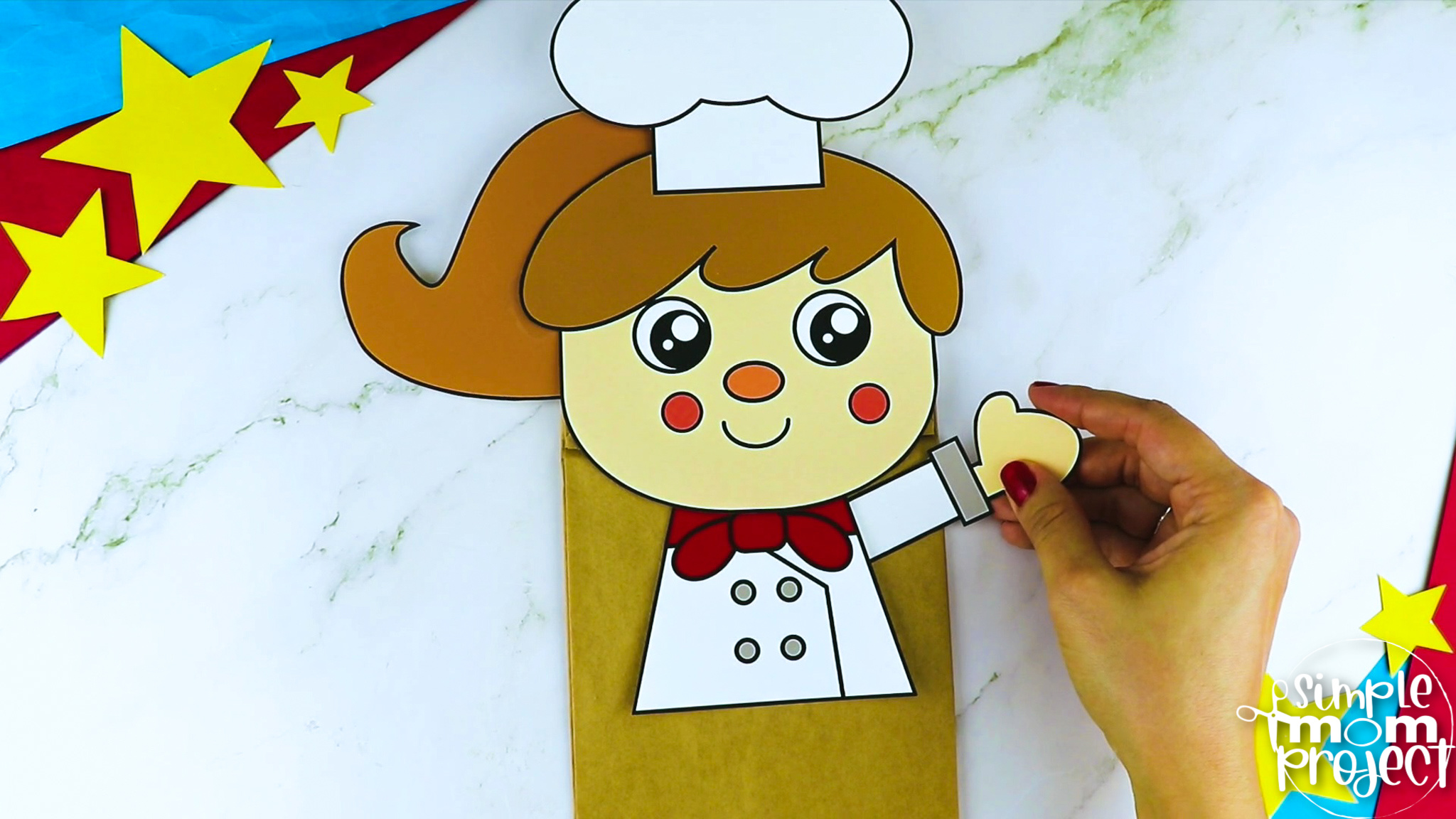 The last arm on the left side should now be attached.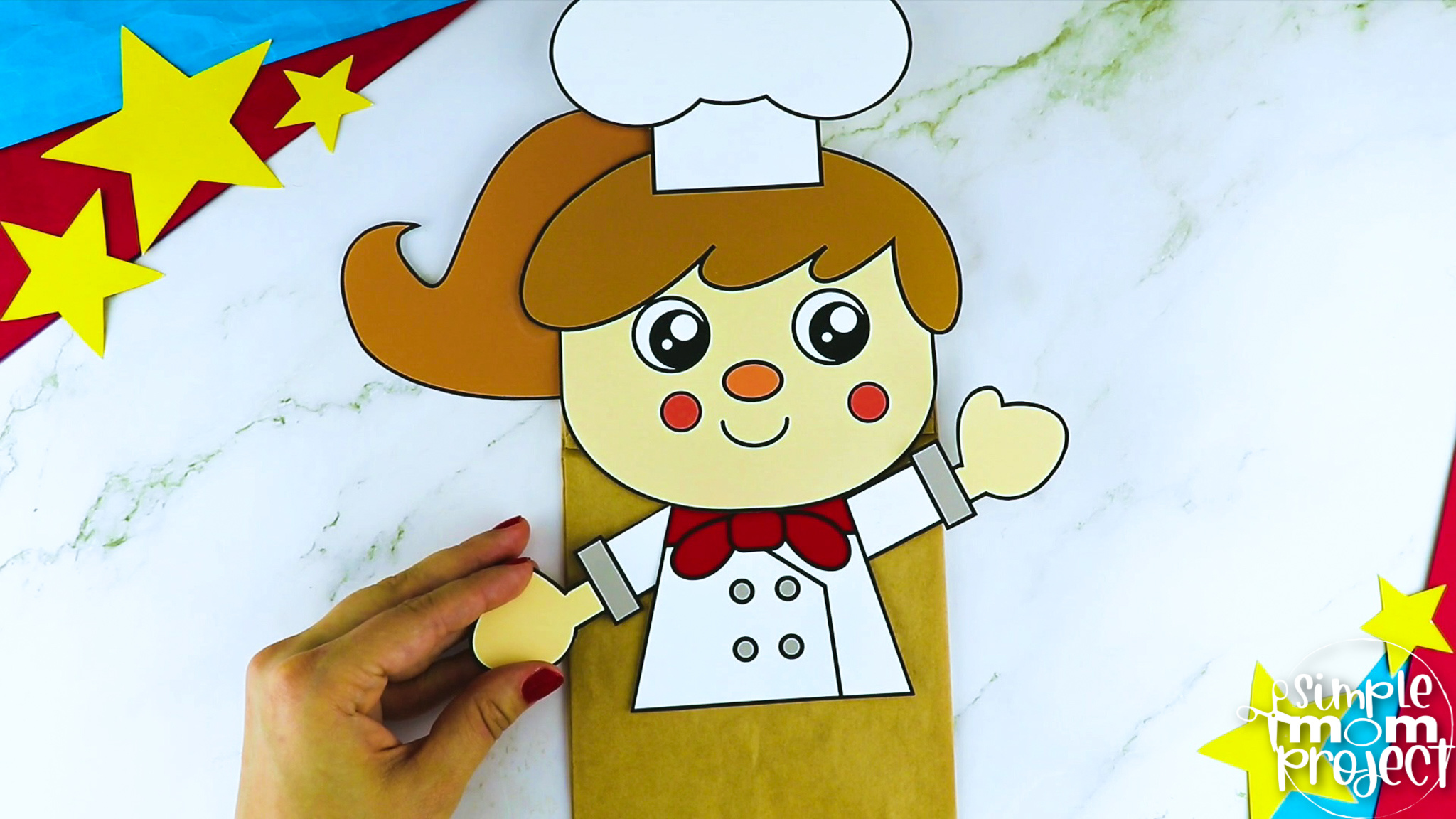 Add the chef's two legs below the body, as shown in the image below.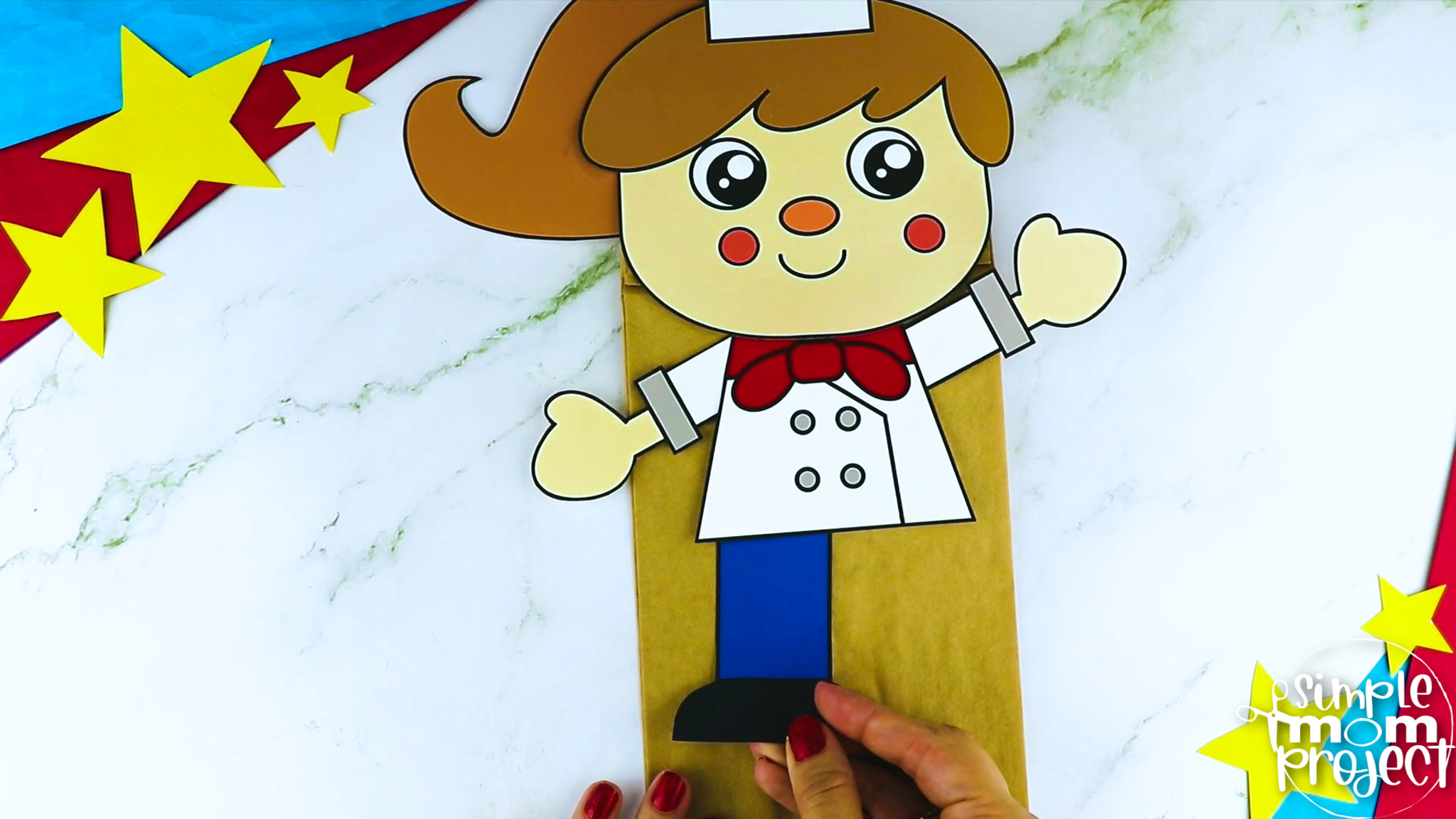 Put the whisk on the right arm to complete your chef paper bag puppets.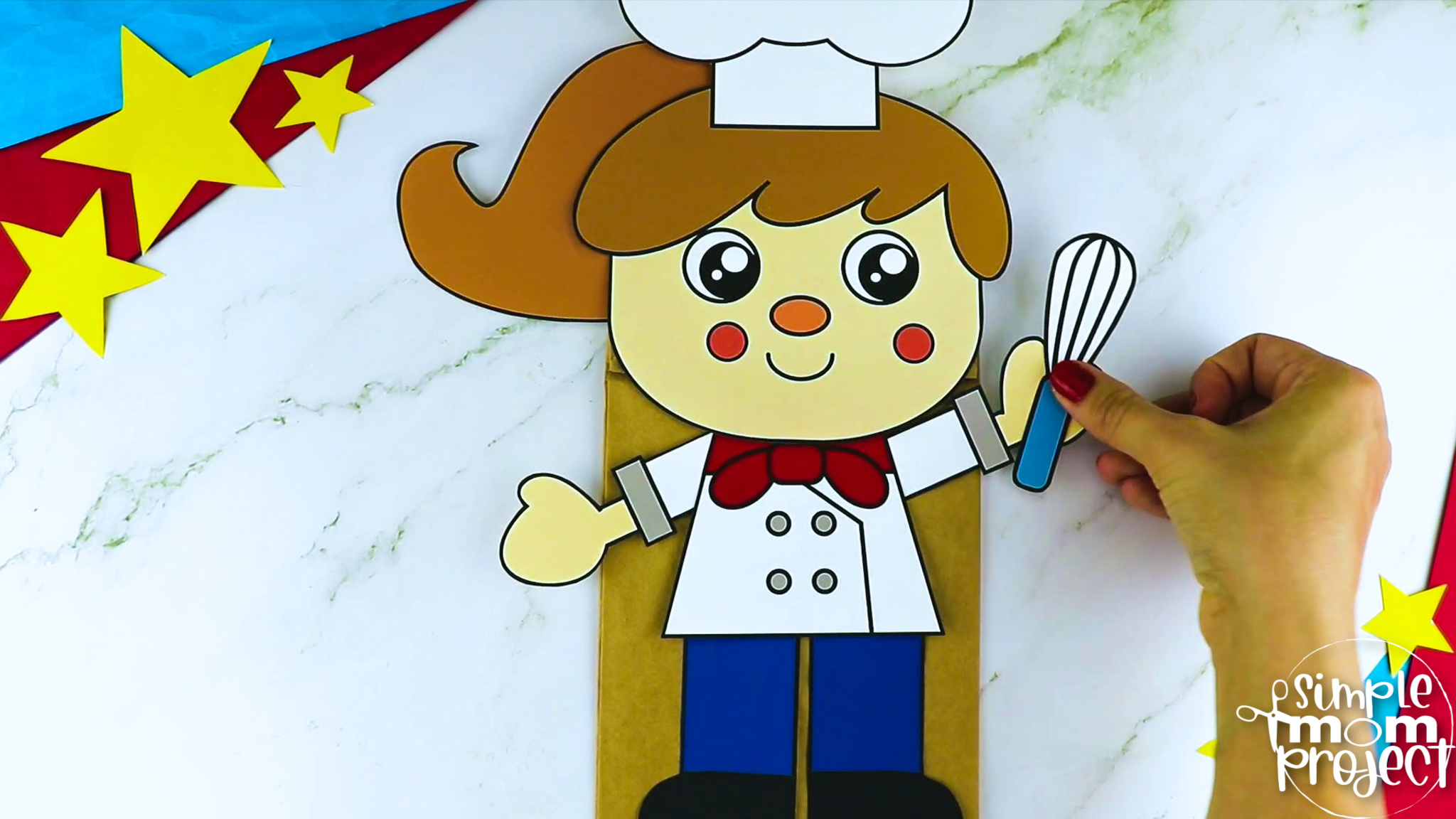 Look how cute your chef paper bag puppets are now that they're ready to cook and bake in the kitchen!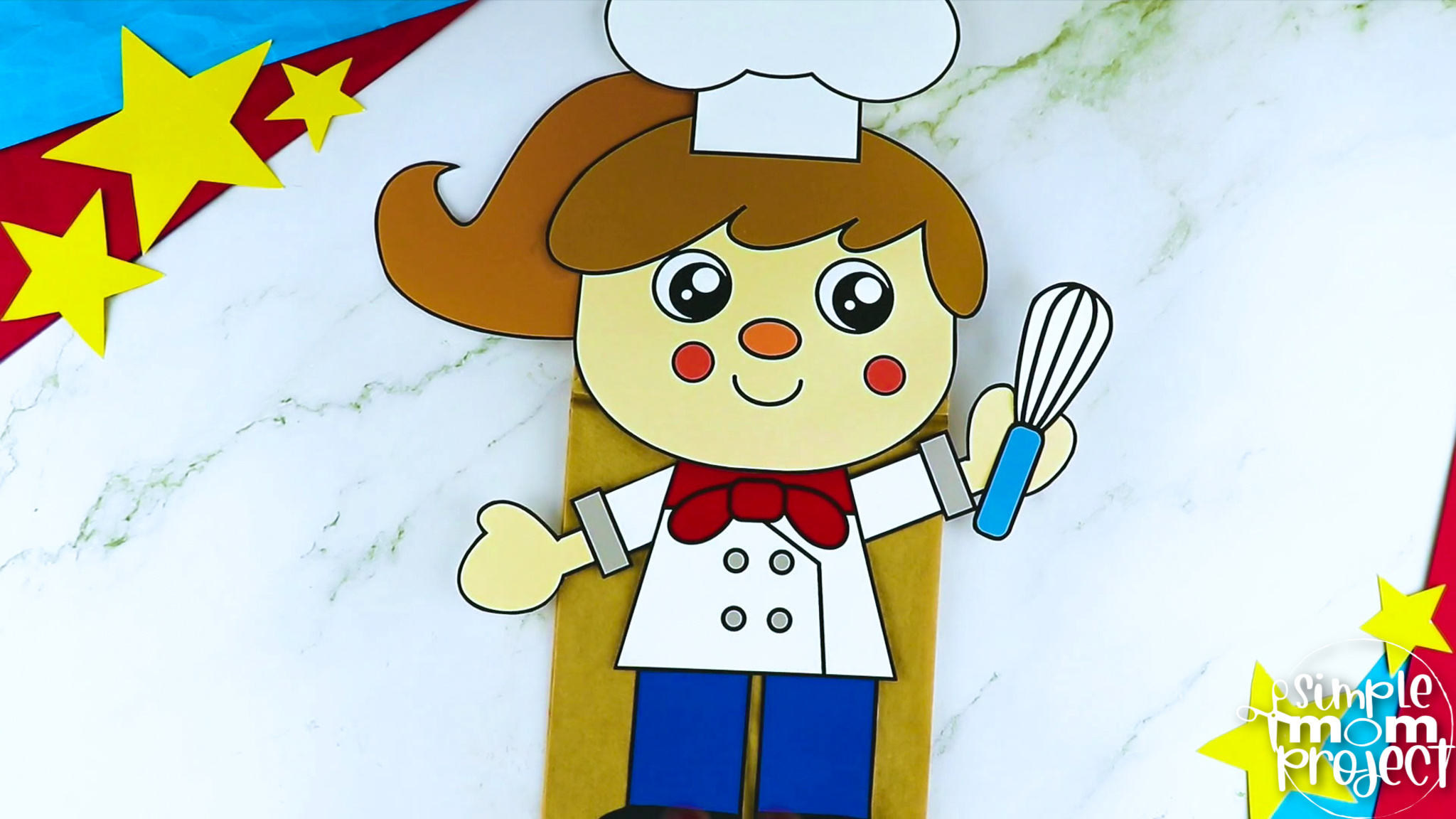 More Options to Choose:
You can print the blank version and trace the cut outs on card stock paper for a sturdier chef paper bag puppet craft,
Print the chef template in color for a simple and easy rainy day craft or,
Print the blank chef template and use it as a fun coloring sheet activity and then glue the pieces of the chef craft together.
Printable Chef Paper Bag Puppet Template
Is your school planning a community work theme?
Use this chef paper bag puppet in your preschool craft activity!
We created this chef puppet to be a realistic chef drawing that is ideal for children of all ages.
They would have fun cutting the chef pieces and assembling them one by one.
Working on this chef paper bag puppet is a terrific way to improve your hand-eye coordination and fine motor skills.
In order to provide them the alternatives they want, we also created different chef puppet templates.
Kids are free to select the template they want to work on.
Starting with a blank chef template, kids can color it and make any other changes they like.
Or, continue working with the colored chef templates.
In either way, this printable chef paper bag puppet template is as cute and adorable as the kids who wish to work on it!
Need more community helpers puppet fun? Check out our packed list of paper bag puppets for simple craft fun with your little ones.  
When you have finished, be sure to share your creation on Simple Mom Project's Facebook Page and follow me on Pinterest!

Kaitlen D.
More Fun Printable Craft Templates