Have your children ever been to a farm?
How did your visit go?
Farms and farm animals are well cared for by all the wonderful farmers.
Children should learn more about these community helpers who are important in providing us with fruits, veggies, and farm animals.
It is essential that children in their early childhood learn about many community helpers in our neighborhood.
In this way, they will be more mindful of and appreciative of what they provide us.
This puppet template goes beyond arts and crafts because it can be utilized in so many different learning areas.
Use it for activities like storytelling, puppet shows, and dramatic plays.
Children's creativity, hand-eye coordination, fine motor, and following skills are all improved by working on it.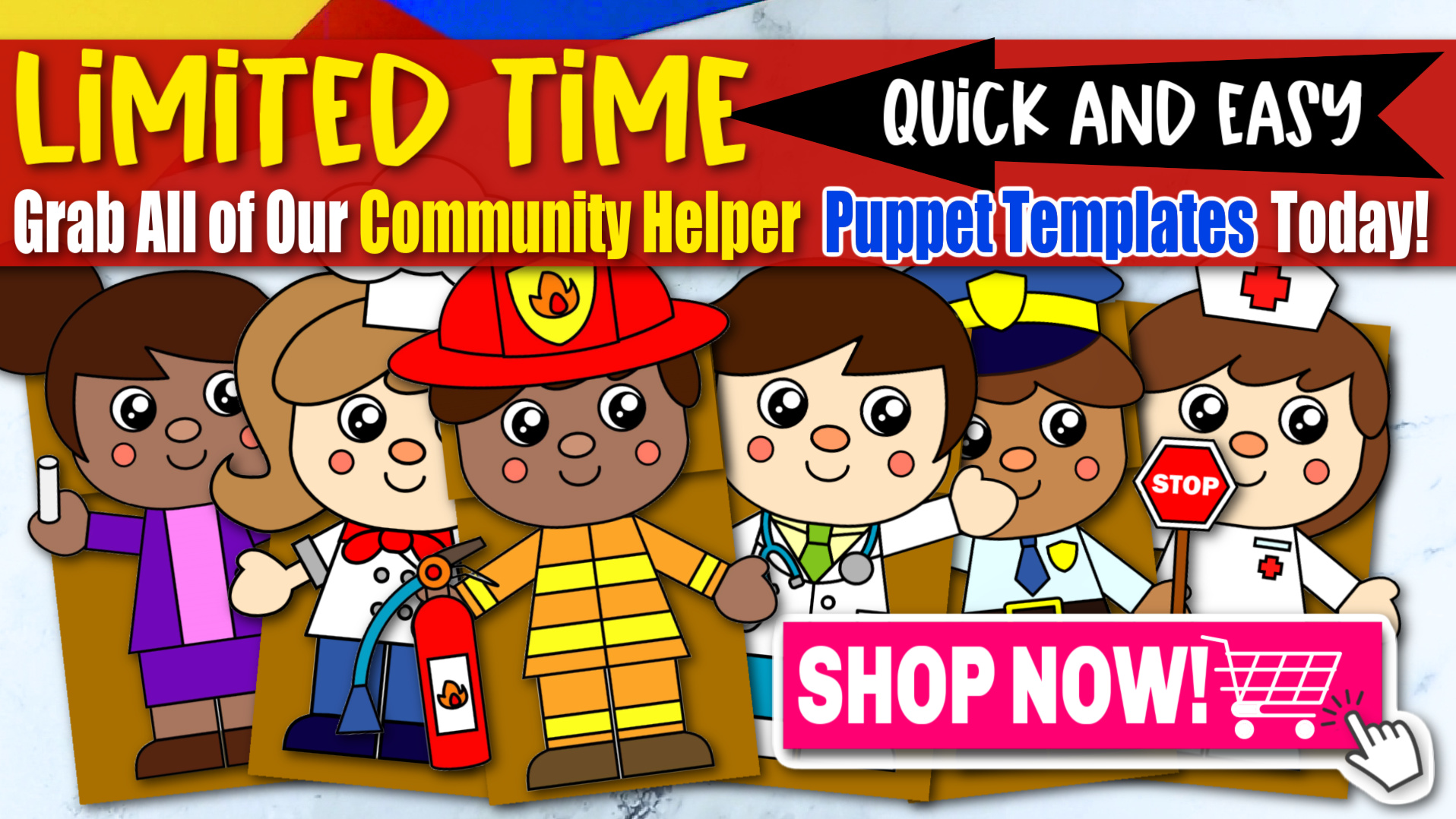 *By the way, this post may contain affiliate links which means I may receive a small commission at no additional cost to you if an item is purchase through that link. For more information, click here.*
Printable Farmer Paper Bag Puppet Craft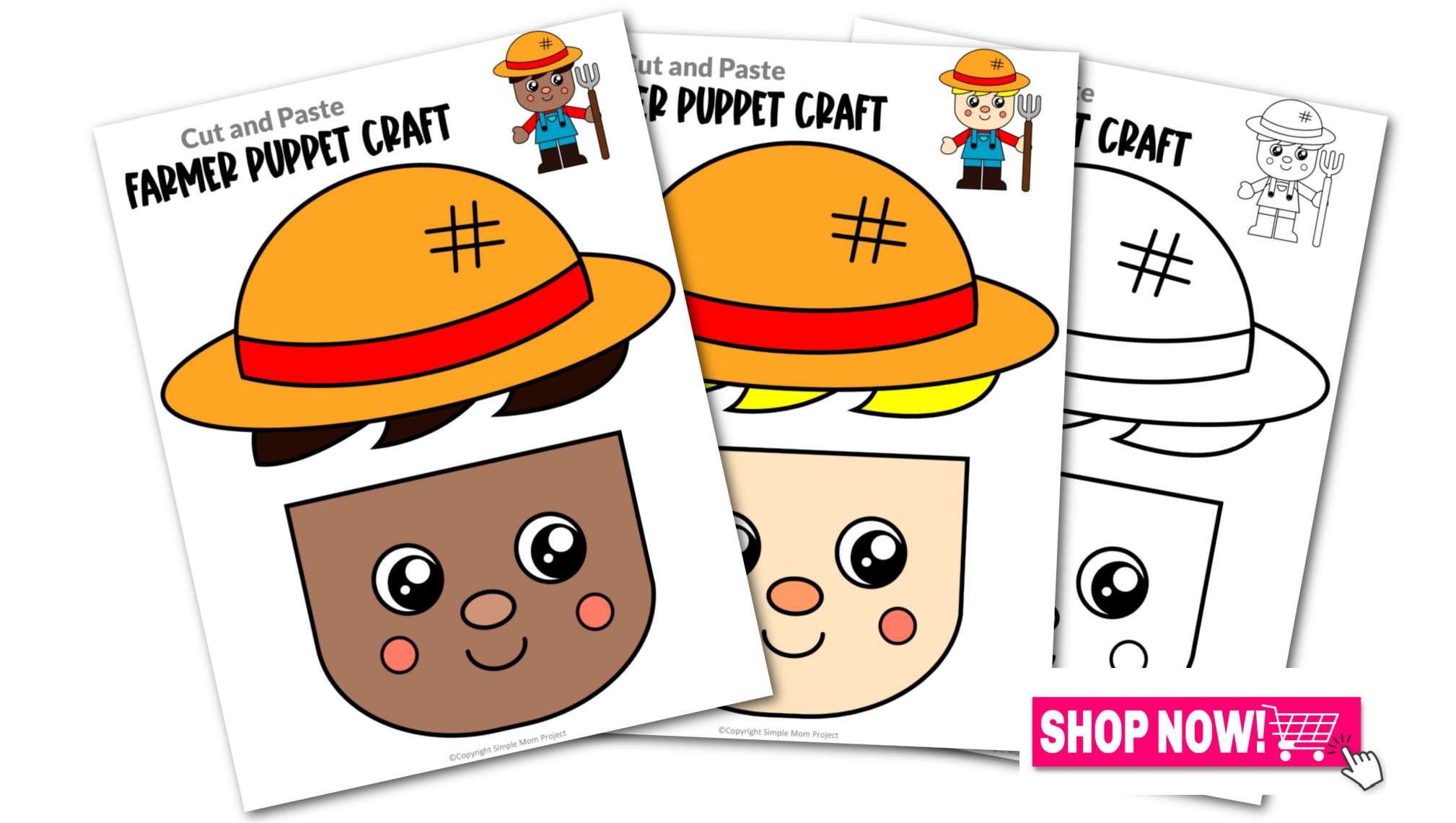 Farmer Craft Supplies Needed
Need more crafty fun? Check out our Farmer Cut and Paste Craft, Cow Puppet, and Pig Puppet
.
 T
hey are perfect for those days when staying indoors is the only thing your family can do!
Ideas for Easy Preschool Paper Farmer Craft
Use this printable farmer paper bag puppet to celebrate community work week at school!
These are all the creative ideas we have made for how you can include it into your activities.
We made sure that these ideas are very simple and easy to put into practice, both at home and at school.
Have fun incorporating these into your lesson plans this week!
1. Fantastic Farmer Finds for Children
Children will want more of these community helpers after completing this printable farmer paper bag puppet template.
All of these farmer finds are perfect for getting to know them if they haven't visited a farm or haven't met a farmer yet.
With these wonders, you can immediately set the tone for learning about farmers.
These learning materials also go well with the activities you have in your school, such as circle time, reading time, and interactive plays.
Spend some quiet reading time with your kids and read a book about farmers.
Then, to wrap off their day's activities, let them explore and play with various farming toys with their pals!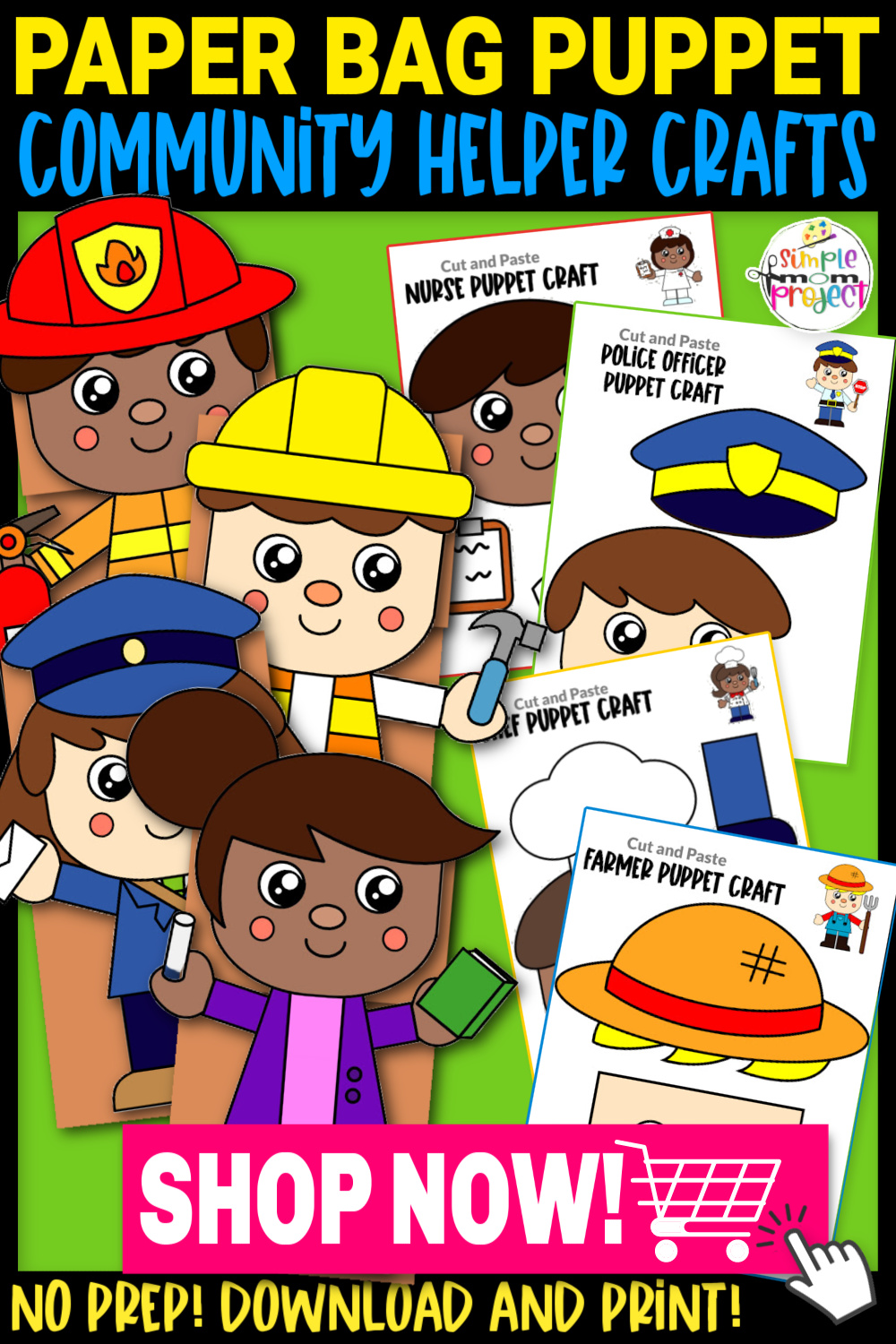 2. Storytelling Activities
Make reading more engaging for your preschoolers and kindergarteners by using this printable farmer paper bag puppet template.
If you adopt a new approach to storytelling, children will be even more excited to hear your stories.
Pick up a book about farmers or community helpers, read it aloud, and then incorporate the farmer hand puppet into your narration.
While you read the book to your kids, let them take turns using the hand puppet.
To help kids better comprehend the story and the part that farmers play in our community, let them act out the farmer's role.
Another fun storytelling activity is to have your preschoolers write and recite a short story about farmers to the class.
Work on the printable farmer paper bag puppet with them so they may use them for the storytelling activity.
3. Old MacDonald Had a Farm Song
Children in their early childhood, particularly toddlers, usually learn through singing and dancing.
Singing the famous nursery rhyme Old MacDonald Had a Farm to the children is such a wonderful method for them to learn about these farmers.
This song is popular among children, including my own!
It teaches about farm animals as well as animal sounds.
The printable farmer paper bag puppet template would go great with this song.
Playing Old MacDonald Had a Farm while the kids work on their printable farmer paper bag puppets will make your arts and crafts projects more delightful.
Let them sing and dance to the music to get them excited about making more farmer crafts!
4. Farm Animals
All of our printable community helper puppets are designed to be used in a variety of learning activities appropriate for children of all ages.
This printable farmer paper bag puppet template can be used in both arts and crafts and science classes.
It is an excellent chance to learn more about the different farm animals while you are learning about a community worker who cares after our farms.
Start your lesson about farm animals by introducing the farmer paper bag puppet and asking the children to recognize the community helper.
Ask them to name a few of the animals that farmers care for on their farms after letting them share their thoughts about what farmers do.
To give children a greater understanding of farm animals, you may also include some learning visual aids like farm animal flashcards or pictures.
All of these ideas will inspire you to visit the farm and meet all of the fantastic farmers!
We hope that these ideas will be incorporated into your home and school's community helper week.
Children will have a great time learning not only about farmers but also about everything that takes place on a farm.
We can't wait to see how you put all of these ideas into practice!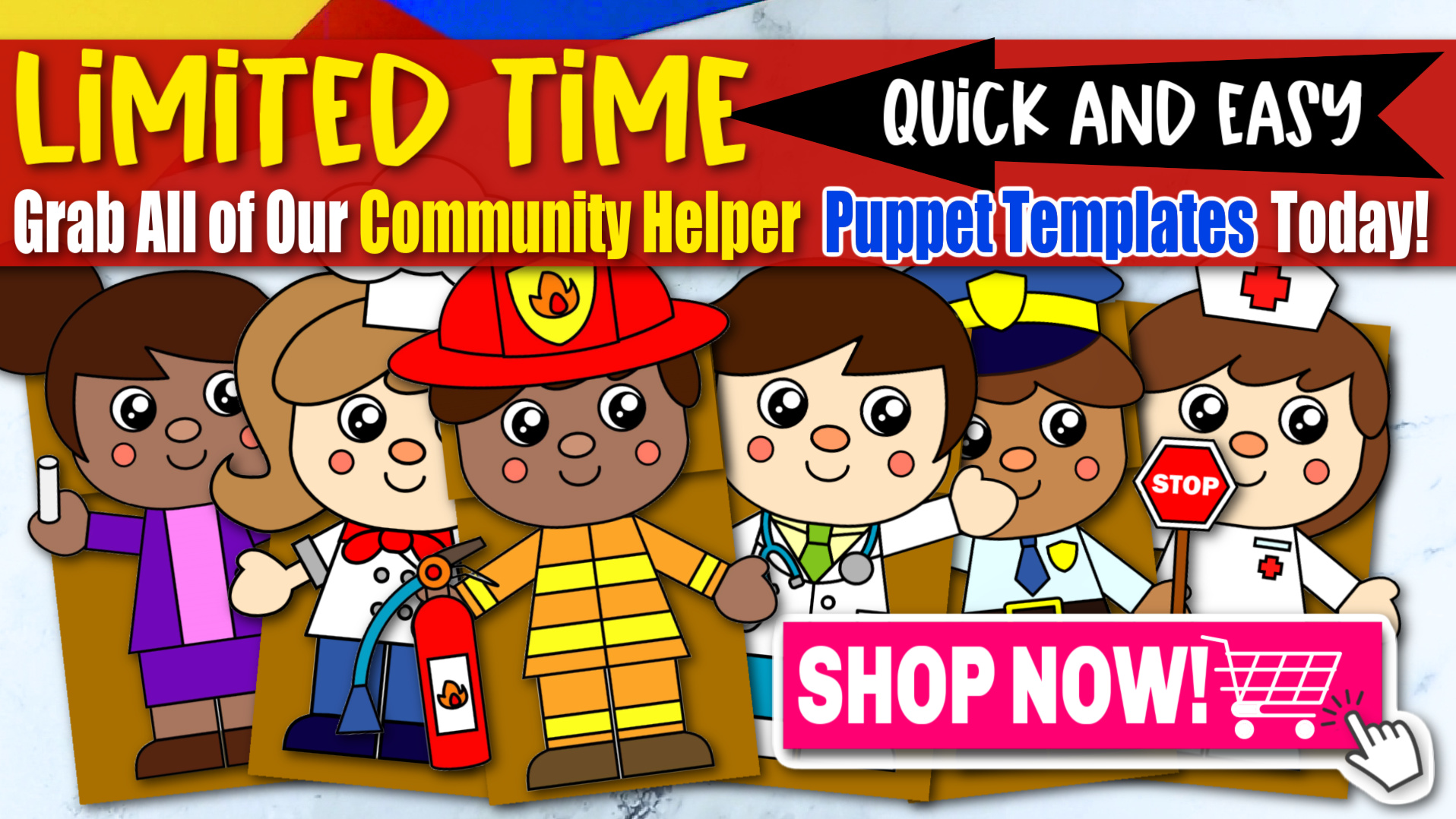 Farmer Paper Bag Puppet Instructions
As soon as you have gathered all the supplies needed for this farmer puppet, get ready to follow these easy step-by-step instructions!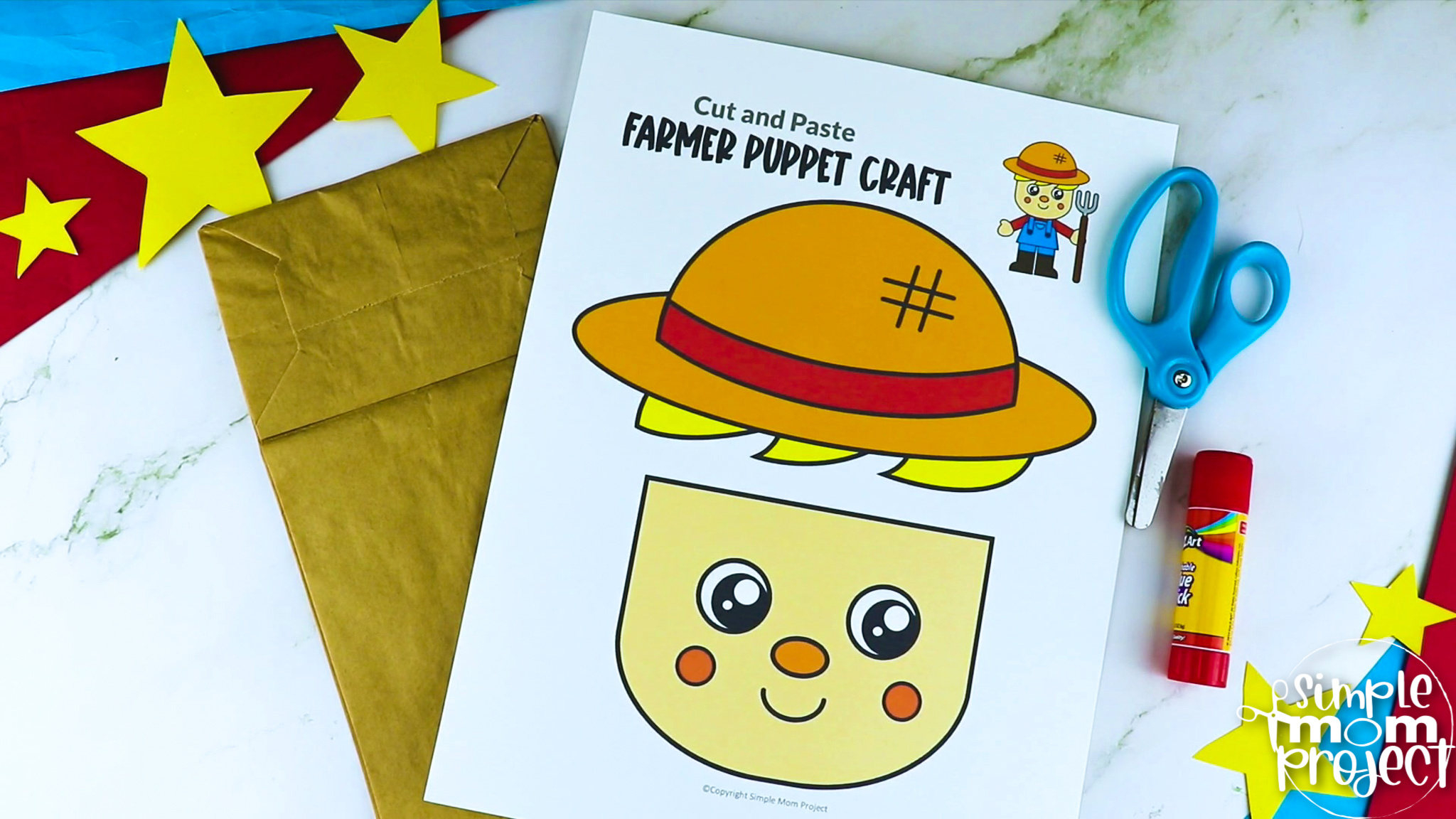 A fantastic place to start practicing fine motor skills is by cutting out the colored farmer template.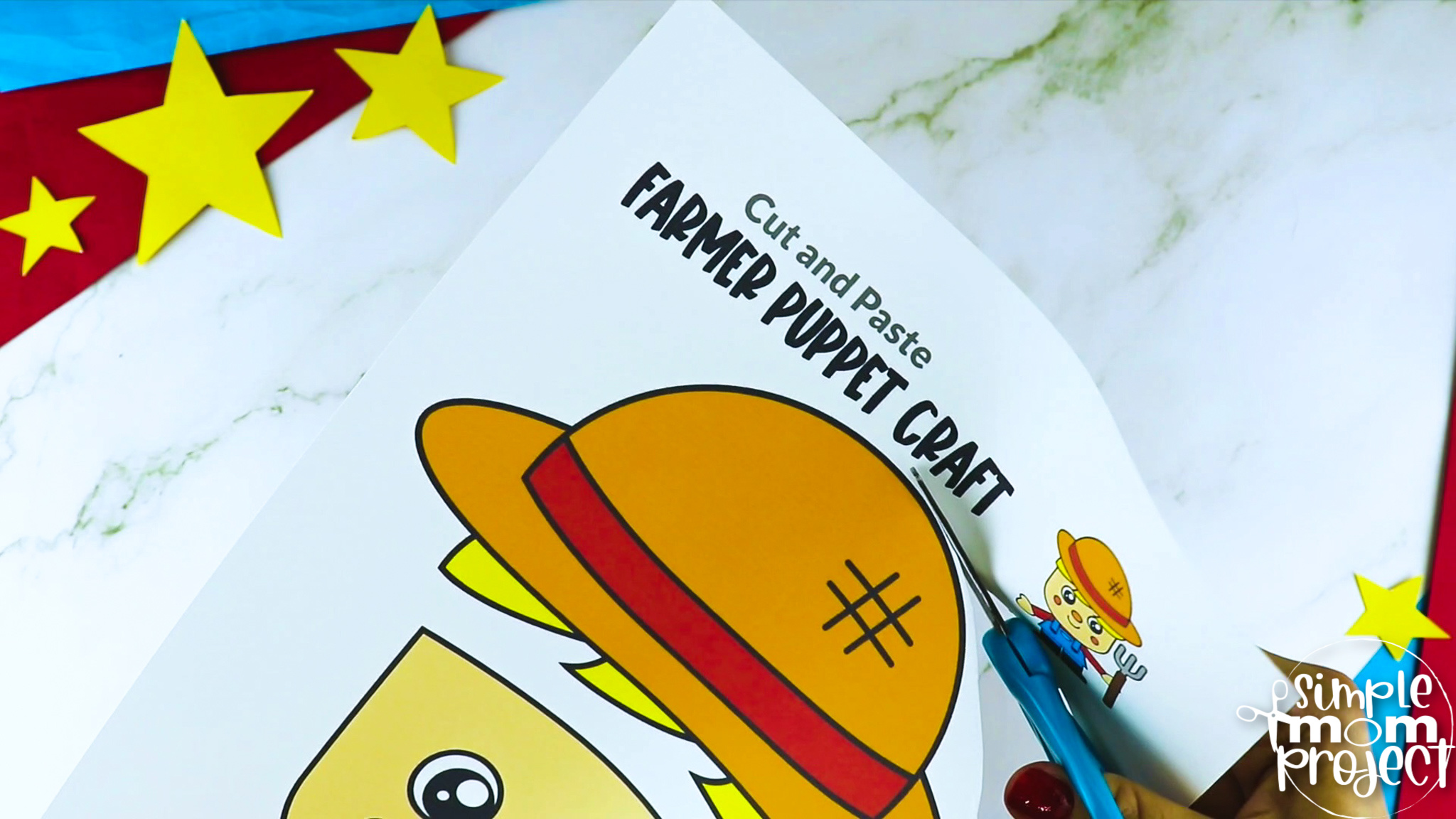 Allow your children to express their artistic talents by altering the plain farmer template in any way they choose.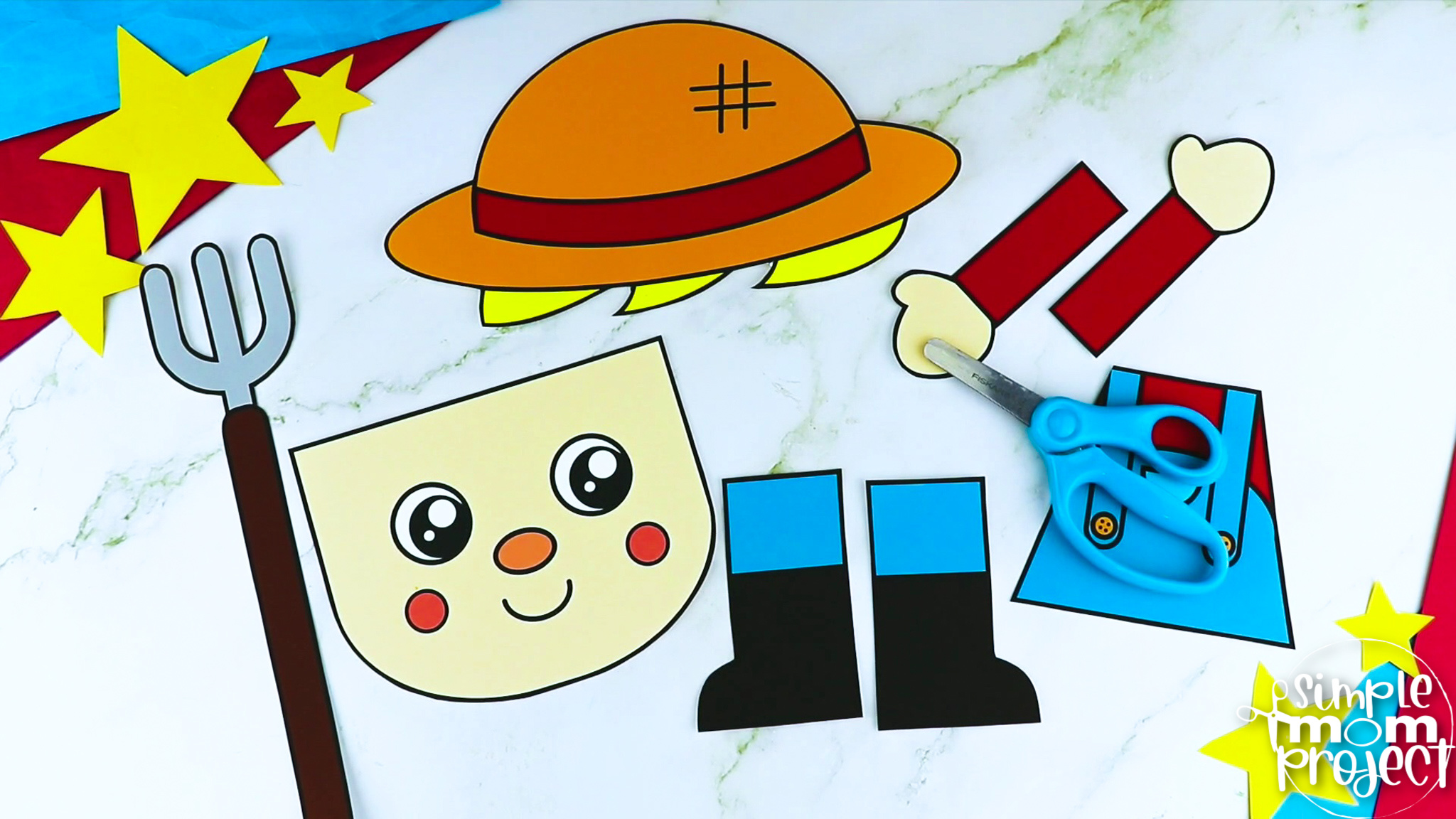 Use glue to attach the farmer's head to the brown paper bag's folded edge.
Place the body beneath the head.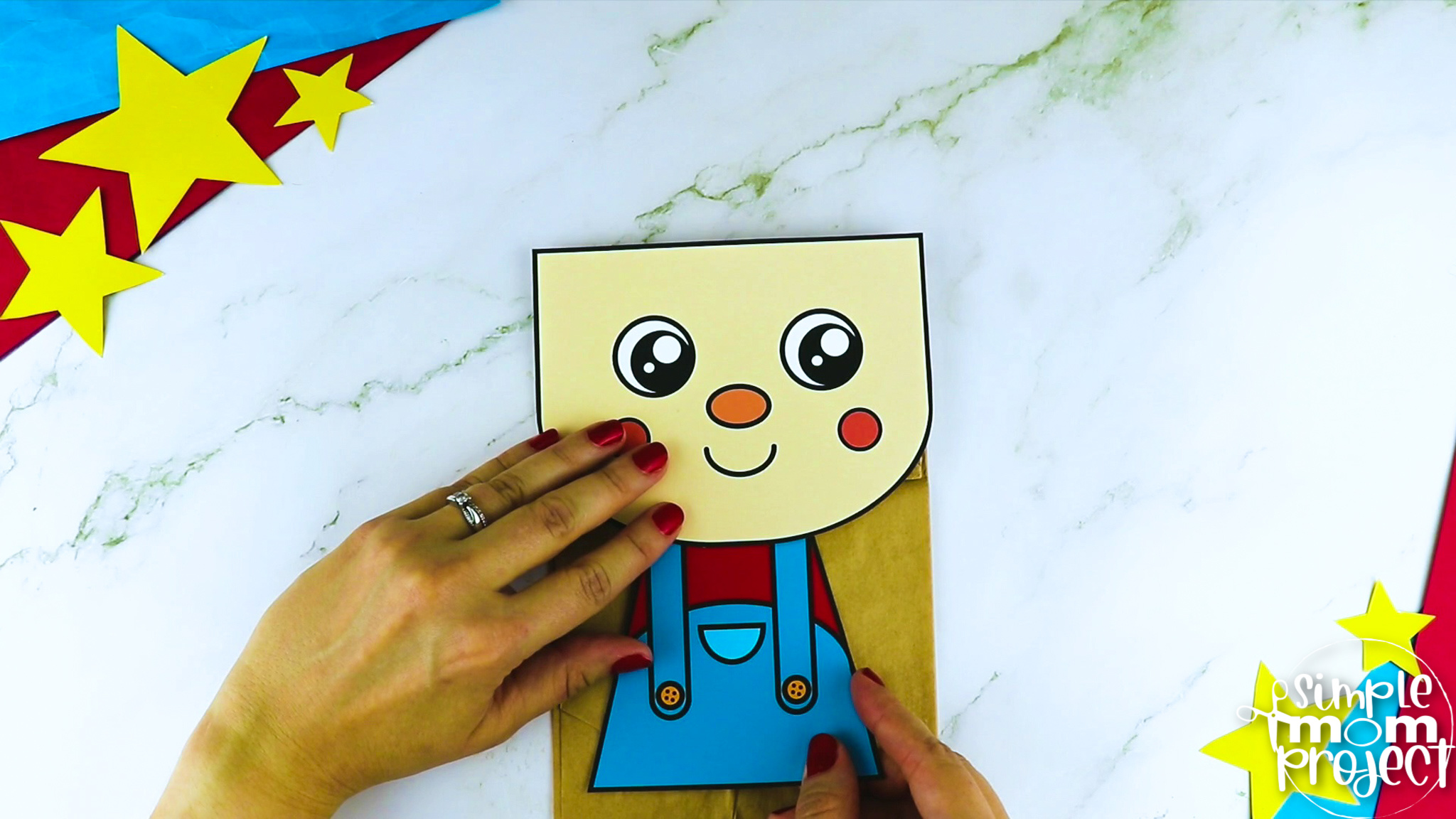 The farmer's arms should be attached to the sides.
Put the legs in the position shown in the picture below, underneath the body.
Remember to wear a straw hat on top of the head since farmers always do!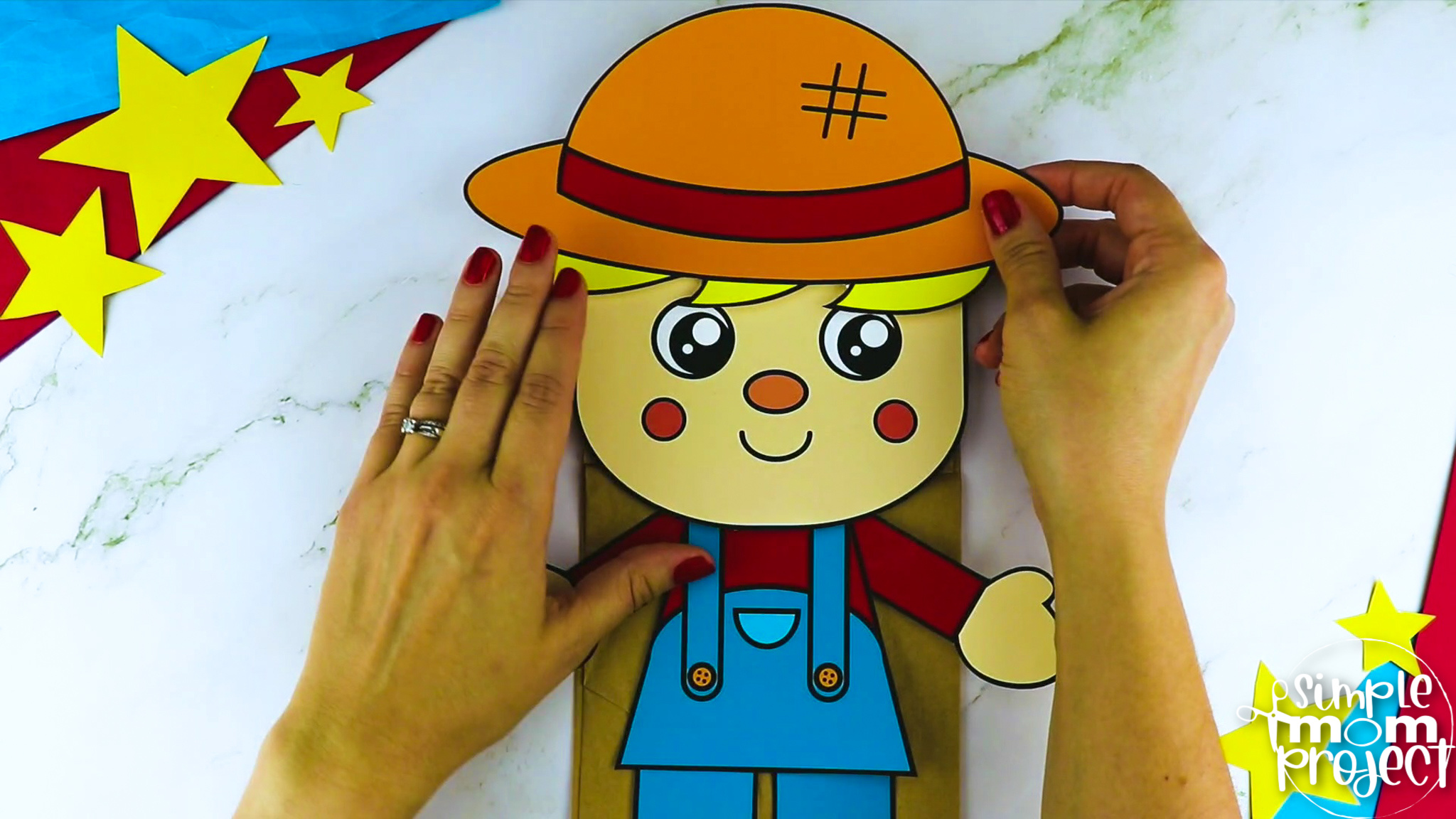 The rake on the farmer's hand completes the look of your farm puppets.
Now we have some farming to do with your wonderful farmer paper bag puppet!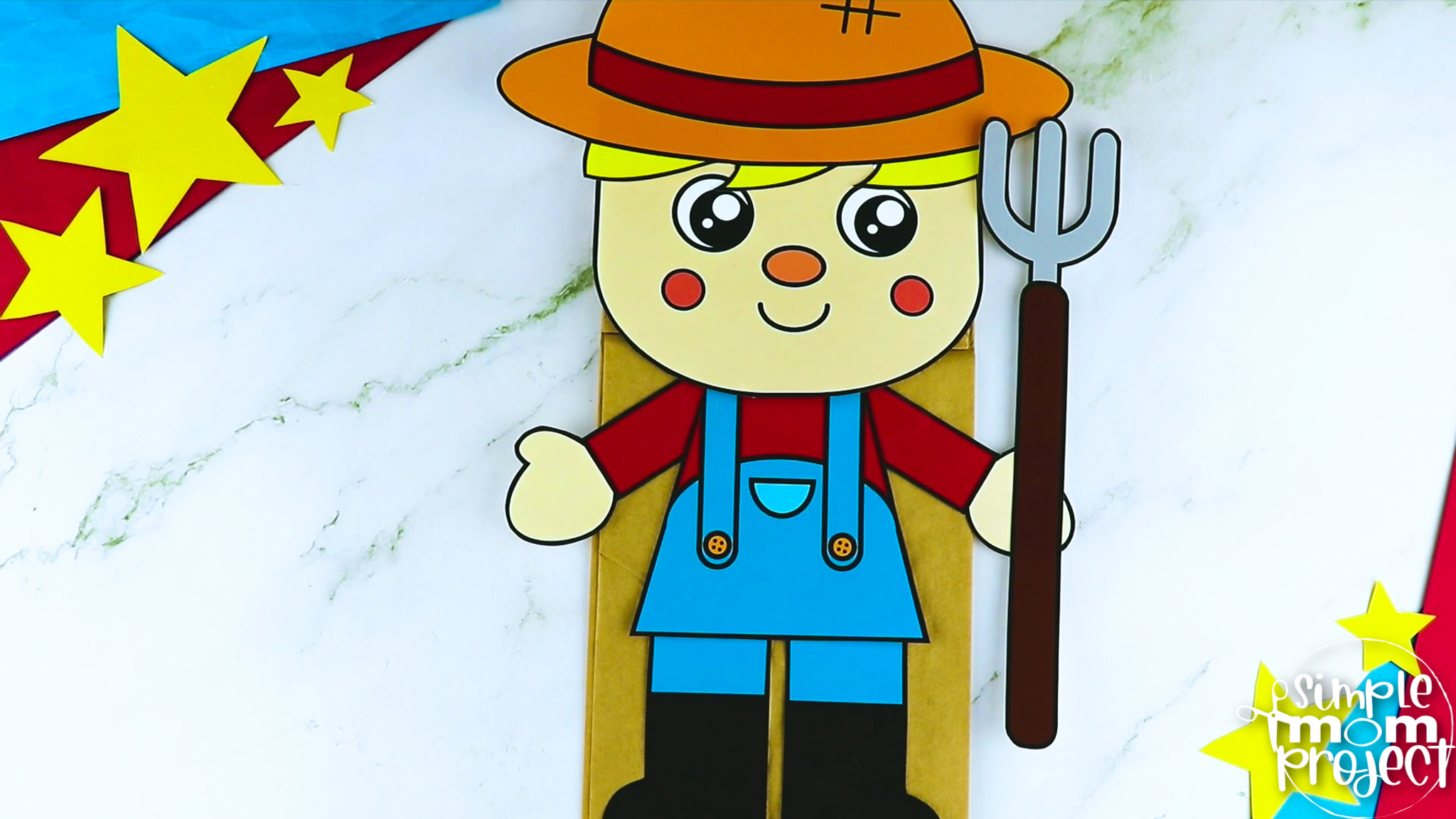 More Options to Choose:
You can print the blank version and trace the cut outs on card stock paper for a sturdier farmer paper bag puppet craft,
Print the farmer template in color for a simple and easy rainy day craft or,
Print the blank farmer template and use it as a fun coloring sheet activity and then glue the pieces of the farmer craft together.
Printable Farmer Paper Bag Puppet Template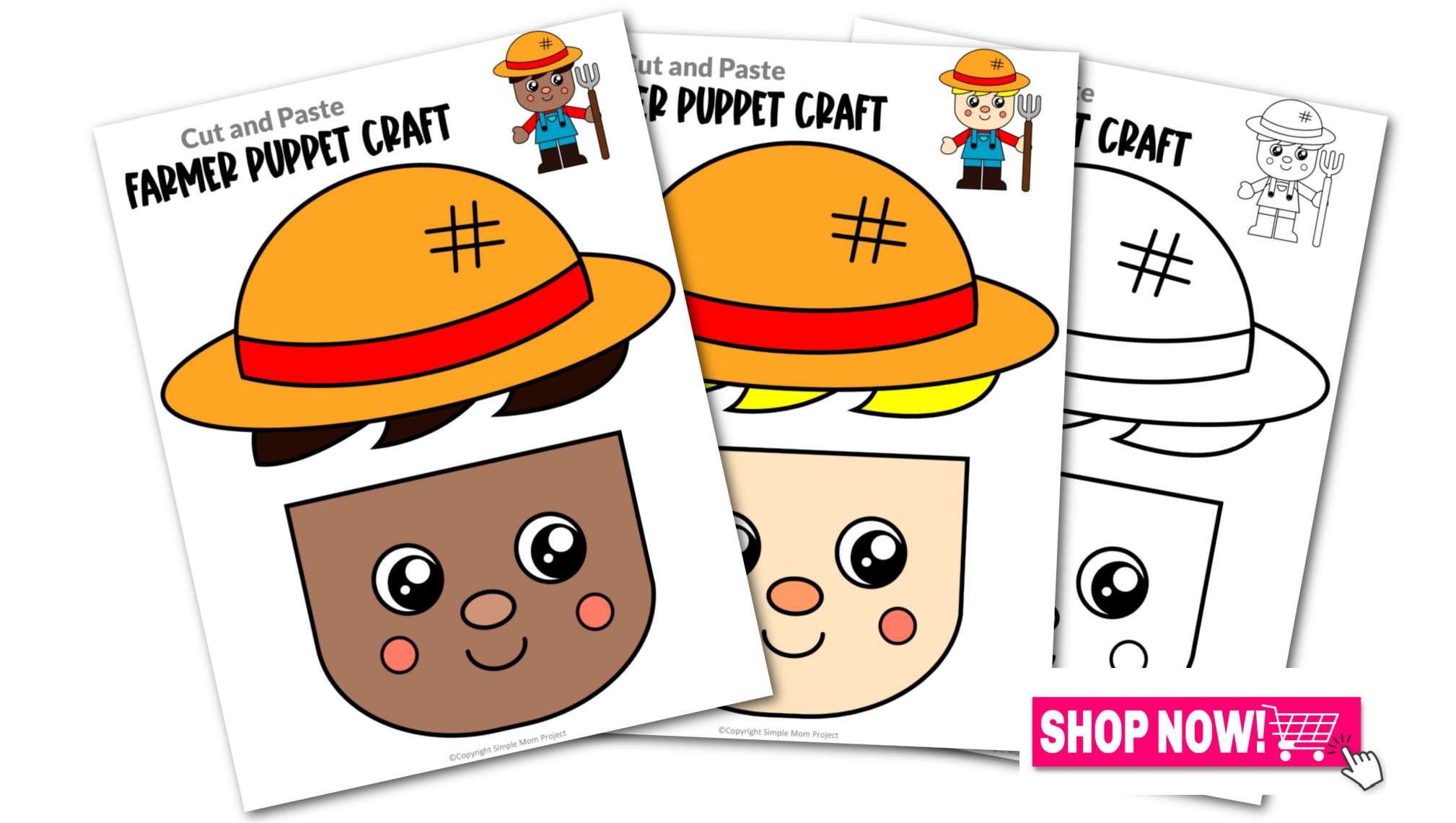 Create a farmer paper bag puppet using the printable farmer puppet template and feel the fresh air of the farm!
Children who aspire to be farmers someday will surely enjoy making their own farmer hand puppets.
They'll have a great time constructing their own puppet crafts with the help of the simple instructions we'll provide.
If you plan to incorporate this into your preschool craft activities, you will have more templates to share with your class.
We created two farmer templates for kids, one that is colored and one that is plain.
Children will enjoy making this farmer hand puppet because it is as simple as cutting and pasting!
This hand puppet template also helps in developing hand-eye coordination and fine motor abilities.
Enjoy a week of creativity and farmer crafts with this printable farmer paper bag puppet template!
Need more community helpers puppet fun? Check out our packed list of paper bag puppets for simple craft fun with your little ones.  
When you have finished, be sure to share your creation on Simple Mom Project's Facebook Page and follow me on Pinterest!

Kaitlen D.
More Fun Printable Craft Templates