Building a snowman is one of the things we look forward to most throughout the winter!
Winter would be incomplete until you built your own snowman in front of your house.
When the snow begins to fall, we know it's time to grab some snow, form it into a snowman, and enjoy!
You can also make a snowman within your classroom or at home using this printable snowman paper bag puppet template.
This snowman puppet craft is perfect if you're looking for preschool winter crafts for your Olaf lovers.
Children would definitely enjoy cutting and putting together their snowman puppet crafts.
They get to practice their fine motor and hand-eye coordination while doing what they love most—being creative.
Prepare your preschoolers and kindergarteners for the winter season by making this snowman paper bag puppet!

*By the way, this post may contain affiliate links which means I may receive a small commission at no additional cost to you if an item is purchase through that link. For more information, click here.*
Printable Snowman Paper Bag Puppet Craft
Snowman Craft Supplies Needed
Need more crafty fun? Check out our Penguin Puppet, Polar Bear Puppet and Snowman Craft
.
 T
hey are perfect for those days when staying indoors is the only thing your family can do!
Ideas for Easy Preschool Paper Snowman Craft
Plan a week of winter activities with this snowman paper bag puppet!
We'd love to share with you some ideas for using this puppet template into your routines.
With all of these ideas in their activities, kids would absolutely look forward to crafting their DIY snowman paper bag puppets!
1. Winter Snowman Finds for Children
You can introduce the printable snowman paper bag puppet template to your children in a variety of exciting ways.
All of these snowman finds have been compiled for you to use as learning materials in your lesson plans.
Use these items to warm up before beginning your craft activities.
These would set the tone for some winter-themed projects.
Warm up by reading a book about a snowman and cuddling a plush Olaf.
After making their snowman puppets, let the kids use a snowman kit to build their own snowmen.
2. Shapes Recognition
This printable snowman paper bag puppet template may be used for more than just arts and crafts; it can also be used to teach about shapes.
Children can work on this puppet craft using various shapes that you might include in your math lessons.
Children learning about shapes for the first time would benefit from practicing this.
Having the children locate the shape as you show them how to make the puppets is another entertaining way to begin this shapes recognition exercise.
You may also have the children draw a snowman using the shapes you're about to go through.
Or, as an alternative, give the kids some foam shapes or shapes that have been cut out so they may make a snowman by hand.

3. Preschool Winter Crafts
Your winter crafts will be a hit if you include this printable snowman paper bag puppet template.
Decorating our home and classrooms with the crafts that our kids have made is always a great deal of fun.
This gave us the idea to incorporate the snowman puppet into your classroom or home's winter decorations.
To make your winter more memorable, add this puppet craft to your list of preschool winter crafts.
Allow the kids to display or hang their snowman puppet crafts wherever they'd like once they're finished.
They can combine it to create a banner of a snowman, hang it on the wall, and more.
4. Do You Want to Build a Snowman Song
What a wonderful time to sing "Do You Want to Build a Snowman?" than while making snowman paper bag puppets?
We all know how much kids adore the movie Frozen and, of course, the snowman who played an iconic role, Olaf.
As they make their snowman puppets, it would be a great time to have the kids sing this well-known song.
You could also stage a puppet show using this song and the kids' snowman paper bag puppets as props.
Making more snowman puppets and singing this song with the kids would be something they would look forward to doing in the winter.
We are glad to have given you all of these ideas so you can have a lovely winter!
I hope all of these ideas will be included into your winter activities at home and at school.
These activities are sure to keep the kids occupied and productive throughout their winter break.
For more of these fun and easy to make puppet crafts, be sure to check out our seasonal paper bag puppets!
Snowman Paper Bag Puppet Instructions
After you've printed a copy and gathered all of the supplies needed, follow these simple steps to make your own snowman puppets.
Cutting the snowman parts one at a time is a great exercise for your kids to improve their fine motor skills.
Your children can also color the black and white template with crayons or colored markers.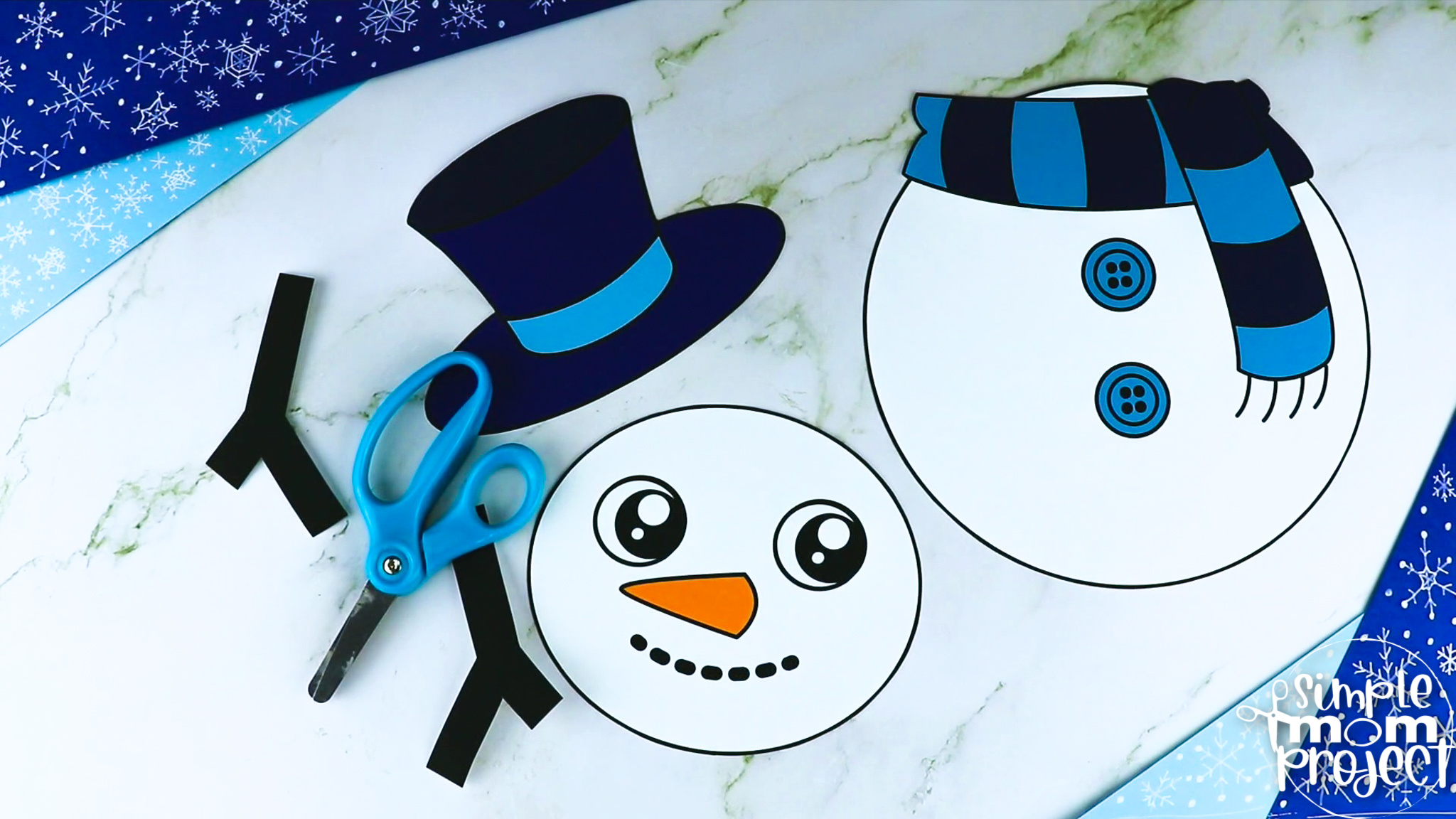 We'll begin by placing the snowman's body under the brown paper bag's folded edge.
Place the head of the snowman atop the paper bag's folded edge.
Add the two sticks to form the arms of the snowman on either side.
To complete your snowman puppet, attach the hat on top of the snowman's head.
Your snowman puppet craft is winter-ready and wonderful for the colder months.
More Options to Choose:
You can print the blank version and trace the cut outs on card stock paper for a sturdier snowman paper bag puppet craft,
Print the snowman template in color for a simple and easy rainy day craft or,
Print the blank snowman template and use it as a fun coloring sheet activity and then glue the pieces of the snowman craft together.
Printable Snowman Paper Bag Puppet Template
Prepare for a spectacular winter experience by printing your copy of the snowman paper bag puppet template today!
All the kids who love Olaf and the movie Frozen would enjoy making this as a winter craft.
Winter is a great time for kids to be creative while improving their focus, hand-eye coordination, and fine motor skills.
For kids to have a great time creating their snowman puppets, we designed this printable puppet template as simple as cut and paste.
They get to complete their creations by following simple instructions that come with actual photographs and a tutorial video.
Children can also select which of the templates we have prepared for them to work on.
Kids of all ages can use the simple black-and-white and colored snowman templates that we have available.
Enjoy the rest of your winter season by using all of these features for your children's arts and crafts!
Need more fun seasonal paper bag puppet? Check out our packed list of paper bag puppets for simple craft fun with your little ones.  
When you have finished, be sure to share your creation on Simple Mom Project's Facebook Page and follow me on Pinterest!

Kaitlen D.
More Fun Printable Craft Templates