Making a fun winter craft with your kids would be a good way to get ready for the season.
This printable polar bear paper bag puppet would be a perfect addition to getting ready with your cozy garments and indoor winter decorations.
With this polar bear winter craft, kids will definitely look forward to a great winter season.
We created this puppet template to be simple and easy for children to build while learning about these arctic animals.
This printable puppet is a must-have if you want to create a lesson plan with a winter theme.
Kids may enhance their fine motor, hand-eye coordination, and creativity while making winter crafts.
Print a copy of your polar bear paper bag puppet template right away if you don't want to miss out on the fun of working on this winter craft!

*By the way, this post may contain affiliate links which means I may receive a small commission at no additional cost to you if an item is purchase through that link. For more information, click here.*
Printable Polar Bear Paper Bag Puppet Craft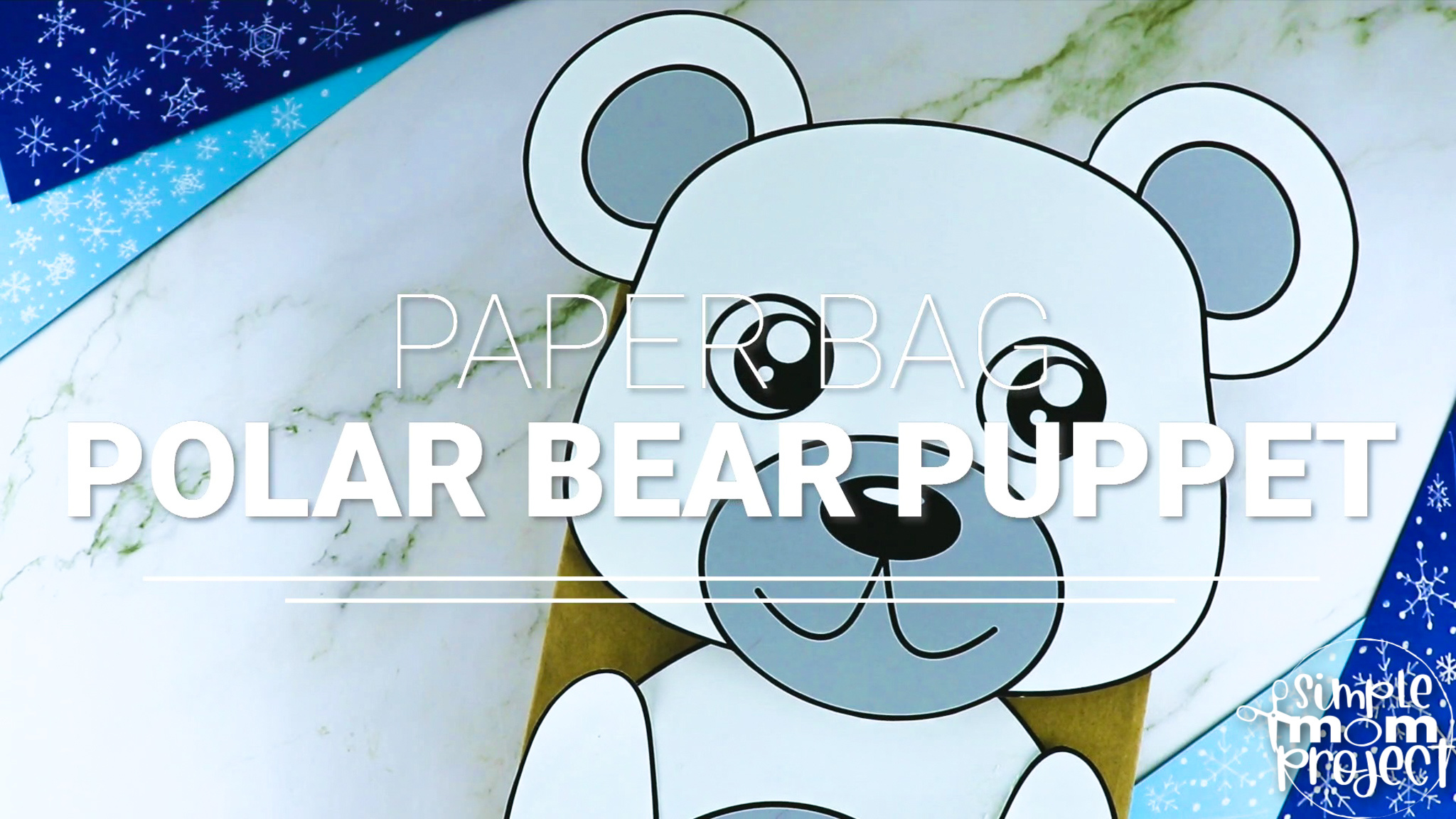 Polar Bear Craft Supplies Needed
Need more crafty fun? Check out our Snowman Puppet, Penguin Puppet, and Heart Bear Craft.
 T
hey are perfect for those days when staying indoors is the only thing your family can do!
Ideas for Easy Preschool Paper Polar Bear Craft
With all of these polar bear paper bag puppet ideas, you can plan a fun and productive winter season with your kids!
Incorporate these simple, easy-to-implement concepts into your learning activities.
It is best to use these ideas in both the classroom and at home.
Enjoy writing these ideas down as you read on!
1. Perfect Polar Bear Items for Children
You won't have to think about how to introduce this printable polar bear paper bag puppet template because we've thought of everything!
We've assembled a collection of polar bear items that are simple to find, inexpensive, and sure to delight your children.
You can use these learning tools to introduce the polar bear puppet during your winter themed lesson plans.
You can use these polar bear items into your lesson plans for circle time, play time, or reading time.
This weekend, spend time reading polar bear-related books, cuddling a stuffed polar bear, and playing with fuzzy polar bear toys!
2. Fascinating Facts about Polar Bears
Before they begin making their printable paper bag polar bear puppets, let your kids learn more about these fluffy arctic animals.
Share these fascinating polar bear facts with them to get them excited about learning more.
These facts will help the children learn more about how animals live and thrive in their environments.
Knowing these facts would make kids want to make their own polar bear puppets!
Polar bears are considered to be marine creatures, did you know that?
They live on the arctic ocean's sea ice, search for ocean food, and rely on ocean habitat.
They genuinely have dark skin.
Their jet-black skin is found beneath their thick white fur.
The polar bear is a skilled swimmer.
They are capable of swimming for days at a time because of their enormous paws, which are swimming-adapted.
Polar bears are the world's largest living carnivores.
These huge creatures typically stand over 8 feet tall and weigh over 800 pounds!
A group of polar bears is known as a "pack" or "sleuth."
They possess a keen sense of smell.
Polar bears can detect scents from up to 20 miles away.

3. Paper Plate Polar Bear Craft
Aside from working on the printable polar bear paper bag puppet, we should also encourage our children to use recyclable materials in their crafts.
Teaching them about recycling will make them more aware of the need to protect and preserve our environment.
This led us to create this printable polar bear paper bag puppet idea, in which kids will make a polar bear craft out of a paper plate.
Grab your paper plates and other supplies, such as white construction paper, markers, scissors, and glue!
Draw the polar bear's face with a marker on the paper plate.
You can use the printable polar bear paper bag puppet template to help you draw it.
On a sheet of white construction paper, sketch the ears and paws, then cut them out.
Then attach it to the paper plate with glue.
If your kids ask for more, feel free to create more of these easy and quick paper plate crafts!
4. Winter Themed Bulletin Board
Polar bears are one of the animals that spring to mind when we think about the winter season.
These furry animals will definitely be the perfect addition to your classroom's bulletin board!
Whether your preschoolers are teddy bears or arctic animal lovers, they would adore having these polar bears on their bulletin boards.
Make a winter themed bulletin board with these polar bear paper bag puppets to get ready for the winter season.
Encourage your preschoolers and kindergarteners to display their finished polar bear puppets on the board.
It would be wonderful if they could see their artworks just in time for the winter season!
We hope that these ideas will become a part of your future winter activities.
These activities are sure to keep your kids occupied and productive during the winter and any other season.
Keep checking back to see more of our easy to make paper bag puppets for the seasons!
Polar Bear Paper Bag Puppet Instructions
After printing a copy of the polar bear template, gather your supplies and begin making your paper bag puppet!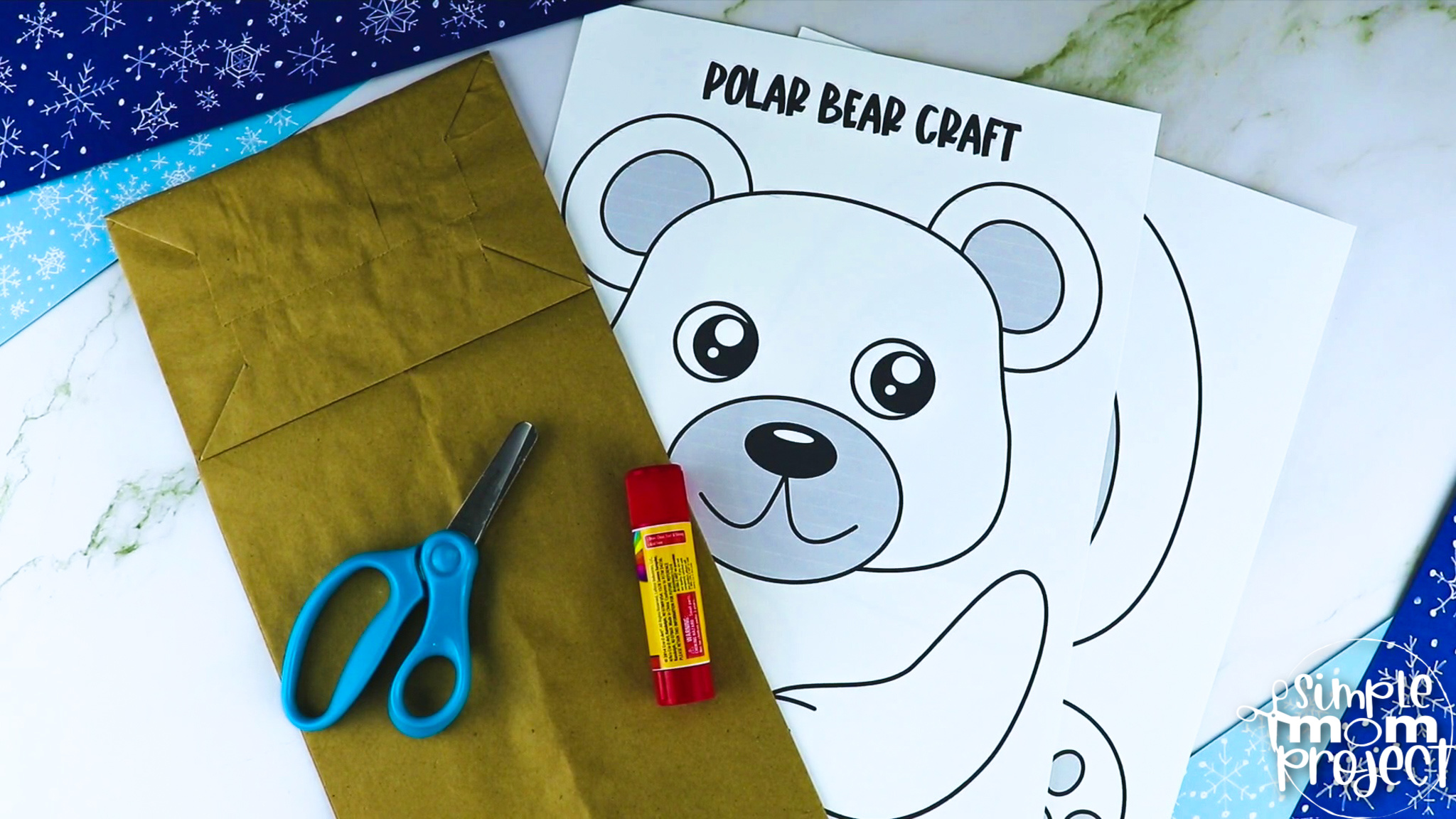 Cutting the colored polar bear template is a fantastic place to start if you want to work on your child's fine motor skills.
Allow your children to customize the plain black and white template with all of their coloring supplies.
Start by placing the polar bear's body under the paper bag's folded edge.
Place the legs on the upper side of the body on both sides.
As shown in the picture below, attach the remaining legs to the bottom part of the body.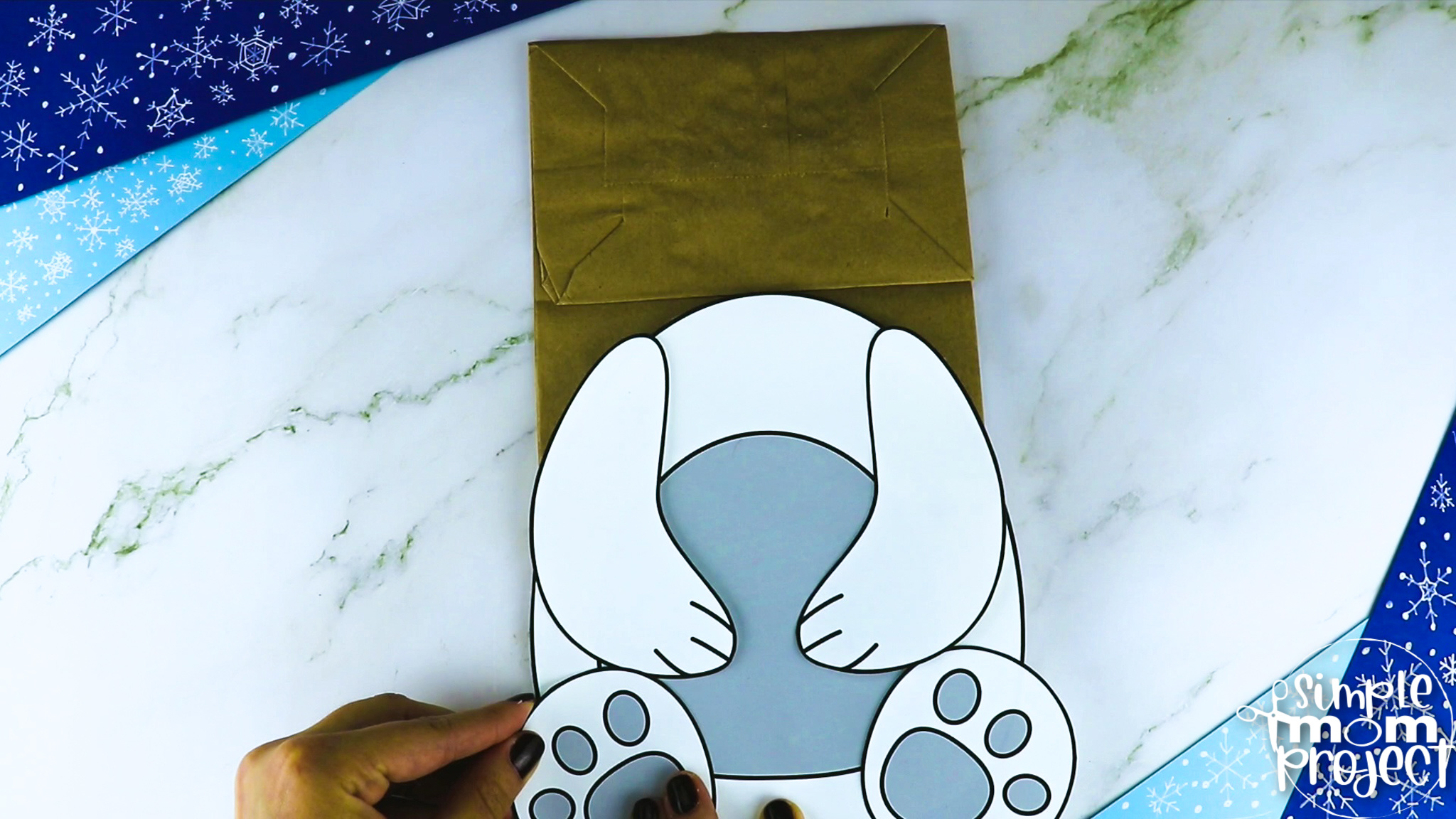 Finish your polar bear paper bag puppet by placing the polar bear's head on the folded edge of the brown paper bag.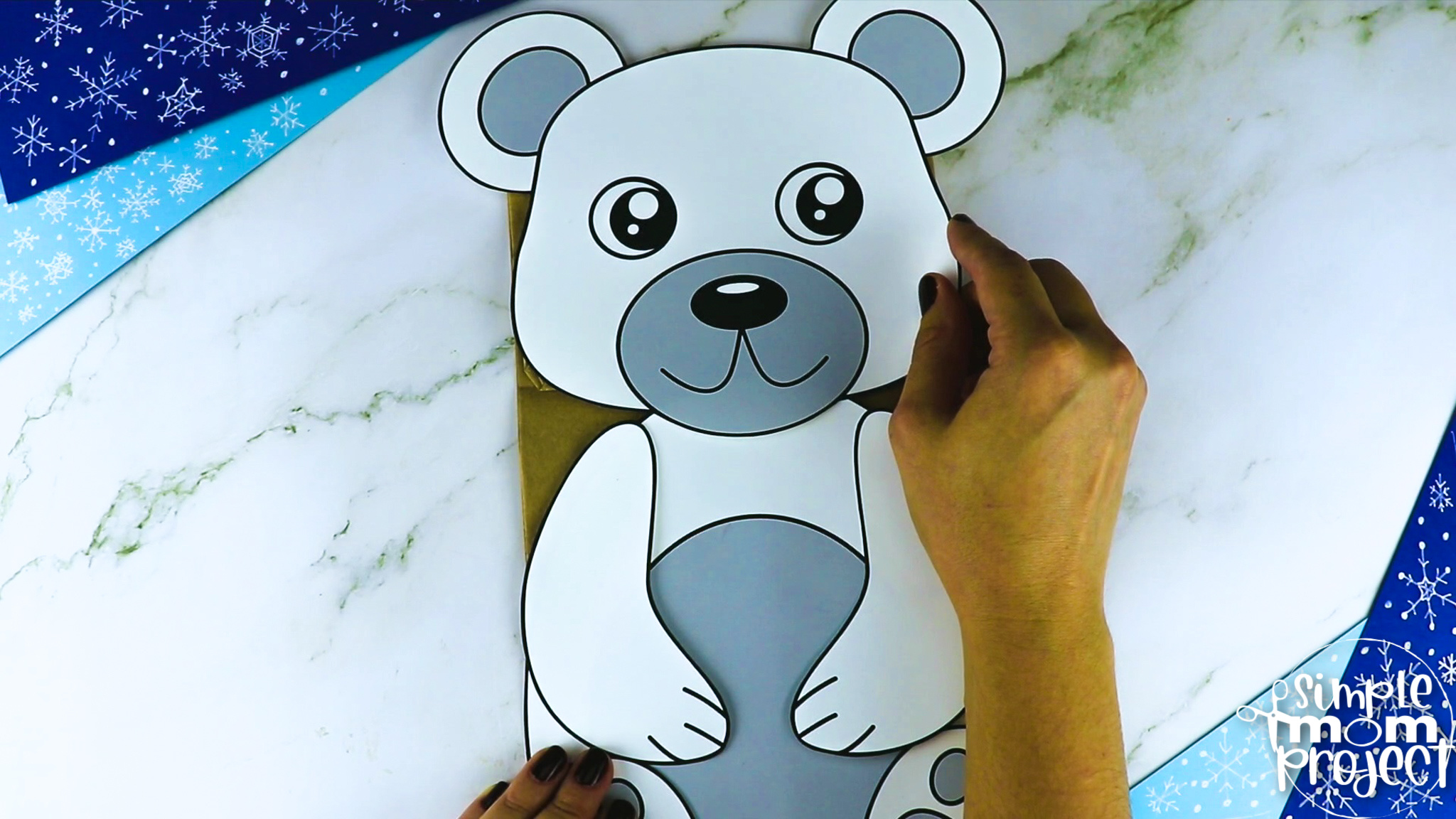 What an adorable polar bear paper bag puppet you've created!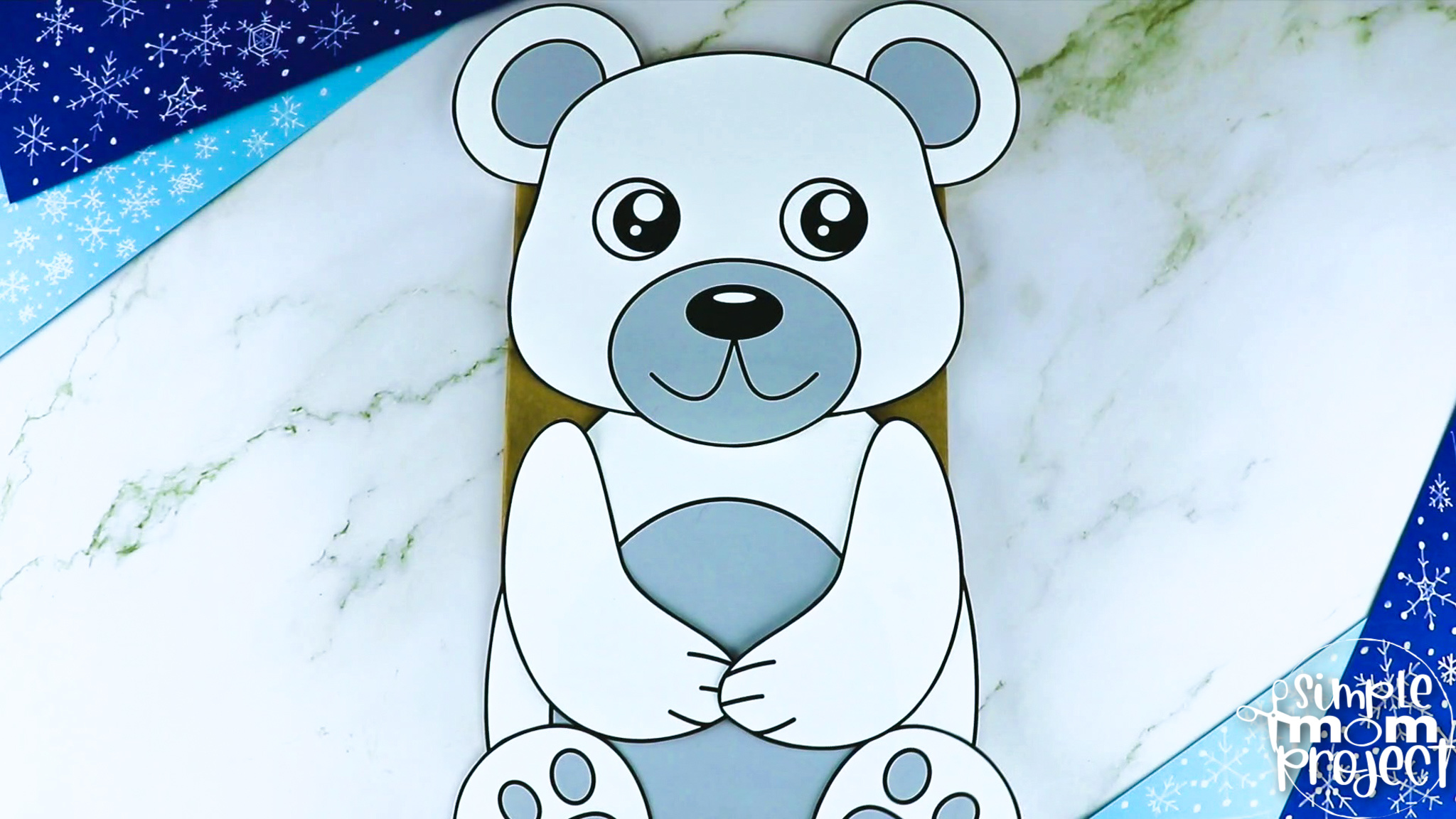 More Options to Choose:
You can print the blank version and trace the cut outs on card stock paper for a sturdier polar bear paper bag puppet craft,
Print the polar bear template in color for a simple and easy rainy day craft or,
Print the blank polar bear template and use it as a fun coloring sheet activity and then glue the pieces of the polar bear craft together.
Printable Polar Bear Paper Bag Puppet Template
This polar bear paper bag puppet may be made at any time of year, so print one out right away!
Spend the day making crafts with polar bears and learning about these arctic animals.
Whether you are studying bears or arctic creatures, this printable puppet template would make a fantastic animal craft.
We created this printable bear template to be used in your preschool crafts at home and at school.
This week, encourage your children to be creative and productive while honing their hand-eye coordination and fine motor abilities.
They'd love all of the templates we've created for them, especially the black and white and colored polar bear templates.
Follow our simple steps for creating polar bear paper bag puppets and you will have a worry-free time making your DIY polar bear paper bag puppets.
We have produced actual photographs of how to make it as well as a tutorial video so that kids may have a stress-free creative experience!
Make sure to include this printable polar bear paper bag puppet template for a fun and unforgettable winter season experience!
Need more fun seasonal paper bag puppet? Check out our packed list of paper bag puppets for simple craft fun with your little ones.  
When you have finished, be sure to share your creation on Simple Mom Project's Facebook Page and follow me on Pinterest!

Kaitlen D.
More Fun Printable Craft Templates