Nothing makes us more excited about winter than spending more time with our children.
Arts and crafts would definitely be on your list of fun winter activities.
This printable penguin paper bag puppet template is the ideal craft to make if you're looking for wintertime activities to do together.
Your kids' creativity will shine while working on this adorable and cuddly animal puppet craft.
Also, they get to improve their hand-eye coordination and fine motor skills.
This penguin puppet pattern is designed to be very easy, simple, and enjoyable to make for children of all ages!
This weekend, put on a puppet show with a winter theme with the printable penguin paper bag puppet template!

*By the way, this post may contain affiliate links which means I may receive a small commission at no additional cost to you if an item is purchase through that link. For more information, click here.*
Printable Penguin Paper Bag Puppet Craft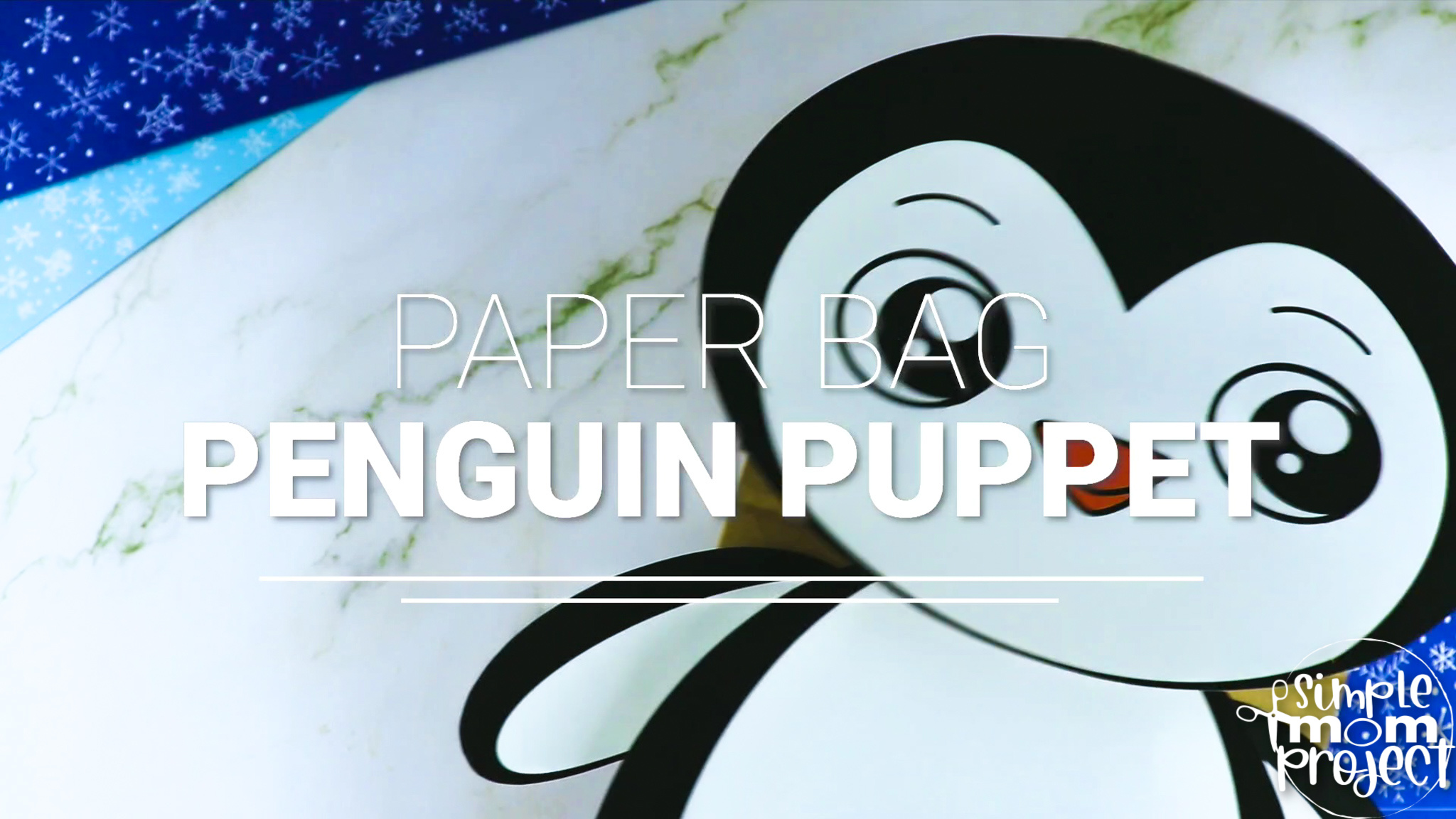 Penguin Craft Supplies Needed
Need more crafty fun? Check out our Penguin Template, Polar Bear Puppet, and Snowman Puppet
.
 T
hey are perfect for those days when staying indoors is the only thing your family can do!
Ideas for Easy Preschool Paper Penguin Craft
We have thought of everything when it comes to preparing your activities, so you will have more time to spend with your kids this winter.
We've compiled all of these brilliant ideas to include the printable penguin paper bag puppet template into your performances.
We made sure that all of these are easy to practice but exciting, so you won't have to worry about the materials or how they are done.
Enjoy incorporating these ideas into your winter activities!
1. Perfect Penguin Collection for Children
You may be wondering what and how you should introduce the printable penguin paper bag puppet template to your children.
There are many fascinating ways to introduce it, not just during the winter but also throughout any other season.
Check out this perfect penguin collection that you can use to plan out your lesson plans on penguins or winter season.
These are excellent learning materials for children to use to get them in the mood for learning about penguins.
Have fun reading fascinating penguin books while cuddling with a fluffy penguin plush toy.
Make sure you have everything on your list because this penguin collection coordinates with the printable penguin paper bag puppet template!
2. Walk Like a Penguin
Just by the way they move and walk, penguins are unquestionably one of the cutest animals.
They are fascinating as they paddle around in groups.
This inspired us to create a gross motor activity in which children imitate how a penguin walks.
You may encourage the kids to walk like penguins by playing a little video of them doing so.
Once the kids have completed their penguin puppet creation, this would be an interesting activity.
This gross motor practice can also be used as a warm-up before your day's lessons.
Kids will enjoy walking like penguins while holding their handcrafted penguin puppet crafts!

3. Preschool Winter Crafts
This printable penguin paper bag puppet template is perfect for including in your preschool winter crafts.
Kids in preschool will love crafting their winter-ready penguin puppets.
You can make this puppet craft alongside other winter-themed crafts on your list.
This penguin puppet craft is best suited for preparing decorations for the next winter season.
Use all of your kids' finished penguin paper bag puppets to decorate a winter-themed room at home and in the classroom.
The penguin puppets can be hung on the wall, used as a banner, or displayed as a decoration for your winter bulletin board.
For future preschool winter crafts, this printable penguin paper bag puppet template is a definite need!
4. P is for Penguin
Aside from arts and crafts, you may use this printable penguin paper bag puppet template into your alphabet lessons.
Although learning about letters can be a little tedious, making it engaging and fun for the kids will help them.
Let the children begin by completing their penguin puppet templates.
Then, ask them whether they know what animal they are working on.
You might start by saying something like "P is for penguin" or "Penguin starts with letter P."
You can watch a short film on penguins or sing songs about them to make your alphabet lesson more entertaining.
With this printable penguin paper bag puppet template, your alphabet lesson will be a blast!
We can't wait to see how you use all of these ideas!
These are sure to make your kids' winter activities a memorable learning experience.
Stay tuned for more of our seasonal paper bag puppets that we'd love to share with you and your kids!
Penguin Paper Bag Puppet Instructions
Check out these easy-to-follow instructions for making your own paper bag puppet penguins after gathering all the necessary materials.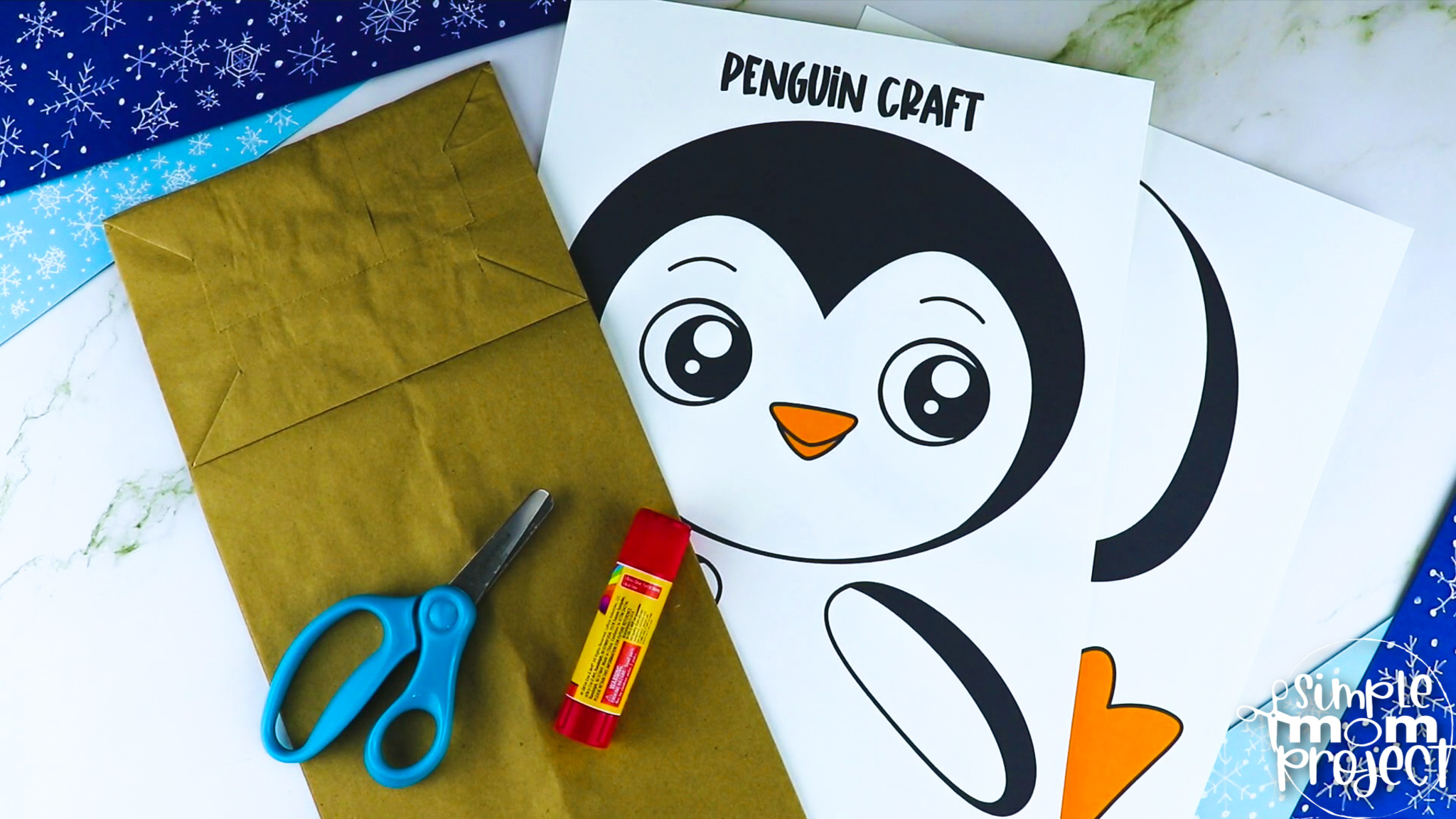 Your children can begin by cutting out all of the penguin components one at a time from the colored penguin template.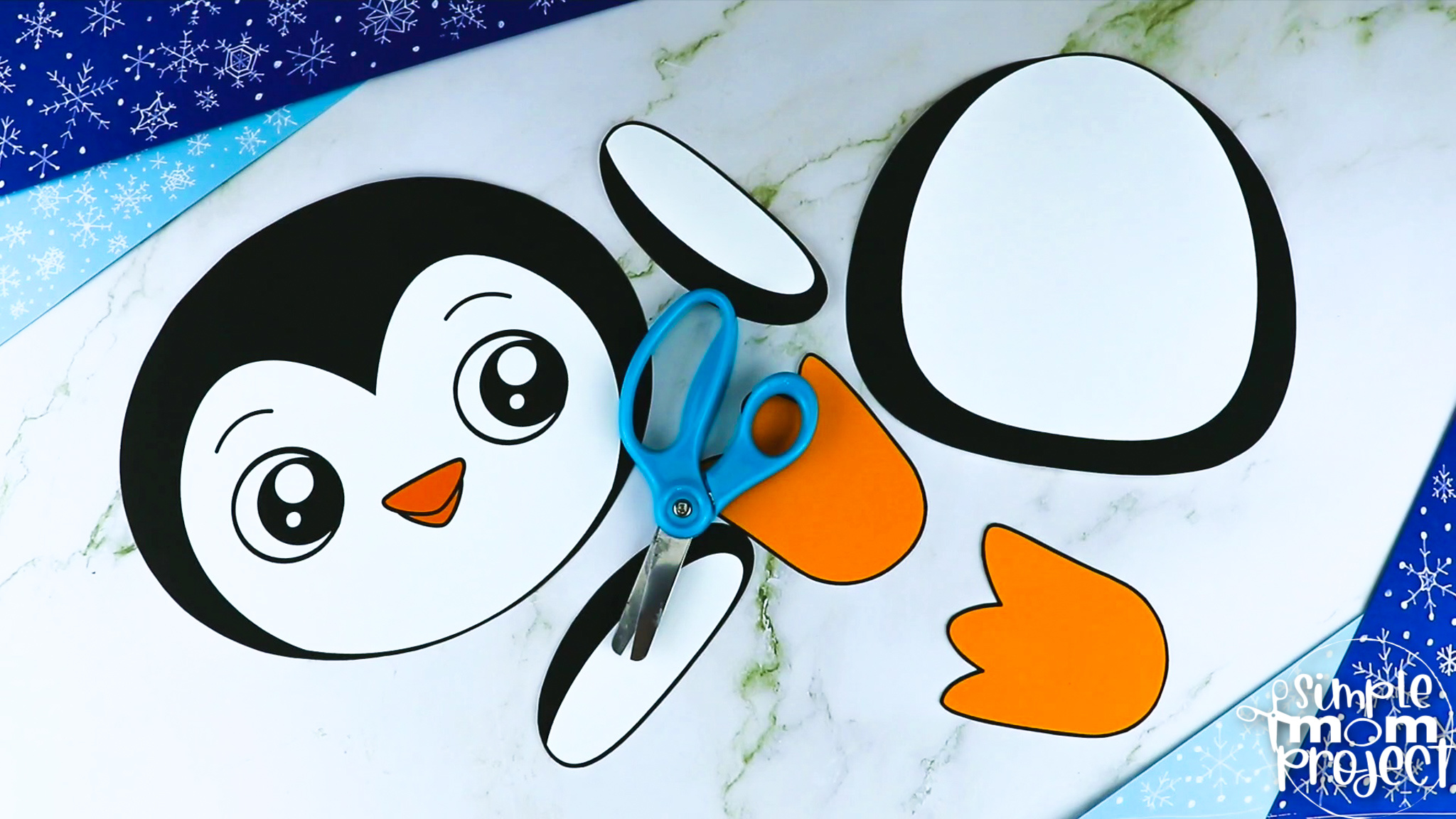 Start by tucking the penguin's body directly beneath the brown paper bag's folded edge.
Add two of its feet to the bottom of its body.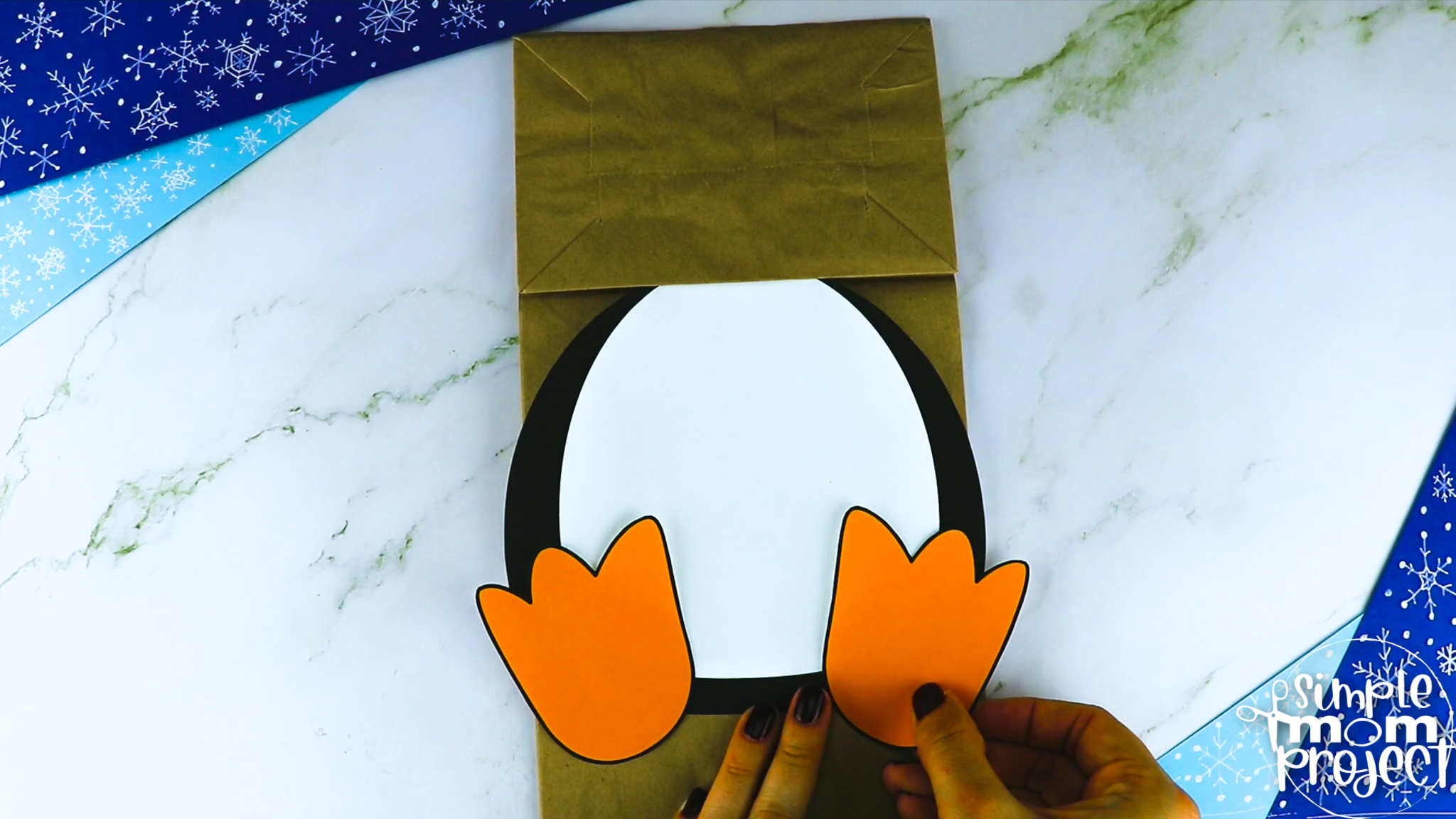 Place both of its flippers on either side.
Attach the head to the folded edge of the paper bag to complete your penguin paper bag puppet.
This is most likely the prettiest penguin paper bag puppet you've ever made!
More Options to Choose:
You can print the blank version and trace the cut outs on card stock paper for a sturdier penguin paper bag puppet craft,
Print the penguin template in color for a simple and easy rainy day craft or,
Print the blank penguin template and use it as a fun coloring sheet activity and then glue the pieces of the penguin craft together.
Printable Penguin Paper Bag Puppet Template
One of the cutest penguin movies ever made is Happy Feet, without a doubt!
If your children are fascinated by these cute animals, print a copy of this printable penguin paper bag puppet template right away!
Kids can freely display their artistic skills in crafts with this printable puppet template.
They will have the chance to enhance their hand-eye coordination, fine motor skills, and ability to follow directions.
We've given step-by-step directions with photos and a video tutorial.
Take advantage of all the penguin puppet templates we've prepared for a day full of penguin crafts.
Give your kids the option of working on a penguin template that is either simple black and white or colored.
With either template, you may make paper bag puppet penguins with all your artistic skills and enthusiasm!
Need more fun seasonal paper bag puppet? Check out our packed list of paper bag puppets for simple craft fun with your little ones.  
When you have finished, be sure to share your creation on Simple Mom Project's Facebook Page and follow me on Pinterest!

Kaitlen D.
More Fun Printable Craft Templates