Having a transportation theme while teaching an alphabet letter to your preschoolers and kindergarteners at the same time?
This week, you can incorporate something special that we have prepared for your little ones into your lesson plans.
Include this printable taxi template in your home and school activities!
Give kids this black and white taxi cab to color, paint, cut out, and enjoy themselves with.
They learn more about this vehicle and a letter of the alphabet at the same time.
The printable taxi template can also be used to symbolize the letter T.
Don't wait any longer—we made sure that each of the vehicle templates in the collection could be applied to a variety of subject areas!
Grab your copies of this now because printing is free and simple!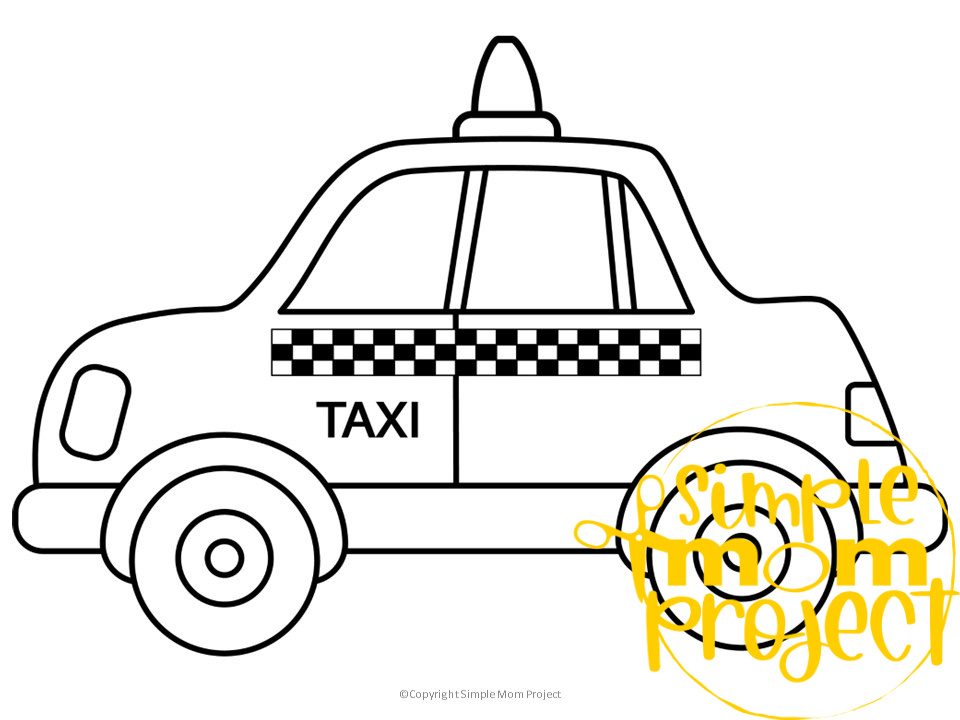 *By the way, this post may contain affiliate links which means I may receive a small commission at no additional cost to you if an item is purchase through that link. For more information, click here.*
Printable Taxi Template
Taxi Template Supplies Needed:
Printable Taxi Template (FOUND AT THE BOTTOM)
Ideas for Taxi Template
Organizing your weekly learning plan?
After you've printed your copies of the printable taxi template, check out these ideas for incorporating it into your daily routine.
These activities are simple to carry out and will definitely be fun for kids of all ages.
Please feel free to use it in your plans for this week!
Grab a pen and paper to jot down these ideas as you read on!
1. Top Taxi Learning Resources
Use these excellent resources to get your learning about taxis off to a great start!
You can use these learning materials we've gathered to introduce the printable taxi template.
These go well with any transportation-themed activities you have in mind for the week.
We included two fascinating books on taxis, as well as a taxi toy that children may play with whenever they wish.
The printable taxi template can be given to them both before and after, or you can give them both at once if you choose.
Having trouble coming up with materials for your lesson plans?
Worry no more—everything you need is right here!
Check them out by clicking on the links we've provided below!
2. Easy Paper Taxi Craft
We'll never run out of simple and affordable arts and crafts projects for your kids!
We're sure they'd like to make more of these taxis, so we came up with this printable taxi template idea.
Bring out any paper you have available because today we're going to make a paper taxi craft using it!
It could be construction paper, scrap paper, or a newspaper.
Make a copy of the printable taxi template because we'll be using it as a guide for how to draw.
Draw the taxicab's outline on the paper.
Allow your children to draw the outlines on their own.
Help them cut it out, then have them color it with any coloring supplies you have.
You can then add more features to the taxi craft by sketching windows, doors, wheels, and other details.
This idea is perfect for additional arts and crafts projects during your letter T or transportation theme week at home or at school!
3. Color Recognition
Do your children know that taxi cabs come in a variety of colors?
There are a lot of cabs in the world, and they come in every color imaginable.
That is why we created this printable taxi template idea, which works best with color recognition activities that may be included in your math lessons.
This idea could be used for a sorting activity or a color game for your toddlers, preschoolers, and kindergarteners.
Take a few different colors of construction paper, and print the taxi template using those colors.
Make one copy of each hue, and then cut out the taxi outlines.
Use the taxi templates to create a color wall or to have kids classify different cars into groups based on color.
Because they are having fun, children will surely learn colors quickly.
Use the printable taxi template to let children play while they learn!
4. Transportation in the Community
Learning about the many modes of transportation in your community is great for your lesson plans.
There are several types of vehicles that are useful for transportation.
Taxi cabs are one of them.
Include the printable taxi template while talking about the various city vehicles.
One of the most popular means of transportation for individuals to get from one location to another is the taxi cab.
They assist us in promptly and safely reaching our destinations.
Ask your preschoolers and kindergarteners if they have ever taken a taxi and where they went while doing so while you are having a conversation.
Ask them how their trip went and if they like riding the taxi cabs.
You may add more vehicles in your lessons such as trains, buses and more!
It was just as much pleasure to share these ideas with you and your children as it was to come up with them.
We hope that all of these ideas can assist you in organizing a fruitful and productive week for your children as they learn about taxi cabs.
We hope to soon witness you put all of these ideas into action!
If your kids couldn't get enough of our free vehicle templates, feel free to browse more of them!
Printable Taxi Template: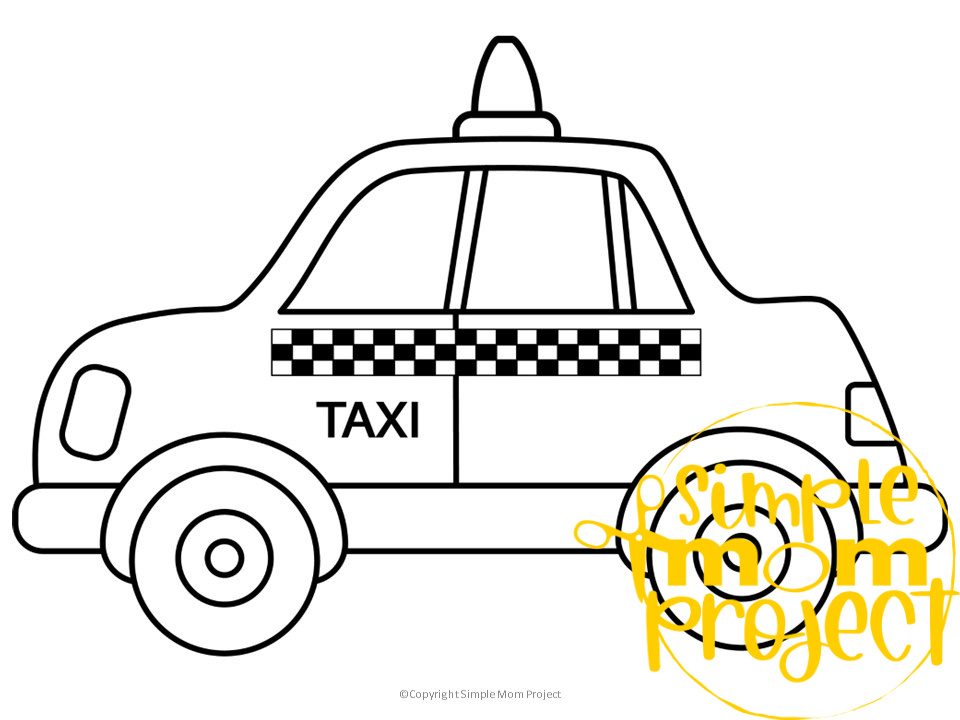 Get your things ready and your copies of the printable taxi templates today!
Enjoy this black and white taxi as much as you can this week while incorporating it into your routines.
Use it as a coloring page, a drawing guide, a craft template, a set of flashcards, or even a display for your learning areas at home or in the classroom.
Children are free to use the printable taxi template anyway they see fit.
It's free and simple to print, so they can make the most of it!
Use the printable taxi template not only for arts and crafts, but also for math and science.
In math lessons, learn about colors, and in science sessions, learn about various forms of transportation.
The printable taxi template is certain to make teaching kids about transportation fun and engaging no matter how you decide to use it!
Don't forget to leave a message in the comment section.
When you have finished, be sure to share your creation on Simple Mom Project's Facebook Page and follow me on Pinterest!

Kaitlen D.
More Free Printable Vehicle Templates