Build your own rooster craft as part of our series of fantastic farm animal crafts for the kids!
Cut out the rooster template and use it for coloring, stencils, DIY crafts and classroom decorations.
Making this simple printable rooster craft template helps children improve their scissor skills, fine motor skills, color recognition, attention to details and creativity.
This free printable rooster craft activity is perfect for students who are learning the alphabet, especially the letter R.
For more fun crafts that begin with the letter R, check these out:
Follow the step-by-step instructions we included below or watch the tutorial video as you make your own cute rooster craft.


Need more crafty fun? Check out our Chicken, Cow and Letter R craft.
 T
hey are perfect for those days when staying indoors is the only thing your family can do!
*By the way, this post may contain affiliate links which means I may receive a small commission at no additional cost to you if an item is purchase through that link. For more information, click here.*
Free Printable Cut and Paste Rooster Craft
Ideas for Easy Preschool Paper Rooster Craft
We list down a few brilliant ideas on how to maximize the use of this free printable rooster craft template in your daily life with the kids.
1. Great Books to Read
Enjoying a book together creates a wonderful opportunity for you and your little one to connect.
Reading aloud helps children with their brain development, language and communication skills.
If you're trying to look for great books to pair this simple printable rooster craft template, we highly recommend the following:
2. Farm Theme Entertainment
Children are always excited for family gatherings; playing games, winning prizes and interacting with their cousins.
This easy preschool activity contains printable templates of simple shapes used to make rooster crafts for your farm theme event.
Gather all the finished rooster crafts and punch a small hole on each one of it.
Insert a string or yarn through it to make a beautiful garland where you can hang in the venue.
You can also turn the cute rooster crafts into a banner, table display or invitation cards.
Bake cupcakes and rooster-inspire cookies to offer with your family and friends while they are having a great time.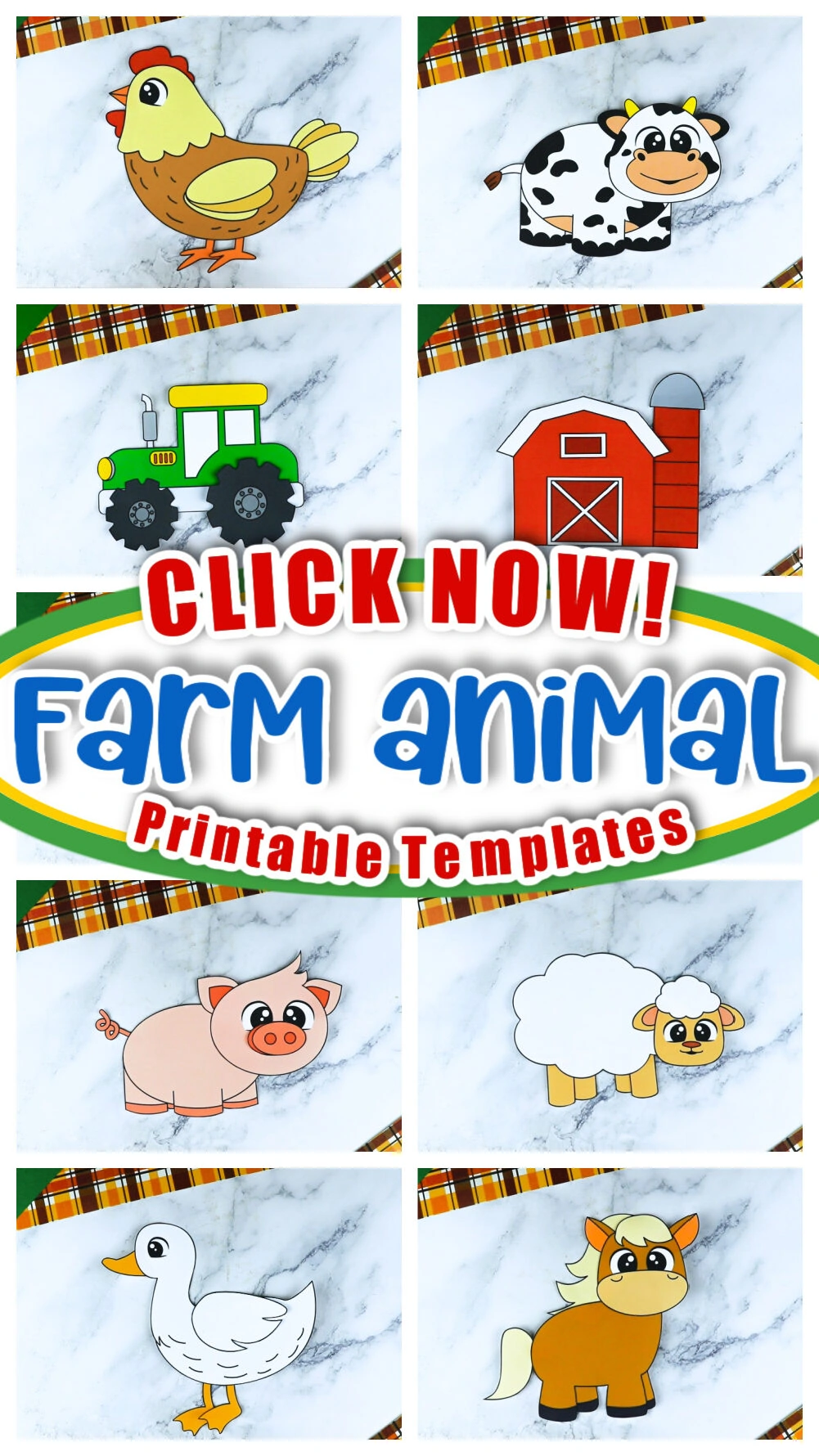 3. DIY Paper Plate Rooster Craft
Making this easy cut-and-paste rooster craft inspires us to create another DIY craft using recycled materials.
Start tracing your child's hand in an orange paper and cut it out.
Next, glue it to the top of the rooster's head.
Cut the beak and wattle out from a construction paper and glue it onto the paper plate.
Glue the wiggly eyes for a goofy cock-a-doodle look.
Finish it off by attaching a large popsicle straw at the back of the paper plate so your child can use it as puppets.
4. Cute Handprint Rooster Craft
Creating this free printable rooster craft template is as easy as color, cut and glue!
Now, let's make handprint rooster art that kids would definitely enjoy!
First, trace your little one's hand onto a cardboard, felt paper or construction paper and cut it out.
Draw the rooster head, beak, comb, wattle and feet on colored paper and cut it out.
Use a liquid glue or glue stick to attach all the pieces together and set it aside to dry.
Making handprint art has been one of our favorite crafts to display in our living room.
We hope you enjoyed these amazing ideas we listed in making these free printable rooster craft templates.


Rooster Craft Supplies Needed
Printable Rooster Template (FOUND AT THE BOTTOM)
Keep scrolling to get your very own rooster craft today and start with your little ones and their farm animal craft buddies today!
Rooster Craft Instructions
These easy printable rooster crafts are the perfect addition to your farm animals.
Click download and print the free printable rooster craft template on a white sheet of paper.
Help your child to cut out the rooster templates into individual pieces.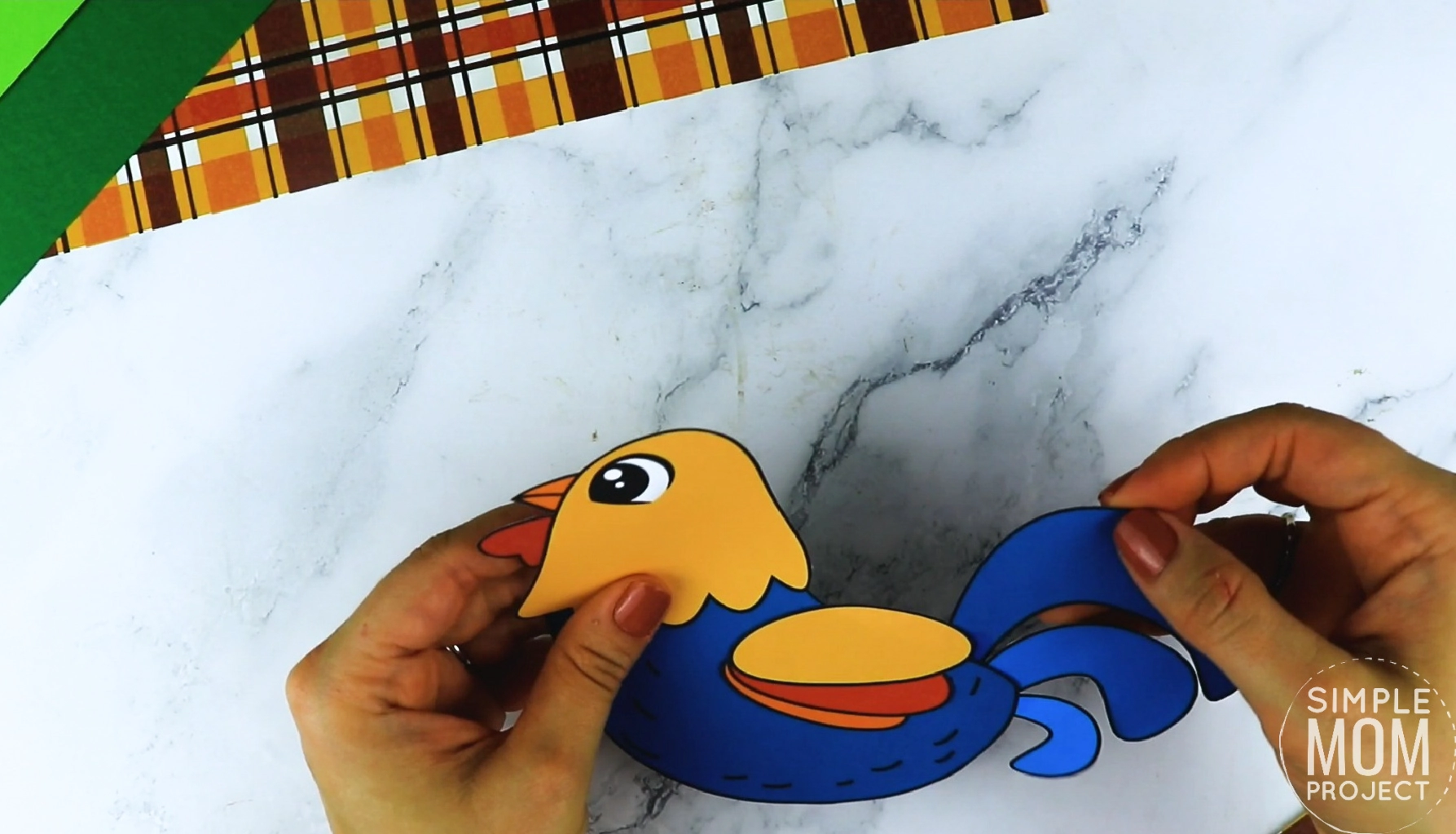 Using glue sticks, attach the wings onto the body.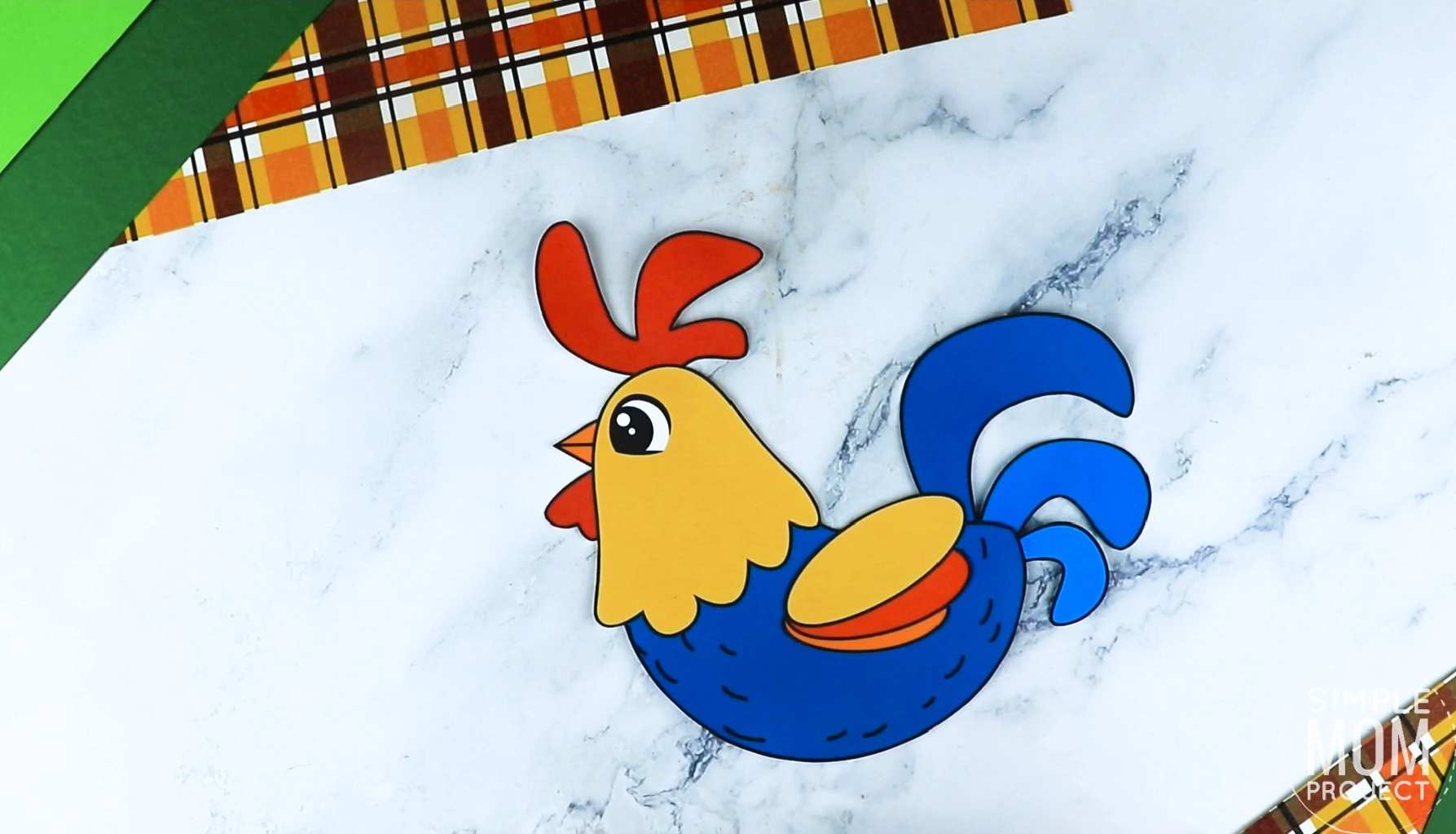 Next, glue the main tail feathers.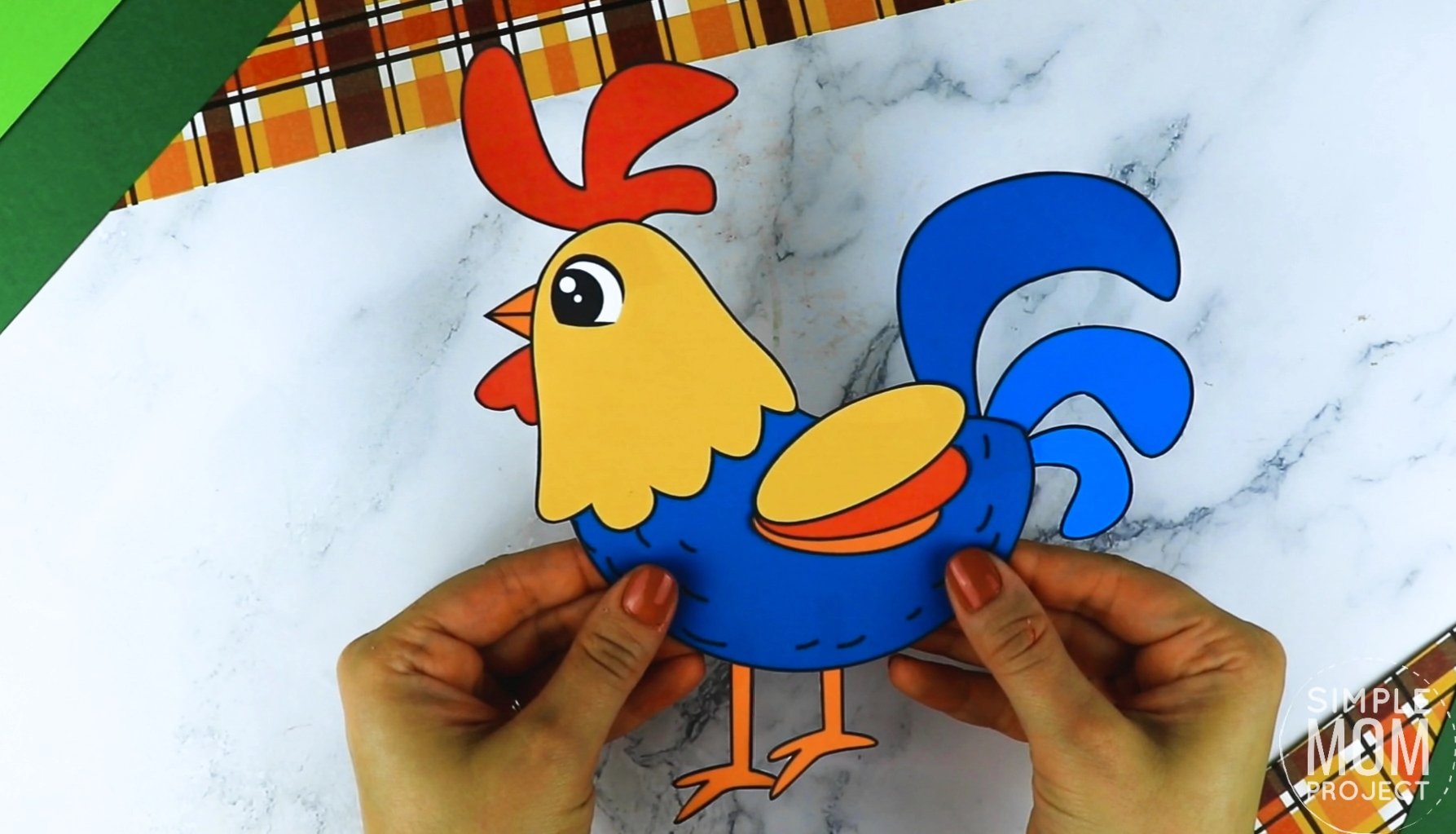 Glue the comb at the top of the rooster head.
Finish it off by gluing the feet and your rooster paper craft is complete!
More Options to Choose:
You can print the blank version and trace the cut outs on card stock paper for a sturdier rooster craft,
Print the rooster template in color for a simple and easy rainy day craft or,
Print the blank rooster template and use it as a fun coloring sheet activity and then glue the pieces of the rooster craft together.
Free Printable Rooster Craft Template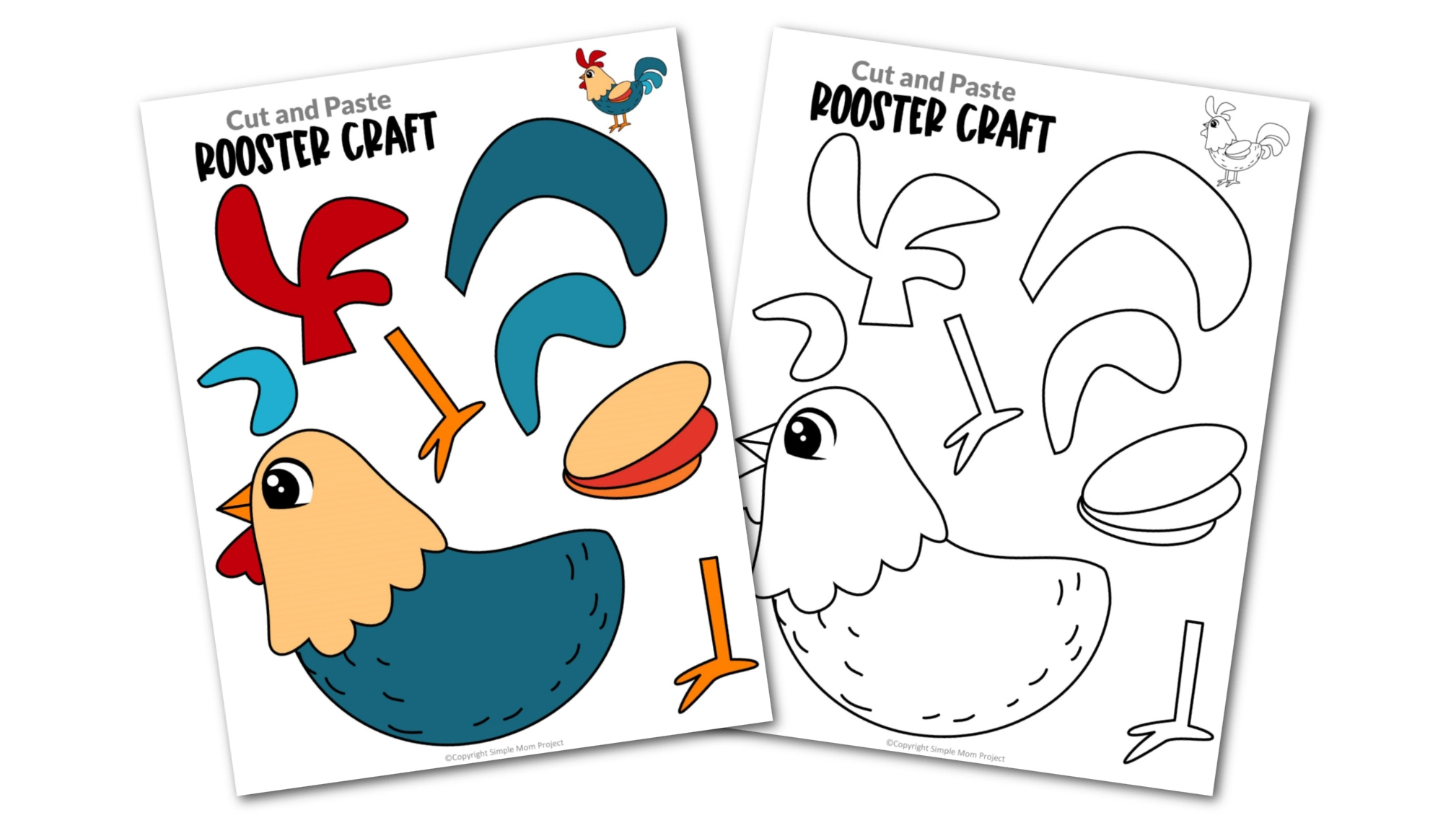 This simple rooster craft template will surely keep the toddler, preschool and kindergarten kids busy for hours.
There's a basic black and white rooster drawing template for toddlers to fill in with different colors.
There's also the colored rooster pattern craft for preschoolers who like to directly cut it out.
Don't forget to share your learning plans in the comments.
Need more farm animal fun? Check out our packed list of farm animals for simple craft fun with your little ones.  
When you have finished, be sure to share your creation on Simple Mom Project's Facebook Page and follow me on Pinterest!

Kaitlen D.
More Fantastic Farm Animal Crafts