Looking for lively flowers for your garden that blooms from spring to fall?
These fast-growing wave petunias are perfect to add fancy colors to planters, pots and hanging baskets.
Get ready as we share this free printable petunia flower craft template suitable for toddler, preschool and kindergarten.
Making this spring flower activity will improve your little one's decision-making skills and creativity.
So, what makes this easy printable petunia craft template unique?
You are free to combine it with different recycled materials to form a variety of DIY projects such as tissue paper flower, crepe paper flower, origami, paper plate petunia flower and more!
We included simple step-by-step instructions and a tutorial video to guide your children.
Keep scrolling down and download the free printable petunia craft template now!


Need more crafty fun? Check out our Tulip, Rose and Caterpillar craft.
 T
hey are perfect for those days when staying indoors is the only thing your family can do!
*By the way, this post may contain affiliate links which means I may receive a small commission at no additional cost to you if an item is purchase through that link. For more information, click here.*
Free Printable Cut and Paste Petunia Craft
Ideas for Easy Preschool Paper Petunia Craft
We'd love to share with you the lists of beautiful ideas on how to maximize the use of this free printable petunia flower pattern template.
1. Books About Flowers and Gardening
Early reading to our kids helps build their brain development.
Let your children pick their favorite book to keep their interest in reading and learning during the weekend.
Check out these children's books about flowers and gardening, we assure your little one will enjoy reading them.
2. P is for Petunia
Looking for a letter of the week craft activity for your preschooler?
Introduce the letter P to your kids, and be sure to use this simple printable petunia craft template.
Create a visual aid by printing out a large letter P then glue it on cardboard.
Pin it up on the lesson board and teach your little one the "P" sound until they can recognize it on their own.
Next, print out traceable letter P worksheets, both capital P and lowercase to practice their writing skills.
Learning the alphabet is so important, but make sure to keep it fun and interesting for kids!


3. Popsicle Stick Petunia Flower Craft
Having fun together is what we like to do!
This free printable petunia flower craft template inspires us to create our DIY craft out of simple materials we found in our home.
Once your child is done working with this easy craft activity, trace the flower on construction paper and cut it out.
Use a hot glue gun to attach a large green popsicle stick at the back of the flower.
Fold green pipe cleaners to form the leaves.
Create as many popsicle stick petunia flowers as you want and arrange it all together in a hanging basket.
4. Flower Theme Decoration
Do you love to give your child's bedroom a makeover?
This basic printable petunia flower pattern template is a classic theme décor if your little one is into flowers and gardening.
Let your kids fill in the blank petunia flower drawing with bright colors, cut it out and glue everything together.
You may want to use it as a wall décor, simply put double-sided tape at the back of each finished petunia craft.
It's also great for making a garland, punch hole on top corner of each petunia flower.
Insert string or yarn through the holes to connect it from one another. Hang it up anywhere in your little one's bedroom.
We hope you like all the amazing ideas we listed in making this free printable petunia craft template with your toddlers, preschoolers and kindergarteners.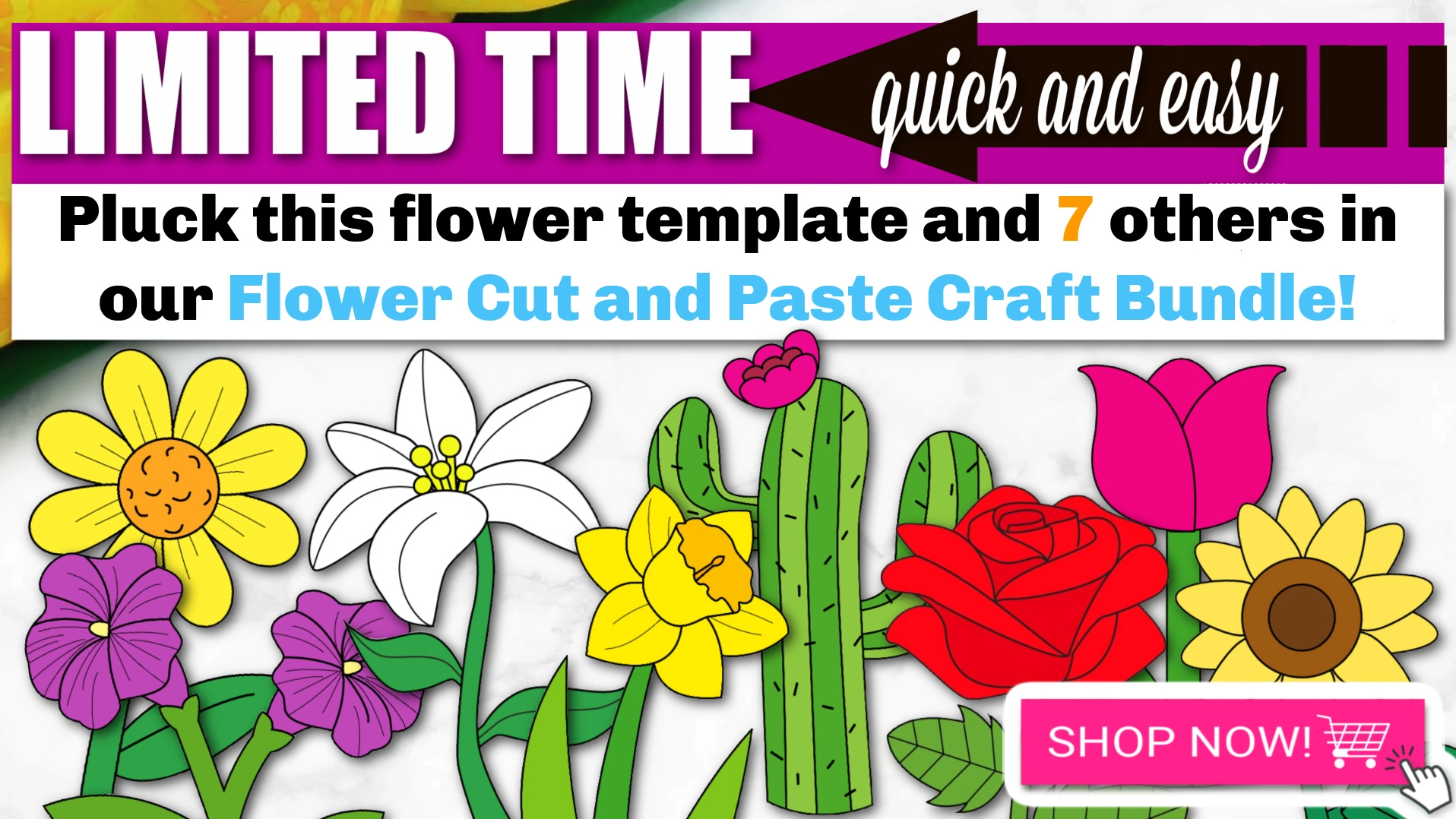 Petunia Craft Supplies Needed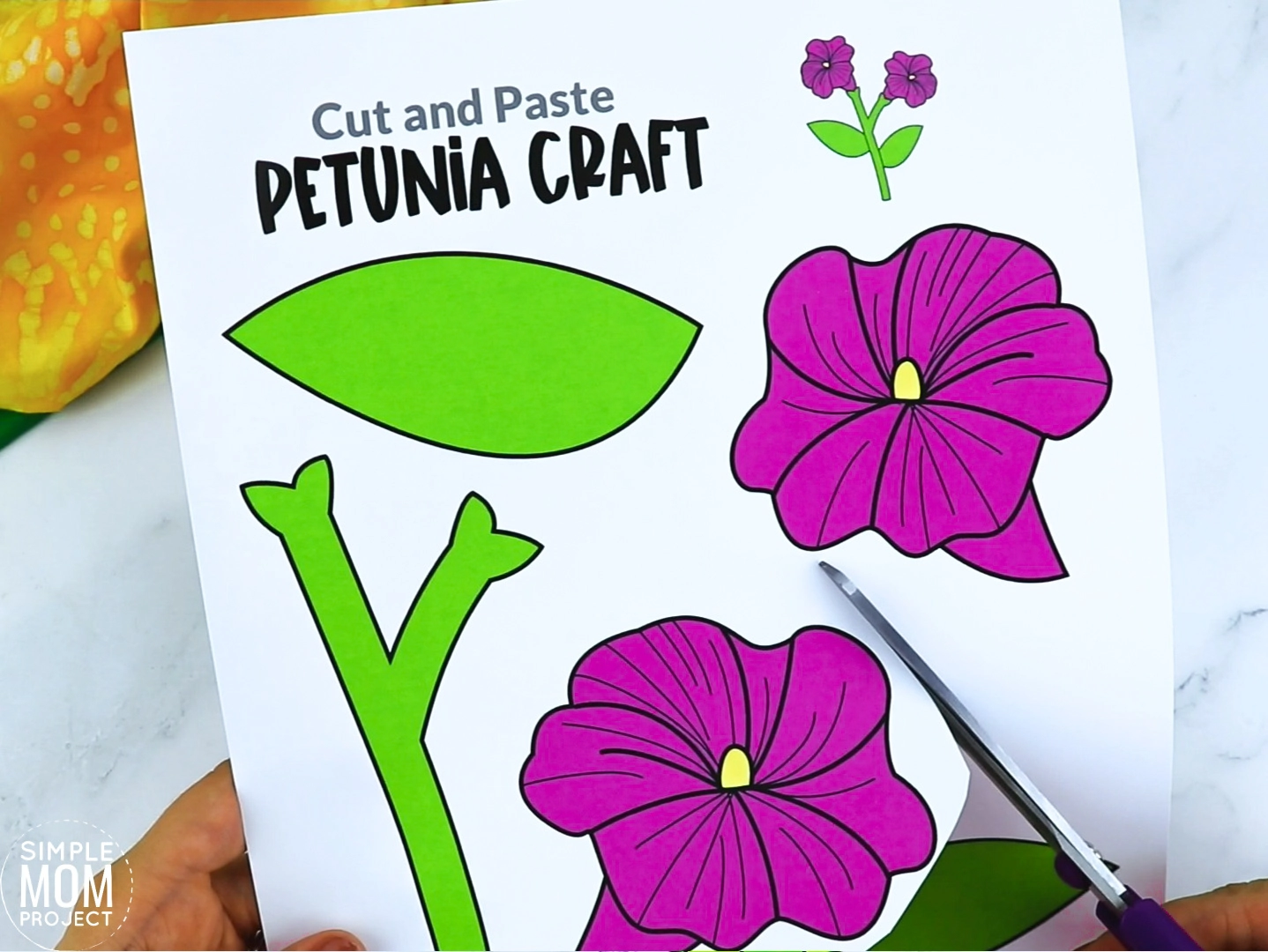 Printable Petunia Template (FOUND AT THE BOTTOM)
Keep scrolling to get your very own petunia craft today and start with your little ones and their flower craft buddies today!
Petunia Craft Instructions
Once you're done printing out the simple printable petunia flower craft template your little one likes, help them to cut it out into individual sections.
Using a glue stick, attach the leaves onto the stem.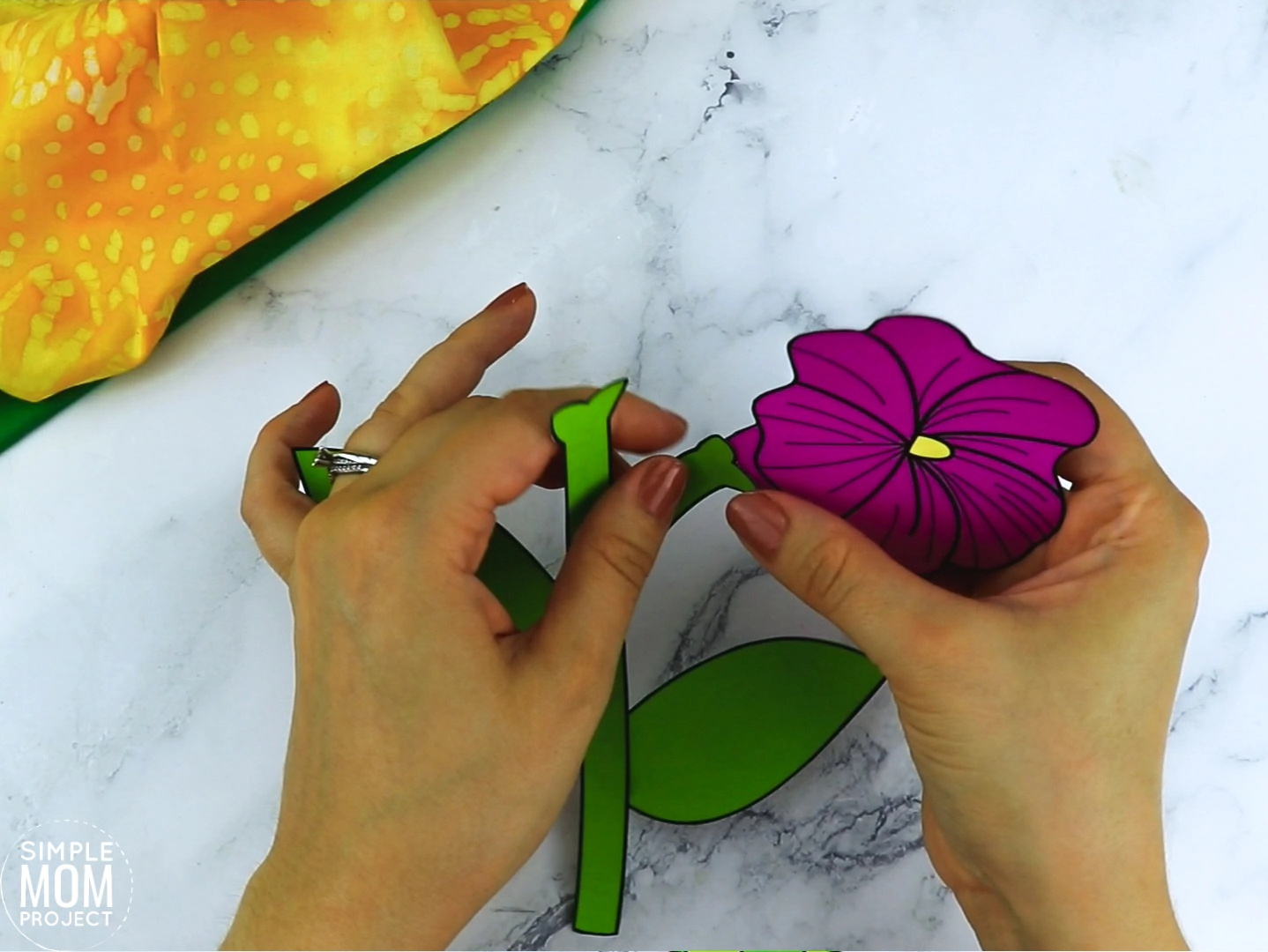 Then, glue on the purple flowers on its stem.
Leave it for a few minutes until it's completely dry.
Now, your lovely petunia flower craft is ready to hang up for display!
More Options to Choose:
You can print the blank version and trace the cut outs on card stock paper for a sturdier petunia craft,
Print the petunia template in color for a simple and easy rainy day craft or,
Print the blank petunia template and use it as a fun coloring sheet activity and then glue the pieces of the petunia craft together.
Free Printable Petunia Craft Template
Want to keep your children busy during the spring break?
Download and get the two versions of this preschool printable petunia flower craft template!
We got the black and white petunia flower drawing with no color for your child to fill it in with the most amazing colors however they desire and the colored petunia craft template where they can easily cut and paste it together.
Don't forget to share your learning plans in the comments.
Need more lovely flower fun? Check out our packed list of flowers for simple craft fun with your little ones.  
When you have finished, be sure to share your creation on Simple Mom Project's Facebook Page and follow me on Pinterest!

Kaitlen D.
More Beautiful Flower Crafts