Penguins are truly awesome, aren't they? They are cute and cuddly and just down right adorable. We thought it perfect to add to our long list of penguin crafts with a simple baby penguin coloring sheet.
Your kids will have a fun time coloring their very own penguin while you proudly display it on the fridge – or do like I do and add it to my collage of coloring pictures above my desk. My daughter gets such joy seeing her art work showcased for all of our guests to see.
*By the way, this post may contain affiliate links which means I may receive a small commission at no additional cost to you if an item is purchase through that link. For more information, click here.*
Free Printable Penguin Coloring Page
Here's the crafts we have already created using a cute penguin for inspiration, all of these of course come with free printable templates to make any of these crafts as easy as can be.
Coloring is so much fun and kids of all ages enjoy doing it; toddlers, preschoolers, kindergartners and adults. It's such a great way to relieve stress! Did you know that it also has quite a few benefits for the early learners in your life too?
It not only stimulates creativity, but helps develop hand-strength, encourages self-expression and helps develop focus – and we all know we could use a little more focus in our lives.
So why not print off two copies of this adorable penguin coloring page and color one for yourself too?
Not convinced on the benefits of coloring for your preschooler, why not add a few numbers and a code key and turn this winter penguin into a simple, but educational color by number activity?
Going to the zoo? No problem! Print the baby penguin coloring page before you head out the door and see if you can spot another baby penguin when you get there. Instruct your kiddos to remember distinguishing marks on their favorite penguin and add it to your coloring sheet! It is a great way to keep them engaged and staying tuned into details.
So whether you simply just love penguins or snuggling up after you've read a good book on emperor penguins, I know your kids will have a special time coloring him with you.
Ways to Display the Finished Penguin Coloring Sheet:
To print your FREE penguin coloring page simply click either the picture or the link below it. It will print on a 8.5″x11″ sheet of regular printer paper.
Please note the images seen below contain our watermark to prevent Copyright infringement. Your download version will not.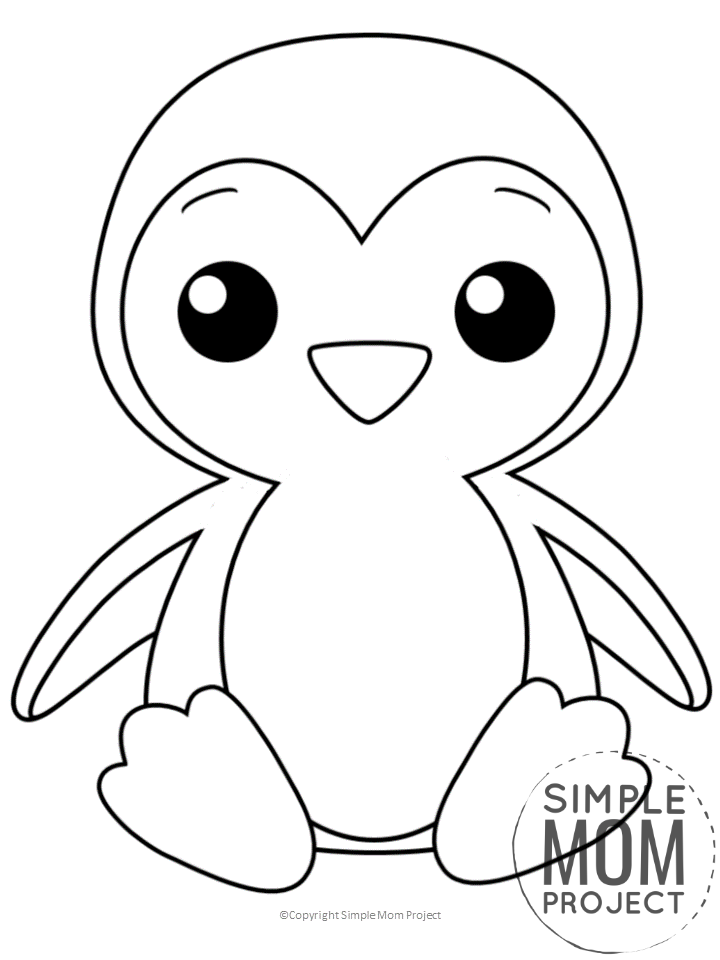 Printable Penguin Coloring Sheet
We would love to see the final piece! Be sure to share it on our Facebook page and follow us on Pinterest for more fun winter crafts for kids!

-Kaitlen D.
More Fun Winter Crafts to do Now: