Penguins are truly awesome, aren't they? They are cute and cuddly and just downright adorable. We thought it would be perfect to add to our long list of winter color sheets these free printable penguin coloring pages.
Coloring this drawing of a penguin for kids will not only stimulate creativity, but helps develop hand-strength, encourages self-expression and concentration. You can also add a few numbers and a code key to turn these simple penguin coloring pages into an education color by number activity!
These simple printable penguin pictures coloring pages are hours of relaxing entertainment not only for the kids but for the entire family. What are you waiting for? Download this penguin printable coloring pages for kids to print out now!
*By the way, this post may contain affiliate links which means I may receive a small commission at no additional cost to you if an item is purchase through that link. For more information, click here.*
Ideas for Penguin Page Printable
Let's take a look at these fun ideas on how to include these free printable cute penguin coloring pages in your children's everyday life.
1. Amazing Facts About Penguins
If you plan to study penguins with your preschooler this winter break, you will want to include this baby penguin coloring page. There are 18 species of penguins and most penguins live in the Southern Hemisphere.
Did you know that penguins belong to the bird family but they cannot fly? Instead of wings, they have flippers which allow them to swim very fast.
So, what do penguins eat? Most penguins have a diet that consists mainly of krill (which is kind of like shrimp) and squid. Also, penguins can drink sea water.
2. The Best Penguin Books for Kids
This penguin color sheet is a clever way to encourage children in learning about arctic animals and reading winter stories. We wanted to make sure that the kids have enough time everyday to read books, it helps them to relax while they are at home.
Once your little one is done working on these easy penguin coloring pages, give them one of these wonderful books about penguins.
3. Cute Penguin Handprint Craft
Working on these cute penguin January coloring pages inspires us to create our own penguin handprint craft for the kids! It's easy to prepare and uses only simple supplies.
Trace your child's hand on black construction paper and cut it out. Then, cut out a circle shape on a white sheet of paper for the penguin's belly.
For the penguin's beak, we cut out a diamond shape from orange paper and fold it in half. And lastly, glue the googly eyes. You can also decorate it by adding snowflakes in the background.
4. Easy Paper Plate Penguin Craft
Creating our own paper plate penguin craft is as easy as paint, cut and glue. Take out all the classic craft supplies while your little one is still working on our adorable penguins coloring pages.
Start by letting your child paint the paper plate black and leave it in a few minutes to completely dry. Cut out a circle shape from a white felt paper and glue it in the middle of the plate for the penguin's belly.
Draw and cut out an orange triangle shape for the beak and two oval shapes from a black paper for the flippers. Lastly, glue on the googly eyes for a goofy looking penguin craft.
We are confident that your little crafter will surely love these brilliant ideas on how to maximize the use of this free printable winter penguin coloring pages.
Free Printable Penguin Coloring Page
Here's the crafts we have already created using a cute penguin for inspiration, all of these of course come with free printable templates to make any of these crafts as easy as can be.
Ways to Display the Finished Penguin Coloring Sheet:
To print your FREE penguin coloring page simply click either the picture or the link below it. It will print on a 8.5″x11″ sheet of regular printer paper.
Please note the images seen below contain our watermark to prevent Copyright infringement. Your download version will not.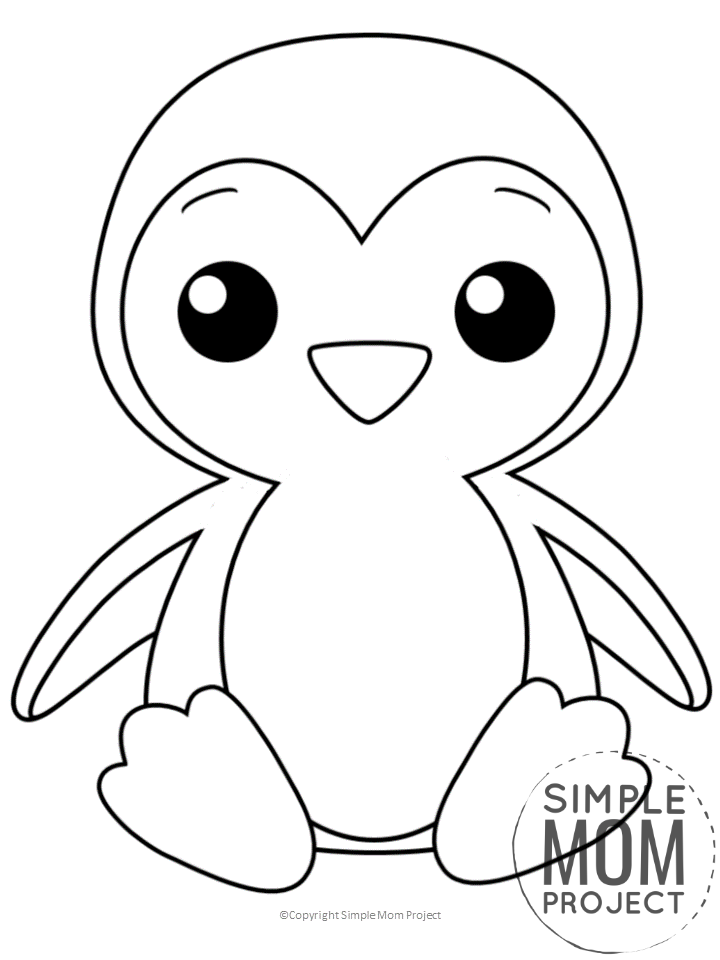 Printable Penguin Coloring Sheet
Are you looking for exciting and fun ways to keep your little one active during the weekend? This penguin coloring sheet printable is a basic black and white line so your children can fill it up with different colors they desire.
Be sure to comment down all the lovely experiences you had with your kids in using these baby penguin coloring pages. We are glad to be part of your winter coloring templates activities.
We would love to see the final piece! Be sure to share it on our Facebook page and follow us on Pinterest for more fun winter crafts for kids!

-Kaitlen D.
More Fun Winter Crafts to do Now: