If you're planning a jungle or trip to the zoo for your little monkey, you're going to love this new monkey coloring page. A monkey themed party is a great way to celebrate your little monkey. There are so many fun things you can do with this theme! Keep reading for great ideas for your fun adventure.
Get your monkey coloring page printable and be sure to check out our other fun monkey crafts like our adorable monkey masks. These are great for dress up play time and snag up our build-a-monkey craft your little monkeys will absolutely love!
*By the way, this post may contain affiliate links which means I may receive a small commission at no additional cost to you if an item is purchase through that link. For more information, click here.*
Cute Baby Monkey Coloring Page for Kids
Materials Needed:
Printable Monkey Coloring Sheet (FOUND AT THE BOTTOM)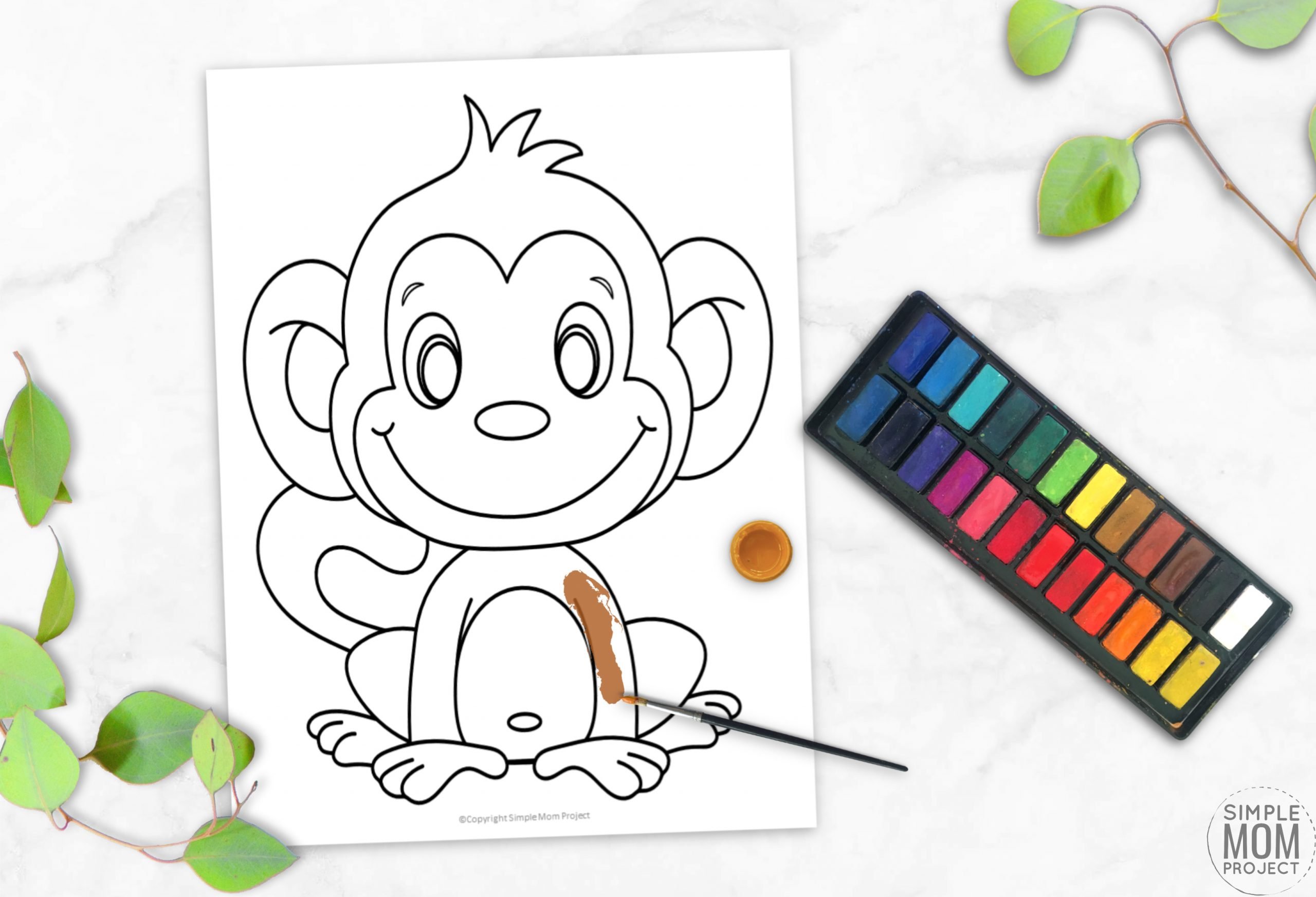 Make your child's finished monkey a forever memory by laminating it! We use this laminator and cannot express how much we love it! It is not only inexpensive, it is SO easy to use!
Your kids will love seeing how much you adore their art work when you laminate and display it for years to come!
Looking for ideas to incorporate the monkey coloring page?
First, decorate the monkey coloring sheet:
– Use the monkey coloring sheets to cut out monkeys. Then, hang the monkeys from green streamers. Voila! Monkeys hanging on jungle vines right inside your living room!
– Color monkey pages and use them as monkey themed signs. You can hang one on the front door, use one to point the way to the bathroom, use them to label the drinks station and food table.
– Tape completed monkey coloring printable sheets to balloons for fun floating monkey decorations all over the room!
Next, set up a fun monkey game!
– Set up a fun coloring station for party guests with colored pencils, crayons, markers, and cute monkey coloring printables for each child to enjoy.
– Set up a monkey obstacle course in the backyard with green streamers and tall boxes. It's a great way to get kids outdoors and burn off some energy before opening presents. Besides, what kid doesn't love an obstacle course?
– Play "monkey see, monkey do." In this fun indoor game, you have to be quiet and pay attention. It's the perfect way to settle your party guests before presents and cake! In this game, a child who is chosen to be it has to figure out who the "monkey" in the circle full of children is by paying close attention to the quiet gestures the circle of kids is repeating. It's the perfect game to play just before you send everyone home for the day.
– Have a banana scavenger hunt. Hide small paper banana shapes all over the house or yard and let guests hunt for them using a page of clues like: "the first banana is somewhere you brush your teeth." Then, tape the banana to the bathroom mirror. For added fun, let children snap photos of all the bananas they see.
Finally, make a monkey dessert!
– Have banana pudding. It's delicious and looks beautiful in a trifle bowl at the center of your table.
– Set up a fun banana split station! Be sure to include different flavors of ice cream, chocolate syrup, whipped cream, cherries, crushed pineapple, walnut topping, and don't forget some ripe bananas! It's sure to be the dessert station of your little monkey's dreams!

At the end of the party, send your little monkey friends home with their own monkey coloring pages and a small set of crayons.
When you have finished, be sure to share your creation on Simple Mom Project's Facebook Page and follow me on Pinterest!

Kaitlen D.
More Fun Monkey Crafts: