Wondering how to keep your children occupied for hours while you're doing chores? This cute free printable monkey craft template is the perfect activity for children of all ages at any time of the day.
Encourage your little one to build their very own monkey using this simple printable monkey craft template. This fun activity is a great way to introduce the zoo animals and jungle to your kids.
Keep scrolling to see the simple instructions and watch the step-by-step tutorial video in making this adorable free printable monkey craft template.


Need more crafty fun? Check out our Palm Tree Template, Elephant Craft and Crocodile Craft.
 T
hey are perfect for those days when staying indoors is the only thing your family can do!
*By the way, this post may contain affiliate links which means I may receive a small commission at no additional cost to you if an item is purchase through that link. For more information, click here.*
Free Printable Cut and Paste Monkey Craft
Ideas for Easy Preschool Paper Monkey Craft
Here are some of the great ideas that will help you incorporate this cute cut and paste monkey craft template with your toddlers, preschoolers and kindergarteners.
1. Interesting Monkey Facts
Monkeys are a favorite animal for many as they are intelligent and social animals.
Did you know that there are currently 264 known monkey species around the world? Most of them live in trees except for a few who seem to prefer the ground like baboons.
Monkeys can live for between 10 and 50 years.
Did you know that spider monkeys get their name because of their long arms, legs and tails? The female spider monkey has the longest tail.
Tell your preschooler about these amazing monkey facts once they are done making this free printable cut and paste monkey craft template.
2. Fun Monkey Books for Kids
Monkeys are very sneaky sometimes, but this adorable printable monkey craft template won't go anywhere. Help your children keep their interest in reading and learning during the weekend with these awesome children's books.


3. Letter M is for Monkey
We've made a lot of cut and paste jungle animal crafts, but this free printable monkey craft template can be part of our preschool lesson plans! It's the perfect activity if you're teaching your children to learn their ABC's, especially the letter M.
Is your preschooler done decorating this simple printable monkey craft template? Go ahead and print a traceable letter M worksheet to encourage your little one in practicing their writing skills. Next, teach them the correct pronunciation of the word monkey and so on.
4. Easy DIY Monkey Puppet
There are a lot of great easy DIY craft ideas that can be found on the internet, and this free printable monkey craft template inspires us to make our very own monkey puppet. Gather all the simple craft materials that you probably already have inside your home.
Let your little one decorate this free printable monkey craft template however they want. Guide them in cutting and pasting it together. You can either attach their masterpiece into a paper bag or glue a popsicle stick on it to make it as a puppet.
We hope you enjoy these marvelous ideas we shared in making this cute printable monkey craft template with your toddler, preschooler or kindergartener.


Monkey Craft Supplies Needed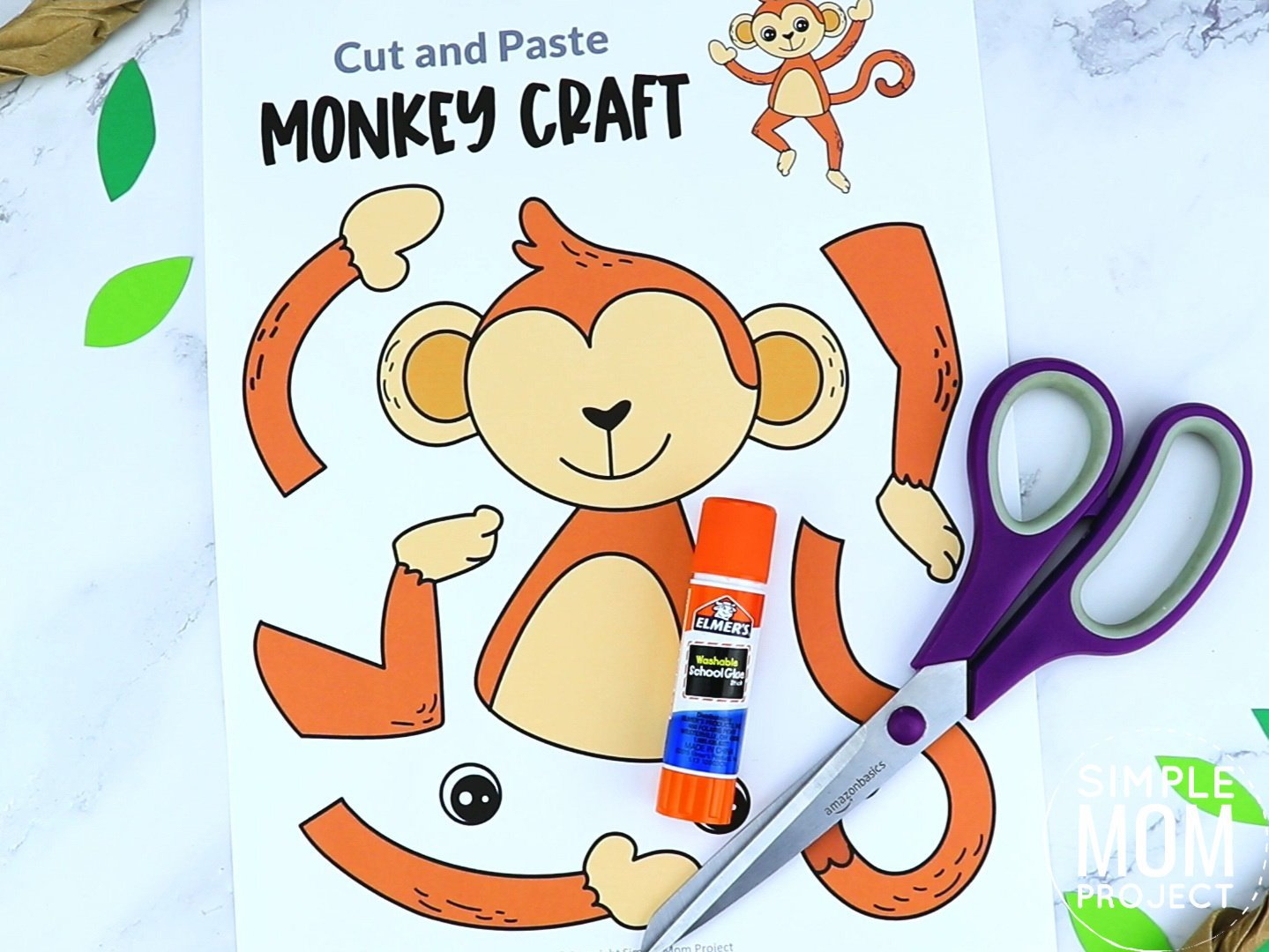 Printable Monkey Template (FOUND AT THE BOTTOM)
Keep scrolling to get your very own monkey craft today and start with your little ones and their monkey craft buddies today!
Monkey Craft Instructions
Download and print out the free monkey craft template of your little one's choice. My child usually prefers to make the blank version as it gives them the opportunity to fill it up with beautiful colors.
Cut out the free printable monkey craft template into individual sections.
Start gluing the monkey's arms on each side of the body.
Glue both legs on the bottom of the monkey's body.
Then, attach the tail at the back of the body and its adorable eyes.
It's really easy to make even your preschooler can do it on their own.
More Options to Choose:
You can print the blank version and trace the cut outs on card stock paper for a sturdier monkey craft,
Print the monkey template in color for a simple and easy rainy day craft or,
Print the blank monkey template and use it as a fun coloring sheet activity and then glue the pieces of the monkey craft together.
Free Printable Monkey Craft Template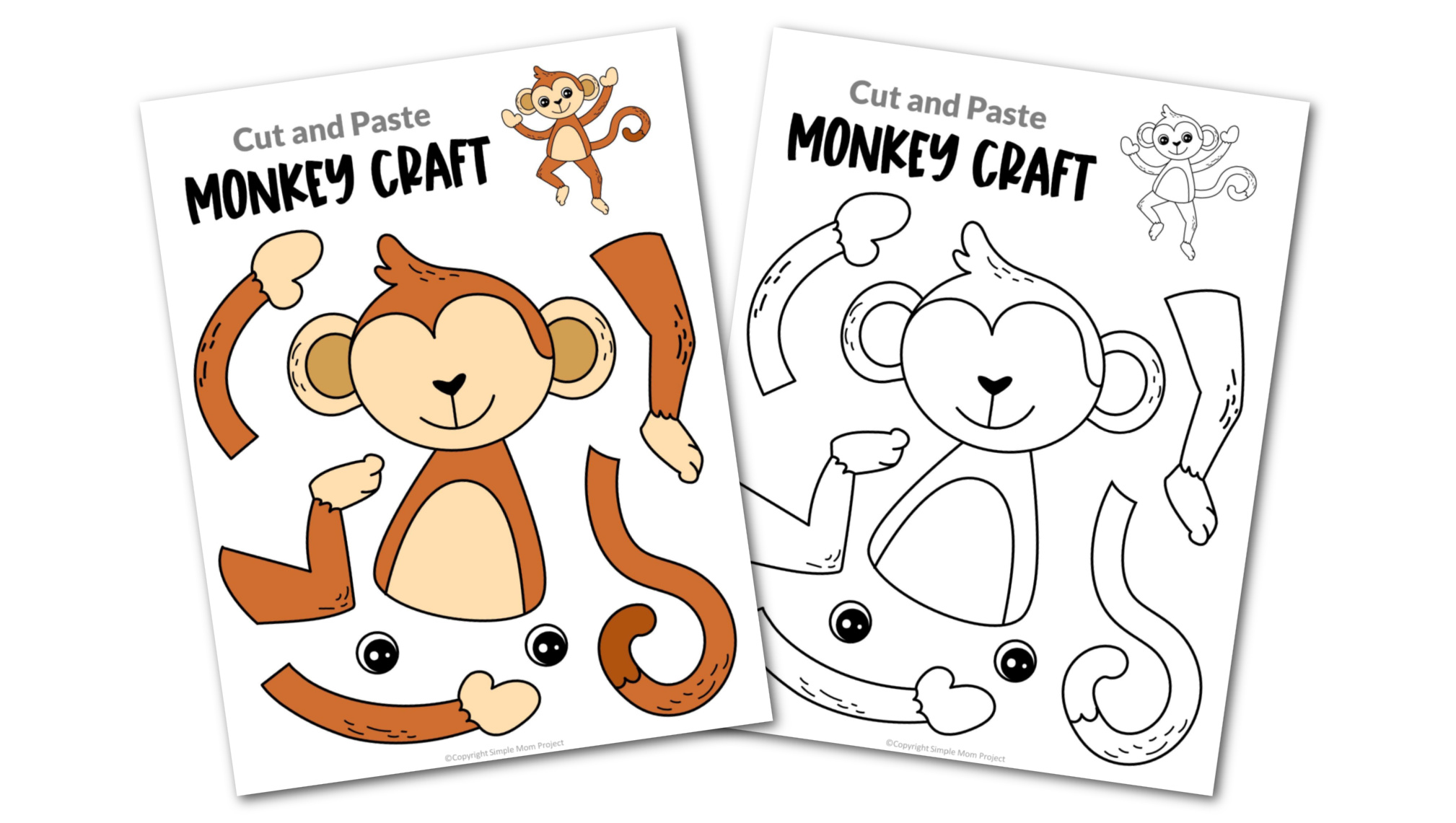 This easy cut and paste monkey craft template comes with two versions! Your child can choose whether they like the black and white cute printable monkey craft template so they can color it first or they can directly cut it out using the colored version.
Don't forget to share your learning plans in the comments. Need more safari animals fun? Check out our packed list of safari animals for simple craft fun with your little ones.  
When you have finished, be sure to share your creation on Simple Mom Project's Facebook Page and follow me on Pinterest!

Kaitlen D.
More Safari Animal Crafts