Having fun with our woodland animal paper bag puppet crafts?
The fun will never end as we add a new animal to our list!
Incorporate this printable squirrel paper bag puppet into your future puppet shows and lesson activities.
You're going to love learning about these animals, making crafts with squirrels, playing games with squirrel themes, and more.
We've also compiled a list of interesting activities that kids will surely love if you need help keeping their attention during your routines.
With these printable squirrel paper bag puppets, kids will be having so much fun that they won't even be aware that they are growing and learning.
We'll share detailed directions with pictures, so you won't have to worry about where to begin creating your squirrel puppet crafts.
We also want to give kids the opportunity to choose what they want to work on, so we created two squirrel templates for them to use.
They have the option of starting with a simple black and white squirrel or moving on to cutting out the colored squirrel template.
Kids will enjoy making this puppet activity since it is so simple to make—just cut and paste!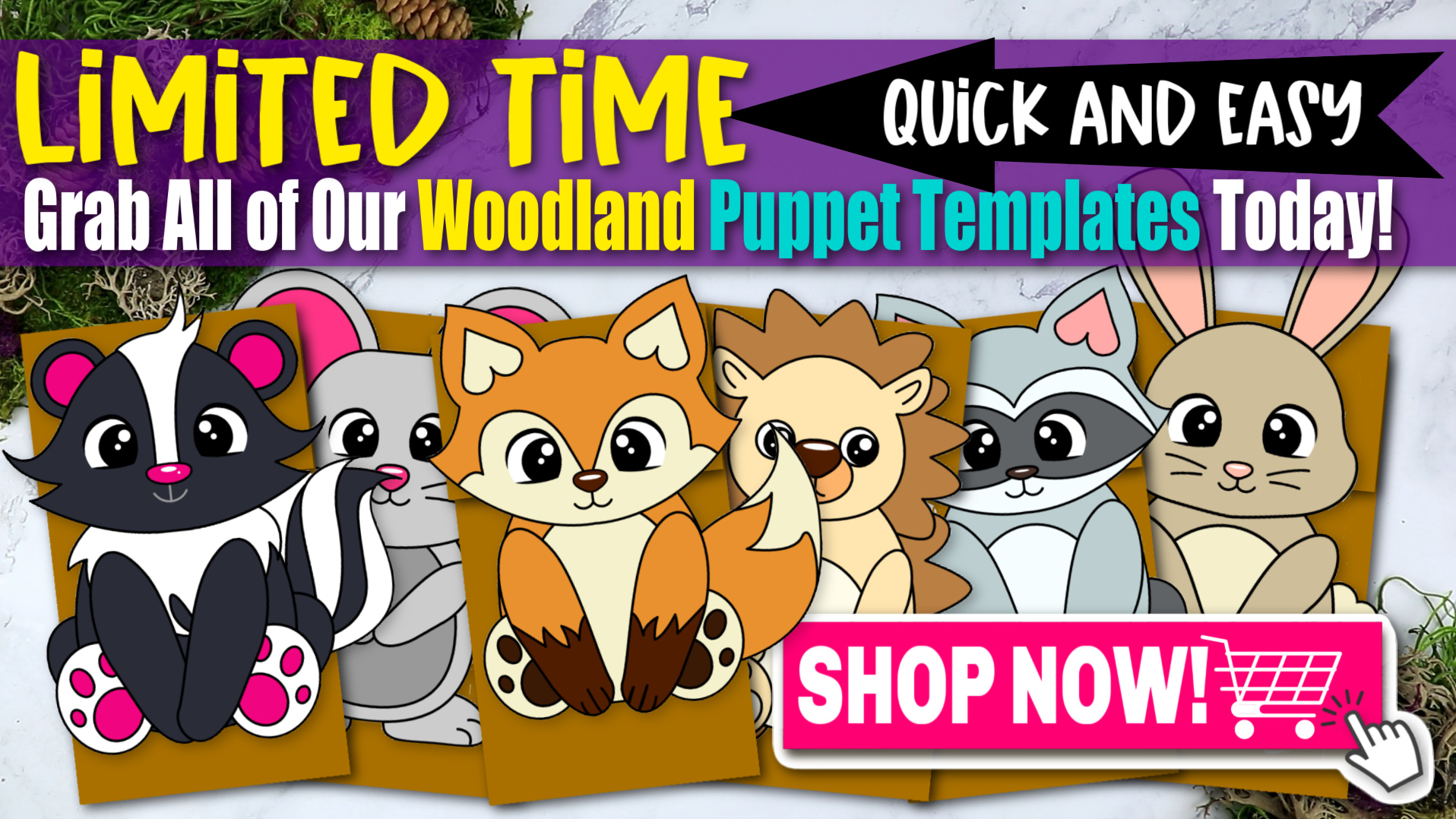 *By the way, this post may contain affiliate links which means I may receive a small commission at no additional cost to you if an item is purchase through that link. For more information, click here.*
Printable Squirrel Paper Bag Puppet Craft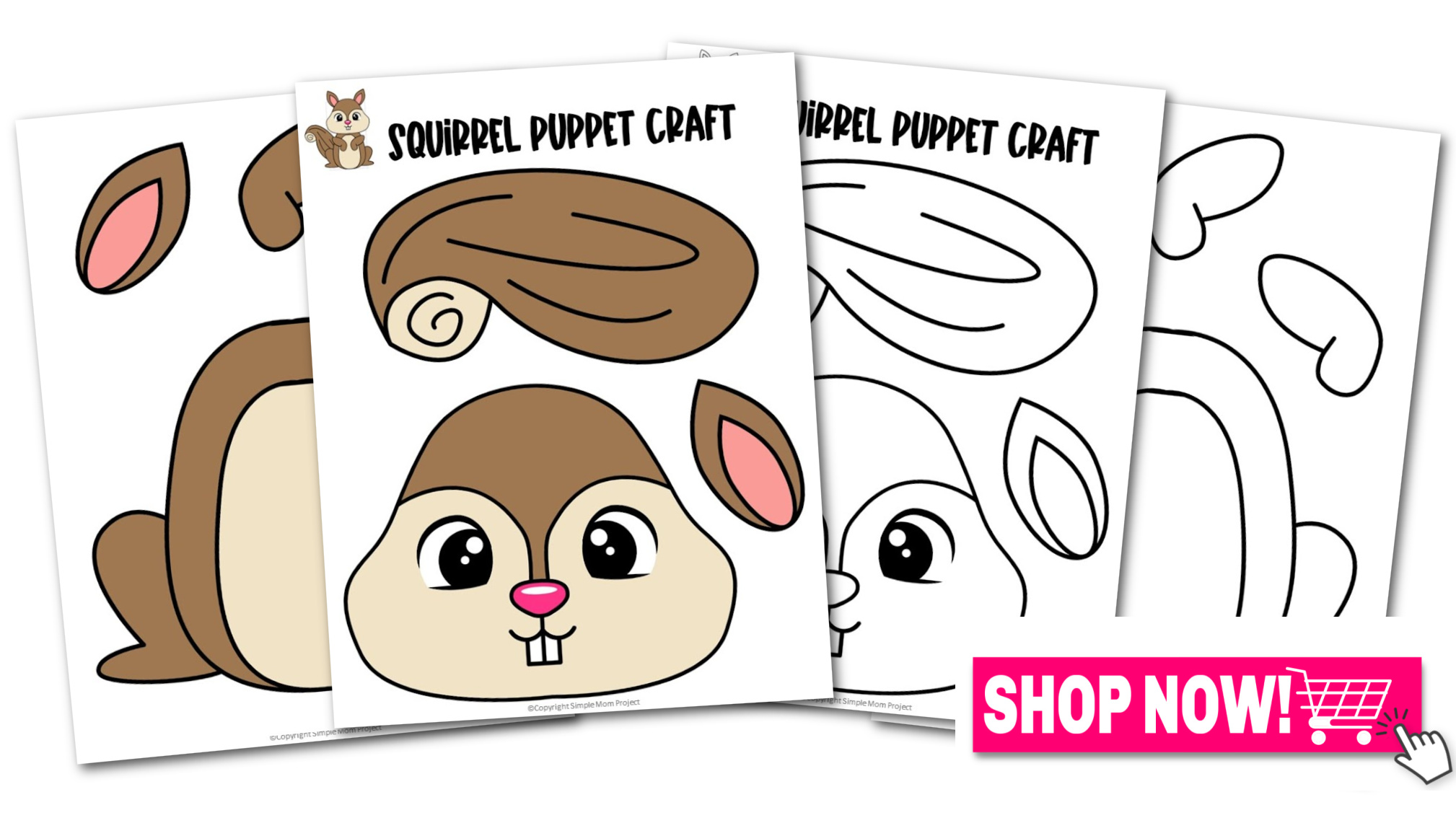 Squirrel Craft Supplies Needed
Need more crafty fun? Check out our Groundhog Puppet, Hedgehog Puppet and Owl Puppet.
 T
hey are perfect for those days when staying indoors is the only thing your family can do!
Ideas for Easy Preschool Paper Squirrel Craft
Here are some of the most creative ways you may use this printable squirrel paper bag puppet in your plans.
Sit back, relax, and enjoy putting these thoughts in writing!
1. Great Squirrel Items for Kids
There are different methods for introducing and teaching about these animals.
When I create a lesson plan for my children, I always put books on my list of learning materials.
We can help our kids develop their imagination, vocabulary, and literacy abilities by letting them explore the colorful pages.
The first thing I did when I thought of the printable squirrel paper bag puppet idea was to make sure that these items I would be including in this list could be used at any time of day.
Aside from being age-appropriate, I make certain that these objects will add to the fun of learning about squirrels. Y
ou may begin your day by reading two of the most interesting books I found about squirrels.
After you've finished your squirrel paper bag puppet crafts, gather the whole family and play interactive board games!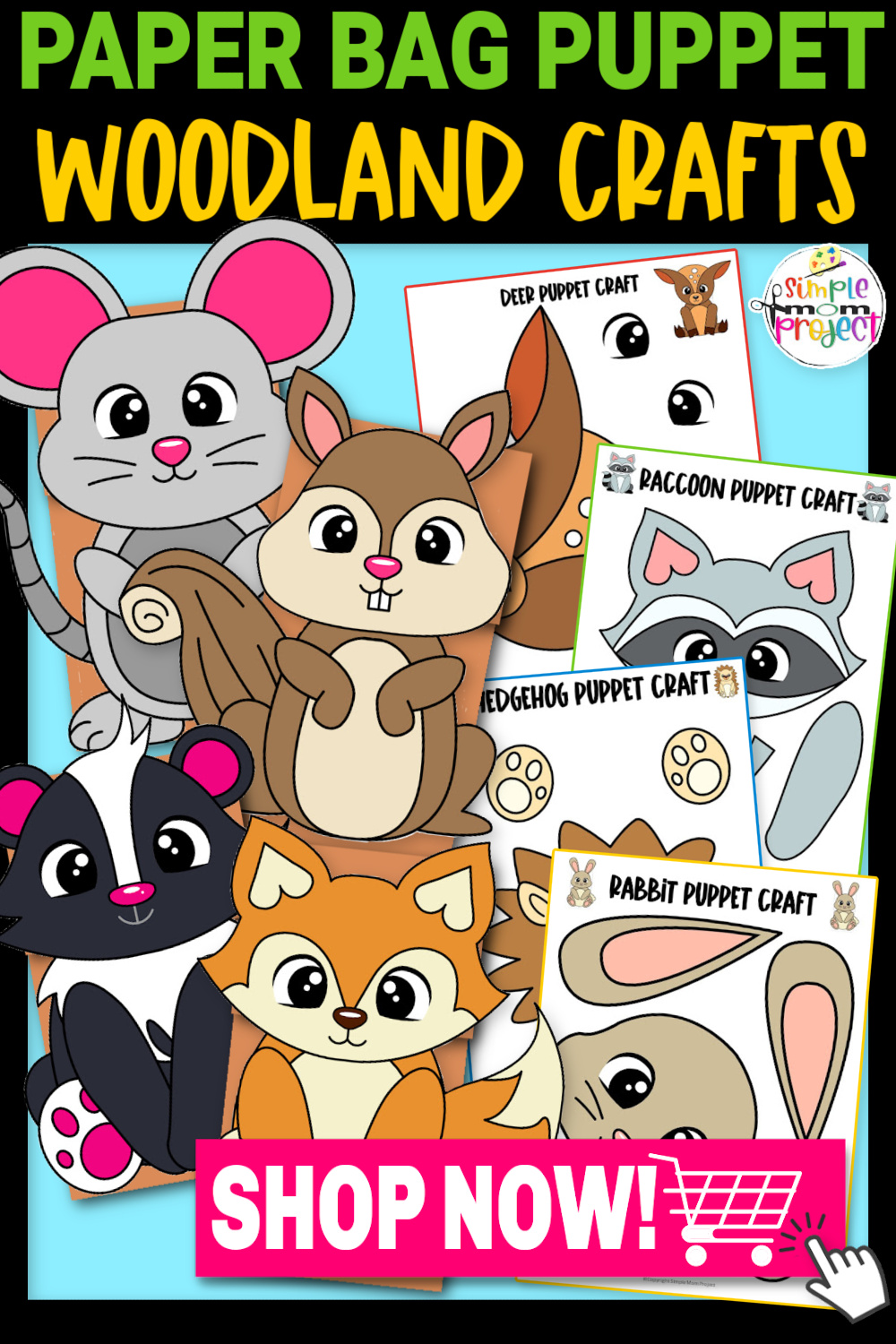 2. Counting Activity
Did you know that this printable squirrel paper bag puppet craft can also be used to teach math?
These ideas go beyond just arts and crafts and cover other learning areas as well.
If you're wondering how to begin teaching math to your toddlers or preschoolers, this idea will provide you with some suggestions on how to do so.
By counting and matching numbers, we can teach kids basic math in this printable squirrel paper bag puppet idea.
A piece of cardboard can also be used instead of a paper bag to give the squirrel craft a more durable look.
Bring out a piece of cardboard, a copy of the printable squirrel template, any kind of cup you have on hand, hot glue, acorns and pine cones if you have them, or any nuts you have available.
Cut off the outline of the squirrel after putting the parts on the cardboard.
The cup can be attached to the squirrel craft using hot glue.
You can write numbers on the cup when it has dried.
The way this exercise works is that kids fill the cup with pine cones and acorns according to the number written on it.
Children should place five pieces of pine cones in a cup that says "5".
Matching the numbers on the pine cones with the cups is another option to complete this work.
This number matching activity will work well if you have prepared two or more squirrel crafts.
As they complete the exercise, let the kids count and identify the numbers.
3. Squirrel Eats Game
This printable squirrel paper bag puppet activity is fun for the whole family.
If you're planning a weekend bonding activity with your children, this printable squirrel paper bag puppet craft should be on your list.
This is a great game to play outside or even inside if you have extra space.
Bring out your brown paper bags, nuts, cardboard, scissors, glue, and a copy of the printable squirrel paper bag puppet template.
Let's start by getting the squirrel to eat!
Make sure to attach the squirrel parts with the open area on top rather than with the brown paper bag turned upside down.
This manner, you'll be able to make the squirrel craft stand while shooting the nuts inside the paper bag.
One by one, cut the squirrel pieces, and then glue them all together.
When it has dried, it should be ready for the squirrel eats game!
Shooting the nuts in the paper bag is the goal of the game.
To add a little challenge, the paper bag should be placed a little distance from the player.
You can play this game by taking turns, and the person who shoots the most nuts wins.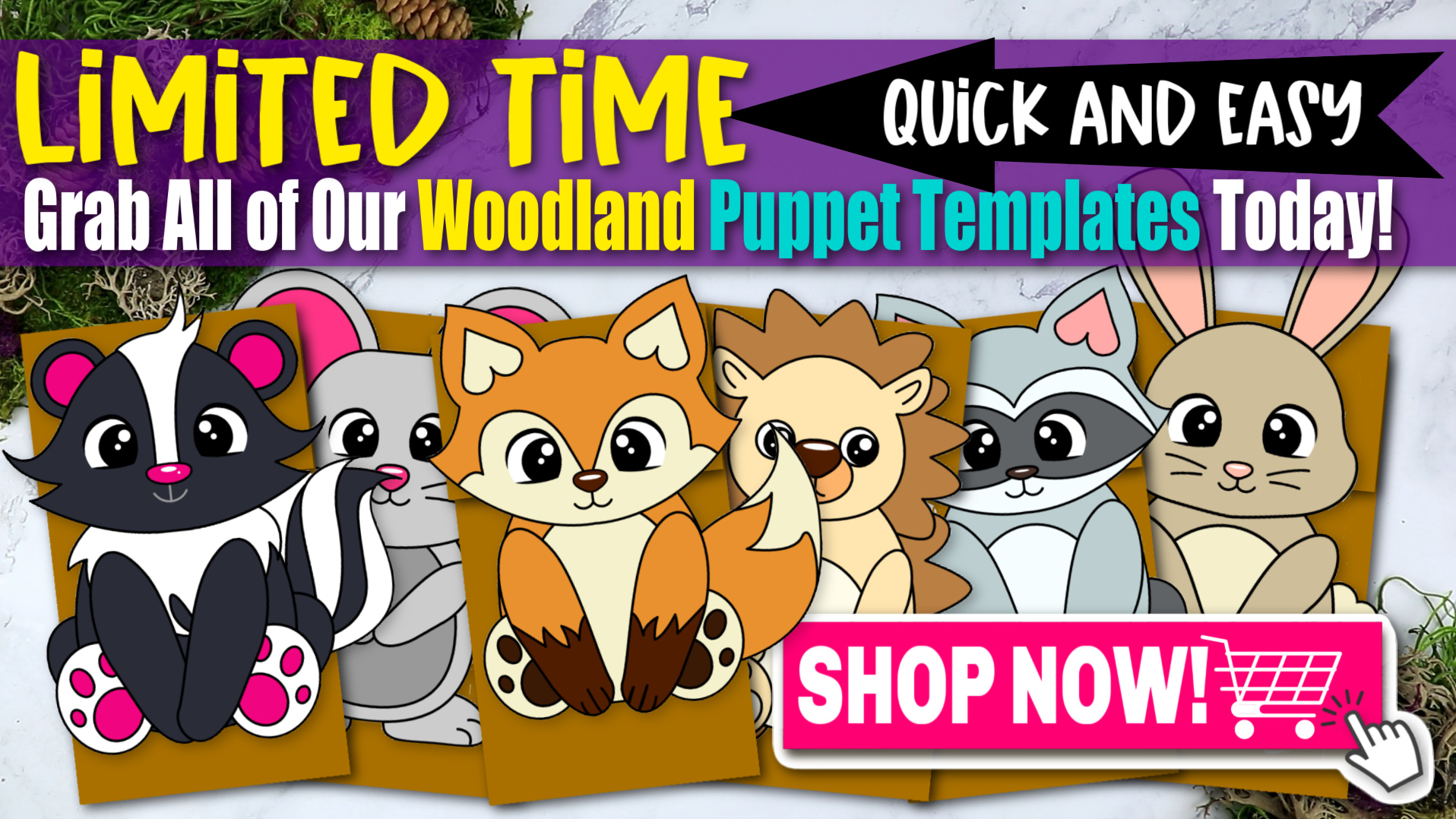 4. Fun Squirrel Facts
Incorporate this printable squirrel paper bag puppet with your science lessons!
What's great about this is that you can switch to a different subject once the kids have completed making the printable squirrel paper bag puppet crafts.
By showing the squirrel puppet, image, or flashcard to your kids, you may teach them some fun facts about squirrels.
Some squirrels can fly, did you know that?
Flying squirrels don't fly like birds do, though.
They only glide through the air between trees.
Squirrels are known for their fast movements.
Chipmunks are little squirrels with cheek pouches that help them store food.
Squirrels are a species of rodent.
Their four front teeth are constantly growing just like with rats.
The teeth make them great for chewing and nibbling food.
They can jump very high.
Squirrels are able to jump up to 20 feet.
Their large eyes allow them to observe the trees they are climbing as well as approaching predators.
Although we frequently see squirrels eating nuts, they are actually omnivores.
They consume both meat and plants.
We hope you enjoyed taking notes on these ideas as much as we enjoyed sharing them with you.
We are happy to be a part of your child's learning experiences.
Keep a watch out for more of our collection of woodland animal paper bag puppet templates!
Squirrel Paper Bag Puppet Instructions
If you've finished gathering all of the materials for this craft, don't forget to check out the step-by-step instructions for finishing it!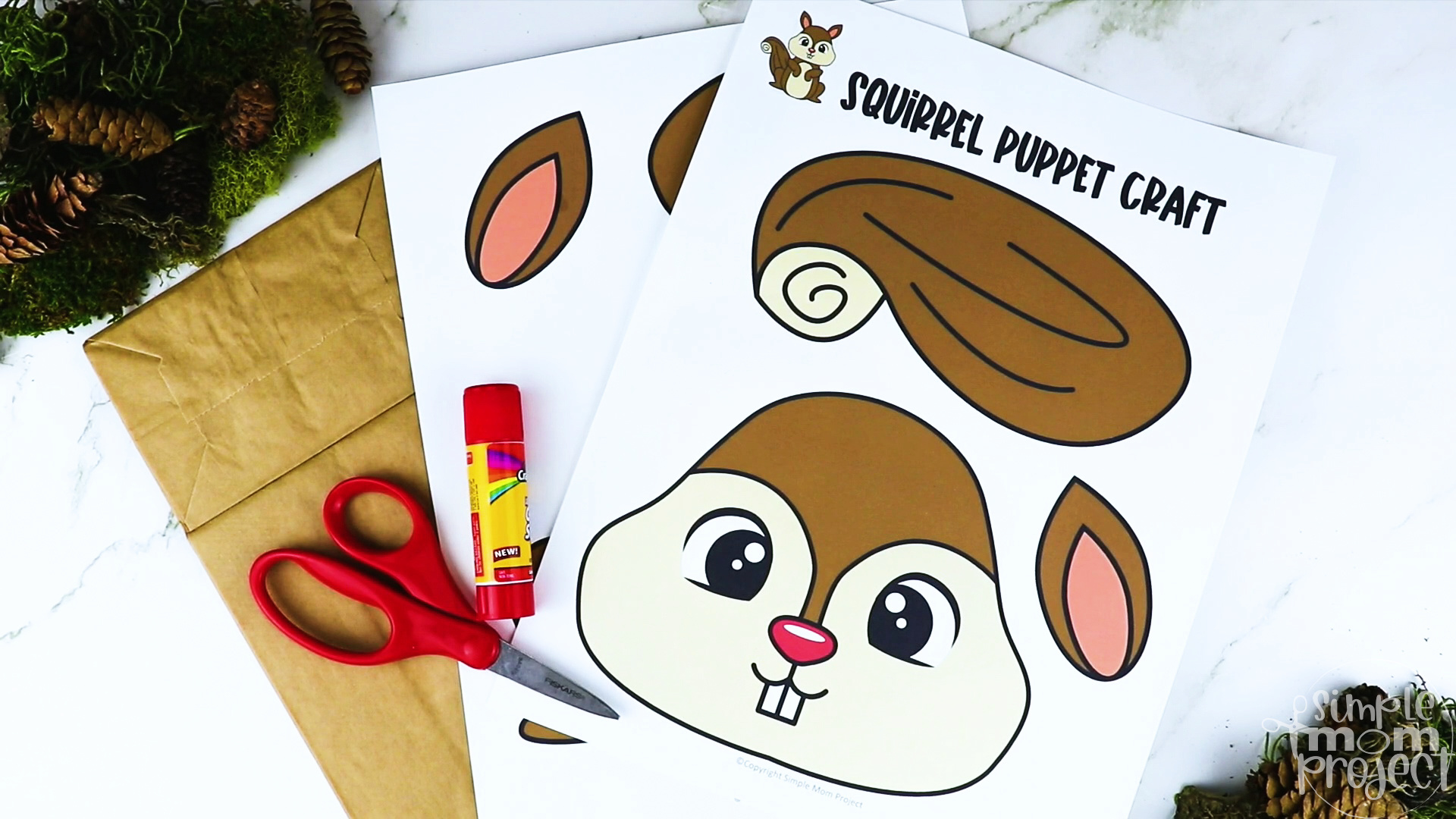 Kids may choose to begin with a colored squirrel template, so guide them in cutting the parts one at a time.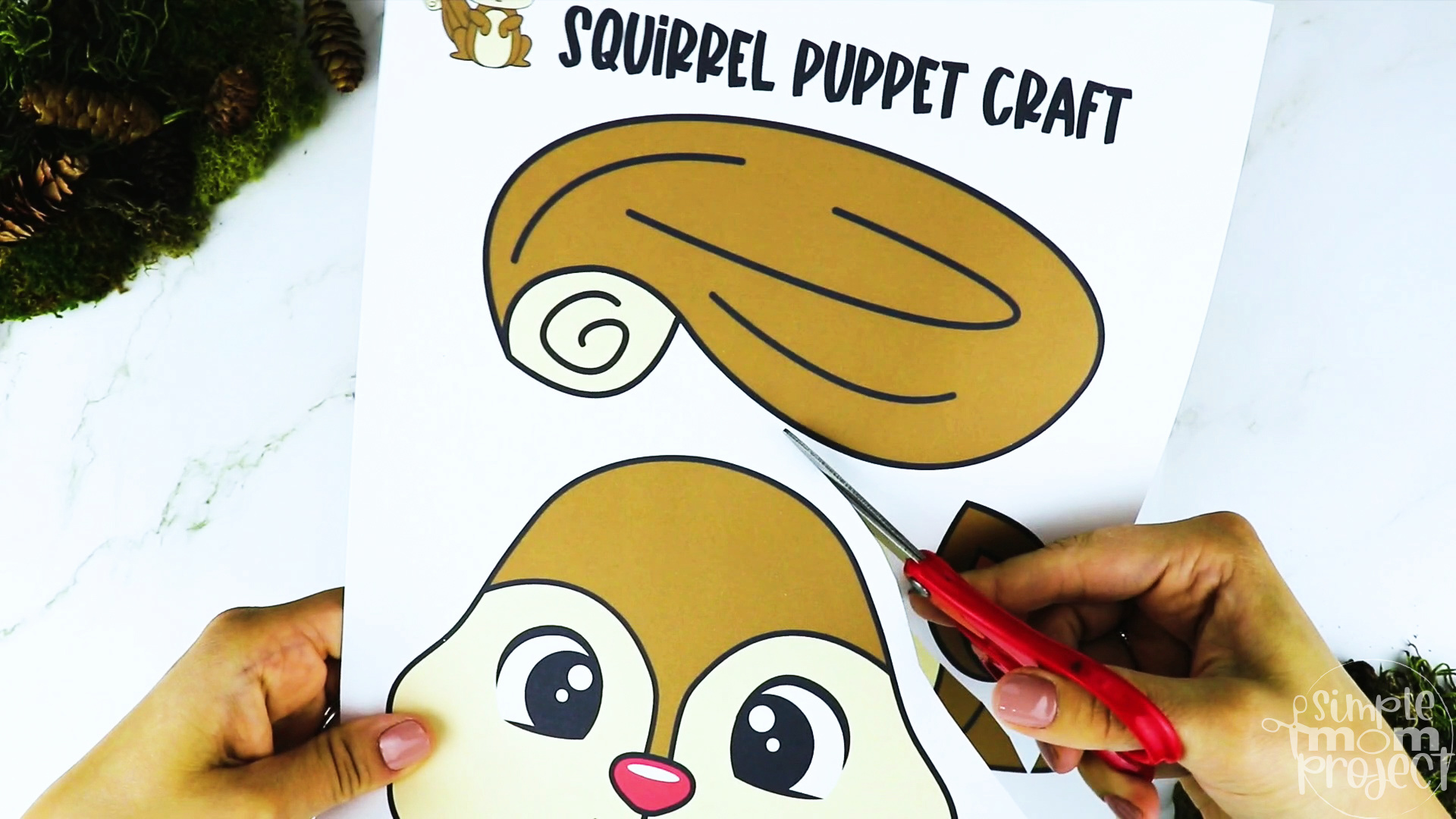 They can use any coloring supplies they have to make their own unique squirrel crafts if they pick the black and white template.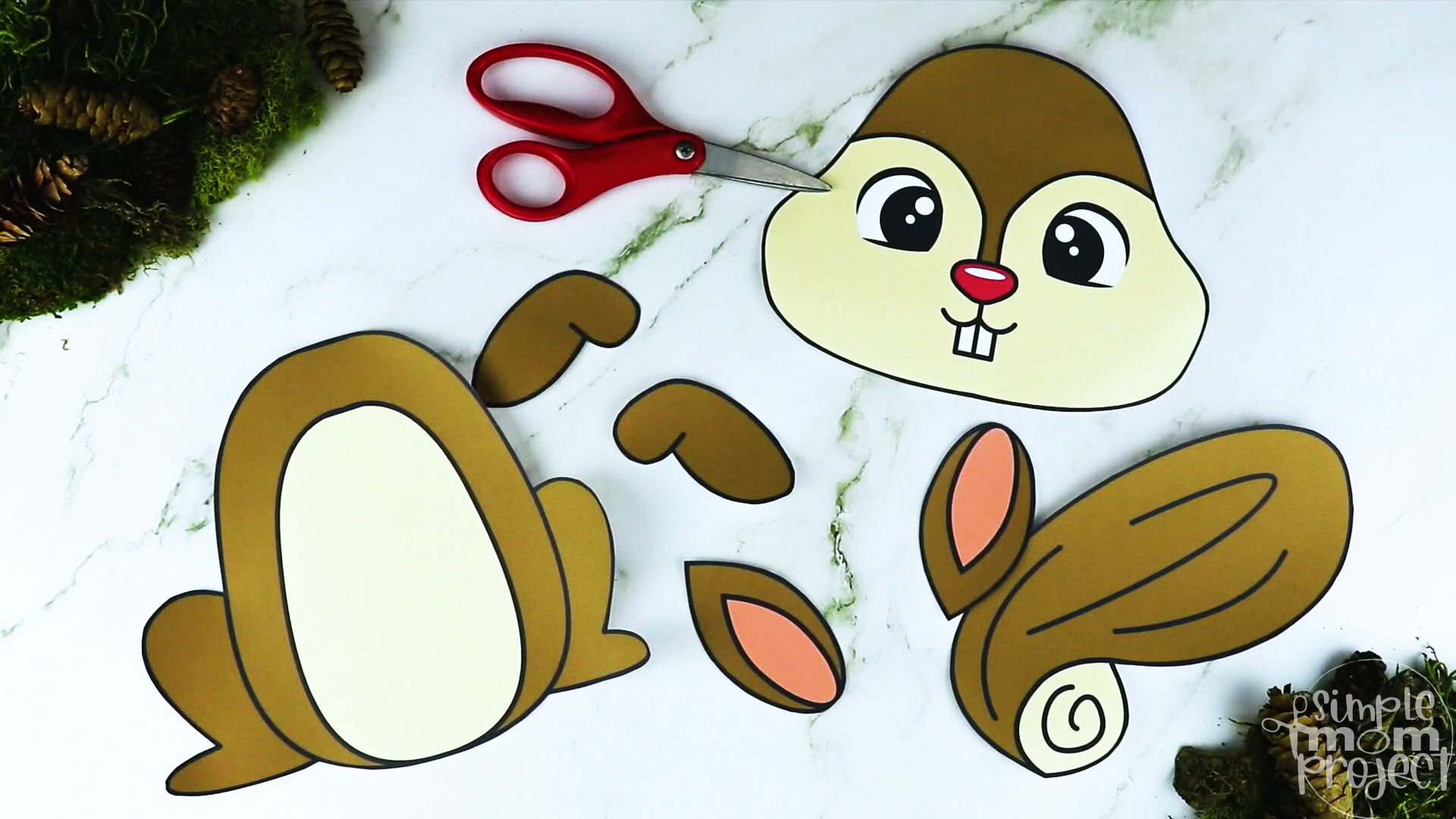 Starting off, let's place the squirrel's body on the brown paper bag under the folded edge.
Over the folded part of the paper bag, place the squirrel's fluffy head.
Add two ears on each side of the head.
The legs should be placed on both upper sides of the body.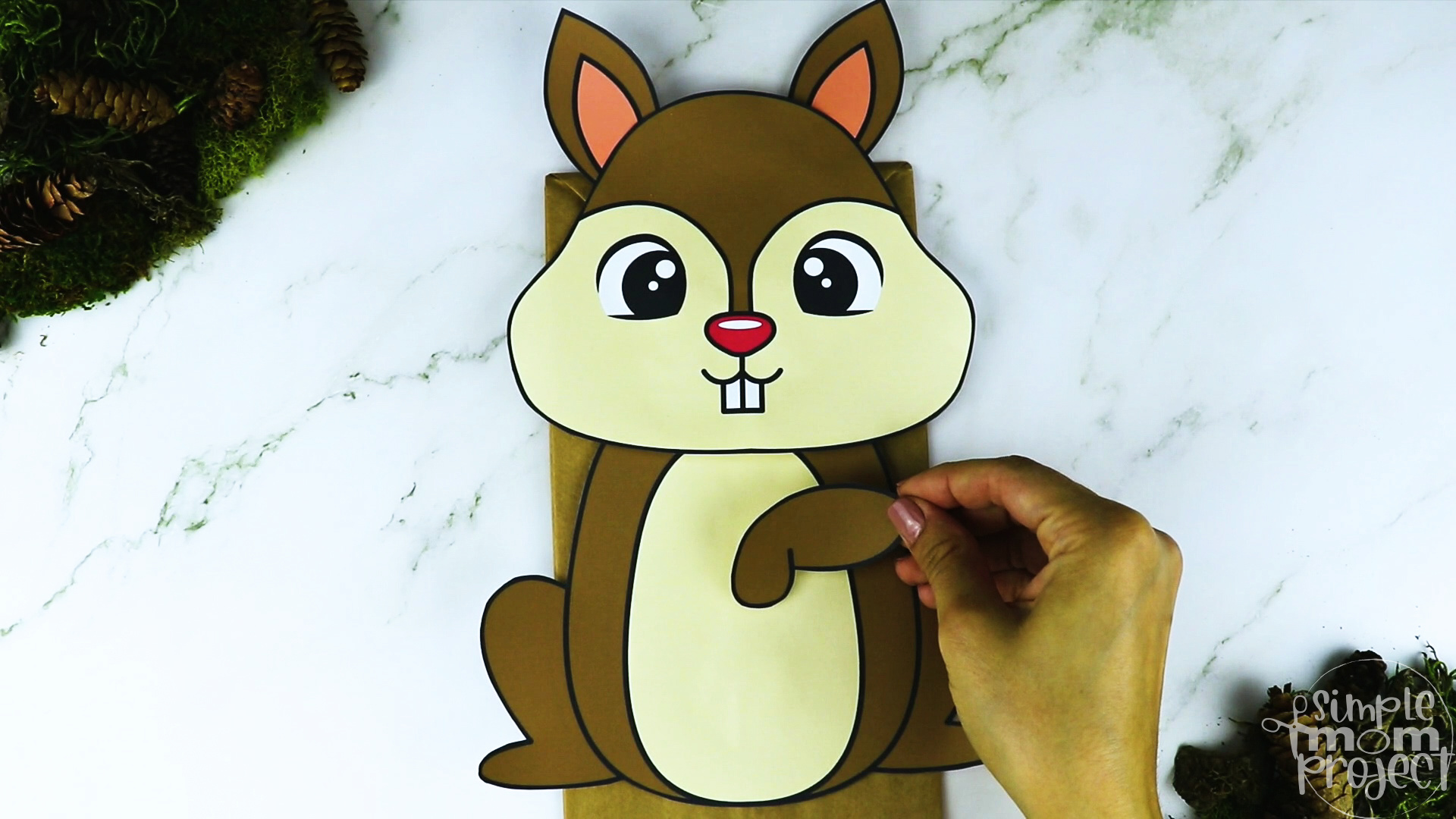 Add the bushy tail to its back as shown in the picture to complete it.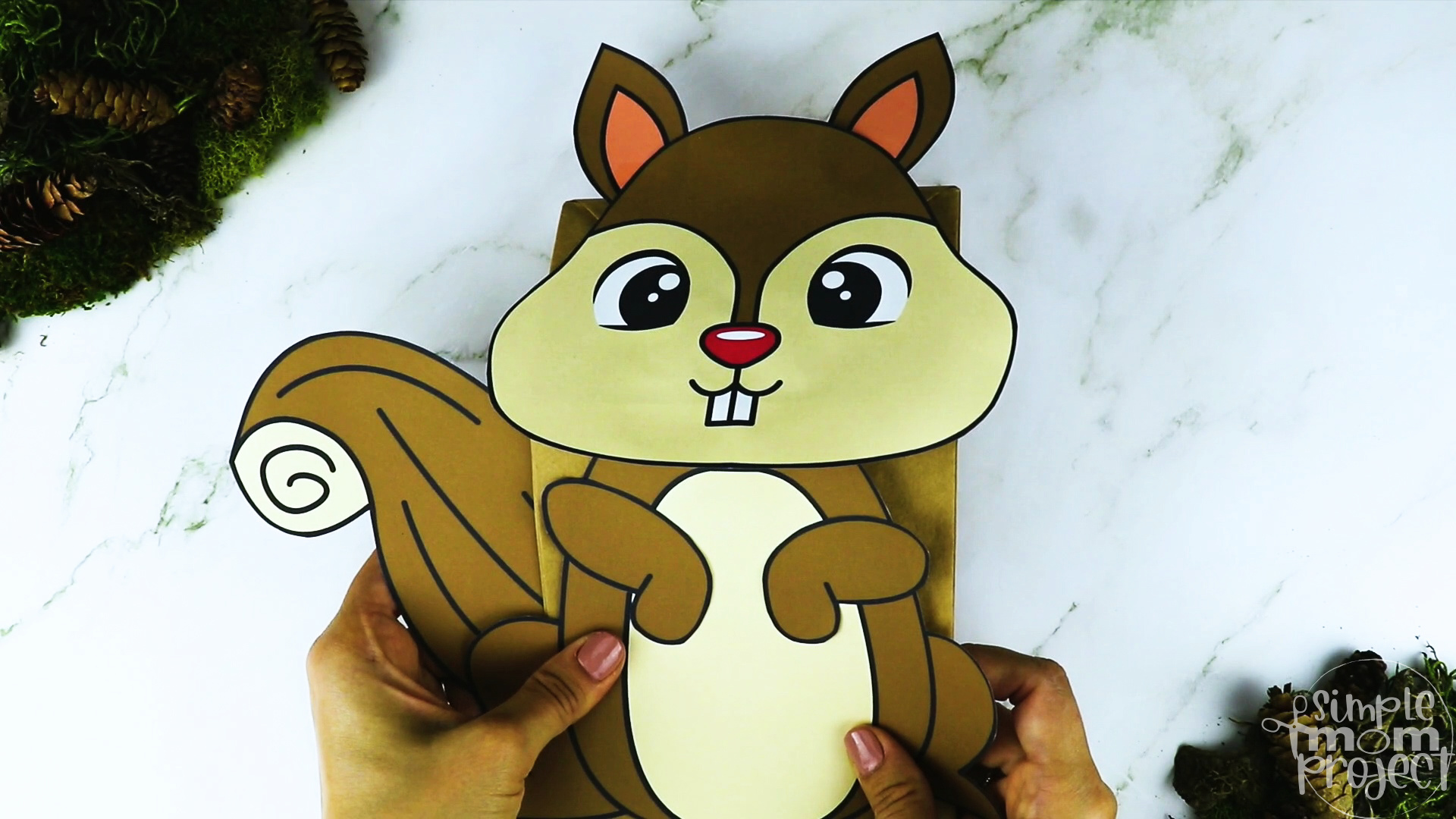 Children will be surprised when they see their finished, cuddly squirrel paper bag puppet crafts!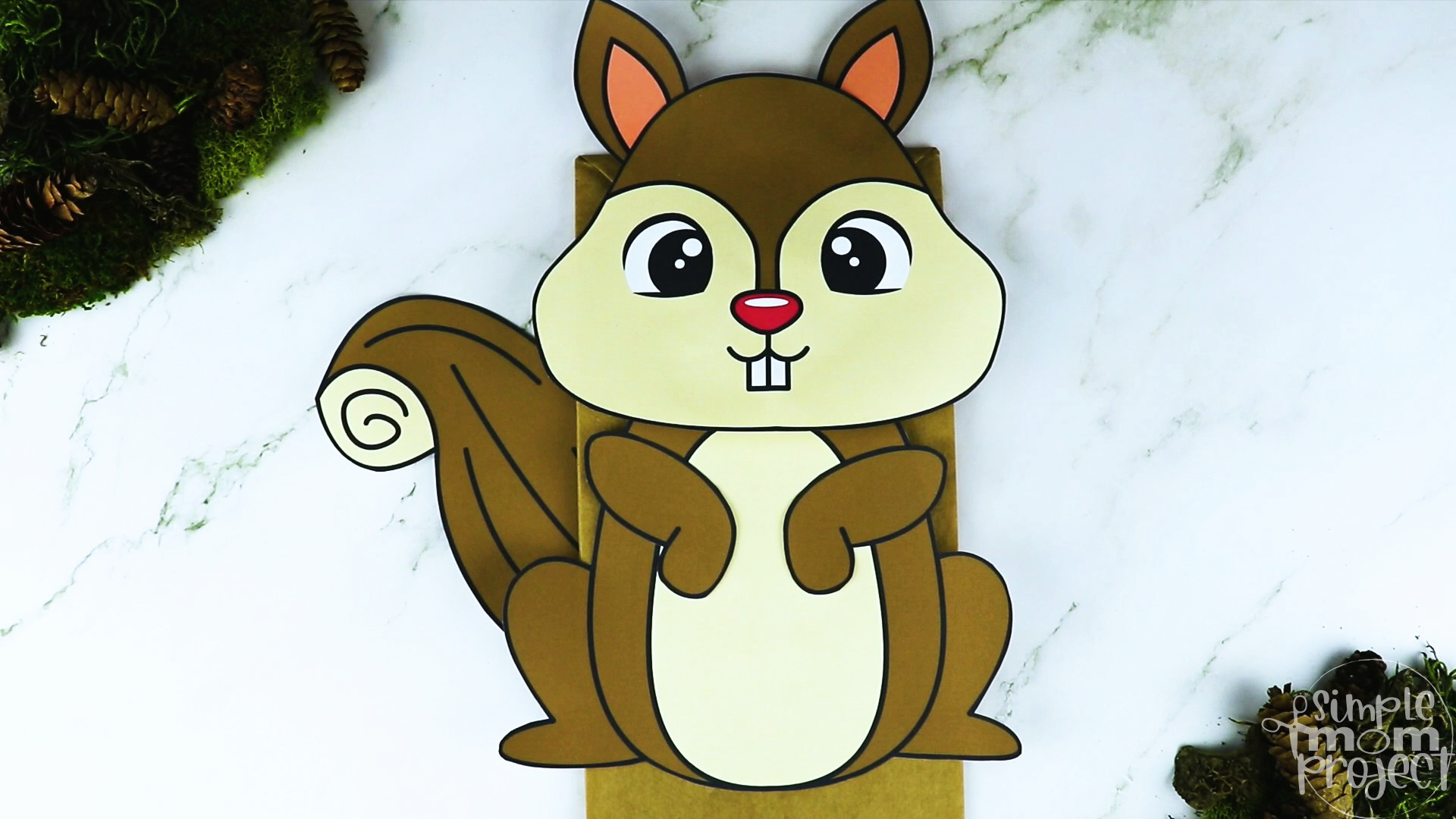 More Options to Choose:
You can print the blank version and trace the cut outs on card stock paper for a sturdier squirrel paper bag puppet craft,
Print the squirrel template in color for a simple and easy rainy day craft or,
Print the blank squirrel template and use it as a fun coloring sheet activity and then glue the pieces of the squirrel craft together.
Printable Squirrel Paper Bag Puppet Craft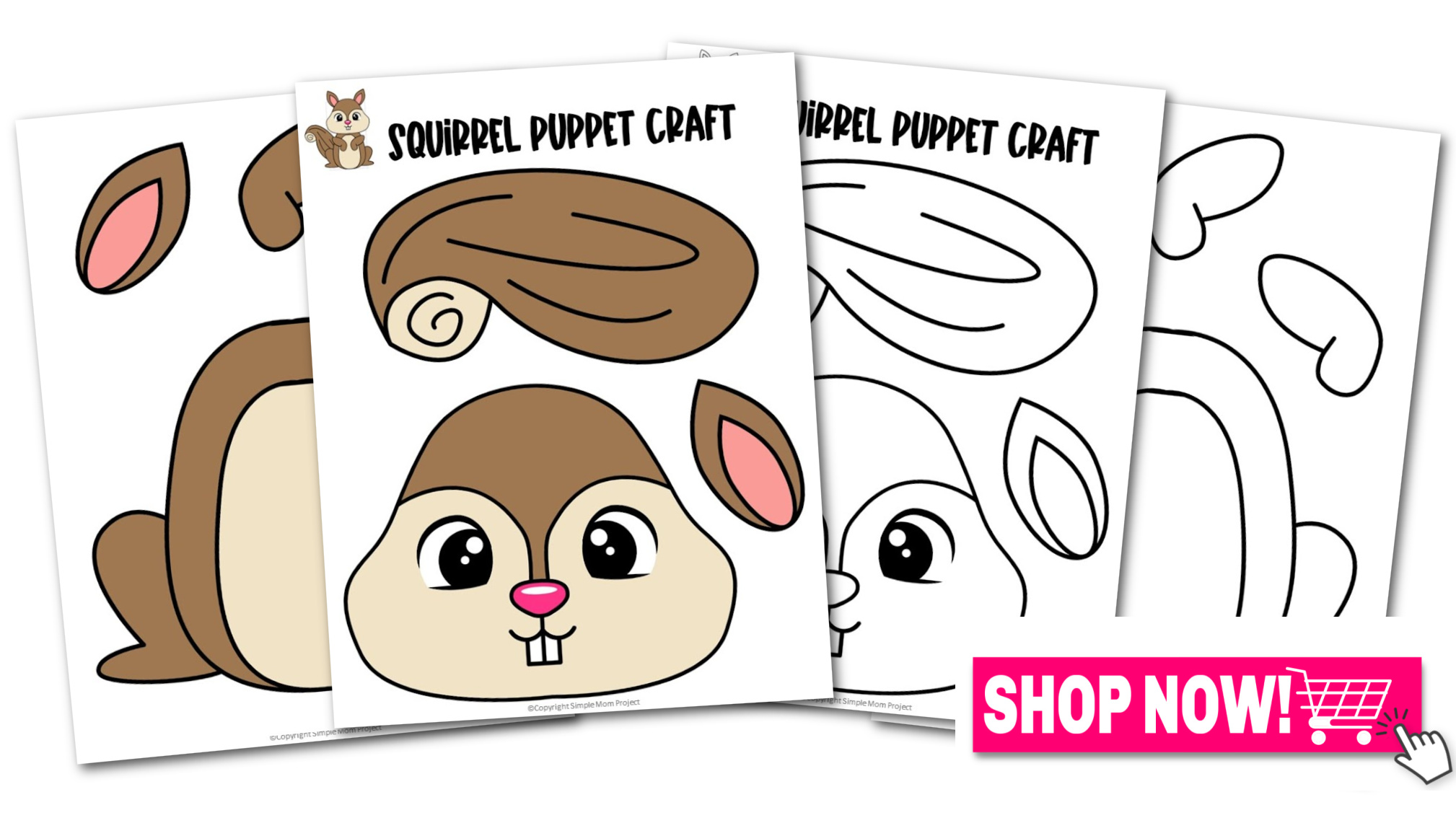 Are you enjoying all of these squirrel activities?
So, you're probably eager to get started on making this printable squirrel paper bag puppet!
If you're searching for an activity to keep those small hands busy for hours, this craft is perfect.
The children will use their time wisely as they work on two different templates.
They have the option of using a colored or plain squirrel template.
Cutting the squirrel pieces one by one is also a great way to develop your fine motor skills.
Kids can establish good hand-eye coordination in addition to improving fine motor abilities.
Include this printable squirrel paper bag puppet in your lesson planning!
You'll have a week full of unforgettable and exciting experiences!
Don't forget to share your learning plans in the comments.
Need more woodland animal craft fun? Check out our packed list of paper bag puppets for simple craft fun with your little ones.  
When you have finished, be sure to share your creation on Simple Mom Project's Facebook Page and follow me on Pinterest!
More Printable Puppet Craft Templates