Learning the alphabet helps with reading, spelling, and vocabulary.
We make sure to come up with exciting and entertaining learning ideas for each of the 26 letters in the alphabet.
In our alphabet coloring pages collection, we want kids to learn about the letters while having fun.
Just like this printable F for flower coloring page that we created for kids to use while learning the letters of the week.
We included simple yet fun ideas on how you can integrate this printable letter F coloring page in your routines.
During your letter of the week lesson with the letter F, your children will be able to improve their cognitive skills, focus and concentration, and letter knowledge.
This printable letter F coloring page is designed for children in preschool and kindergarten, so keep scrolling for more.
Prepare for a productive week of learning about the letter F!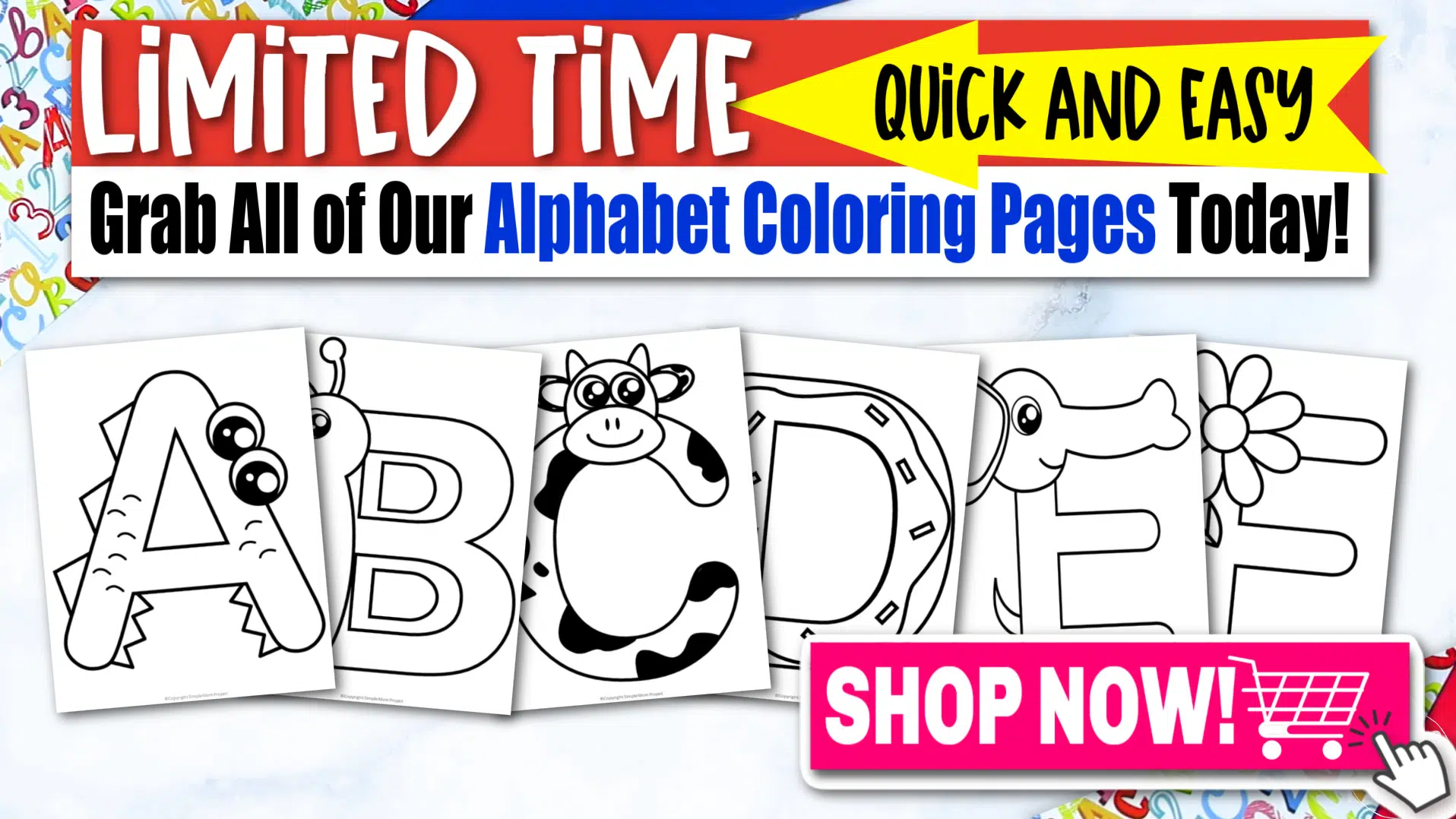 *By the way, this post may contain affiliate links which means I may receive a small commission at no additional cost to you if an item is purchase through that link. For more information, click here.*
Printable Letter F Coloring Page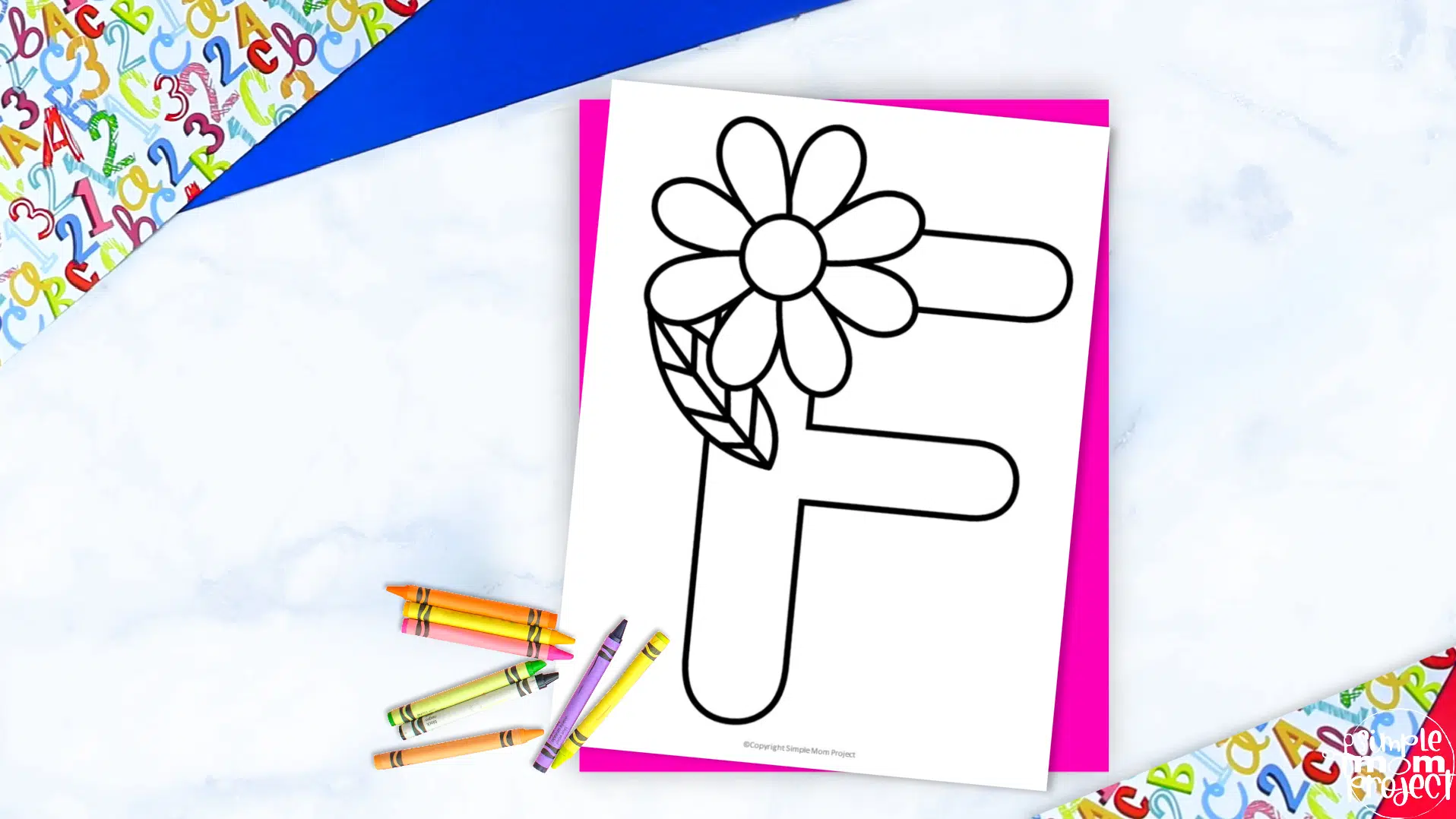 Printable Letter F Coloring Page Materials Needed:
Printable Letter F Coloring Page (FOUND AT THE BOTTOM)
Make your child's finished letter F coloring page a forever memory by laminating it! We use this laminator and cannot express how much we love it! It is not only inexpensive, it is SO easy to use!
Your kids will love seeing how much you adore their art work when you laminate and display it for years to come!
Looking for more awesome alphabet fun ideas? Check out our Letter E, O and X Coloring Pages.
Ideas for Printable Letter F Coloring Page
You won't want to miss out on these fun ways to use this printable letter F for flower coloring page.
These are the most creative and unique ways to learn about the letter F!
1. The Fantastic Letter F
Thinking about how to get your letter F learning plans organized this week?
Allow me to assist you with this printable letter F coloring page idea to help you stay organized.
When I come up with an idea, the first thing I do is make sure that parents and their children can use it at any time of day.
That's why I compiled this fantastic collection of letter F learning resources for you to use in your playtime, circle time, and reading time.
These books will boost your children's language and imagination.
You can read these stories at circle time or just before bedtime while snuggling an adorable fox plushie.
We've also included a fun building toy for kids where they can make their own flower garden.
This is a fun pretend play activity that your children can do with their buddies.
This wonderful letter F collection is really interactive and should be included in your learning plans!
2. ABC Flashcards
Flashcards are one of my favorite learning resources.
They provide excellent brain stimulation not just for preschool and kindergarten kids, but also for babies and toddlers!
Did you know that you can introduce flashcards to your little one as young as 3 to 6 months old?
Flashcards are indeed a useful tool for improving long-term memory and knowledge retention.
Our alphabet coloring page collection can be turned into a set of alphabet flashcards to be used in your learning activities.
You can also create your own flashcards and use our alphabet coloring pages as a guide to draw the bubble letters.
Use these ABC flashcards with your children during circle time or in an interactive game.
They can also be used to teach about phonic sounds and proper letter writing.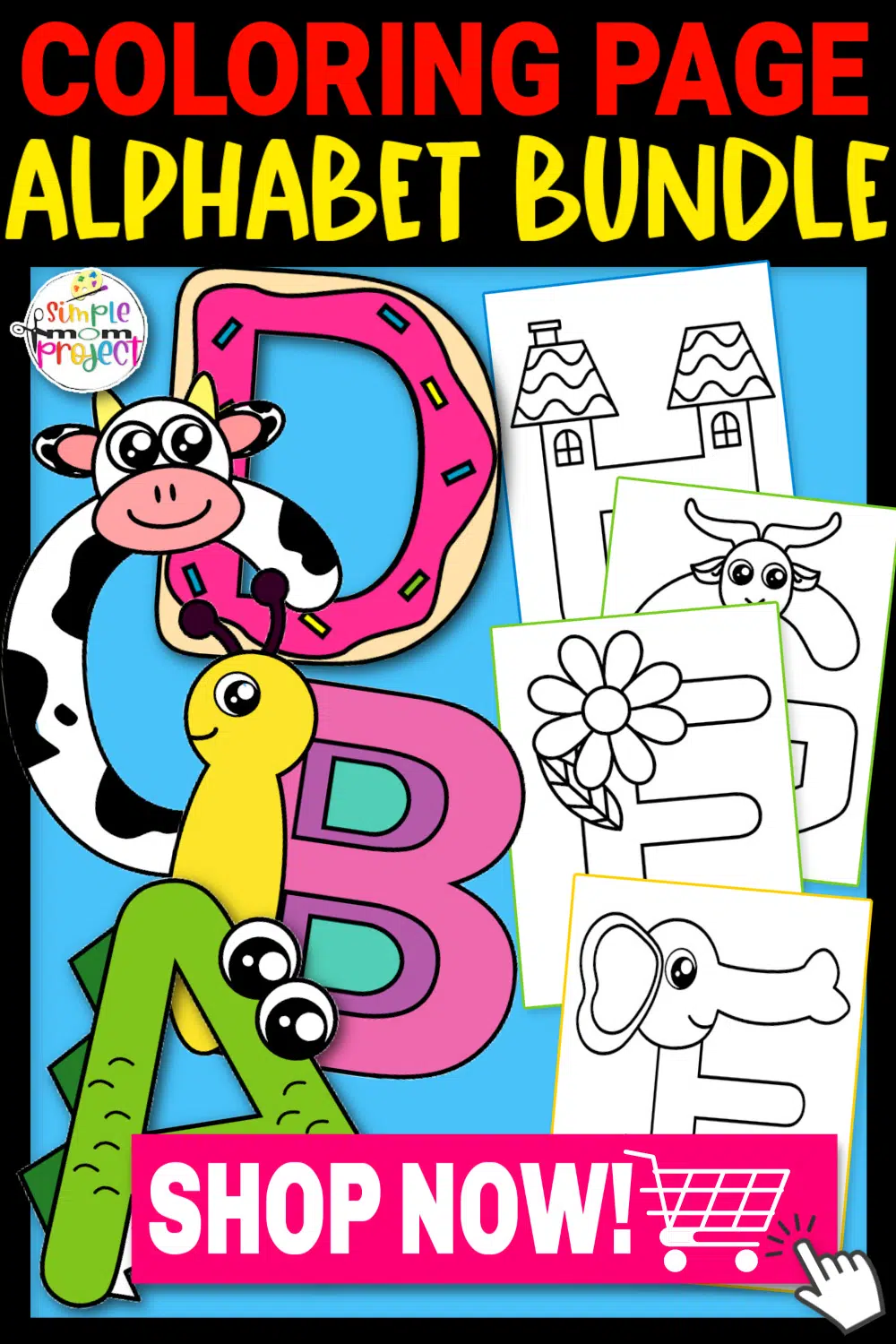 3. Find the Letter F
What other words begin with the letter F? Fire, flower, fish, fox, and more.
This printable letter F coloring page idea is perfect for practicing letter recognition for all early readers.
We'll mix a group of words that start with the letter F with additional words.
This idea will help children with recognizing the letter F in a group of letters.
Finding the letter F activity is also a good way to practice reading.
Jumble together words that begin with the letter F and those that do not on a piece of paper.
Make your children search for the letter F by circling the words. Help them read each word one by one.
This idea helps them in remaining focused and concentrating on the task at hand.
4. Letter of the Week: F
This letter F flower coloring page is so fun and easy to make that kids will want to create more flower crafts.
What's your favorite flower?
Take a walk through the garden and work on these beautiful printable flower templates!
Enjoy transforming these flowers into magnificent and majestic flowers like the ones we see in flower fields.
Kids will love customizing their flowers with all of the bright and vibrant colors.
Their finished flower masterpieces can be used as flower banners or flower portraits to decorate their bedrooms.
Which of these ideas is your favorite?
Did you have a good time taking notes for this week's lesson?
We are confident that your children will enjoy learning the alphabet with these activities.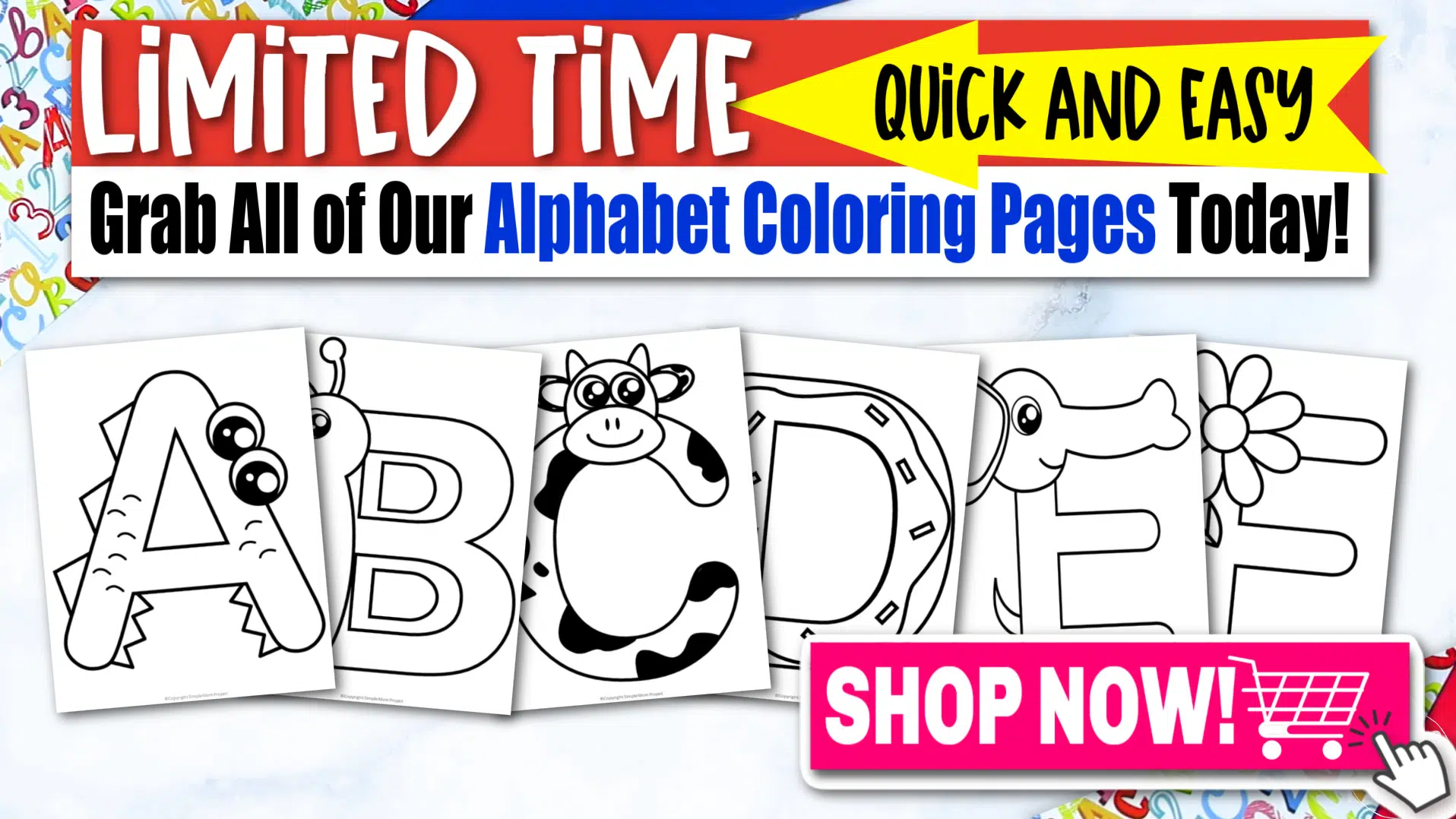 Printable Letter F Coloring Page: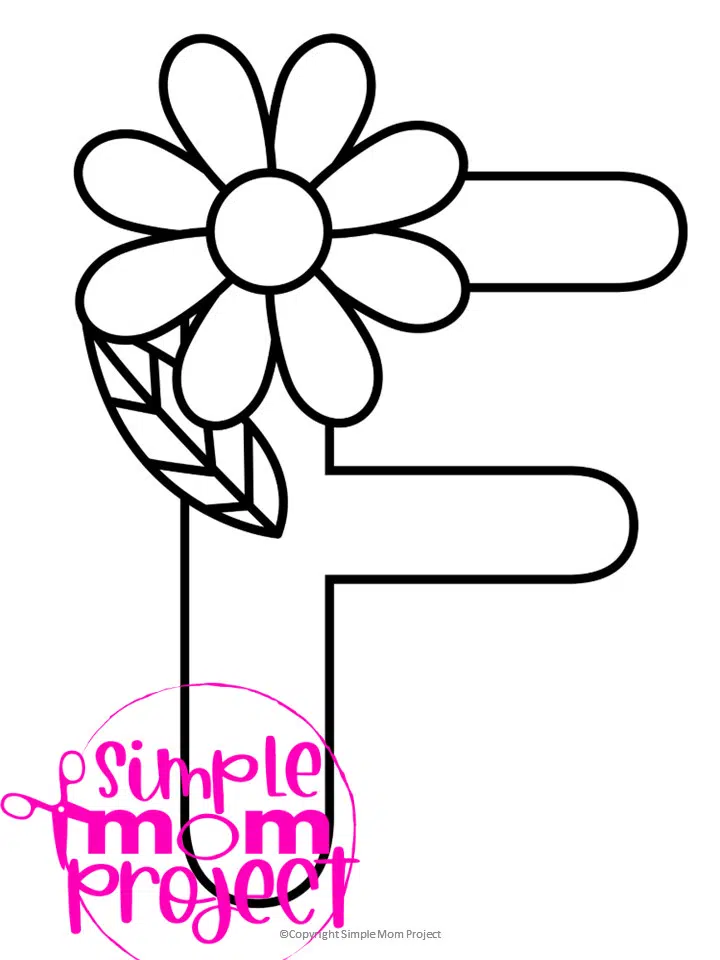 Make this printable letter F for flower coloring page the highlight of your week!
Allow your children to use different art materials to complete this simple capital bubble letter coloring page.
They can color it and add decorations like sequins and beads to make the flower stand out.
Add your finished artworks to your collection of alphabet coloring worksheets.
You can arrange them all on the wall to make a wonderful alphabet wall.
If your child's name starts with the letter F, you can use their artwork to decorate their bedroom door or frame it within their room.
Don't forget to tell us more about your experiences in planning your learning activities with these ideas.
Leave a message in the comment section.
When you have finished, be sure to share your creation on Simple Mom Project's Facebook Page and follow me on Pinterest!

Kaitlen D.
More Fun Alphabet Coloring Pages